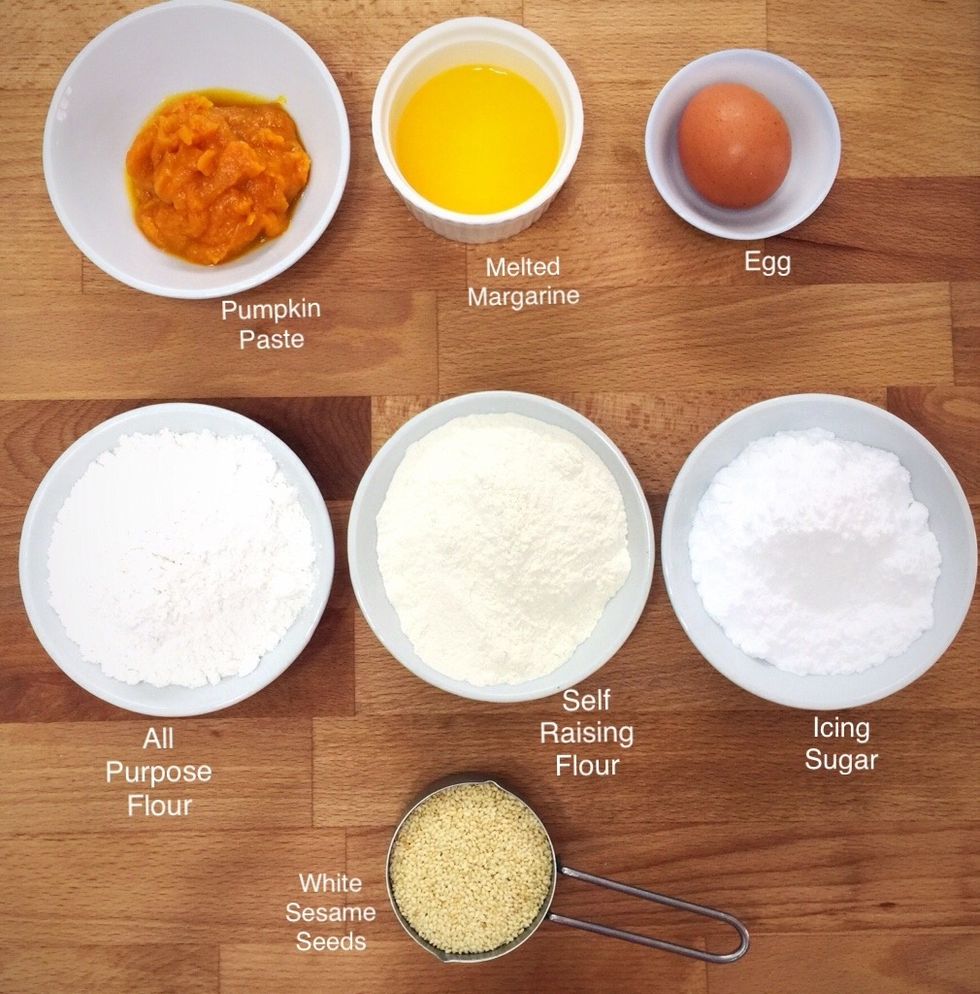 First, prepare all ingredients needed to make the sesame cookie balls.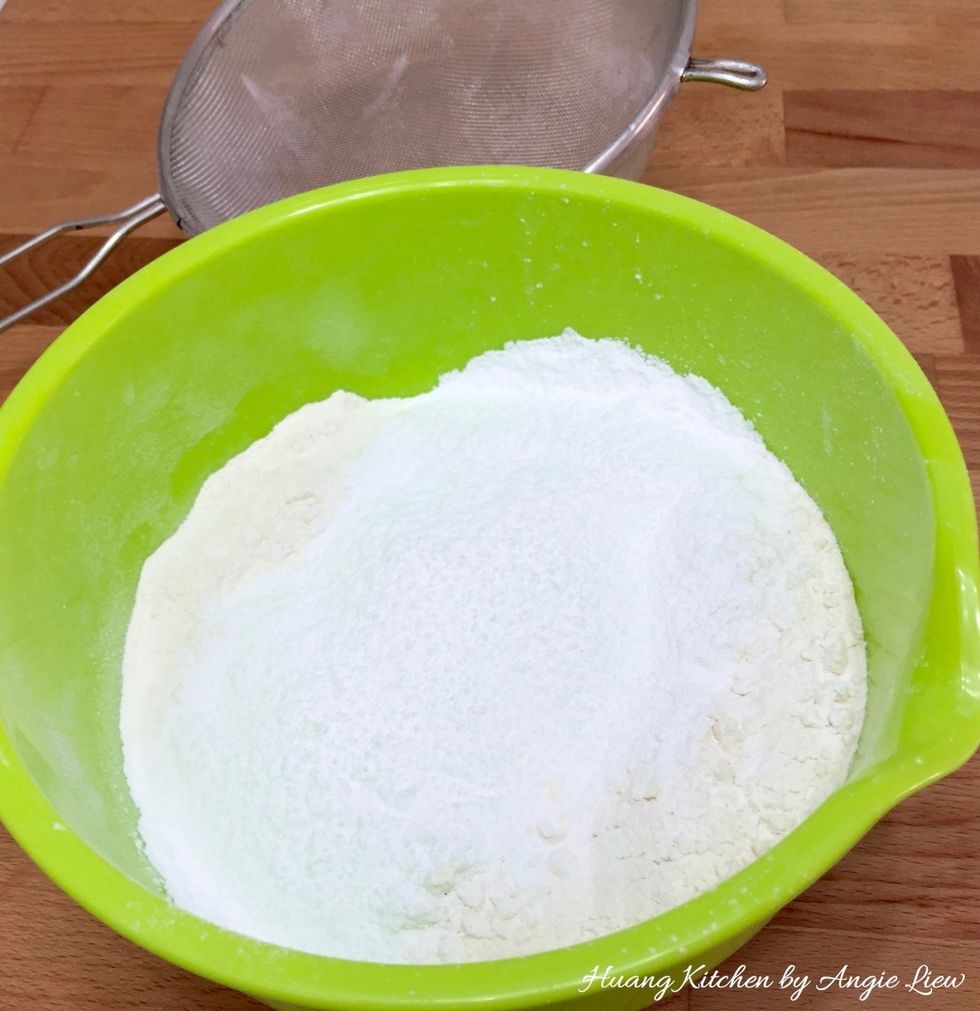 Sift all the DRY ingredients and set aside for use later.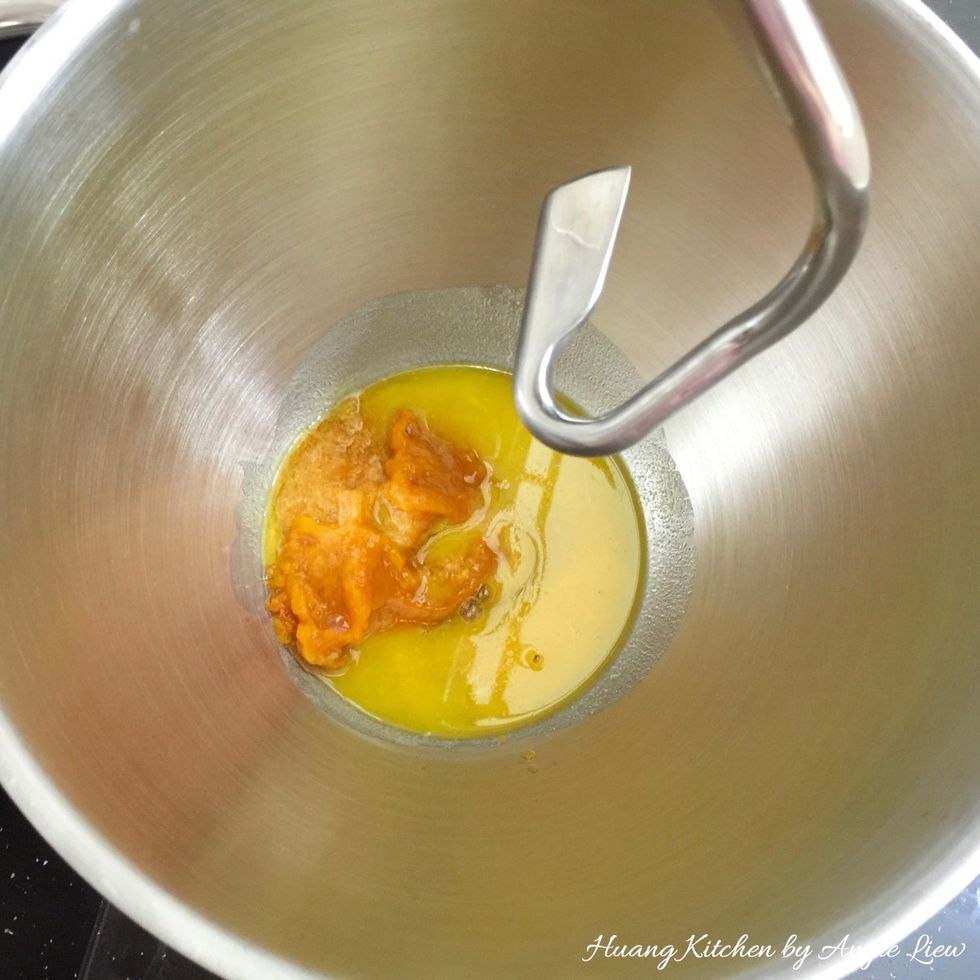 Then in a large mixing bowl of a stand mixer, add in the WET ingredients. Use the dough hook to mix well.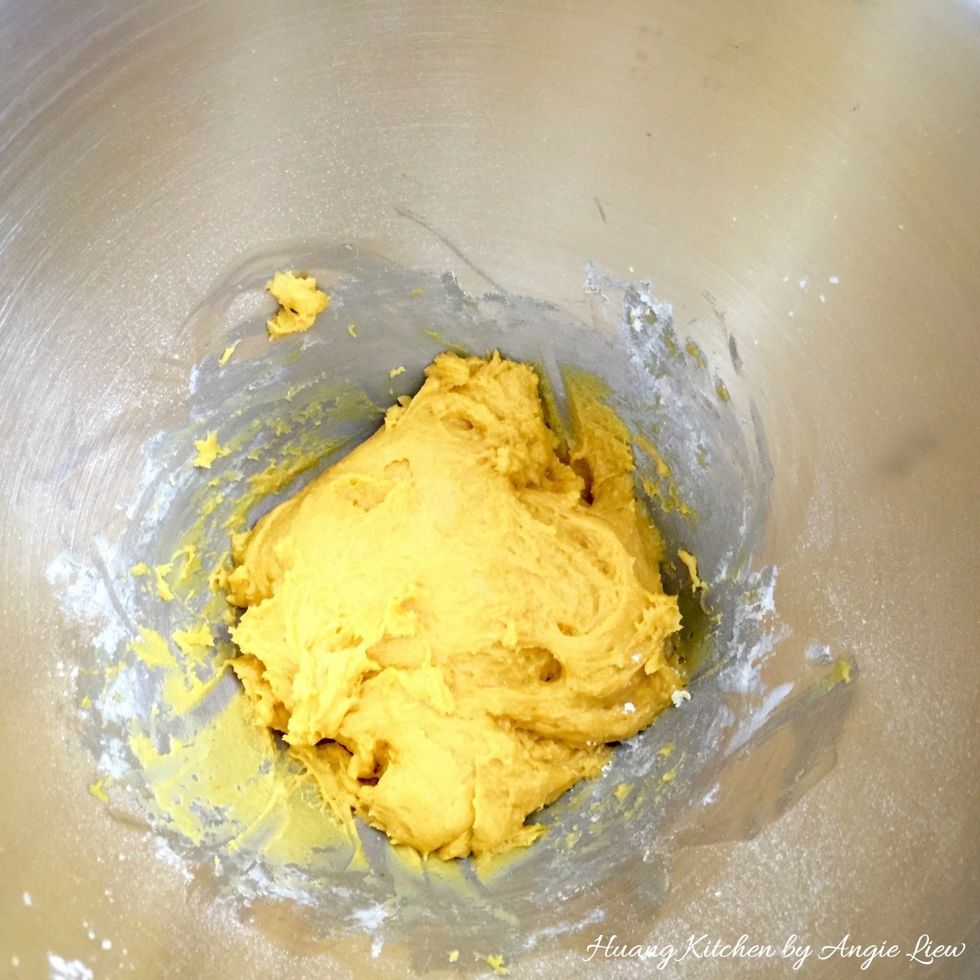 Next, add in the sifted DRY ingredients. Still using the dough hook, knead the mixture into a soft dough.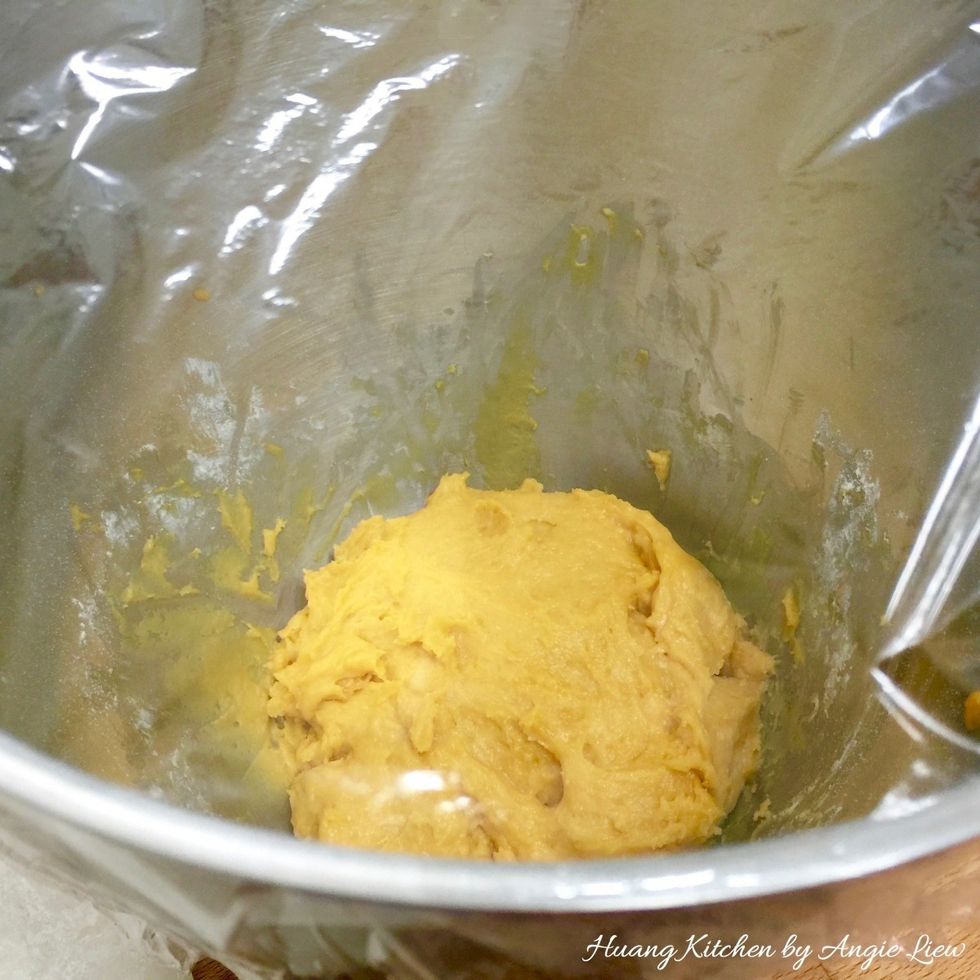 Remove the dough from mixer, cover the mixing bowl with cling wrap and chill in refrigerator for 1 hour.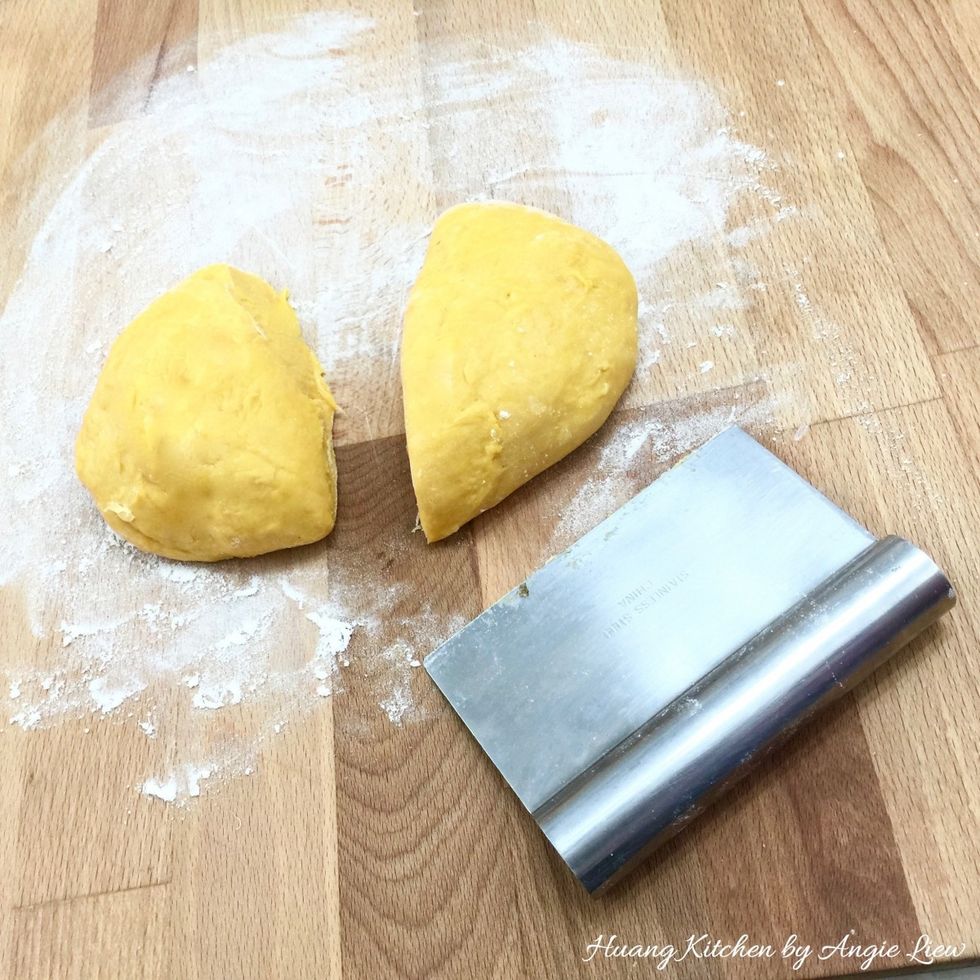 Place the chilled dough on a floured working surface. Then divide the dough into two equal halves for easier handling.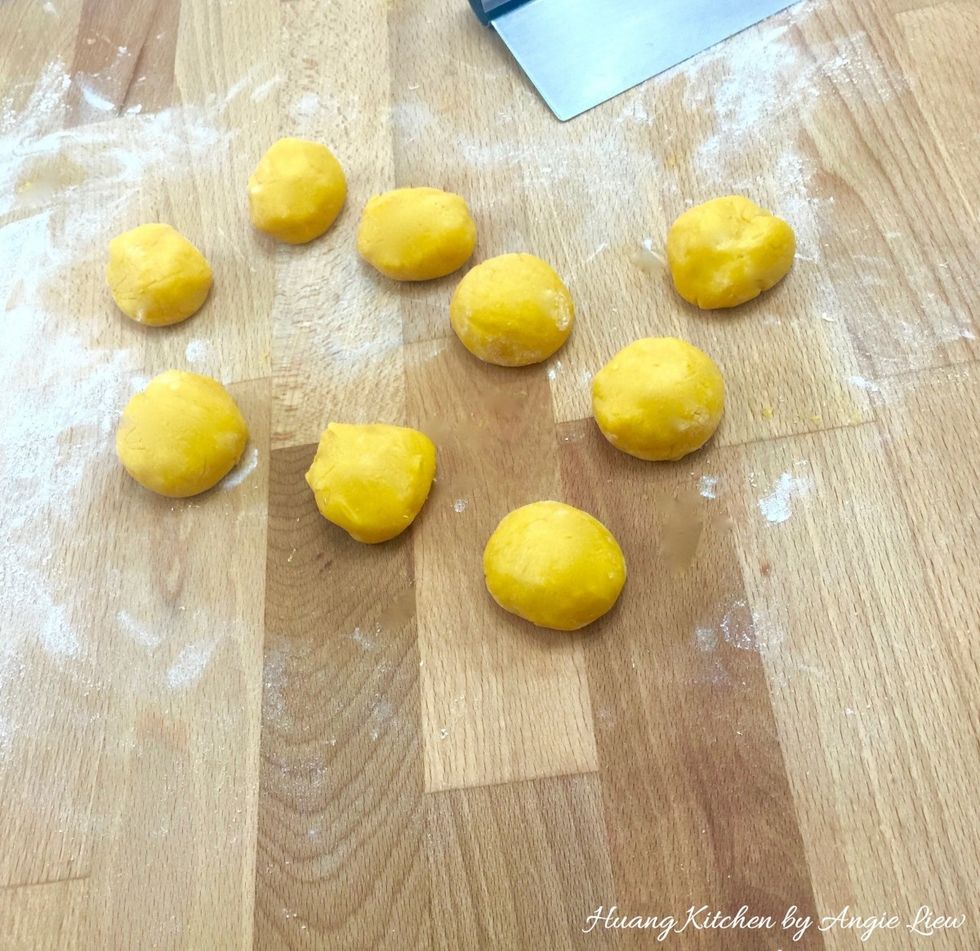 Roll each half of the dough and cut into small pieces, about 1.5 cm each. You should have 9 pieces. Then roll them into balls.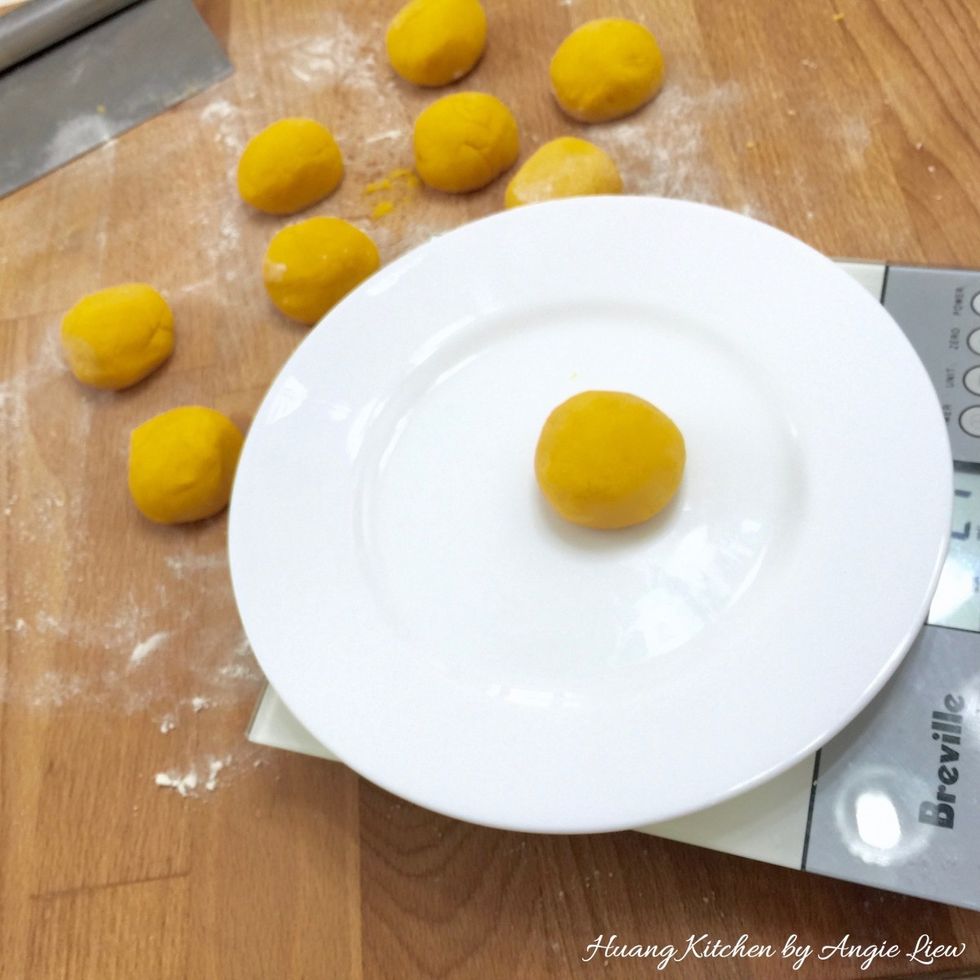 Weigh each cookie ball (25g) to ensure they are of the same size.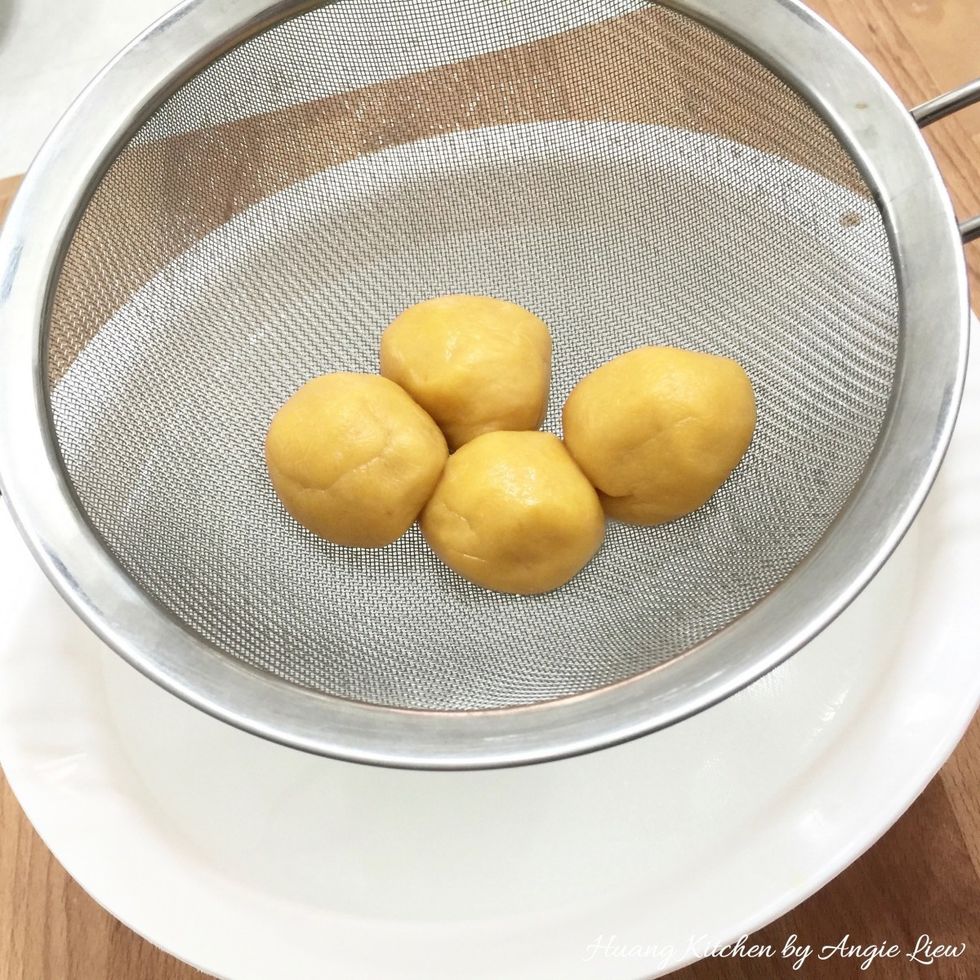 In batches, place the rolled balls into a sieve and dip them briefly into cold water.
Shake off excess water and roll them in the white sesame seeds. Repeat the same for the rest of the cookie dough.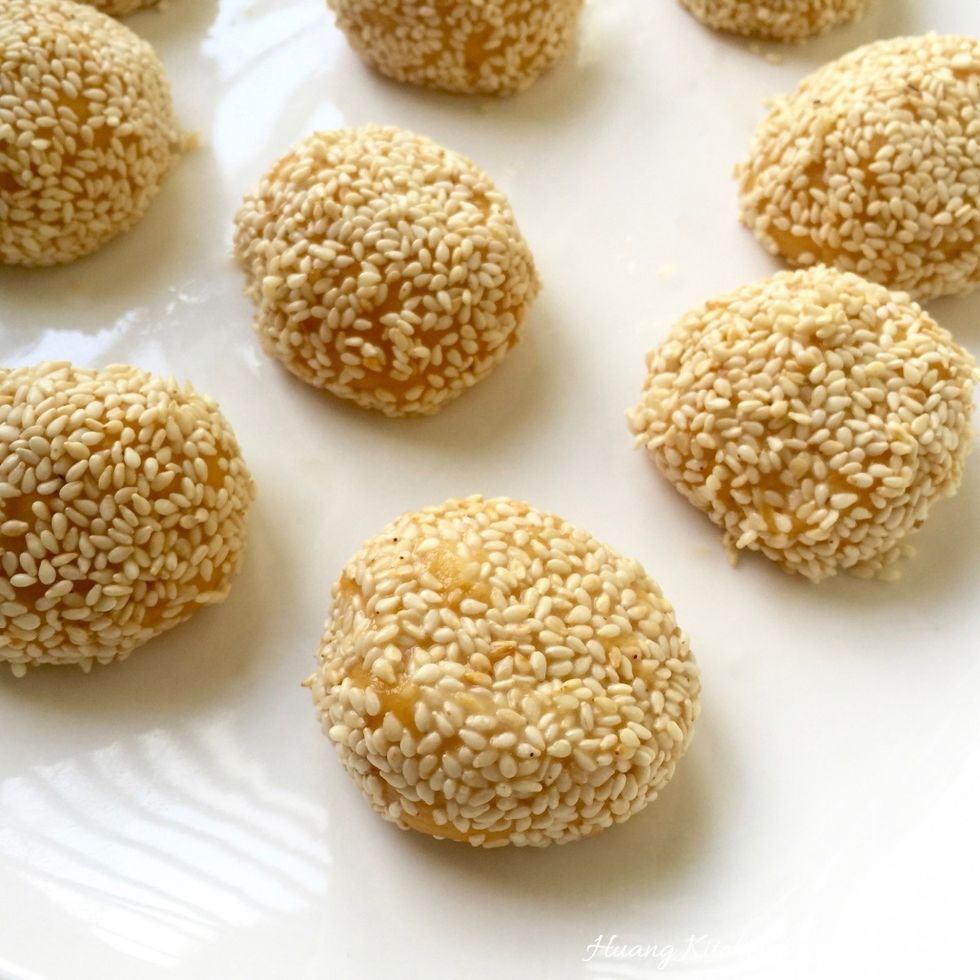 Roll them lightly again before frying to ensure the sesame seeds stick to the cookie balls.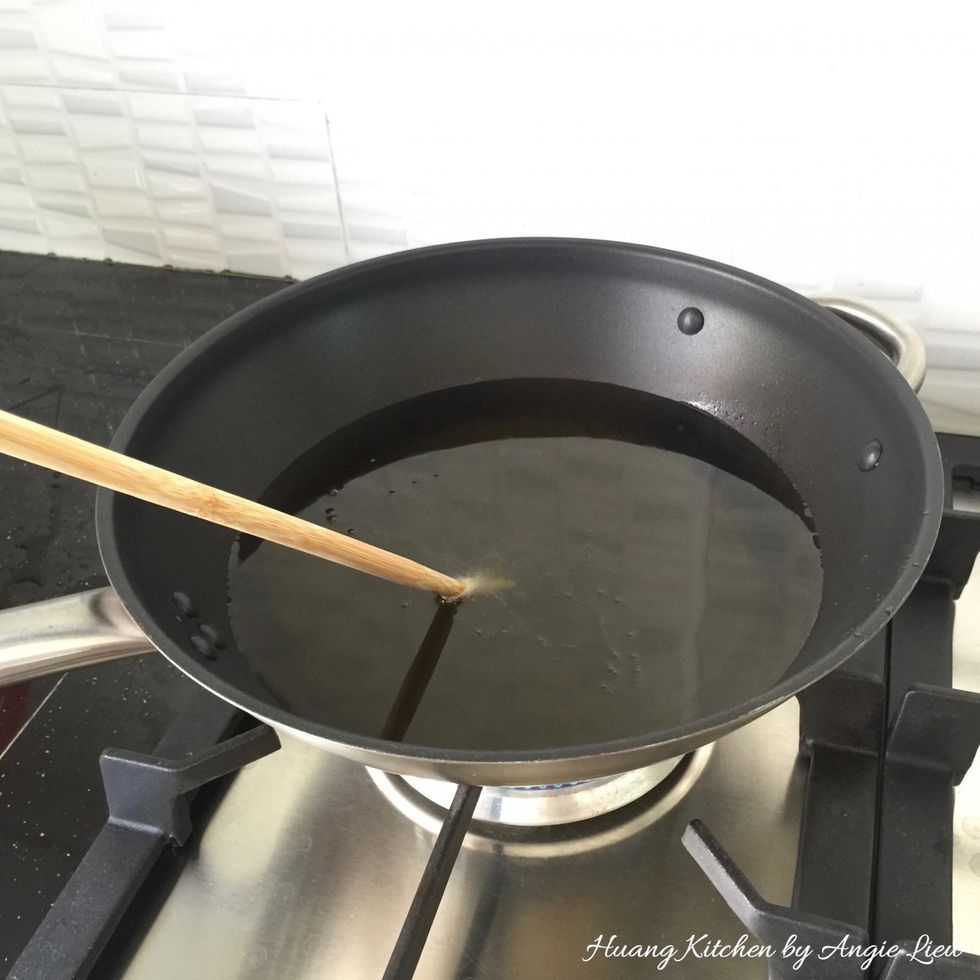 In a large pot or pan, fill with about 2 inch of vegetable oil. Heat until hot and bubbles appear at the tip when a wooden chopstick is dipped into the oil.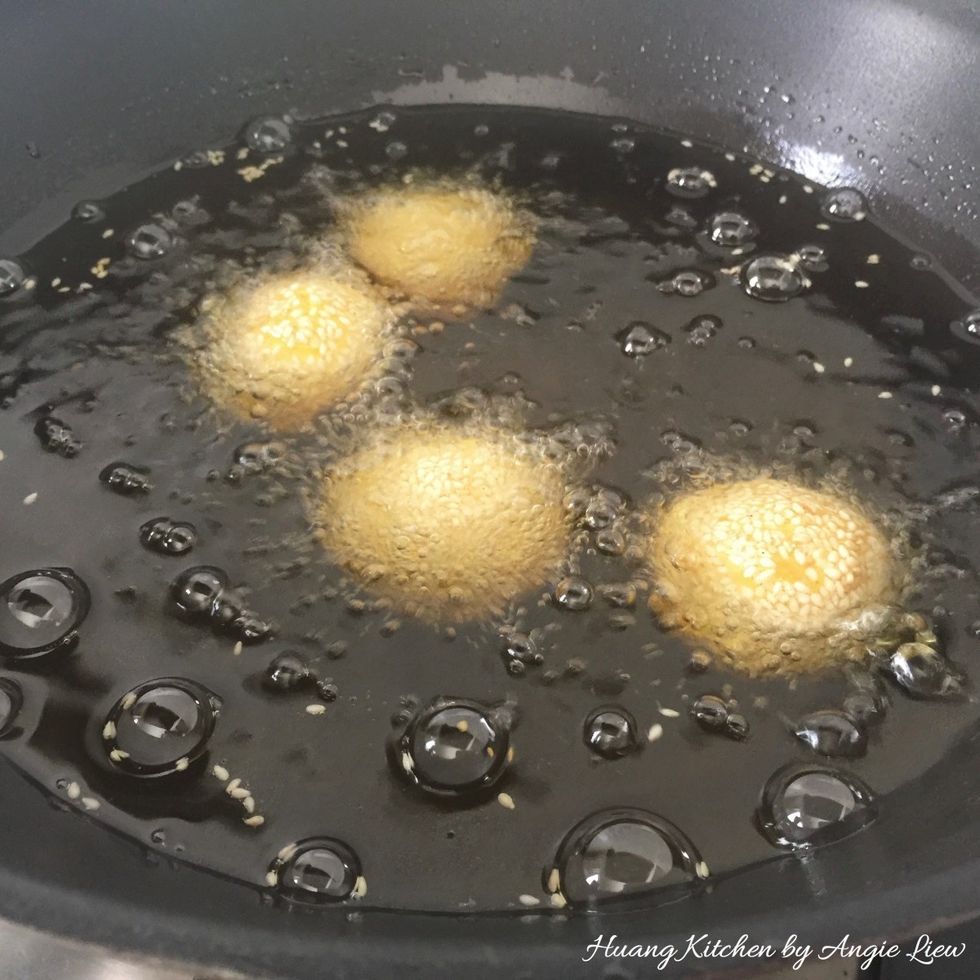 In batches, add in sesame cookie balls into the hot oil. Then bring the temperature to medium low and fry the dough for about 10 minutes or until the balls crack and are about golden brown in colour.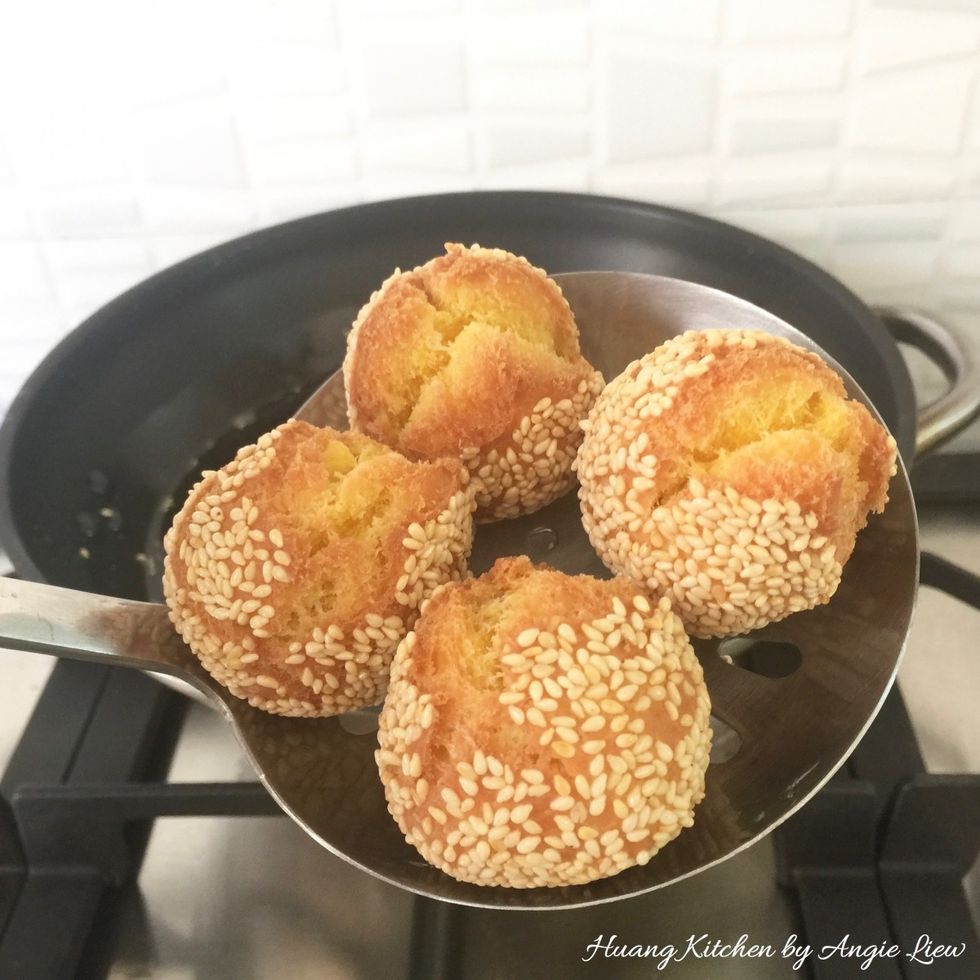 When done, remove the dough balls from the oil using a strainer.
Drain the dough balls on paper towel.
Repeat the frying process until all the dough balls are cooked.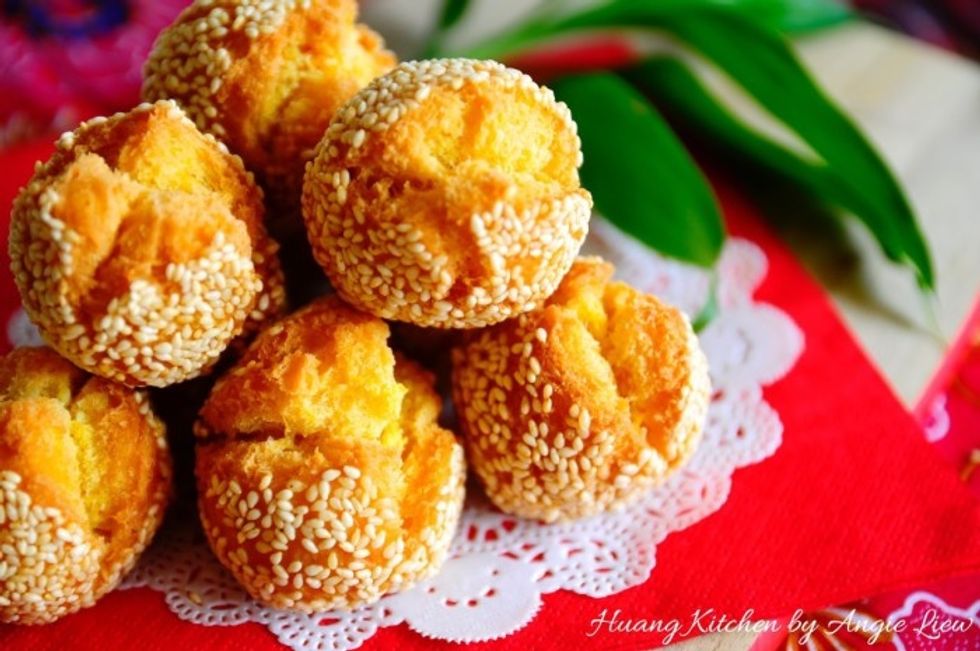 Cool thoroughly (about 15 minutes) so that they crisp up before serving with hot brewed tea. Enjoy! For more, subscribe to our youtube channel at https://www.youtube.com/watch?v=iFmf1_wkPf0
1.0 egg, room temperature
30.0g butter/margarine
100.0g pumpkin paste
120.0g self-raising flour, sifted
100.0g all-purpose flour, sifted
80.0g icing sugar, sifted
1/2c white sesame seeds, toasted
3.0c vegetable oil, for deep frying
Huang Kitchen
For more step-by-step recipes and cooking tips, visit my website at \nhttp://www.huangkitchen.com