It takes a little extra time to ROAST the cauliflower but it's so worth it! This decadent soup is super yummy and very healthy. High in fiber, folate and vitamin C, low in carbs and high in nutrition.
1
A vitaMix is a super powerful blender. It's safe to blend piping hot liquids. If you are using a regular household blender or an immersion blender please use caution- blend room temp ingredients.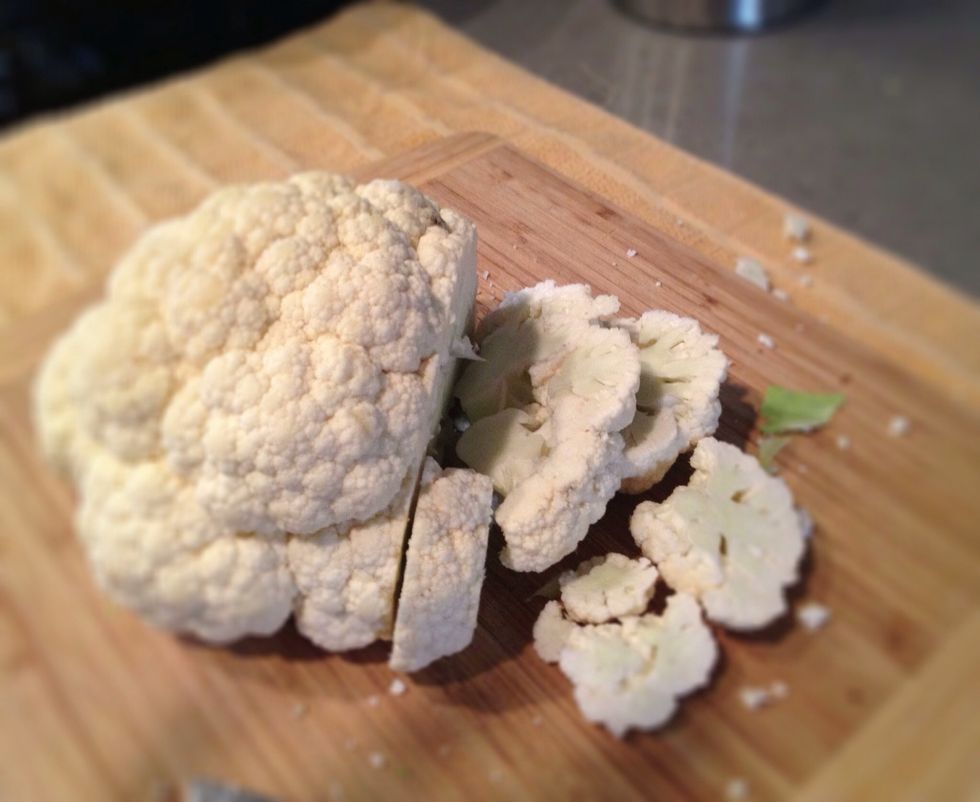 Preheat oven to 425 degrees. If you buy the cauliflower whole, remove the bottom leaves and slice it. You could very easily use a bags of fresh cauliflower florets too.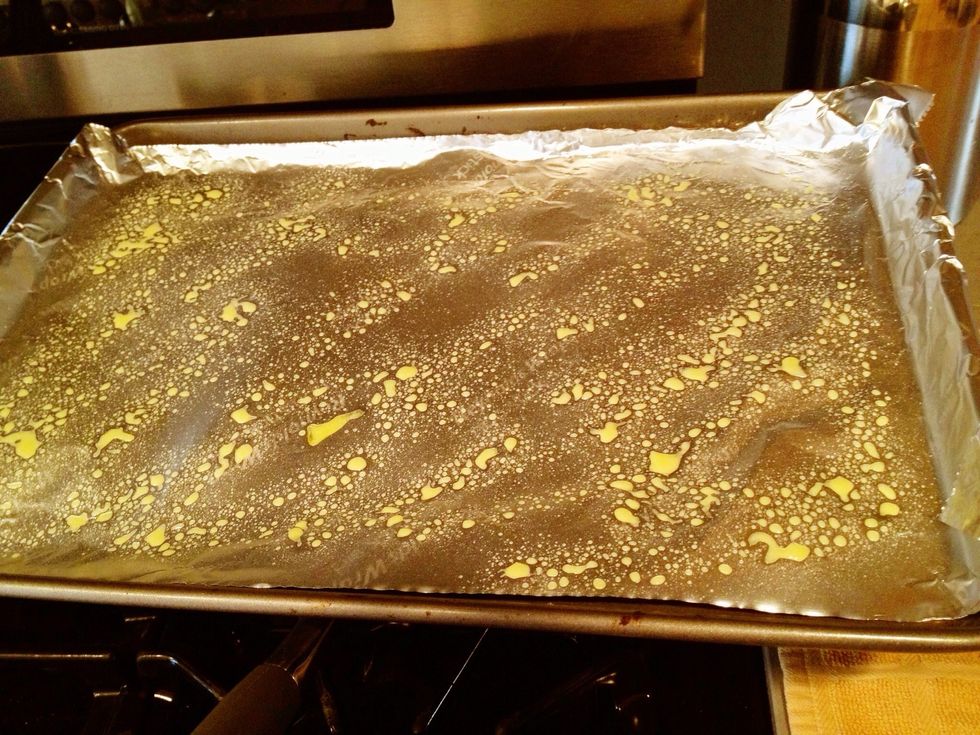 I cover my baking sheet with non-stick foil or parchment paper to make cleaning up easy. Mist the surface with olive oil or apply small amount of oil directly onto the bottom surface + rub it around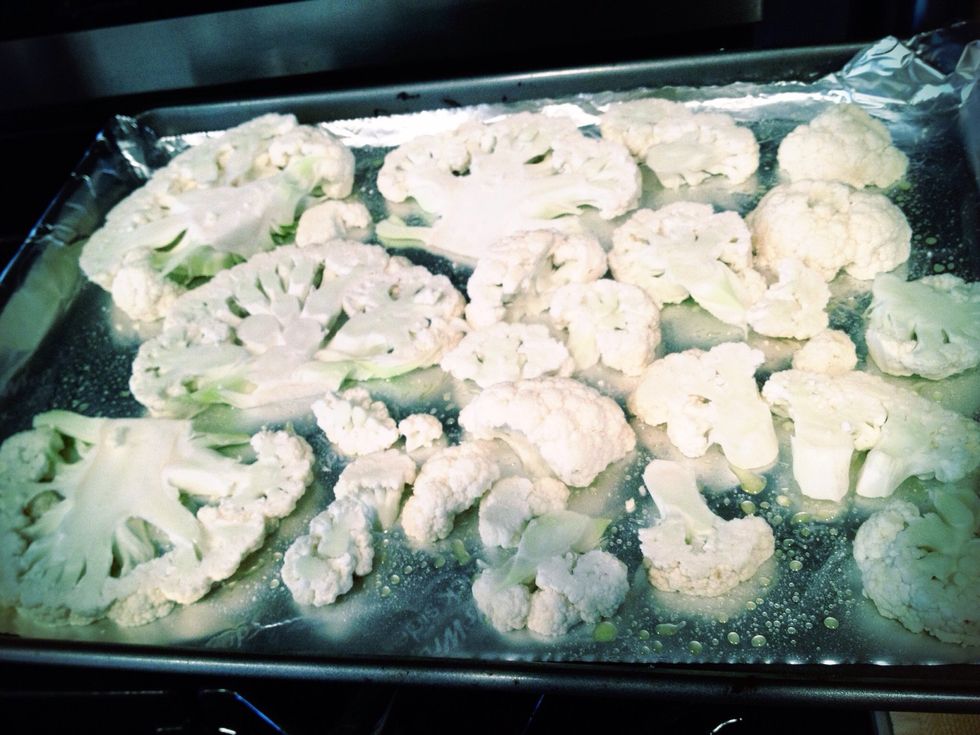 Arrange your sliced cauliflower in a single layer on sheet. Mist or lightly coat the top side of cauliflower w/ oil too. Then put into a 425 degree oven middle rack.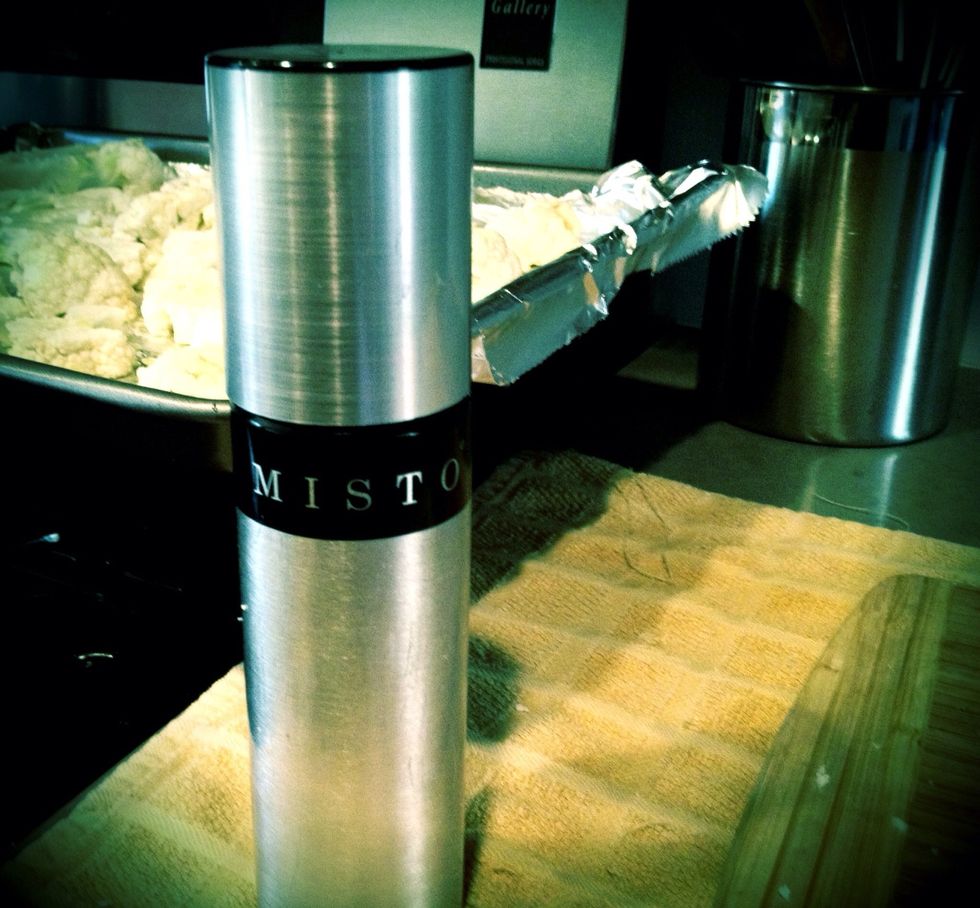 You can use any kind of spray bottle, or invest in this awesome gadget! No added chemicals, fill it w/ any kind of oil. (Search "misto" on amazon.com)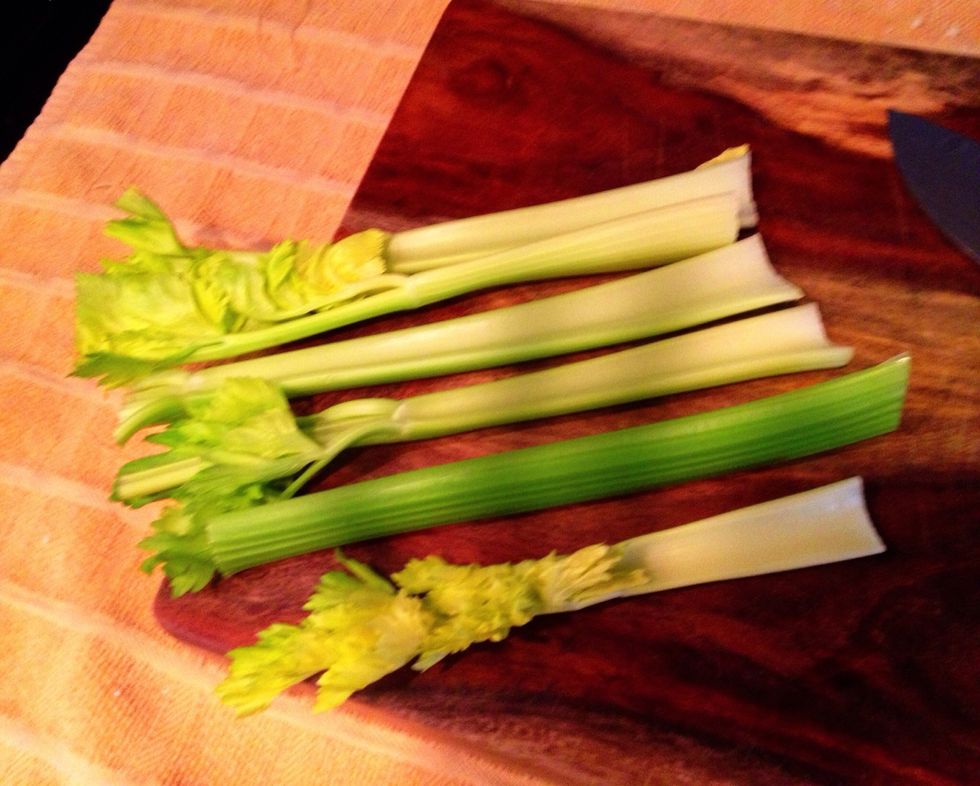 While the cauliflower is roasting, roughly chop your other ingredients.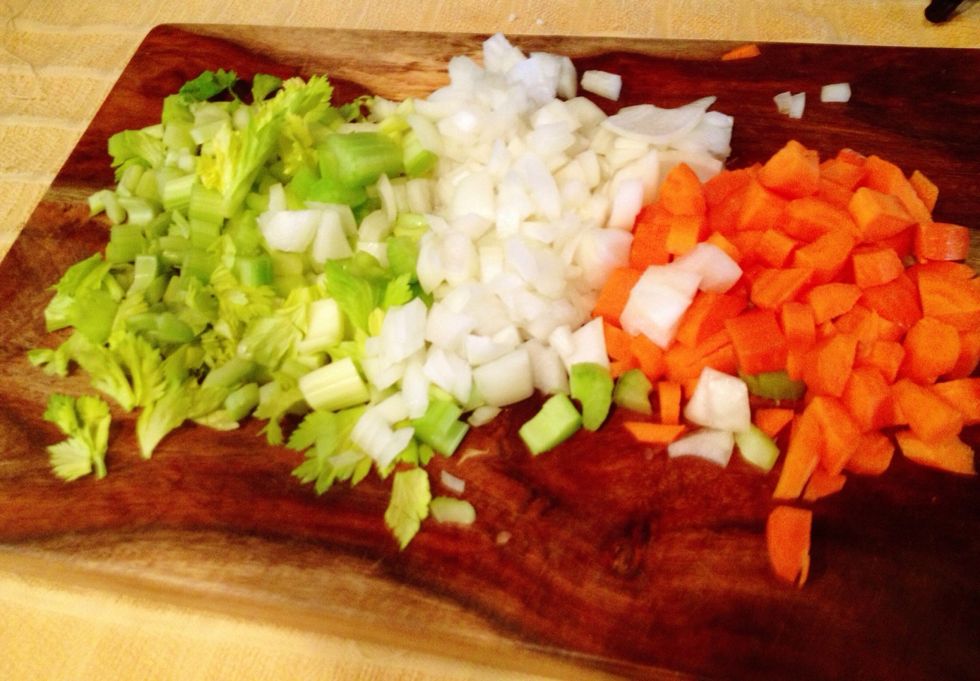 Veggies, "You've been chopped! "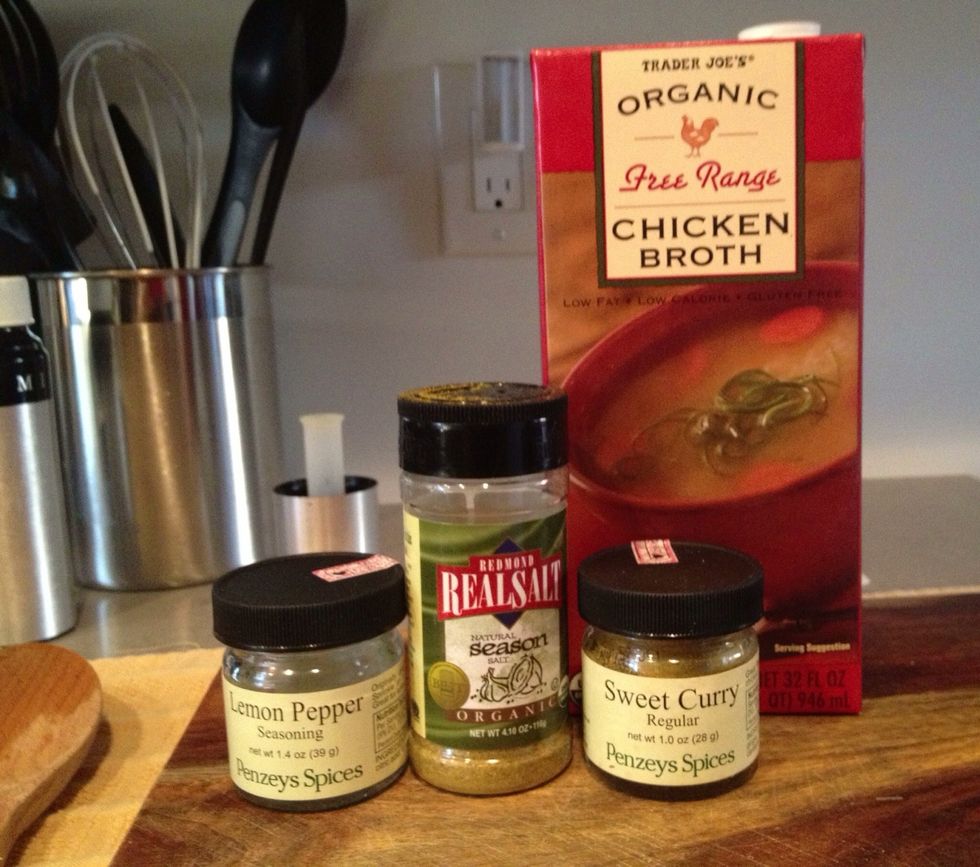 My spices for today. You can also use vegetable broth/stock for a a totally vegan version. I LOVE penzeys spice blends (www.penzeys.com) Green Godess and Lemon Pepper are some of my faves.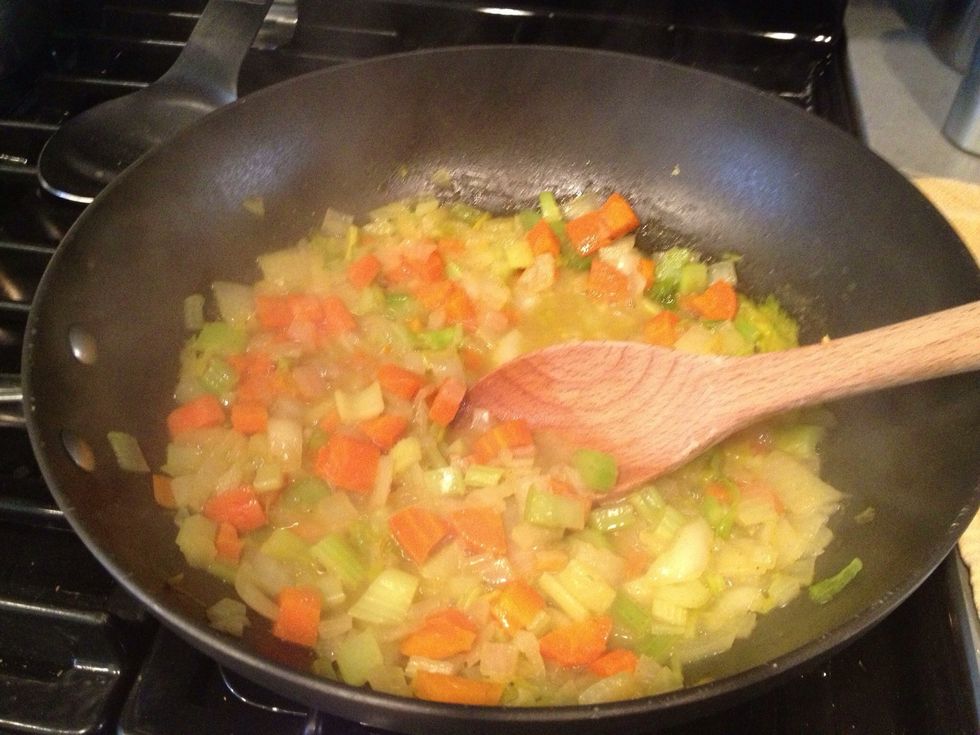 Add the chopped veggies to a deep pan or soup pot and soften over medium heat adding broth as needed to keep the mixture wet. About 8-10 minutes total. You can let it sit while the cauliflower roasts
Add a clove of garlic to your chopped veggies if you like. You can substitute cayenne pepper if you like more spice. You can use canola oil- but I prefer coconut or olive oil. Have fun! Be creative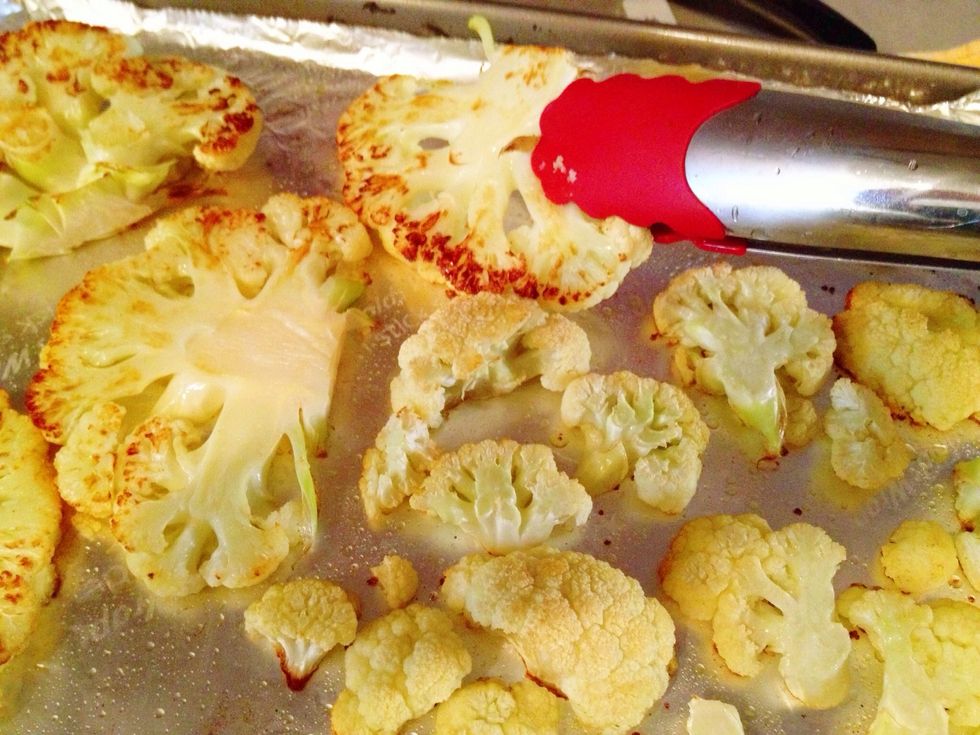 After 15-20 minutes check on he cauliflower... This batch is ready to flip over. We want it nicely browned on both sides.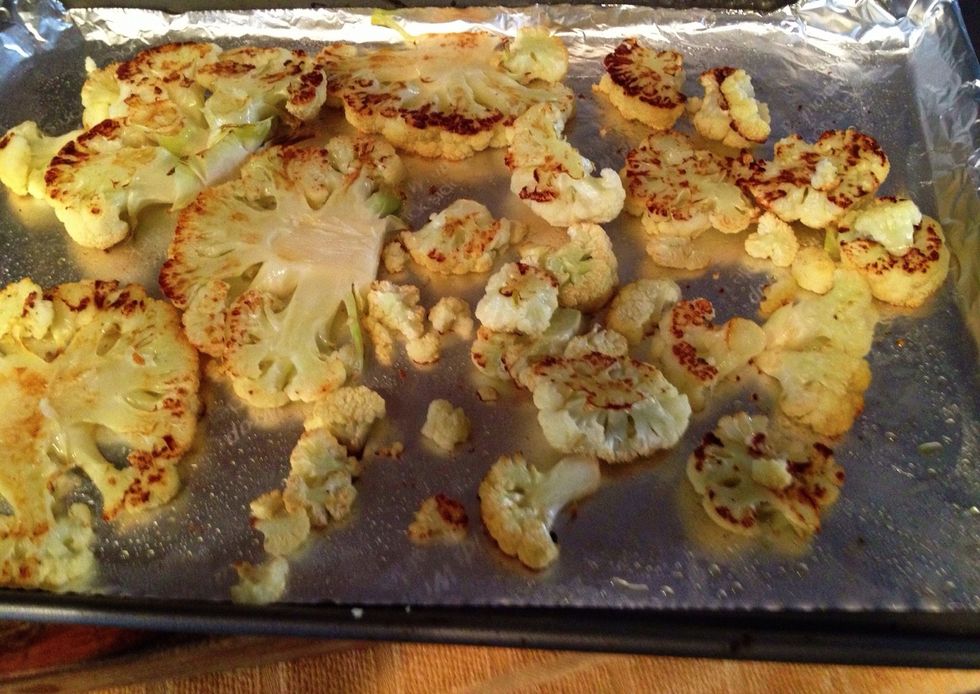 This is what it looks like after a total of 35 minutes. (I flipped mine after 18 minutes) The carmelization gives the soup a slight sweetness and amazing depth of flavor.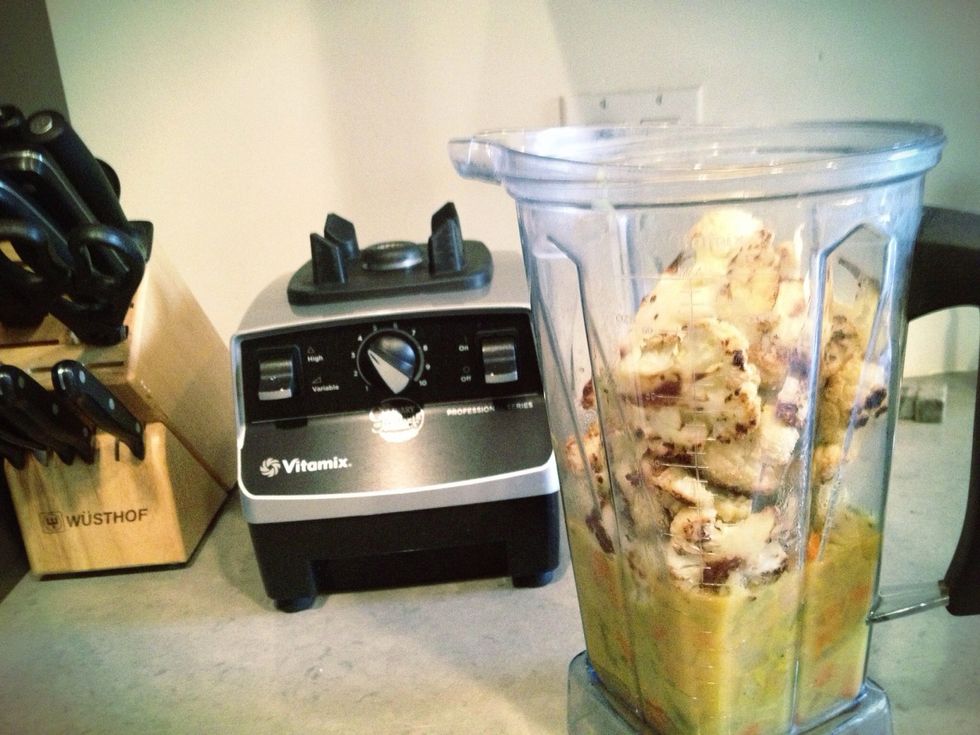 Sprinkle the cauliflower with salt then into the vitaMix along w/the softened veggies... Add more broth as needed. If you are using an immersion/stick blender, put all the ingredients into a deep pot.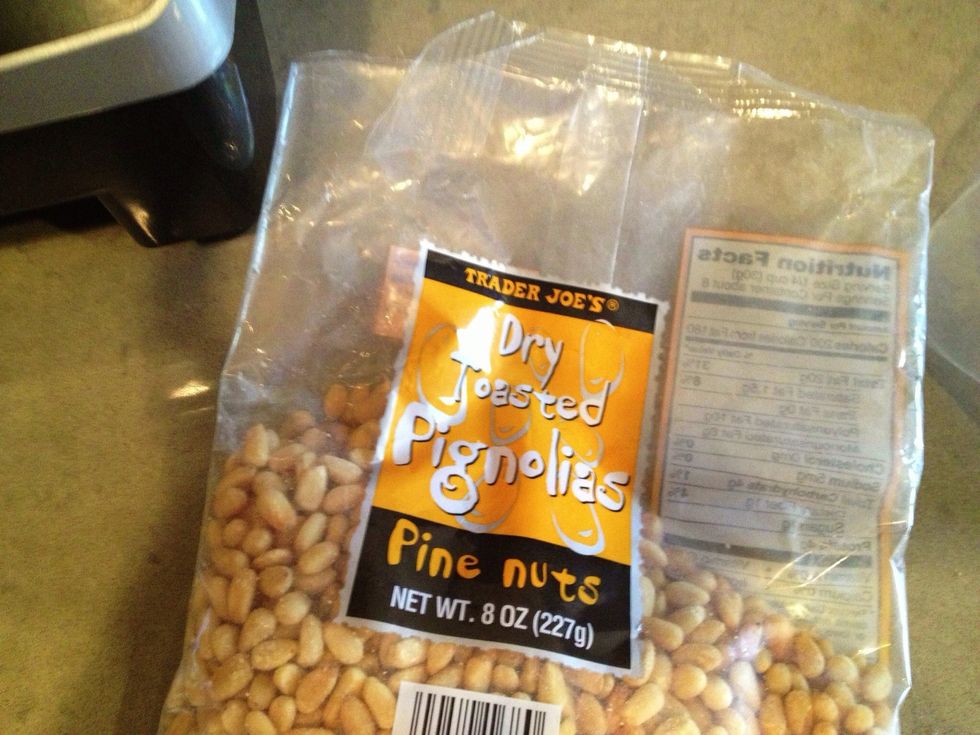 It's ok to use raw (not toasted) too. If you prefer a smaller amount get 'em from the bulk bins at Whole Foods. (Tip or storing any nuts: keep em fresh in the fridge or freezer for a few months)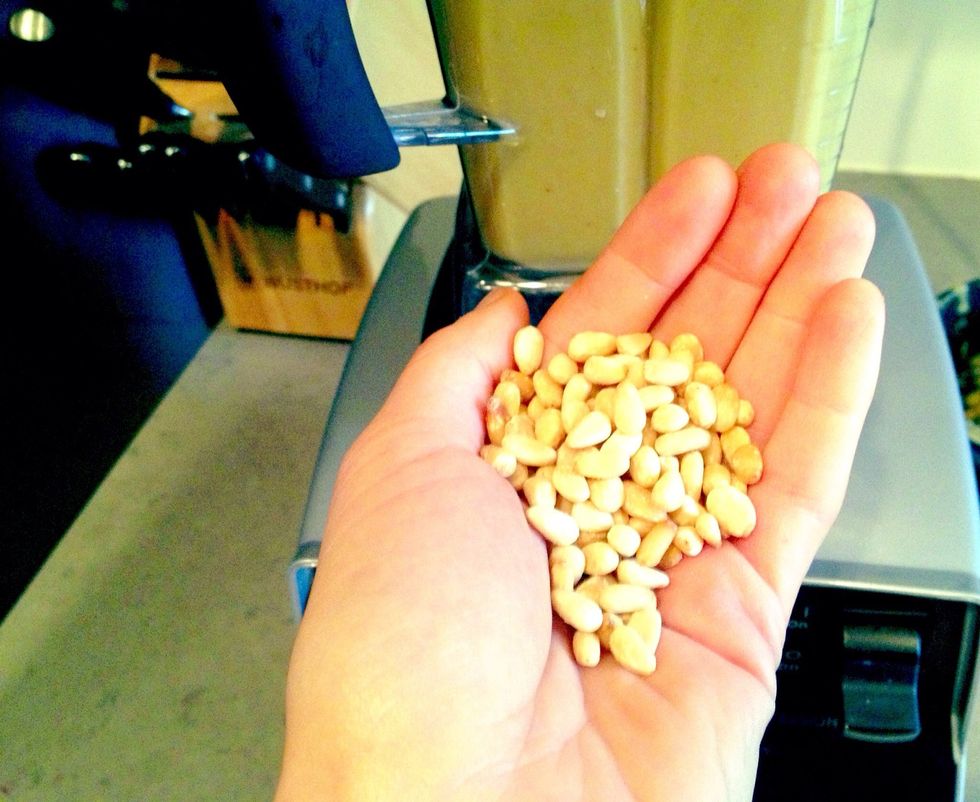 After blending for about a minute add the pine nuts and blend until smooth. That looks like 2 tablespoons, right??? I dont measure anything... Now is the time to add spices if you didn't yet.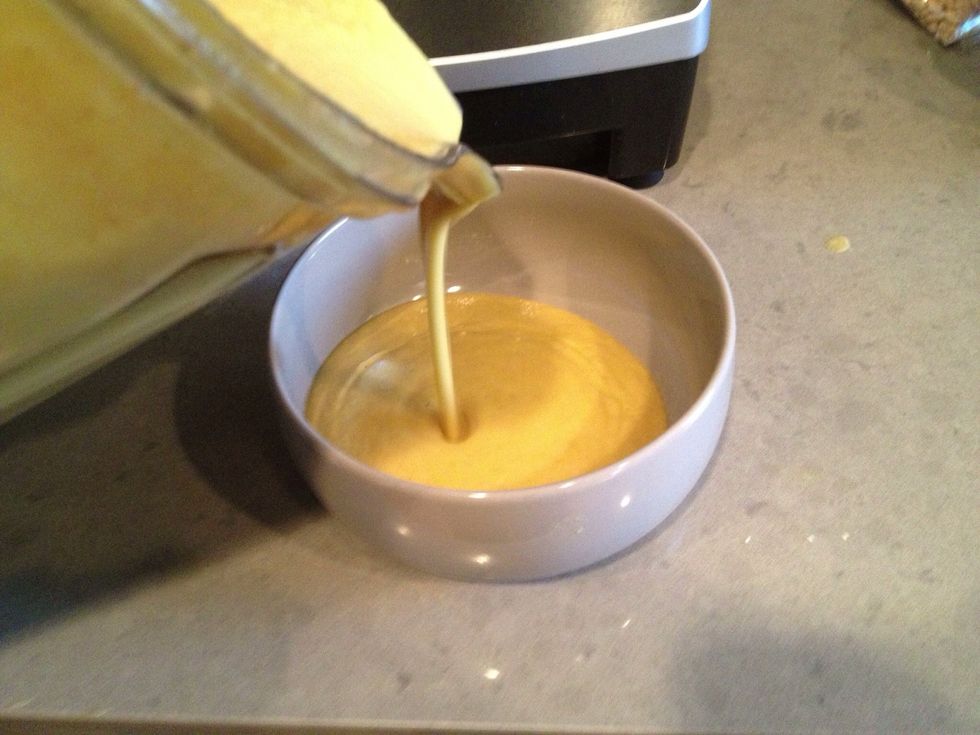 You can add broth or water til the consistency is to your liking. I add just a dash or 2 of curry powder and plenty of lemon pepper - which contains salt. Err on the side of UNDER-seasoning...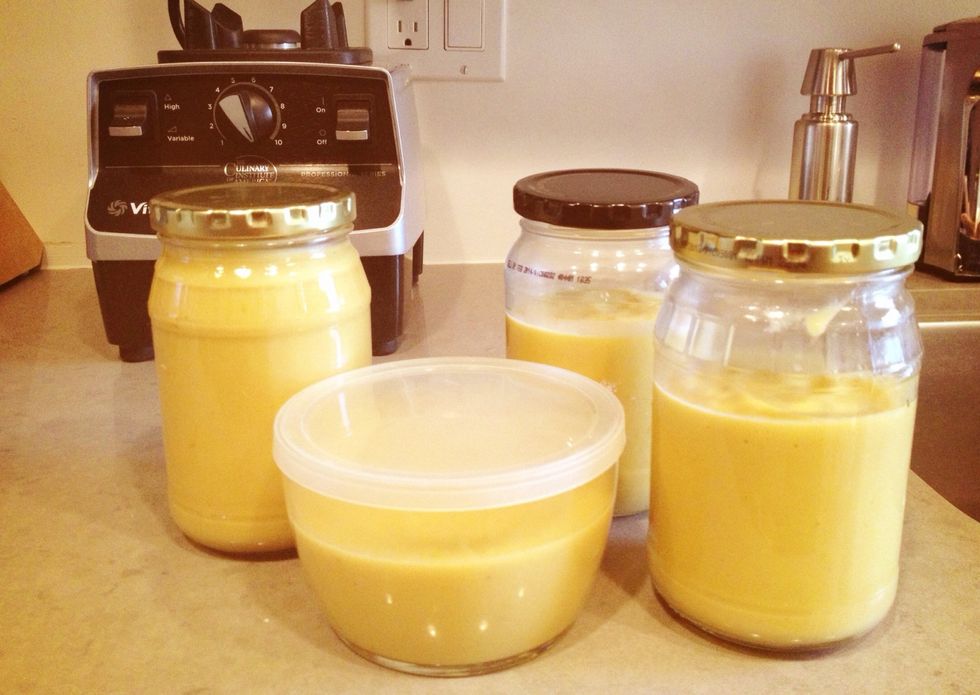 You can always add more after it sits in the fridge overnight. The flavors will continue to develop, so it will taste even better tomorrow. (Tip: for a dinner party make it at least 1 day ahead) enjoy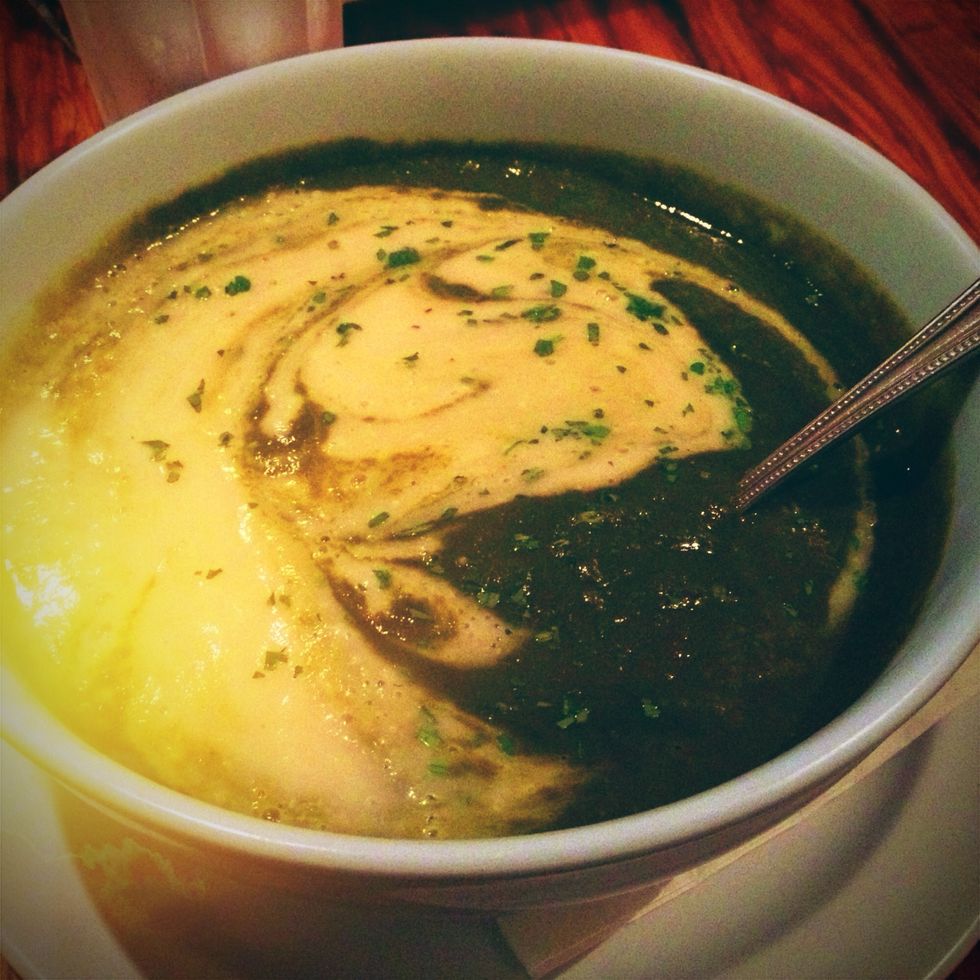 If you're feeling very fancy: make 2 kinds of soup (like roasted cauliflower and green soup) an serve em in the same bowl! Ooohhh :)
I welcome your comments and requests. What do you want to learn to cook? Subscribe. Like. Follow ... and share the love.
1.0 Head of fresh cauliflower
4.0 Large stalks celery
2.0 Carrots
1.0 Small-medium onion
3.0c Chicken broth
White Pepper, curry powder
3.0Tbsp Pine nuts
Olive or coconut oil
Beth K
For me cooking is an expression of LOVE! I'm curious, grateful, always learning... and I'm especially fond of anything delicious, sparkly or well organized.