For my lovely friends in Malaysia and the Middle East who are celebrating hari raya / Ramadan. We are catholic but we want to share love without boundaries, be it colour, race or religion. Just Eat!
13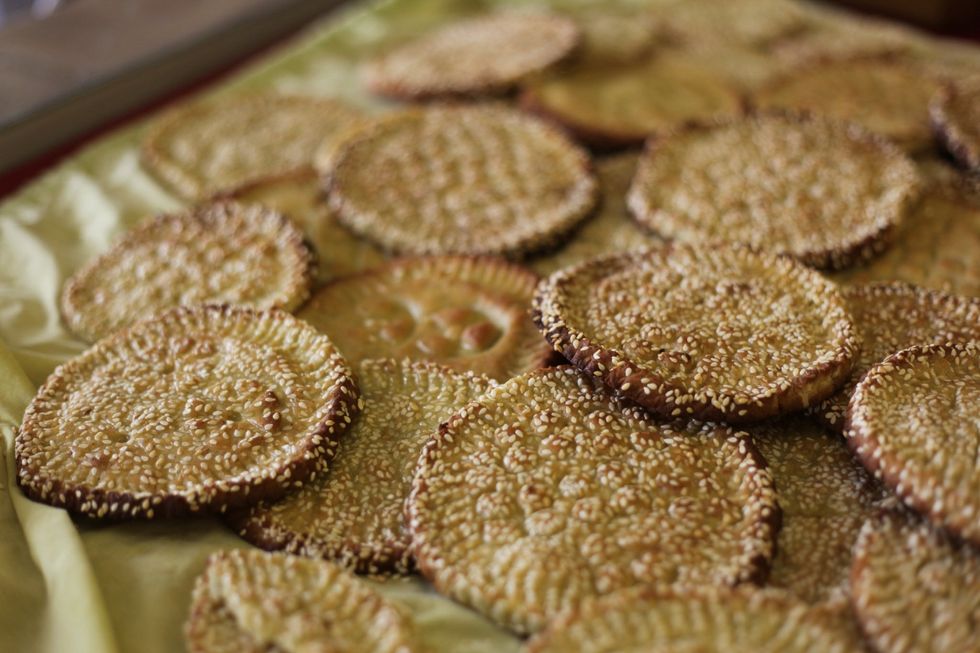 So first to explain as I'm sure some will question the origins of this biscuit. Middle Eastern Catholics make these during Easter and are called 2rass (arass). Well..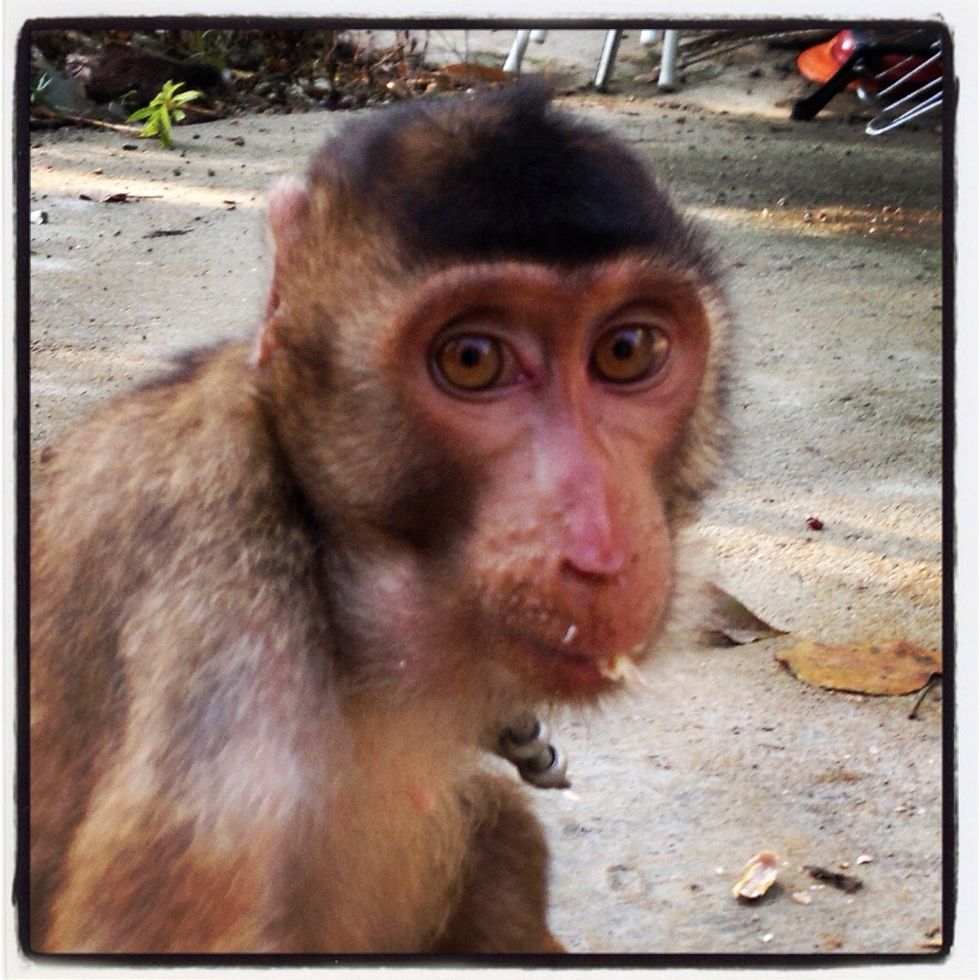 ... my friend Siti (my Malaysia best friend's pet Macaque monkey) says... We love all races, religions and colous as long as there's food to share.. So shall we get started?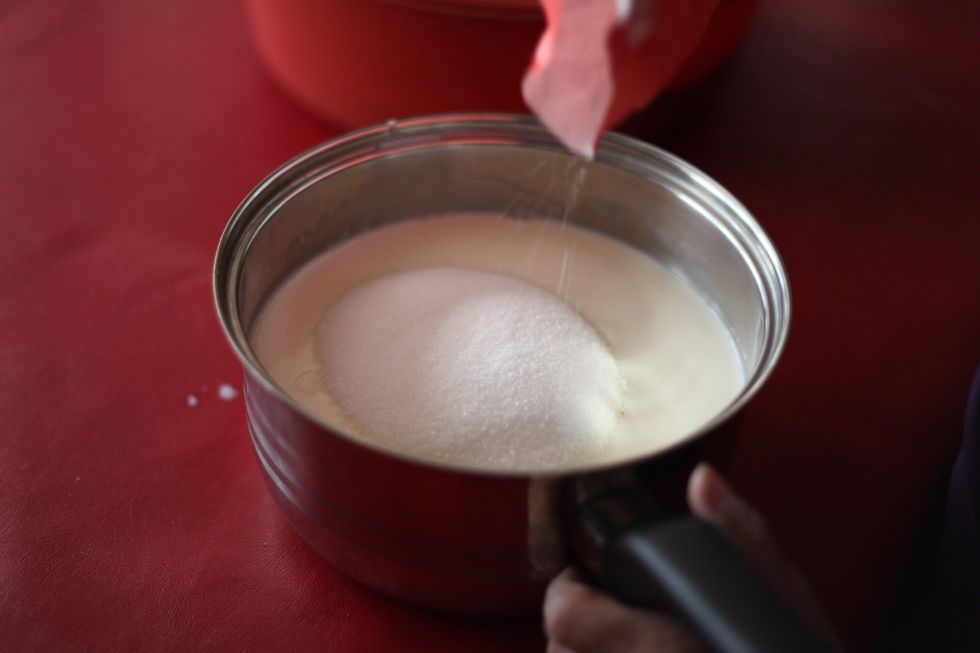 So let's start by preparing the liquids. 3 cups of milk and 1 kg of sugar. I know I know, sugar again!!!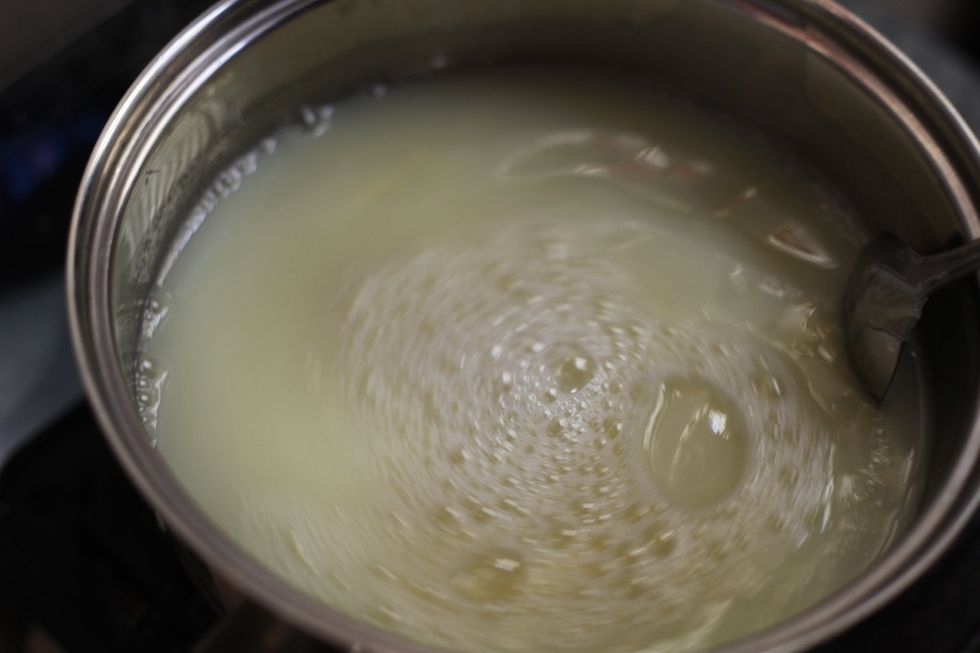 Stir until the sugar is melted. We don't need to boil the milk. A nice low-medium heat is fine.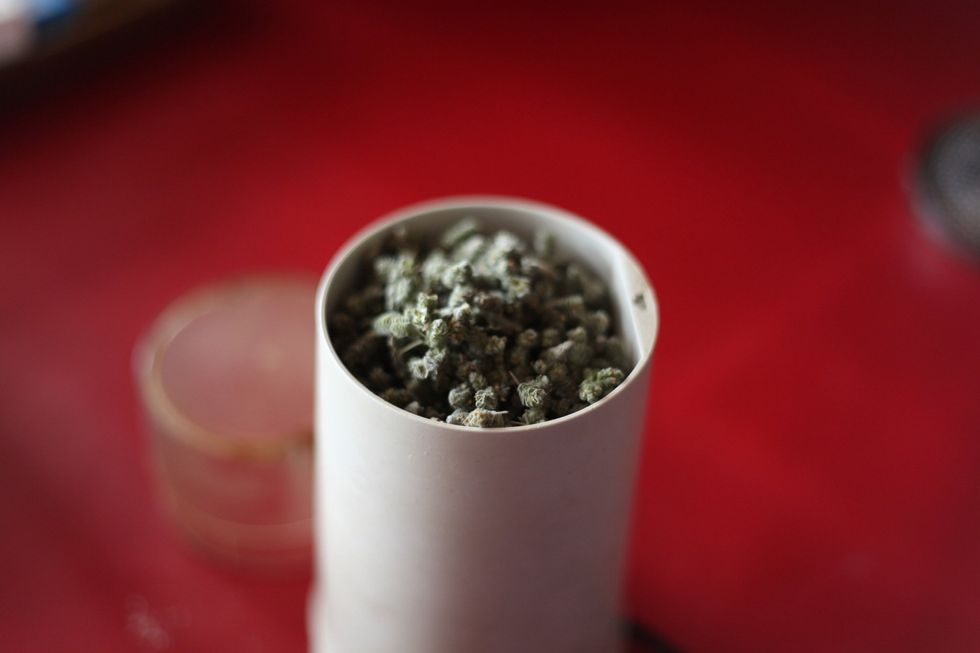 The herb that goes unnoticed in so much cooking. Marjoram! It's really easy to grow in your garden. Dad's Tip: Plant the seed in spring and it will produce all year round.. Go figure! Lol.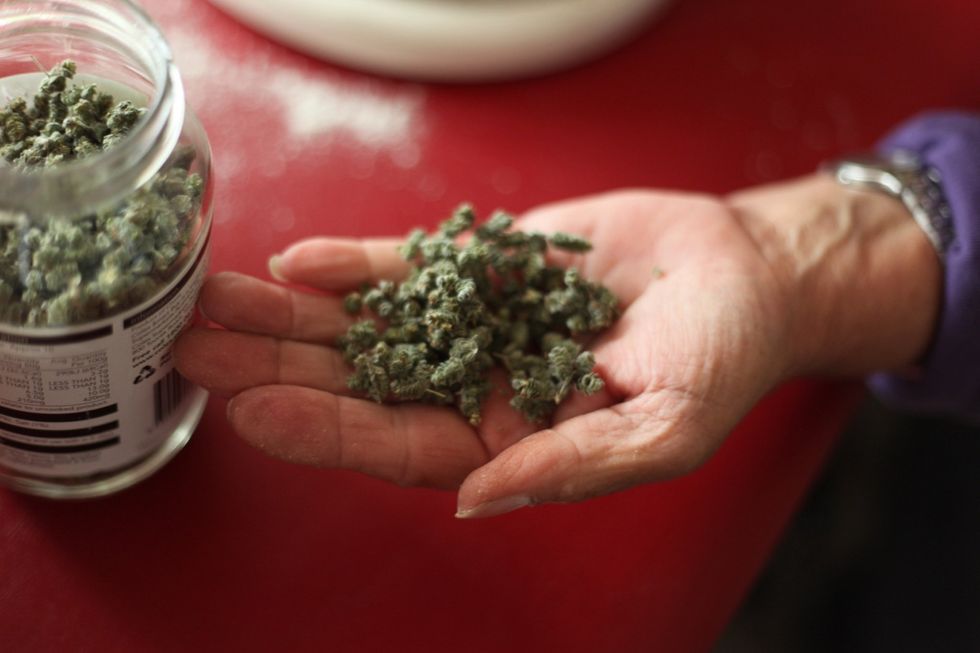 This is what it looks like up close. You can buy it already ground, or if you grow it, Place in the sun and dry. It can be stored in your cupboard for 12 months.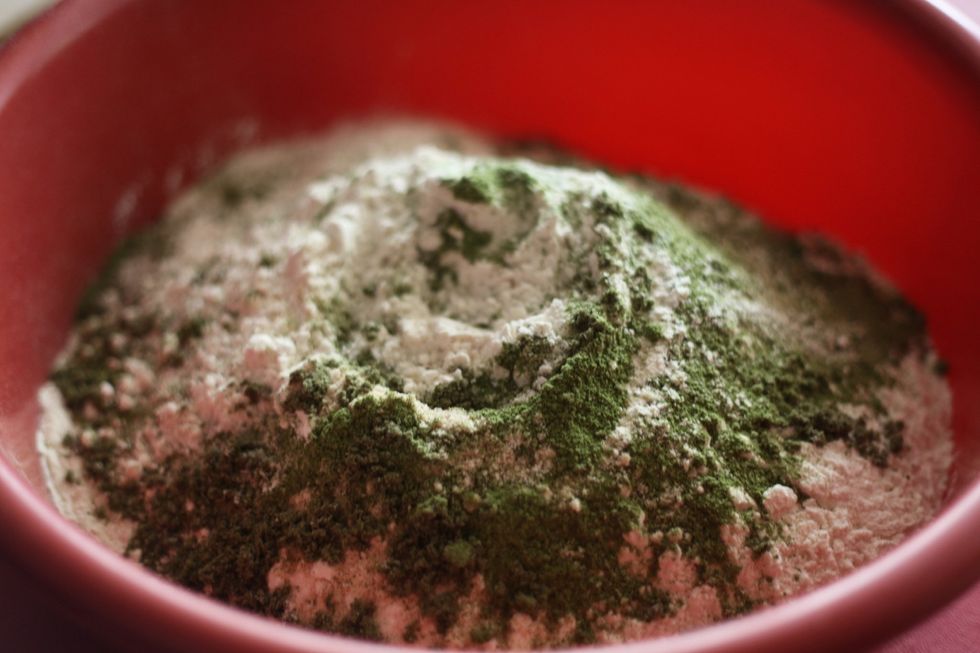 So 2.5 kg of plain sifted flour and 2 tablespoons of ground marjoram.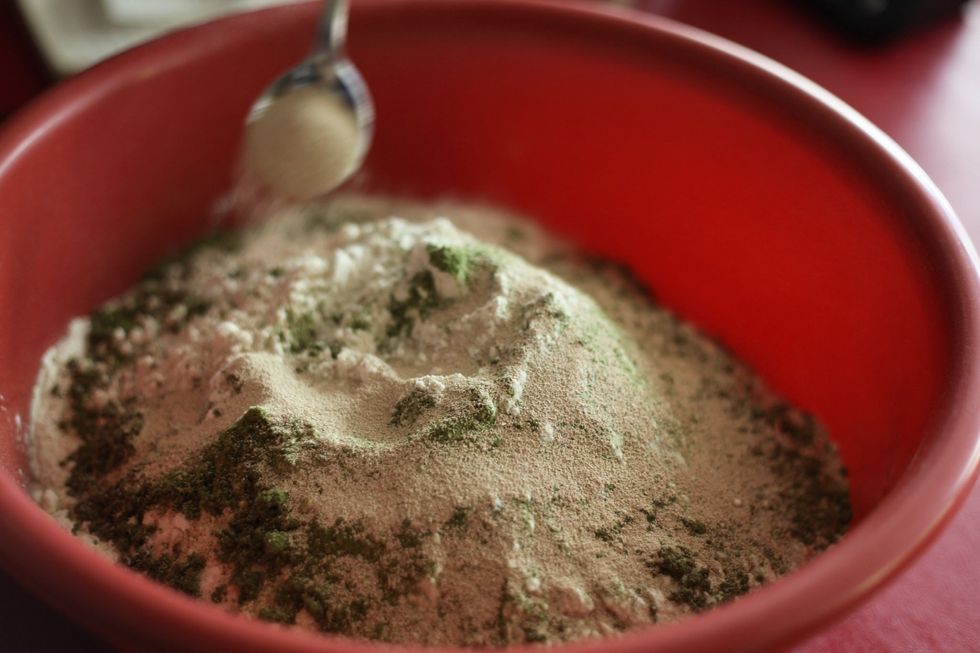 2 tablespoons of yeast. Now even this I don't understand: we add yeast but we don't allow the biscuit to rise! Weird right? Let's keep going...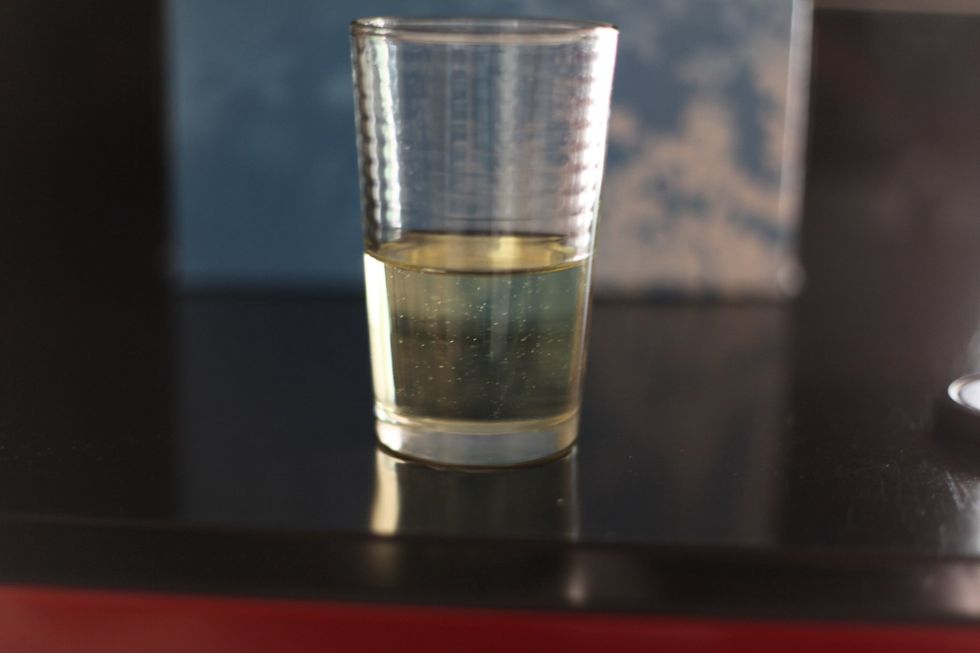 Add 1/2 cup of vegetable oil to the flour mix. Also 2/3 cups of rose water.
3 & 1/2 cups of ghee or unsalted butter is fine. Tip: always use the same size cup for all your ingredients especially when no weight is given. See our glass cup? ;) Did you Wash your hands?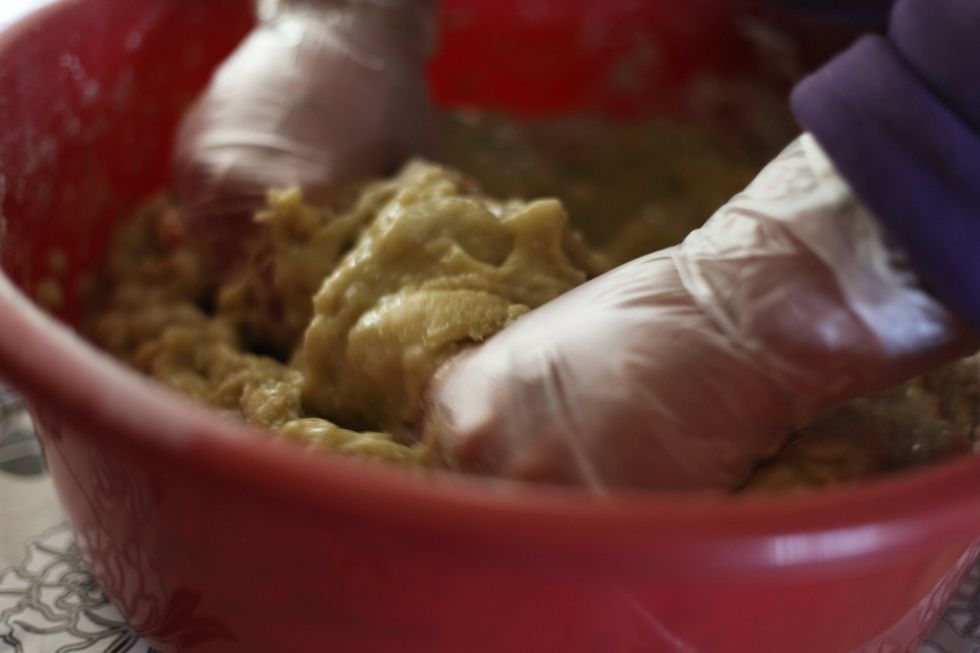 Play time!!! Mix, mush, knead and get the dough looking nice and shiny and make sure no flour is sticking to the bowl. Cover with a blanket and leave it for an hour or so.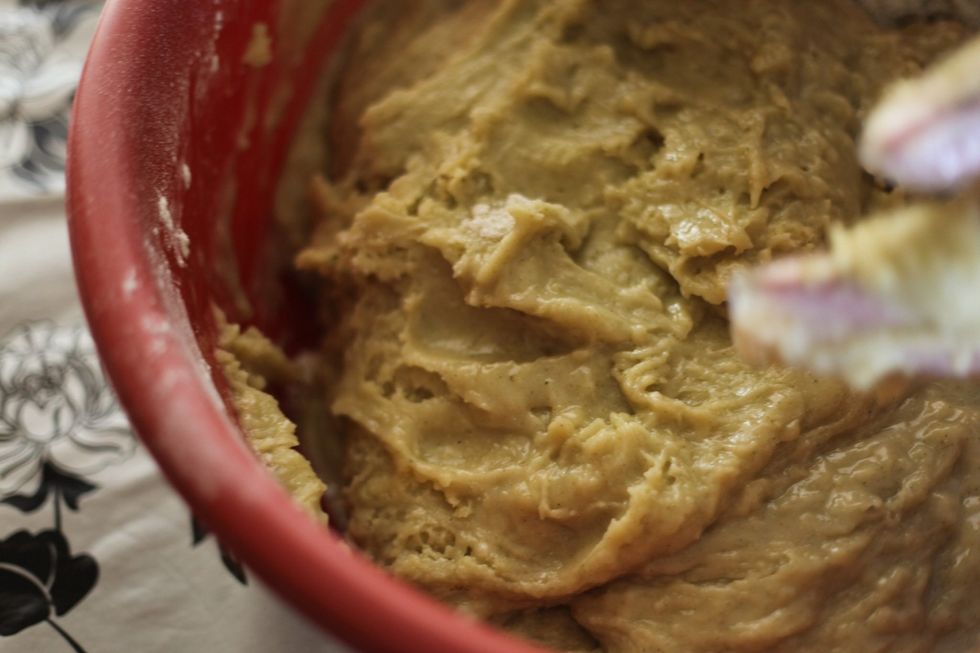 Isn't it beautiful. It should have a green tinge to the colour. Don't stress green in environmentally friendly. :) when cooked it will be white again. Amazing!!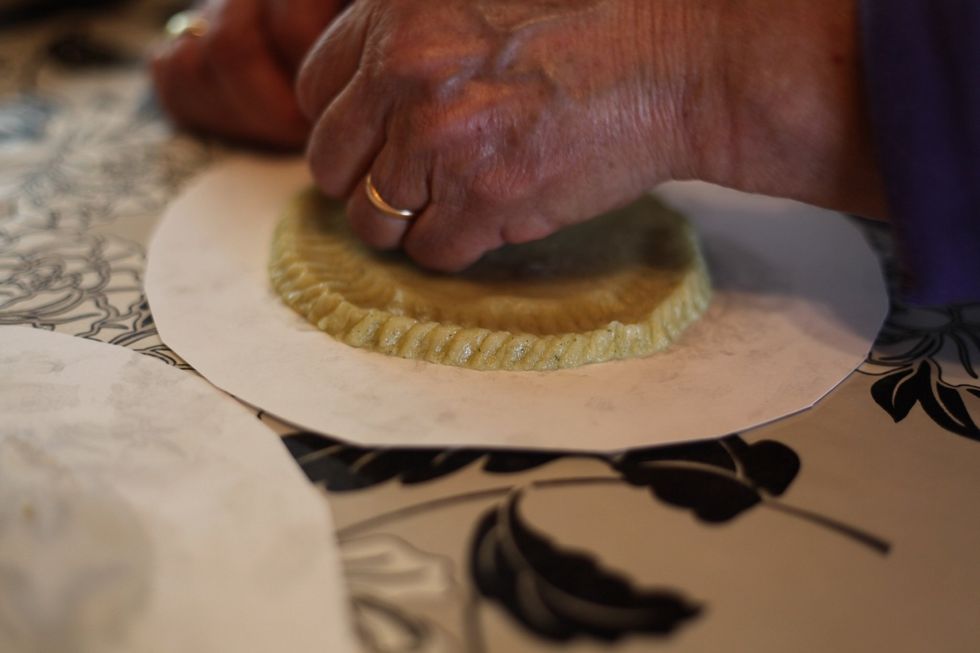 why do I choose such complicated processes to explain. And I don't know how to explain this process lol. Roll out the Dough into round disks (10-12cm) and pinch the whole outside diameter. Make sense?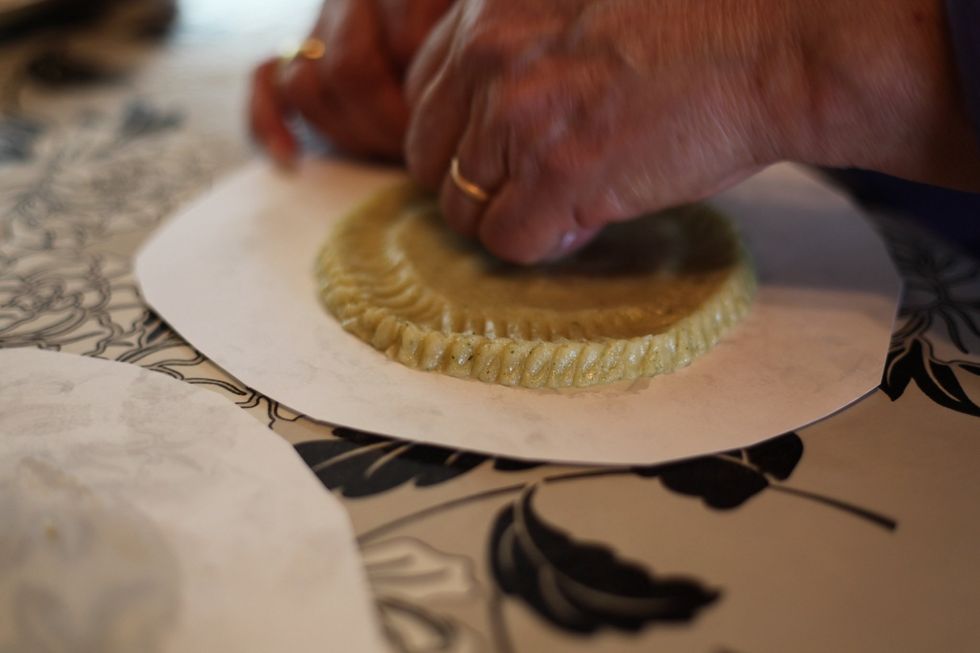 The best way is to Cut some baking paper disks to guide you. We just used normal A4 recycled paper.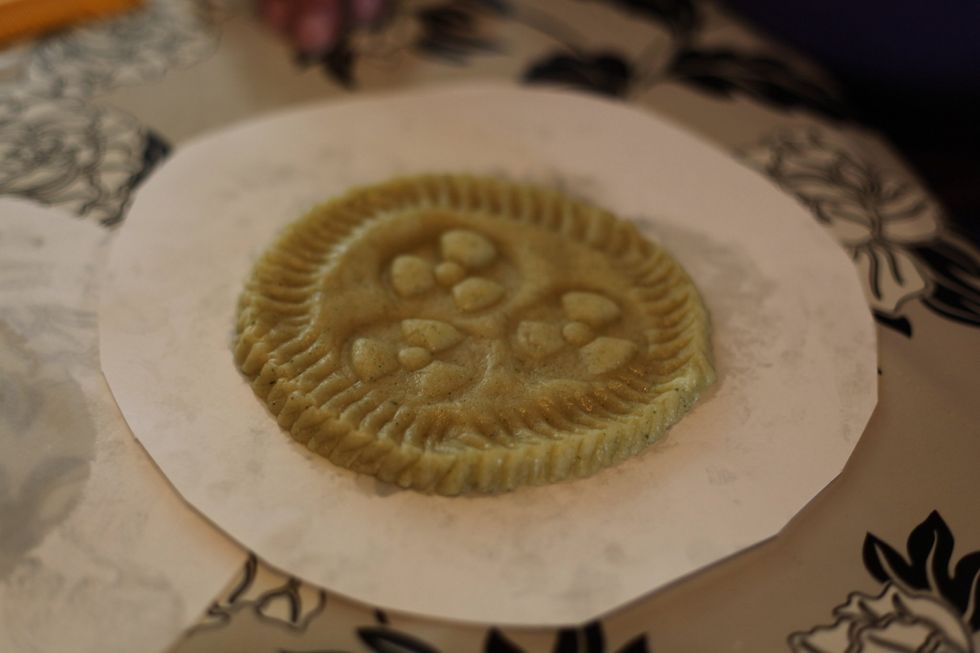 And apologies for the radiation symbol lol. You'll see the utensils used to imprint the dough.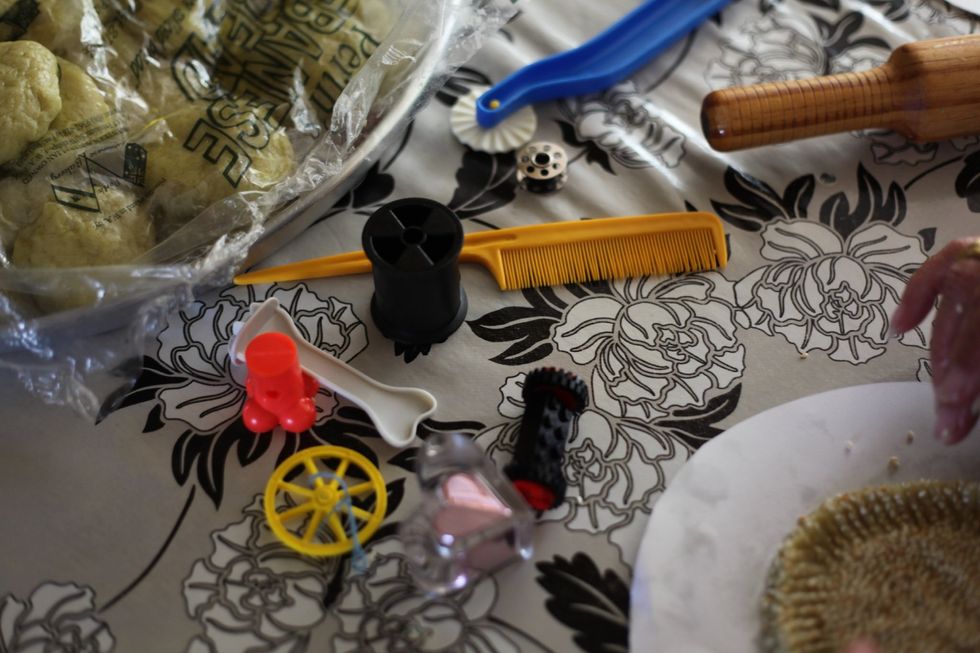 You can Lego, old jewelry glass case, spoon or anything you can imagine to make a nice imprint.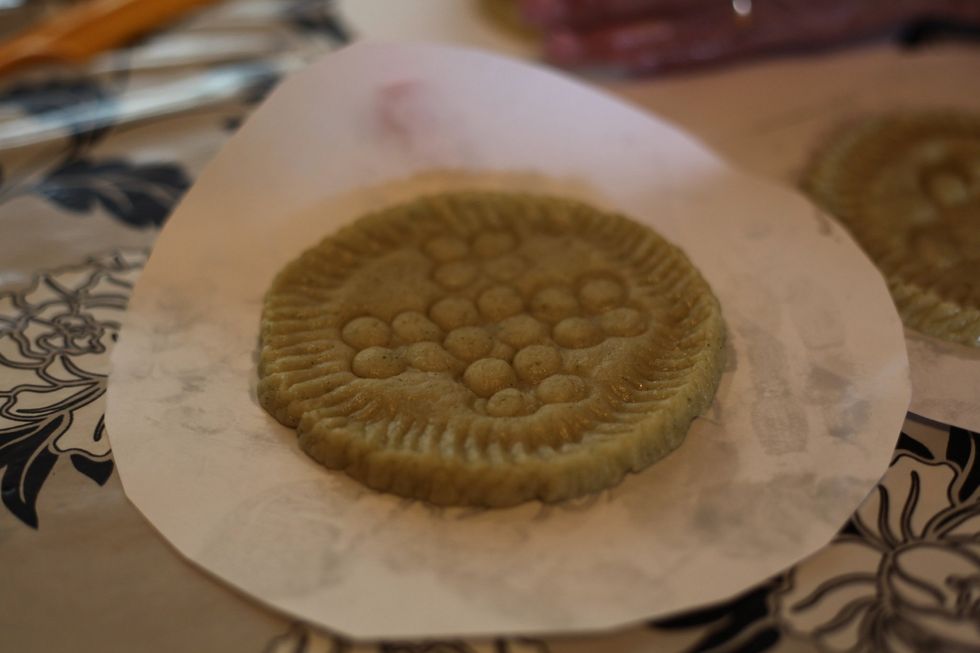 An example ..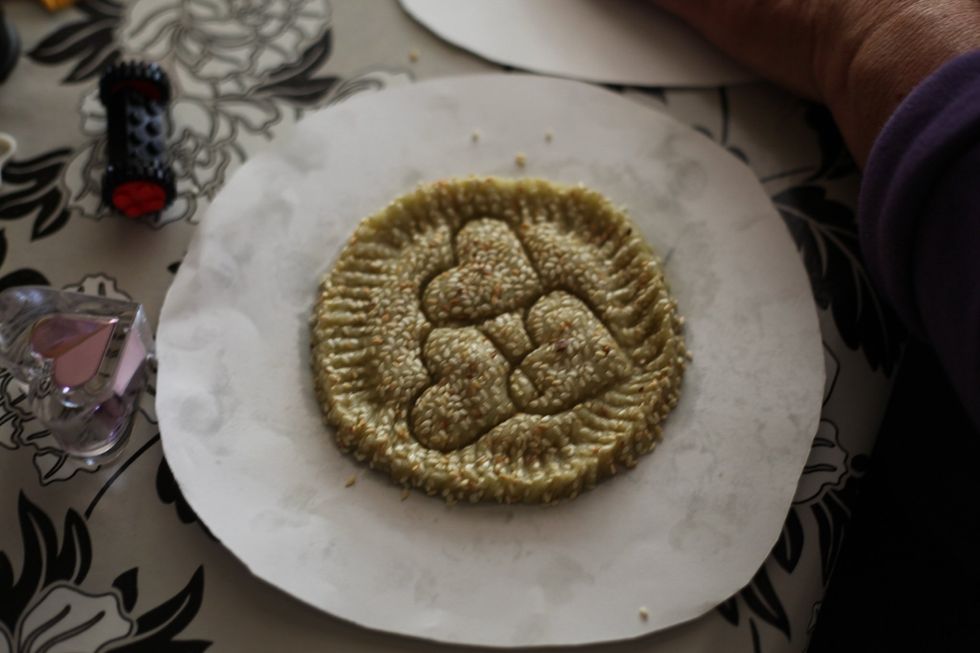 Oh why not add sesame. Another example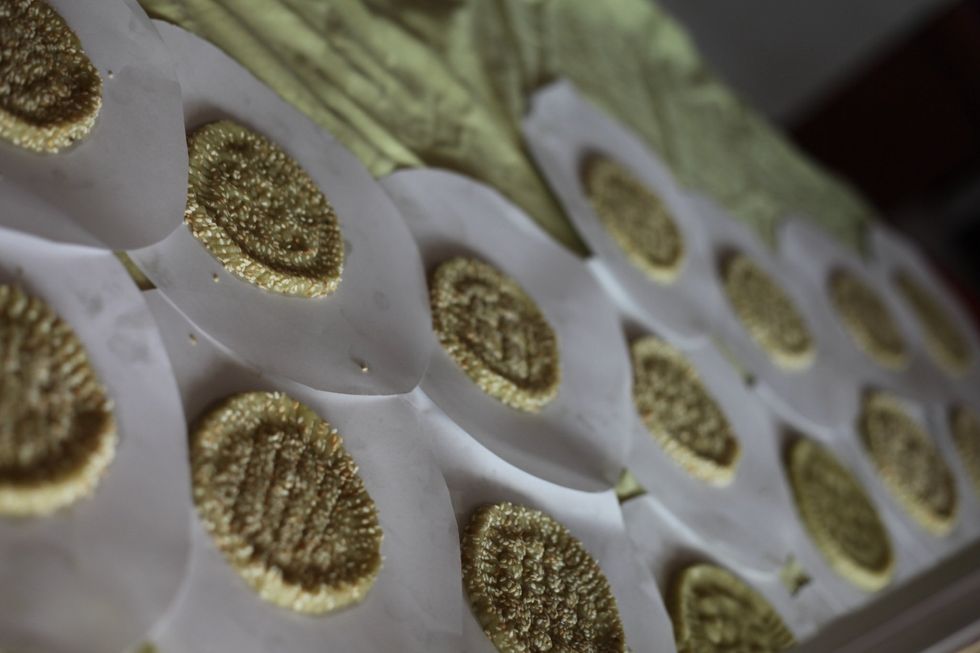 Before you bake, make sure you roll and imprint all your dough. We just spread them all out on the kitchen bench. Get your oven ready to 200 degrees to bake for 15 mins. When baking remove the paper!!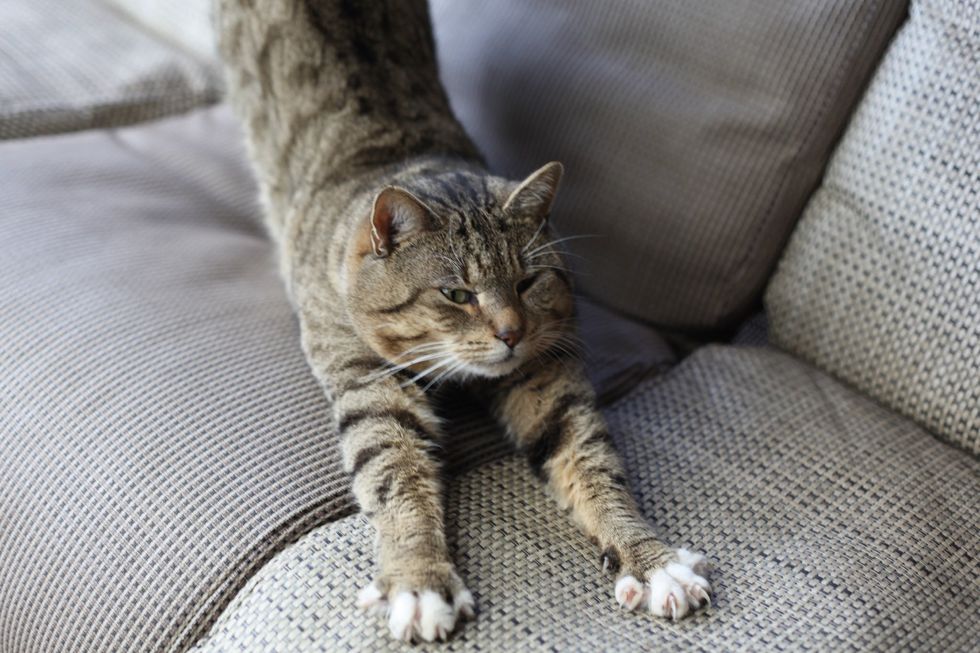 Have a stretch or do a yoga class with Dad's cucumber eating cat, Nail (yep that's his name and yes he eats cucumber). And start baking all your biscuits for 15 minutes on 200 degrees celsius.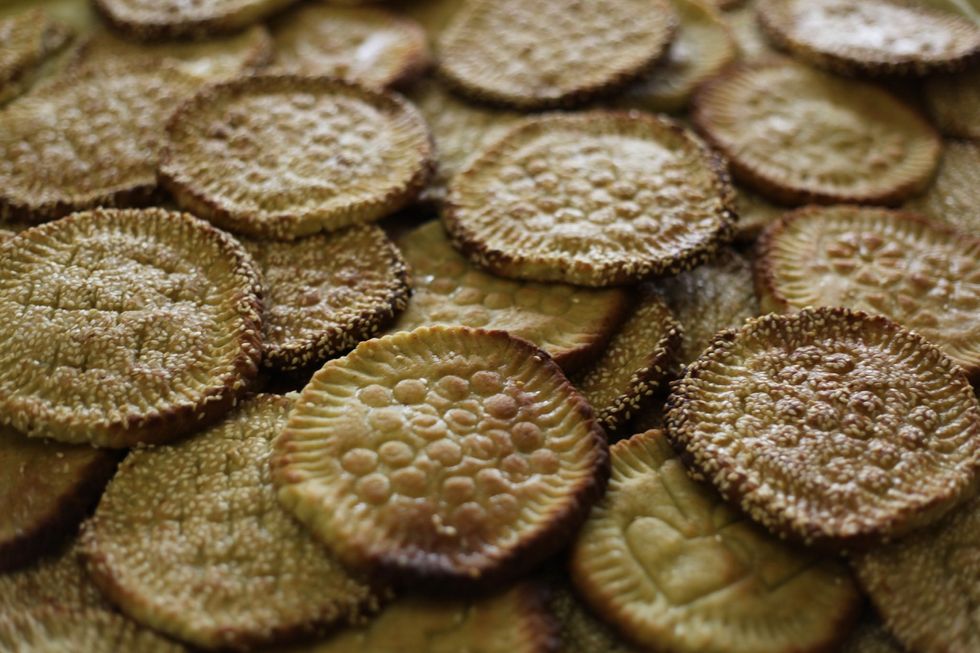 And this is what you get. A soft and crunchy biscuit to reflect any religious celebration. Oh did I mention, they're so delicioso!!! You can give them a milk wash if you like. Check next slide..
Grab 1 cup of milk, add 1 tablespoon of rose water and using a brush just cover the biscuit with the milk wash. Do this step while the biscuit is hot out of the oven.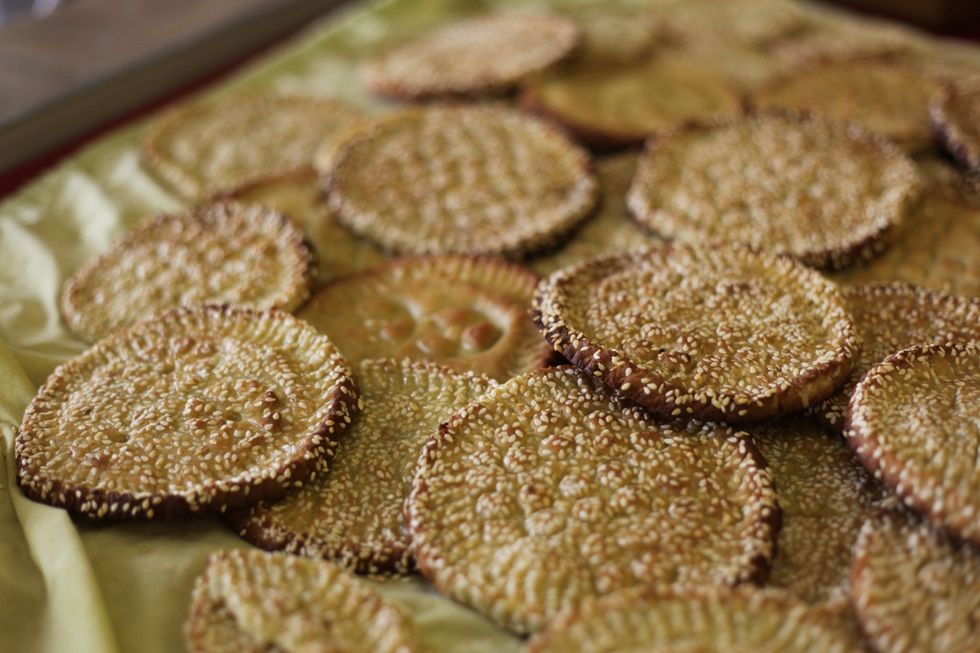 And this delightful biscuit lasts for 1 month outside the fridge. Cover with plastic wrap and store in a dry cool place. Or in the fridge is also fine.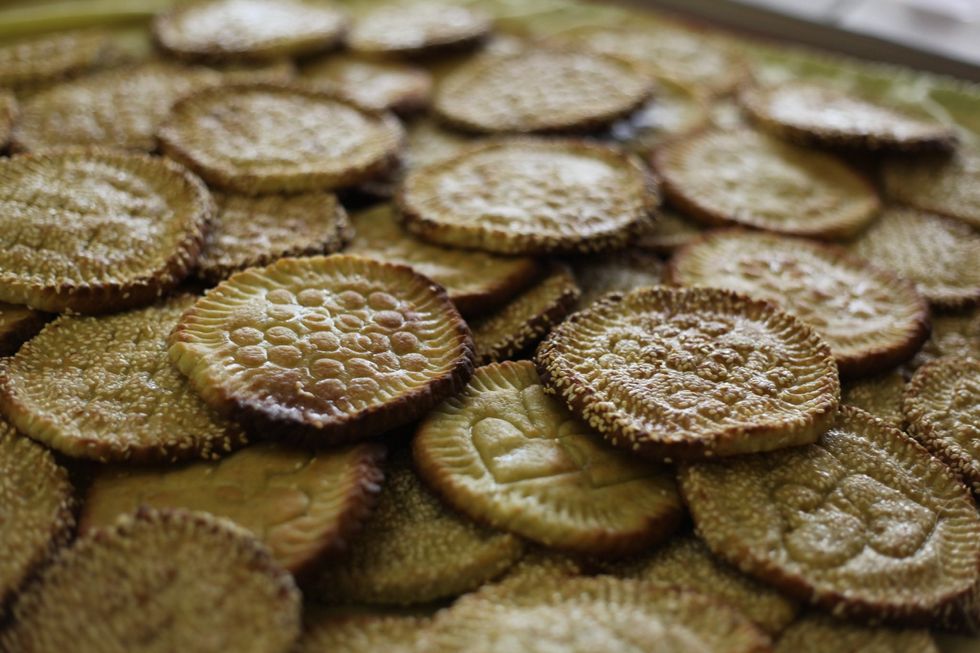 From our amateur kitchen, we hope you enjoyed this traditional "prehistoric" biscuit recipe. With love, Micho. Please follow, comment and add your own suggestions. Happy Festive Season :)
2.0kg Plain Flour
3.0c Ghee or Butter
1.0c Vegetable Oil
2.0Tbsp Yeast
1.0Tbsp Mahlab (fenugreek)
3.0c Milk
1.0kg Sugar
2.0Tbsp Dried ground Marjoram
0.0c Rose Water
Michel Daher
Micho here. Amateur experimental chef and lover of food. Thanks for all your support. Join my Food Journey www.naturallygoodfood.com