How to cook power oats breakfast
This is a very easy, quick and super healthy breakfast. Quick oats with lots of added goodies* to boost your energy, fill you up and provide all the nutrients you need. (*Vary to taste.)
114
Measure your quick oats. I use almost a full measuring cup - probably 7/8 full. This makes a very large serving, probably enough for 2 adults. It's very filling!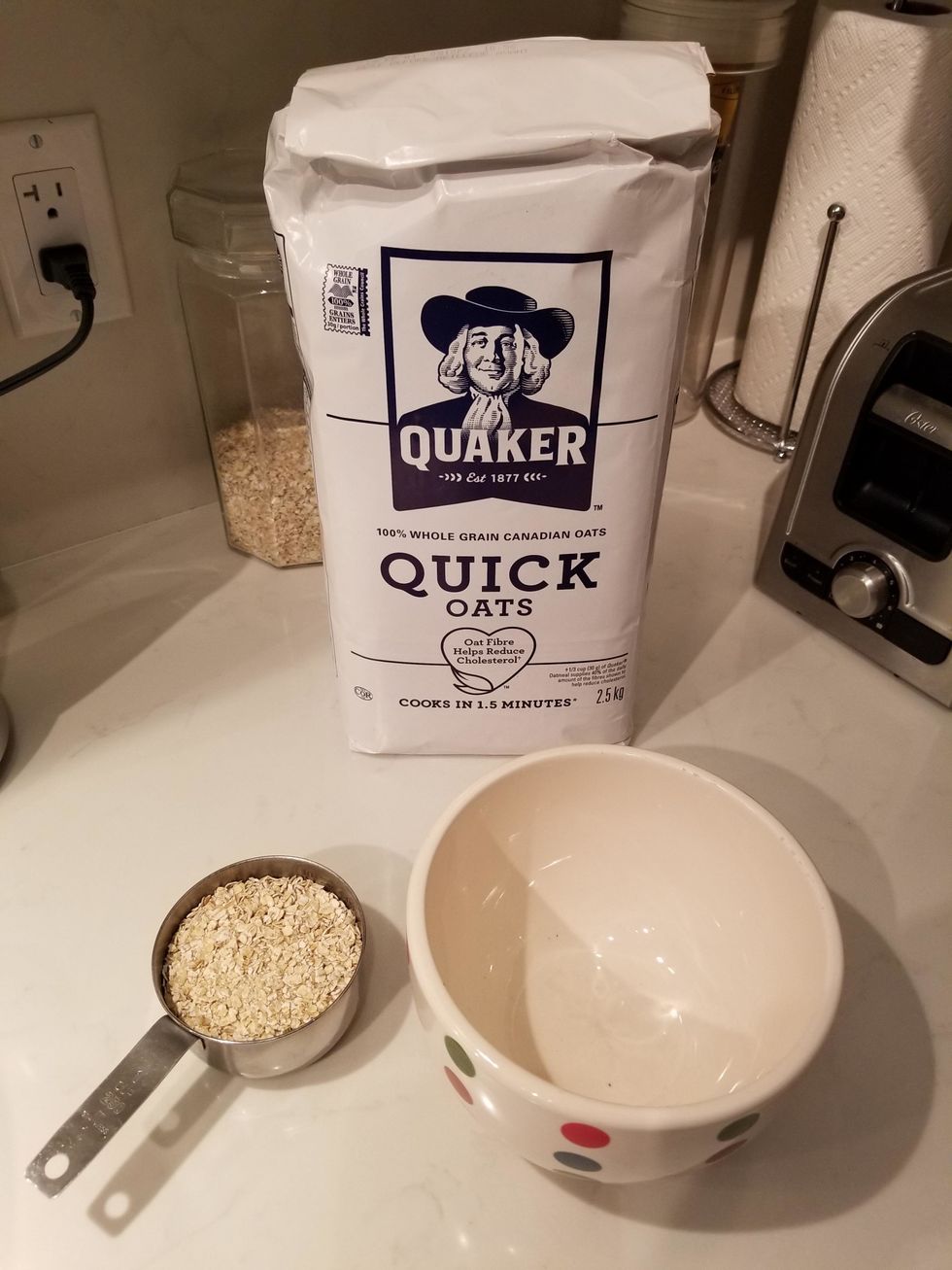 You can use water or milk or combine them - which is what I do. Add 1 cup of milk (I use plain, unsweetened almond milk) ...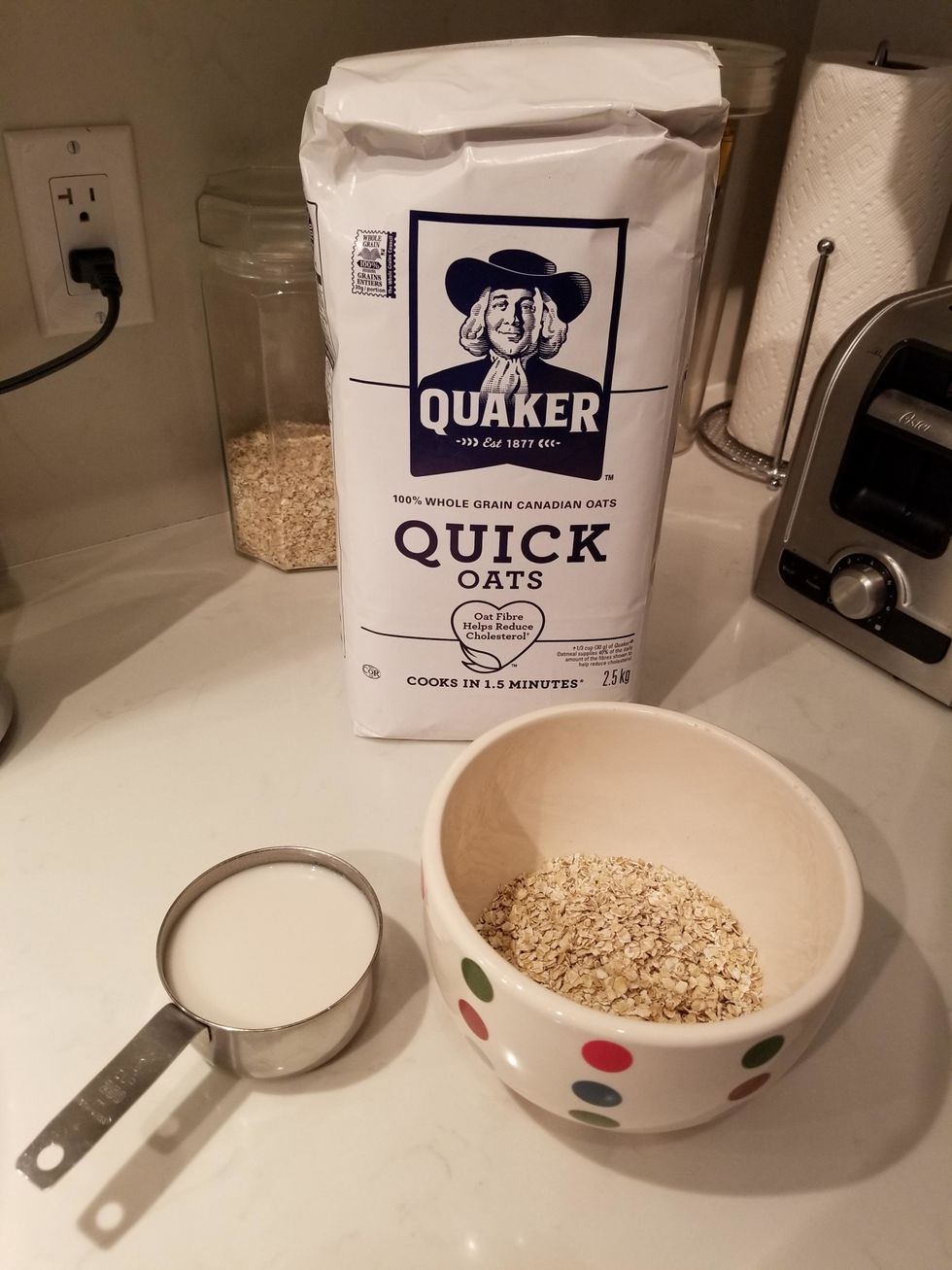 ... and add 1 cup of water.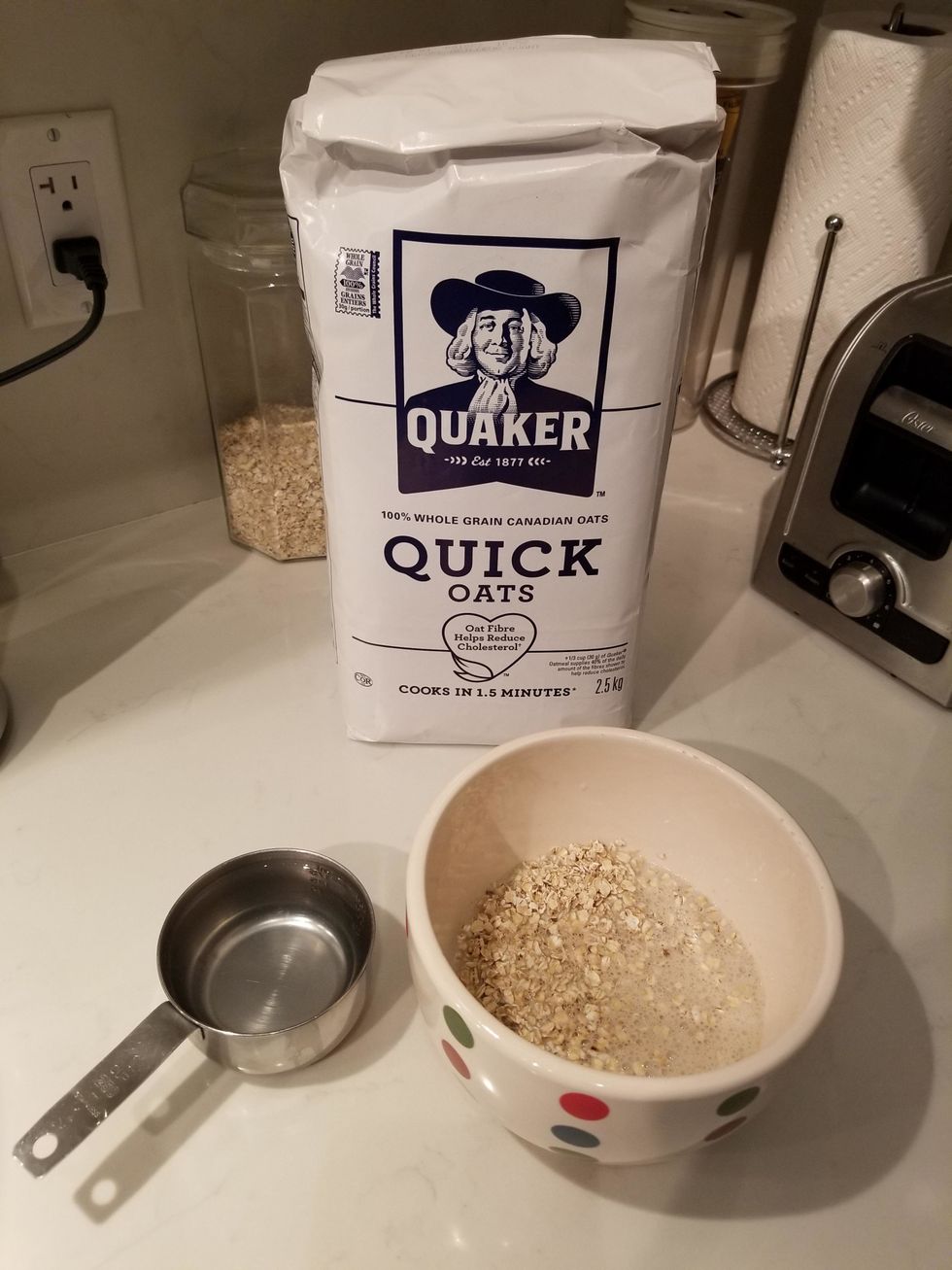 Give it a quick stir, and cook in the microwave for 1 minute on full power.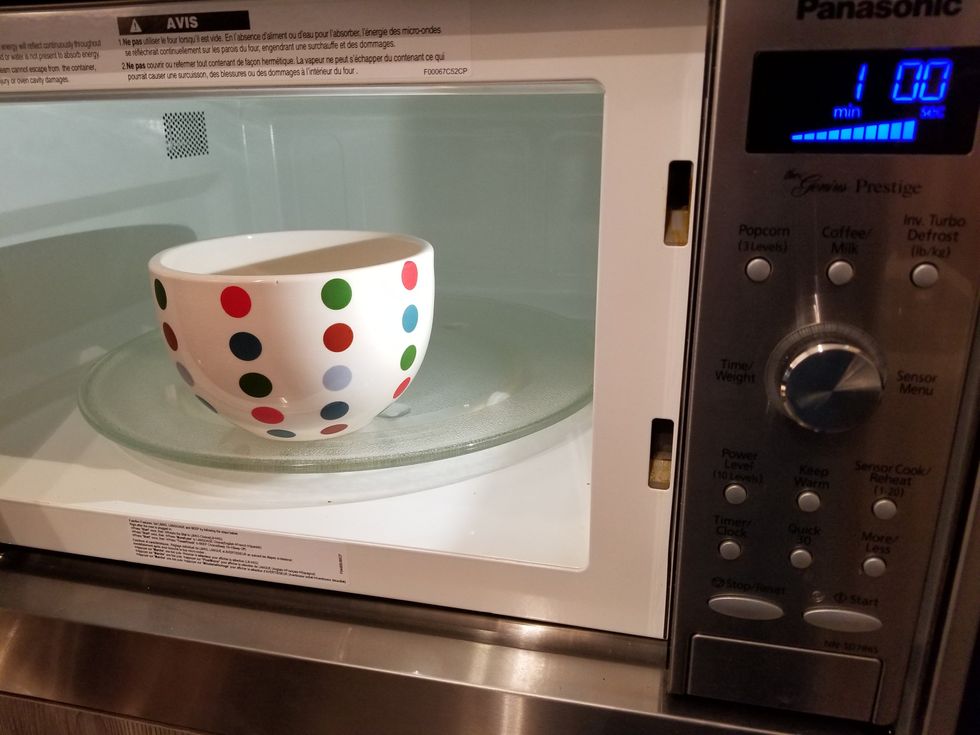 Now to toss all the "add-ins" into the mix. This is done to taste, & depends on whatever you have on hand. Add or subtract as you like. I start with 1/4 cup of raisins, & 1 tbsp of dried cranberries.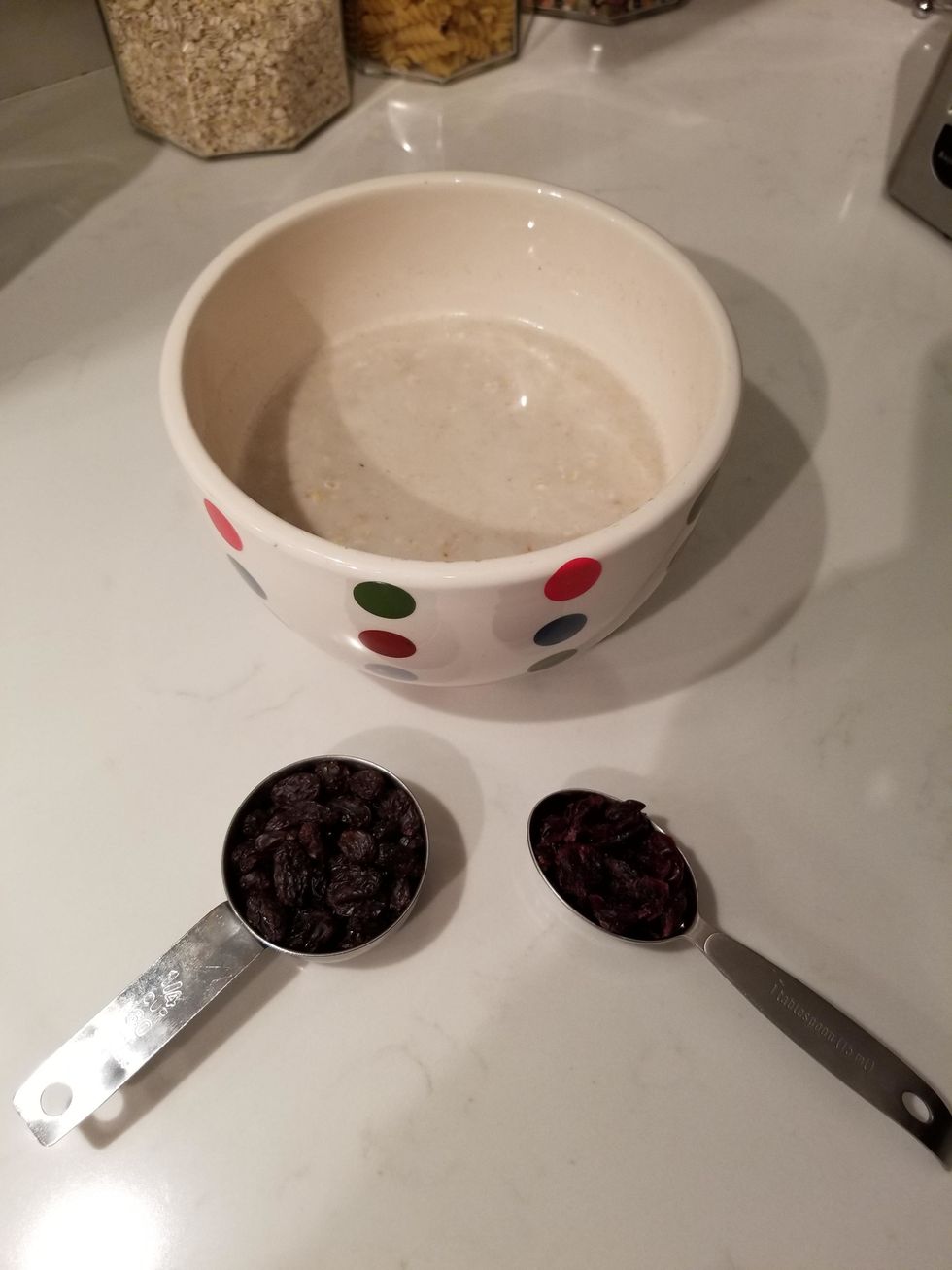 Then I add 1/4 cup of roasted (unsalted) sunflower seeds, and 1 tbsp of pumpkin seeds.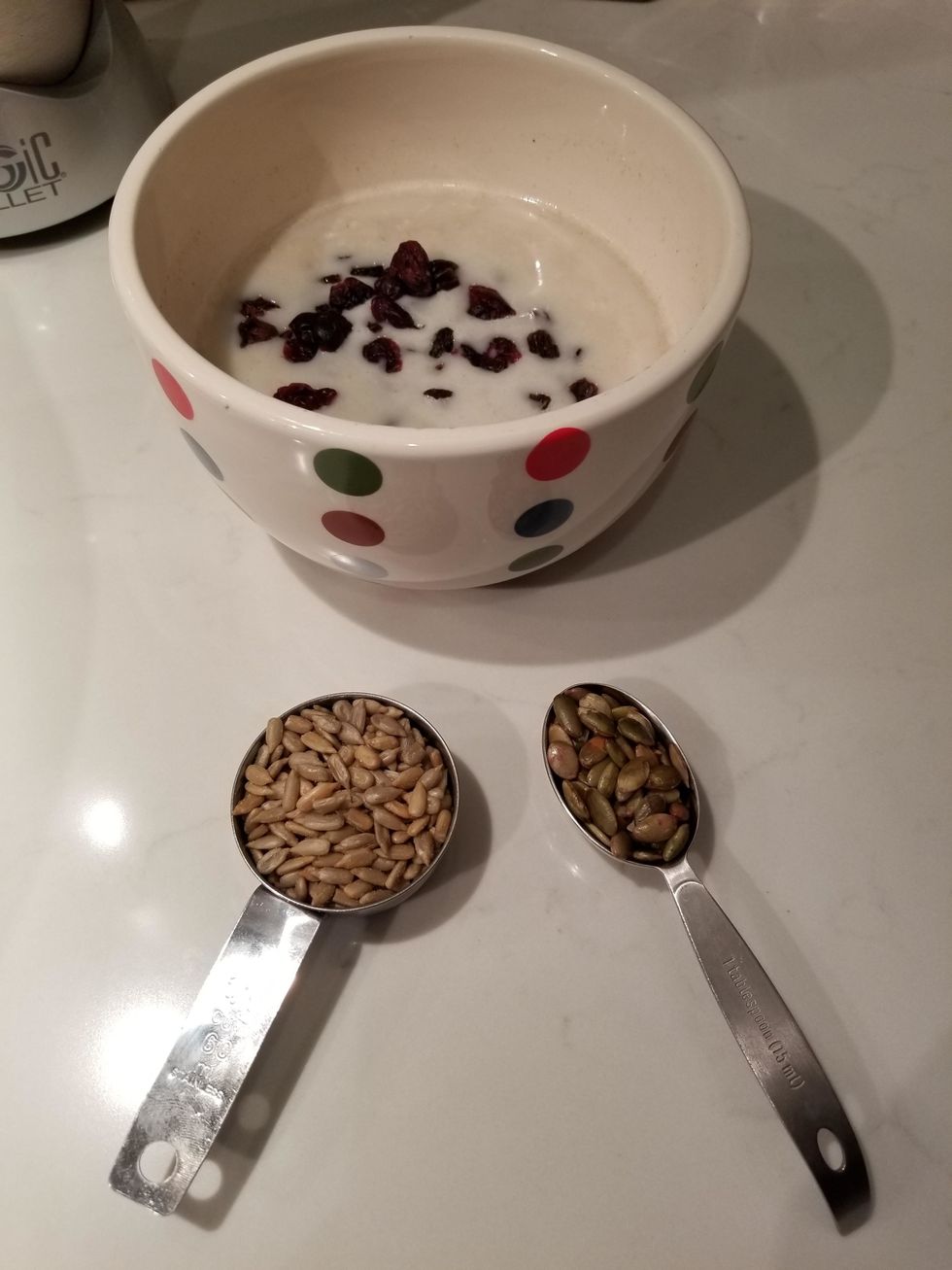 Next I add 1 tbsp of toasted sesame seeds, & 1 tbsp of hemp hearts.
Then I add a little less than a tbsp of chia seeds, and the same amount of ground flax. Some prefer to soak their chia seeds beforehand.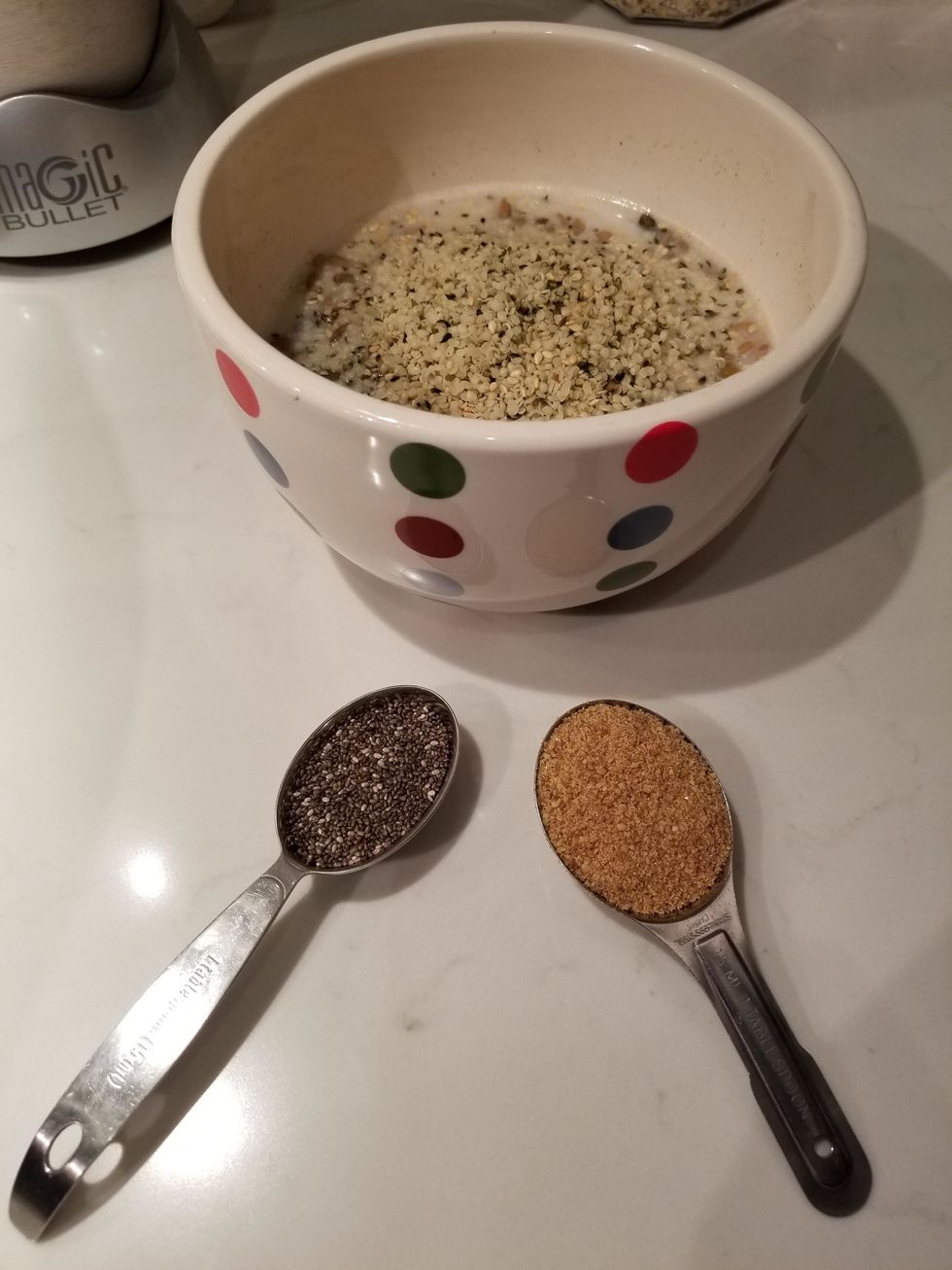 The last add-in is approximately 1 tsp of cinnamon.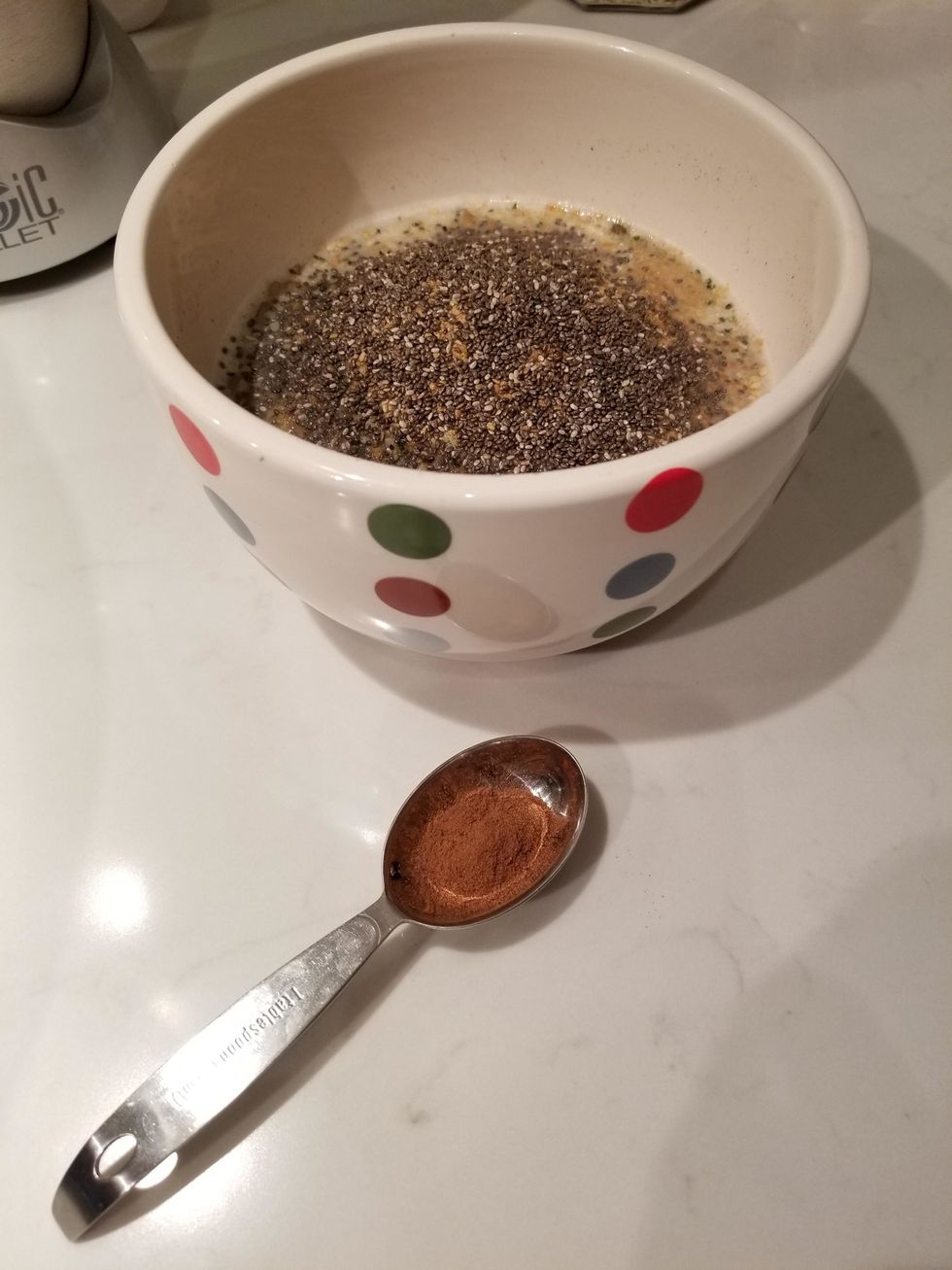 Give it a good stir. (See the last 3 steps for a time-saving tip.)
Cook for 1 more minute on full power in the microwave.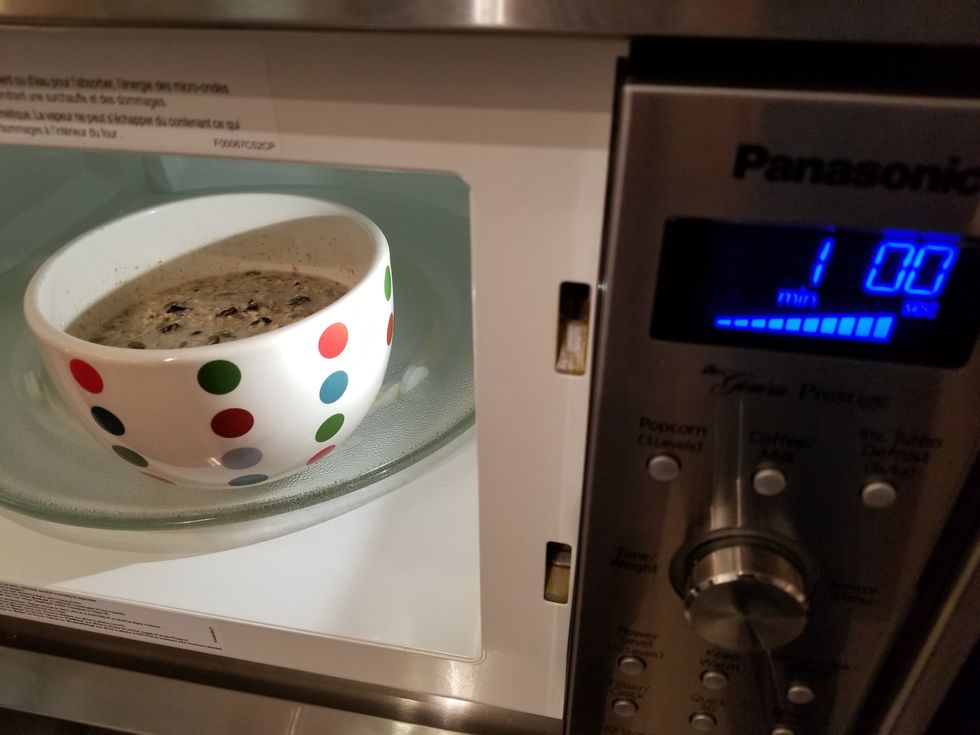 Stir it well, and let it sit for a couple minutes. This will allow it to cool, and set (or thicken) slightly. Add water as needed if you want to adjust the consistency.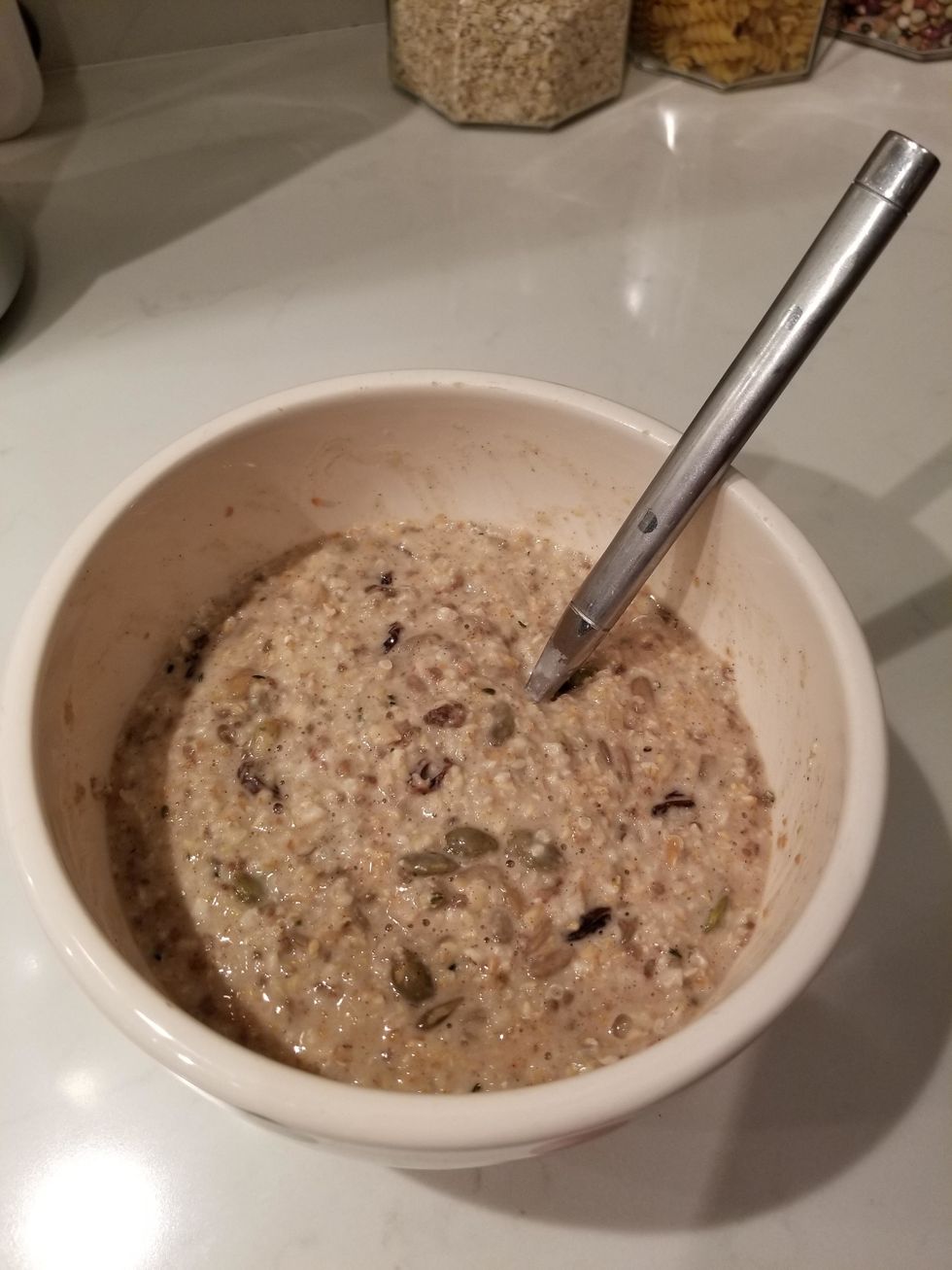 Top it off with some greek yogurt, a nice option for taste & added protein.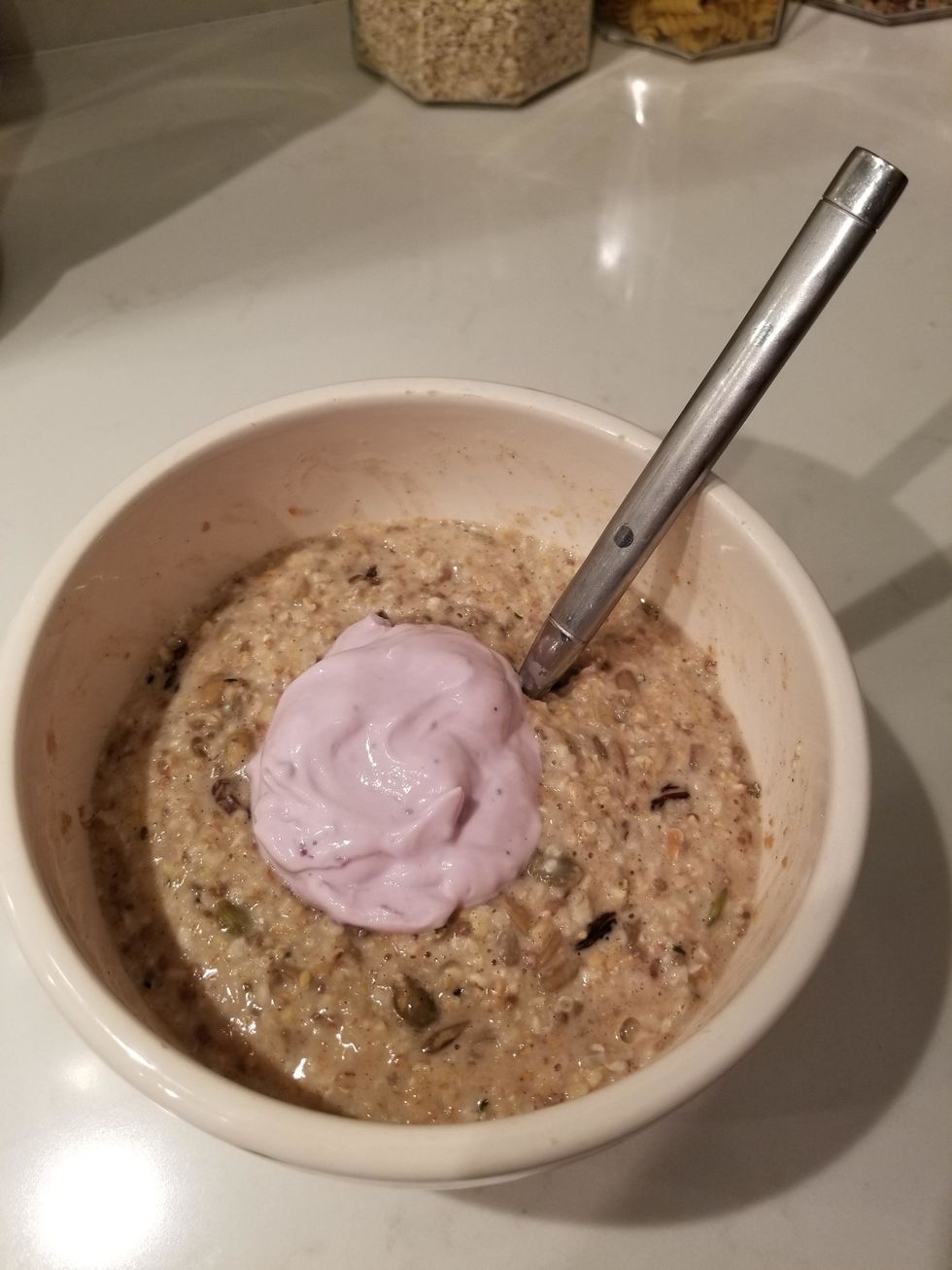 As you can now see, this is quite the process for preparing your oatmeal! To save time, I like to get all of my add-in containers out on the counter, along with a bunch of cup-sized containers.

Measure each add-in and put them into the containers.
The prepared containers all ready to go. Just add to the mixture after the first minute in the microwave, stir well, and then cook for another minute in the microwave.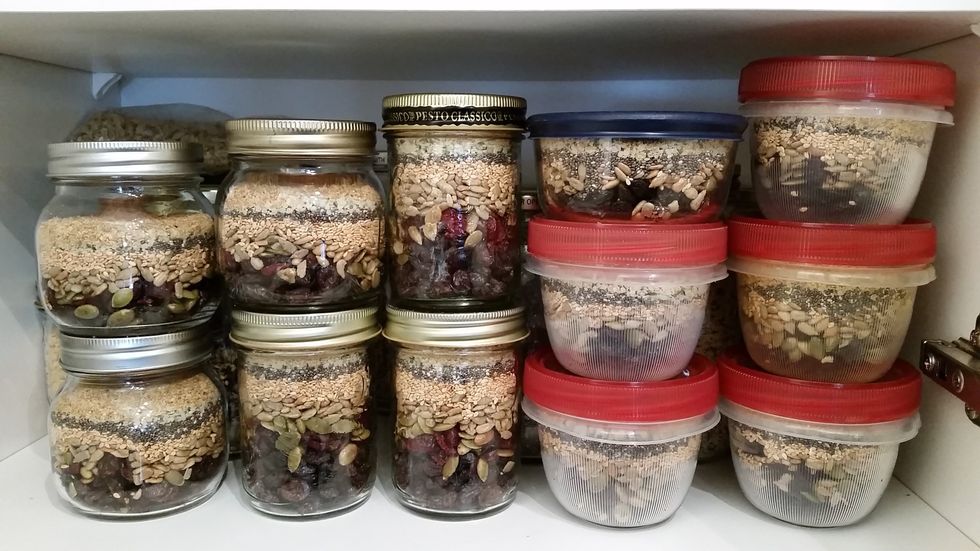 Make some extra jars as gifts - a nice way to get your loved ones to try out this healthy, hearty breakfast.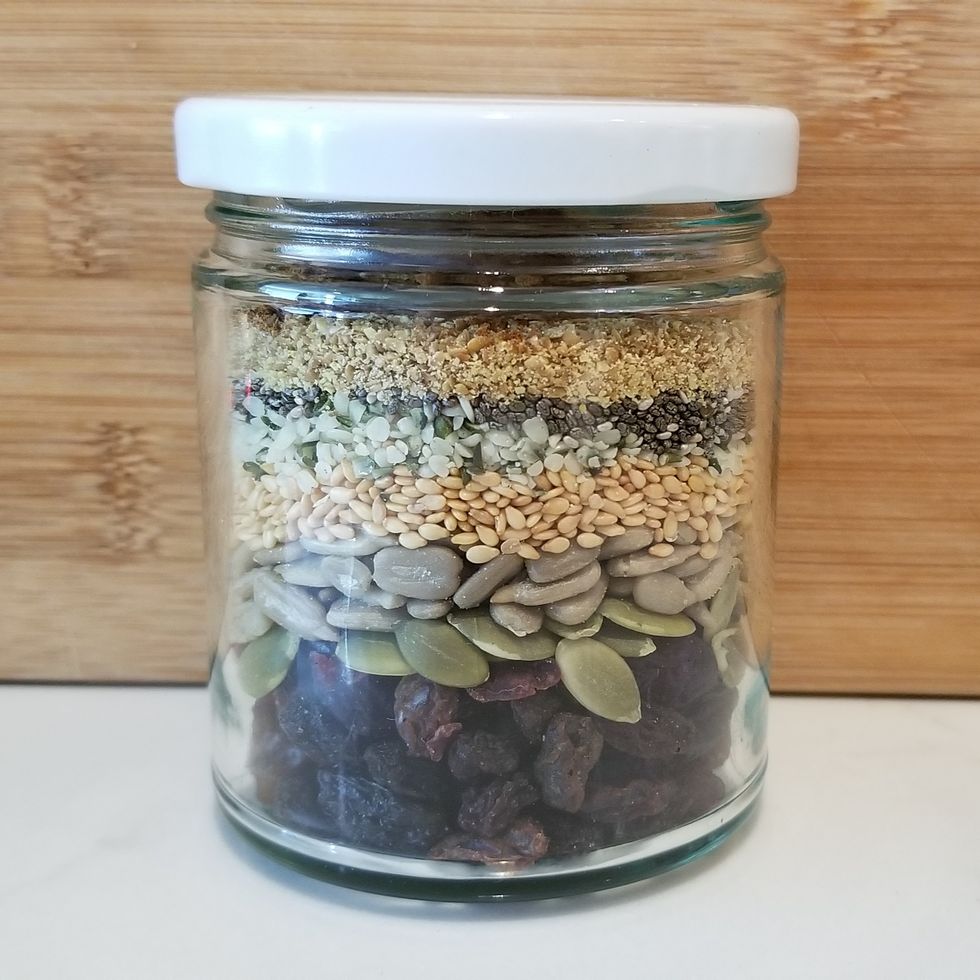 1.0c quick oats
1.0c water
1/4c raisins
1/4c sunflower seeds
1.0Tbsp chia seeds
1.0Tbsp hemp hearts
1.0Tbsp ground flax seeds
4.0oz yogurt
1.0c milk
1.0tsp cinnamon
1.0Tbsp dried cranberries
1.0Tbsp pumpkin seeds
1.0Tbsp sesame seeds
1.0tsp cinnamon