Cut the cleaned chicken thighs into bite size and prepare to marinate them with tumeric powder and salt.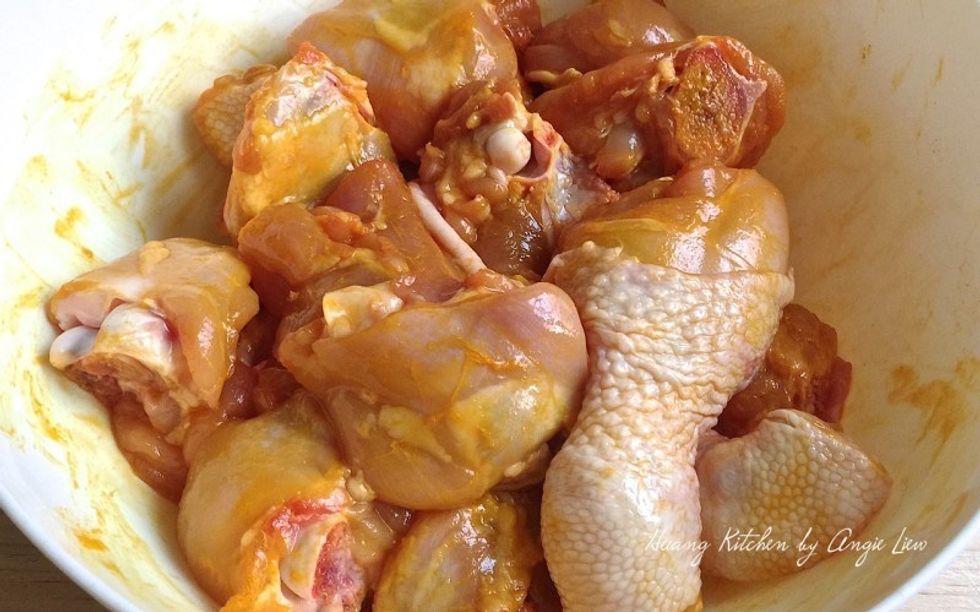 Mix the chicken, tumeric powder and salt together and set aside to marinade for at least 30 minutes.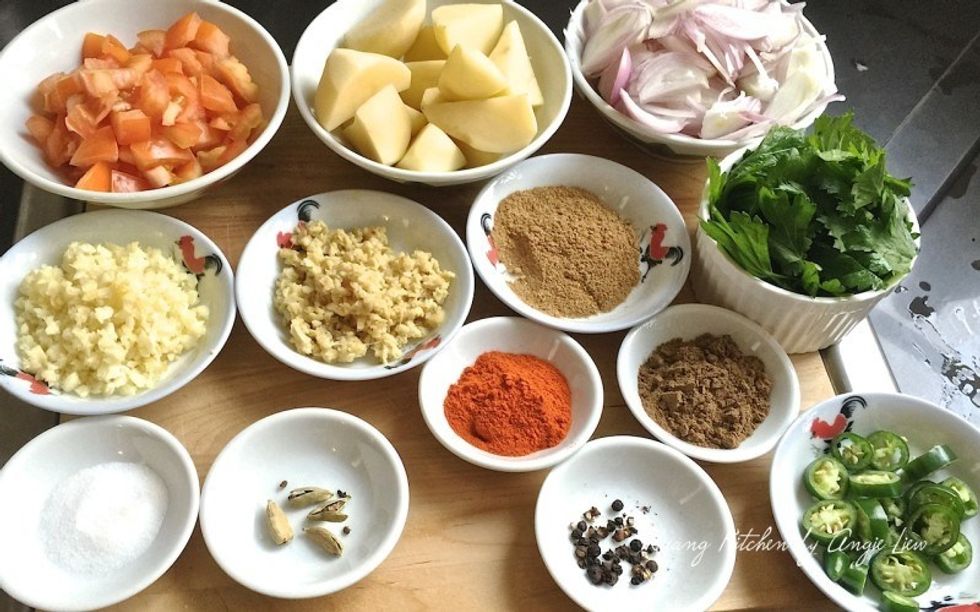 Prepare all other ingredients needed to cook the chicken curry.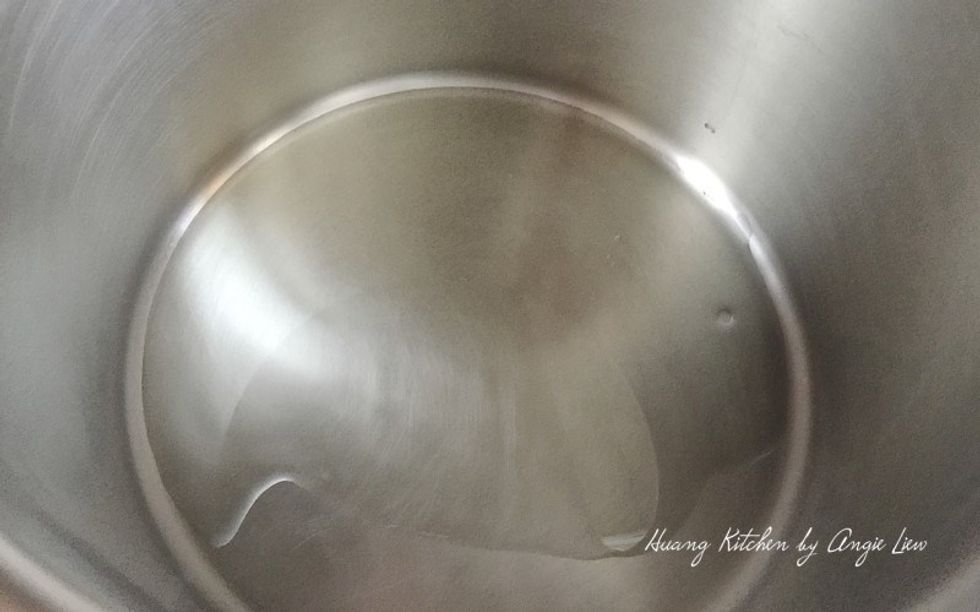 Heat 2 tablespoon oil ( or less ) in a pressure cooker.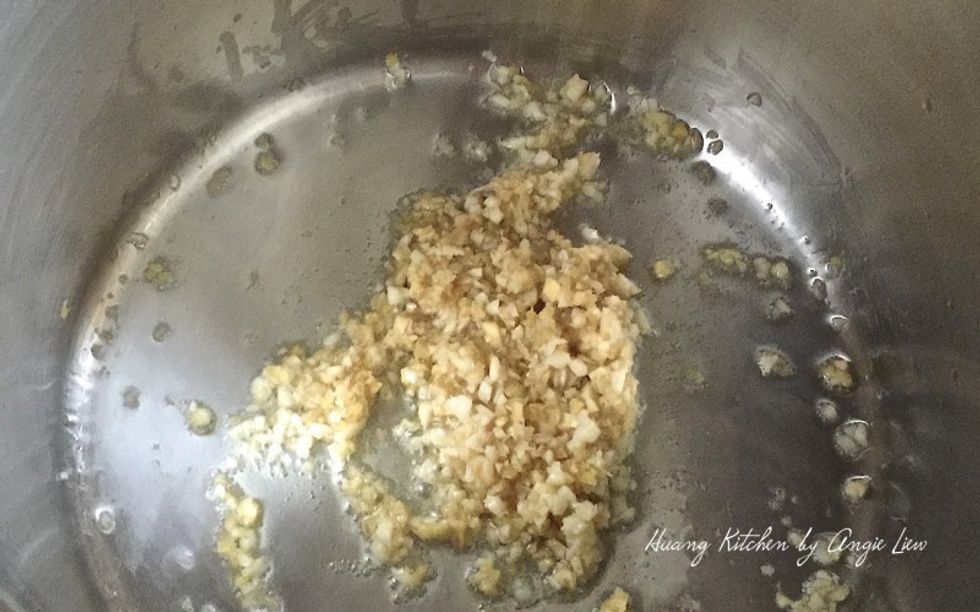 Add in the minced garlic before the oil gets hot. A few seconds later, add in the minced ginger and stir fry until aromatic.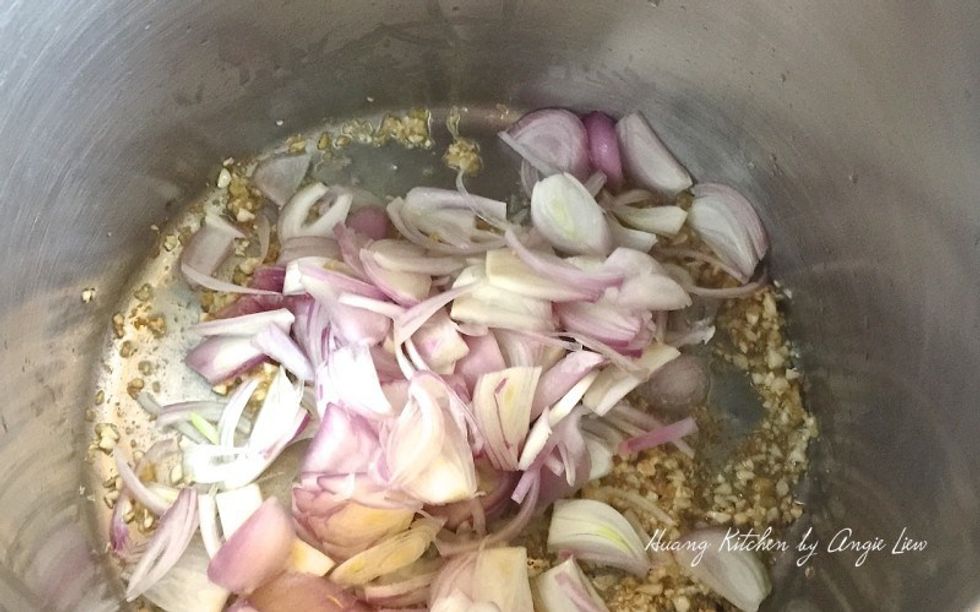 Then add in the thinly sliced onions and continue to fry till the onions are softened.
Next, add in the marinated chicken and continue to fry until the chicken turns white over medium high heat.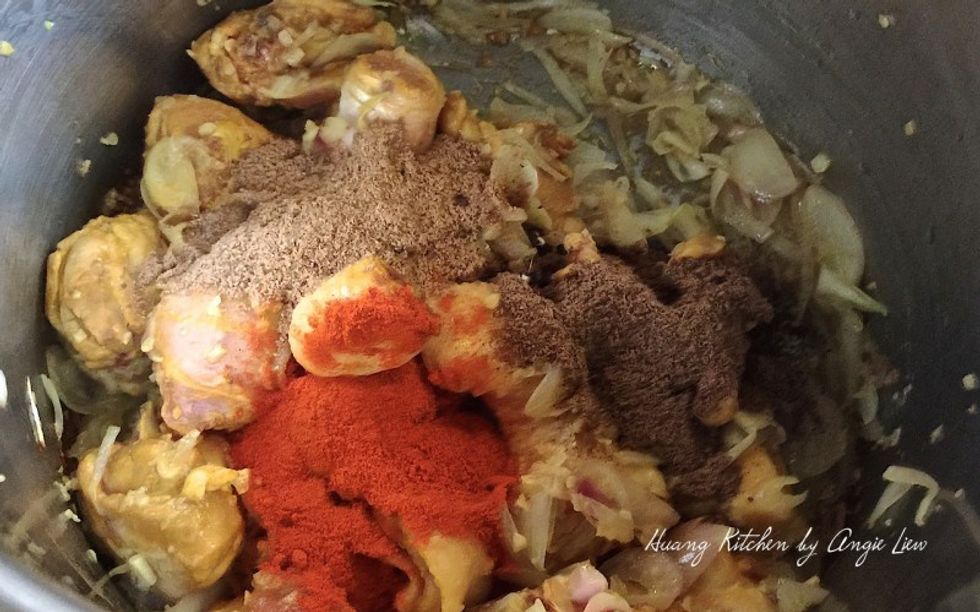 Then add in the coriander powder, paprika, garam masala and cracked black pepper.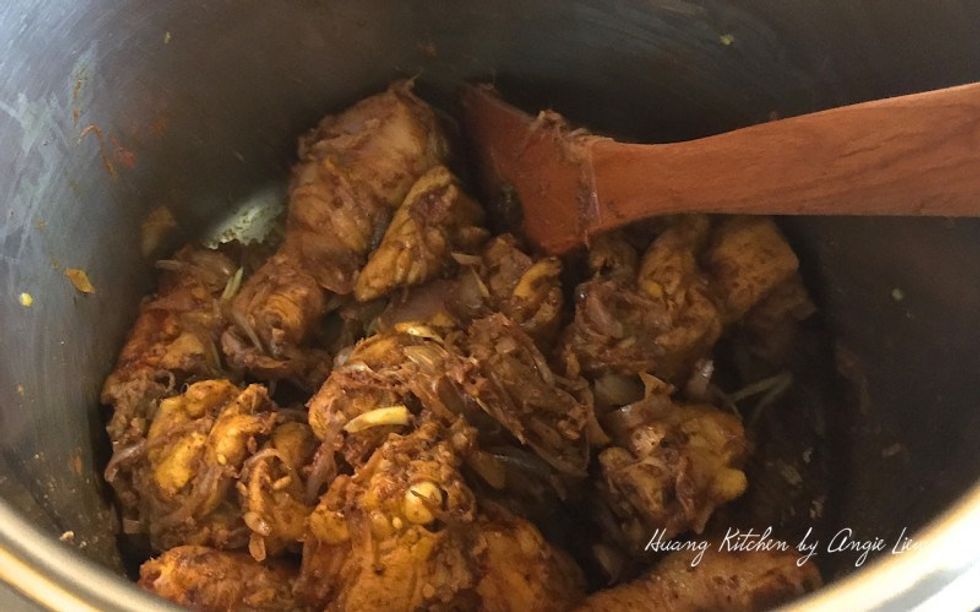 Toss to coat the chicken and cook the spices.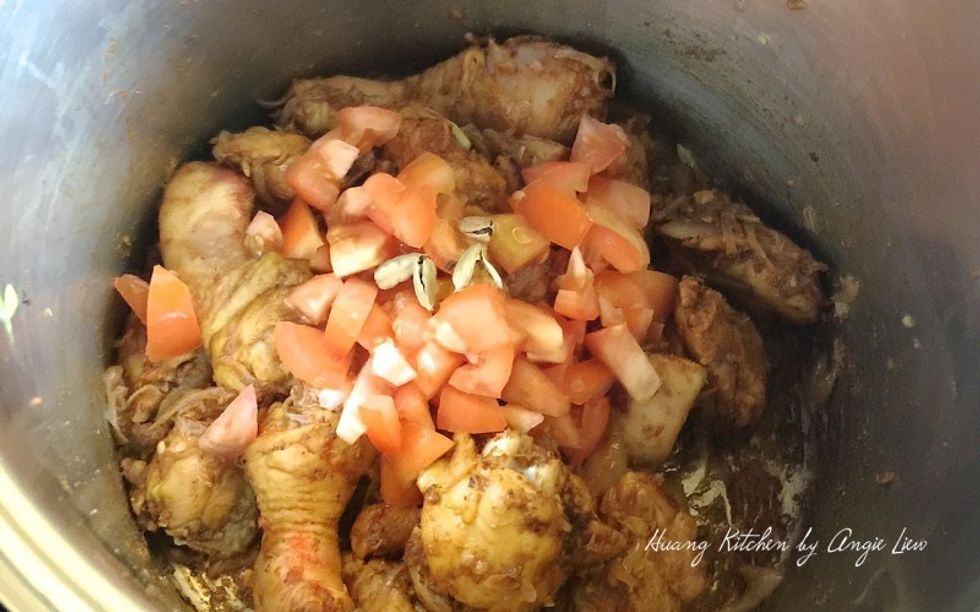 When the oil separates, add in chopped tomatoes and seeds of cardamom. Cook for a while.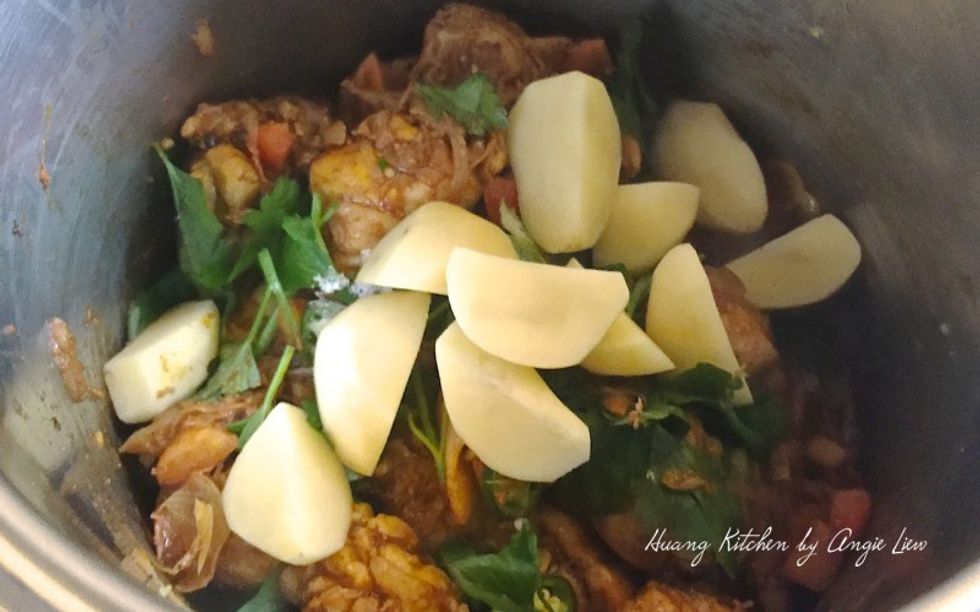 Lastly add coriander leaves, potato chunks, green chilli and salt to taste. There is no need to add water.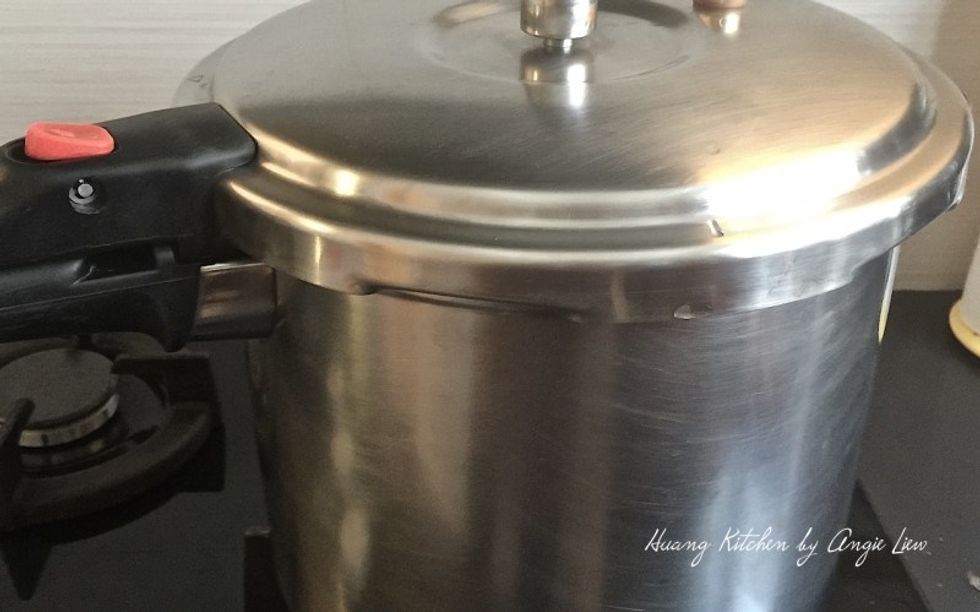 Close the cooker, apply the pressure regulator and cook on medium high till steam appears and you hear the whistle. Then reduce heat to low and simmer for another 5 minutes.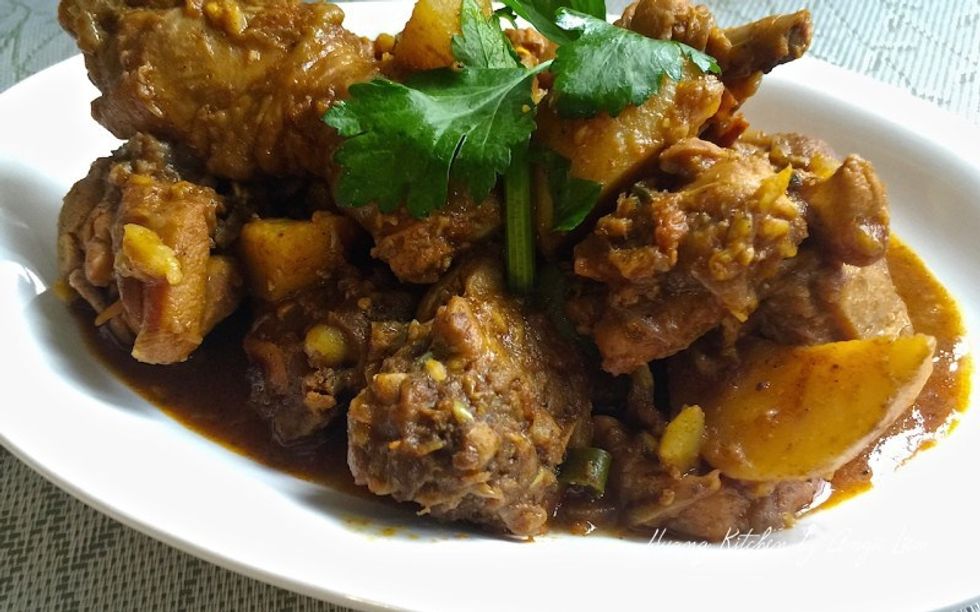 And we're done! Garnish with some more coriander leaves before serving.
Serve hot with plain boiled rice, naan or bread.
6.0 Chicken thigh, cut into medium size
2.0 Big onions, slice thinly
3.0Tbsp garlic, minced
2.0Tbsp ginger, minced
1.0 green chilli, sliced into rings
1/2Tbsp Paprika
1.0Tbsp Garam Masala
2.0 Tomatoes, diced
1/4tsp Black pepper, cracked
4.0 green cardamom, crushed
1/4c Coriander leaves, chopped
2.0 Potatoes, cut into chunks
1/2tsp Tumeric powder
1/2tsp Salt, to taste
1.0tsp Salt, marinate chicken
Huang Kitchen
For more step-by-step recipes and cooking tips, visit my website at \nhttp://www.huangkitchen.com