How to cook fish l'orange with micho
Move over Duck L'orange this two in one fish recipe is for those who want a healthy, upmarket tasty recipe without the deep sea budget. Lets go fishing!! Remember to check out www.walaoehtv.com
145
So this is what we're making today... Simple, zesty fish L'orange with Micho. Hope you try this. It's really quite delicious and healthy.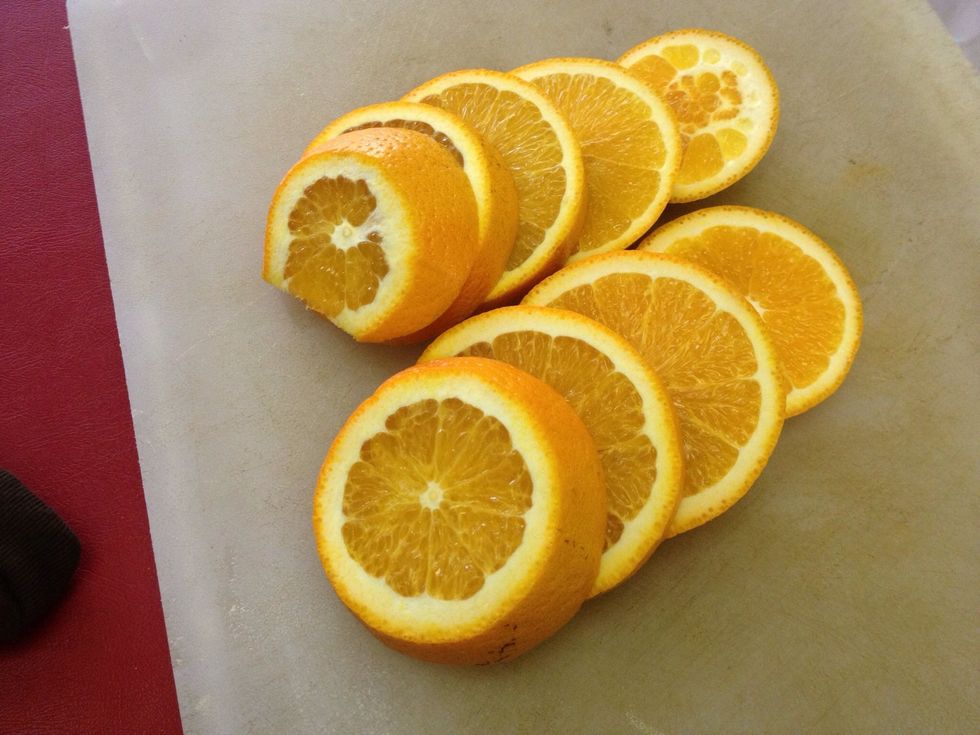 It's been a few weeks already since my last guide and I haven't forgotten any of your requests. I've missed smapguiding a lot and just back from my Asian cookathon, I have much to share with you guys.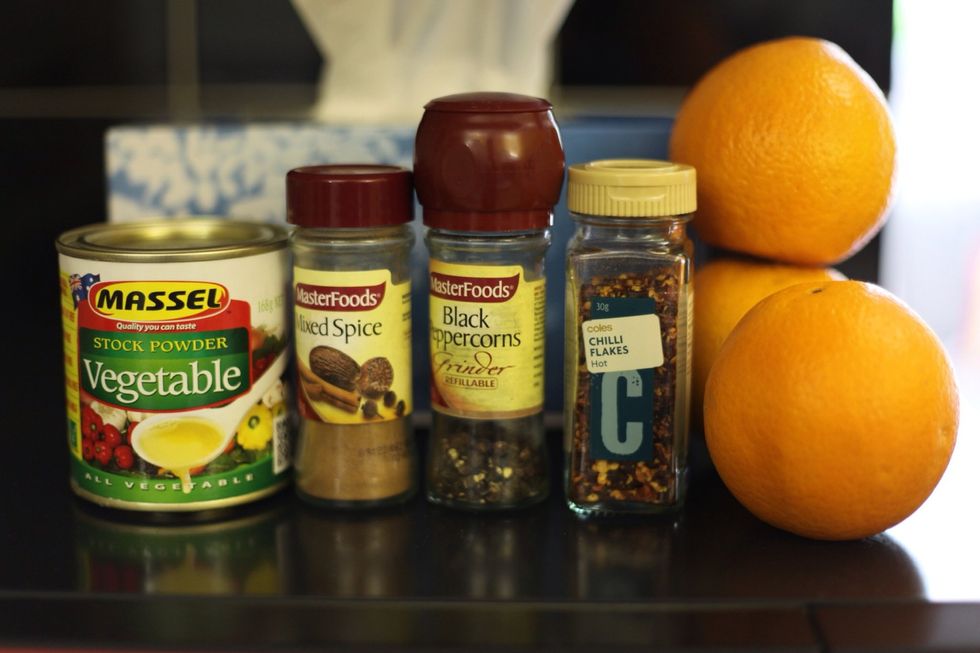 Line up the spices as usual. Visit my website for more secret recipes and information daily. And we should get started on this fish before it swims away.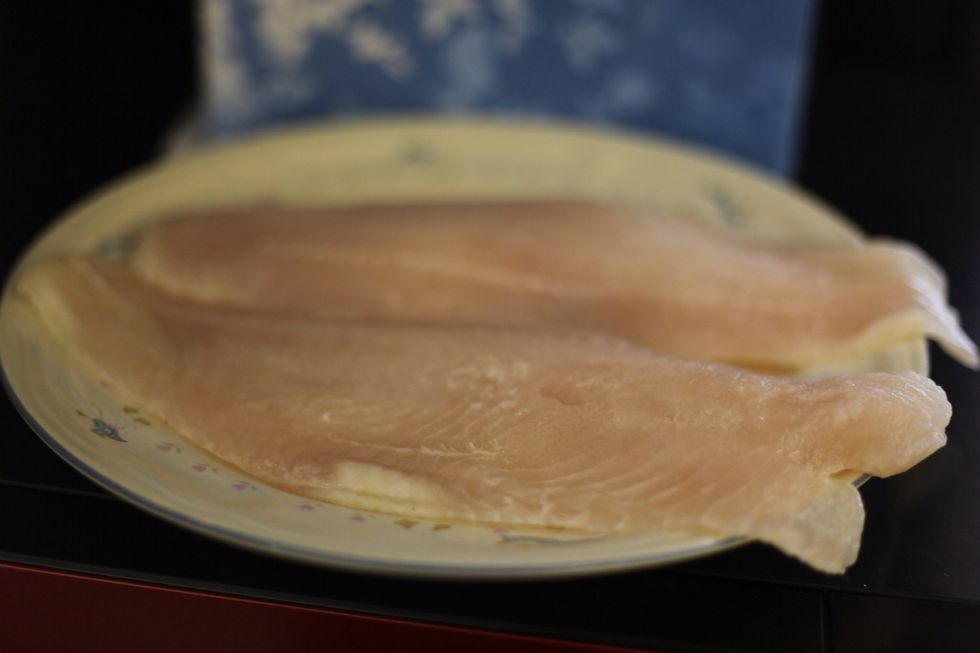 2 pieces of hake (cheap and tasteless) I am not much of a fish eater so no taste, no smell means I can add the taste myself and feel like in eating something healthy hhahahah. Use salmon if u like.
We are going to bake one fish and fry one fish. So let's bake first: Start with aluminium foil, 4 slices of thick orange, then the fish fillet then sliced garlic. Get your spices ready.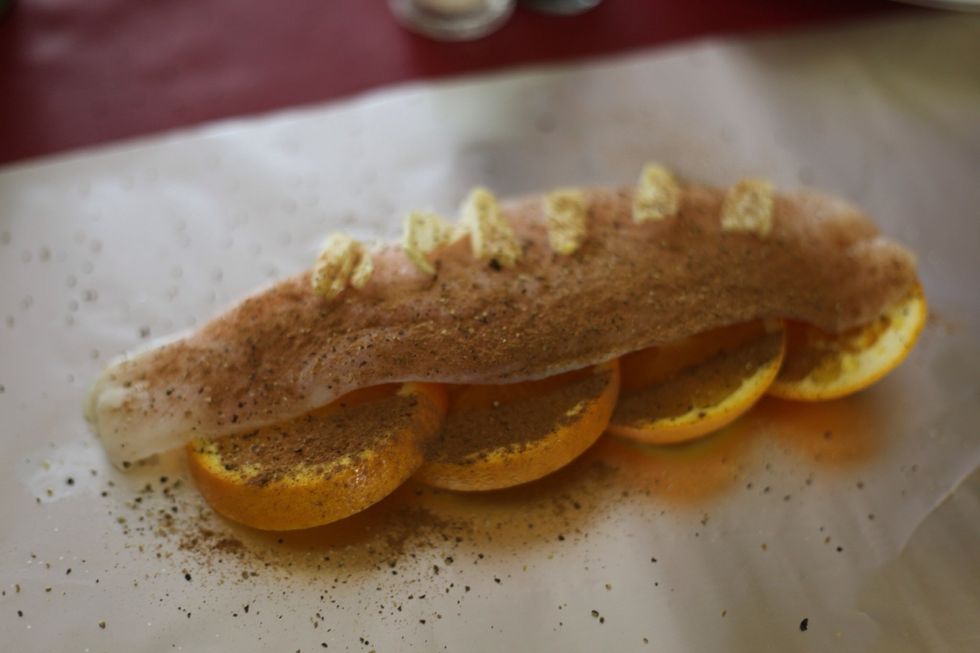 Sprinkle sprinkle little star. Oh how I wish this was chocolate powder and white choc right now. However my weight loss plan must continue. Don't deny it, you wish this was chocolate also not fish ;)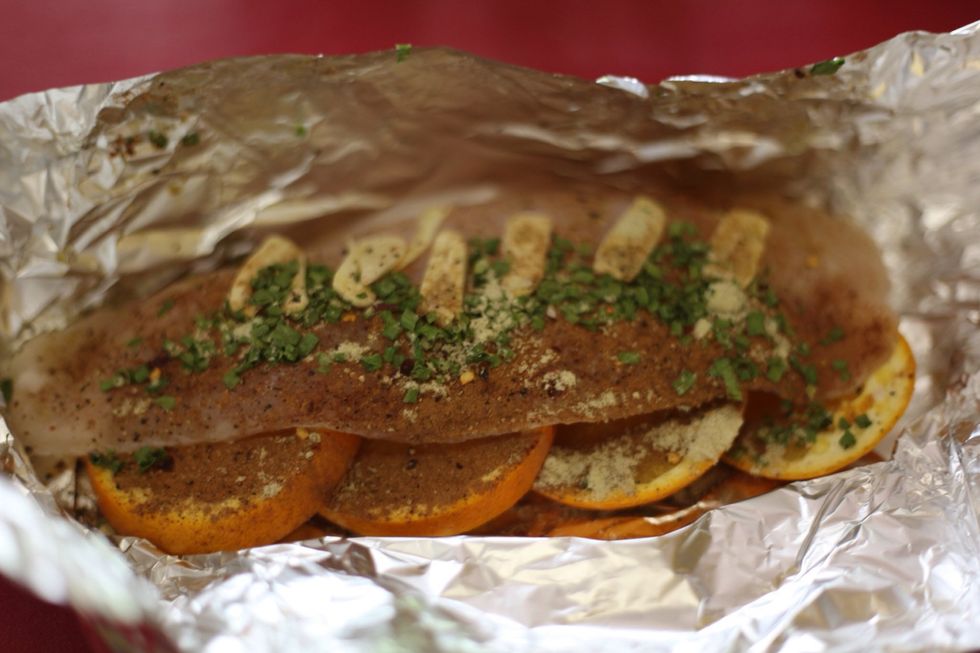 Add the dried chives and vegetable stock powder. Wrap it up and stick it in the oven for 20 minutes on 200 degrees. After 20 minutes let it sit for 5 minutes without opening the aluminium foil.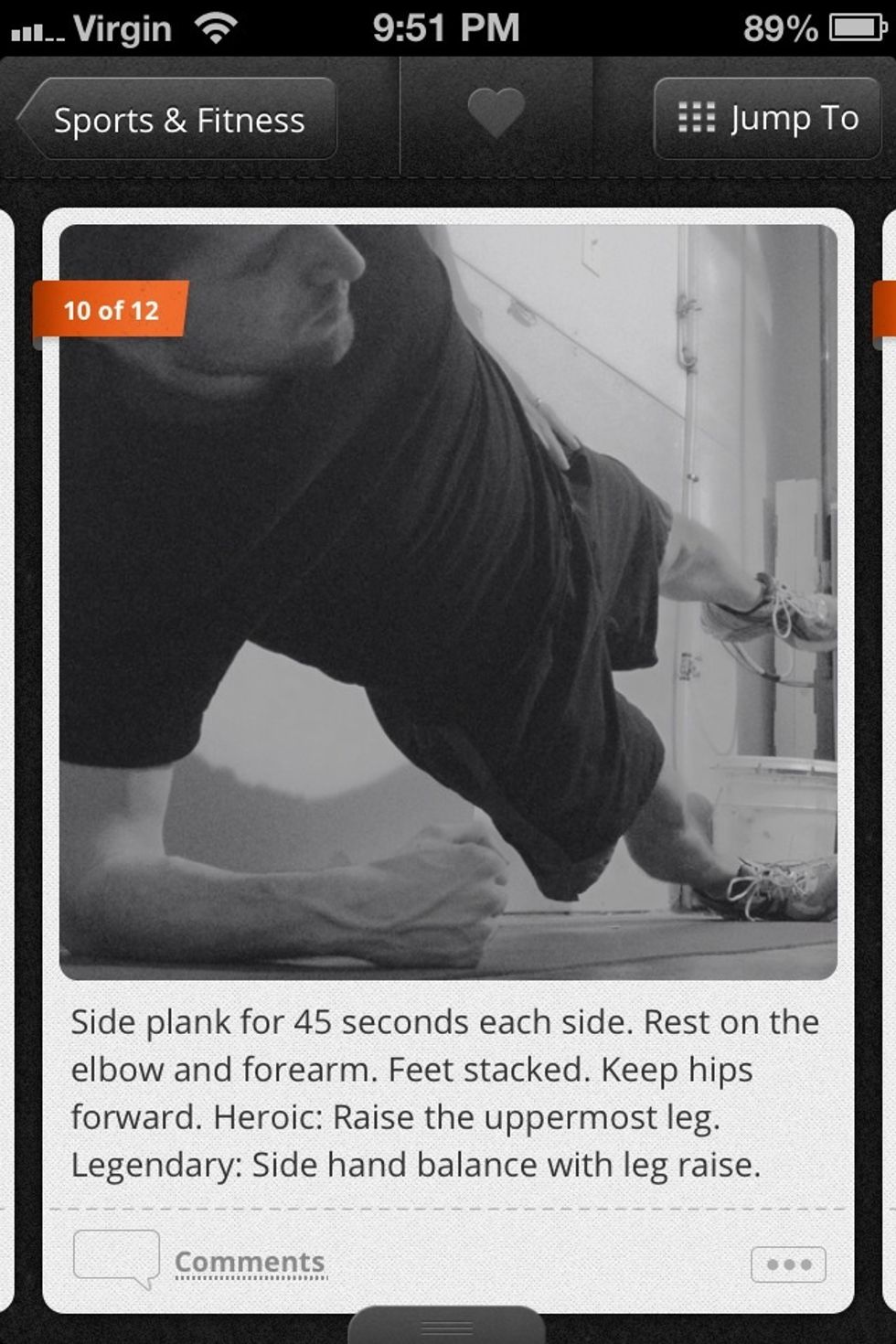 Get a guide from your fellow snapguider Glenn Hole and do a 20 minute stint. http://snp.gd/tafq7o check his guide out. Loving the workout! Thanks Glenn :)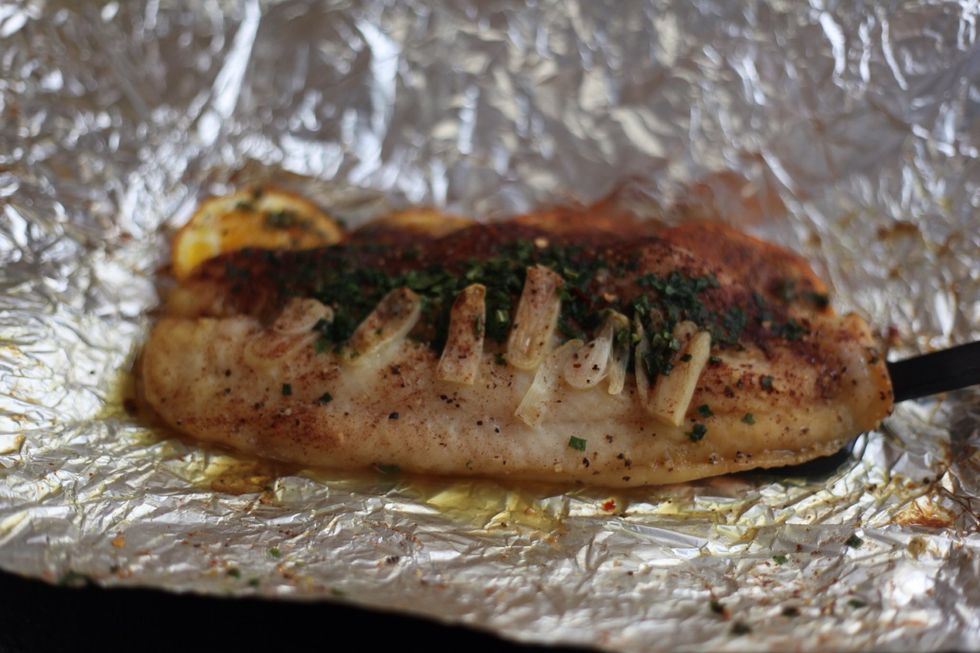 So just out of the oven and see the juices in the aluminium foil. Don't throw them away, use them as a sauce. Coz ur not allowed tartare or mayonnaise lol.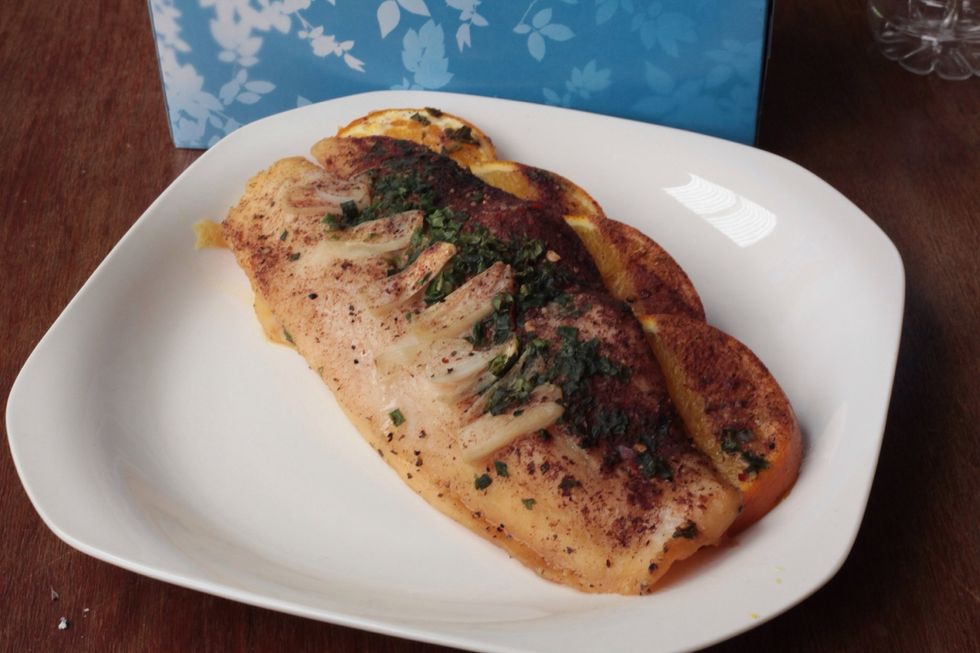 Take the fish out of the foil and serve. If you don't want the garlic you can remove them. But since I'm not kissing anyone I'll leave them on.
Eat the cooked orange too! Don't be scared, it tastes great and has loads of vitamin C. U know that already. So wont give you a vitamin lesson.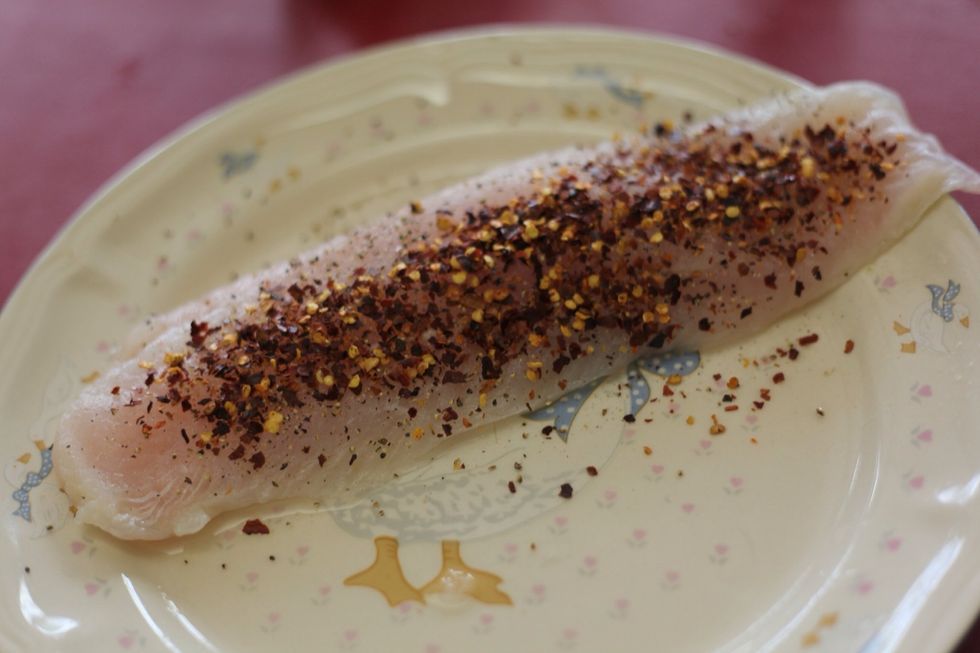 Now the fried fish: Same ingredients but we will have this for dinner. Repeat all the steps and wash your hands!! Did you miss me?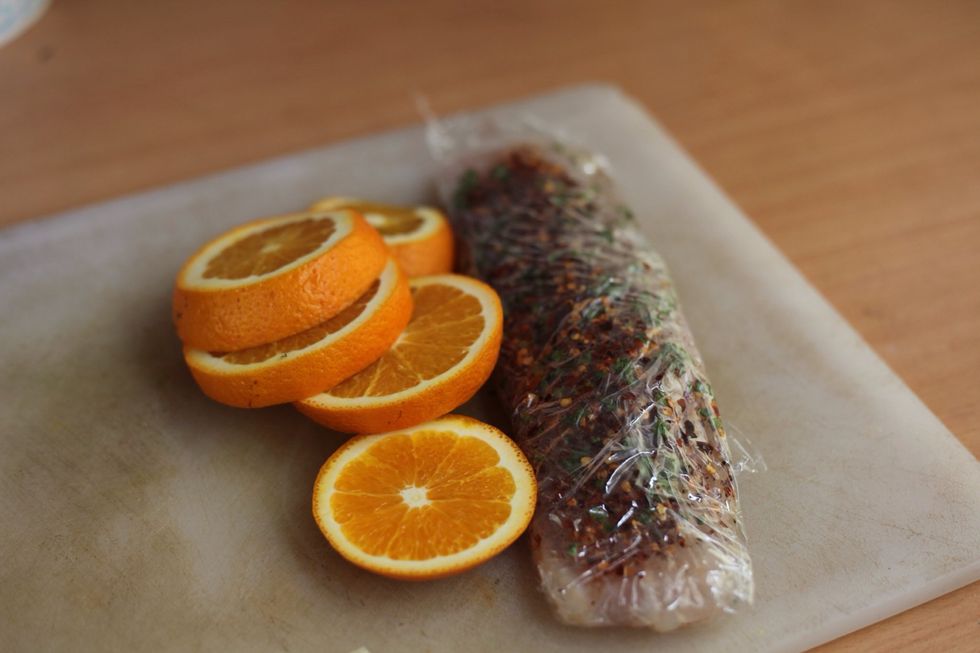 Wrap it up in cling wrap and put it in the fridge until dinner time. I chose hake as the fish, as it has no taste or smell. I dislike fish so this makes me feel healthy without thinking its fish.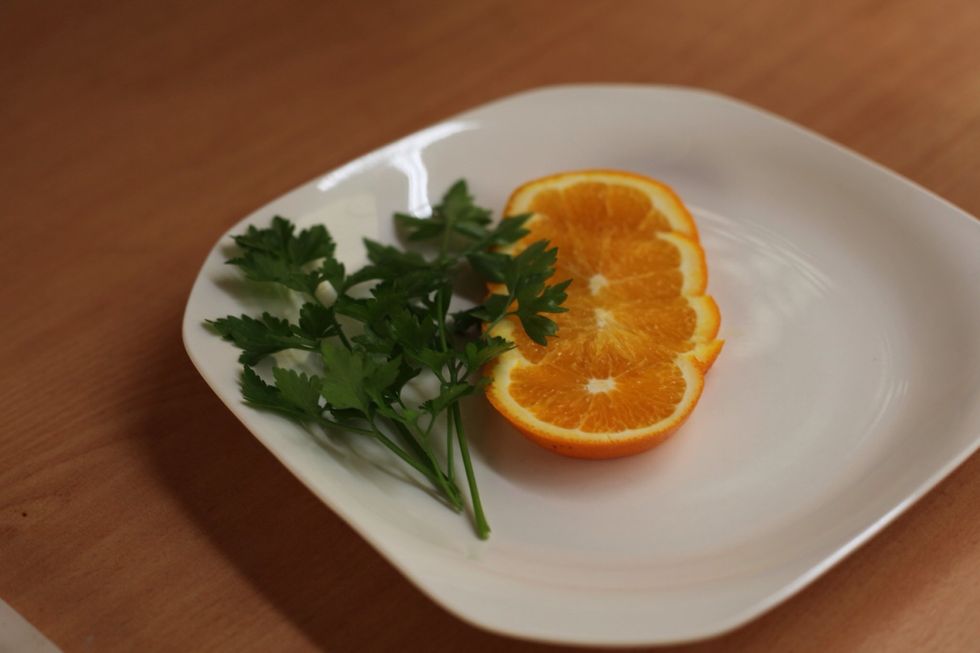 Your last orange. slice thinly and decorate your plate. I'm not much of a decorator but you can get creative as you like. I'd love to see your creations :)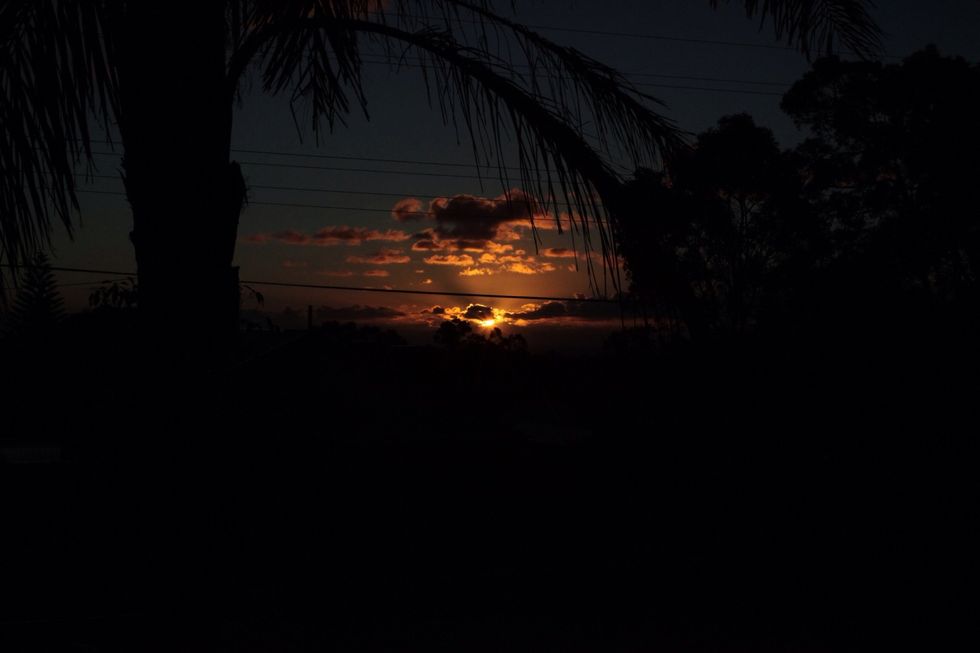 Now just before the sun sets, take your second fish, shallow fry it with olive oil. About 5 minutes each side. Make sure you don't burn the fish. Gentle medium heat turning it over a few times only.
Steal your Father's biggest rose and snap a pic and upload it to my Facebook page. Lol.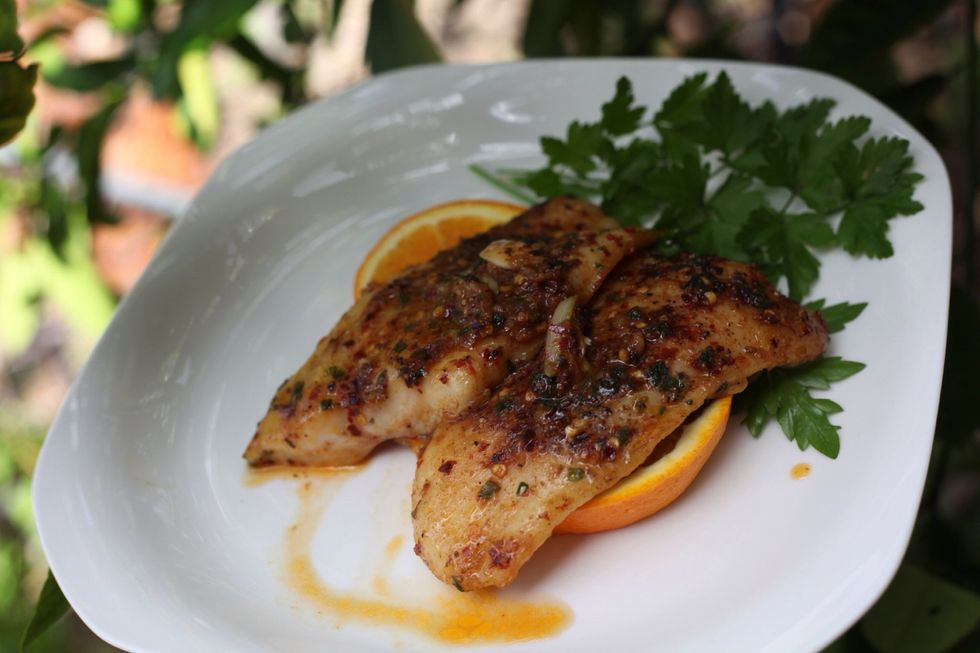 Drizzle some of the juices that are in the frying pan. So easy, healthy and has just enough zest to make it a no frill fish dish.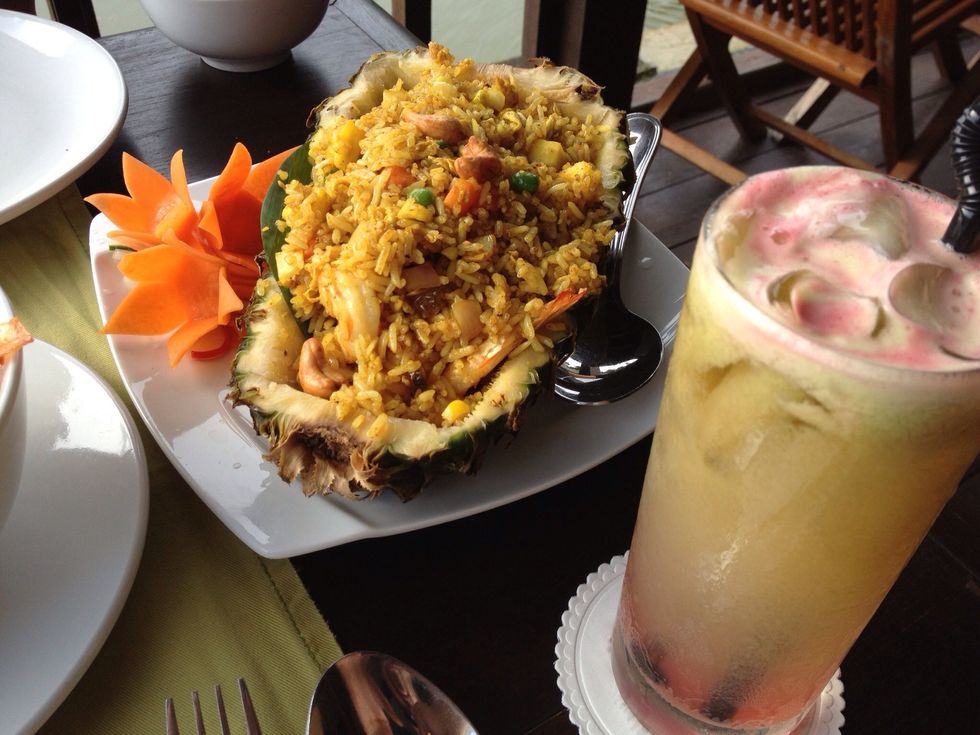 Please help us continue to bring you more delicious guides by tweeting, sharing, liking and spreading the word about walaoehtv's Cook with Micho. Truly appreciate it :)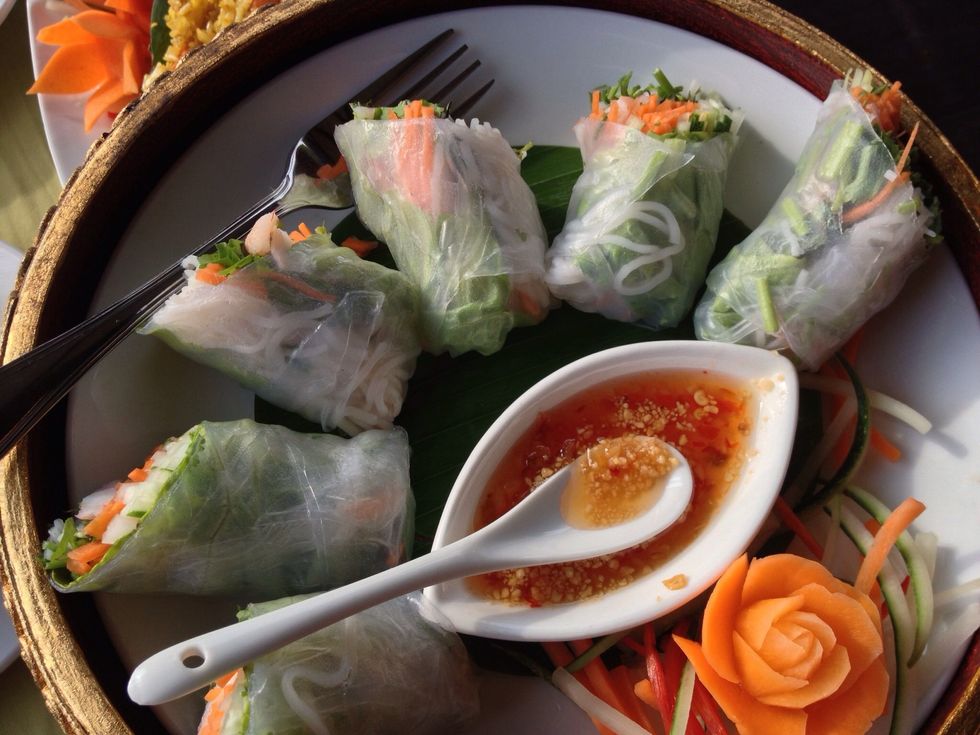 This is what's coming soon to WalaoehTV's Cook With Micho. www.walaoehtv.com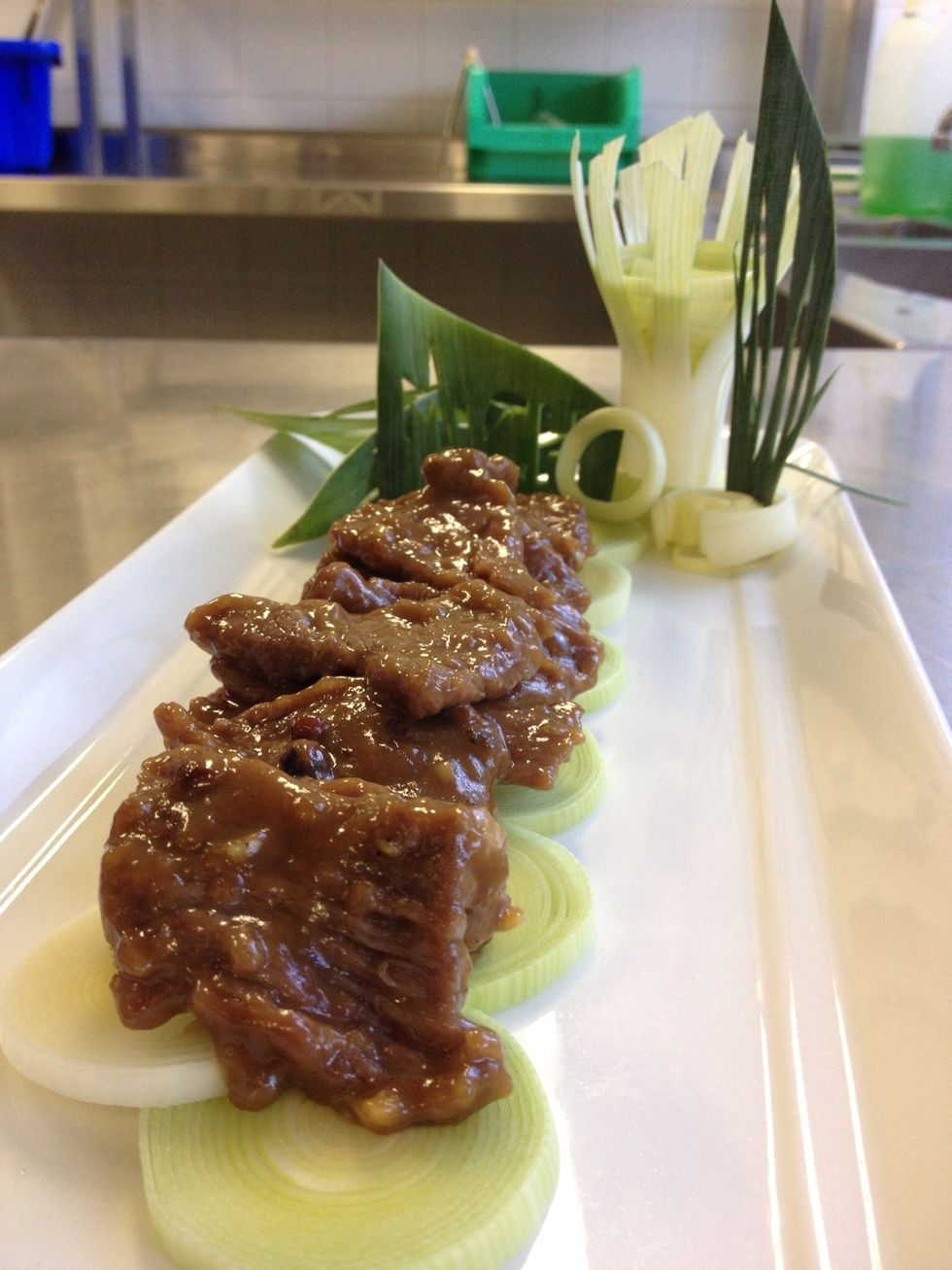 And more.. Thanks for following me, liking my guides and visiting my website. Please feel free to make contact anytime :)
2.0 Large Hake or Barramundi fillets
3.0 Fresh oranges
1.0tsp Vegetable Stock powder
2.0Tbsp Dried Chives
1/2tsp Allspice powder
1.0tsp Ground pepper
1/4tsp Chilli flakes
2.0Tbsp Olive Oil
1.0tsp Honey (optional)
Michel Daher
Micho here. Amateur experimental chef and lover of food. Thanks for all your support. Join my Food Journey www.naturallygoodfood.com