A crazy Canadians' interpretation of a Classic Mexican dish
55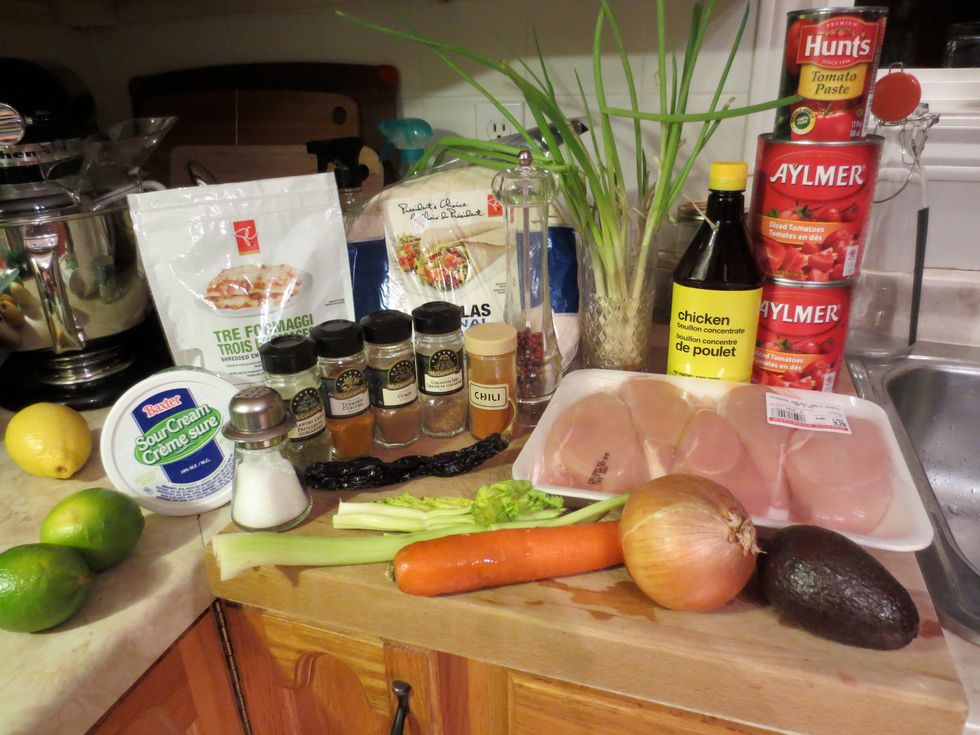 Gather your ingredients together. You'll also need two large pots and baking dishes. A sharp knife, mixing spoon, measuring cup and spoons, large bowl a ladle is helpful and a handheld blender.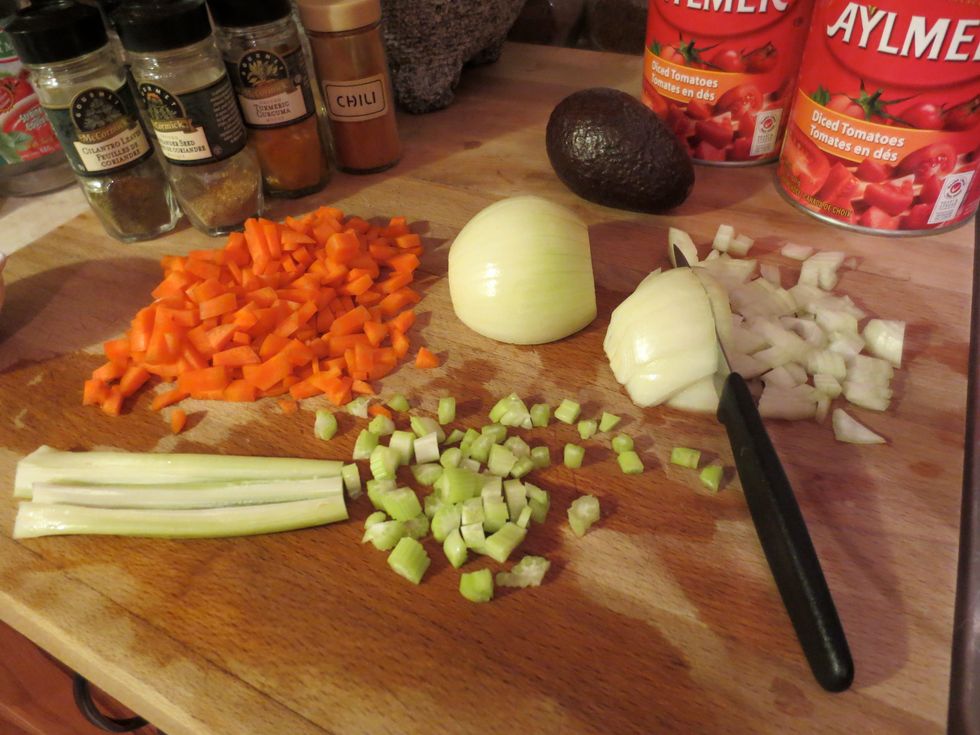 Get the two med/large pots out. Clean and dice the carrot and celery. (save leafy tops for broth) cut the ends off your onion, remove paper, dice the onion.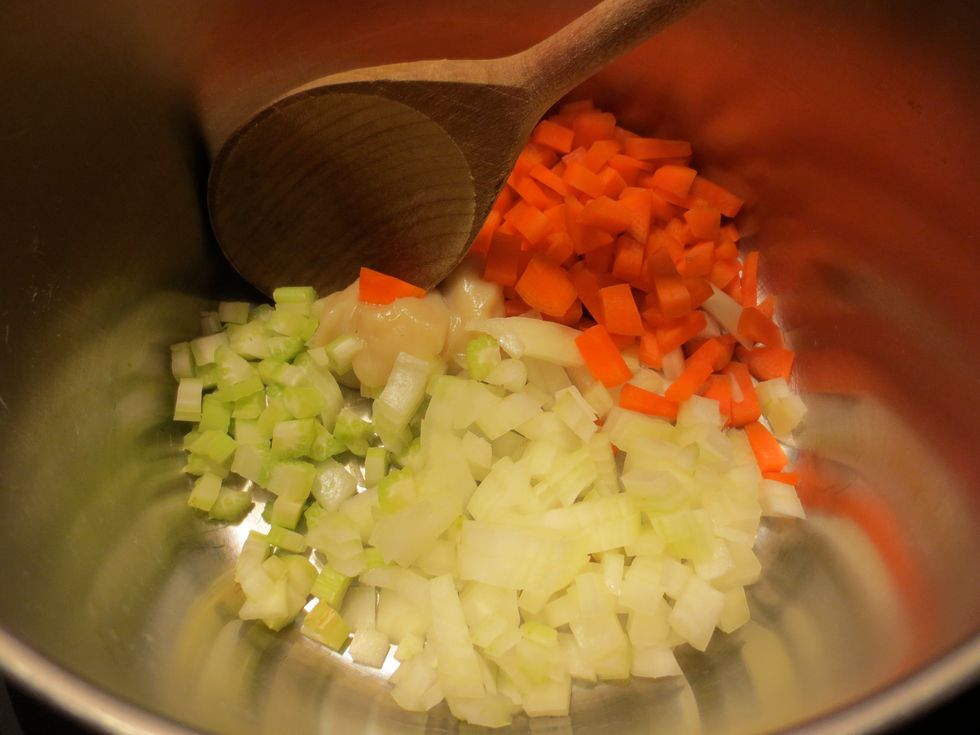 Add 1 TBL of oil along with diced carrot, celery, and onion to large pot. Sauté veg on medium heat until onion is translucent and carrot/celery has softened about 20 to 25 minutes. Stir frequently.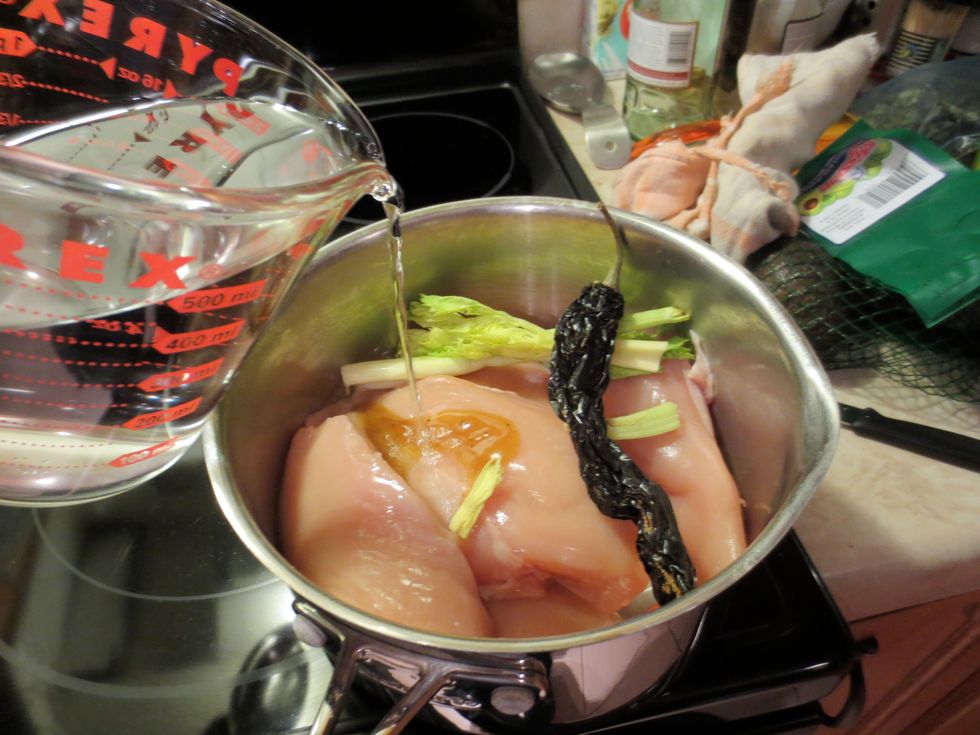 Add chicken, 1 TBL chicken bouillon, 3 cups of water, (or use stock) dried chile pepper, celery and carrot tops, (if you have them) to the other pot. Cover and boil med/high heat about 20 minutes
You can use pre made chicken broth (I won't judge) or homemade chicken broth for this step. If you use box/homemade omit the water and chicken bouillon.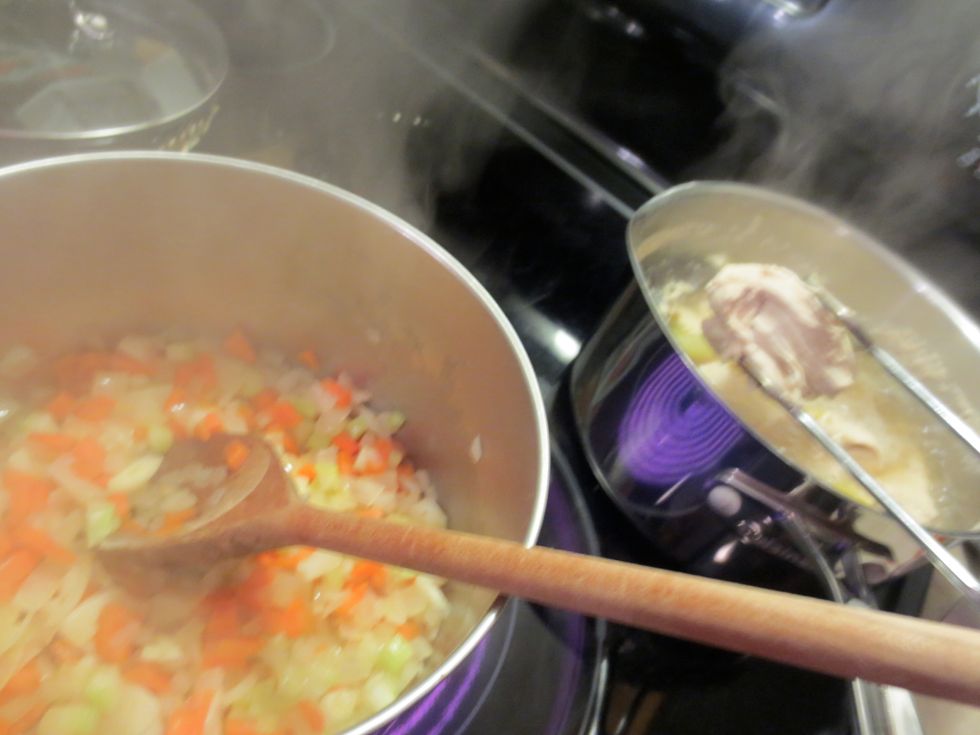 Checking the progress of the chicken, we want it cooked through, no pink in the middle. The veggies are almost done too. If using fresh garlic add it to veggies halfway through cooking about 10 min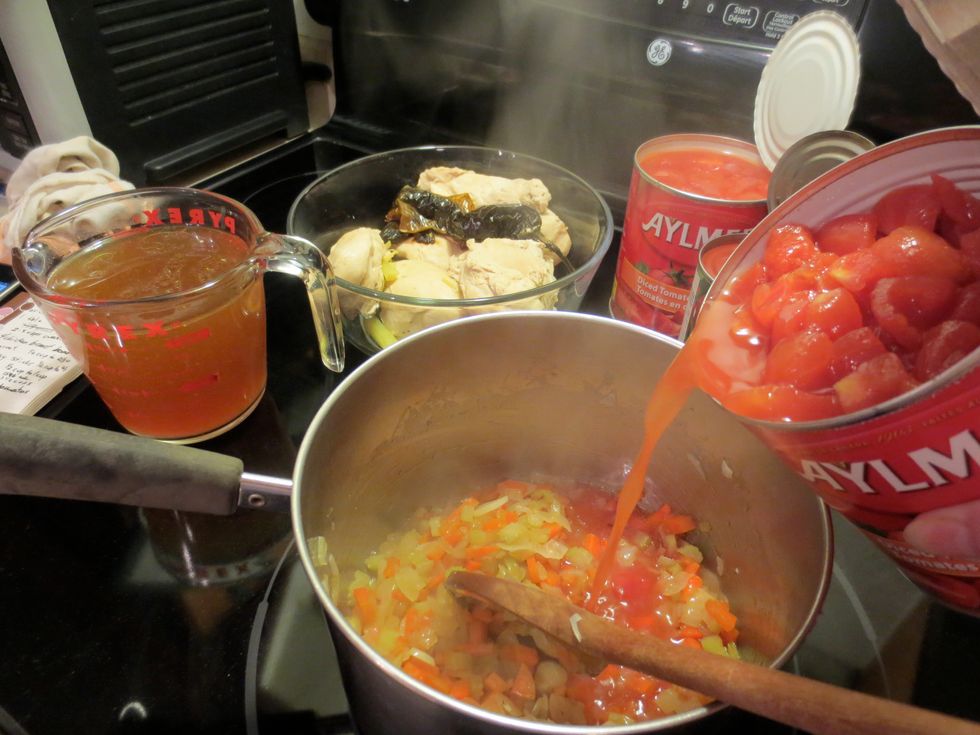 Chicken is done! Use tongs and put chicken in a large bowl, reserve the chicken broth. Veggies are done, open up your tomatoes and add them to the pot. Cook tomato/veg for another 10 to 15 minutes.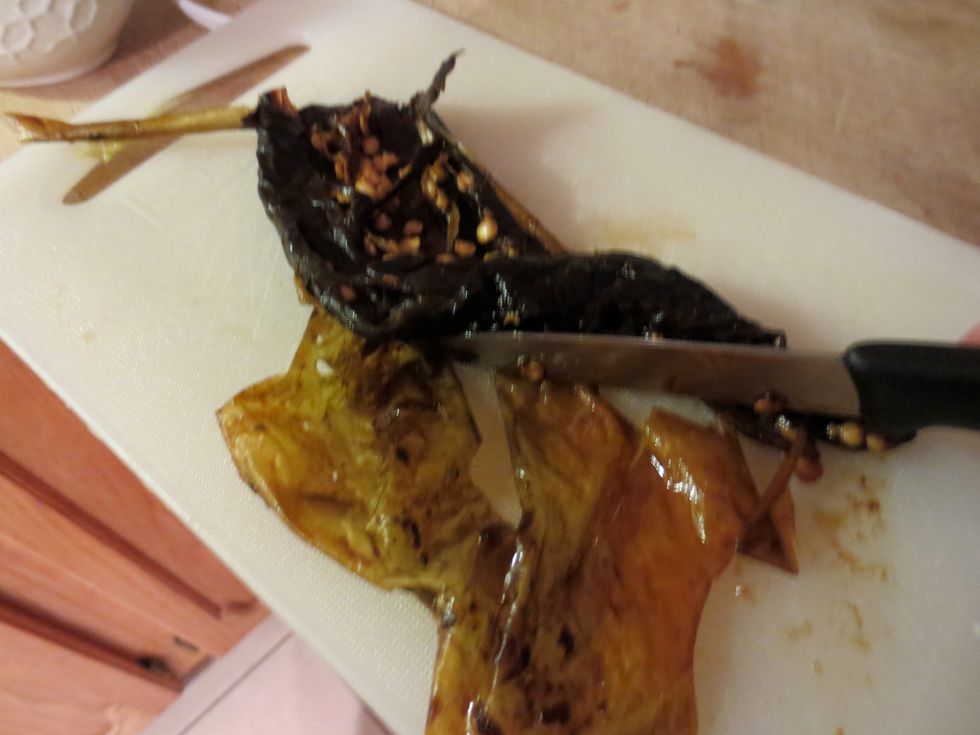 scrape the pulp from the dried chile add to the pot of veggies. You can omit the seeds if you want. Add the seasonings pepper, salt, coriander, cumin, chile, garlic plus the optional herbs and spices.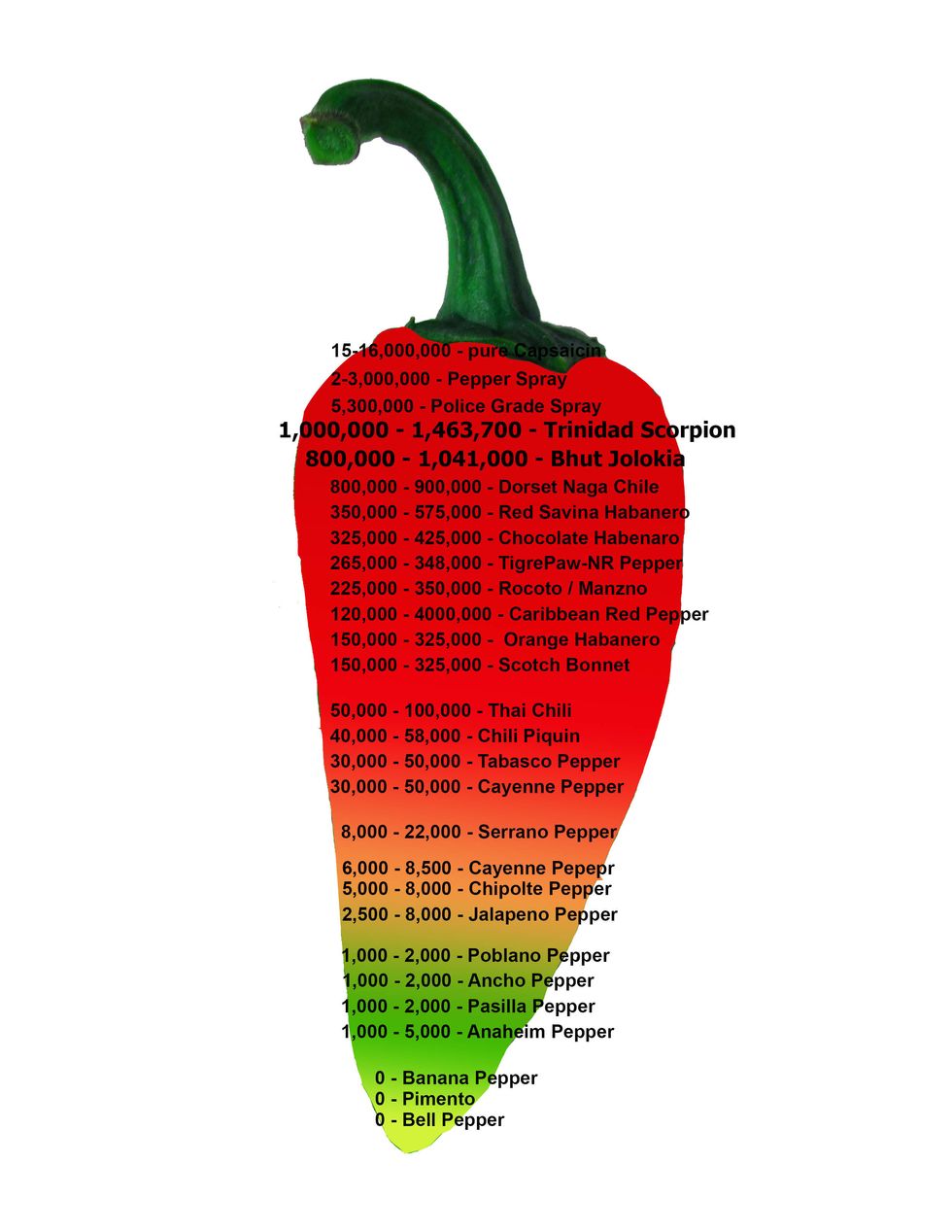 The chile will determine how spicy the sauce will be. Make it mild to eyeball melting. I'm Canadian, I use mild, throw me in a snowbank in my underwear and I'll laugh, give me a hot chile and I cry
If you can't handle chile heat in the sauce omit chile pepper and chile powder altogether. You can dice a sweet pepper (any colour you like) and cook it along with the veggies.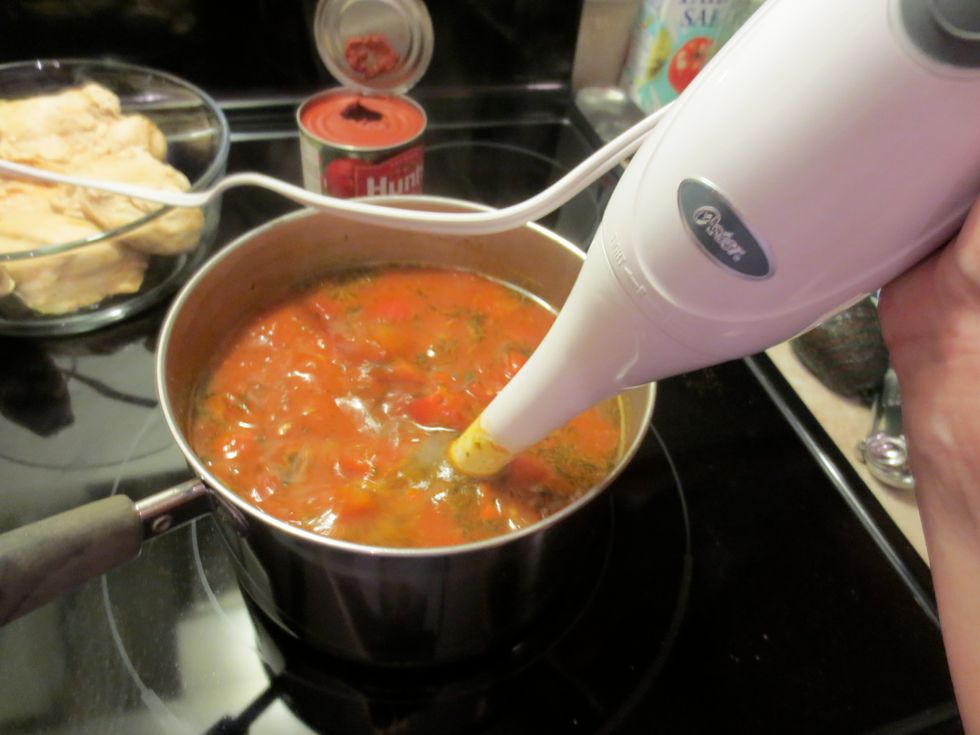 all the veggies are cooked through, now puree the sauce with a handheld blender, or you can blend in batches in a regular blender. I've also used a food processor to blend sauces.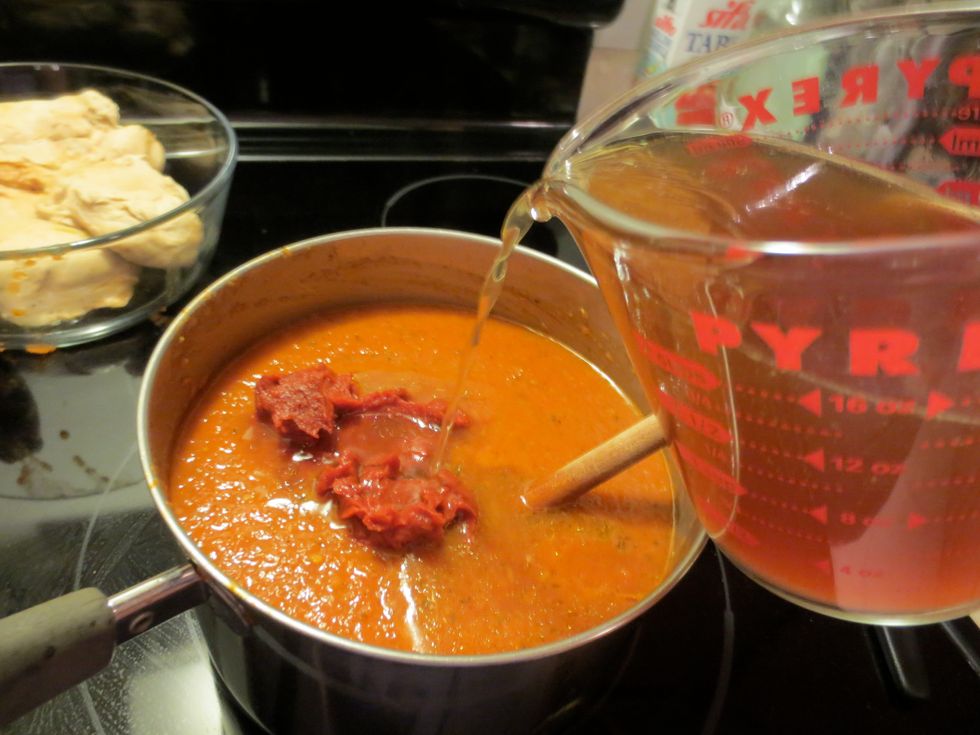 Stir in tomato paste and a 1/4 cup of the reserved chicken stock. Cook for about 10 minutes. Check seasoning, more salt, pepper, chile powder? Too much spice/heat? add more reserved chicken stock.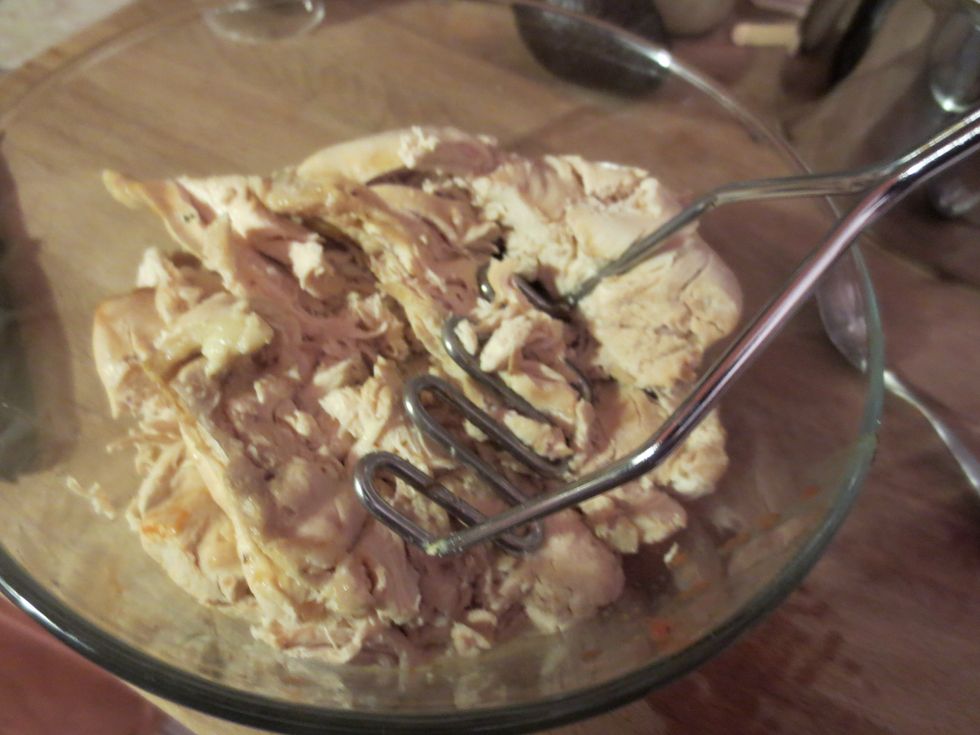 shred cooked chicken with forks or hands, if it's too hot to handle use a potato masher.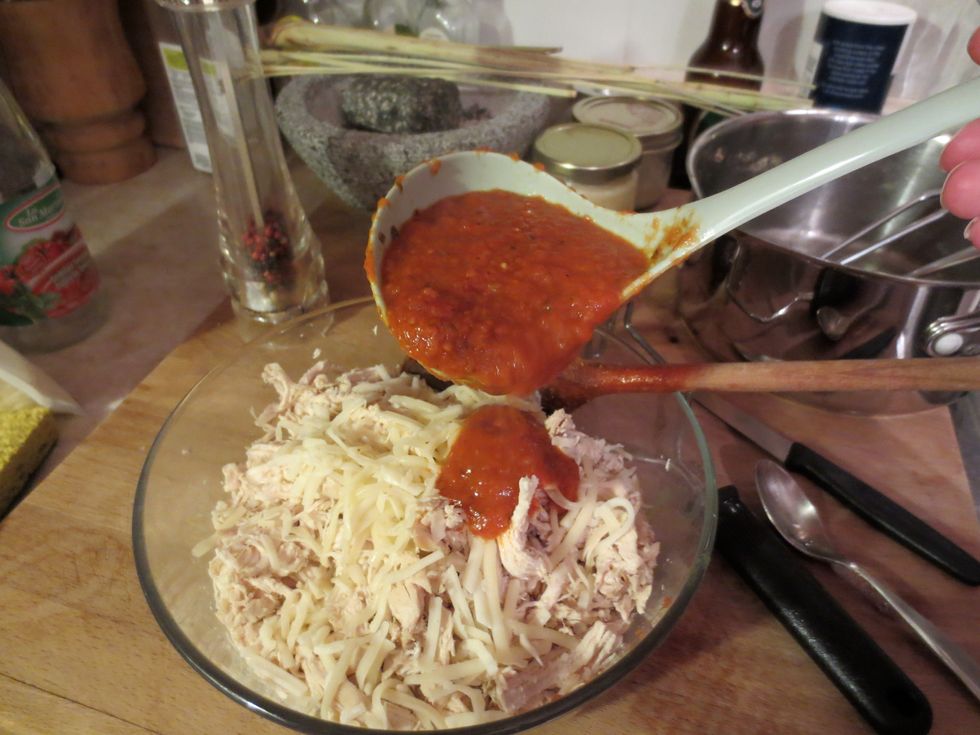 add 1/2 cup of shredded cheese, and 1/2 cup of the Enchilada sauce to the chicken, mix well. Chicken shouldn't be too dry nor too soggy. Use your judgment.
Assembly Time! Get everything set up in a row, chicken, tortilla and baking dishes. You can take a break at this point. Everything can go in the Fridge and be assembled later or even the next day.
I used 2 baking dishes for the Enchiladas. Spread some of the sauce to cover the bottom of the dishes, between 1/2 cup to 3/4 cup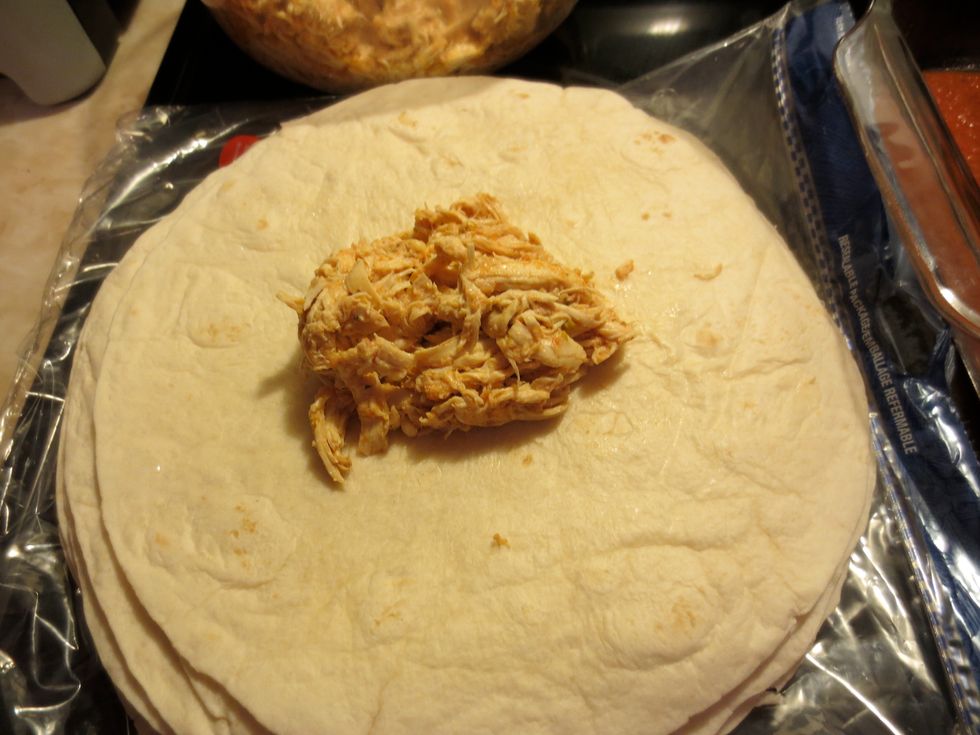 scoop chicken mixture into the middle of tortilla about 1/2 cup for large size tortilla, 1/4 cup if they are small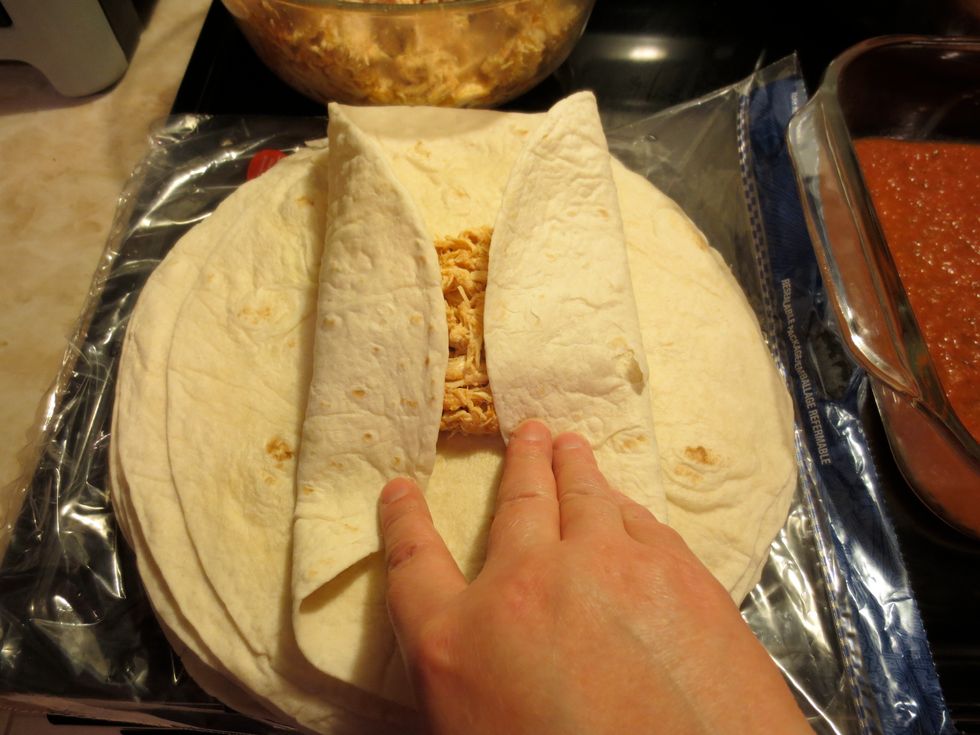 I'm using a burrito style fold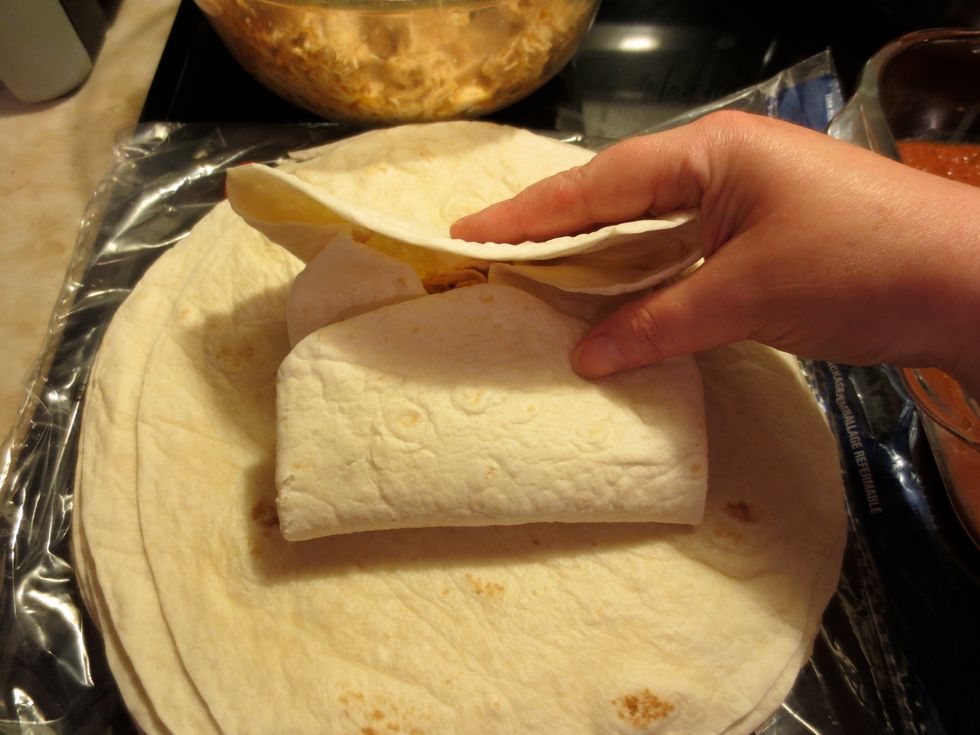 makes a nice package to hold all the filling inside.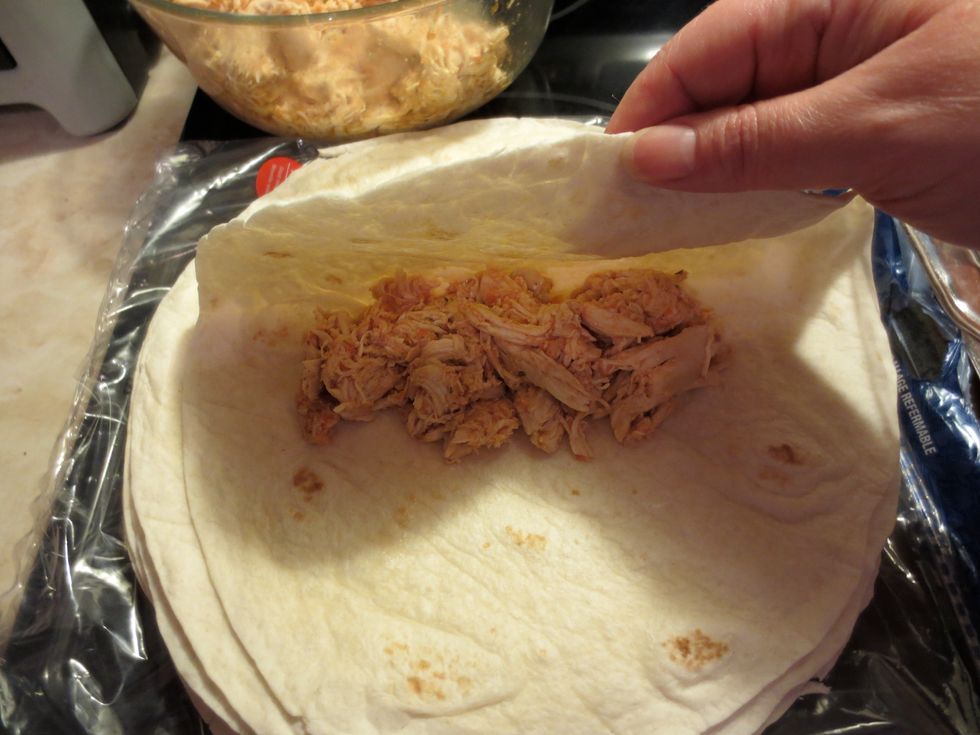 some may prefer the flauta style of folding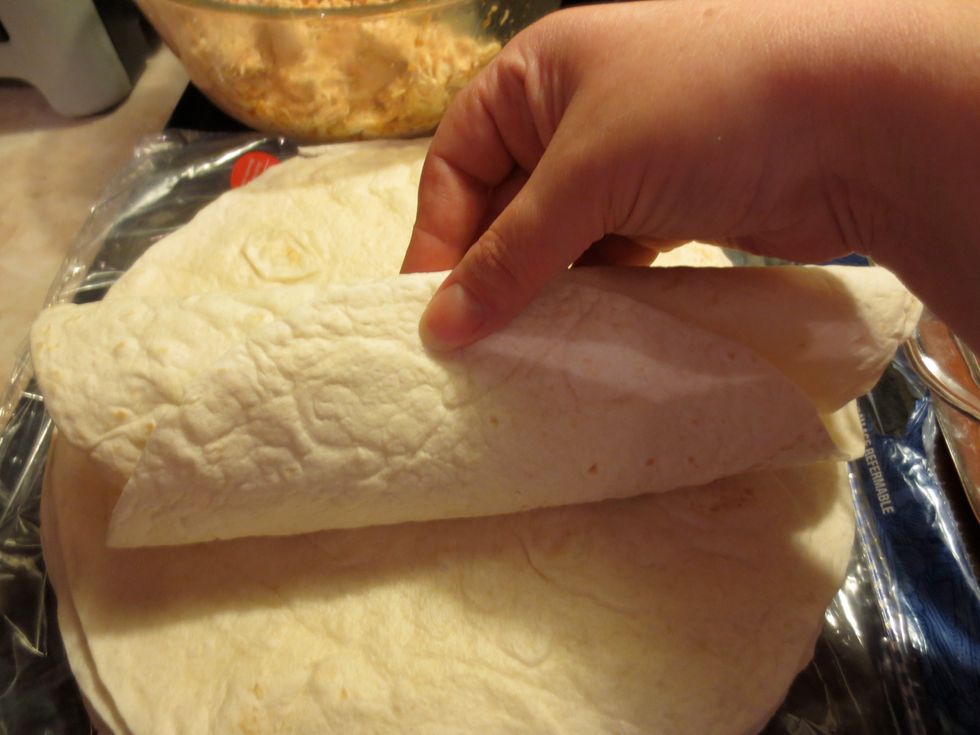 which is just a simple roll around the filling.
you get the idea, lay the filled tortilla seam side down in the sauce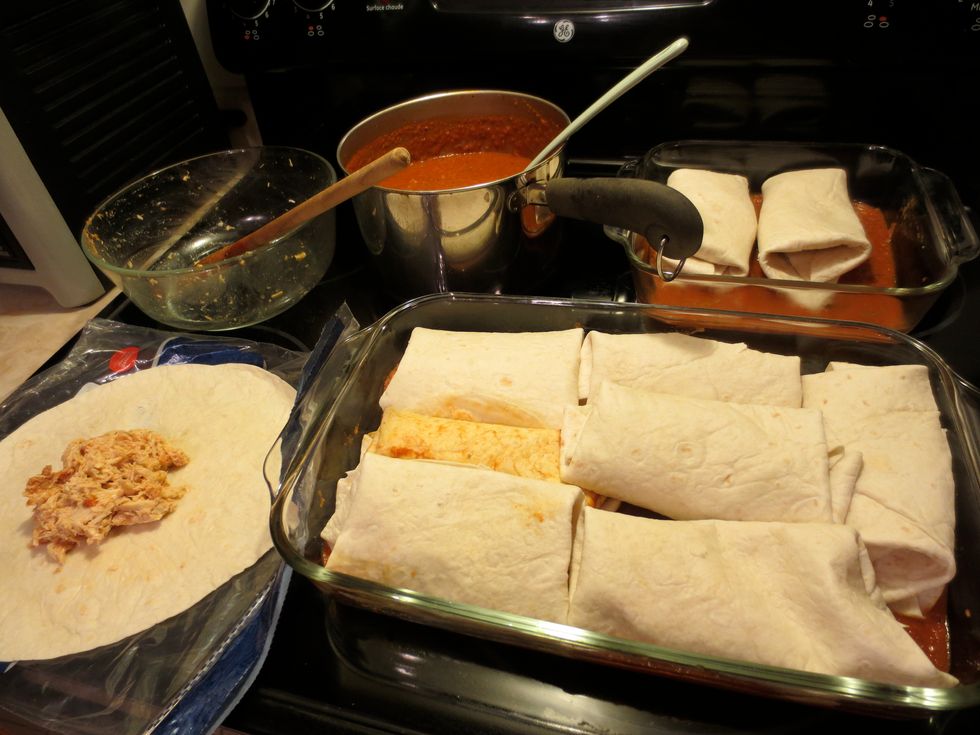 get the tortillas rolled up. They can be layered up on top of each other (sauce between layers) in one baking dish or in one single layer in a few dishes. I used 9"x13" and 9"x9" baking dishes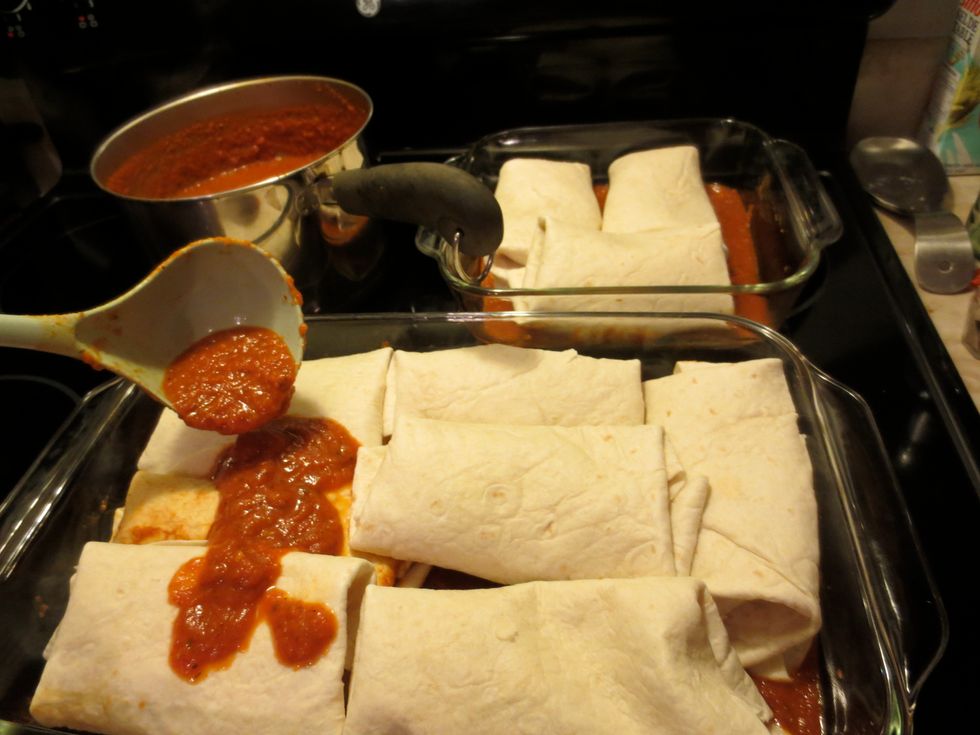 Enchilada sauce goes on, even coverage, not too heavy on the sauce, get exposed tortilla covered, it helps prevent sticking to the baking dish. No, I don't grease the dishes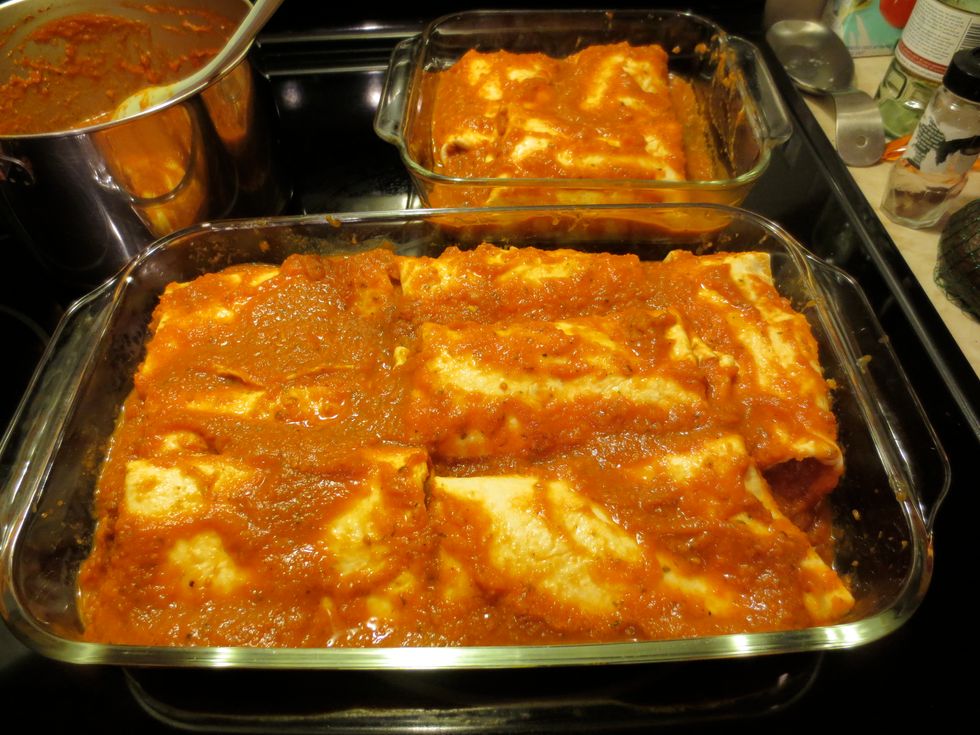 just about ready for the oven, one more thing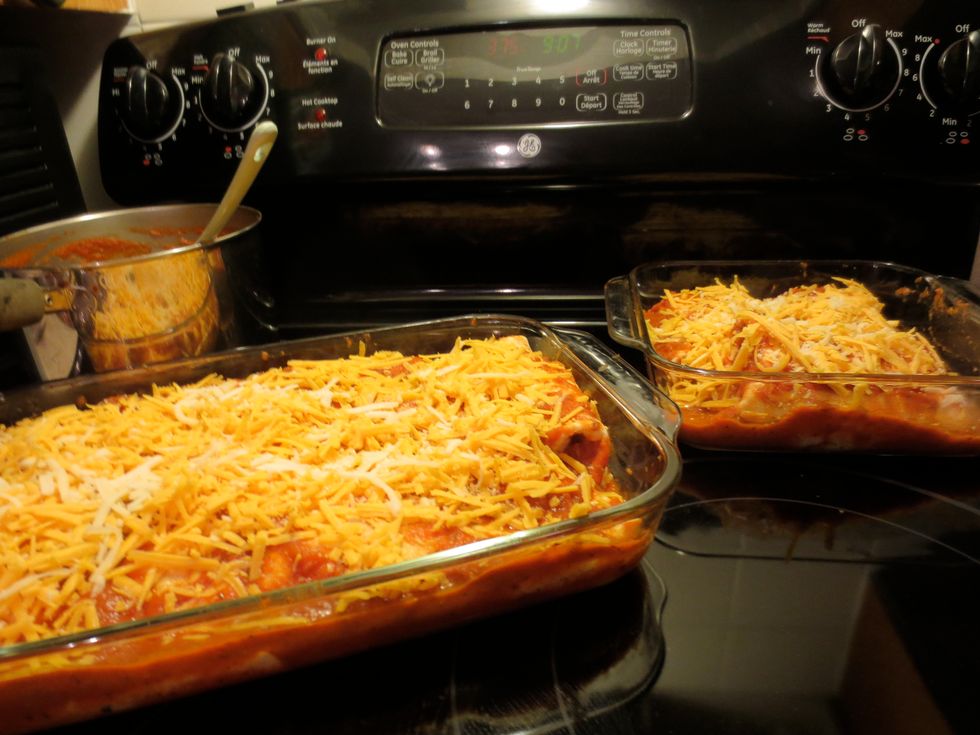 your cheese! use Cheddar, mozzarella, Monterey jack, a combination of all, use your favourite kind. If you don't use cheese, cover your baking dishes before they go in the oven. Bake 375f for 30 min.
Making garnish! Some guacamole, chop green onion, slice lime. Used some of the lime for my Cuba Libre. Half your avocado, remove pit, scoop, add a squeeze of lime and a pinch of salt, mash with fork.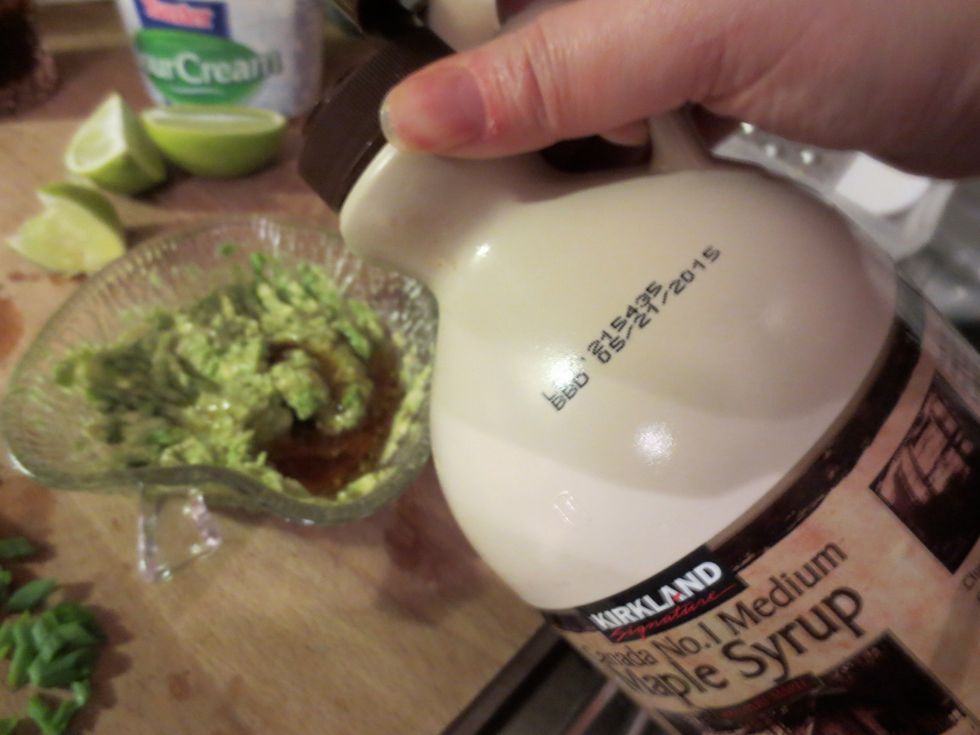 sometimes I get crazy and throw a little Maple Syrup into my guacamole ... or maybe the Cuba Libre made me do it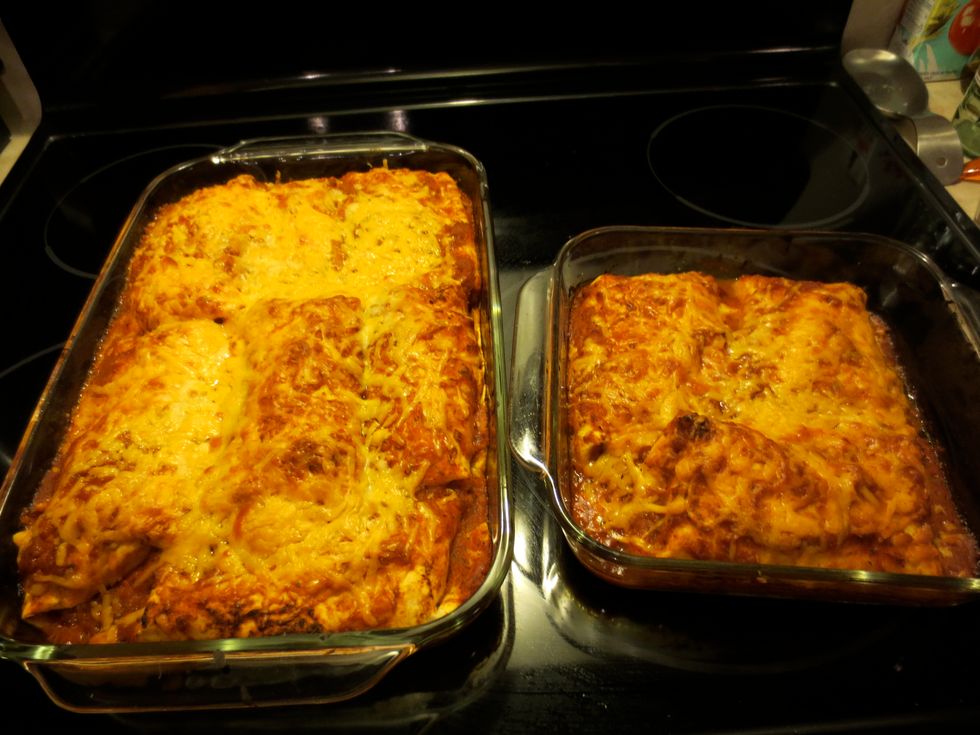 Done! Cheese is melted and bubbly, a little hint of crisp. Ready to plate and garnish up.
Ready to eat! Hope you like my version of Enchiladas. Let me know
Recipe makes lots of sauce which freezes great. The Enchilada also freezes well. Takes 2 to 2 1/2 hours to complete. You can break it up into two phases. Make sauce. Than chicken, assembly phase.
2.2lb skinless boneless chicken
1.0 carrot diced (1/2 cup to 3/4 cup)
2.0 celery sticks diced (1/2 cup to 3/4 cup)
1.0 onion diced (2/3 to 1 cup)
2.0 28 oz cans diced or whole Tomatos
1.0 10 oz can tomato paste
3.0c water or chicken broth
1.0Tbsp chicken bouillon (omit if you use chicken broth)
1.0 dried or fresh chile pepper (I used dried pasilla)
1.0Tbsp salt (more or less to taste)
1.0tsp ground black pepper
1.0tsp ground coriander
1/2tsp ground cumin
1/2tsp ground chile powder
10.0 large flour (or corn) Tortillas (or 20 small)
2.0c grated cheese (cheddar, mozzarella, or your fav)
1.0c sour cream for garnish
3.0Tbsp chopped green onion for garnish
1.0 mashed avocado for garnish
1.0 lime wedge for mashed avocado
1.0Tbsp oil of your choice (veg, coconut, peanut)
1.0tsp dry cilantro (optional) or use fresh
1.0Tbsp dry parsley (optional) or use fresh
1/8tsp ground turmeric (optional)
1.0pch cocoa powder (optional)
1.0pch ground cinnamon (optional)
2.0tsp garlic powder (2 cloves) almost forgot it!