How to cook day and night cake
It's a delightful mix of Jaffa custard with milk arrowroot biscuit soaked in milk and whiskey to give a 5 class taste at the tiniest budget. And the look is fantasmic!
1247
Add 2 liters of full fresh cream milk into a large saucepan on medium heat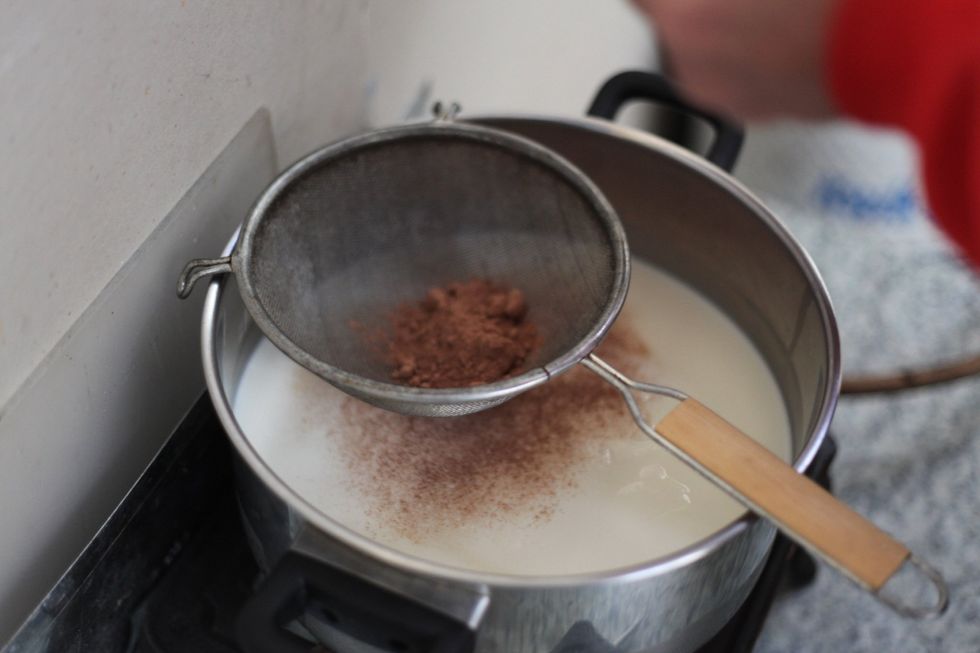 Sift the cocoa or chocolate powder while the milk is gently boiling. Don't burn the milk.
Add 1/2 cup of sifted plain flour into the milk.
Keep sifting flour and cocoa until your milk starts to thicken and take a beautiful chocolate colour.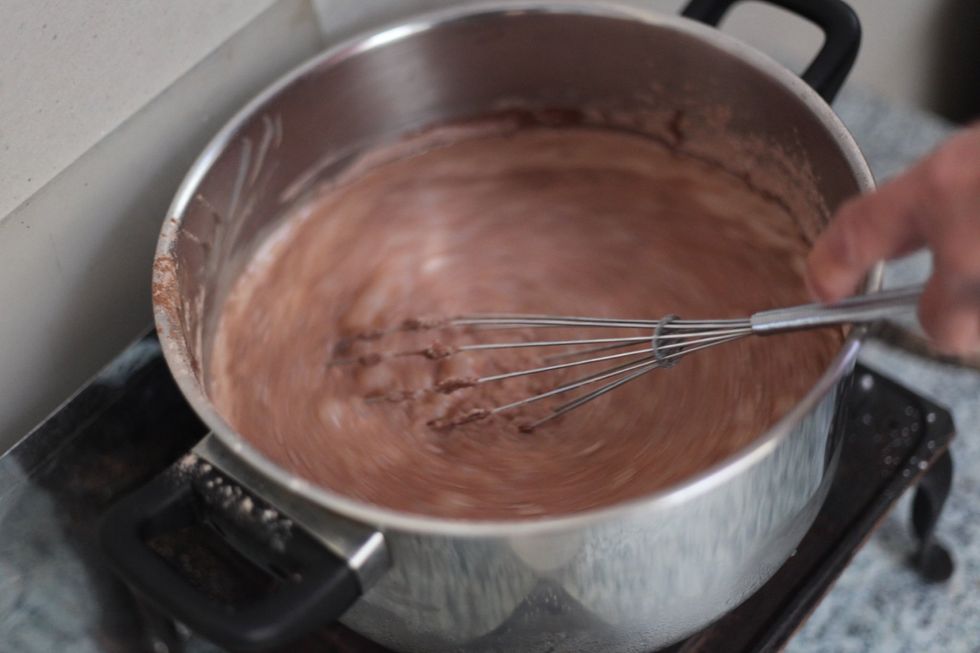 Stir like a mad man. Round and round and if there small lumps don't stress they'll dissolve. Don't turn up the heat. Slow and gentle heat.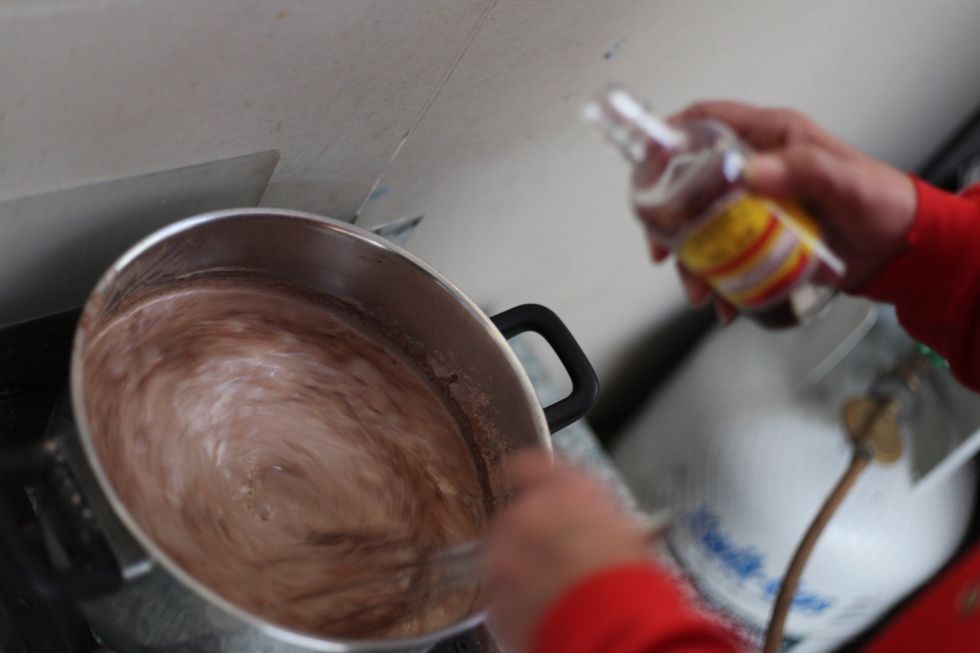 While stirring with the whisk, add the vanilla essence and keep stirring.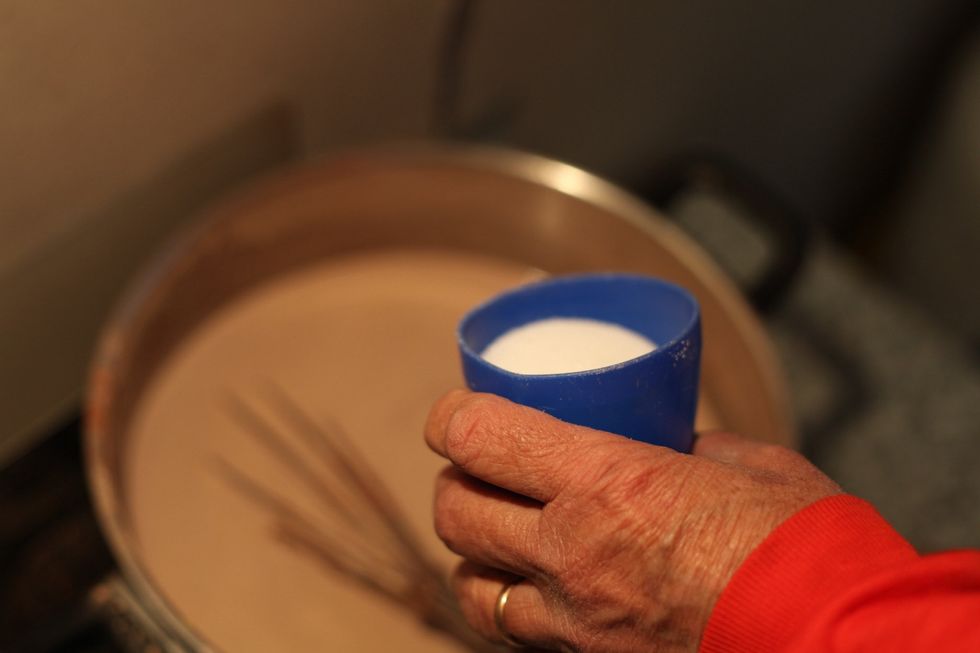 Add one cup of sugar.
Grate one whole lemon's zest using the smallest holes on your grater. Lemon and chocolate makes Jaffa flavour. Yummy!!
Stir stir stir. Once it's thickened, turn off the heat and leave it to cool down a little. You have just made home made custard. Real delicious jaffa custard! Let's continue.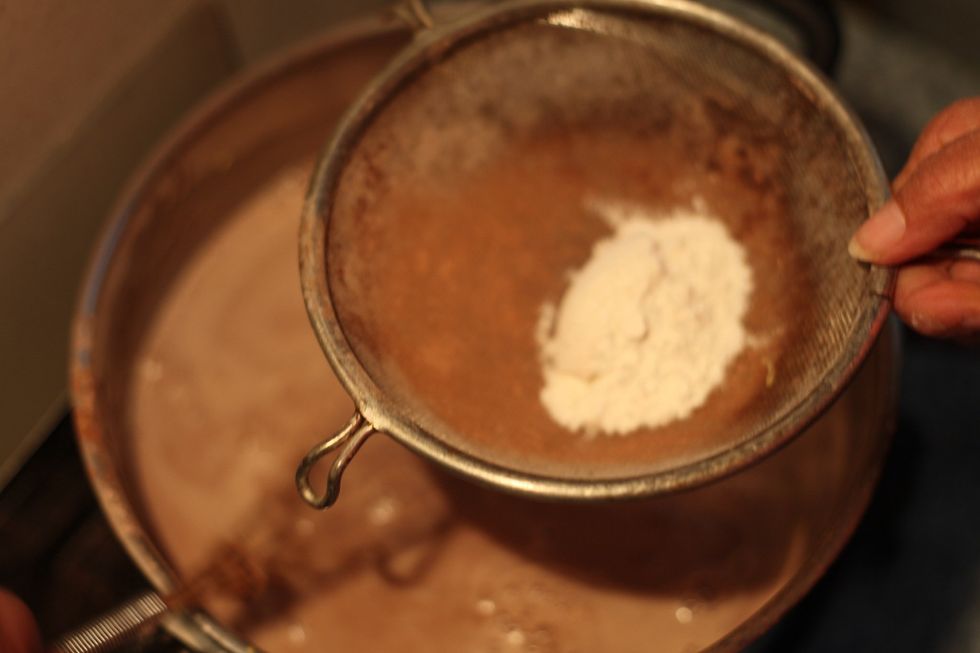 If your custard needs more thickening, add a tablespoon of cocoa and flour at a time. Let it cool down to just about room temperature.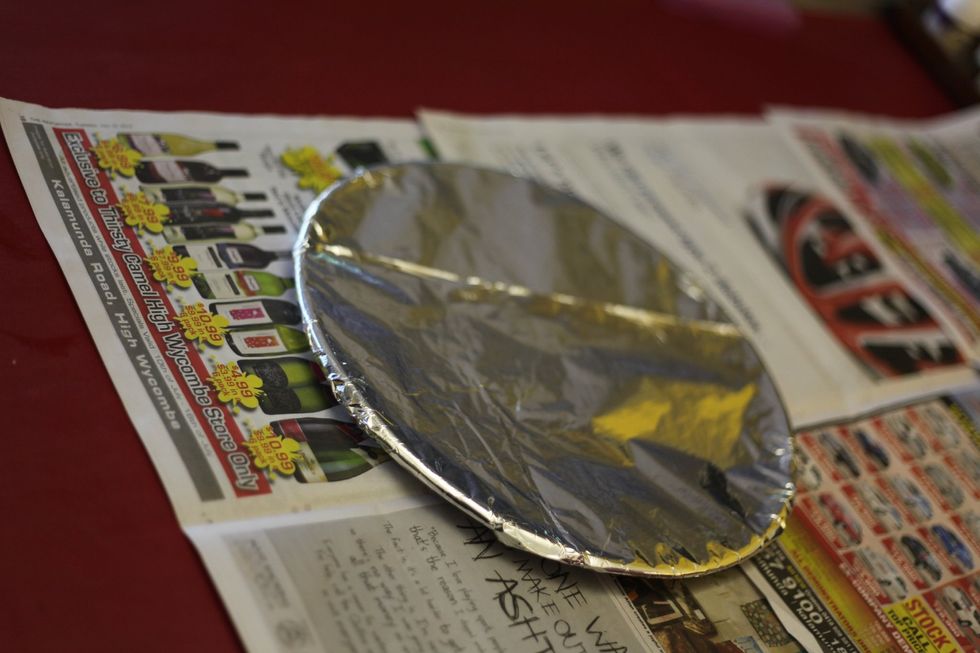 Prepare a round tray and cover with aluminum foil and fold underneath the tray. Make sure you use a newspaper underneath. The next part is a touch messy.
In a small bowl add a cup of milk for soaking the biscuits.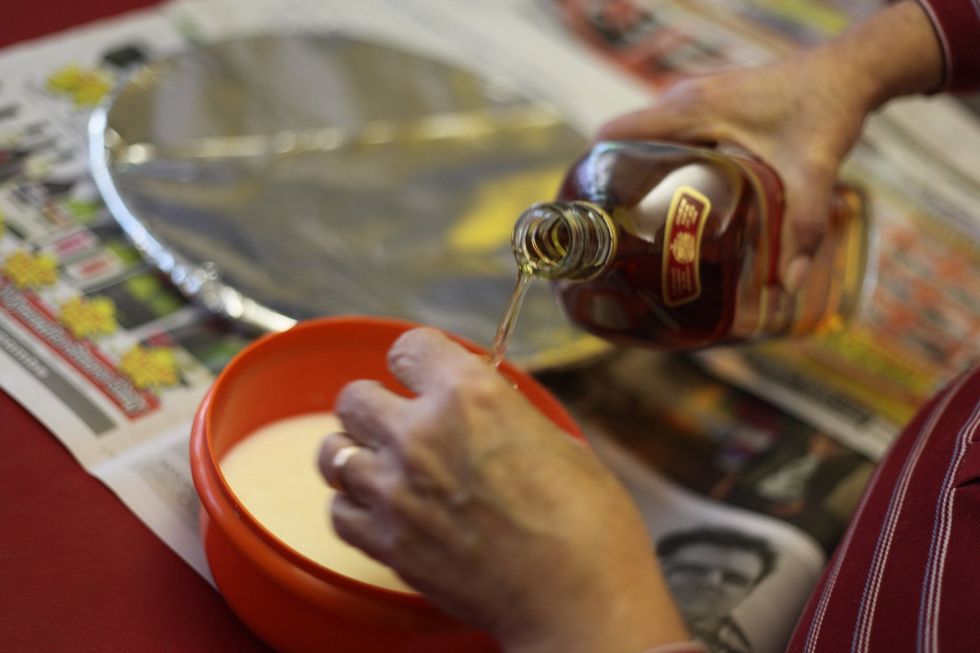 Add 1 cap or 2 tbsp of whiskey. You can add more if you like. The whiskey acts as a preservative for this cake and let's face it it's delish! Alco!!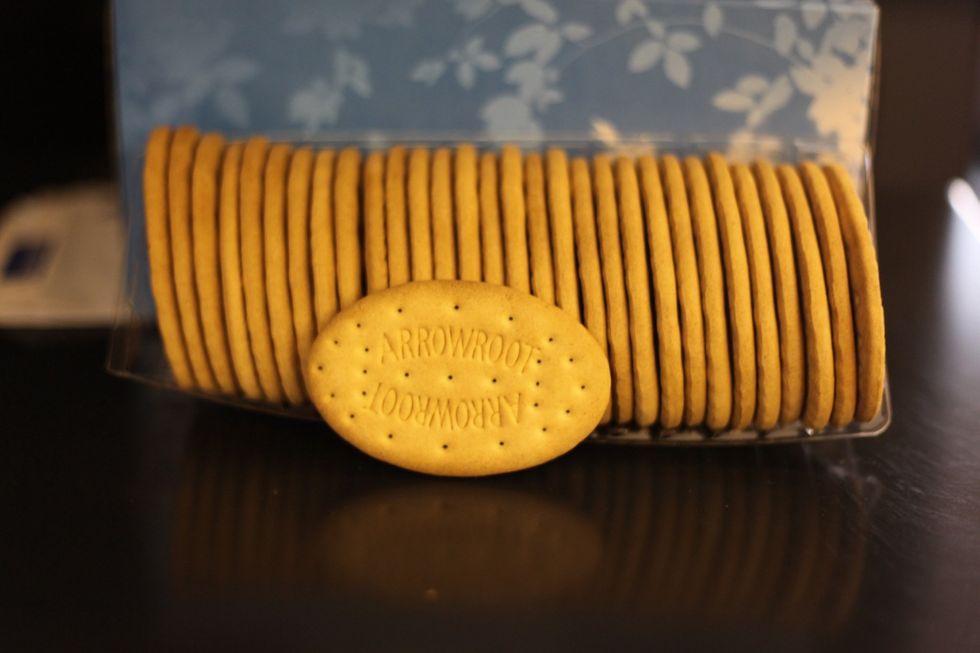 Get your milk arrowroot biscuits. If you can't get milk arrowroot, you can use any plain round or oval biscuit.
Dip each biscuit into the milk and whiskey mix. Don't drown the biscuit, it will break apart. In and out that'll do the trick.
Place the biscuits around the outside of the tray so they just hang outside the edge.
Dip and place. Feels like I'm giving an aerobics class. Now dip and soak and place and again.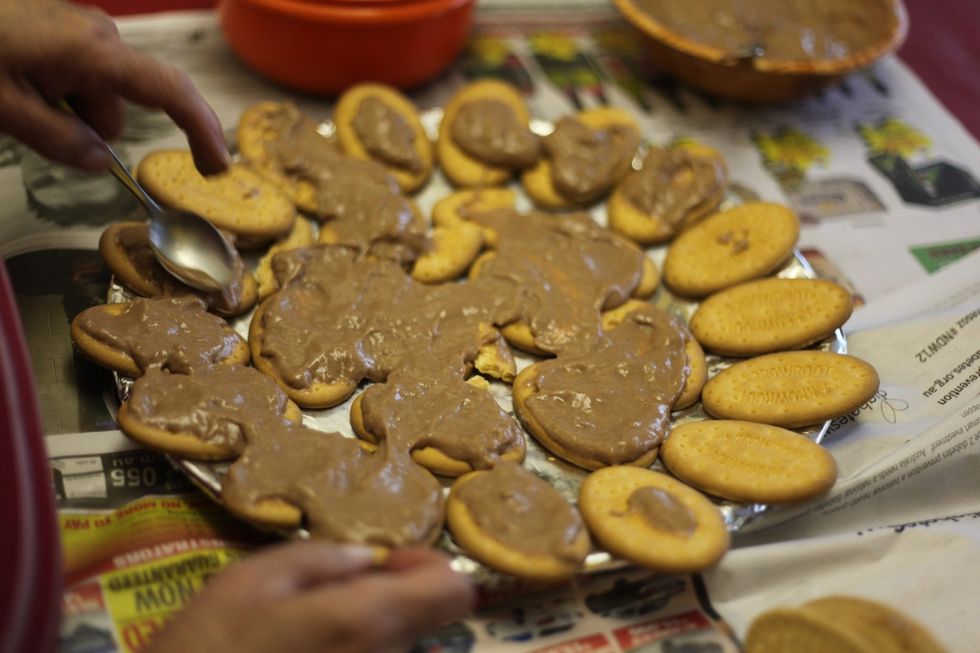 Once you have covered your first layer with biscuits. Get some warmish custard. It shouldn't be set. Now cover the biscuits with a thin layer of your custard.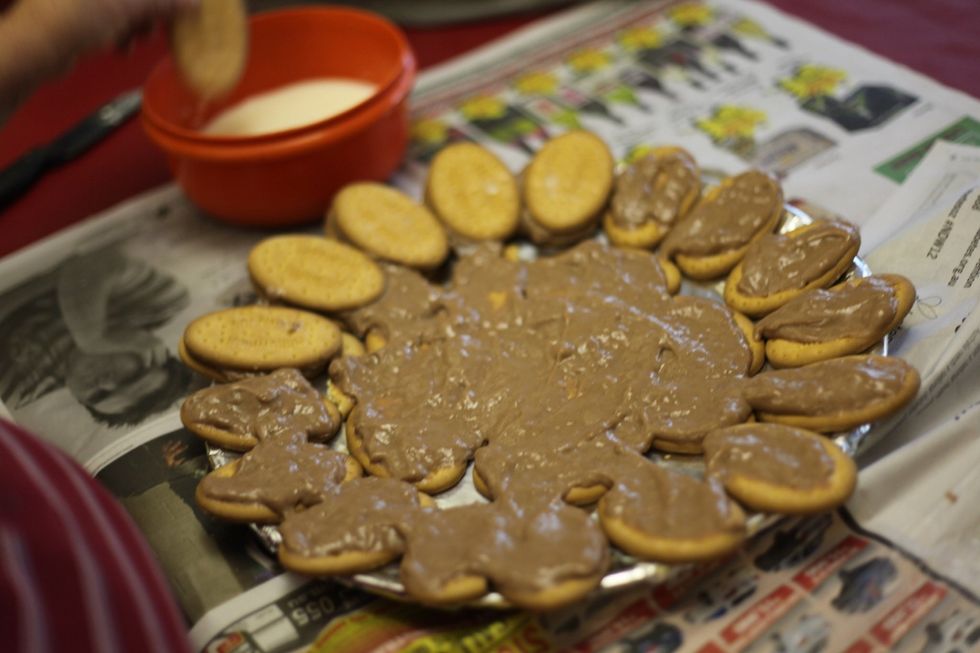 Once you've covered the biscuits with the chocolate custard, start a new layer of biscuit directly on top of the previous layer.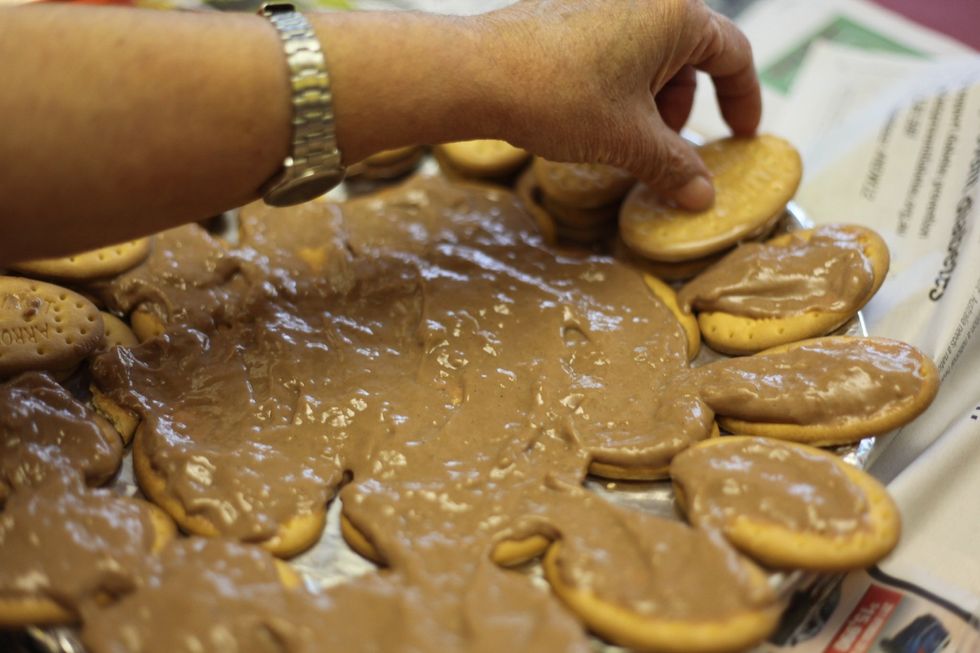 Like so.. Take off your watch when working.. Good one Mum.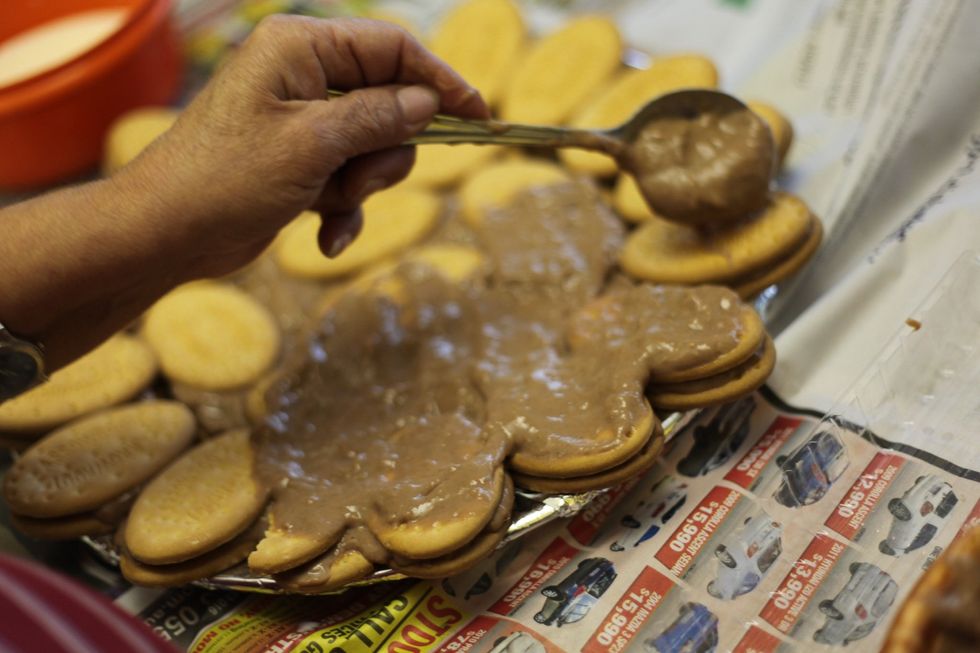 Add another layer of chocolate custard. Please make sure you're using custard that is not set solid.
Keep covering each layer of biscuit with custard.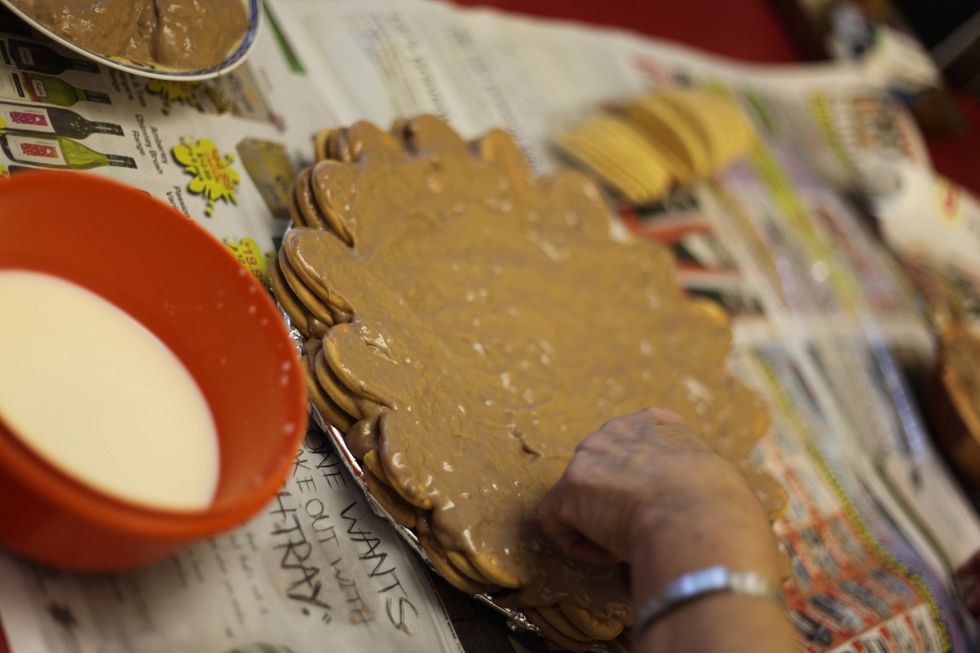 Third layer .. Keep going. We're almost there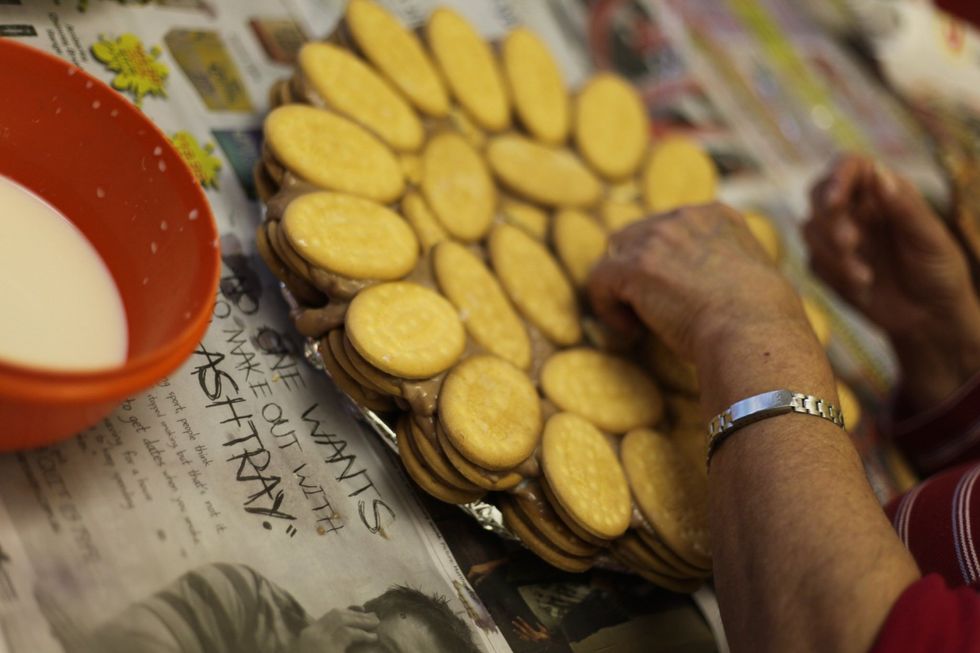 4th layer of biscuit is your last layer.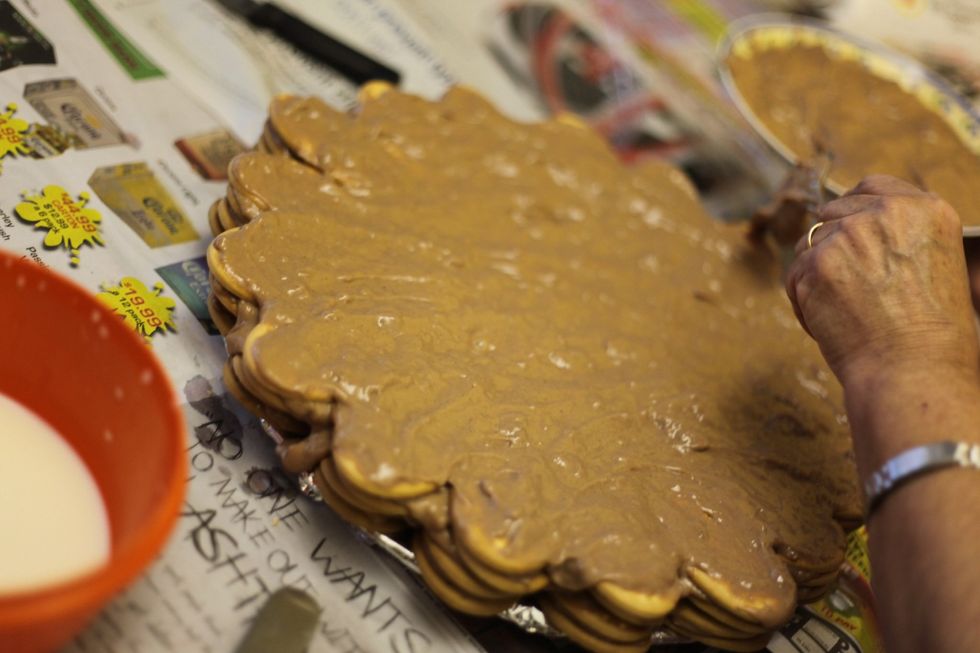 Now totally cover your biscuit layers with the chocolate custard. You don't need to press down on the biscuit. Just layer gently. Here's the fun part. Wash your hands and....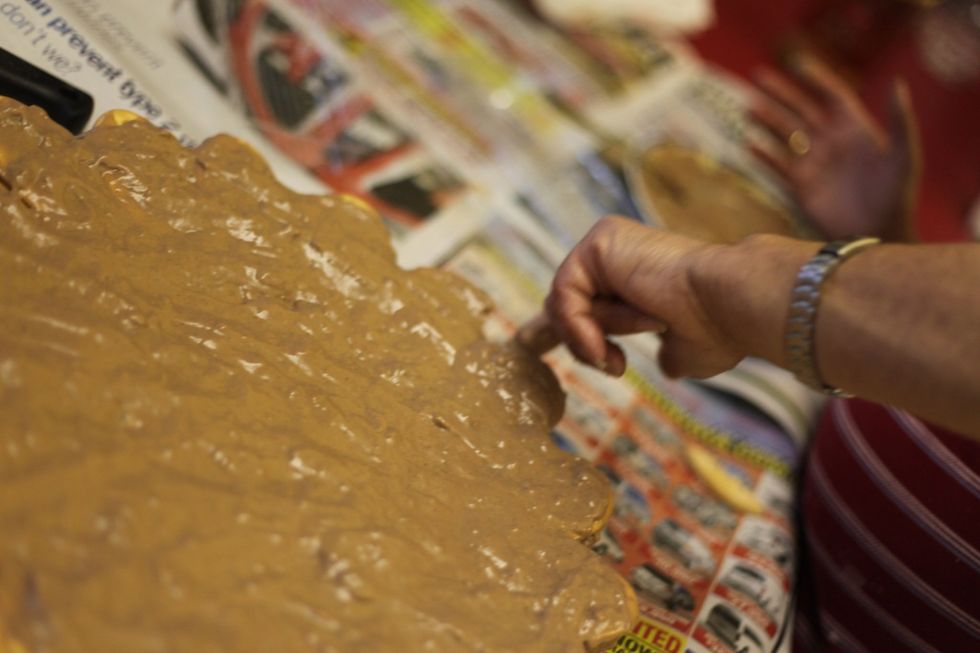 Scoop some custard with your finger and fill in the outside. You could use a spoon but it is much easier with hands.
Sprinkle with desicated coconut.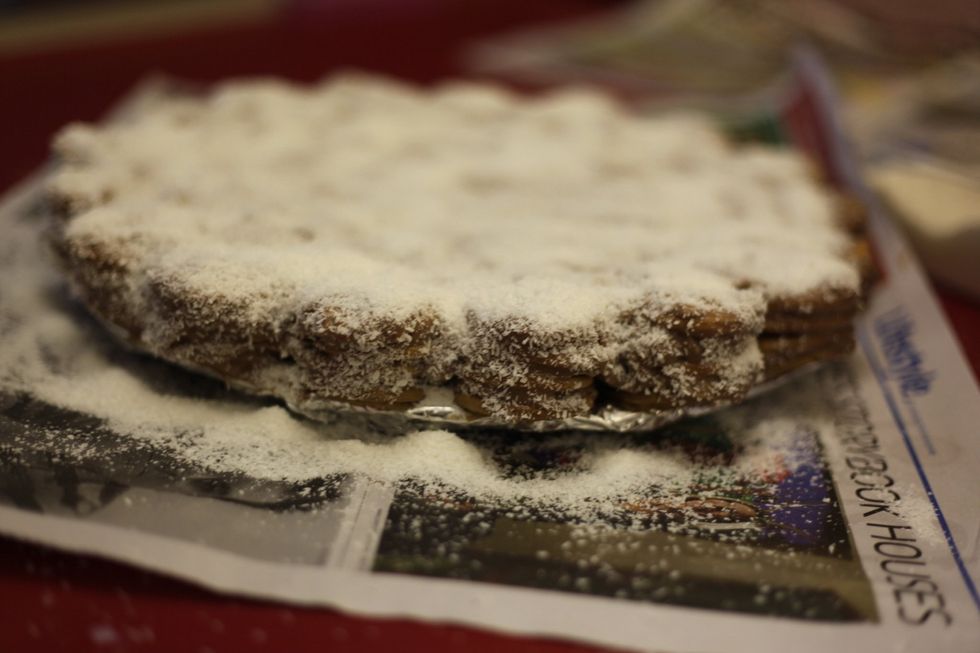 Try and get as much of the coconut on the outside of the cake by flicking the newspaper that has coconut on it.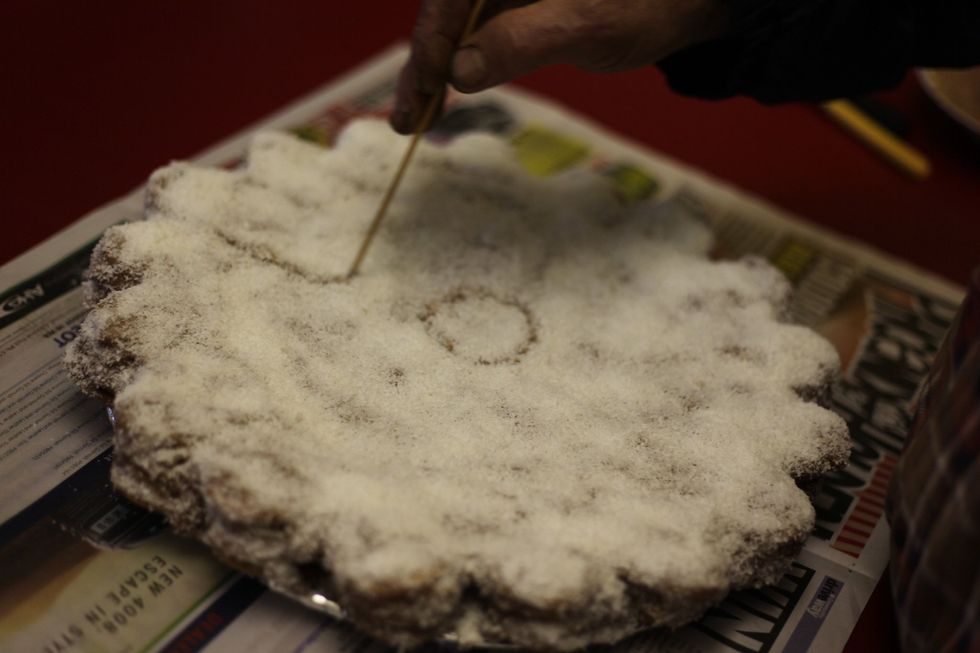 With a skewer draw any shape you want on the cake. This will help you guide the chocolate sprinkles into the crevices.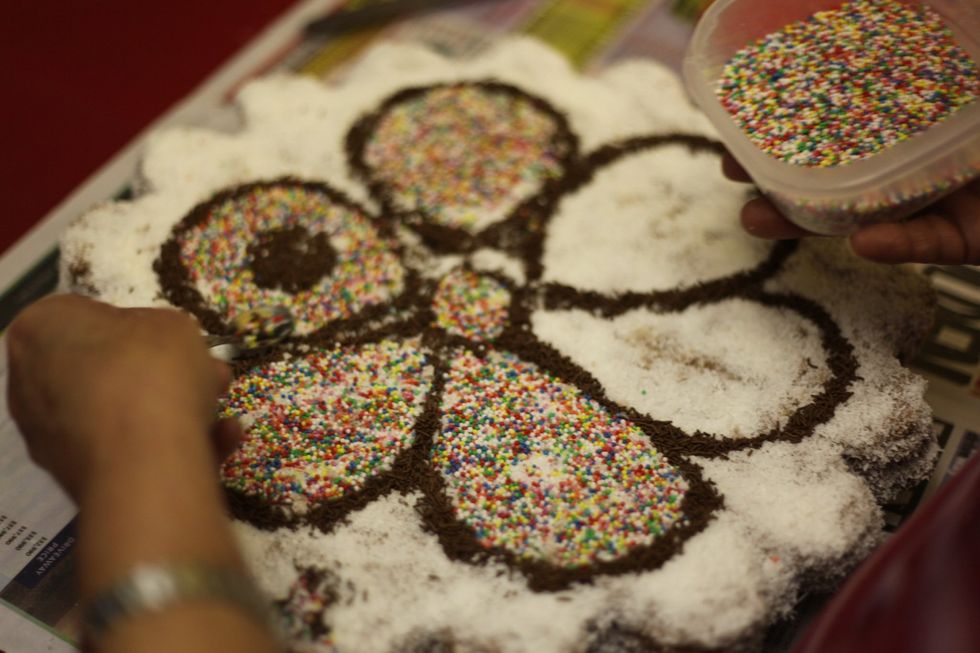 And fill in delicately with chocolate sprinkles and hundreds and thousands.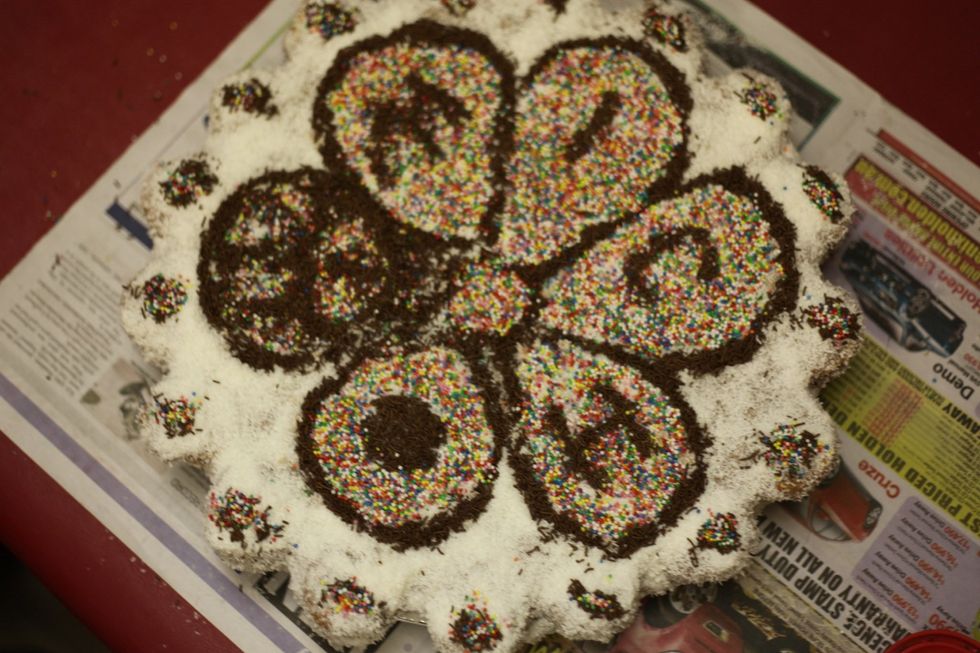 Can you see what I've written? This dish comes to you with love from our amateur kitchen. Happy to answer any questions. Like, share and comment for more guides. Thanks for viewing. Micho!
It's day and night with sparkles. It's truly a 5 star cake on a pauper's budget. With love again from our amateur kitchen.
2.0l Fresh full cream milk
1.0c Cocoa powder or drinking chocolate
1/2c Plain sifted flour
1.0c White sugar
5.0 Packets of milk arrowroot biscuits
1.0 Lemon
1/3c Vanilla essence
3.0Tbsp Whiskey
1.0c Extra milk for soaking
Michel Daher
Micho here. Amateur experimental chef and lover of food. Thanks for all your support. Join my Food Journey www.naturallygoodfood.com