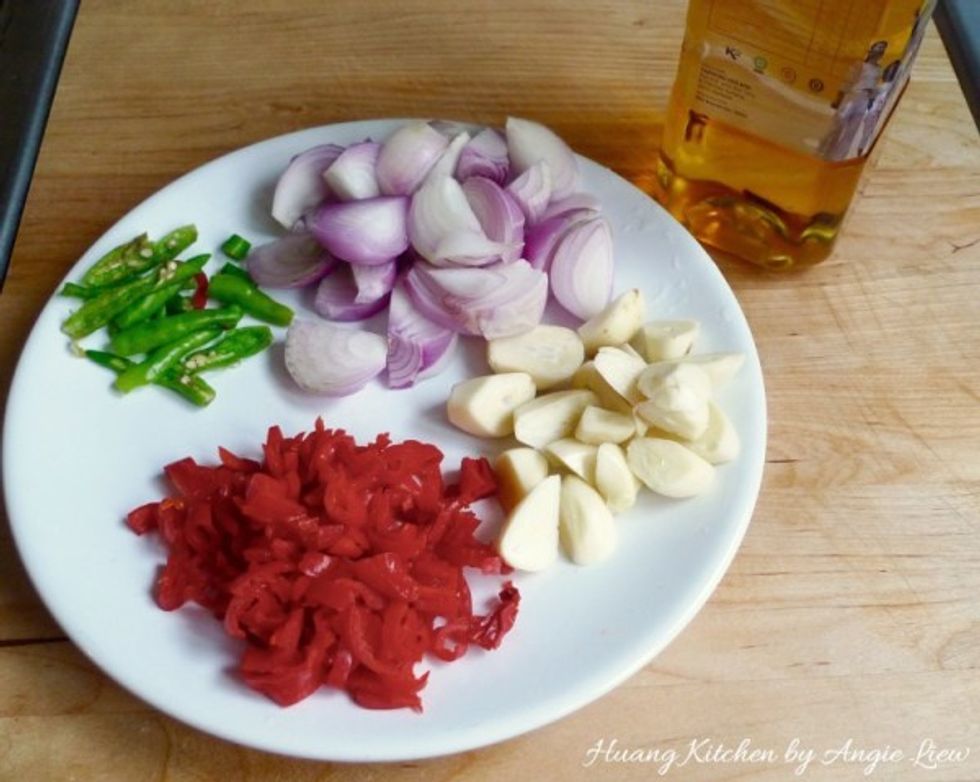 First, prepare ingredients to make chili paste.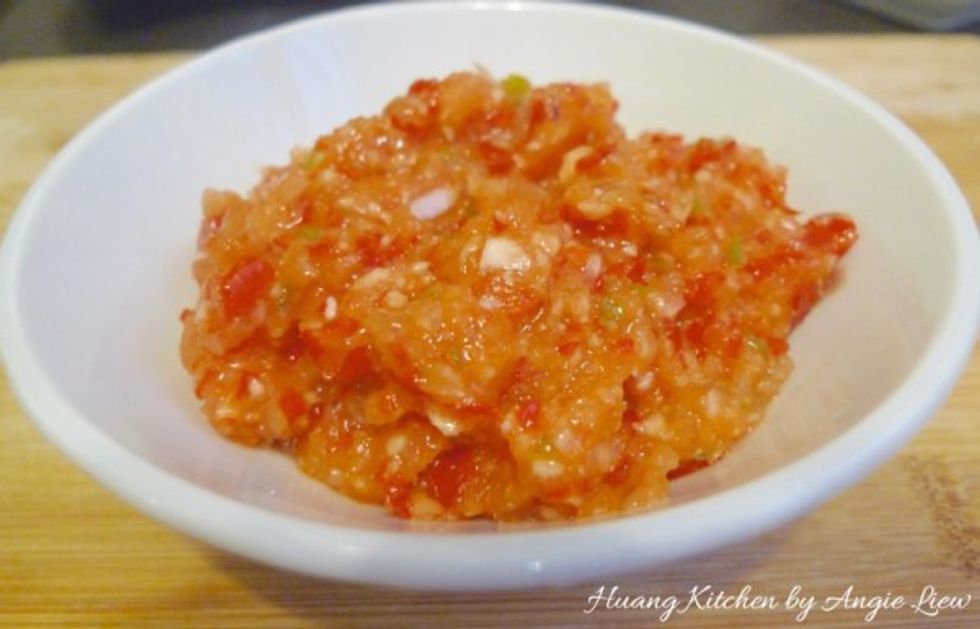 Blend the chili paste ingredients in a blender until it is smooth and fine. Dish out and set aside.
Clean, gut and drained well the fish, cut the onion into thick rings, have ready calamansi lime and also cornflour for coating the fish.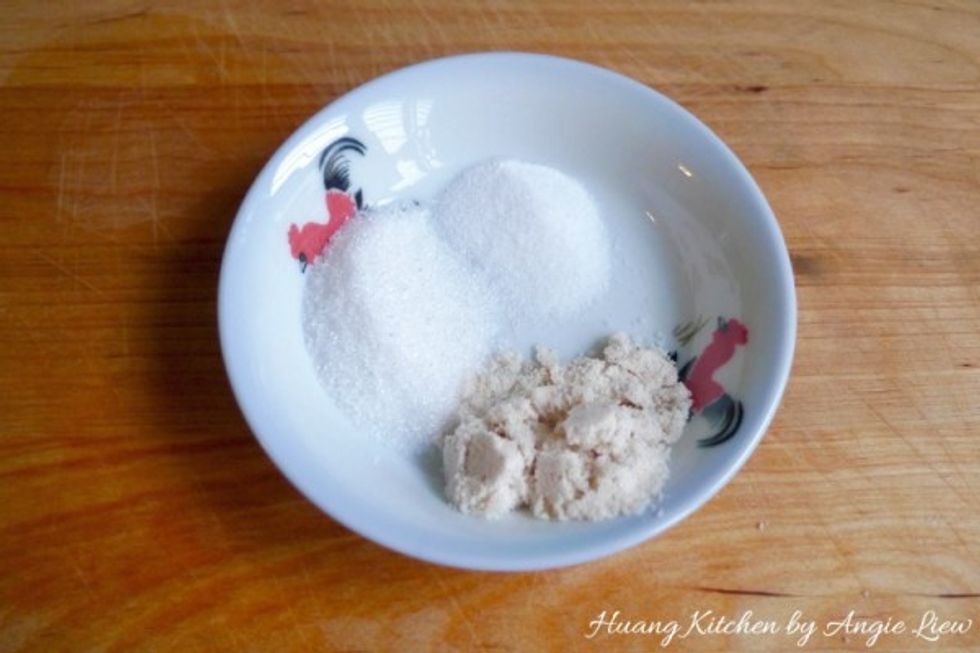 Prepare the seasoning for this dish.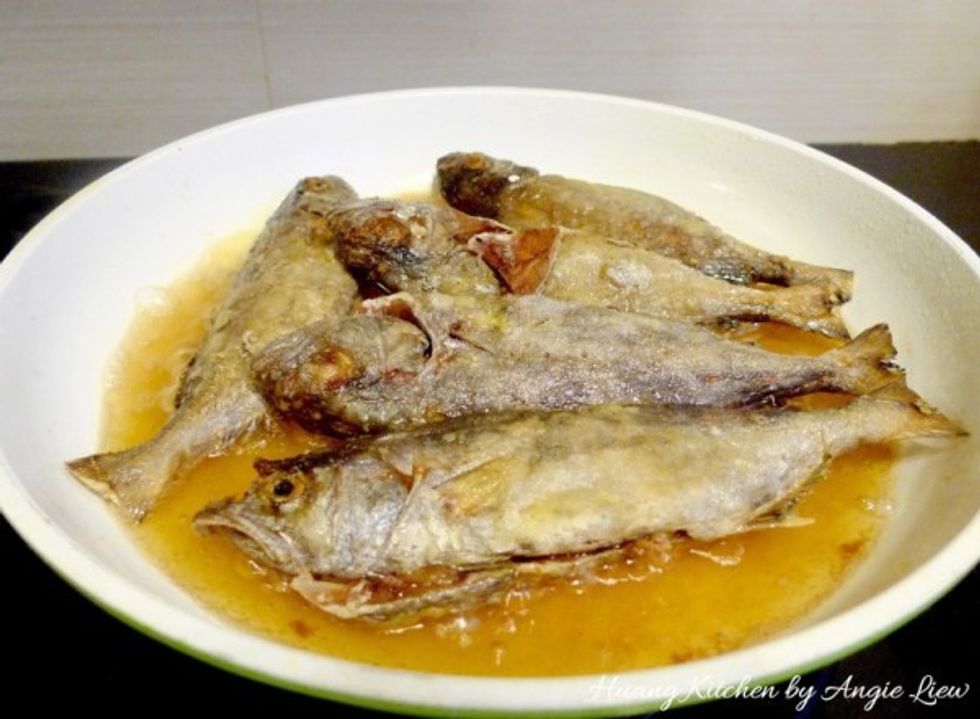 Coat each of the fish with cornflour. Then deep fry the coated fish in hot oil on high heat until cooked through and golden in colour, about 5 minutes on each side.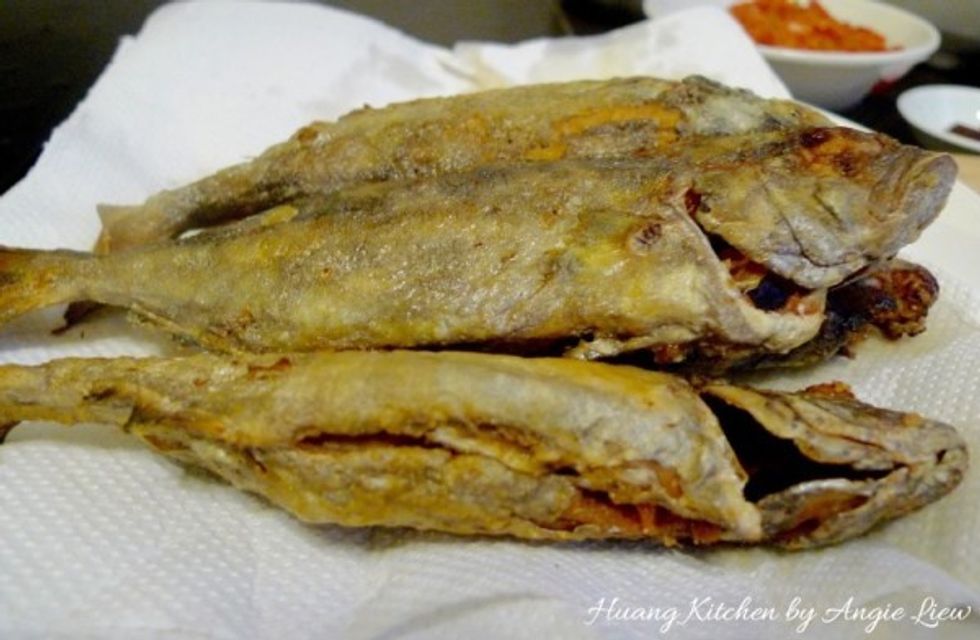 Remove the fish from the oil and drained on a plate lined with kitchen paper. Then place on serving plate.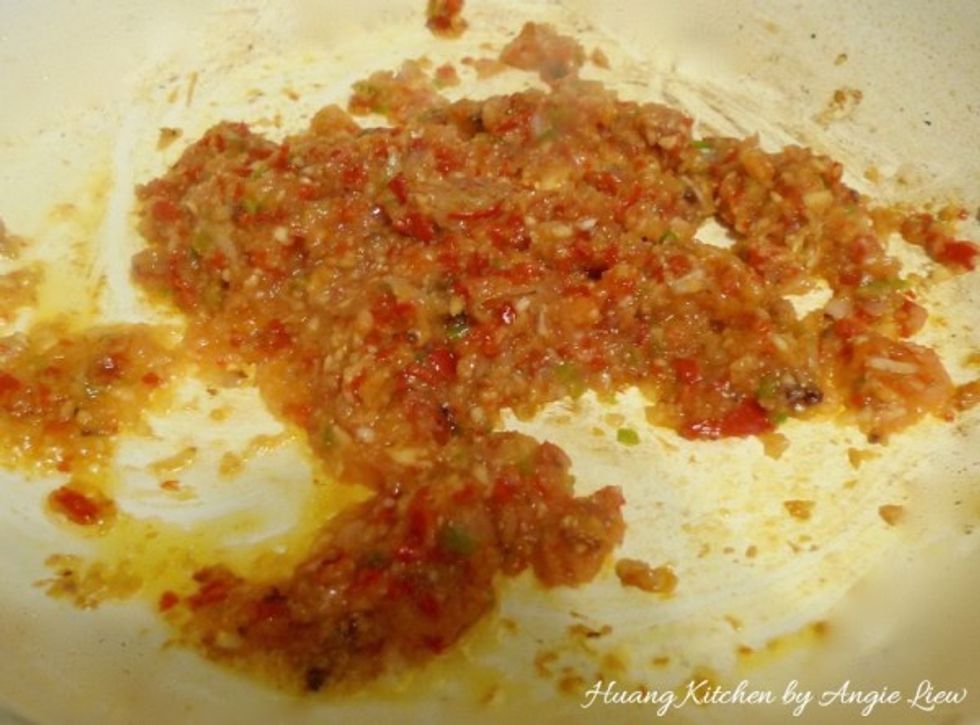 In the same wok, heat up 2 tablespoon oil and add in the blended chili paste, stirring on medium heat until fragrant.
Add in the thick onion rings and continue to stir fry.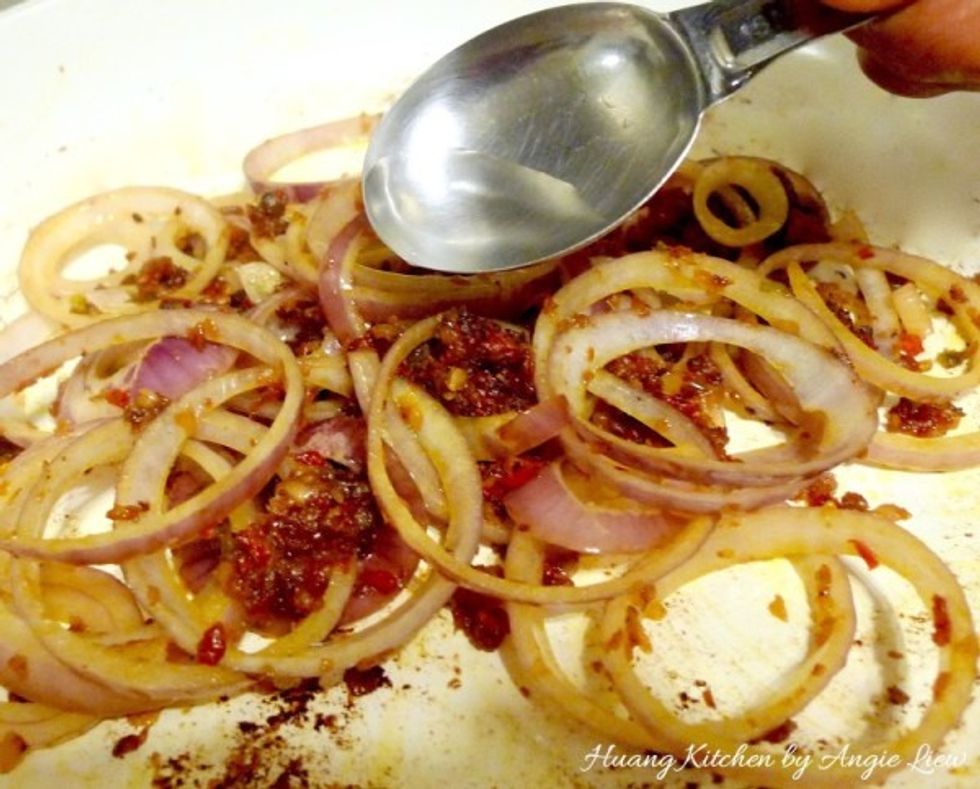 Then add in some hot water.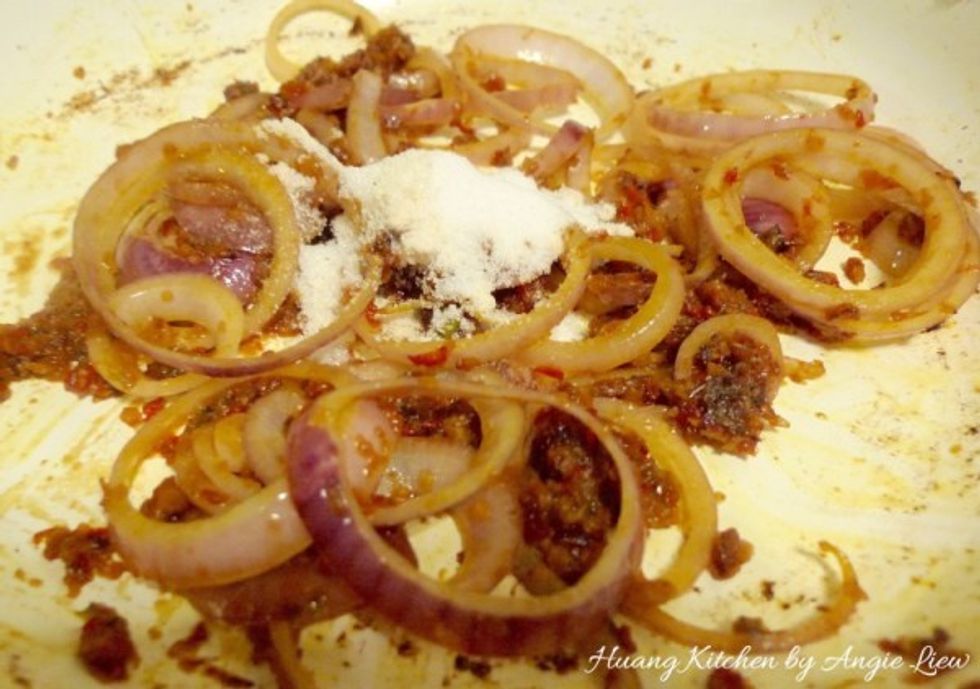 Next, add in the seasoning. Toss to make sure the onion rings and seasoning are well blended with the chili paste. And we're done!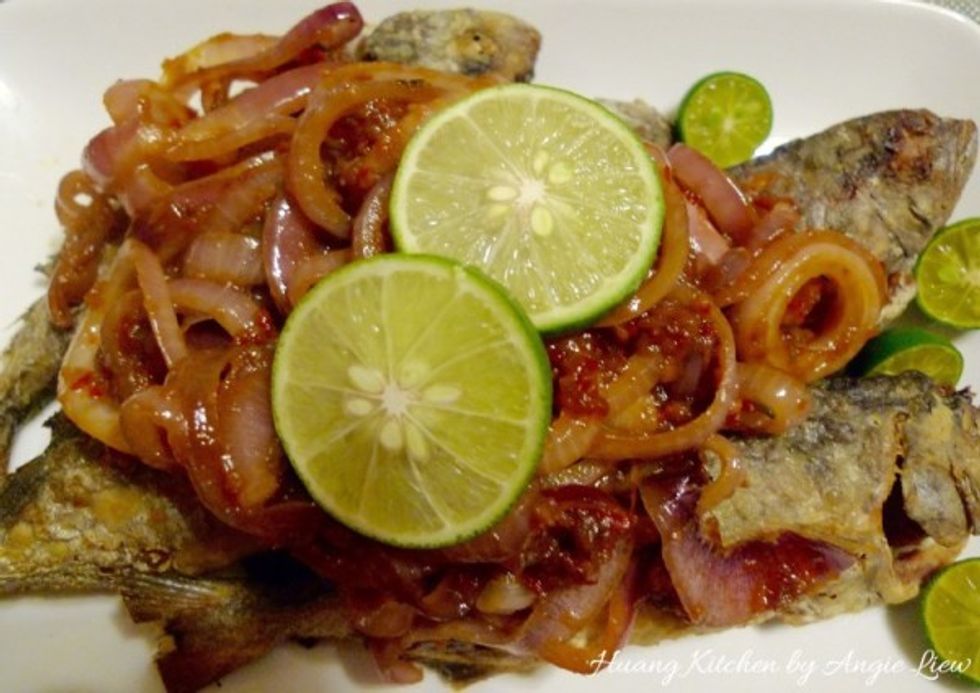 Spread the cooked onion chili paste onto the fried fish and squeeze calamansi lime juice over the fish before serving. Garnish with cuts of lime and ENJOY!
Garnish with cuts of lime and ENJOY! For more, like us on Facebook and get instant updates on our latest recipes at www.Facebook.com/huangskitchen
300.0g fish, whole or fillet
2.0 big onions
2.0 calamansi lime
2.0Tbsp cornflour, to coat the fish
2.0Tbsp hot water, for the sauce
6.0 shallots, (chili paste ingredients)
5.0 garlic cloves, (chili paste ingredients)
5.0 red chilies, (chili paste ingredients)
5.0 bird's eye chilies, (chili paste ingredients)
1.0tsp sugar, (seasoning)
1/2tsp salt, (seasoning)
1.0tsp chicken stock granules, (seasoning)
Huang Kitchen
For more step-by-step recipes and cooking tips, visit my website at \nhttp://www.huangkitchen.com