How to cook clove apple pie
This is an alternative to standard apple pie recipes. An experiment of mine that just was divine. It all started because my mother is allergic to cinnamon. Find me on baddee.com
68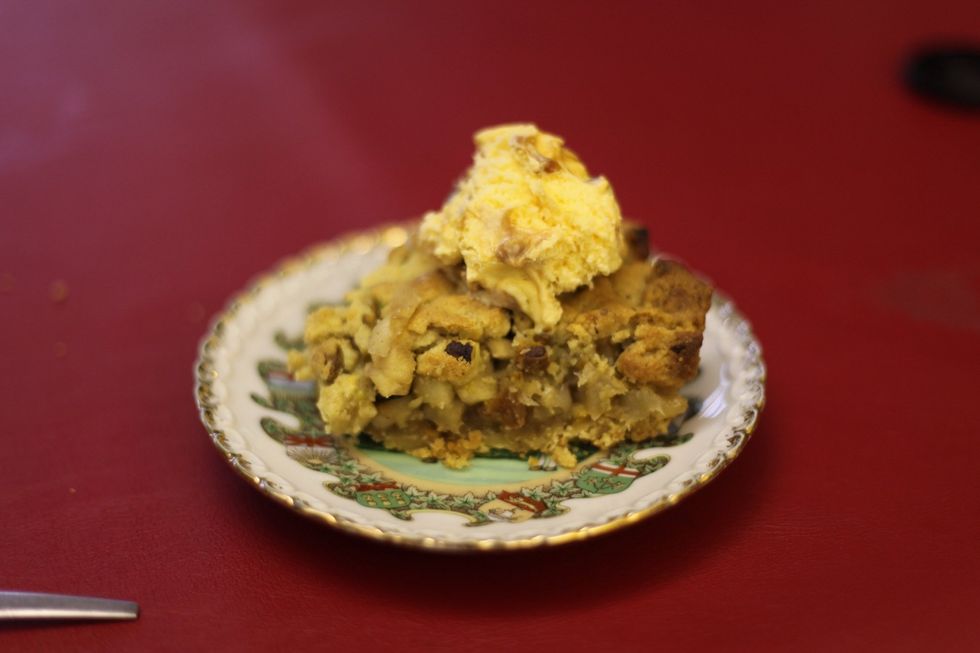 This is the end result. A crunchy crust, soft apples with a tangy clove pastry and filling. Dare to indulge.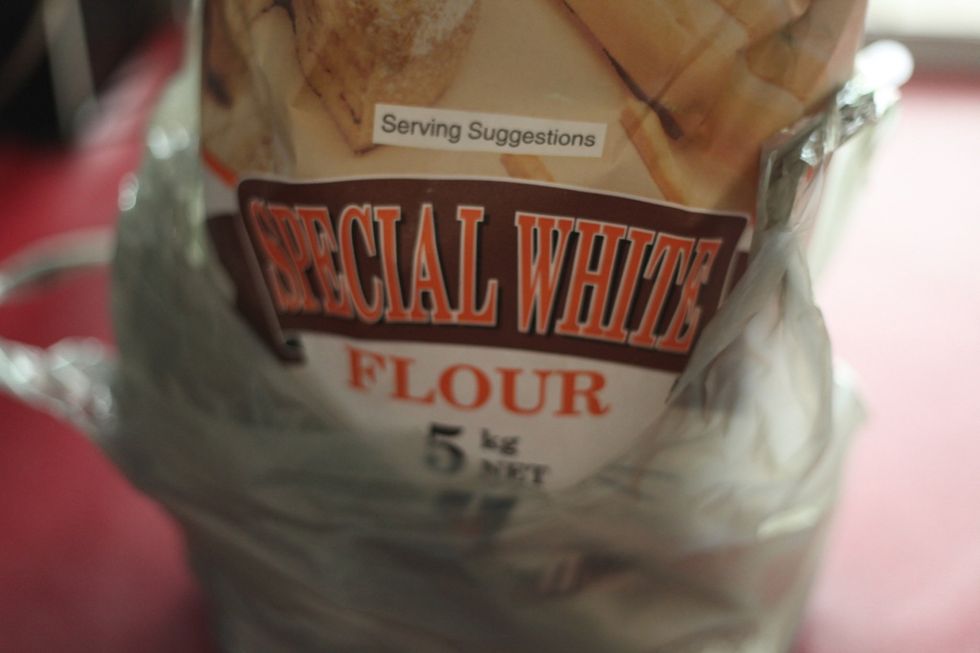 This recipe gives you flexibility to add, change the size of the portions as you wish. If you have left over pastry at the end it's a huge BONUS!!! You'll see at the end.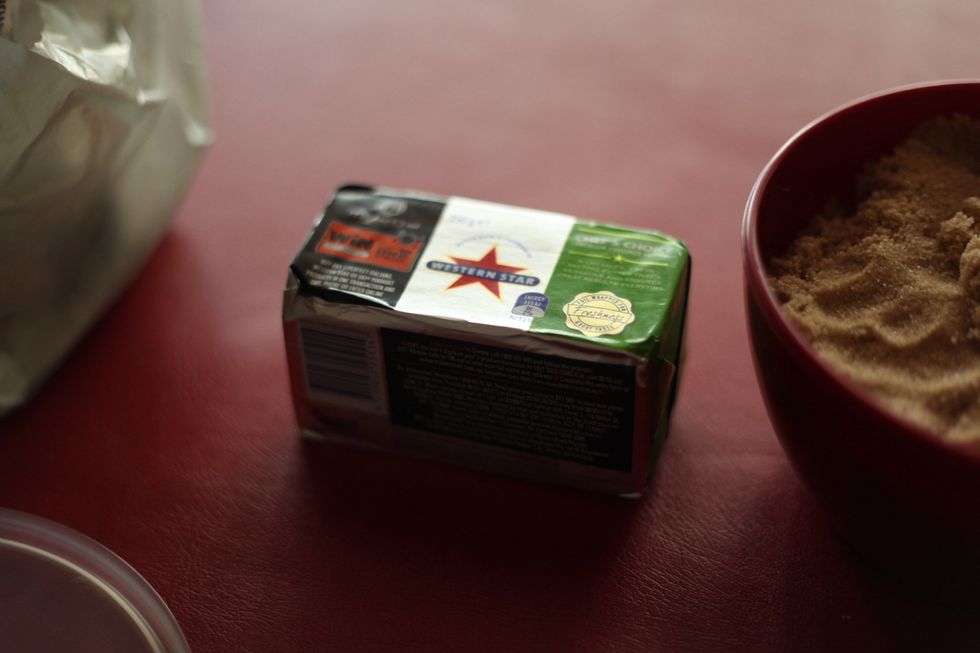 Place the entire block of butter in the microwave to soften. If it melts completely it is fine. Please remove the aluminum foil wrapper though. Sparkles are nice but not this kind.
Have some fine brown sugar ready.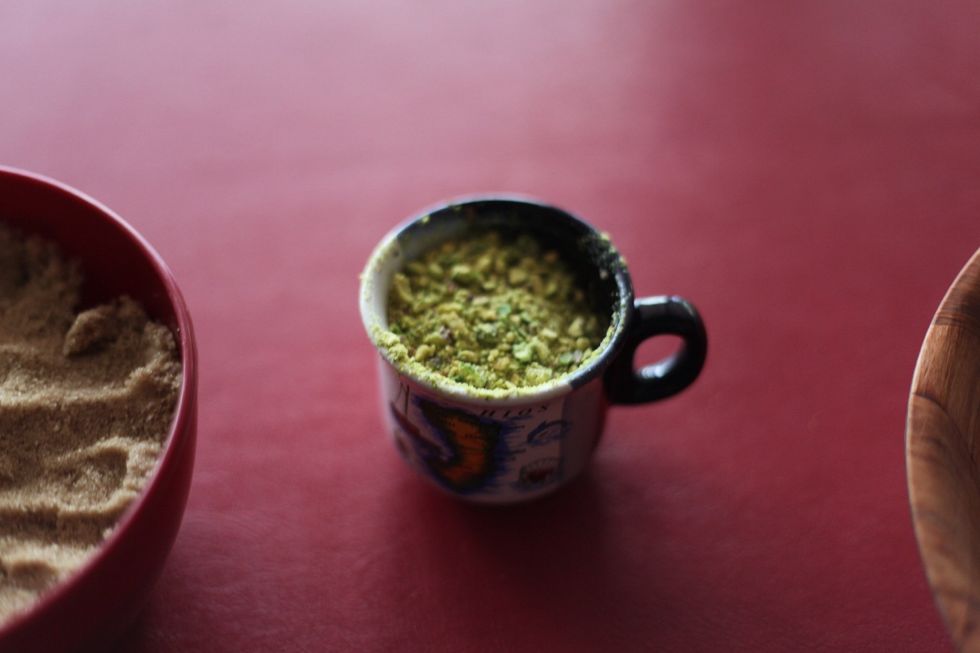 My favourite. Any kind of Nuts will do. The best to add to this type of pastry is pistachio or almond. Sweet nuts are better than going nuts!
Sift the cups of flour into a bowl.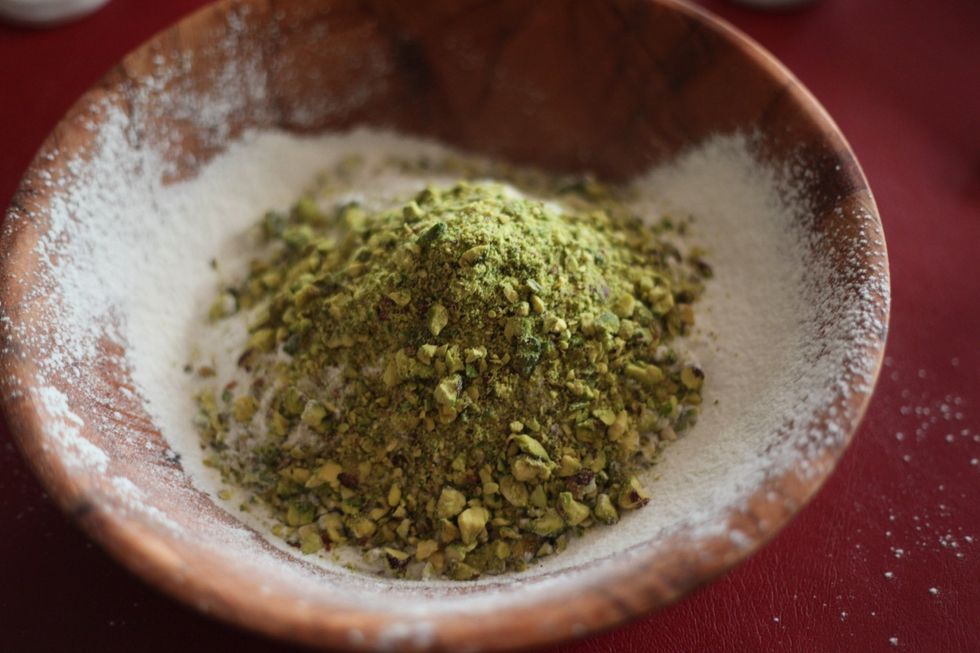 Throw your nuts in.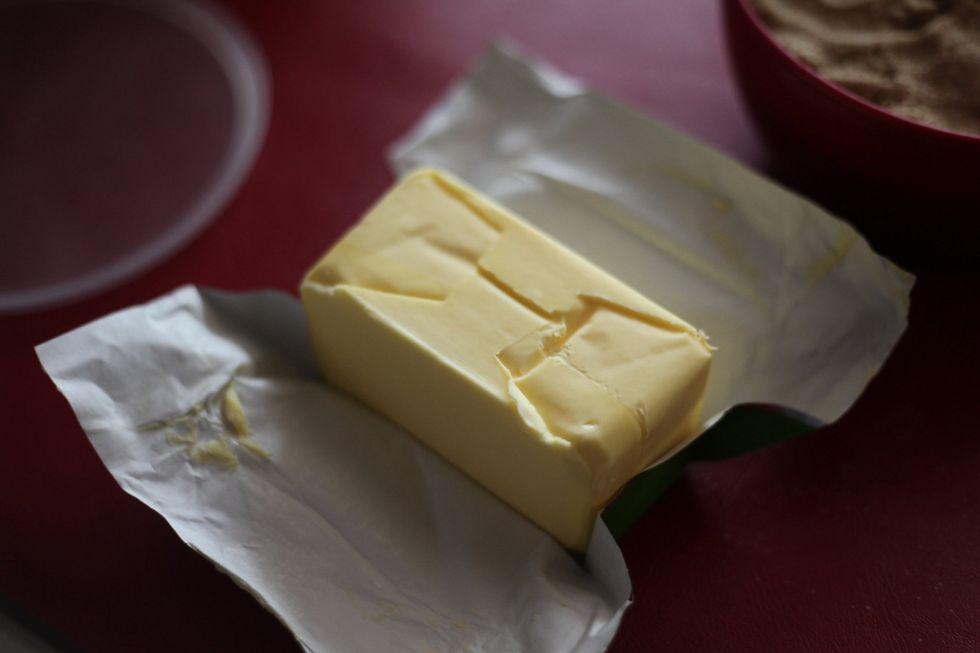 Yes a repeat: remove the butter from the microwave fireworks hazard.
Place in a microwave safe bowl and soften gently in the microwave. Don't cook the butter.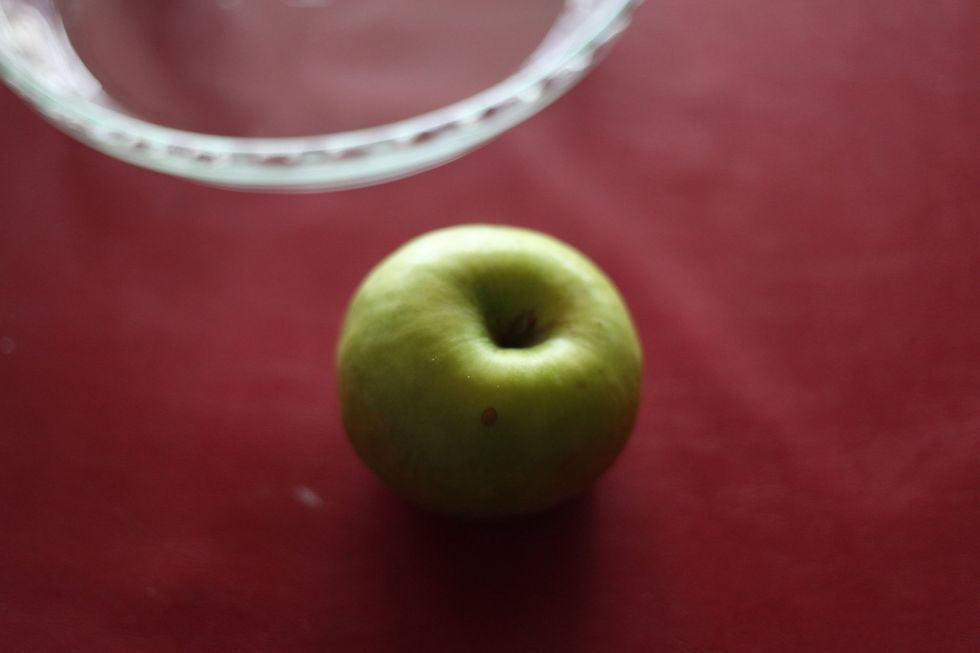 The mighty granny smith. Peel and Chop 3 large apples or just ask your Lovely mother to do it coz you're too clumsy to..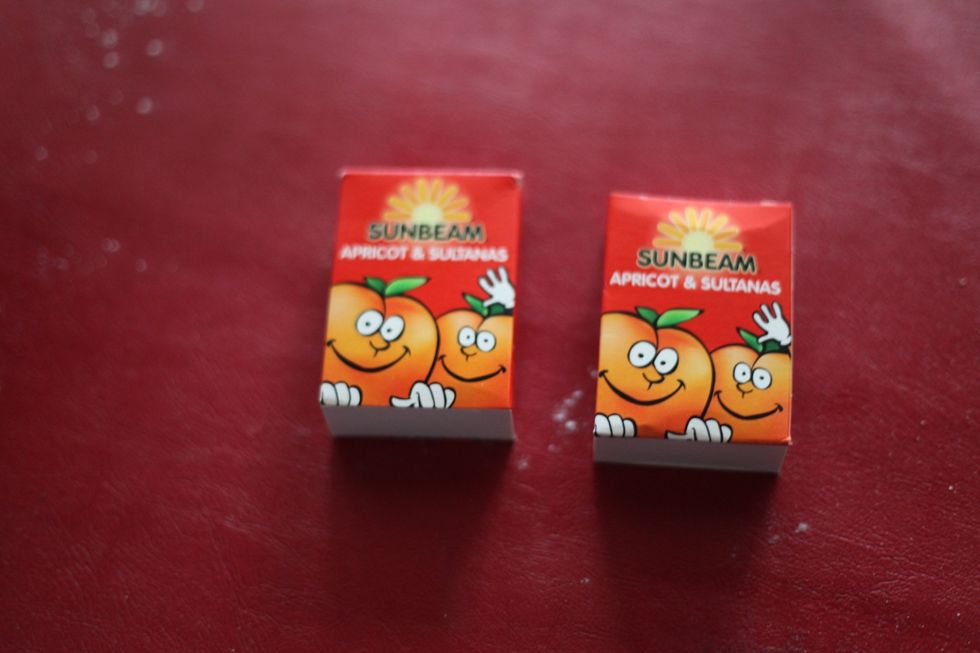 First get the name right: add 2 children's size Sunbeam (not sunrise) apricot and sultana packets.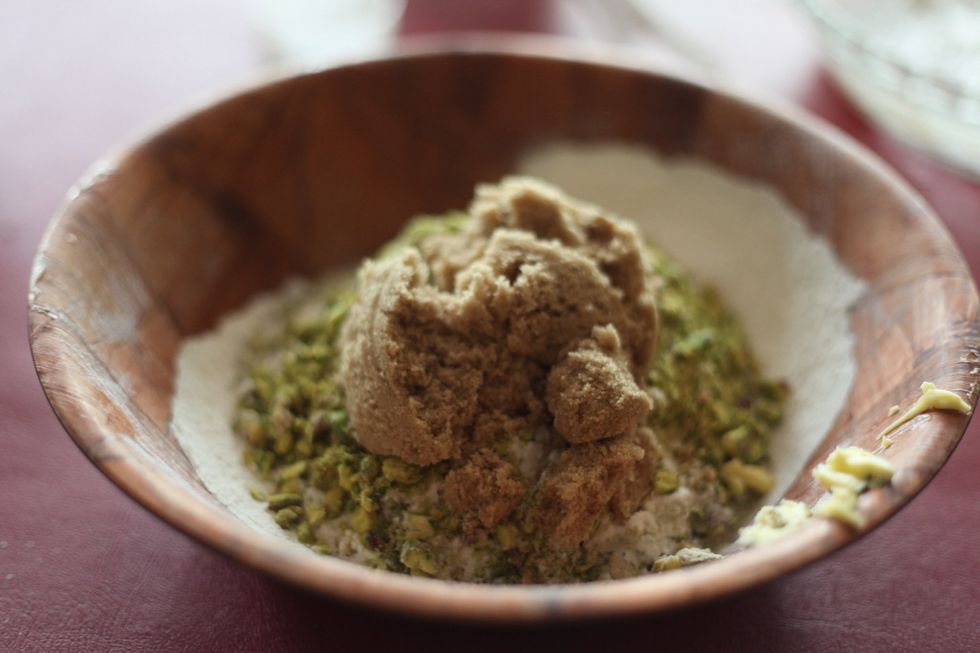 Add brown sugar to the flour and pistachio nuts. Give it a mix around while slowly adding the butter.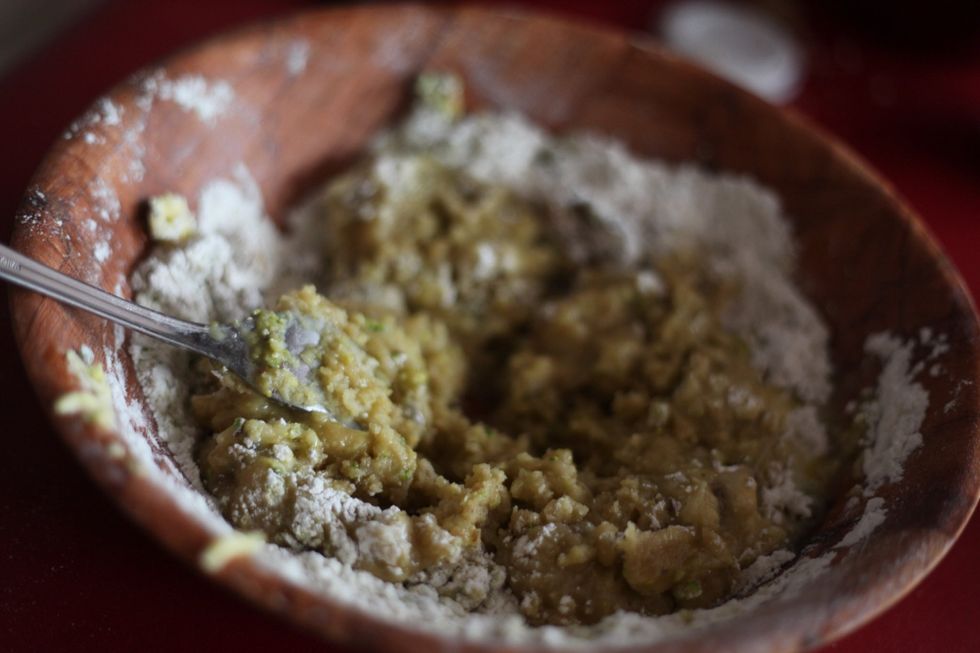 You should now start to be getting a gooey mixture that you can add more butter or flour until you get ....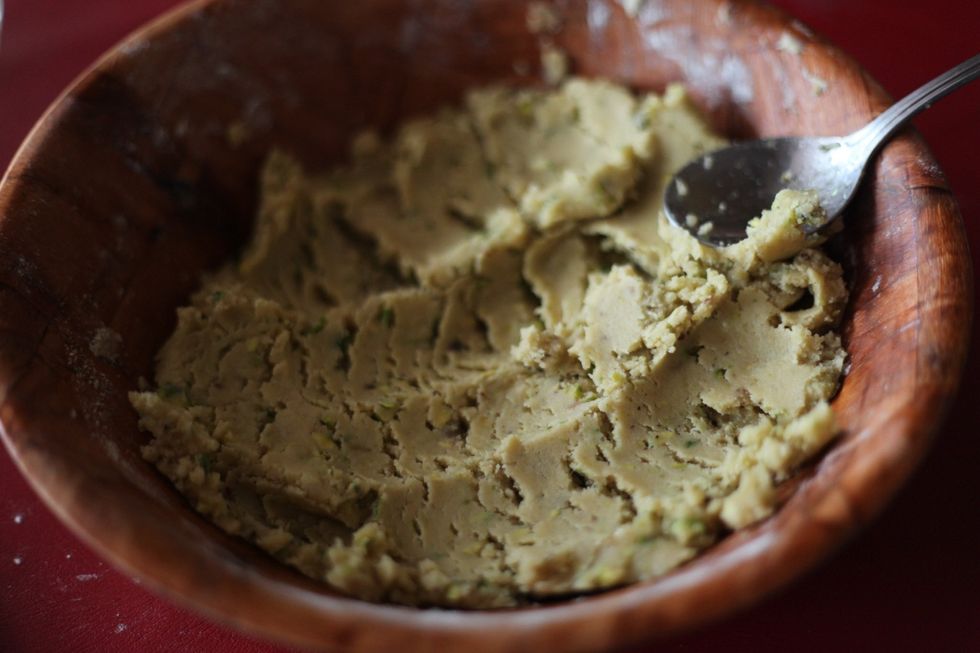 This type of consistency. It doesn't have to be a perfect dough that sticks together.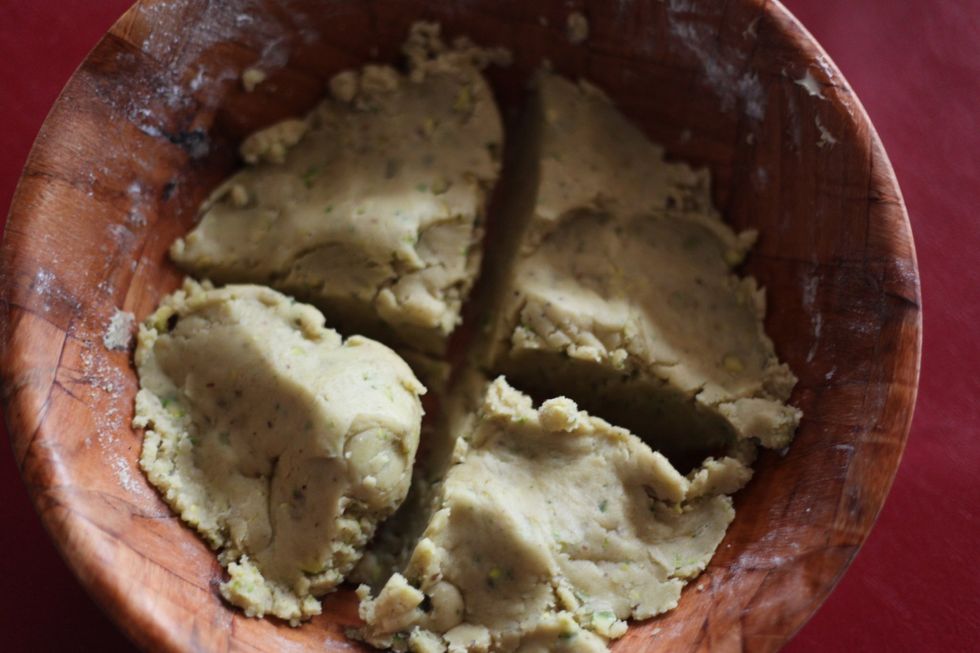 You can continue to play with the dough in the bowl or you can split it into 4 parts for easier distribution. Hygiene plus!!! It's best Use hands not spoons.
With your clean hands of course, grab some of the butter that was left over and grease your baking dish.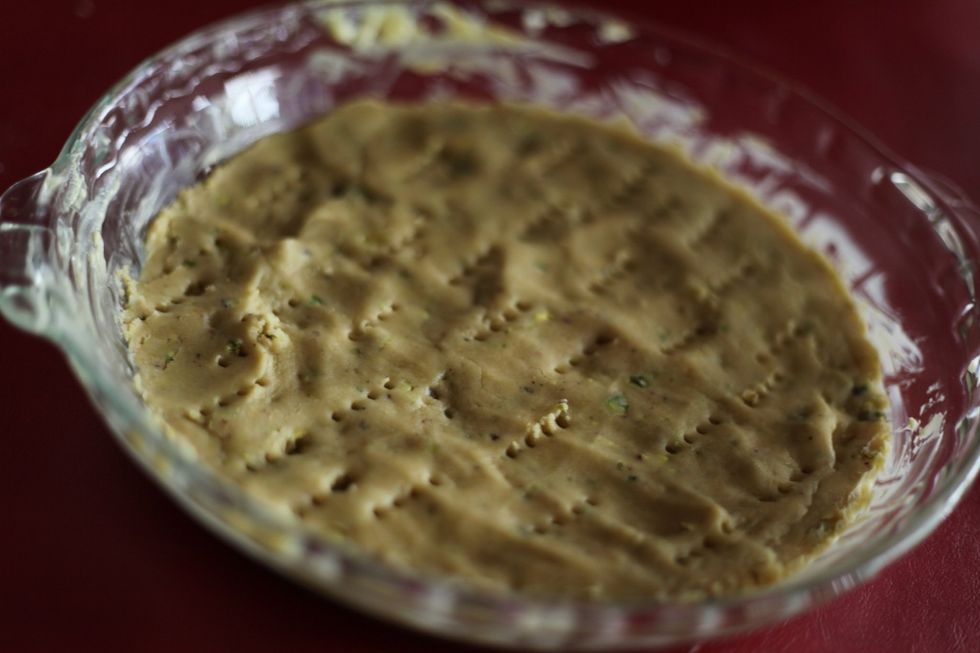 Press down one layer into the greased baking dish and take out your anger with a fork on the dough. Go for your life! Perpherate the dough as much as you want without destroying the glassware.
Bake at 180 degrees (fan forced) for 12 mins or until your dough becomes a golden colour on top.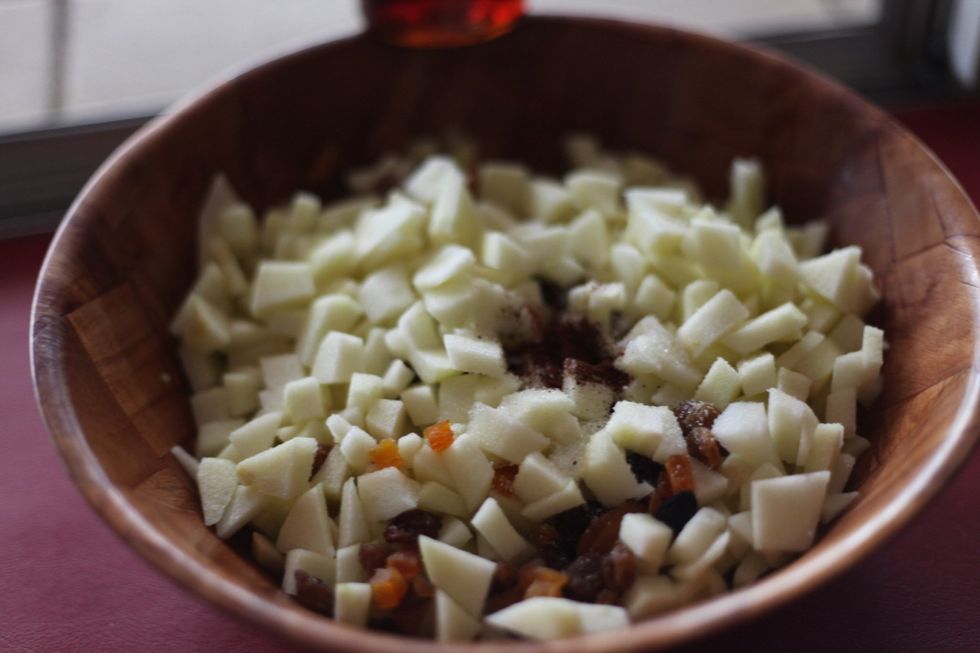 Add the apples, ground cloves and sultana mix...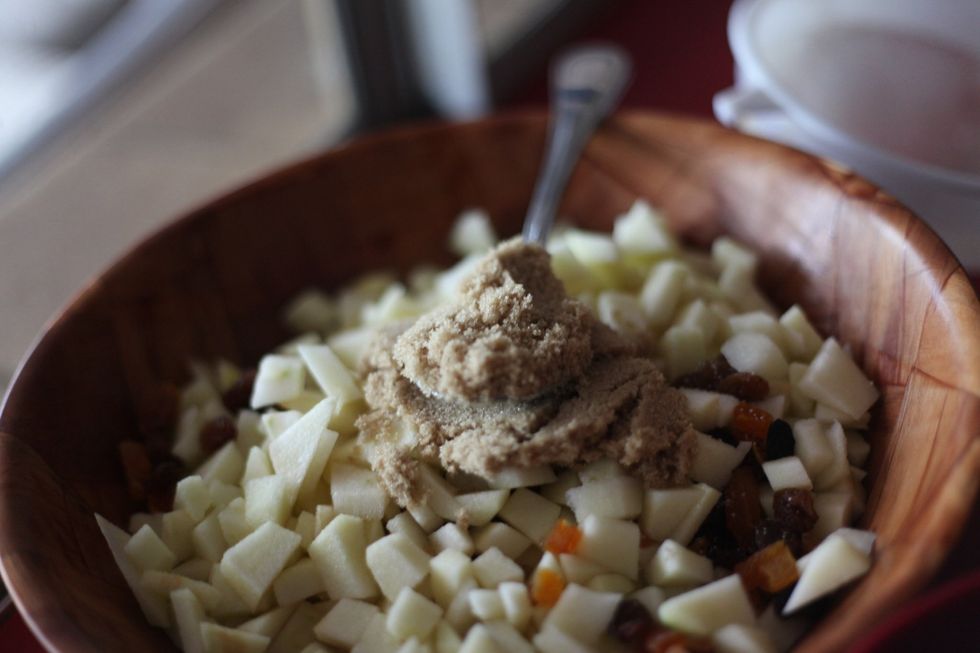 Add as much brown sugar as you like according to the amount of insulin you wish to inject yourself with. I used 2 leveled tablespoons.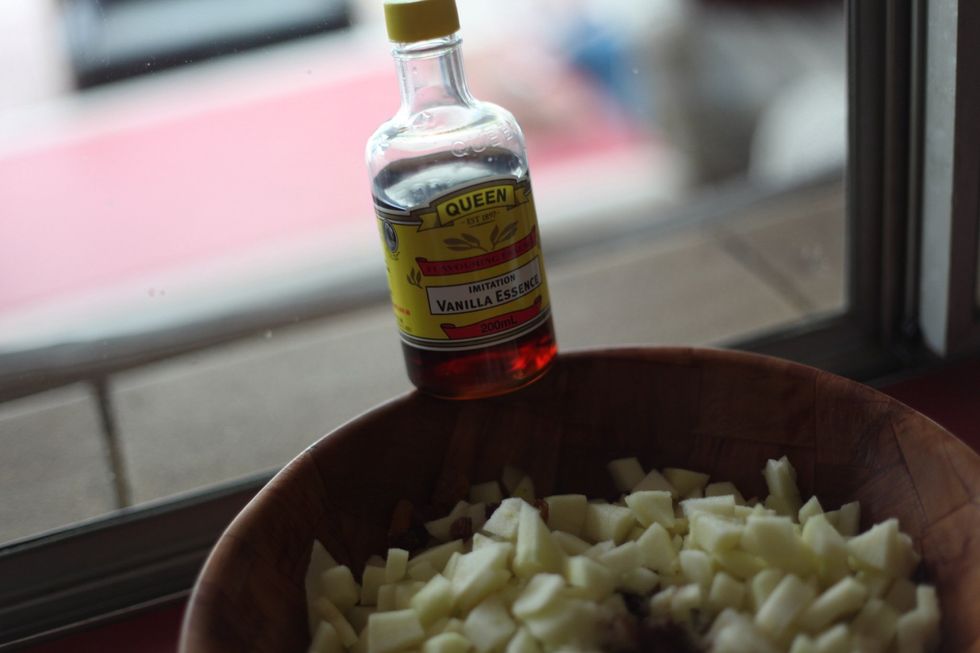 Shower your apple mix with vanilla essence. Even the cheap fake one will do. It does the trick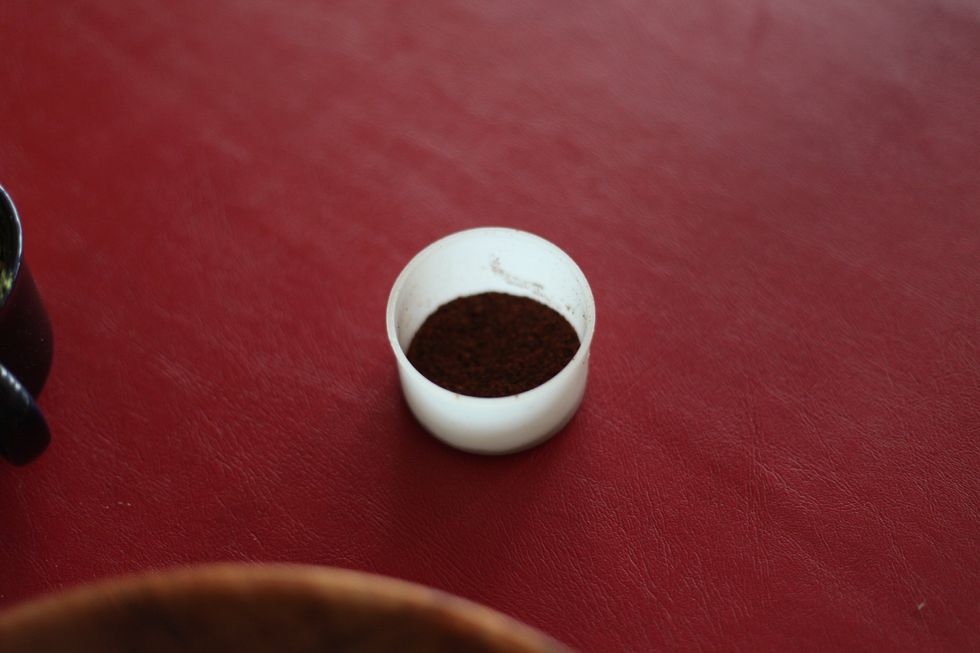 The secret ingredient. Ground cloves! Don't over do it with this spice. It has quite a strong taste and smell. If you do add cumin and cardamon, use only a tiny pinch.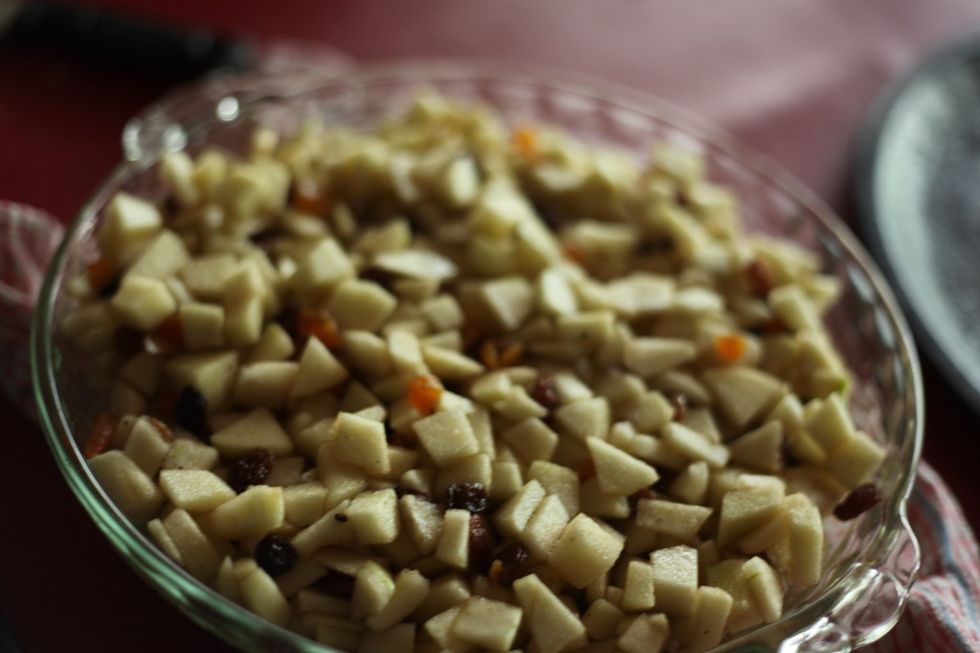 Now shovel that delightful apple concoction you just made on top of the baked first layer.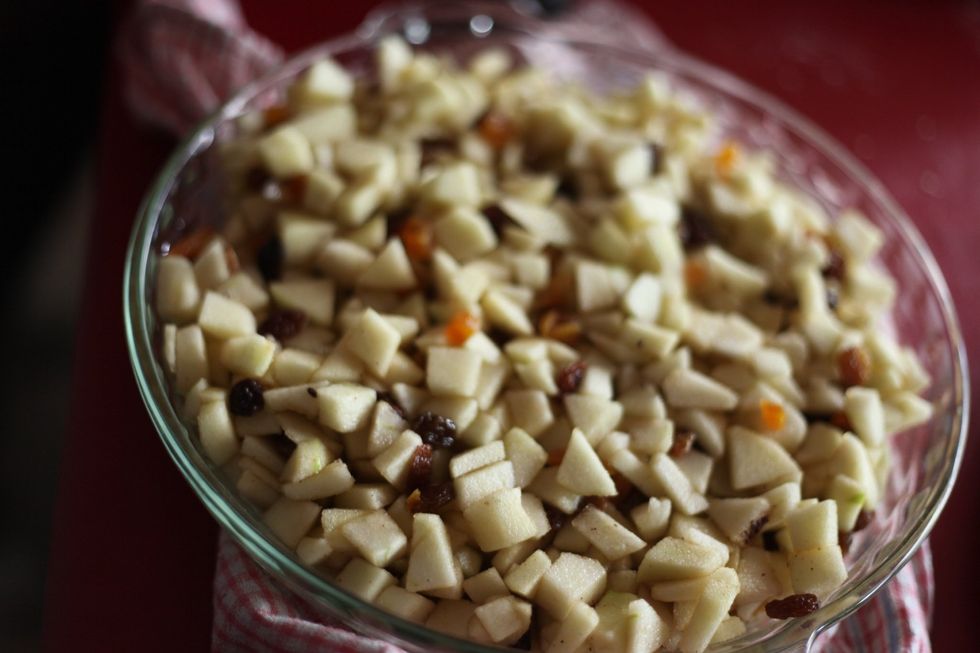 Take one last look at the apple mixture before its melted into a delectable, soft and moist mouth watering phenomenon.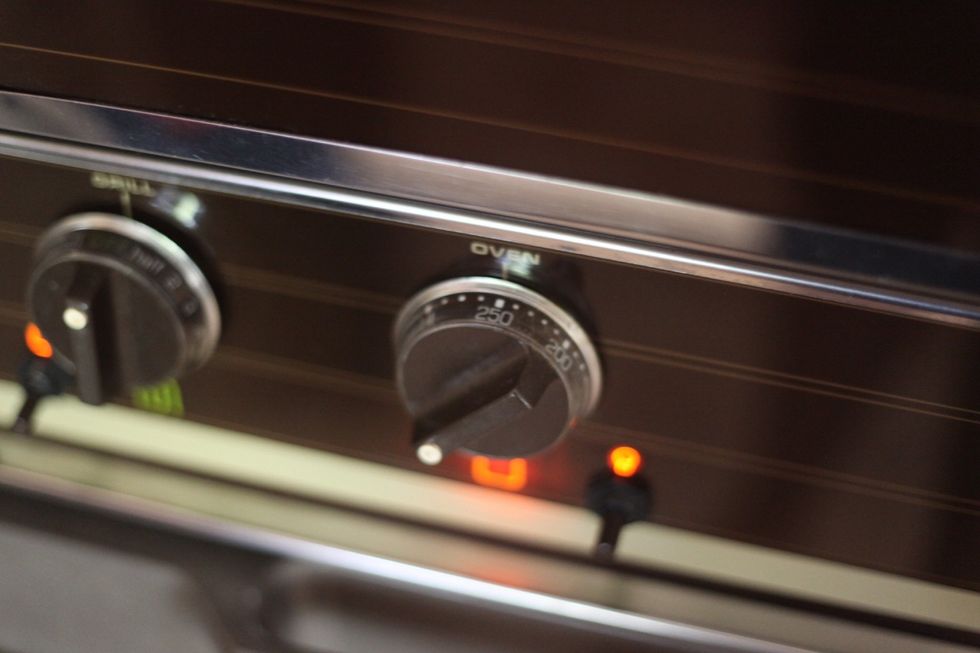 Preheat the oven to 200-250 degrees.
Remember the four part split of the dough. This is why. Crumble and lightly press a section at a time over the apples. Try and keep the dough as close together as possible.
Give your 70 year old mother a gambling addiction. And....
Teach your dog to stand up with her new hair cut and colour..... And .....
voila!! It's done. A bit burnt around the edge but I love a bit of charcoal in my diet.
Cut yourself the biggest piece. Add some naughty vanilla ice cream and enjoy.... But.. We're not done yet....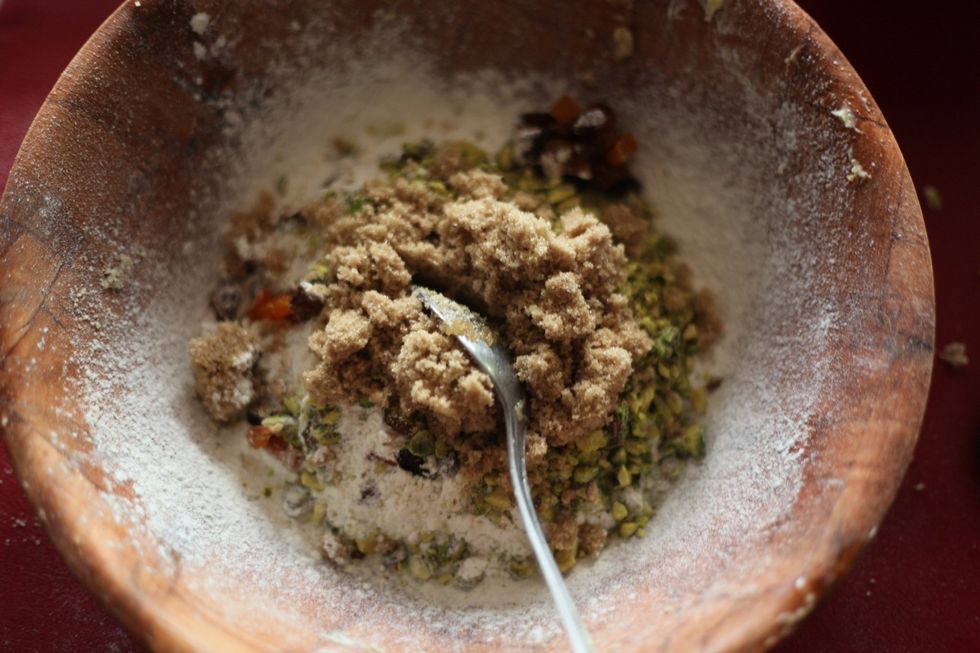 Remember when you did this step.... Well... from the mix you split into 4 sections you should have a small amount left over.
Add the golden syrup according to your liking and get those hands ready to roll some dough!!!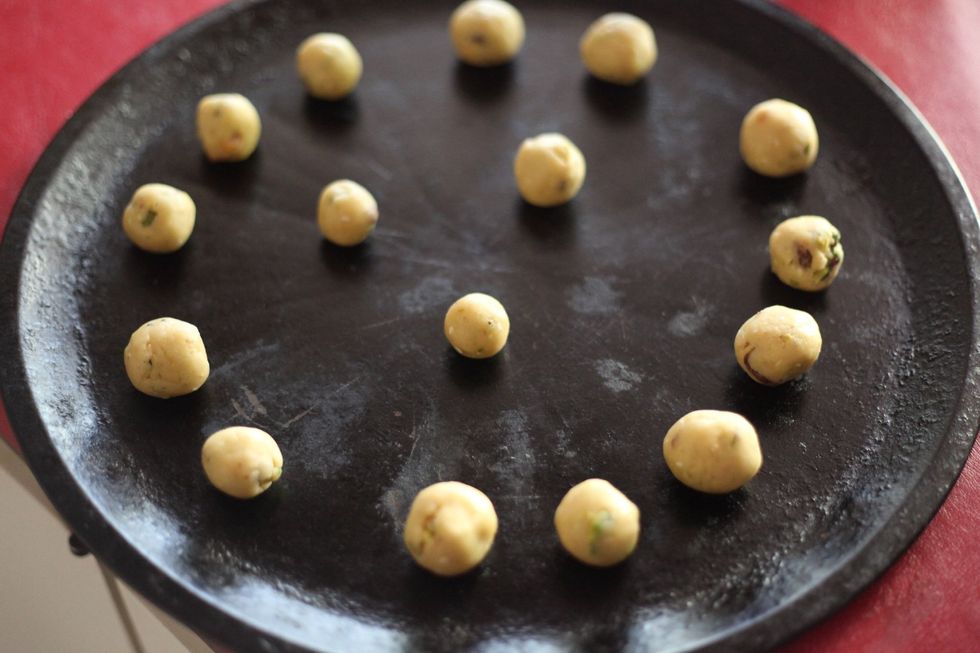 Roll roll, roll the dough gently into balls and bake until golden brown. Each oven is different but for mine I didn't change the oven from the apple pie's settings. Baked for 12 minutes.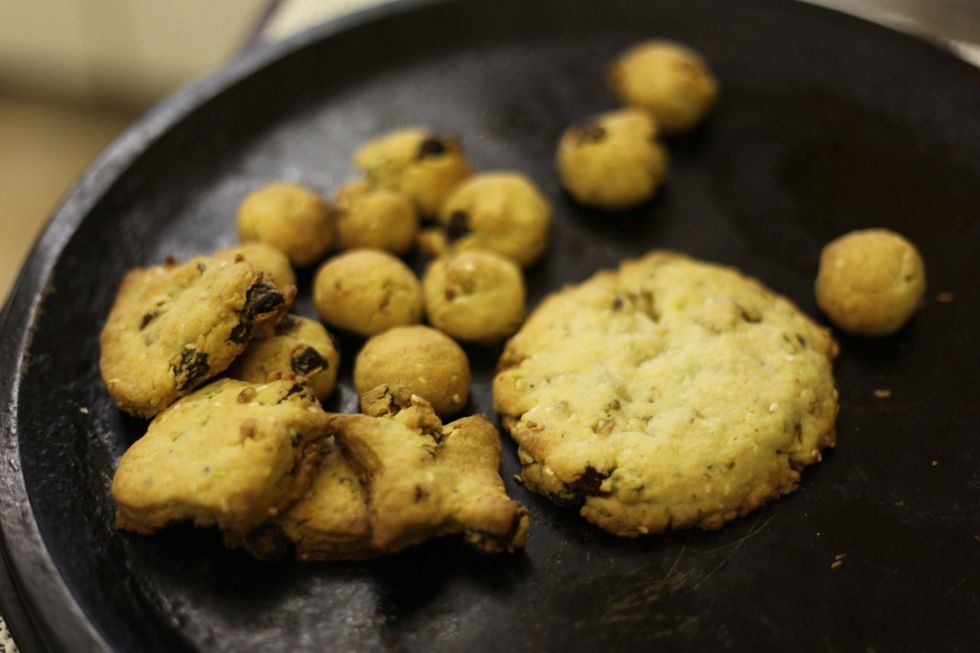 Enjoy these little crunchy nutty biscuits anytime, anywhere.. Great cholesterol starter each morning with coffee.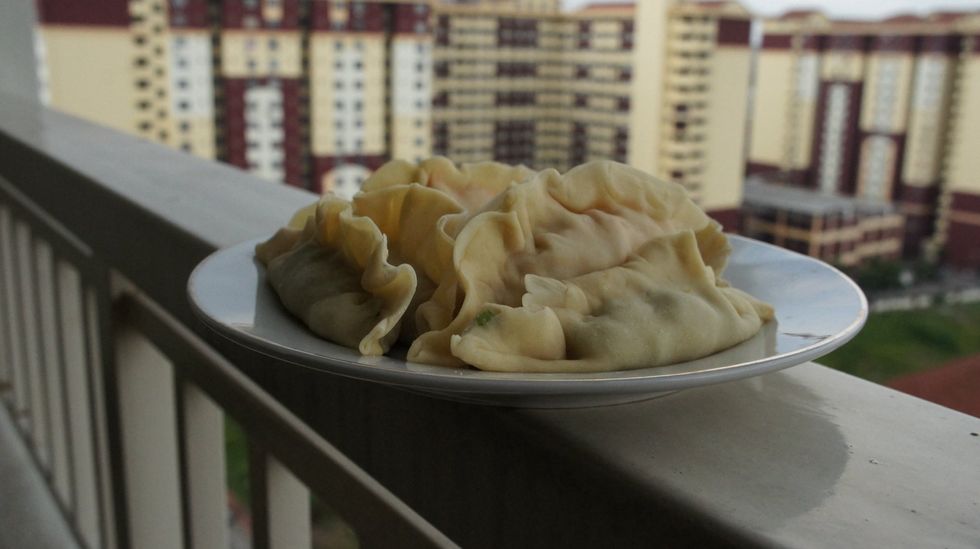 Start dreaming about next week's snap guide about chive dumplings, the authentic way direct from China. Thanks for reading my first snap guide. Michael from baddee.com and WalaoehTV!
500.0g Soft unsalted butter
3.0c Special white flour or whole meal flour
4.0Tbsp Brown sugar
3.0 Large Granny Smith apples
2.0 Sunrise Sultanas & Dried Apricot
1.0tsp Ground Cloves
1/2tsp Cardimon or cumin IF YOU DARE!!
3.0Tbsp Vanilla essence
2.0Tbsp Golden Syrup
1/3c Crushed Pistachios or nuts of your choice
Michel Daher
Micho here. Amateur experimental chef and lover of food. Thanks for all your support. Join my Food Journey www.naturallygoodfood.com