Get your kids, the Whole family and An army to indulge in our concoction of dried fruit, chocolate wrapped in a delicious waffle. It's never a dull moment at WalaoehTV's amateur kitchen. Hi from Mum!
4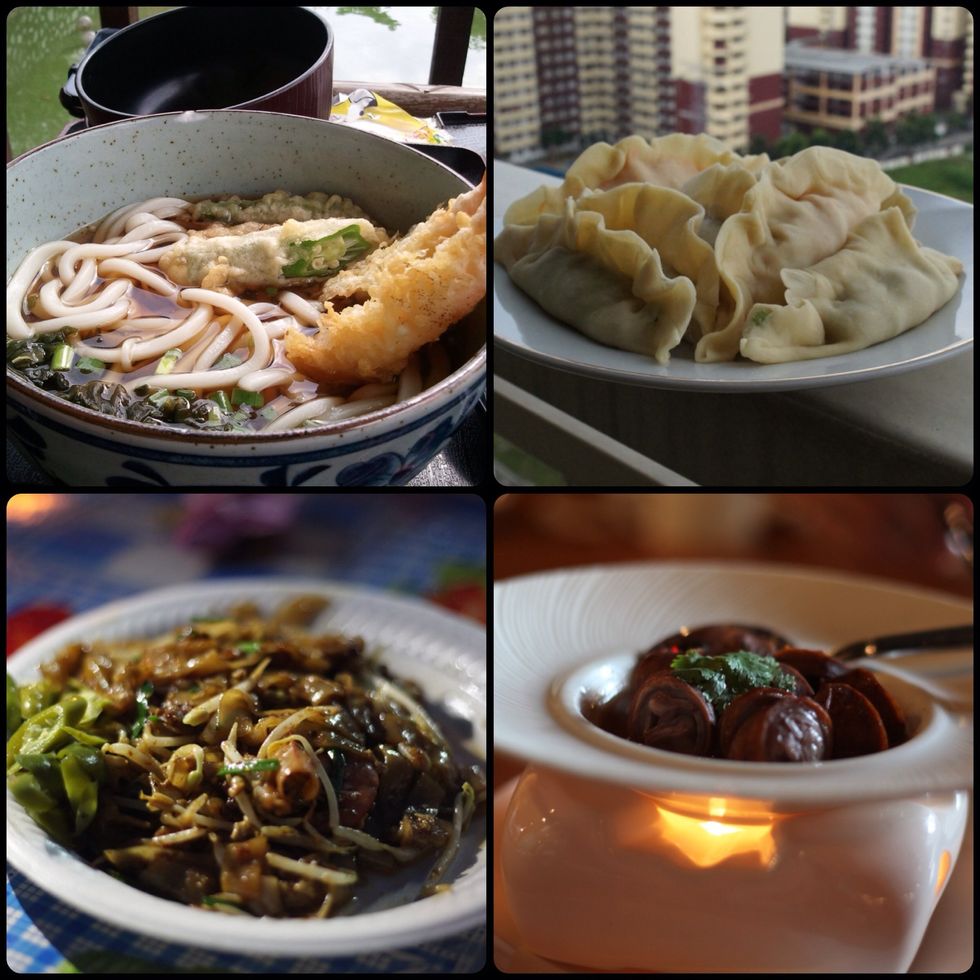 Before we get started, just wanted to give you an update on our upcoming Malaysian food tour. Starting next week, we'll be bringing you all food guides Asian style. Get your chopsticks ready!!!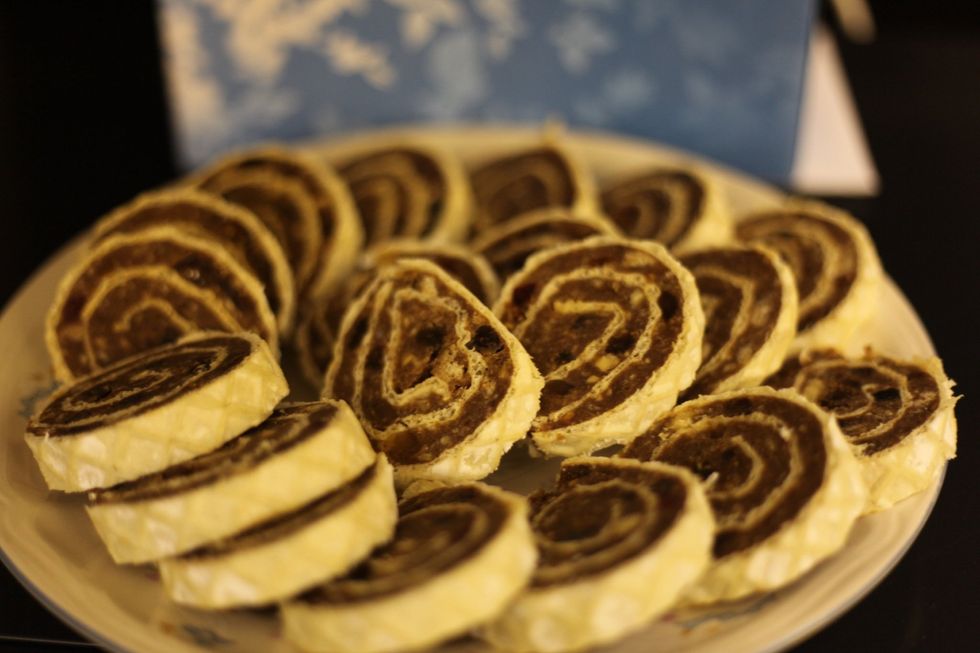 So this is what we're making. A beautiful lady, with the kindest heart taught us how to do this. It's her recipe, we just made some minor adjustments. Thank you Tant Dumia (Mum's BFF) We love you.
So to get started it's best to have some help. Round up the kids, grandparents, unborn children and neighbors to help you make this fun recipe of rolling, mashing and sprinkling love all around.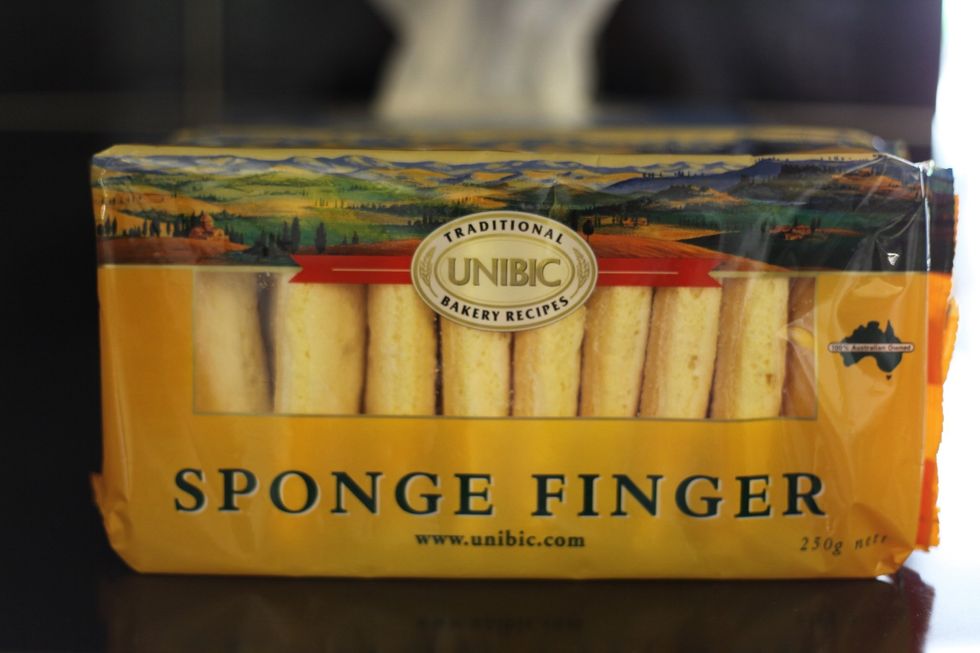 Gather up all your ingredients as it will be a lot easier to work with. 500 grams (2 packets) of sponge fingers. These are usually used to make Tiramisu.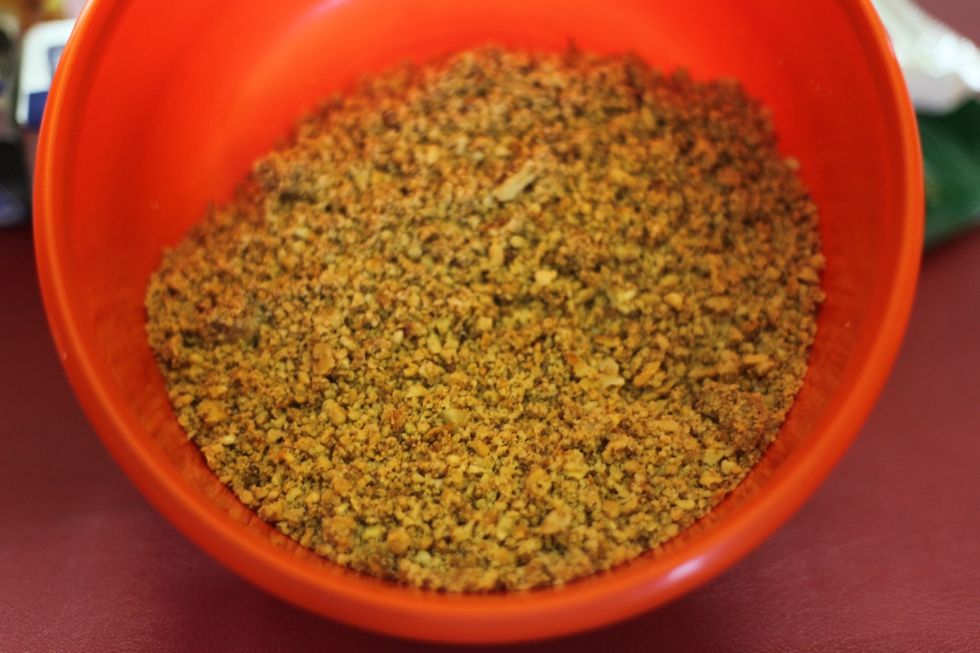 500 grams of walnuts or pistachio if you prefer. Feel free to experiment with your nuts. Lol. That sounds wrong but just do it! Hahah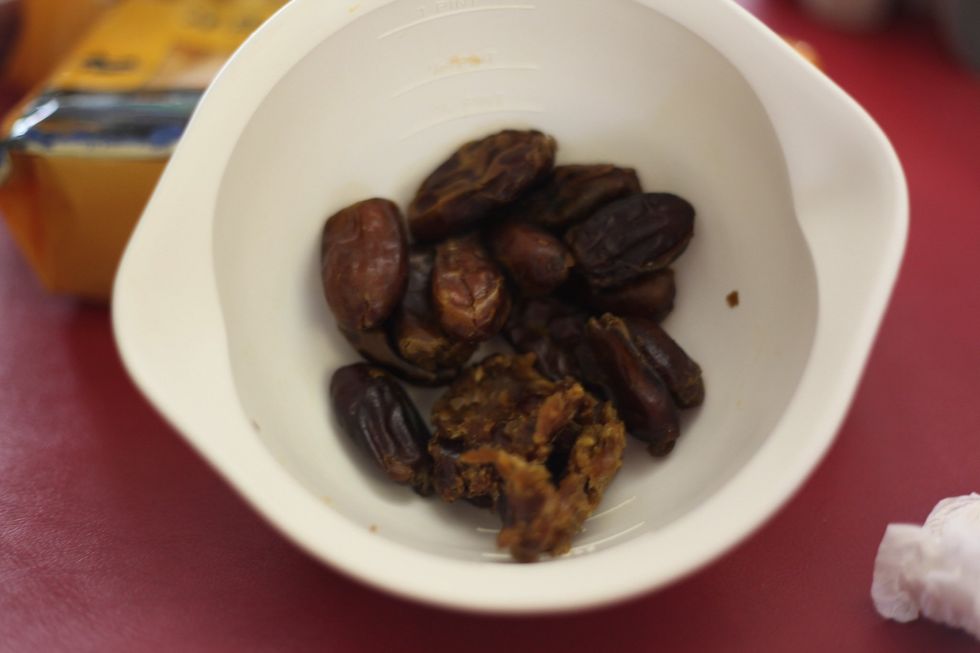 Did you know that microwaving dates makes them easier to cut and more pliable to work with. So microwave 150 gms of date for just 20 seconds.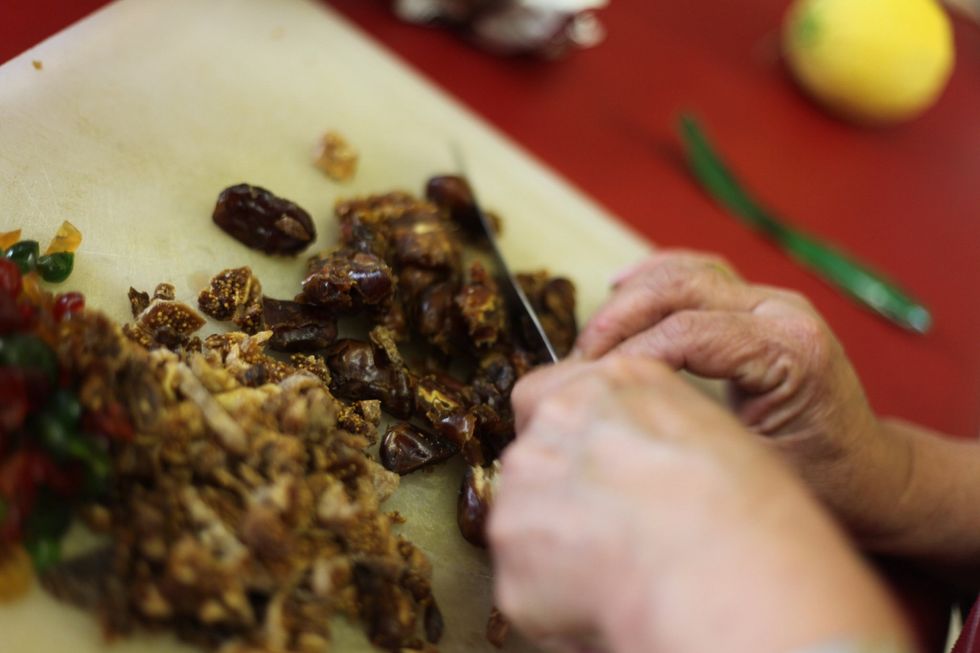 Chop your dates into slices, dices, smaller bits to your liking. Don't mince them too fine.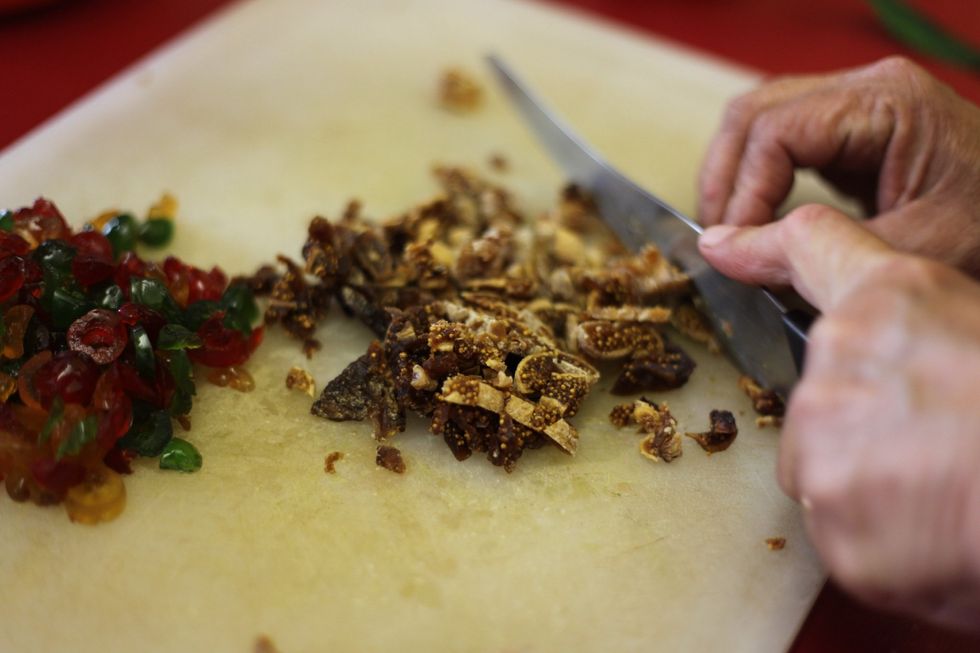 Chop your dry figs same way as the dates.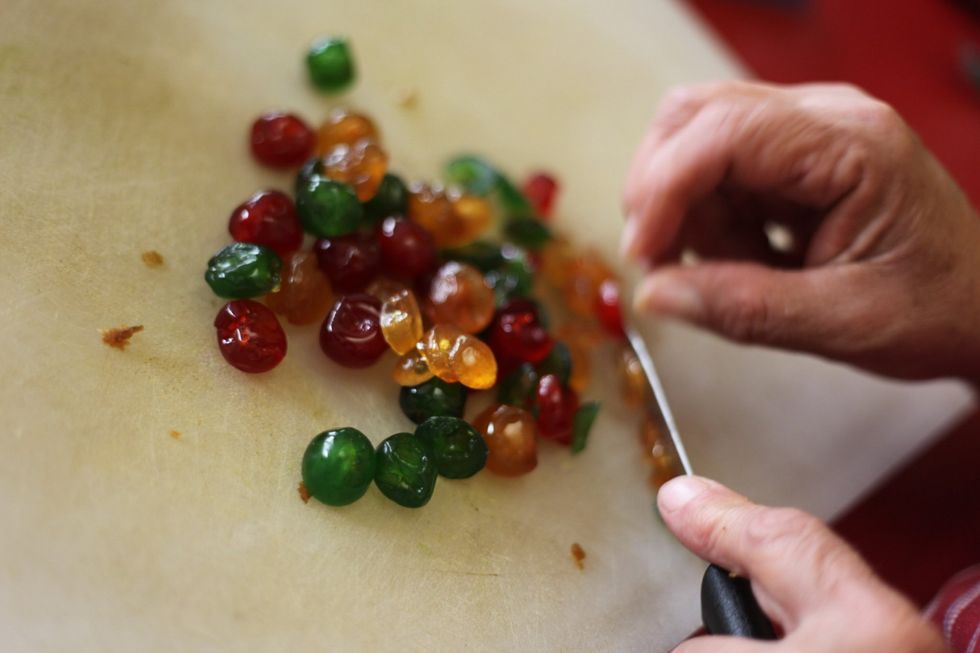 Chop 100 gms of your glazed cherries into small pieces. Again it's your choice on he size of your chopping but don't leave big chunks and don't mince too small. Demanding aren't I? ;)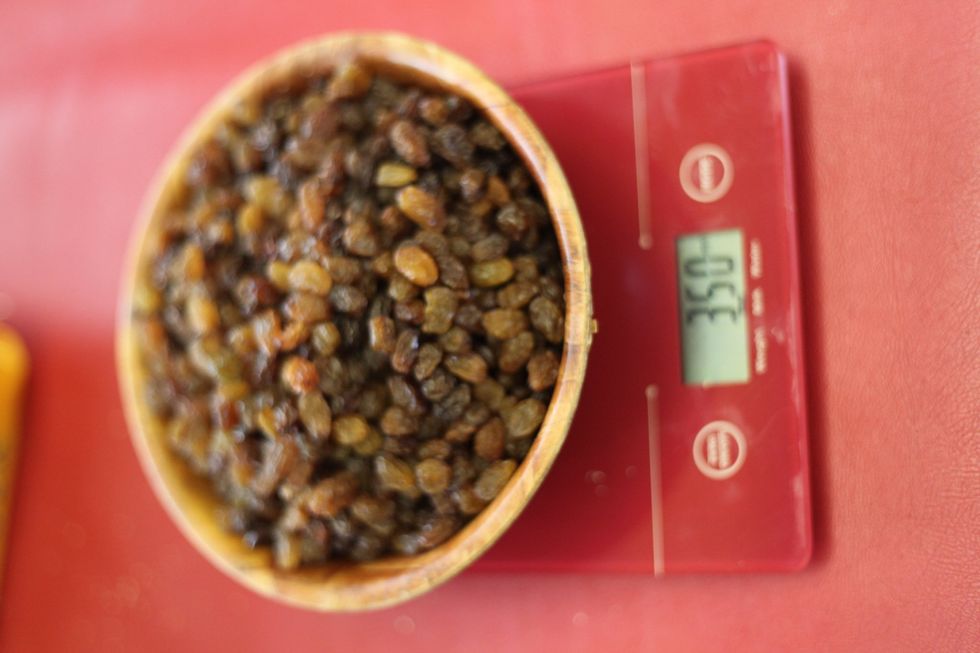 350 gms of sultanas (dried grapes). Put all of these ingredients aside in one big bowl and mix them all up.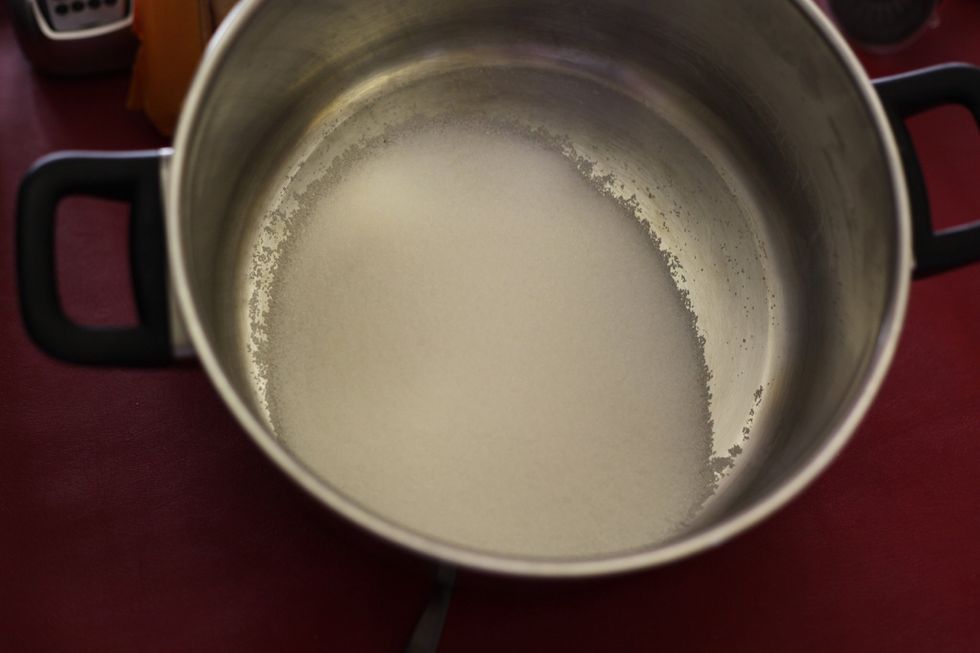 In a pot add 1 cup of sugar and please don't start the fire yet until you've added the eggs.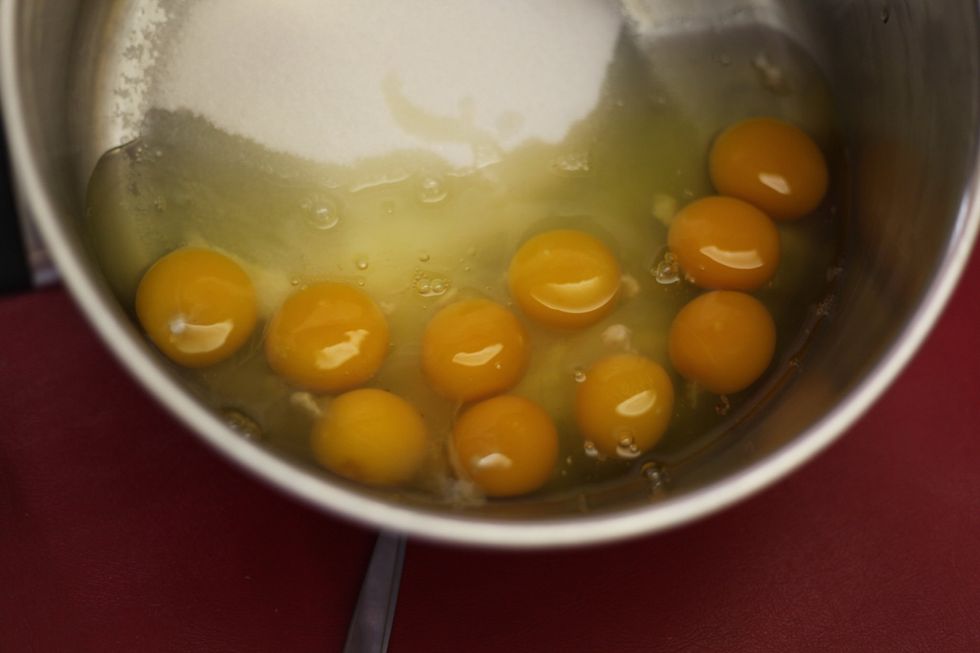 While you're adding the 10 eggs, start your stove on a medium heat and whisk around and around until you get a fine scramble of sugar and egg.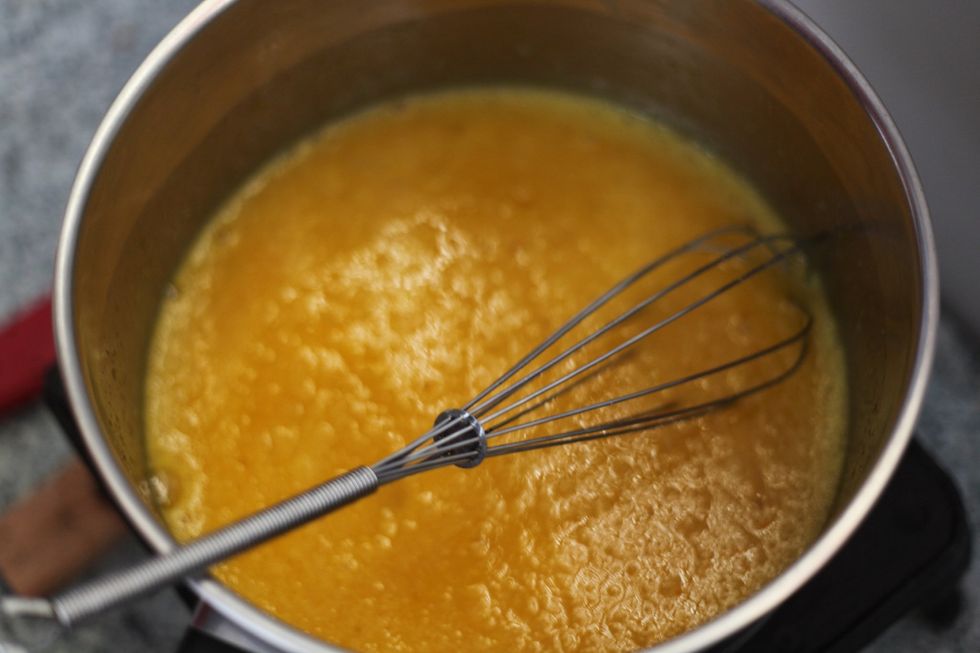 Stir in your 2 tablespoons of vanilla essence and turn off the heat. We want this to go to room temperature.
500 gms of unsalted butter 150 gms of dark cooking chocolate. You can use normal chocolate but be careful, you can't melt this way with normal choc. Nice shorts in the reflection!
Gentle very low heat and continuous stirring of your butter and chocolate until there's no more butter visible in your chocolate. And we really mean continuous stirring.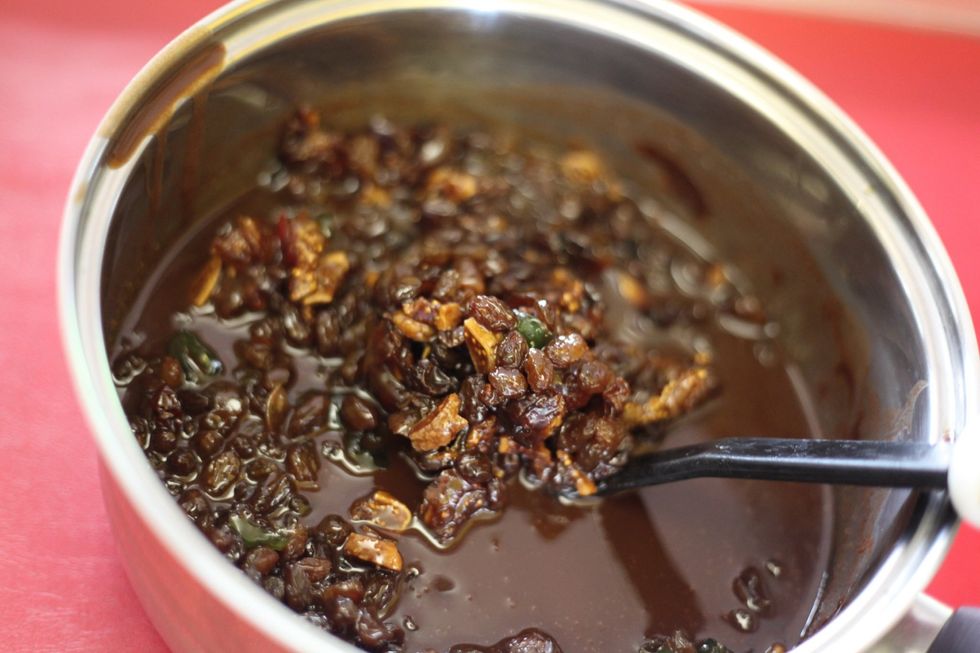 While your chocolate is still hot, add the bowl of chopped nuts, dates, sultanas, glazed cherries, walnuts, dried figs into the choc and stir thoroughly.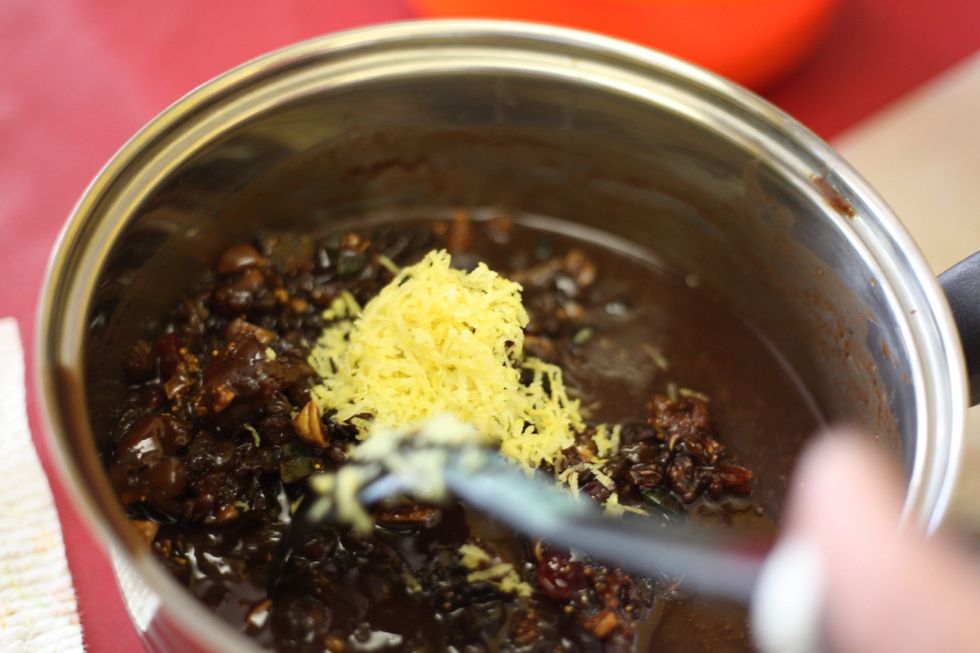 Add the 1 lemon rind. Note to self: plastic spoon, hot choc and ingredients that now weigh more than 1 kg aren't a good combination.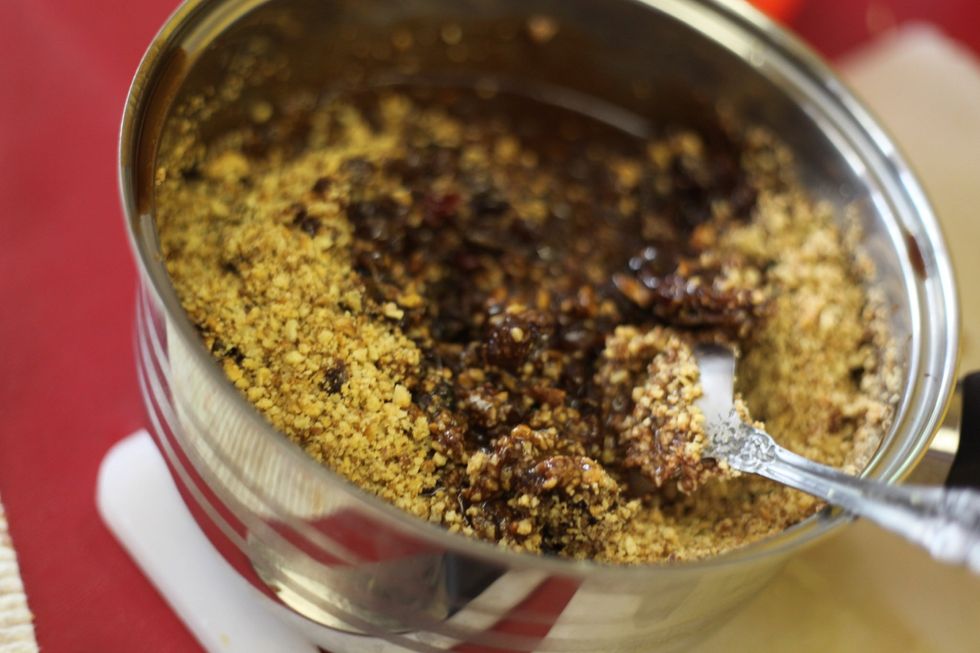 Stir it all through unil your nuts disappear into the chocolate.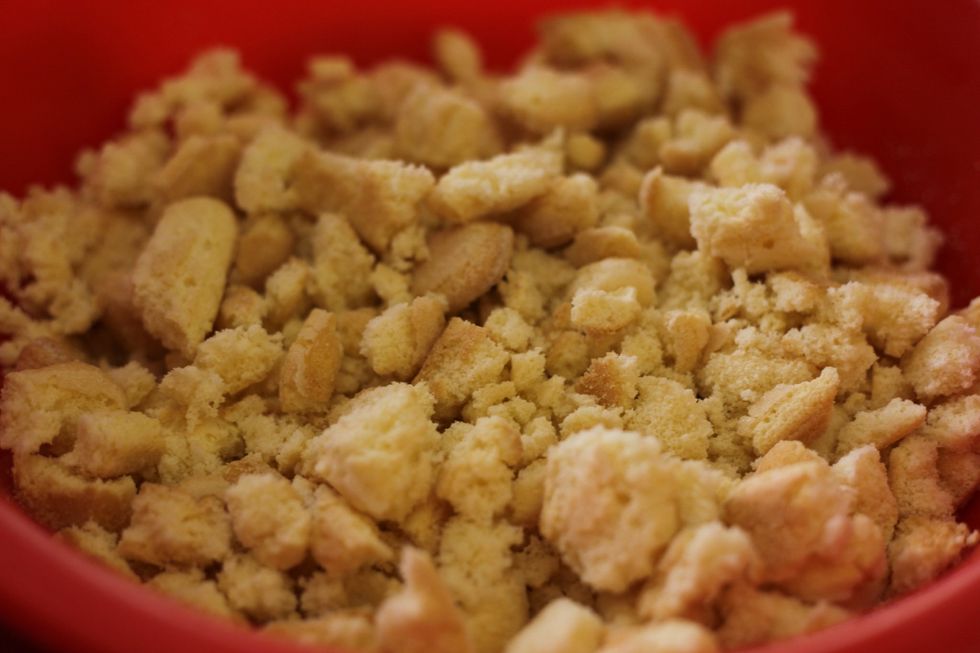 Crush the sponge fingers with your own fingers. They can be chunky or small and again it's up to you. But, please not a fine powdery mess. :)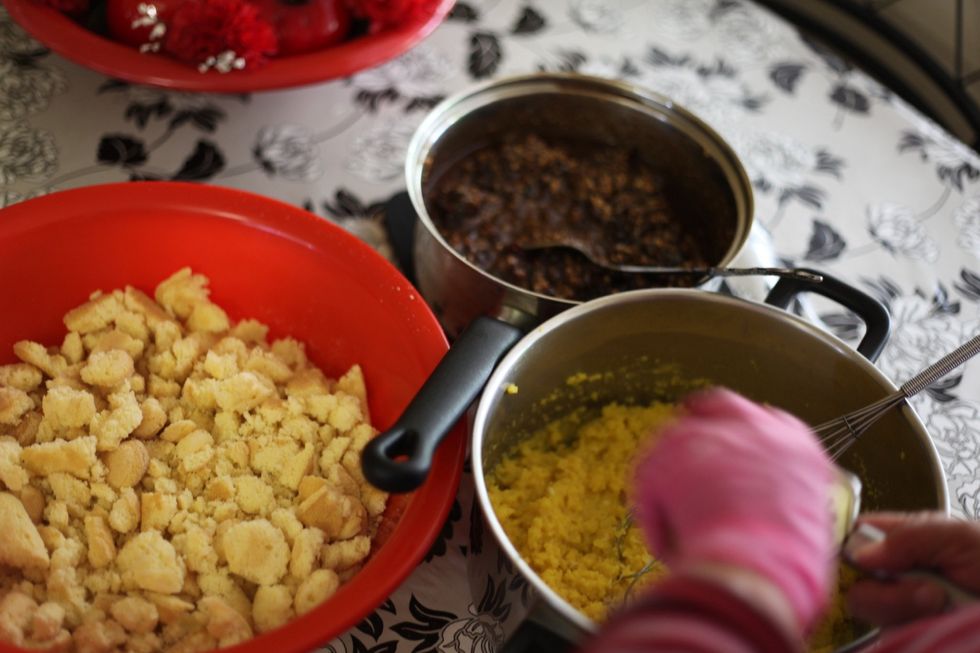 Get your egg mix, sponge fingers and choc mix and mix it all together. Did you wash your hands, here comes the fun part
Time to play!!! Mix, crush, blend, turn, fold or flip. We've upgraded our gloves to industrial pink. Lol. Crush any large chunks of sponge. We want a fine crumble at this point.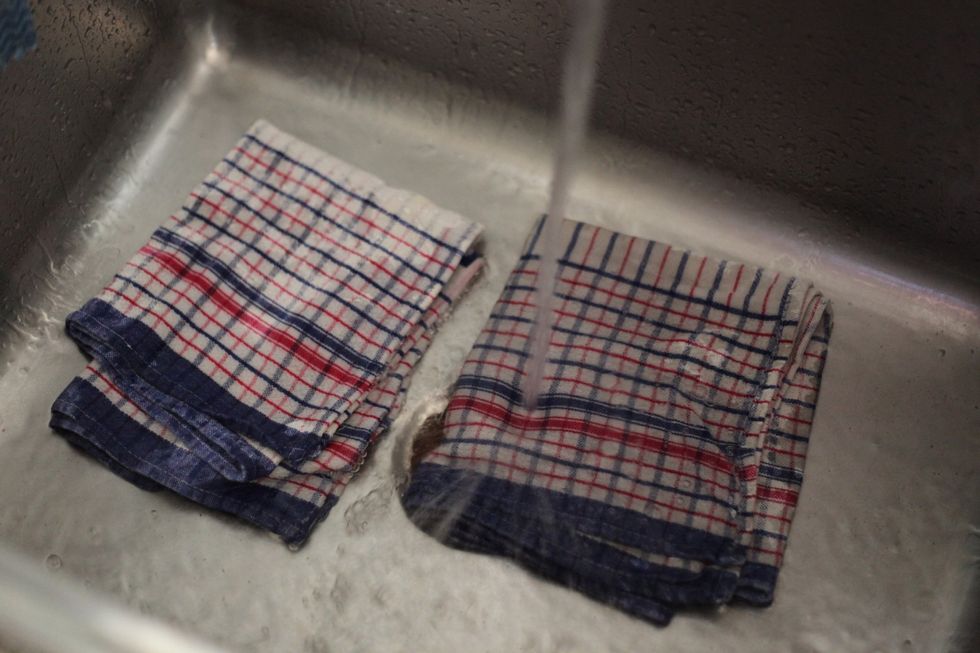 No! We're not doing the washing caveman style. But you do need super clean tea towels. Lol. Wet your 10 tea towels so they fill up with the water.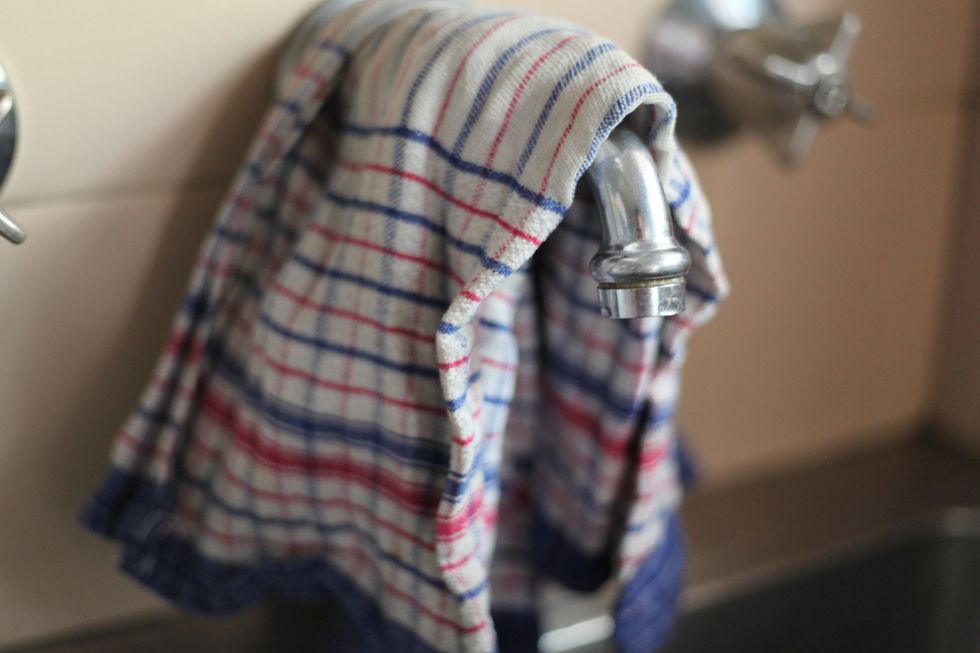 Squeeze the water gently out of them and hang for a few minutes. Hi again, from the reflection of the tap lol.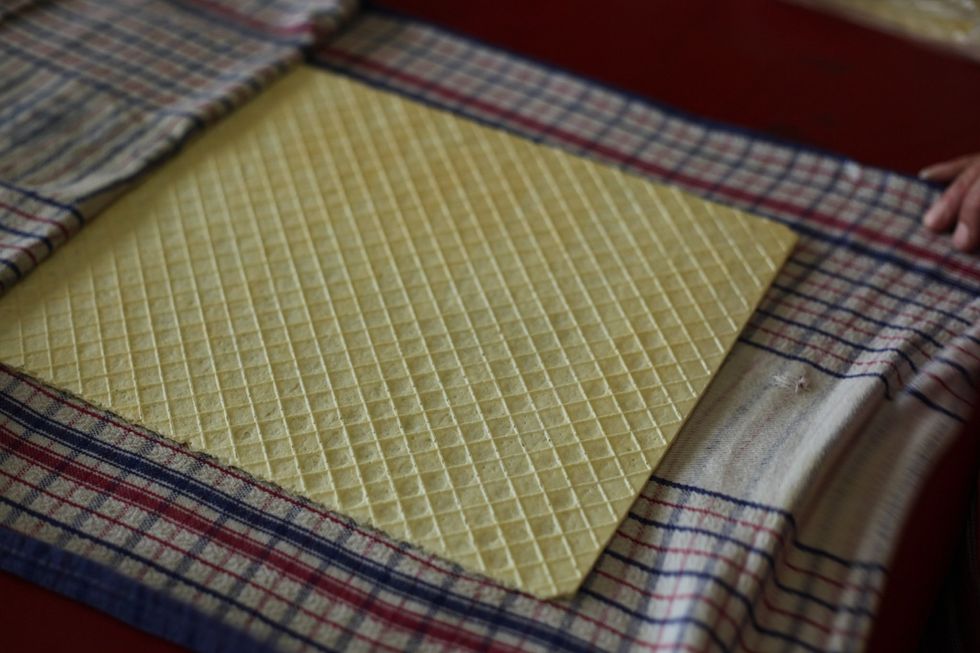 Now the waffle sheets. These might be a little hard to find in your supermarket, but you'll need to find 5 waffle sheets. Lay them to rest in the wet tea towels for 20 minutes or until soft. Fragile!!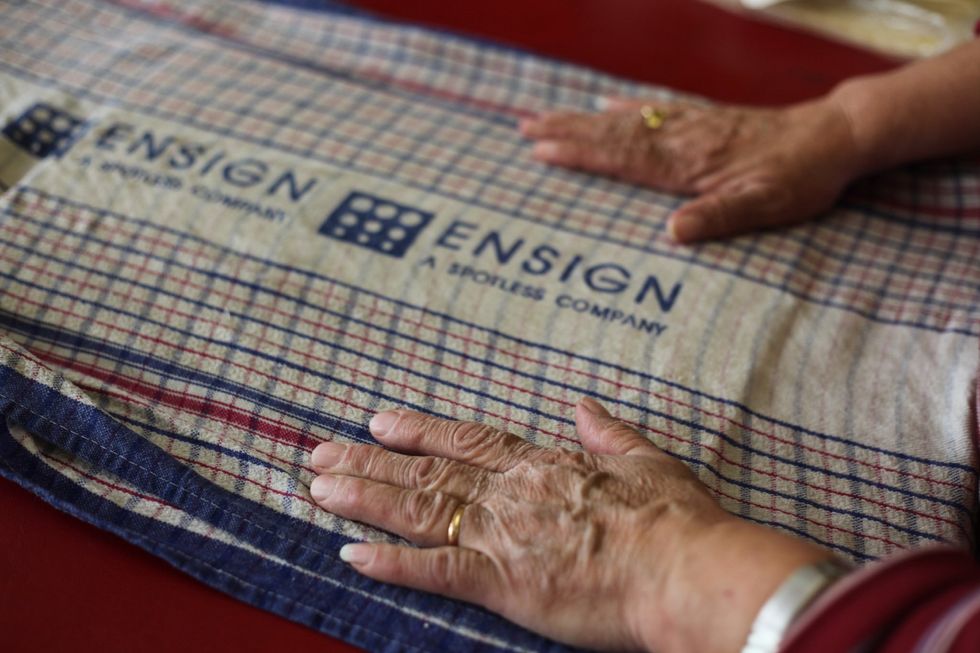 Pat the towel down with your hands or with your Mother's hands, if you're busy tasting the choc mix.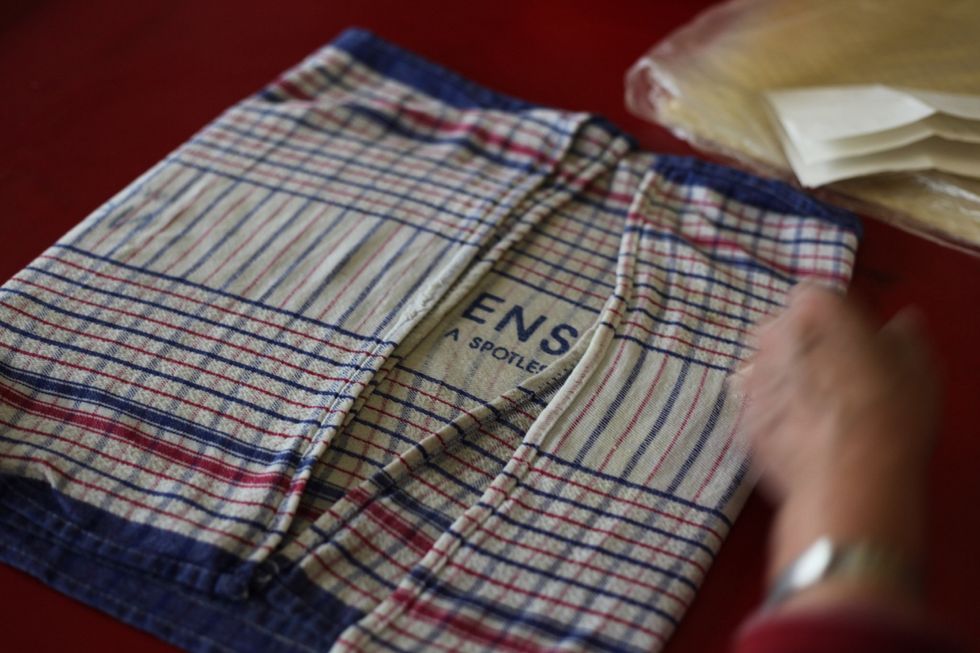 Add another waffle and another towel, another waffle and another towel. 5 waffle sheets between 10 wet towels. 20 minutes they should be ready.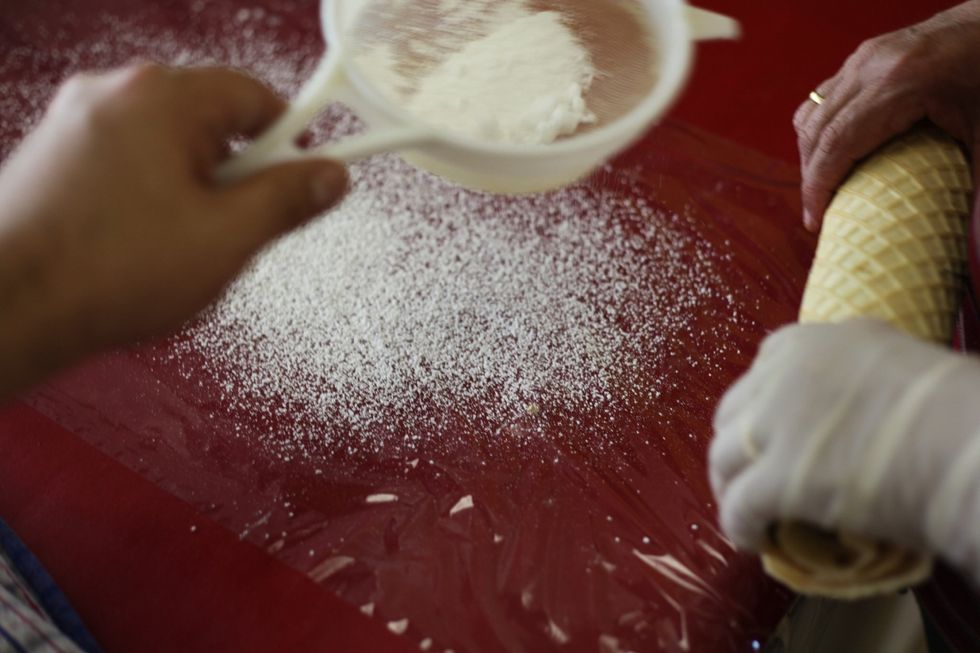 Roll out the glad wrap and dust with icing sugar. (US: confectioners sugar). Sprinkle lightly all around the glad wrap.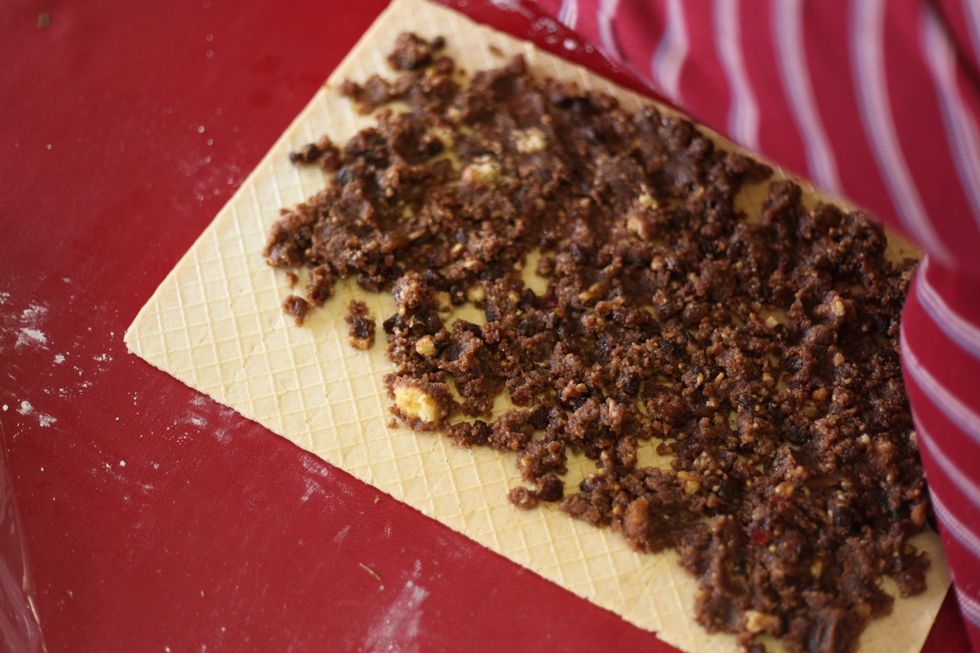 Lay the waffle sheet gently over the top of the icing sugar and cover it fully with your nut chocolate mix. And roll it up!! :)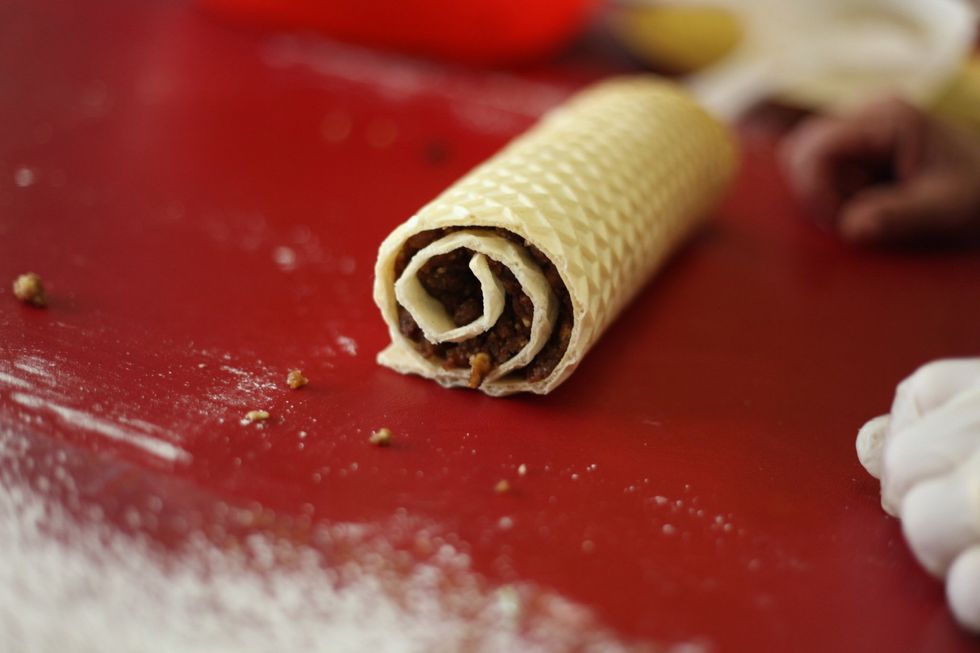 Do we have something like this?? Fantasmelicious!! (not a real word lol)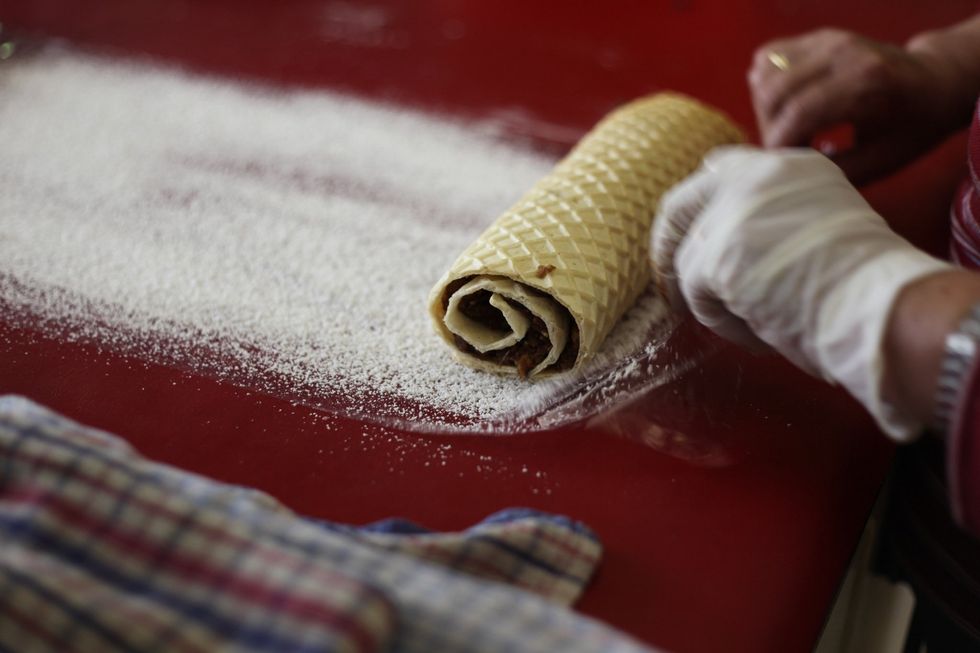 We forgot to do the step before in one of our waffle logs, but don't worry even if you forget to roll it into the icing sugar. You can roll, then run it through.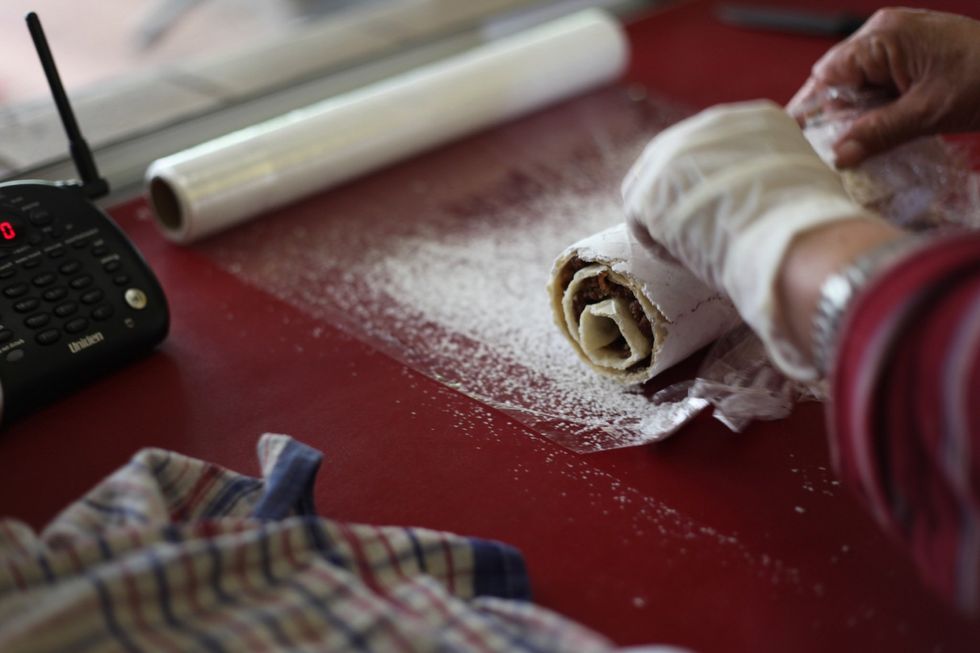 Your waffle log should be white as snow on the outside. The icing sugar will help the waffle logs from breaking.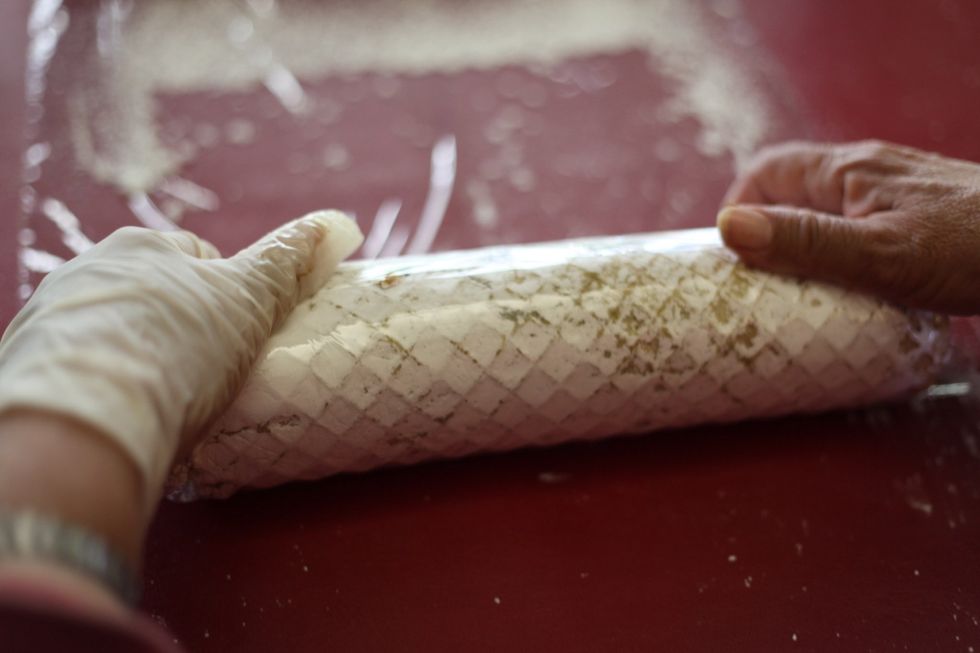 Then just wrap it up and put it in the freezer. Like this...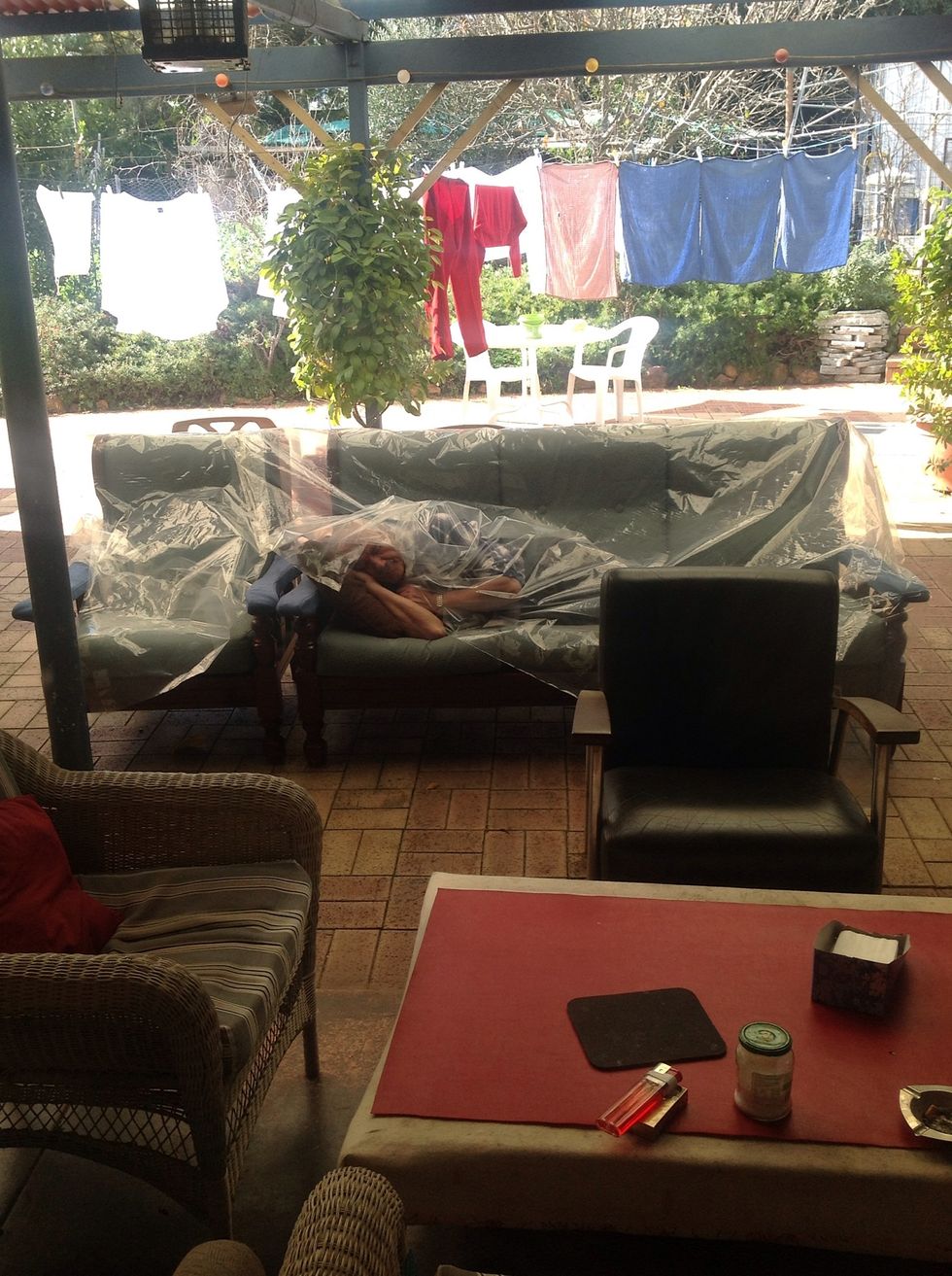 NOT LIKE THIS!! Lol. Sorry Dad not waffle wrapping you today.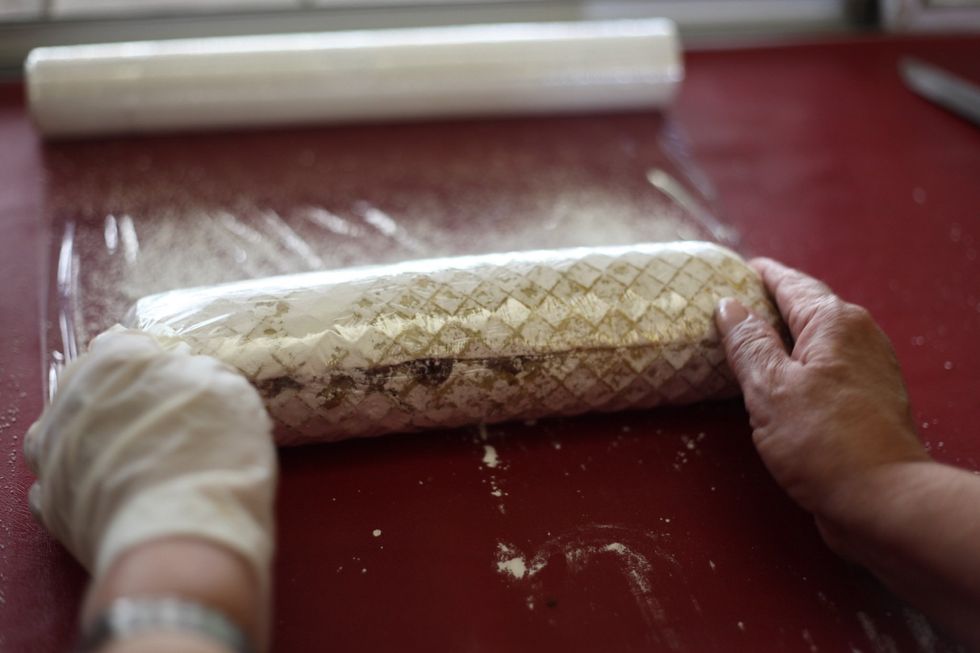 The tighter the wrapping the easier it will be to cut and serve.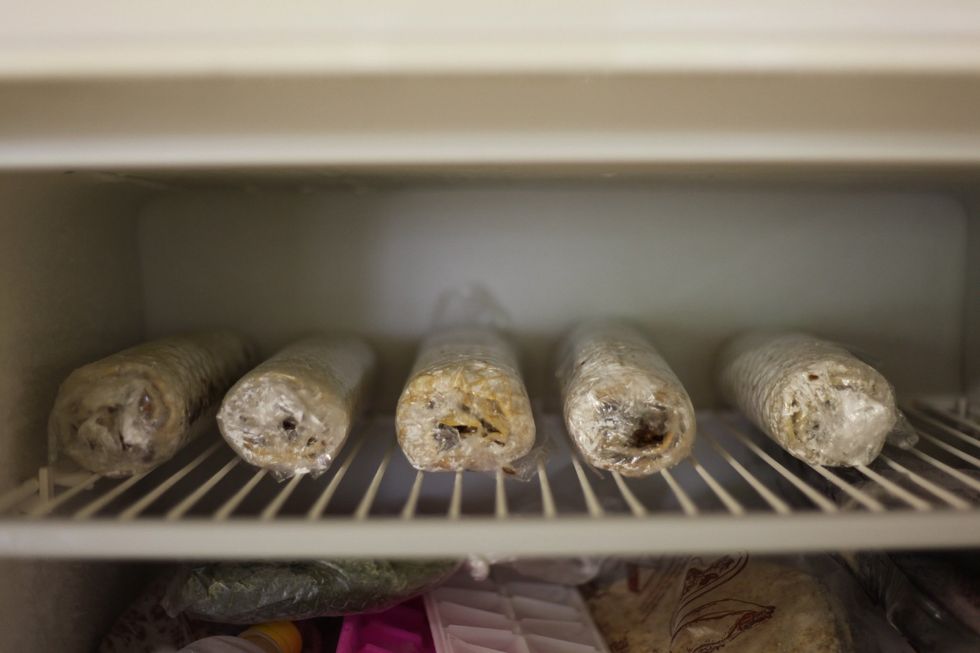 Place them in the freezer overnight. Well we left ours in for just over an hour and we couldn'thelp ourselves. If you're impatient like us, a few hours is enough.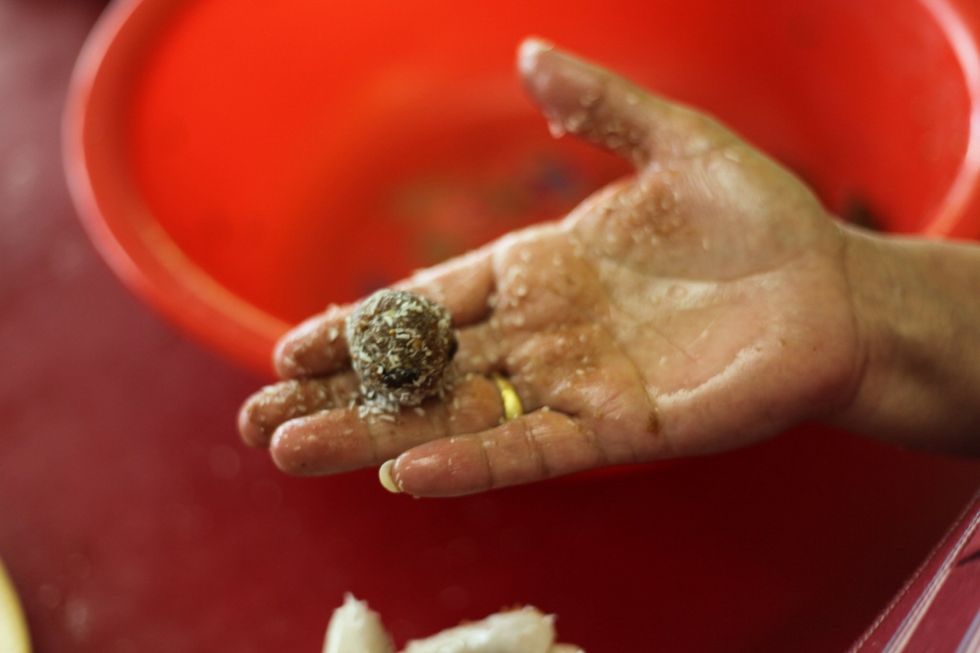 If you have left over choc but mix, roll them into balls and roll around in desiccated (finely shredded) coconut.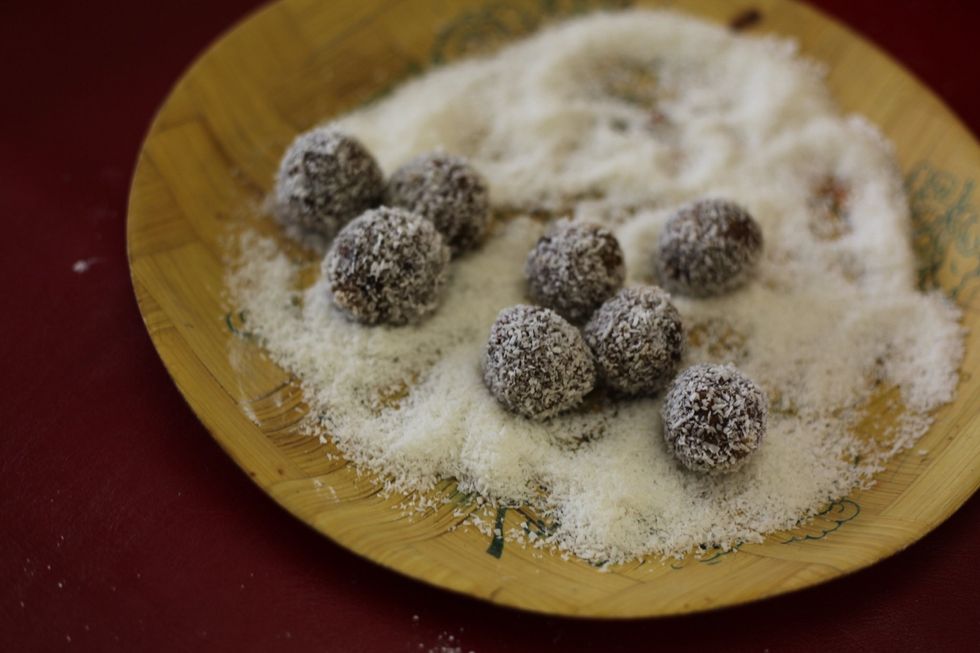 Be gentle, the choc mix is still crumbly and may fall apart. Store these in the fridge, they're basically ready to eat immediately.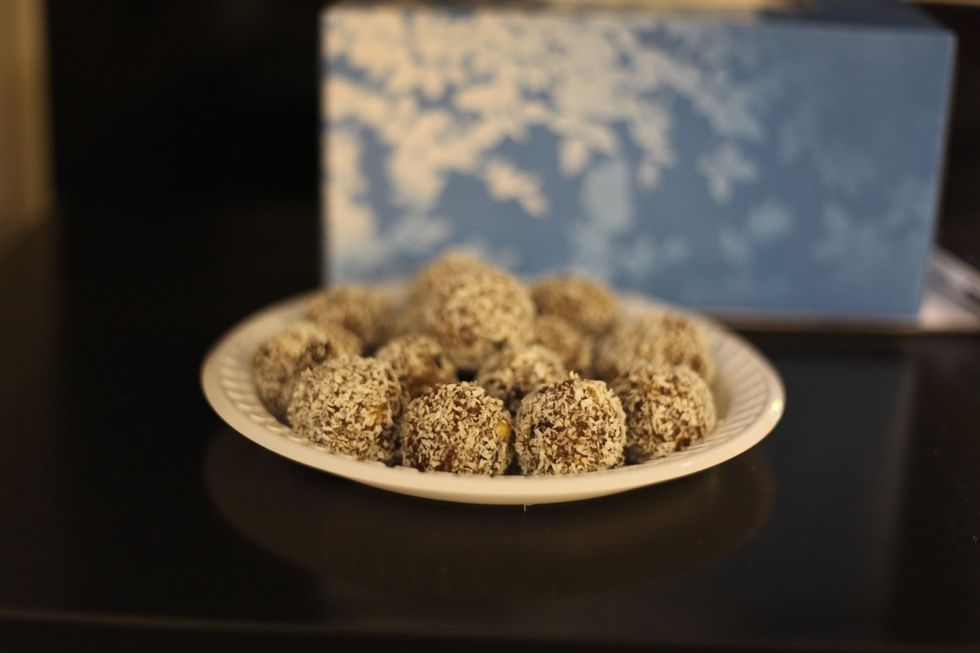 These are your balls!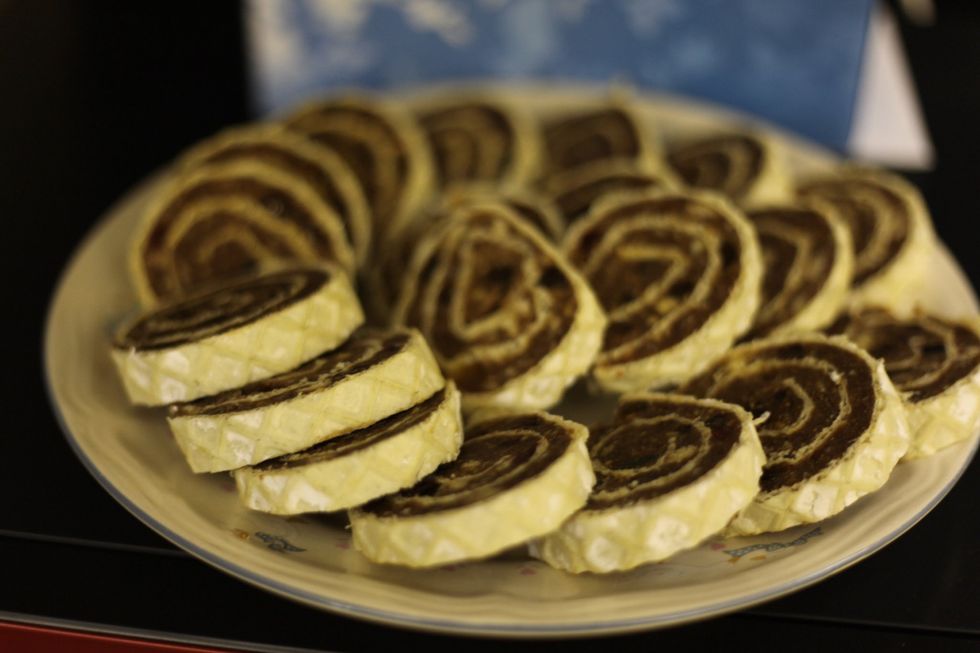 And these are the scrumptious waffle logs. Complete heavenly goodness. Enjoy, have fun making these and love your Mum.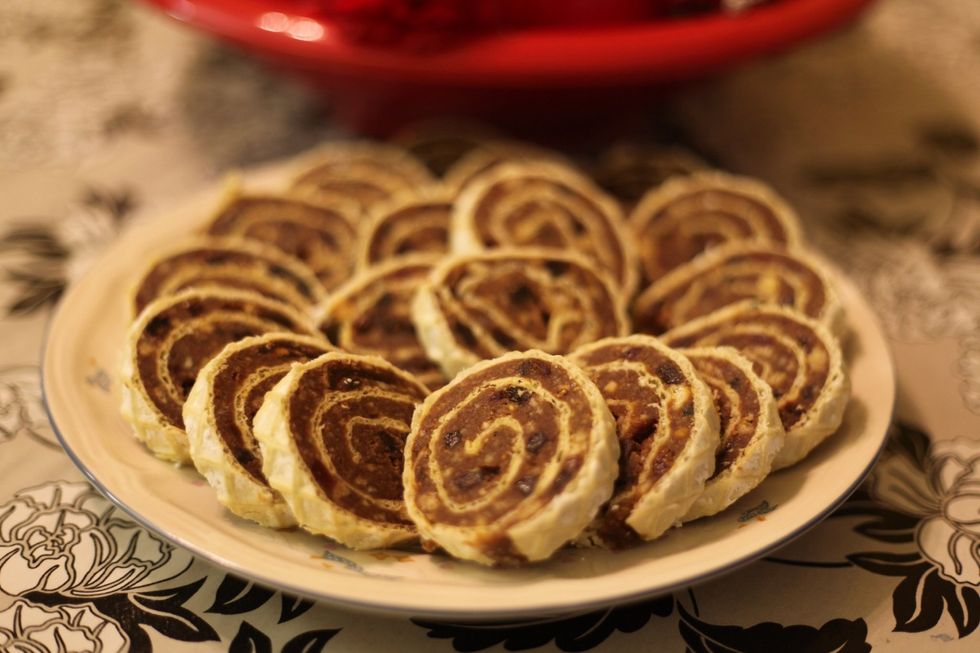 A big thank you to all our followers and friends on snapguide and twitter. Follow us on FB, twitter, YouTube. Stay in touch. We'll see you in malaysia. :)
5.0 Waffle Sheets
0.0kg Unsalted Butter
150.0g Dark cooking chocolate
150.0g Pitted Dates
150.0g Dried Figs
100.0g Glazed Cherries
2.0 Packets Sponge Fingers
0.0kg Crushed Walnuts
1.0c Sugar
10.0 Eggs (Room Temperature)
350.0g Sultanas
10.0 Tea towels
0.0c Icing sugar
1.0 Lemon Rind
2.0Tbsp Vanilla Essence
1.0c Desiccated Coconut (optional)
Michel Daher
Micho here. Amateur experimental chef and lover of food. Thanks for all your support. Join my Food Journey www.naturallygoodfood.com