1️⃣ To prepare these delicious fried cheese ball using this recipe, add all the ingredients into a medium bowl, season well with freshly ground pepper and blend to combine.
2️⃣ Cover the bowl with some plastic wrap and place in the fridge for 45 minutes. This will help the mixture for the cheese balls to firm up a bit and make it easier to roll into balls.
3️⃣ Form the mixture into little cheese balls (this mixture is enough for 14-15 cheese balls) and dredge in some flour shaking off any excess.
4️⃣ Fry the cheese balls in a non-sticking pan with plenty of oil, until nicely colored. Place the fried cheese balls on some kitchen paper to absorb the extra oil.
Continuation of step 4. Tips: Heat the oil until very hot and fry them in batches. If the surface of the pan is overcrowded then the temperature of the oil will decrease and your cheese balls will not
Step 4 continued, again! Be crispy anymore.
Step 5️⃣ Serve the cheese balls while still hot with a squeeze of a lemon. Enjoy!
Here they are!♨️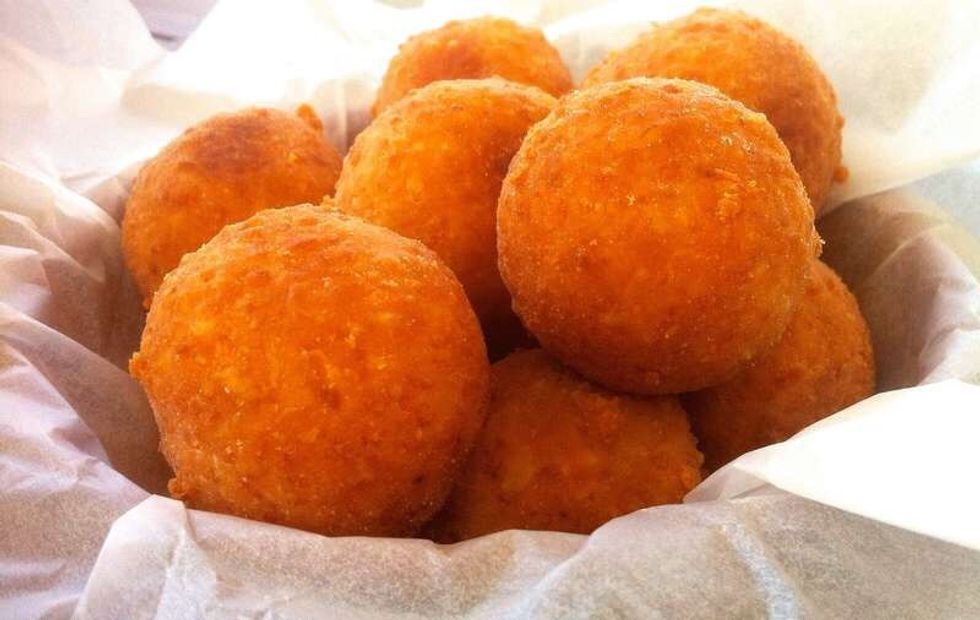 100.0g Feta cheese, crumbled
130.0g Gouda, grated
100.0g Mature cheese, Regato or Graviera
1.0 Egg and 1 Egg white
40.0g Self-rising flour
A splash of milk
Freshly ground pepper
All purpose flour, for dredging
Vegetable oil, for frying