Try this simple and delicious Cajun inspired meal on cold nights. Spicy and warm, you'll love it.
127
Gather your meat products: 1.5 - 2 lb andouille sausage 6 bone in, skin on chicken thighs 6 bone in, skin on chicken legs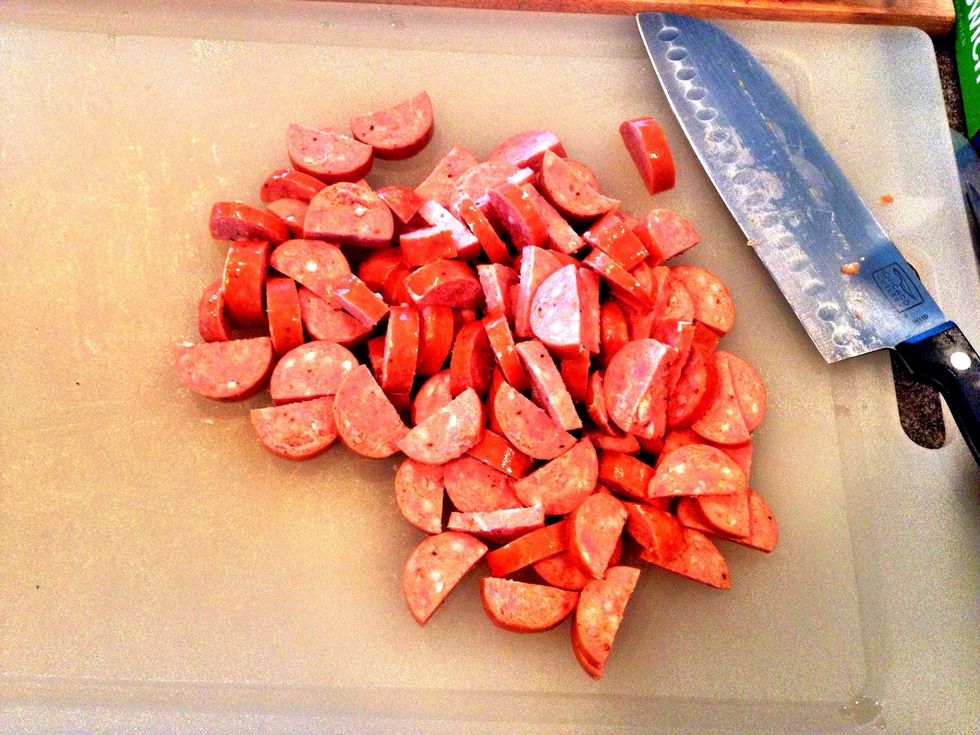 Slice 1.5-2lbs andouille lengthwise down the middle, then into roughly 1/4 inch pieces.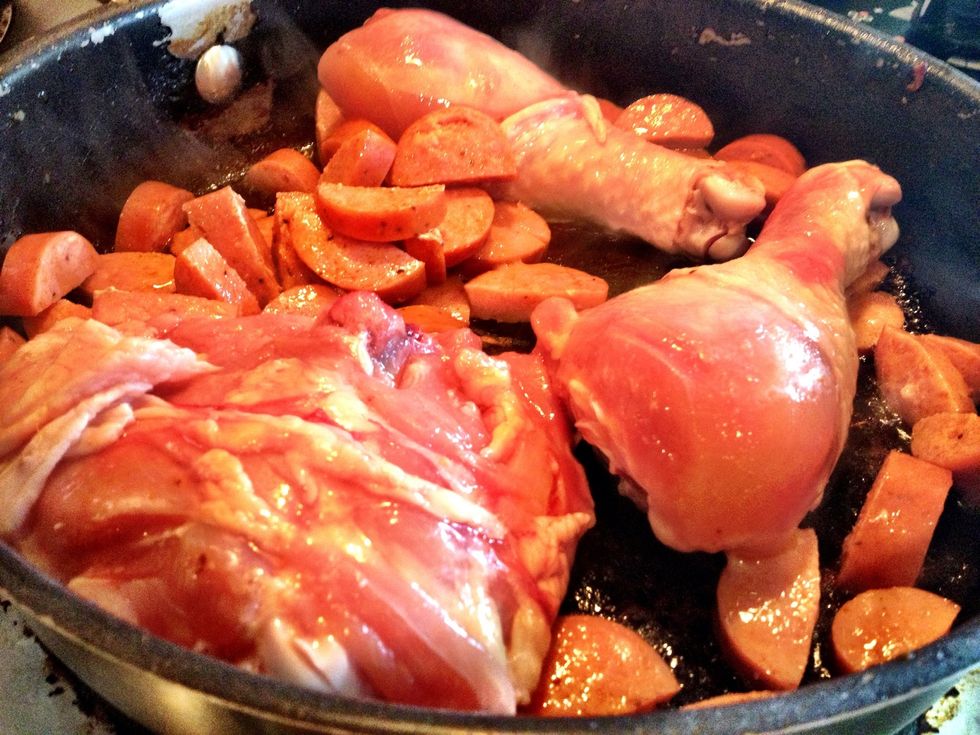 Sauté 6 legs & 6 chicken thighs with sausage for six minutes, turning chicken after about 3 minutes.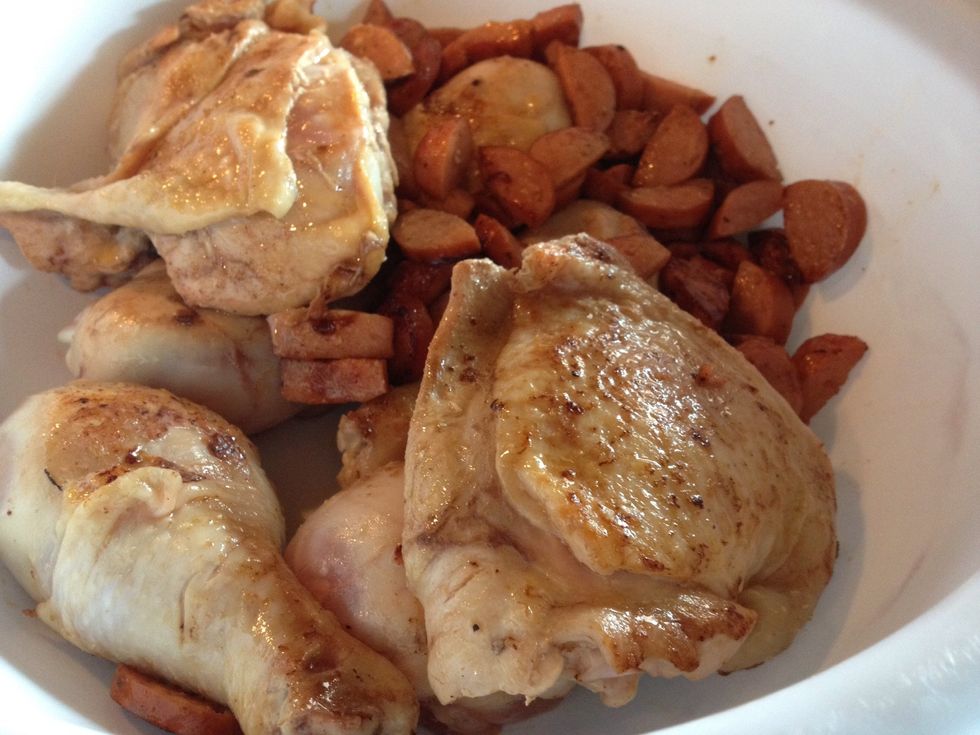 I only have a 12-in skillet, so my frying was done in batches. I just tossed the chicken & sausage in a nearby bowl while I finished the rest.
Dice 4-5 stalks of celery. Pull out the pale green stalks & leaves from the heart, dicing those also. Dice 4 green onions & 1 medium Visalia onion.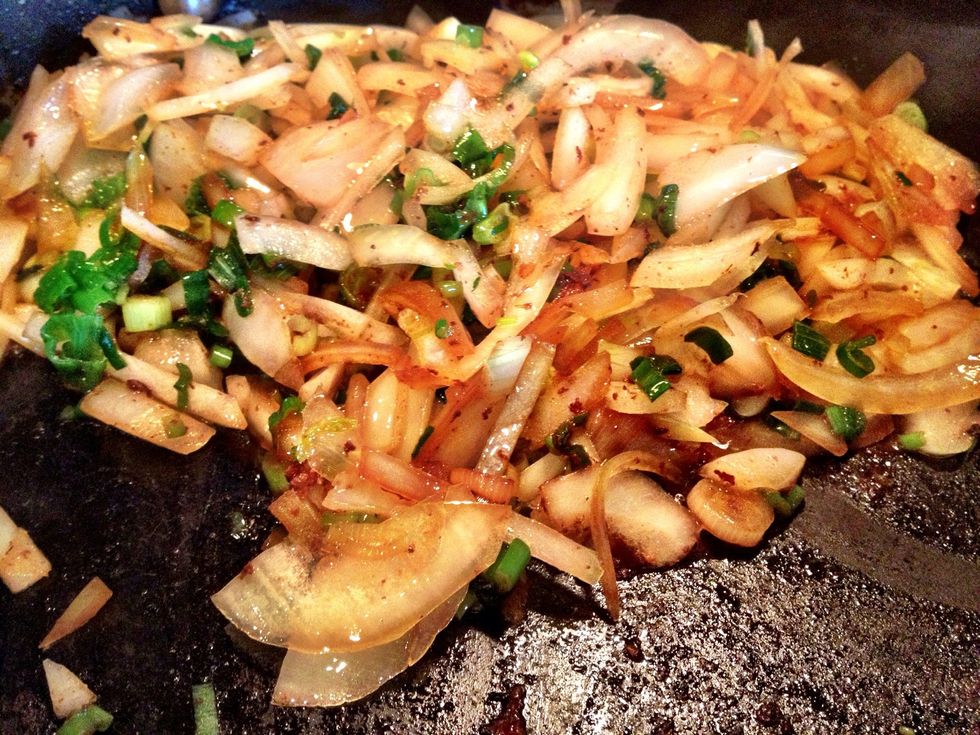 When the chicken & sausage are finished & removed from pan, add 2 tbsp water to deglaze the pan, then toss in green onions & Visalia onion, cooking until tender.
Measure out: 1 c all purpose flour 1 c vegetable oil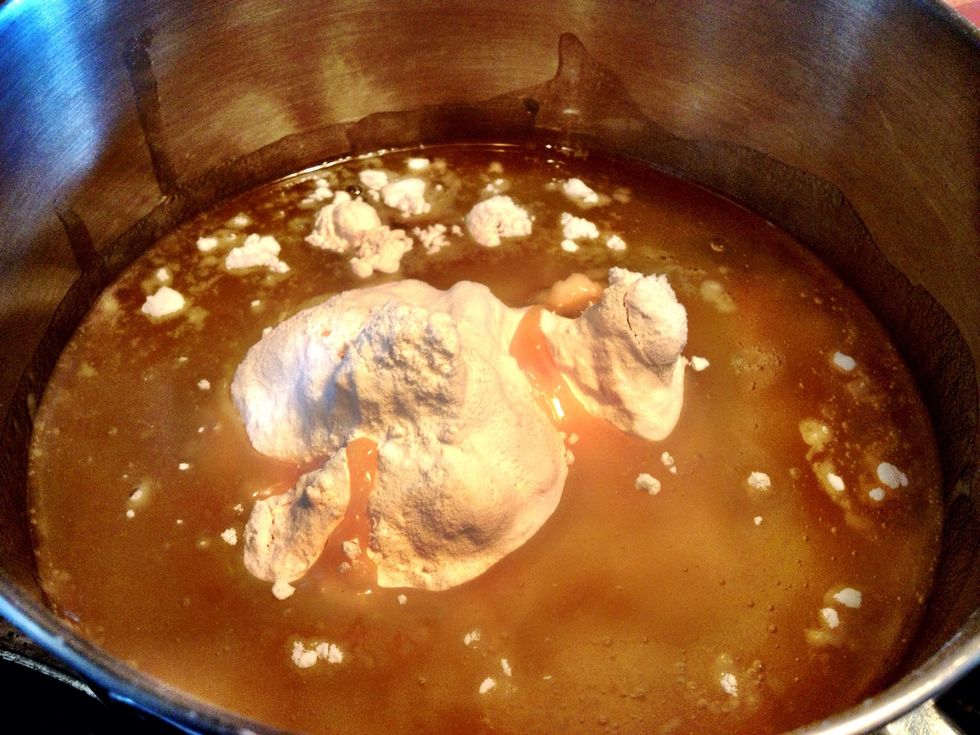 In a small saucepan, whisk together vegetable oil & flour over medium heat.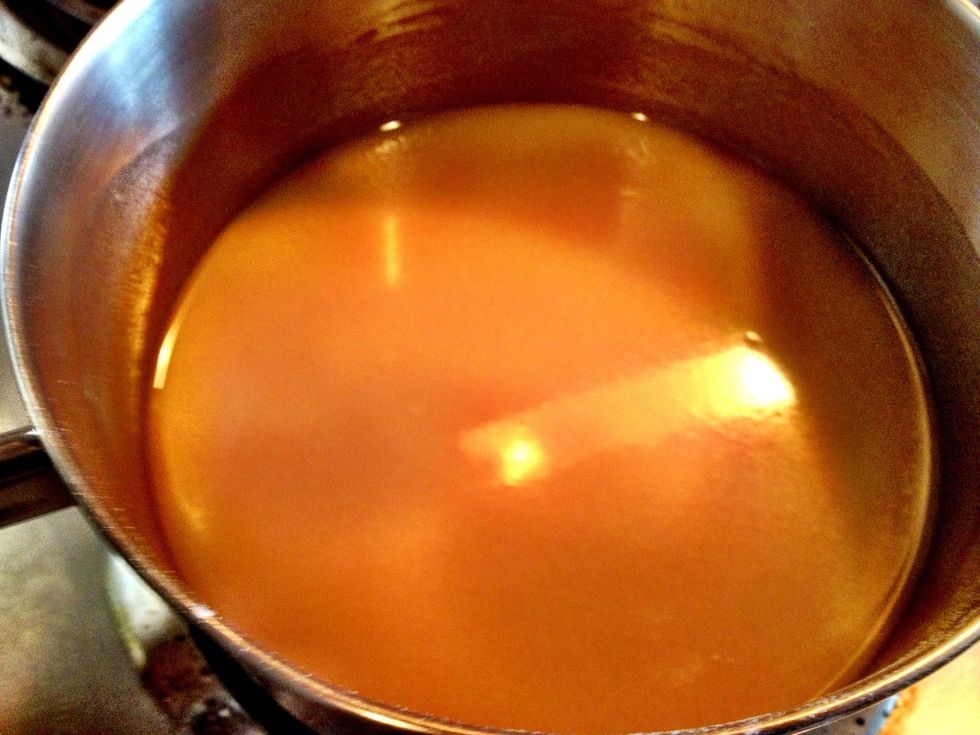 Continue cooking, whisking continuously, until roux turns a lovely dark caramel color. Note: if you've never done this before, you'll notice that the flour gets a bit stinky while it cooks.
Gather your spices: 3 tbsp Cajun seasoning 2 tbsp sea salt 2 tbsp fresh cracked pepper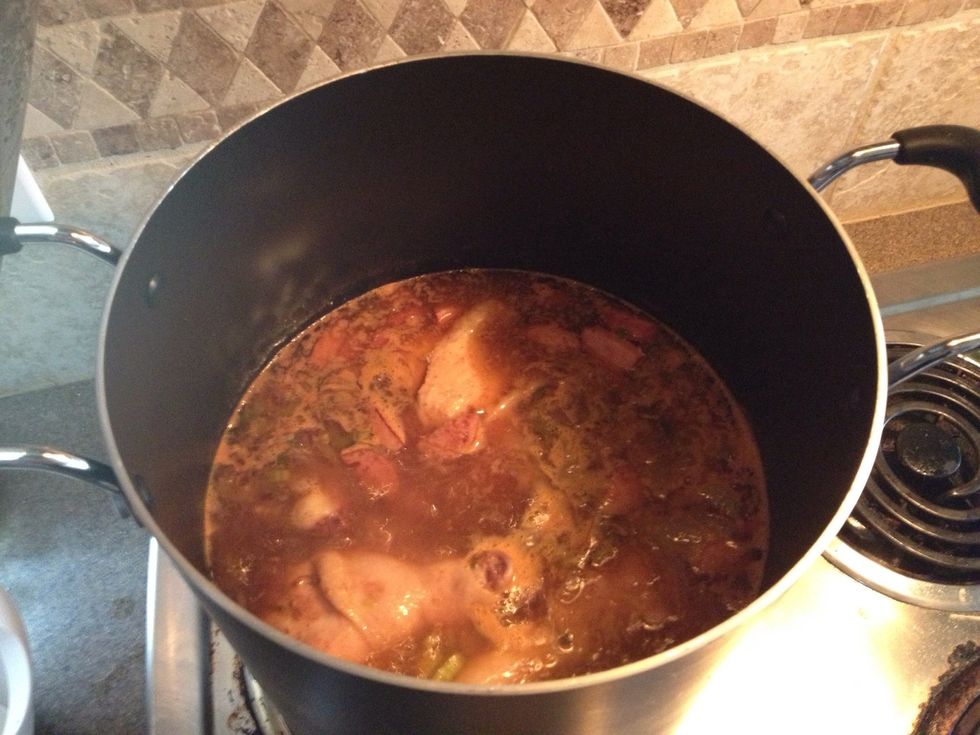 In a large stockpot, place chicken, sausage, sautéed onions, celery, all your spices, garlic, water, chicken base, and chicken stock. Bring to a boil, then boil for about 15 minutes.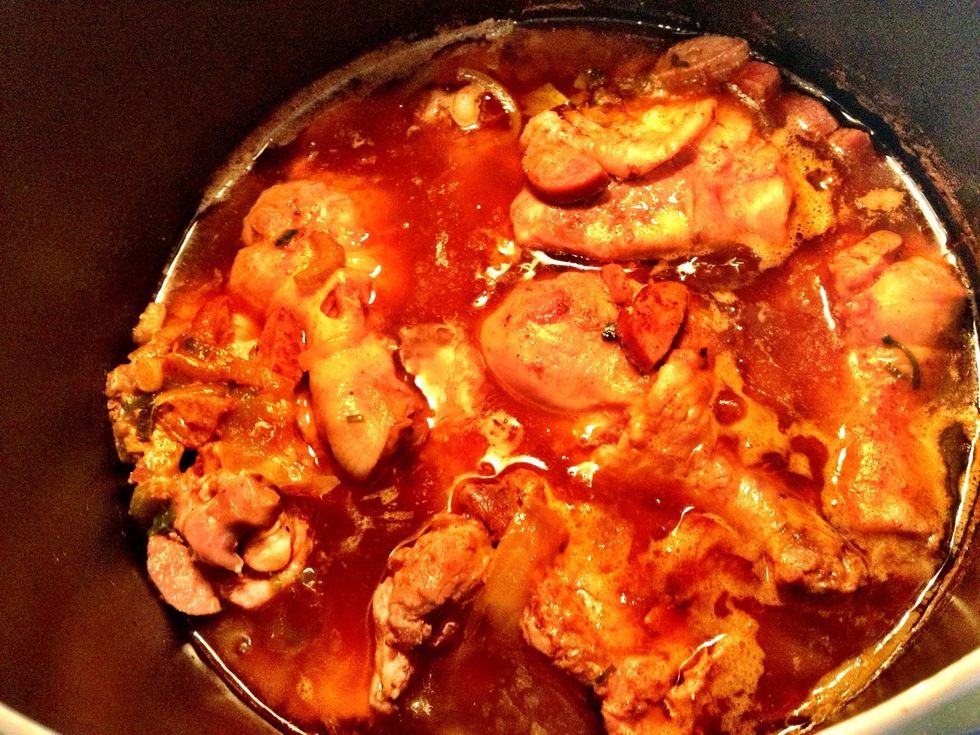 Stir in roux, lower heat, & simmer 2.5 hours. The chicken & skin will have fallen off the bone; I fish the skin & bones out with tongs before serving.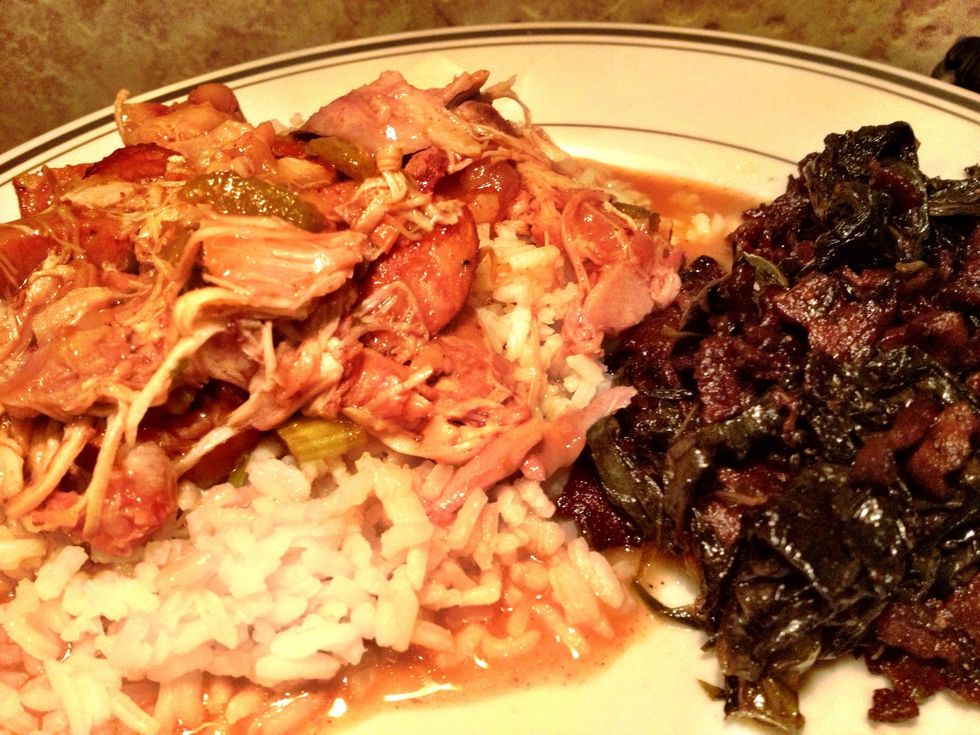 Serve over rice of your choice! I serve mine with my own collard greens recipe and cornbread to sop up the juices. The whole family loves it!
6.0 Chicken Thighs (bone in, skin on)
6.0 Chicken Legs (bone in, skin on)
2.0lb Andouille sausage
4.0 Celery Stalks, chopped
Pale Green Celery Heart & leaves, chopped
4.0 Green onions, chopped
1.0 Medium Vidalia onion, chopped
4.0 Cloves garlic, minced
1.0c vegetable oil
1.0c Water
3.0Tbsp Tony Chachere's Cajun seasoning
(any Cajun seasoning will do)
2.0tsp Chicken Base
4.0c Chicken Stock
4.0c Water
2.0Tbsp Sea Salt
2.0Tbsp Fresh ground black pepper
Cupcakes & Crowbars ™
Amateur chef, professional baker, blogger, photographer, & crafty person. Mom to four. I love sharing recipes & ideas!