This recipe is for about 8 people, makes about 22 small pancakes, enough to have plenty of leftovers. This recipe uses both pork and shrimp but you can add or remove meat as you wish.
84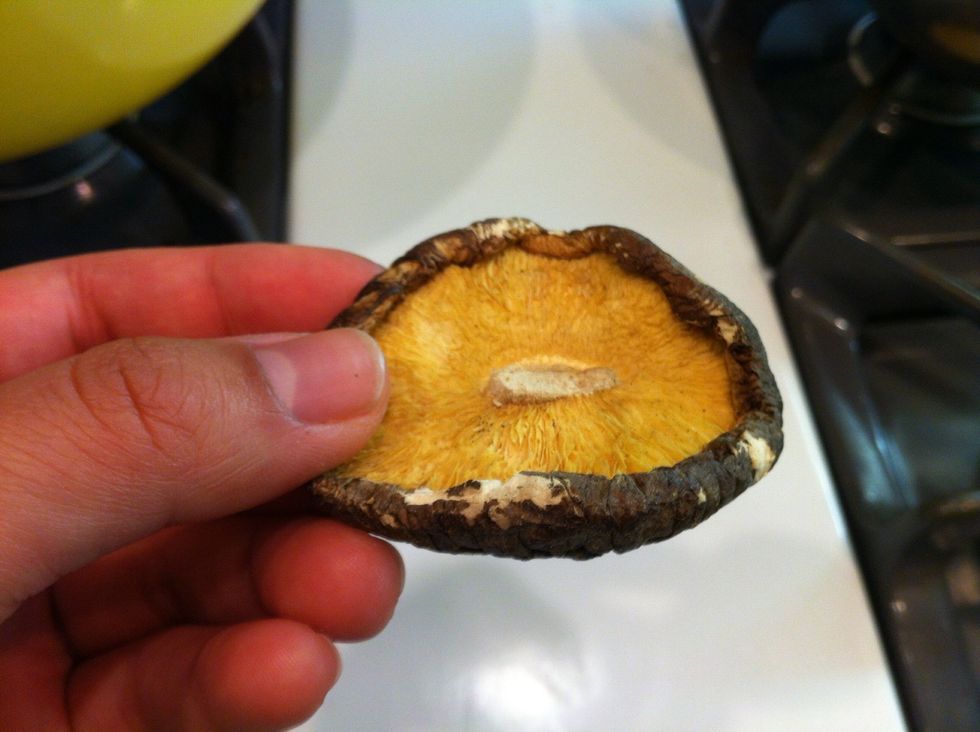 If you have dried shiitake, put it in hot water and let soak for a couple hours or until soft.
Cut off the stems if any, slice and cut in half.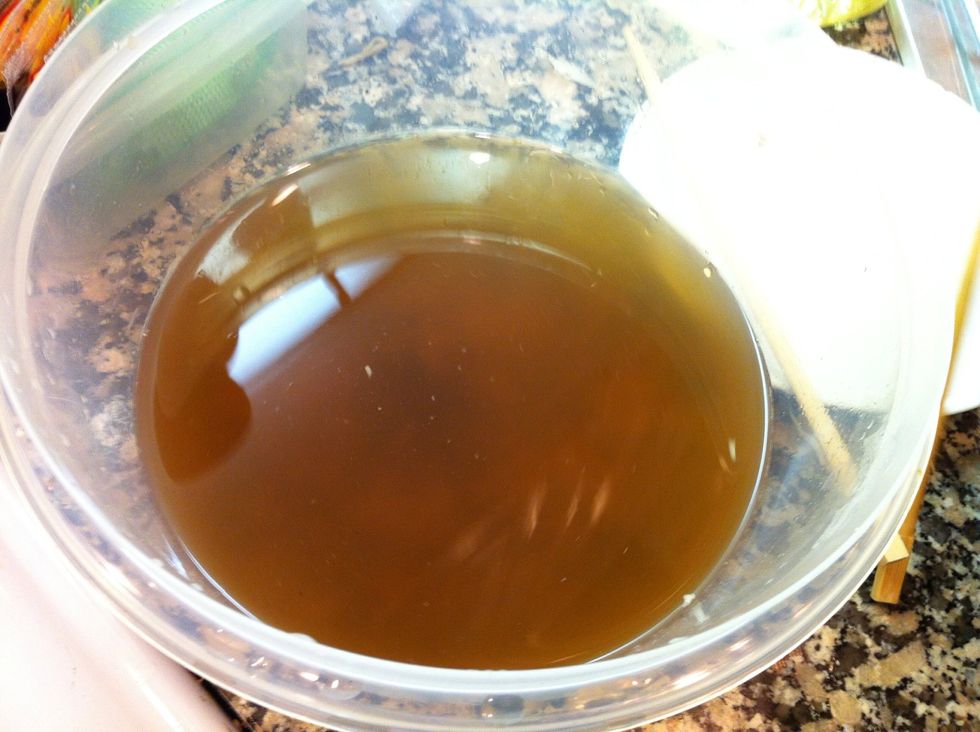 Make sure you save the shiitake water for the gravy.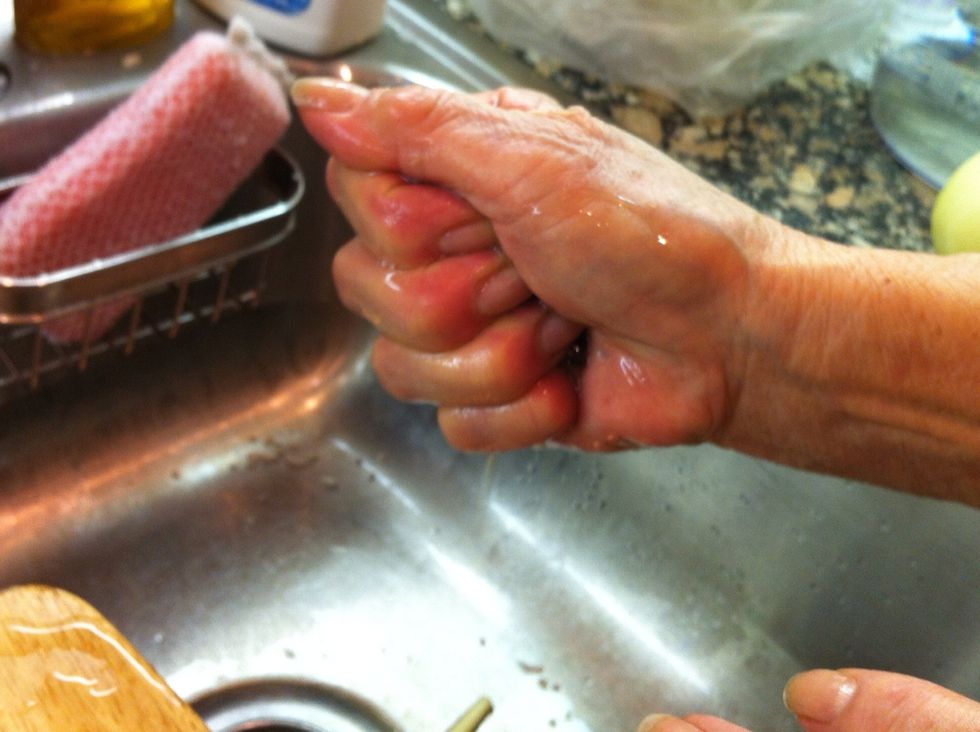 Take the mushrooms and squeeze out the liquid with your hands or in a cheese cloth.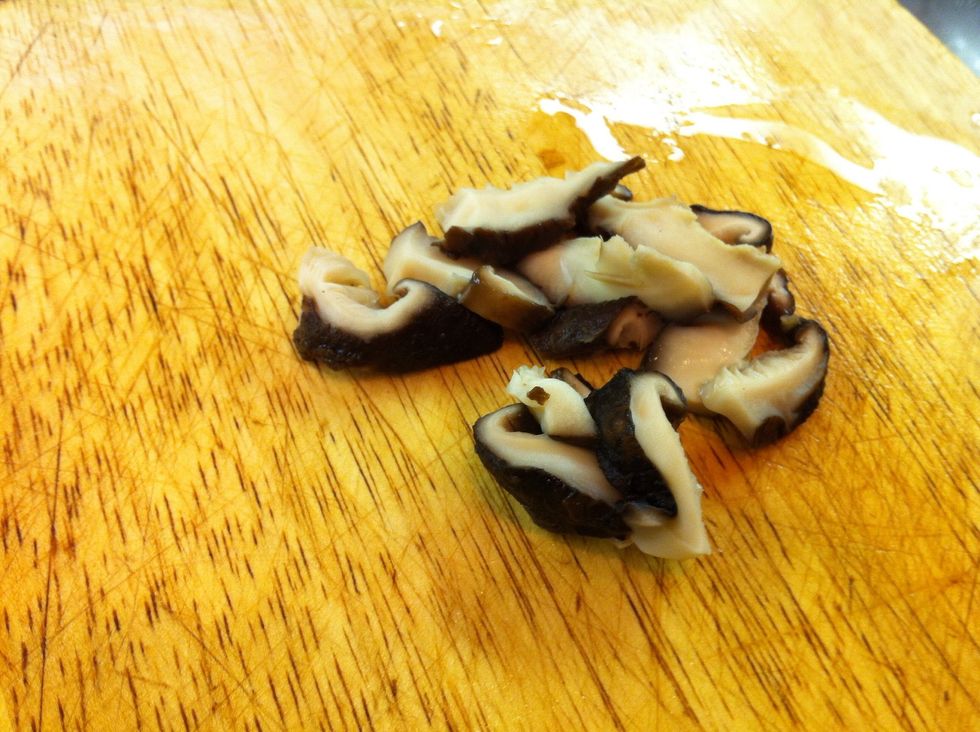 This is what it looks like with the water squeezed out.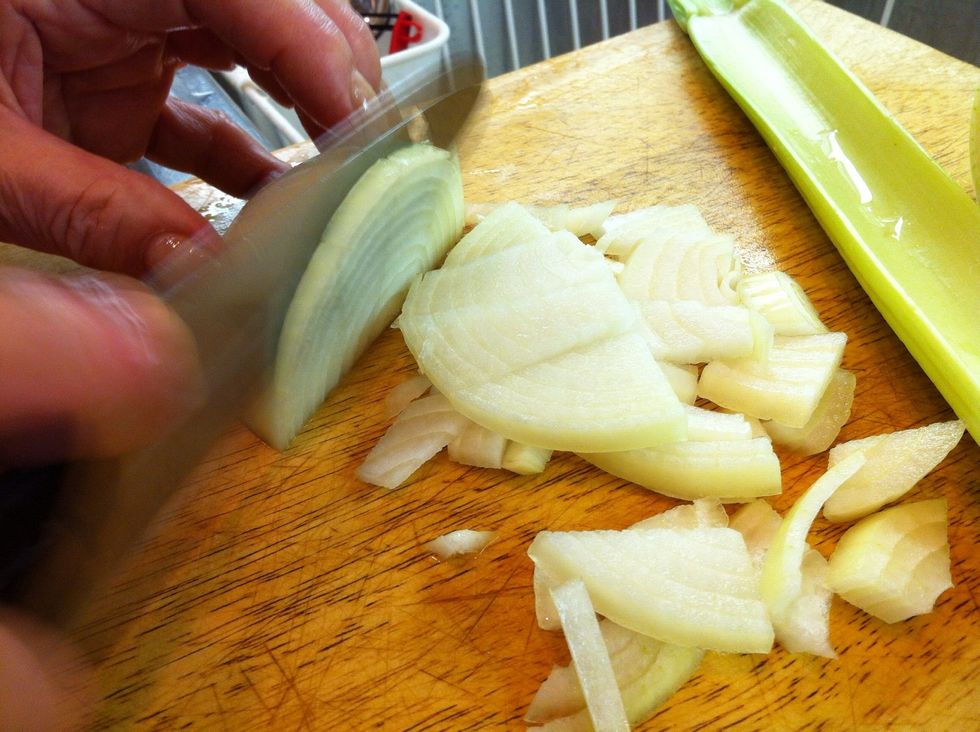 Chop up a large onion into chunks like this. Auntie Rulie told me the story of the Princess who couldn't cry. All her suitors failed until a poor country man made her cry & won her hand with an onion.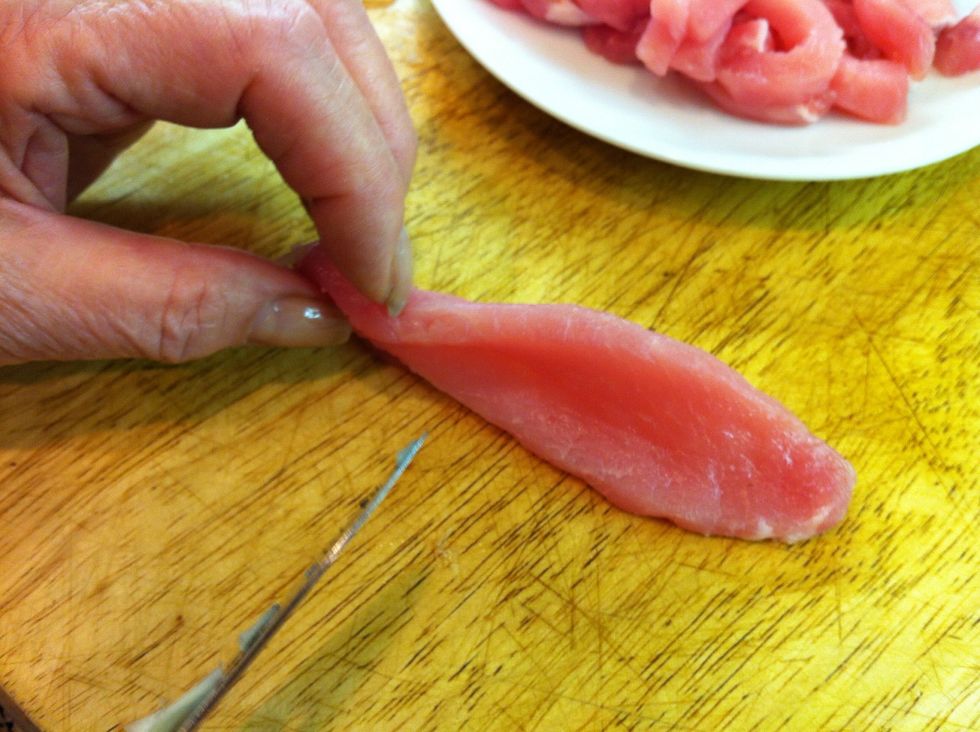 Slice the pork loin thin.
Into pieces like this.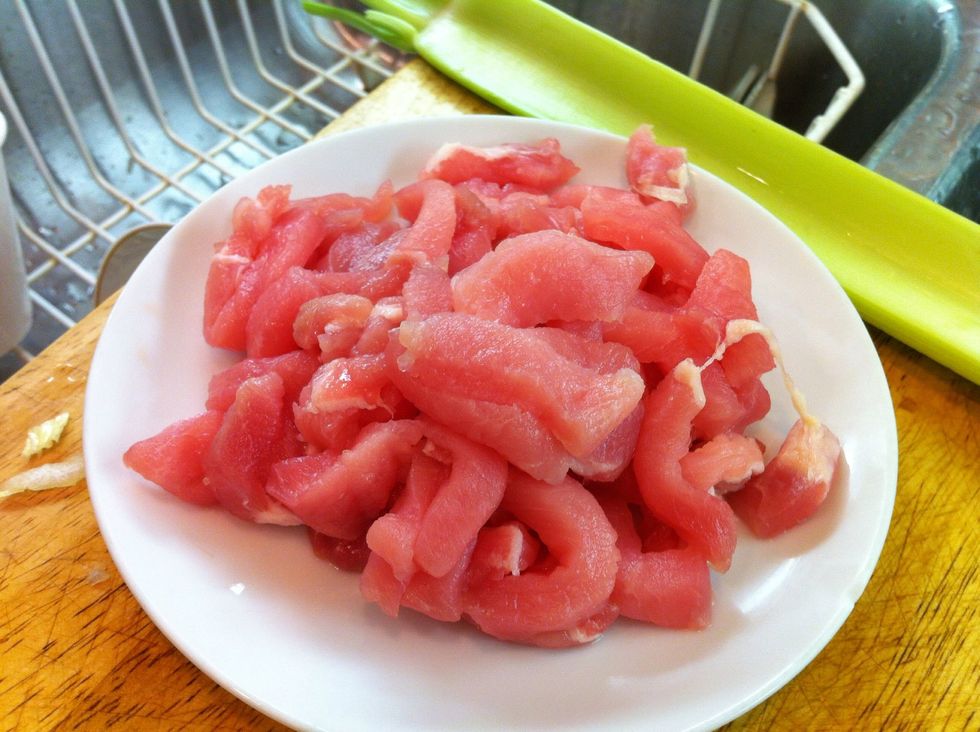 Ready to go.
Slice the celery.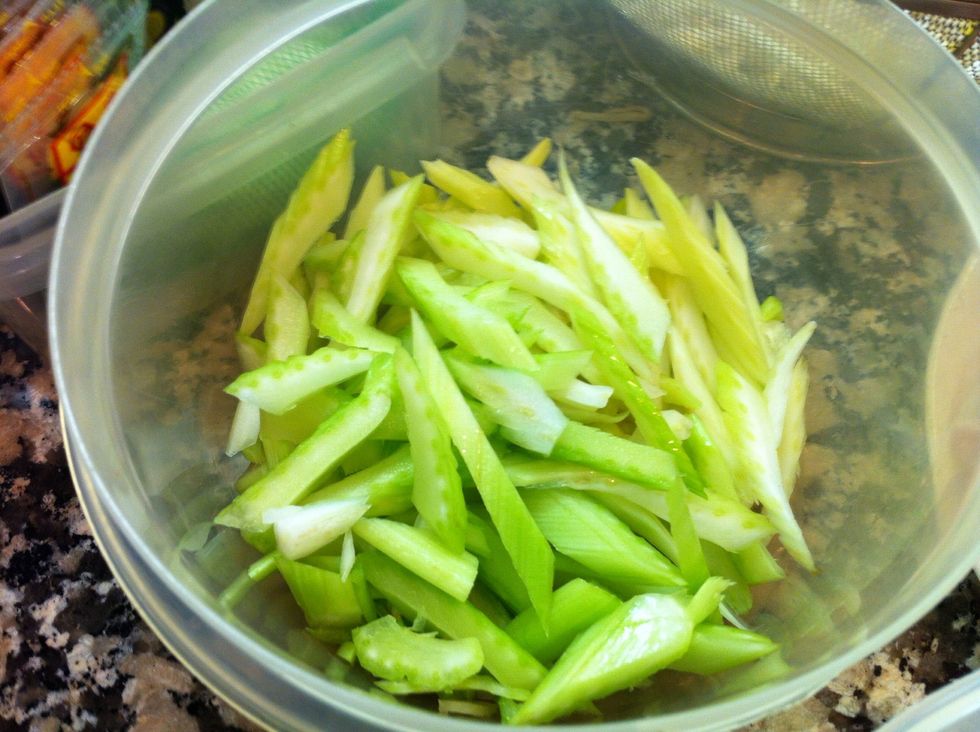 Auntie Rulie says, "You know you're Japanese American if you slice your veggies on a diagonal." So slice your celery diagonally in keeping with tradition.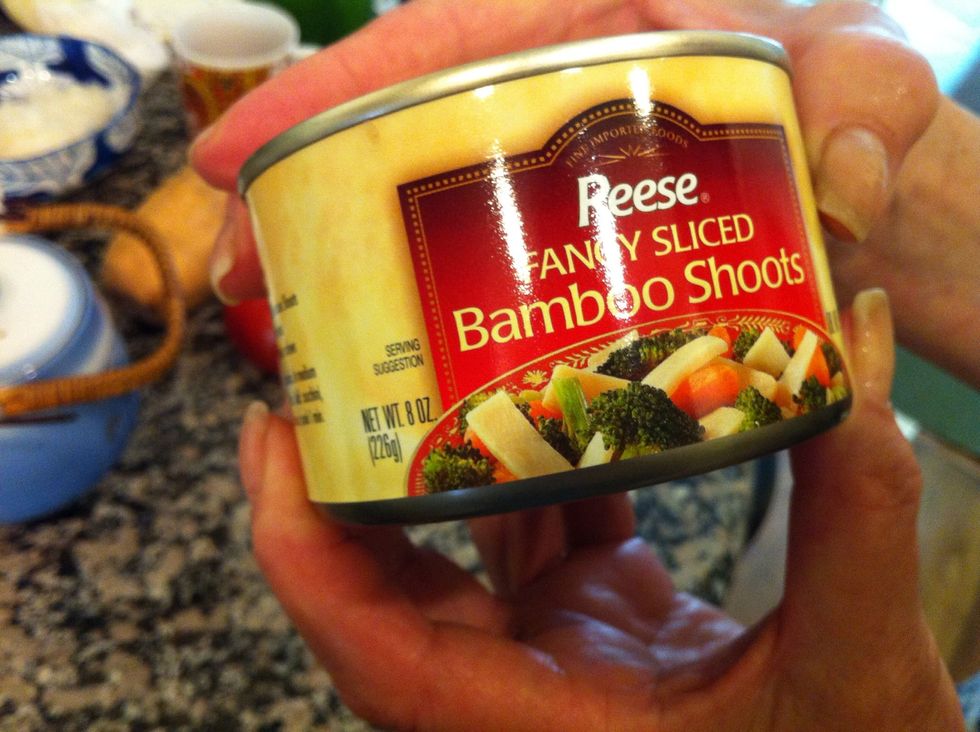 Take you bamboo shoots, Auntie likes the sliced ones because they are firmer than the matchstick ones.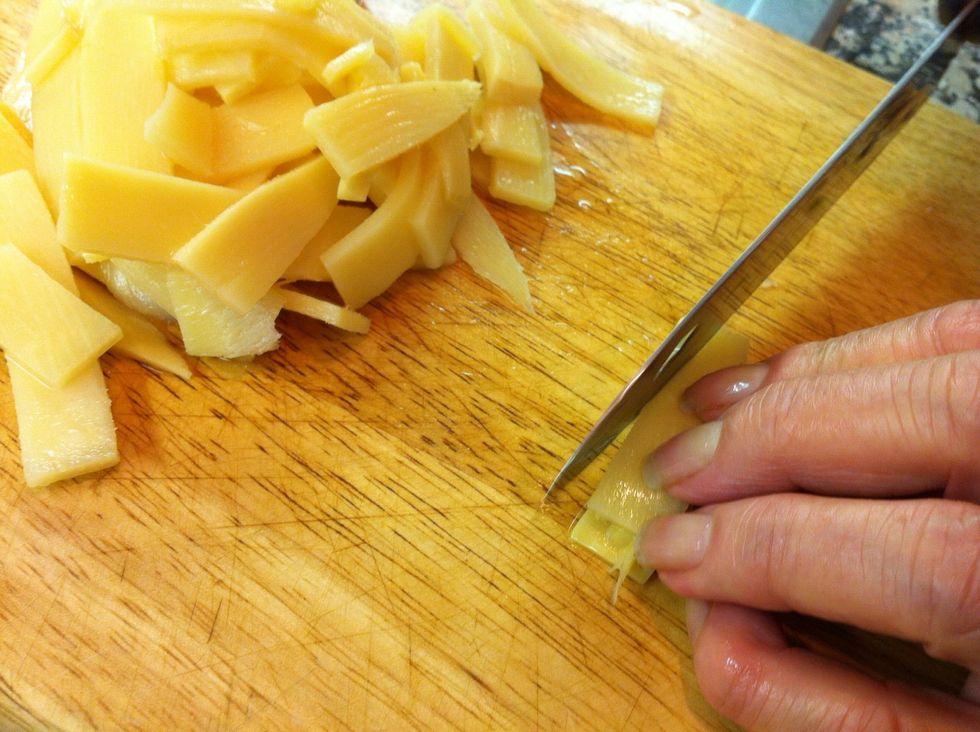 Pile some up and...slice them diagonally!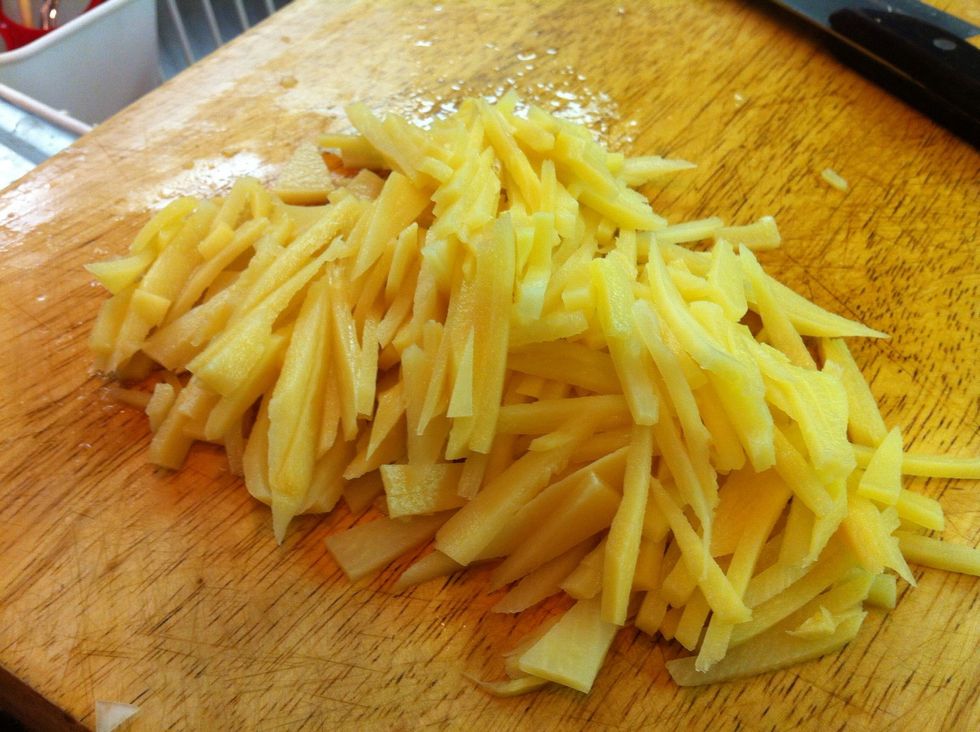 All sliced.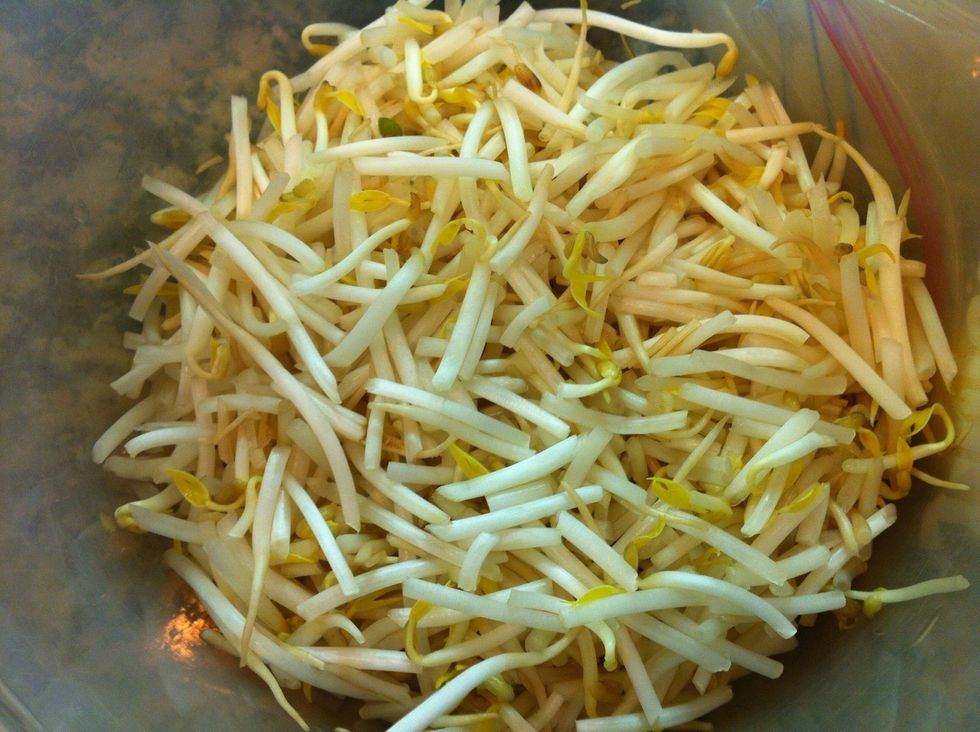 Wash, dry and cut the bean sprouts into approximately 1 inch pieces so it doesn't stick out of the pancake all funny.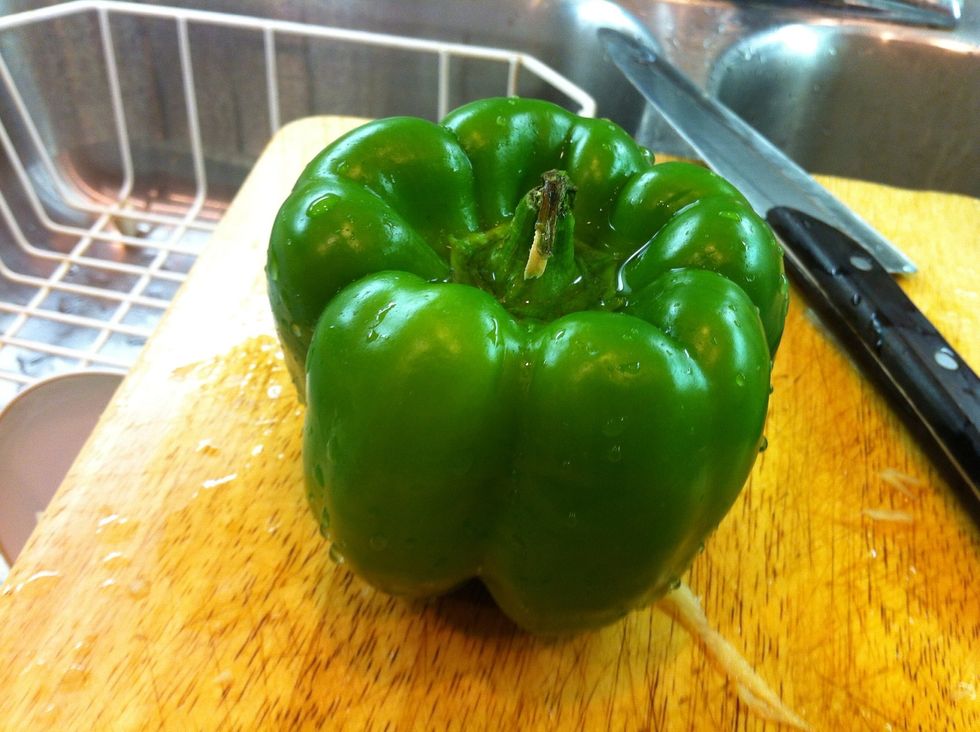 Bell pepper.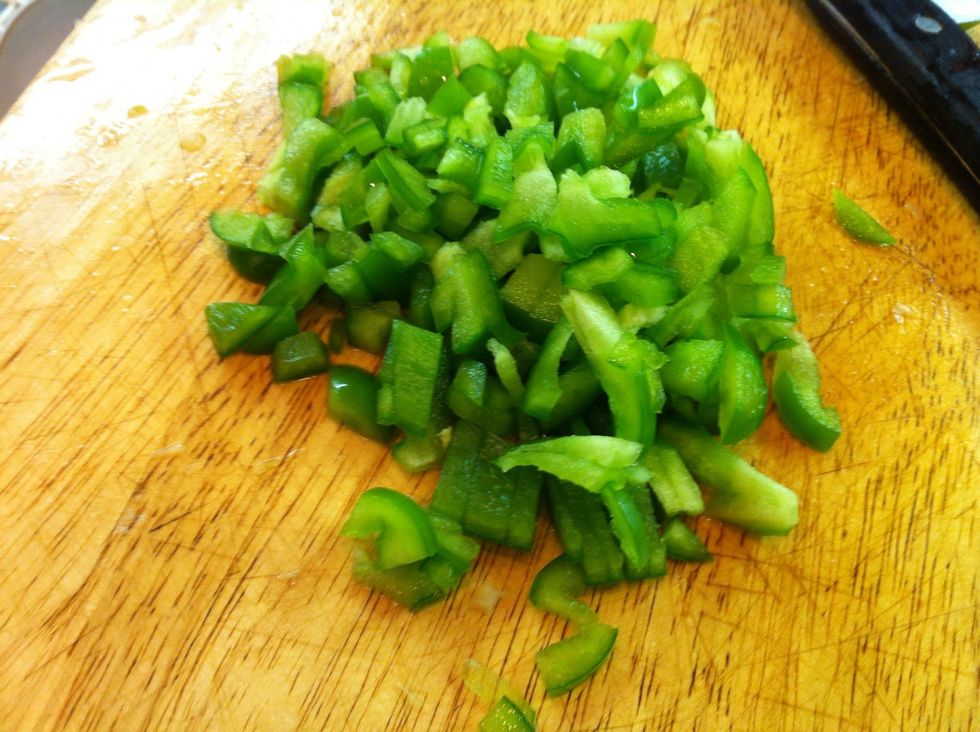 Chopped.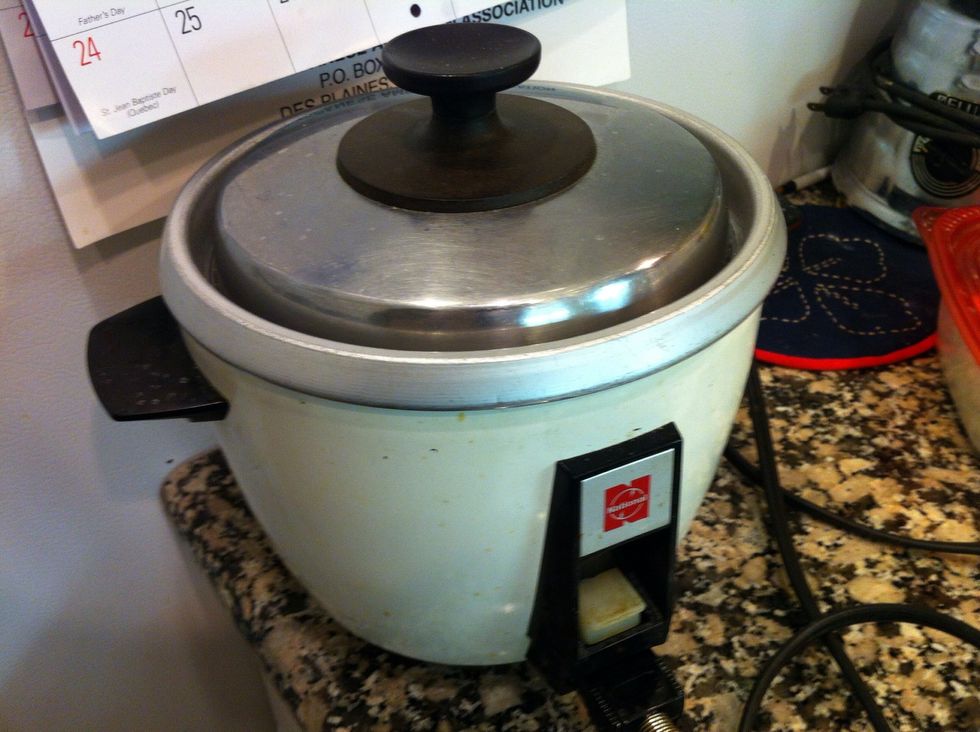 Don't forget to start cooking your rice!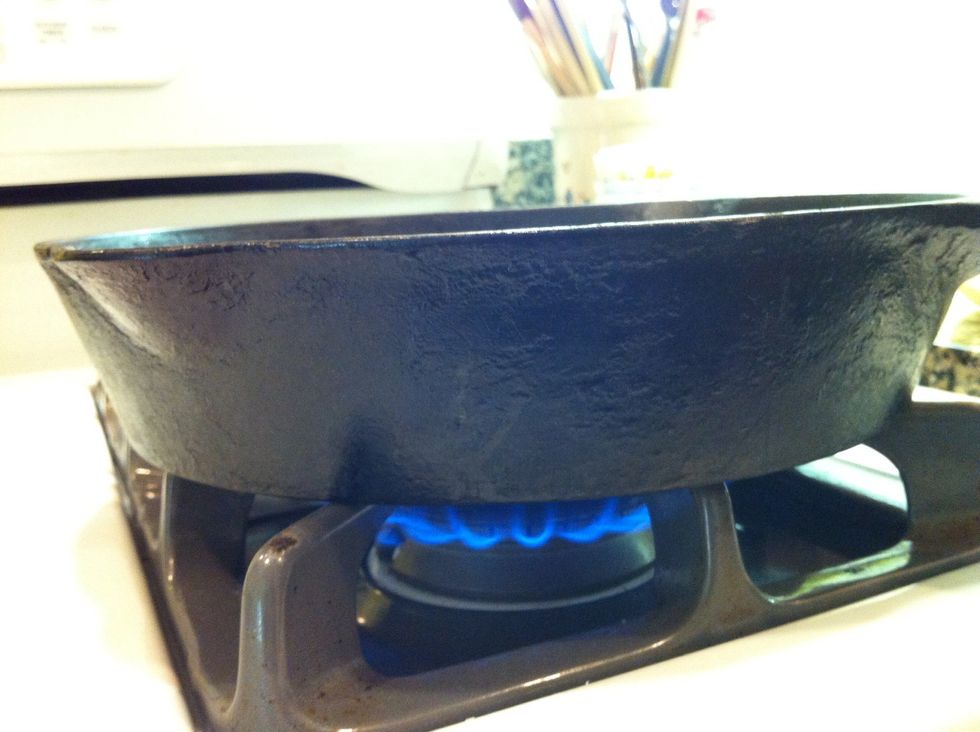 Get your cast iron pan and heat it up nice and hot.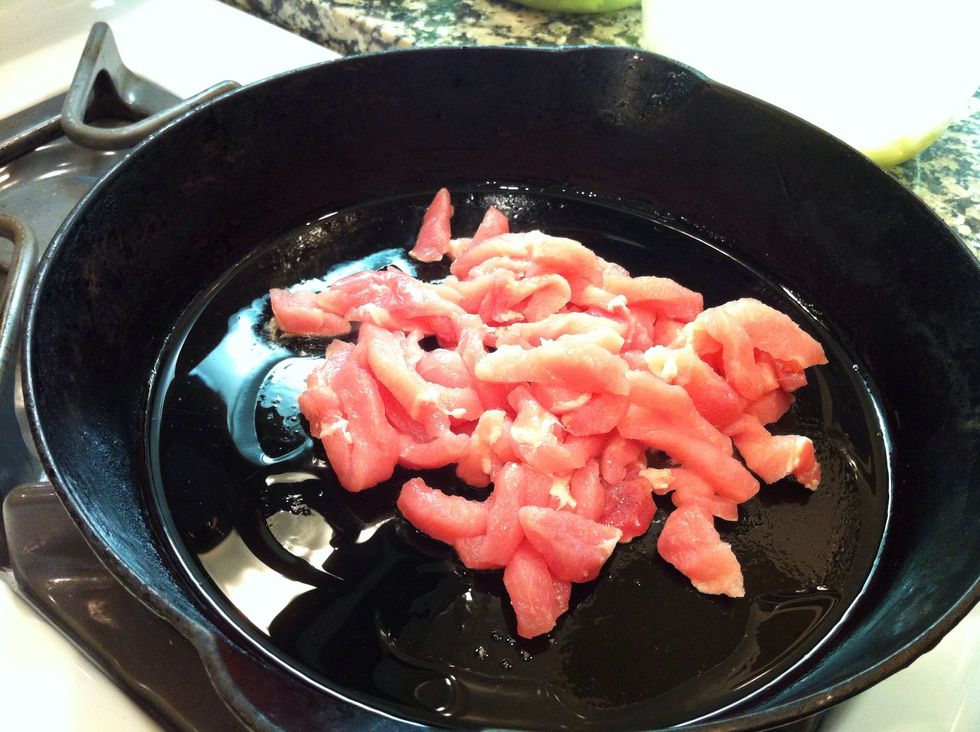 Add some oil and fry up your pork.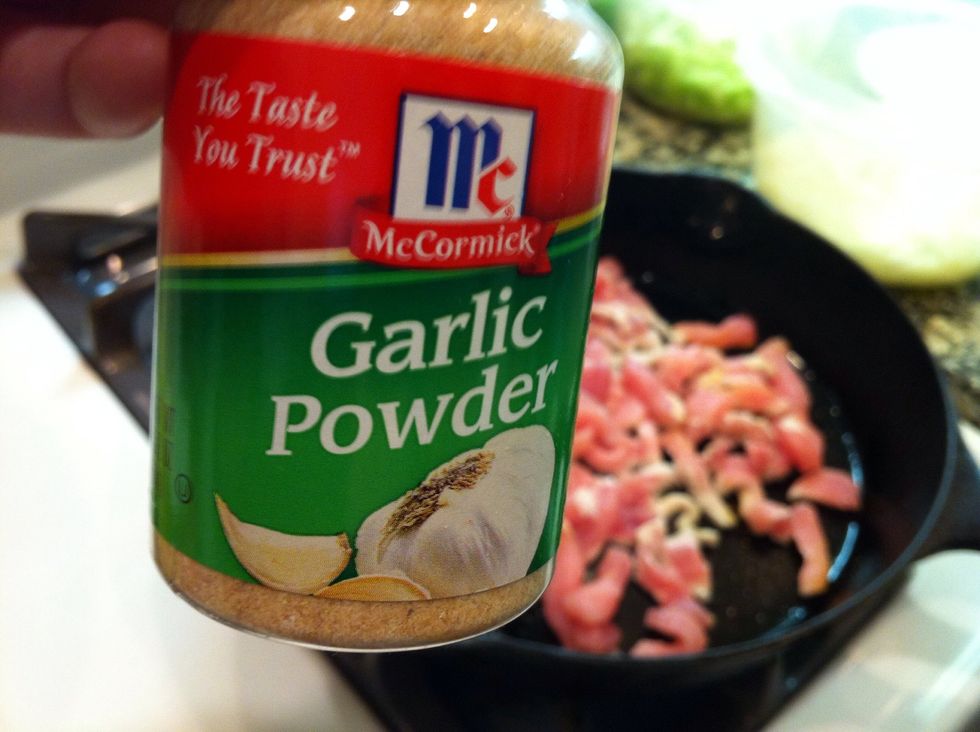 Season with some garlic powder.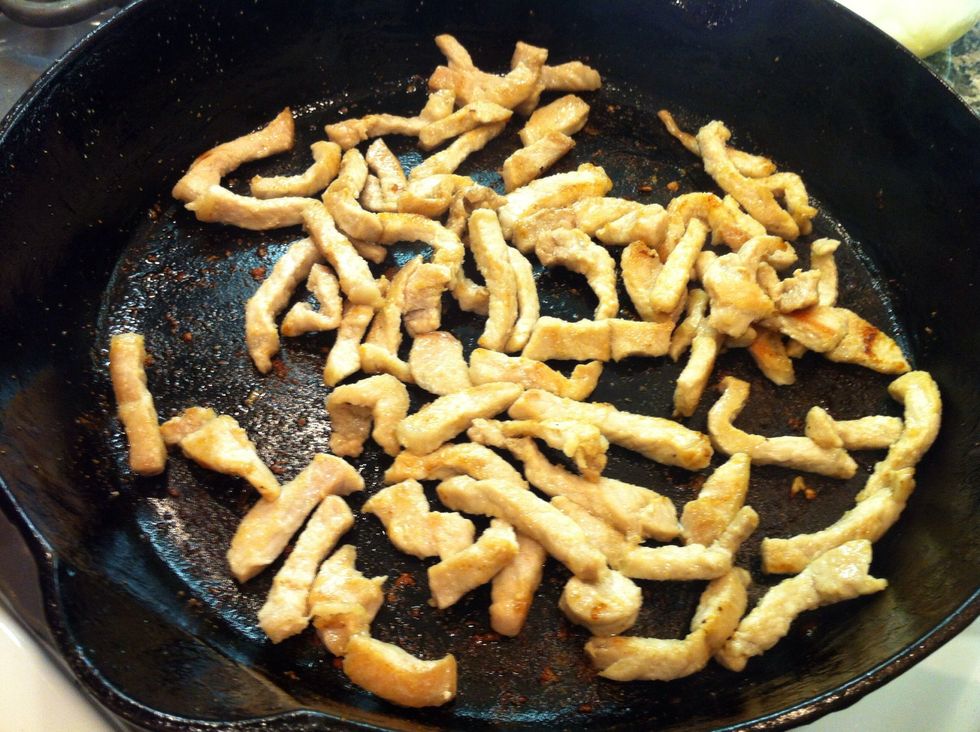 Cook till browned. Remove and set aside in a large bowl. Don't clean your pan in between (the juices add flavor).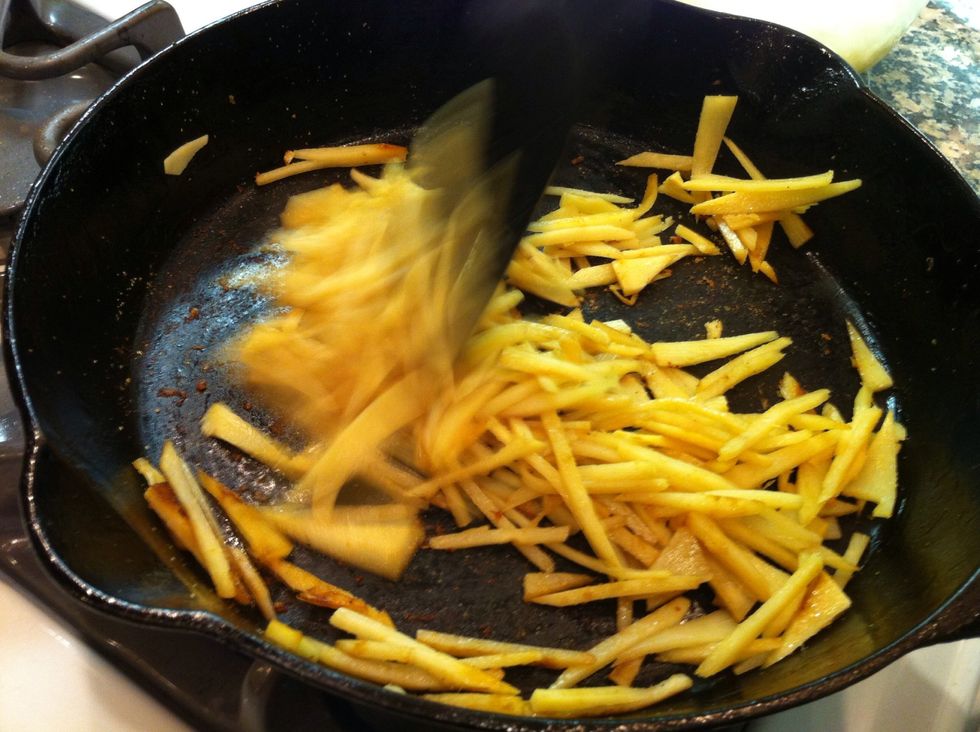 Cook the bamboo shoots till they are browned and add it to the pork in a large bowl.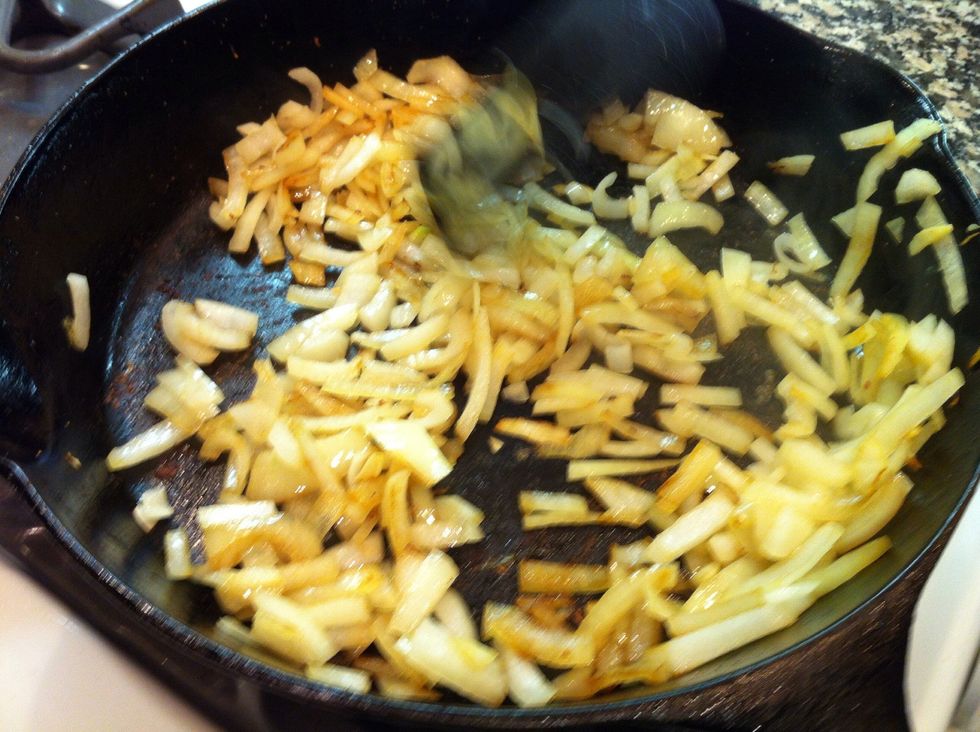 Cook onions till browned and add it to the bowl.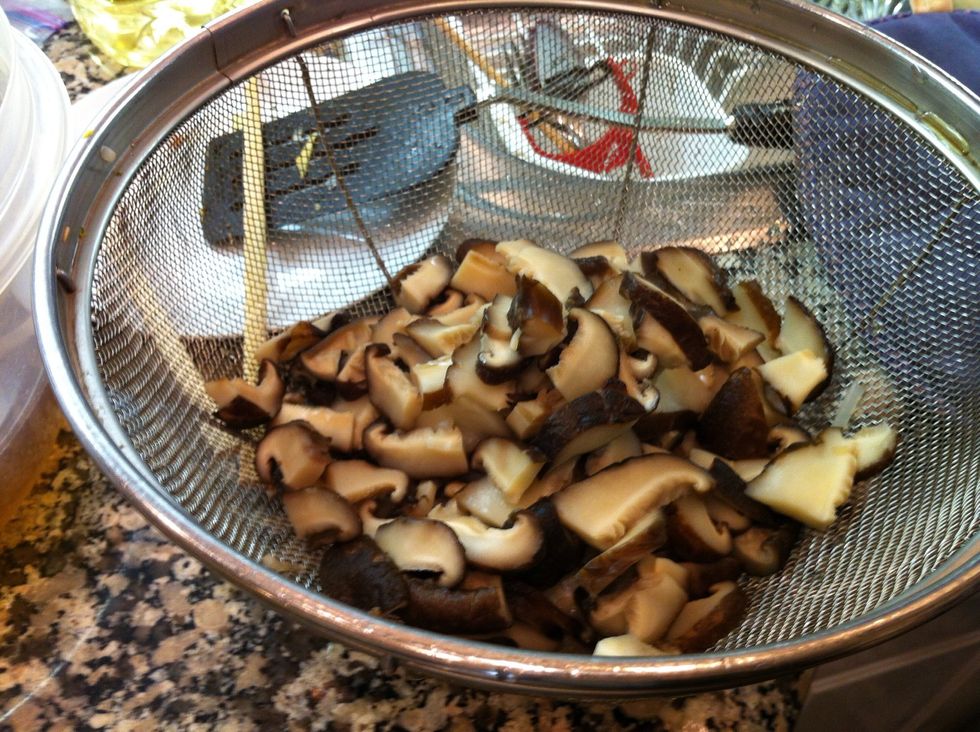 Add the soaked, uncooked shiitake mushrooms to the bowl.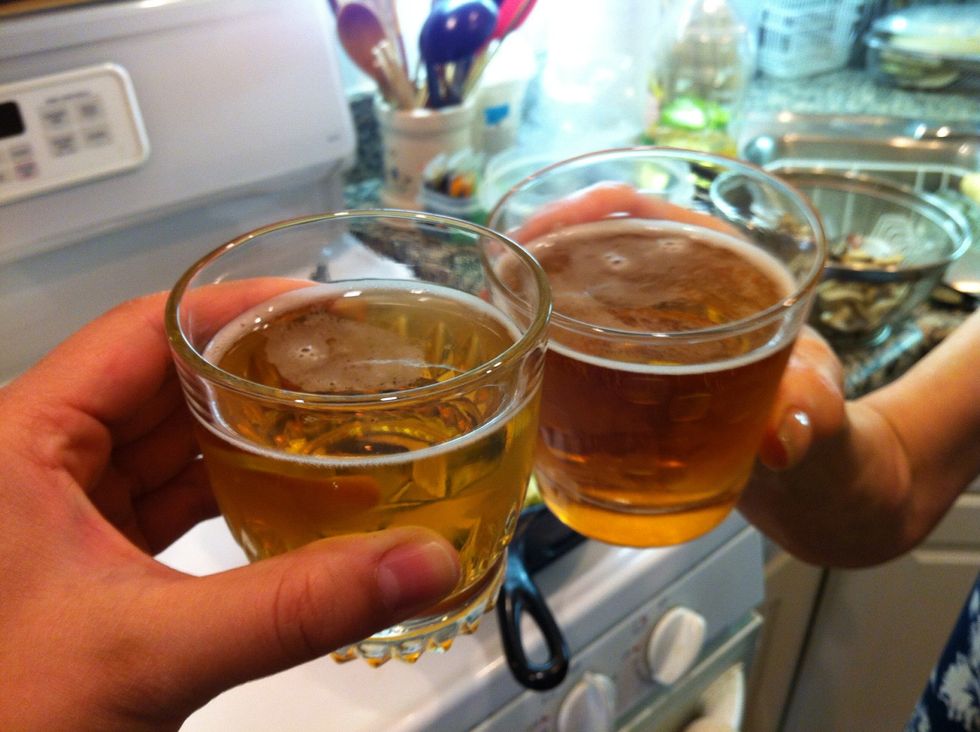 Pour yourself a glass beer. You're cooking, you deserve it!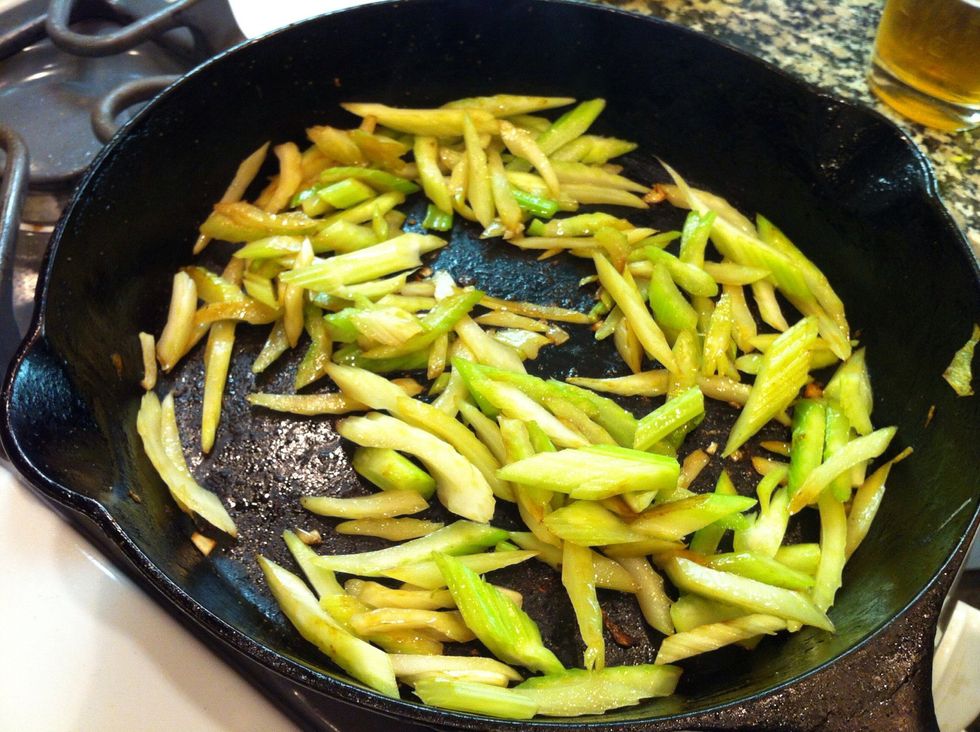 Cook the celery and add it to the bowl.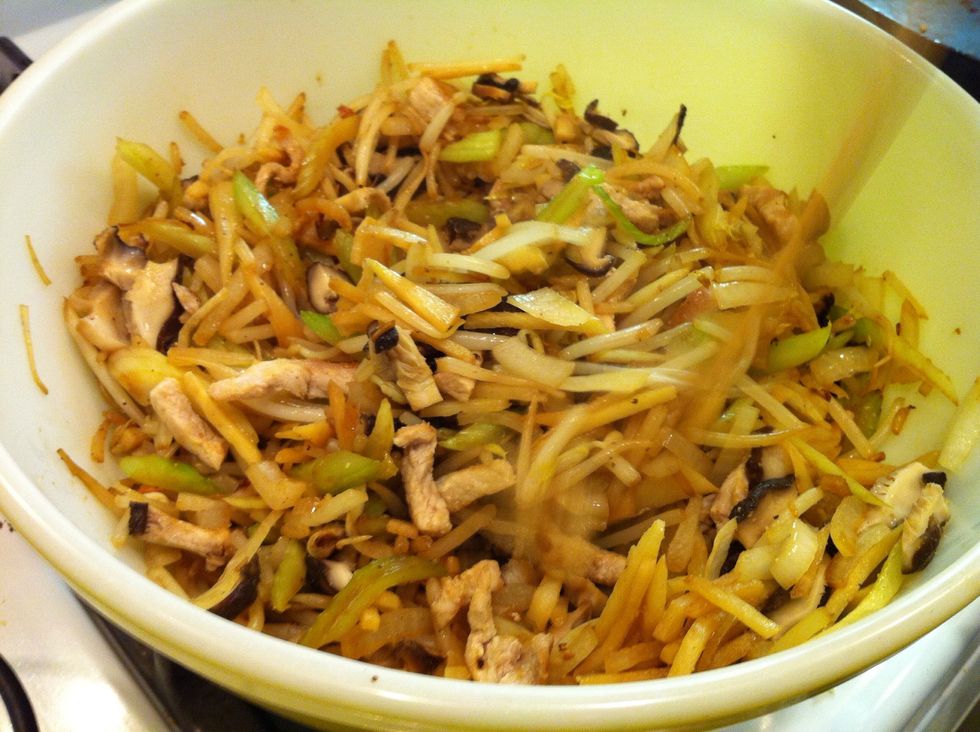 Mix up the ingredients.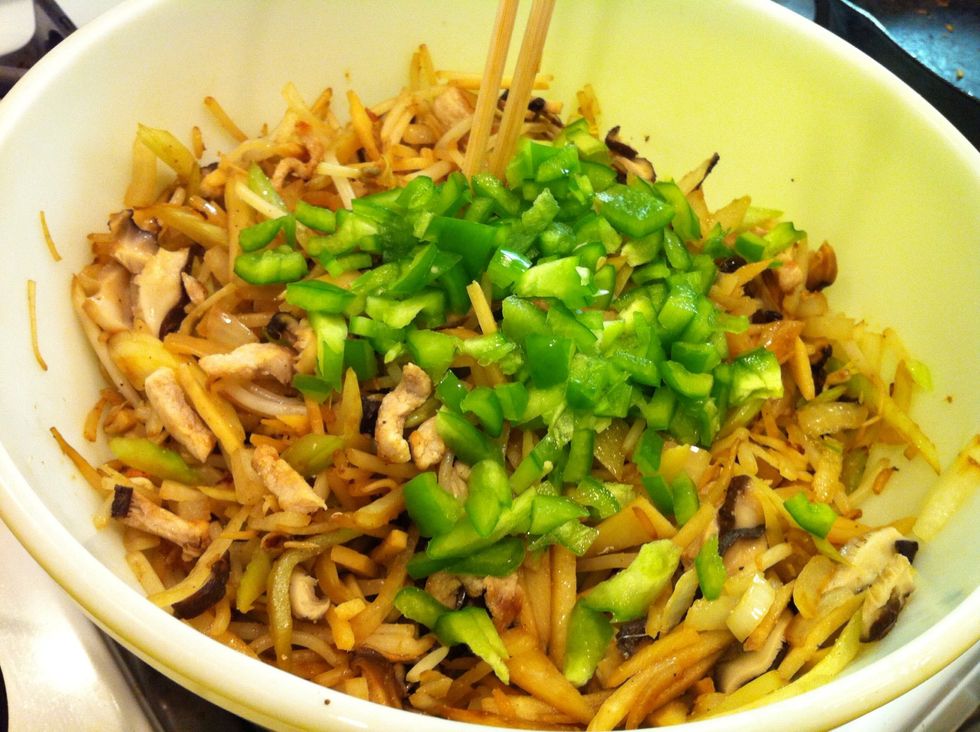 Add the bell peppers not cooked.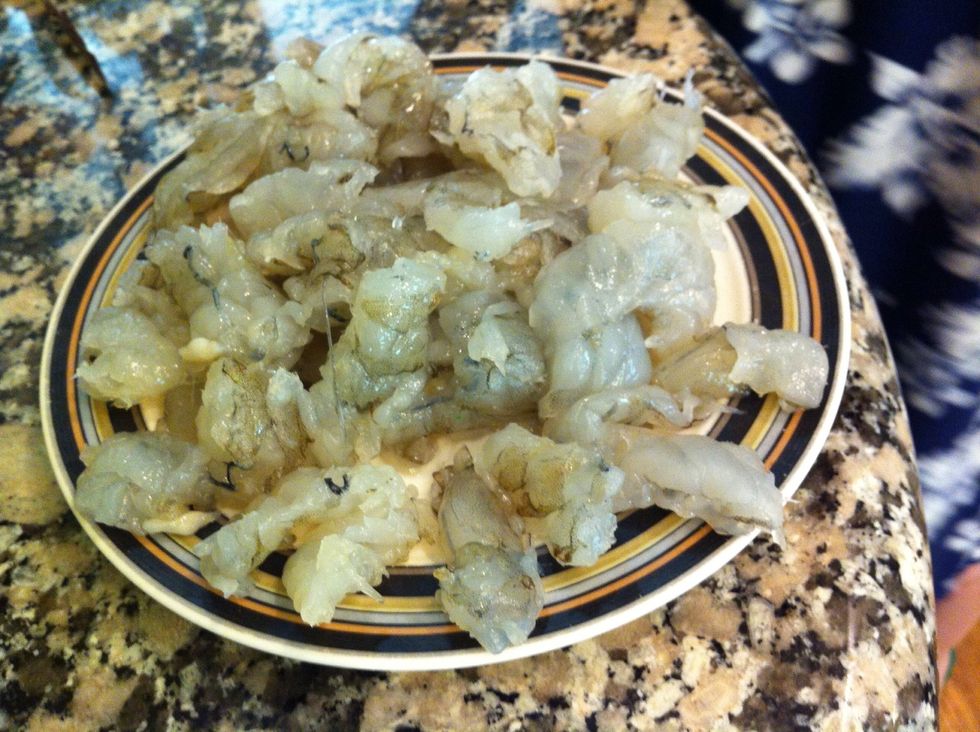 This is the shrimp, cleaned, cut and dried with a paper towel.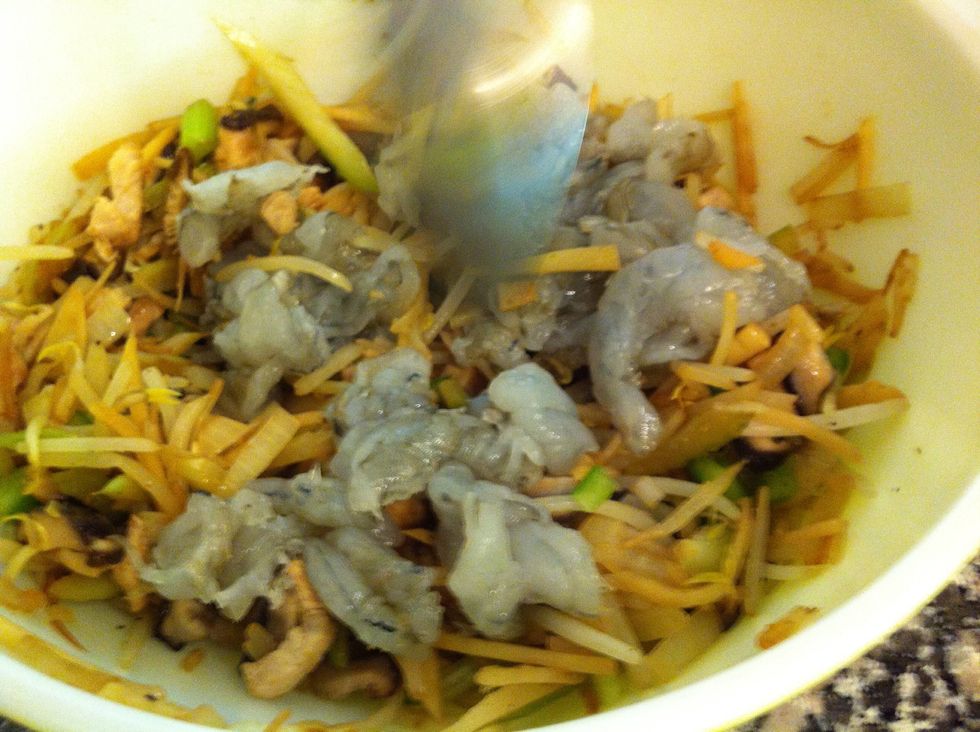 Mix in the shrimp uncooked.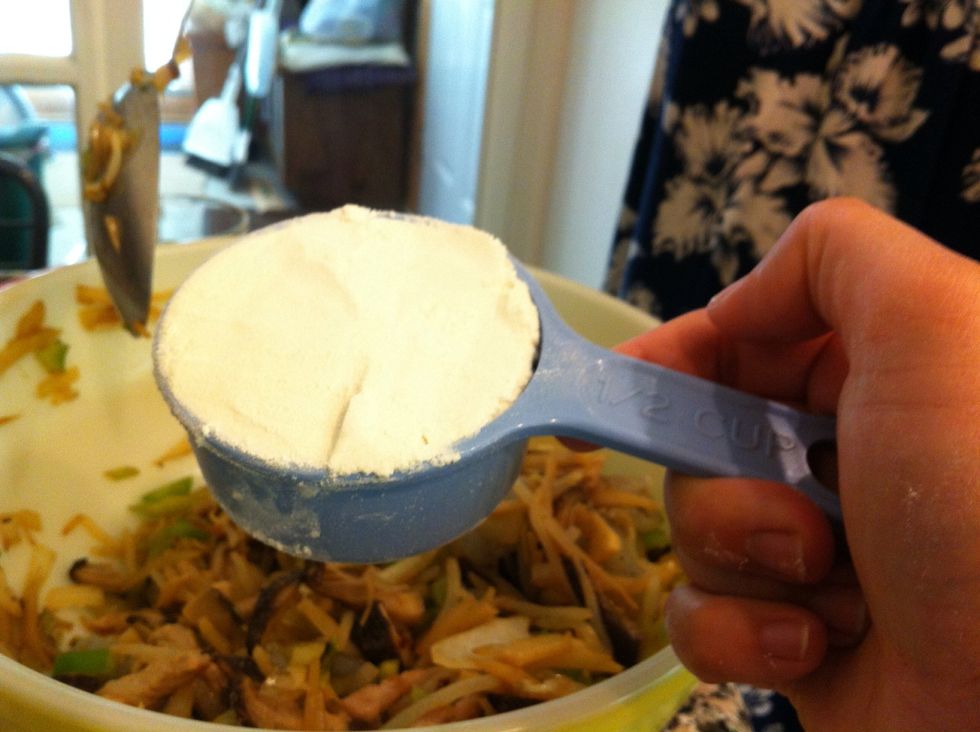 Add the flour.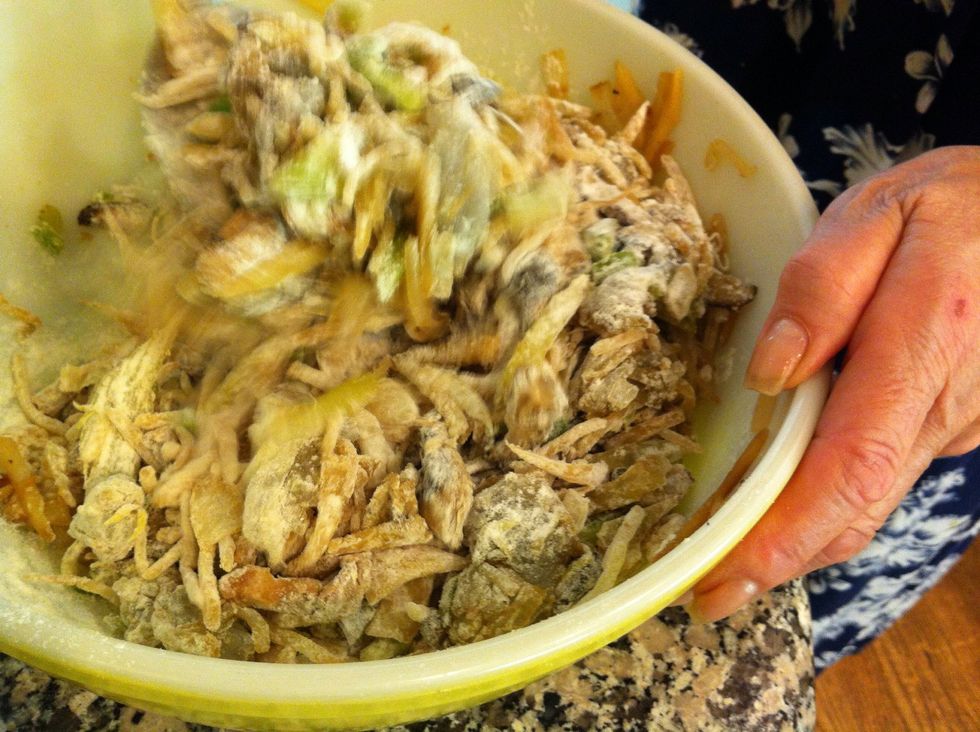 Mix it up.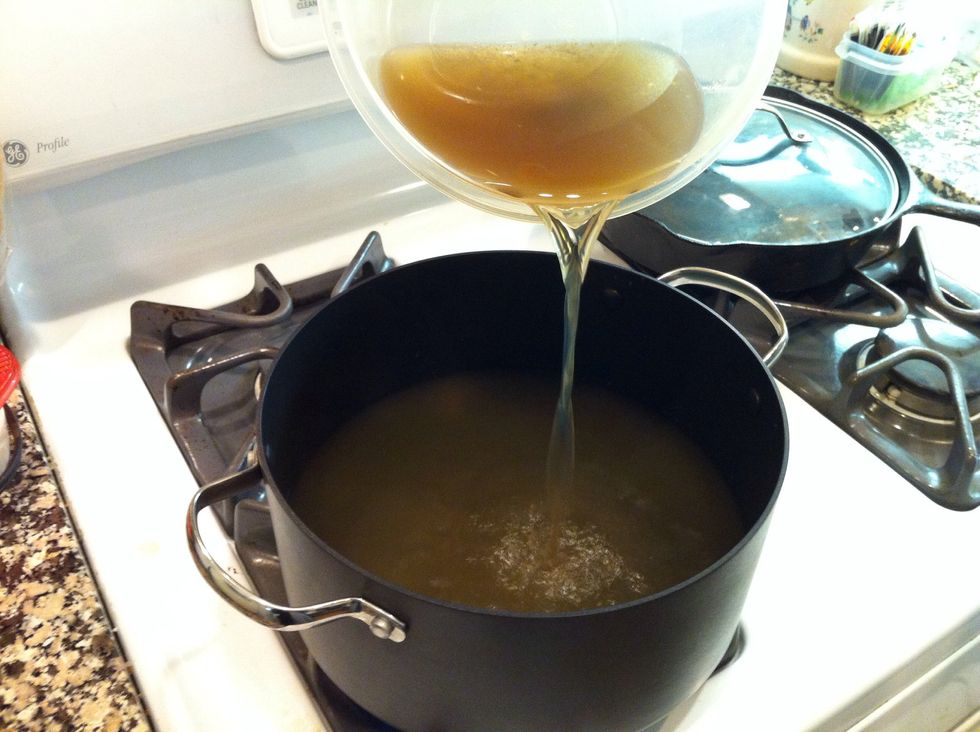 Meanwhile, start the gravy. On medium heat, fill a large sauce pan with the chicken broth, and 1 & 1/2 cups of shiitake water. Don't pour the bottom sediment into the pot, sometimes there is dirt.
Make some corn starch mixed with water. Add it slowly to the pot while stirring to thicken the gravy.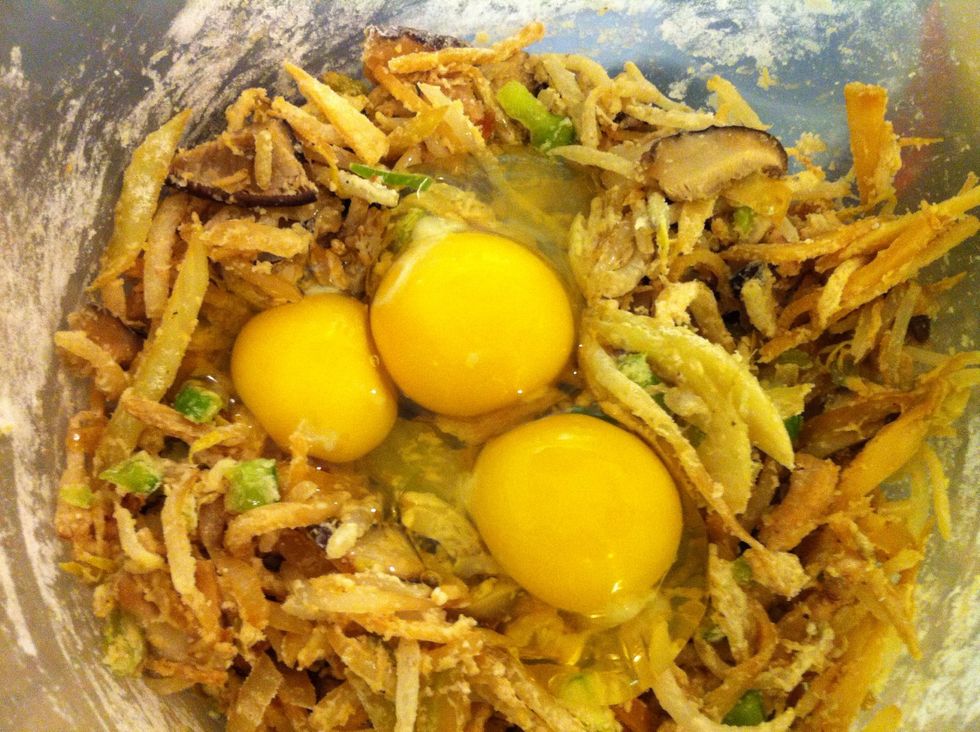 Crack your dozen eggs into a bowl, remove any egg shells (this is for amateur chefs who don't know how to crack eggs well). Add eggs to the bowl mixture.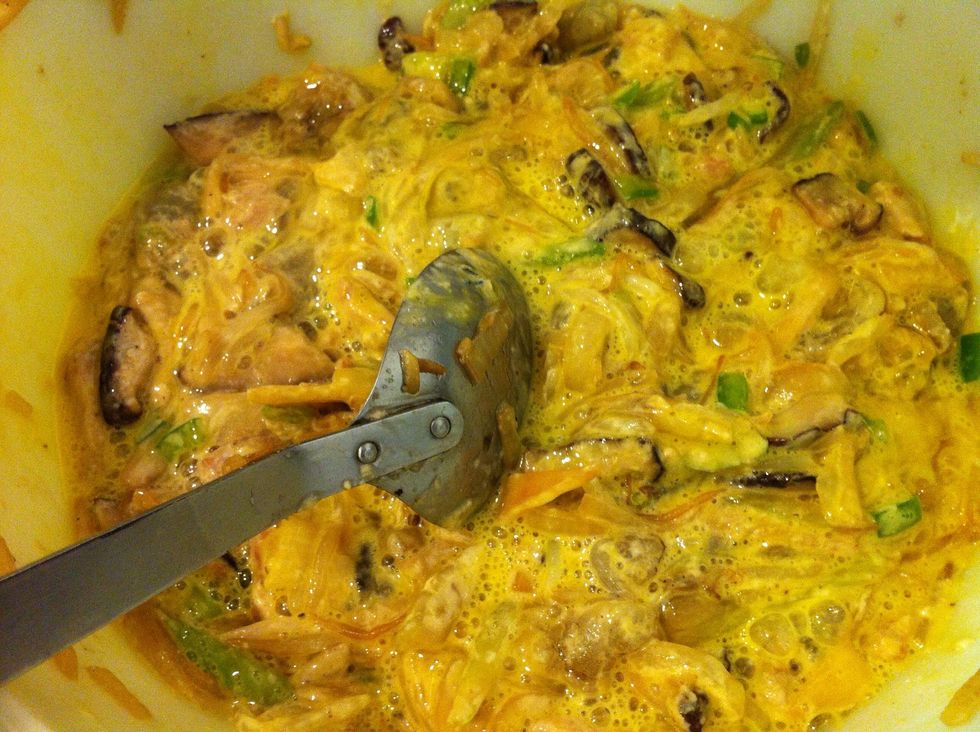 Mixed up it should look like this.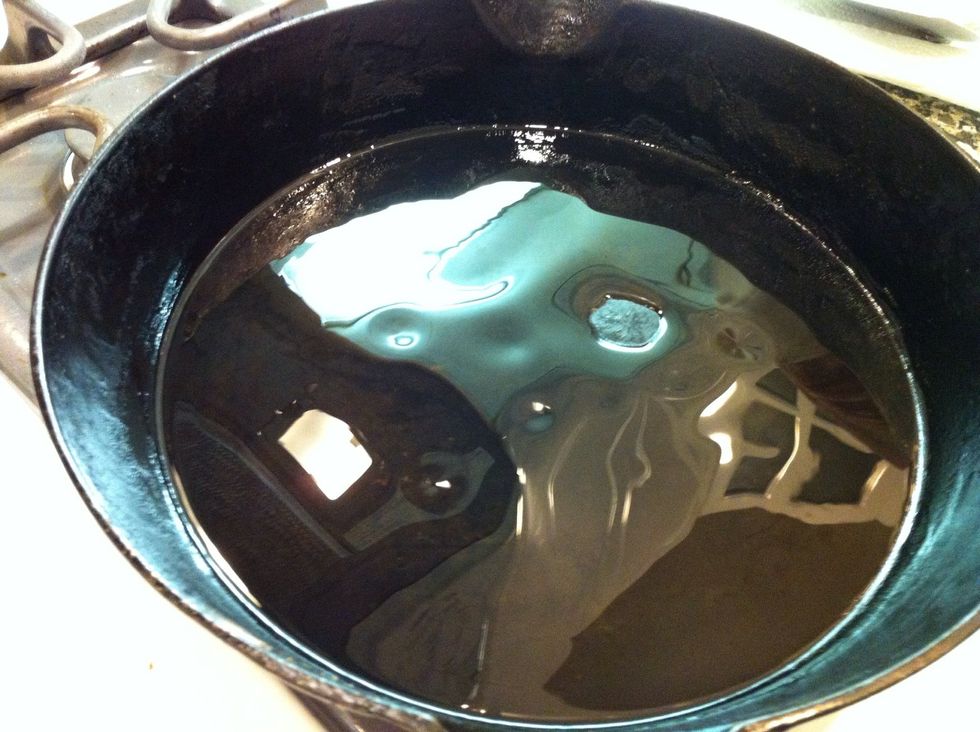 Put about a 1/8 inch of oil in a hot pan.
When the oil is heated up (you can check by dripping a little in, if it sizzles it's ready) then add a ladle full of the mixture to the pan.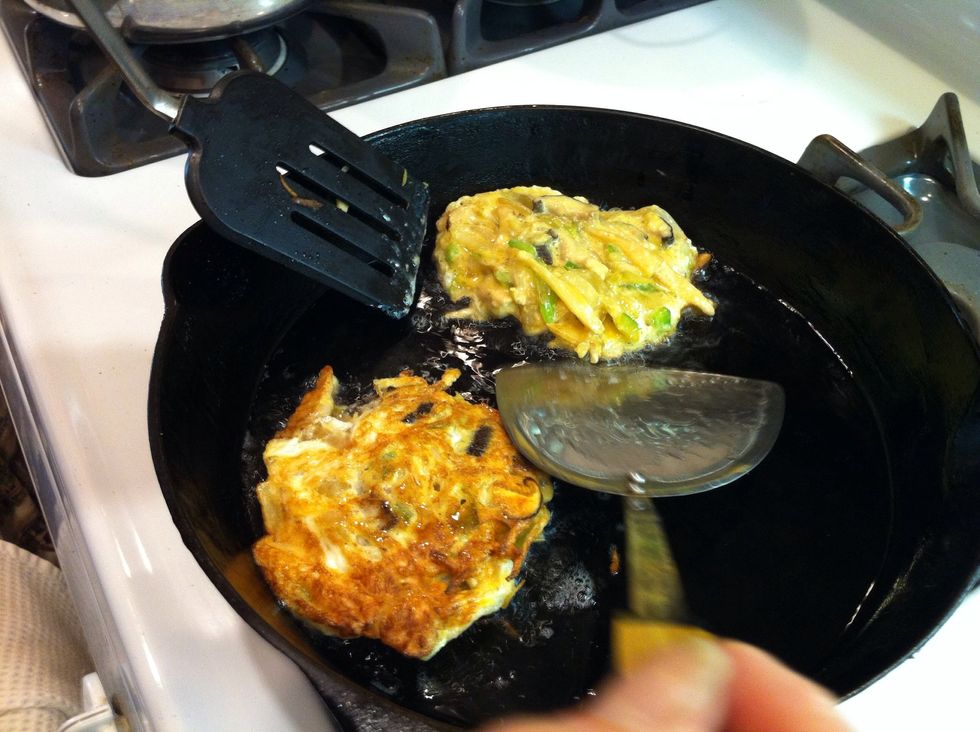 Cook till it's brown and crusty. It doesn't have to be fully cooked because it'll cook for longer in the gravy. To flip get two spatulas ready.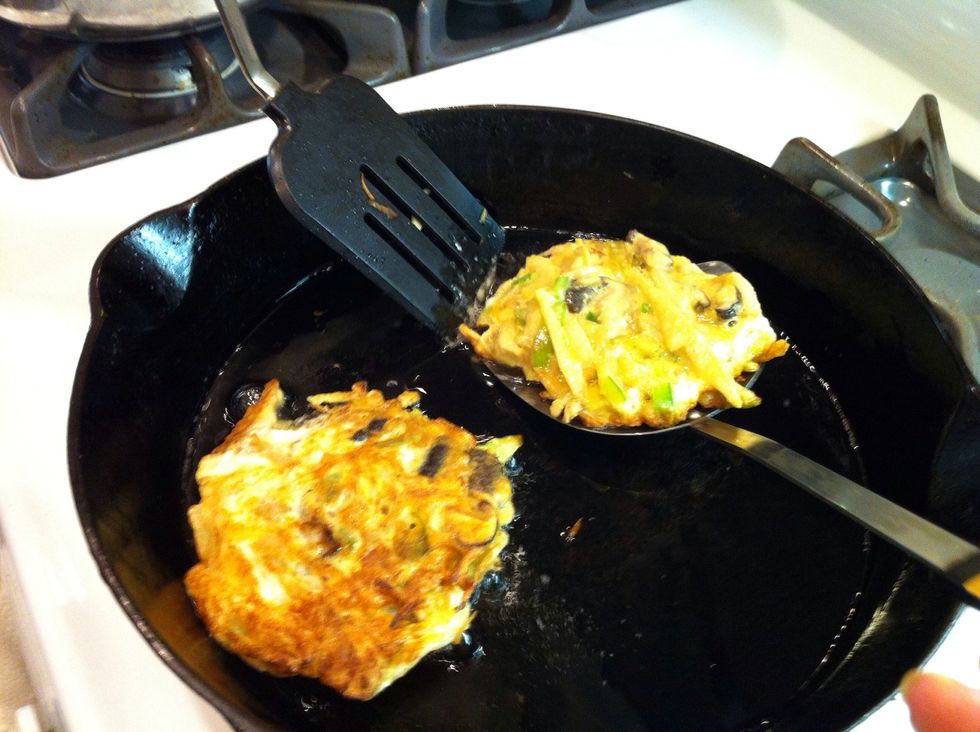 Get one spatula under the pancake.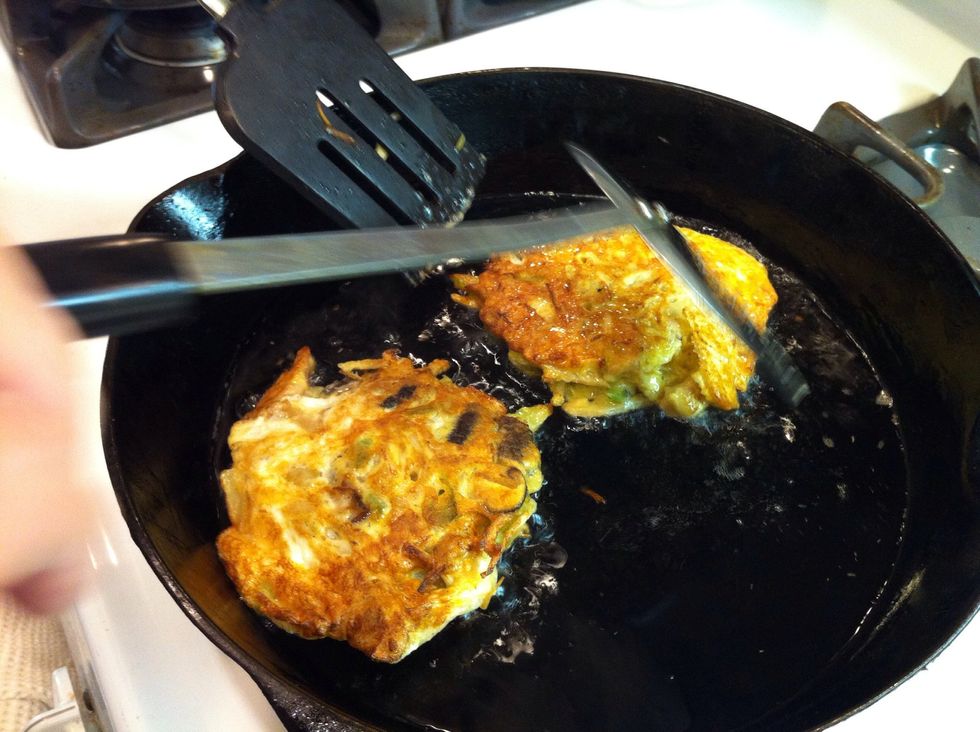 Then flip the pancake but use the other spatula to keep the pancake from splashing into the oil. I splattered oil the first time, after a few you'll get the hang of it.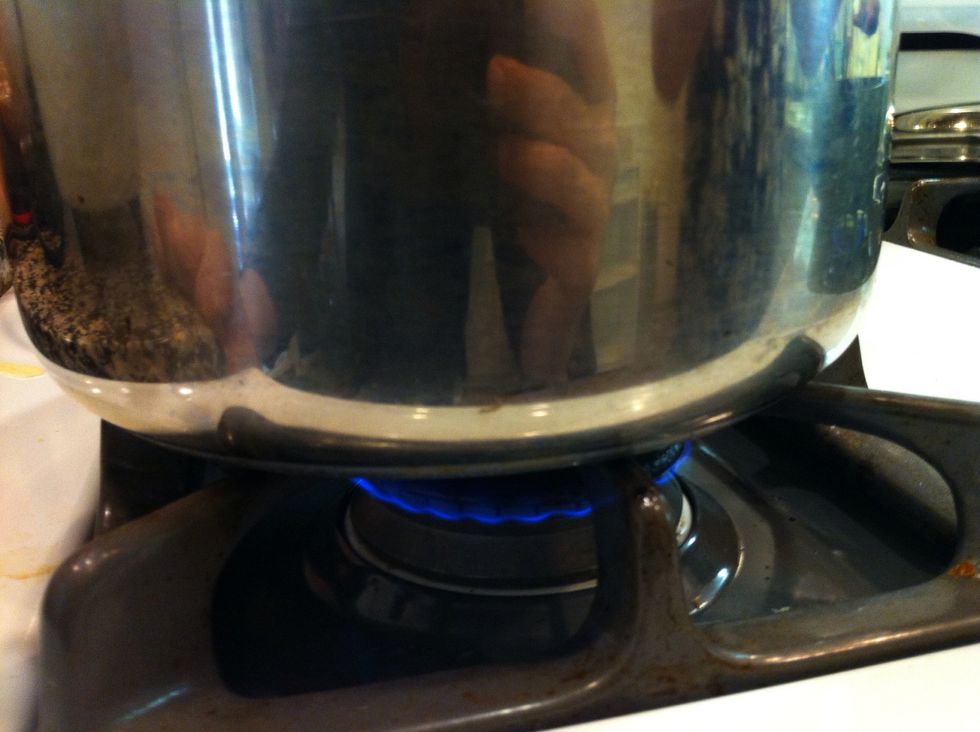 Put the gravy on low heat.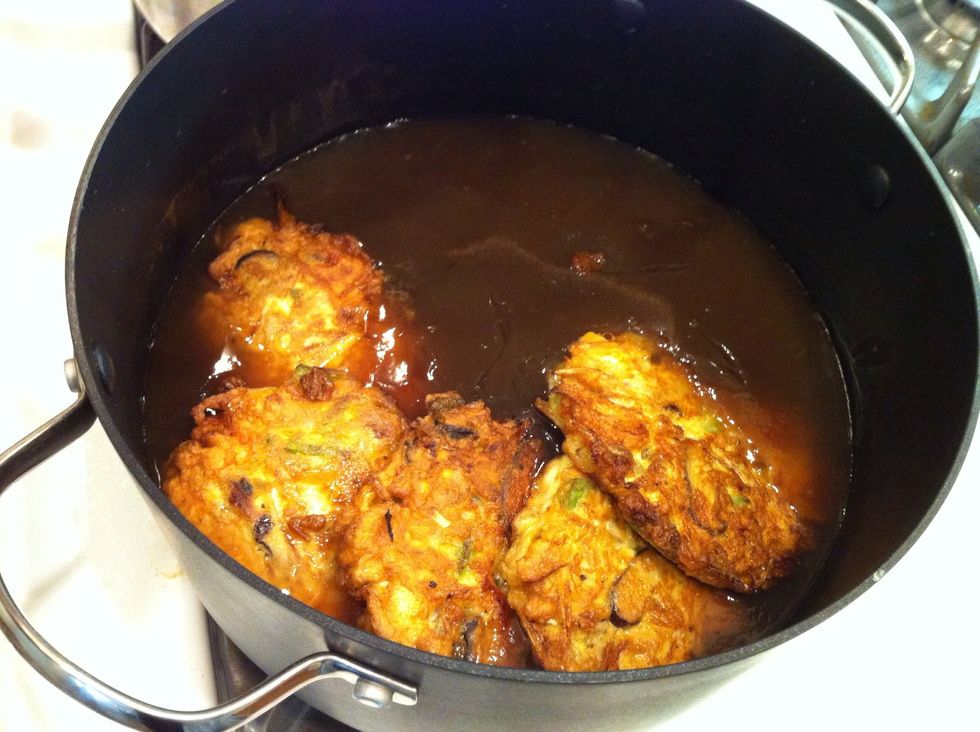 Add the pancakes to the gravy around in a circle.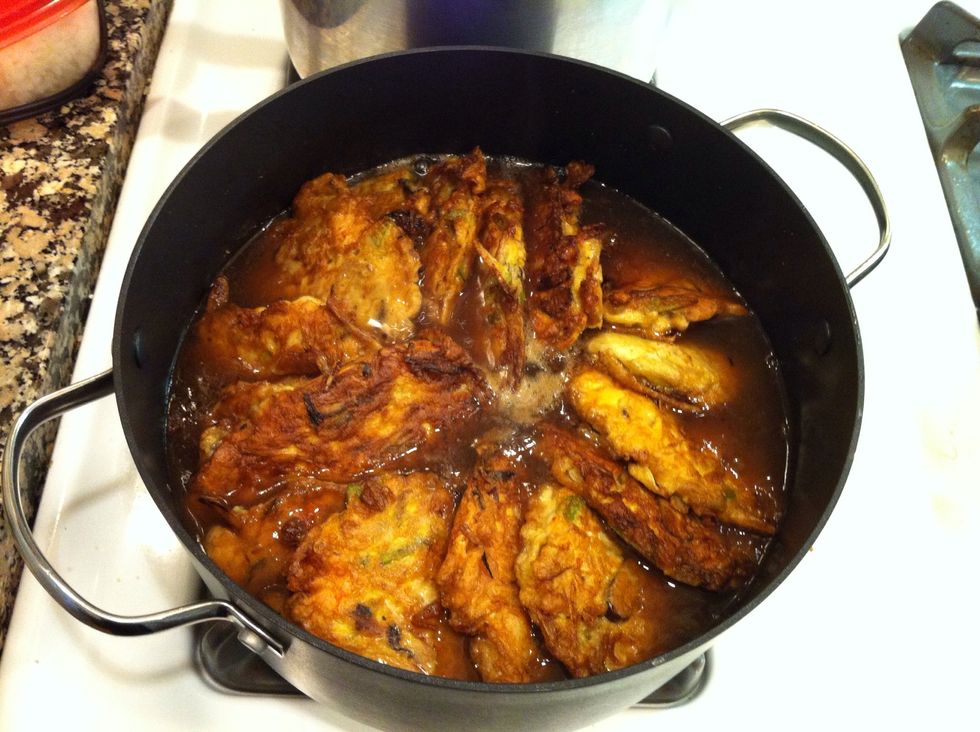 Keep filling up the pot. Cook on low heat for about 30 minutes.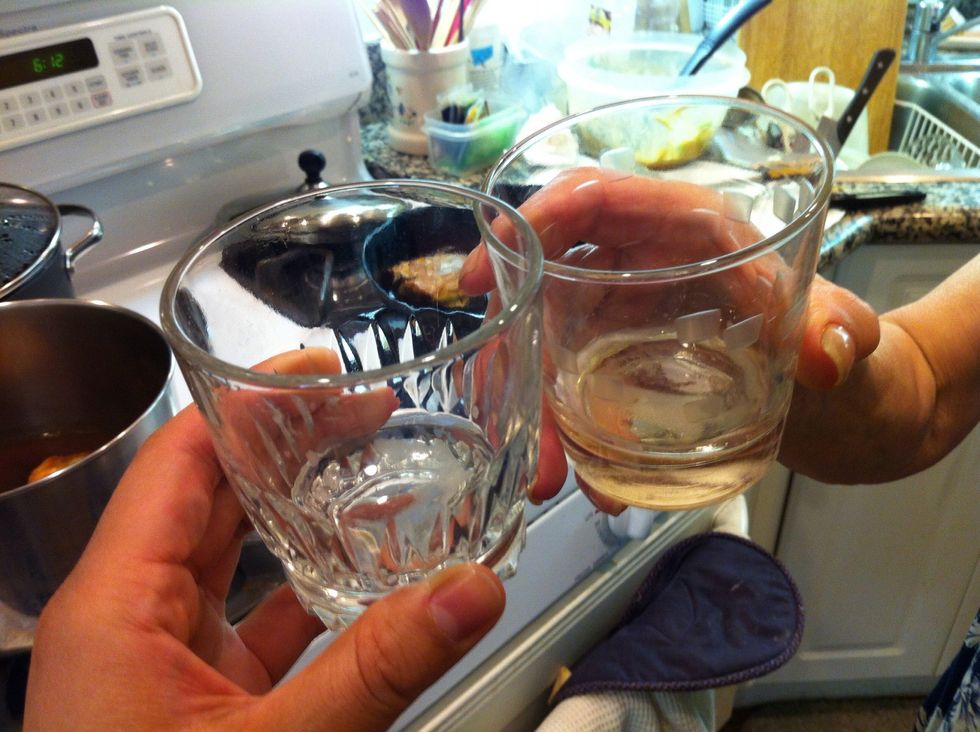 By now, you glasses should be empty. And maybe even refilled a couple of times!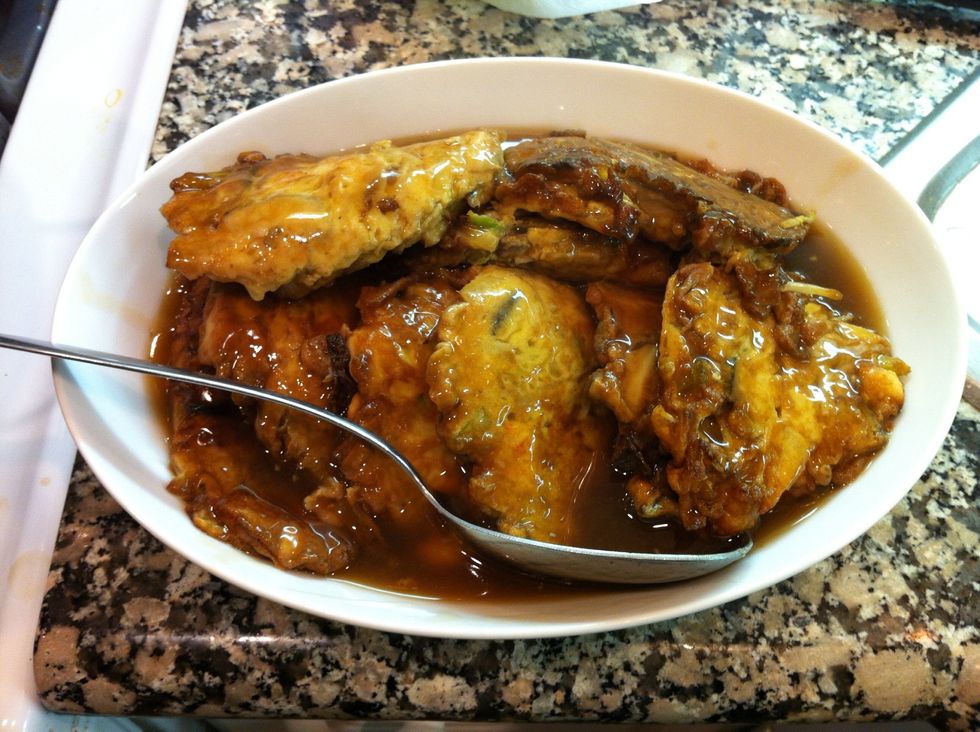 Remove from heat and cover in gravy.
Serve with a little grated daikon and pour on a little soy sauce (this gives it a Japanese touch). Delish!!
1/4lb Pork loin
3.0 Celery stalks, chopped
1.0lb Bean sprouts, chopped 1 inch
1.0 Can of Bamboo shoots, sliced
1.0 Onion, chopped
1/2 Green pepper, chopped
Garlic powder
1.0c Shrimp, peeled, cleaned, cut into chunks
1/2c Flour
2.0 Cans of chicken broth
4.0tsp Soy sauce
6.0 Shiitake mushrooms, dried or not
5.0tsp Corn starch
1/2c Peanut oil or any oil really
1/2c Daikon radish, grated
San Francisco, California