Crispy and crunchy outer, an explosion of flavour inside. Packed with Asian flavour, with a western fusion, these spring rolls are delectably desirable. With Love, from Micho's Mum!
691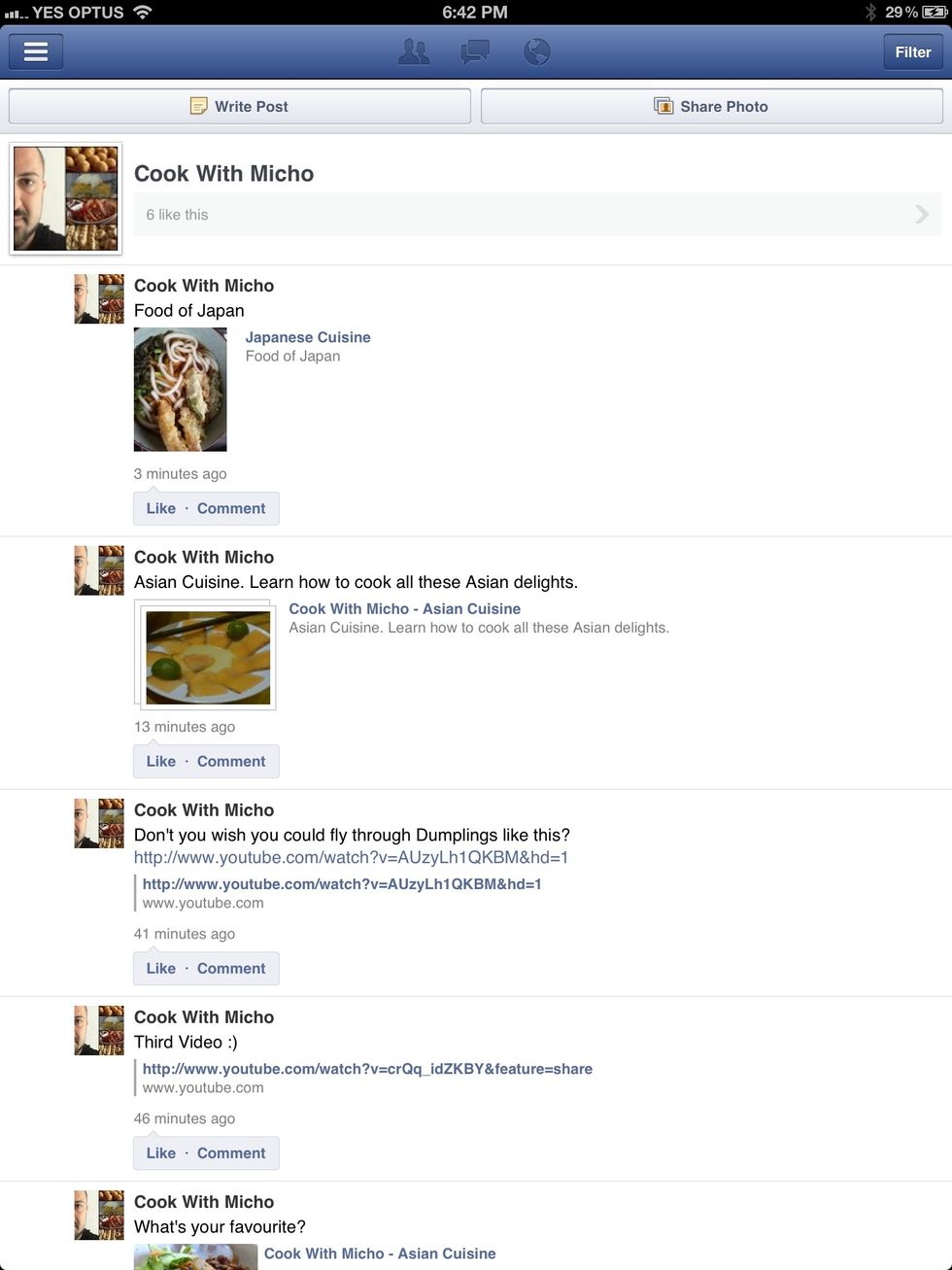 Join me on Facebook and check out the latest recipes, hints and tips and all the photos from our collection. Thanks again for all you support. www.facebook.com/cookwithmicho Let's get started.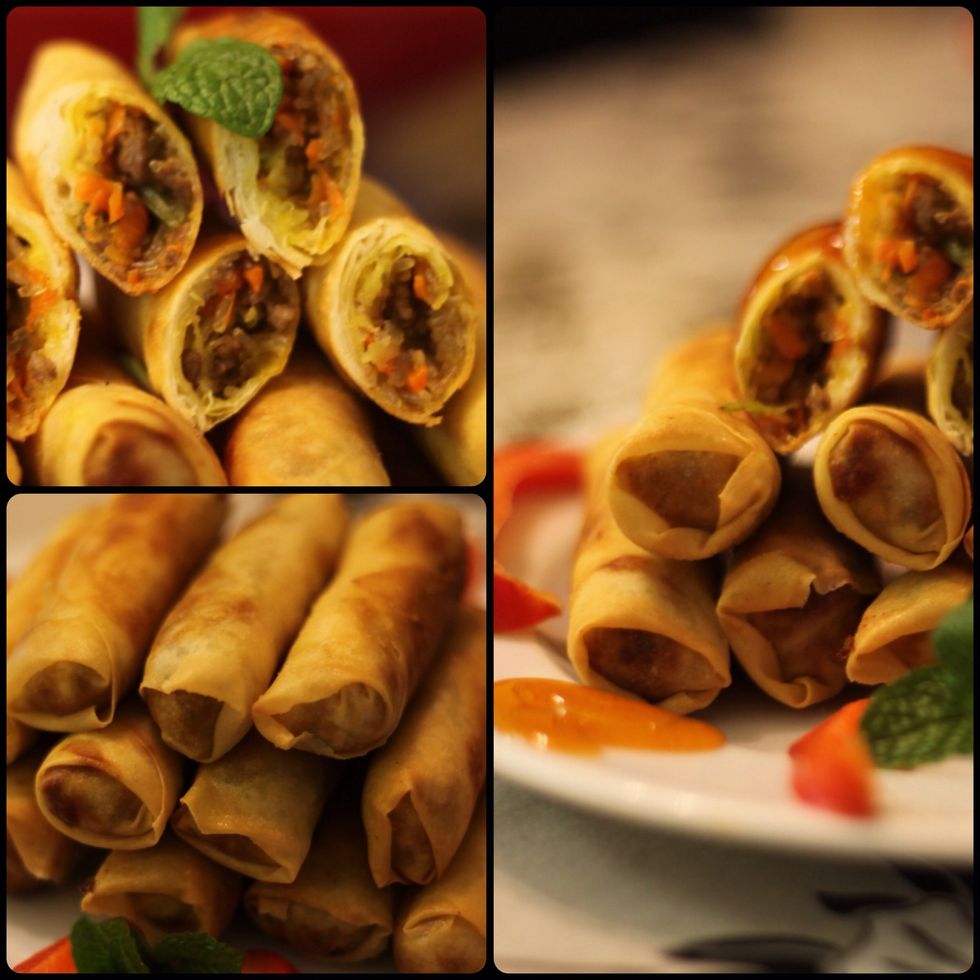 We were going to try and make the pastry ourselves, but after 4 attempts we decided to buy the pastry from the shops. We'll keep trying. Any suggestions we'd love to hear them.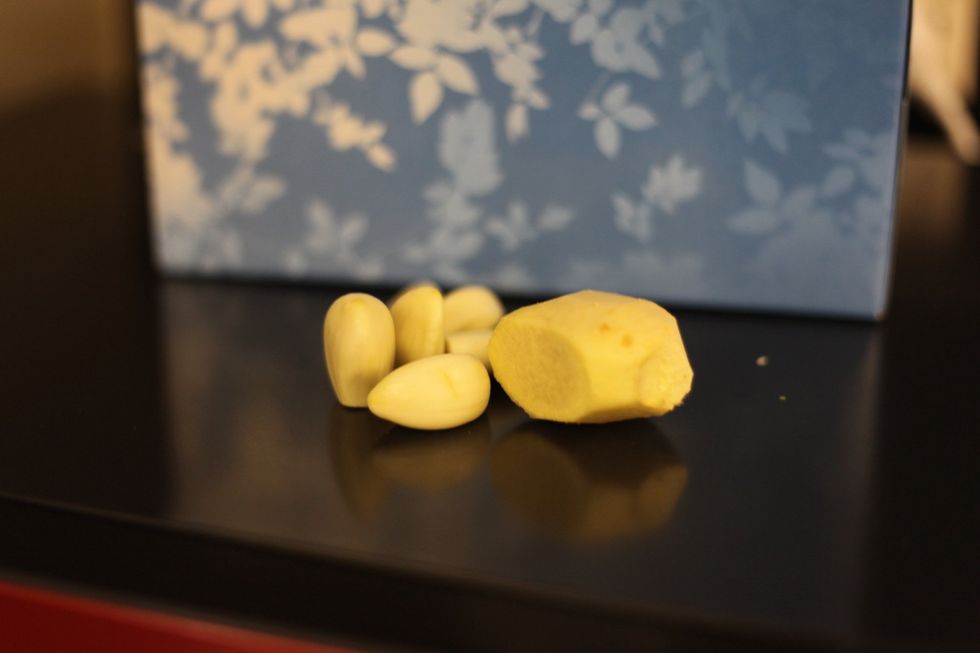 With this recipe it's best to prepare as much as you can before you start. Get all your vegetables, sauces and dry noodles all in one place. I learnt the hard way!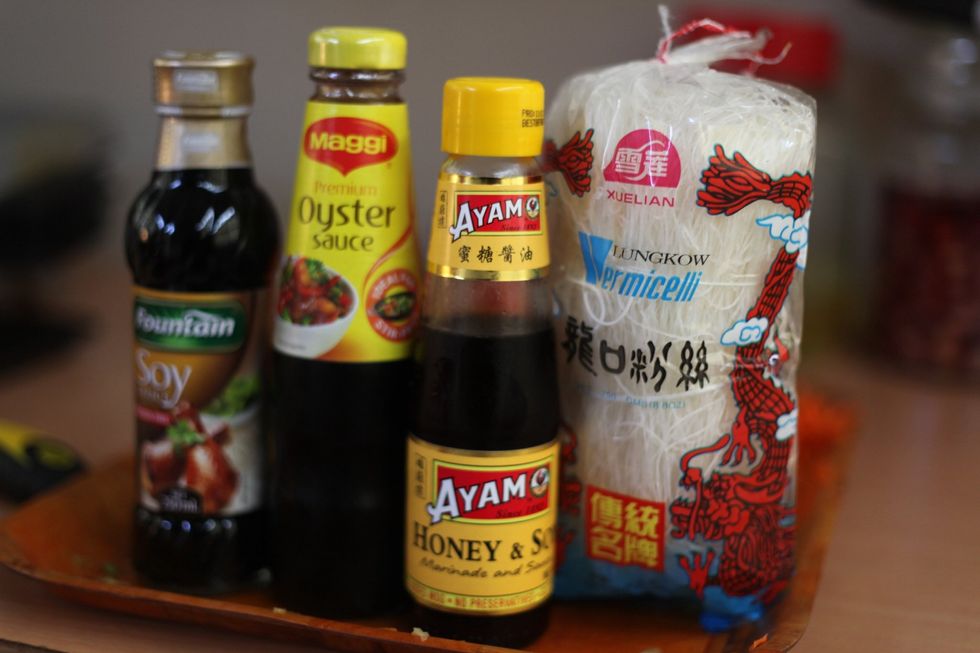 You Asian pantry should consist of light soy sauce, honey and soy, oyster sauce and dried vermicelli noodle. It's a very cheap rice noodle, when cooked it should look glassy. Let's get started.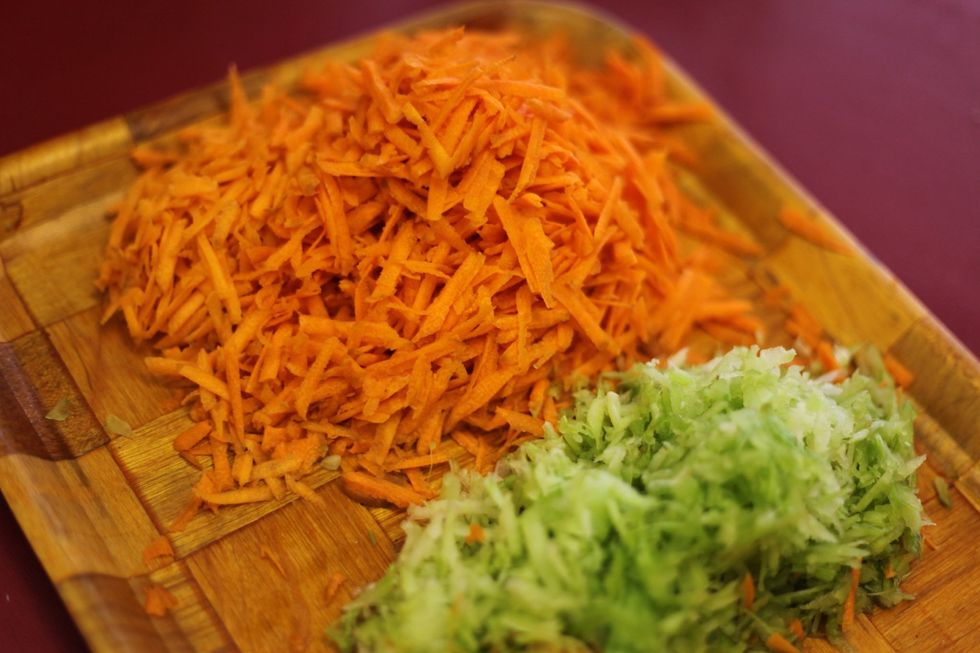 Grate the carrot and celery. Remove the celery strings or grating will become very difficult.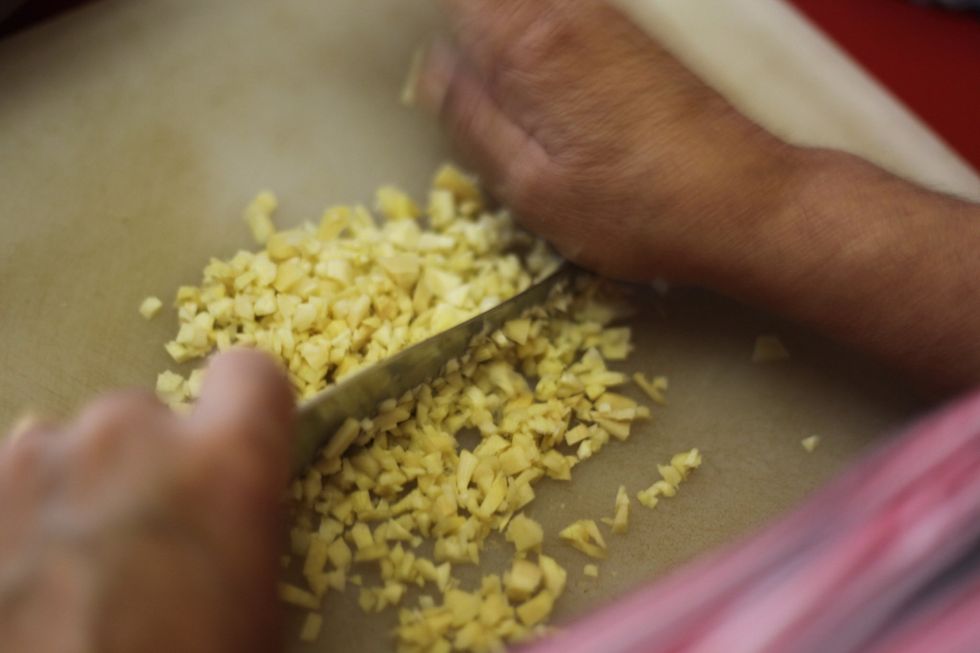 Chop up all the garlic and ginger together into tiny fine little pieces.
Pour boiling hot water over the vermicelli noodles and set aside to cook itself. No need to boil.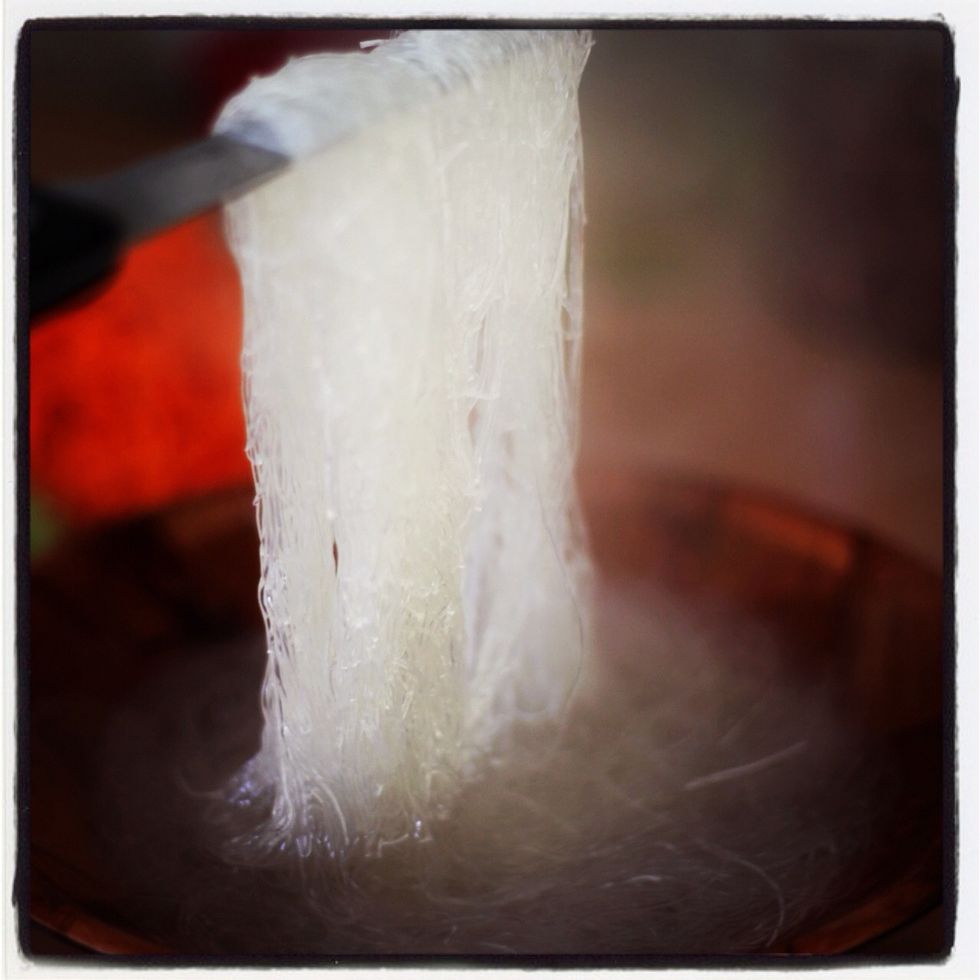 The noodles should become very soft and pliable. Aren't they so mystical? Leave the noodles for now. I couldn't help but play with them.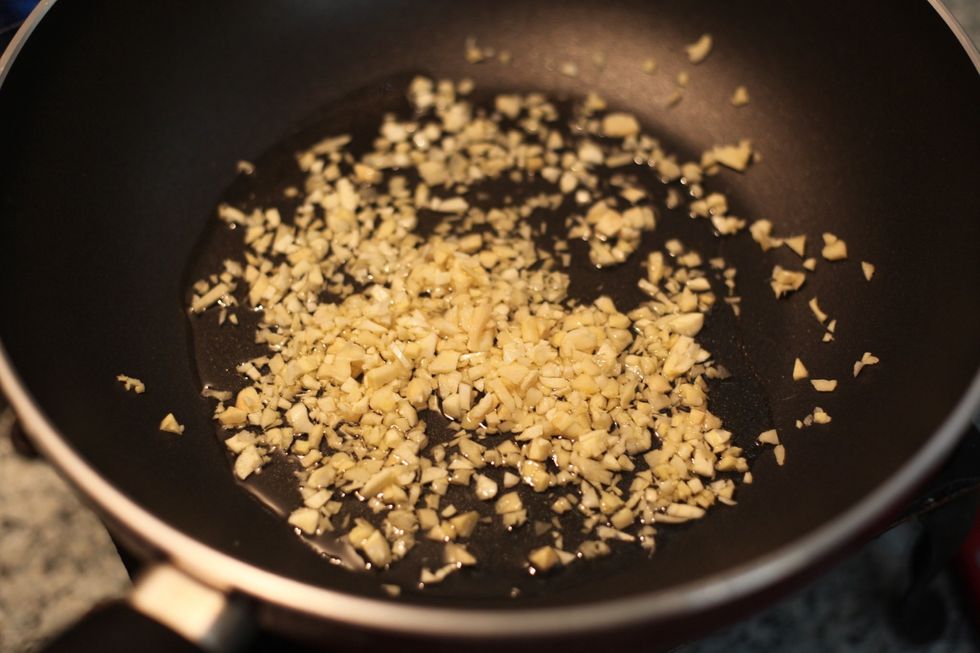 Fry the garlic and ginger until they're a dark brown colour. Pls don't burn them.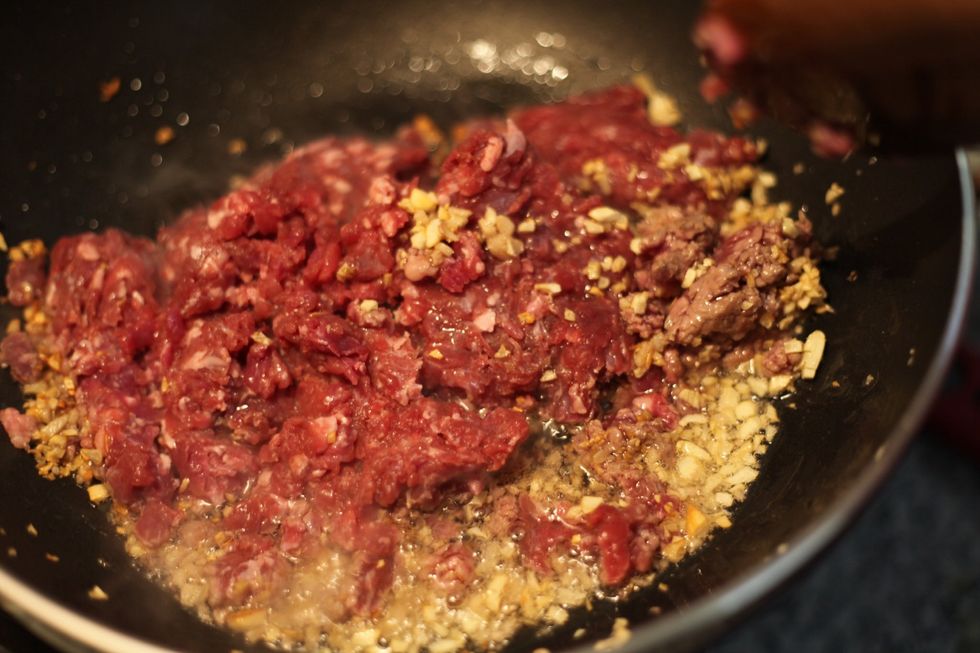 Add both the mince meat into the "wok" lol. I don't have a wok but frying pan will do and stir stir stir.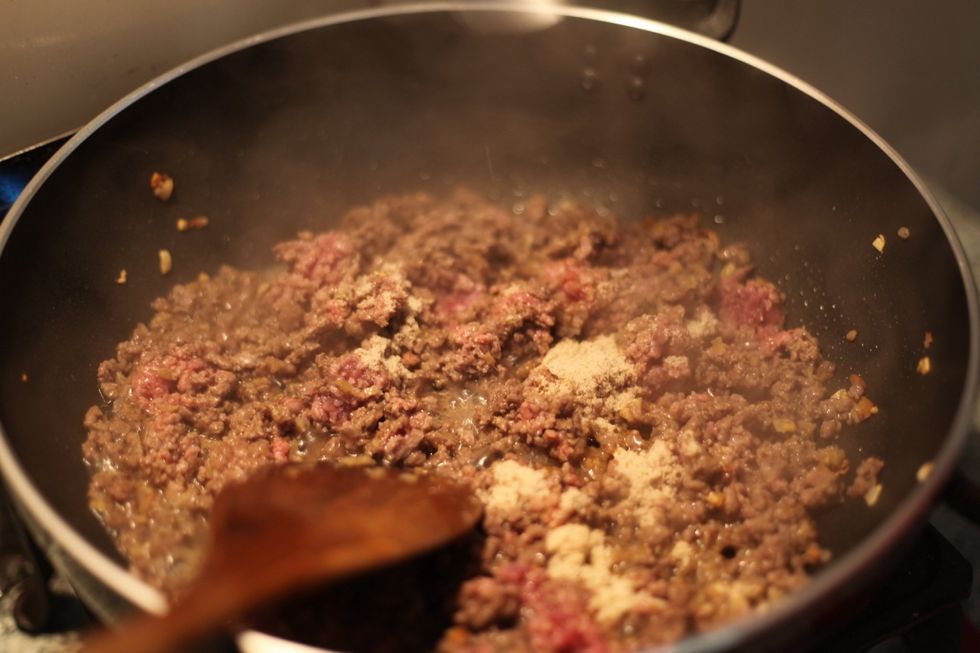 Optional: 1 teaspoon of beef stock.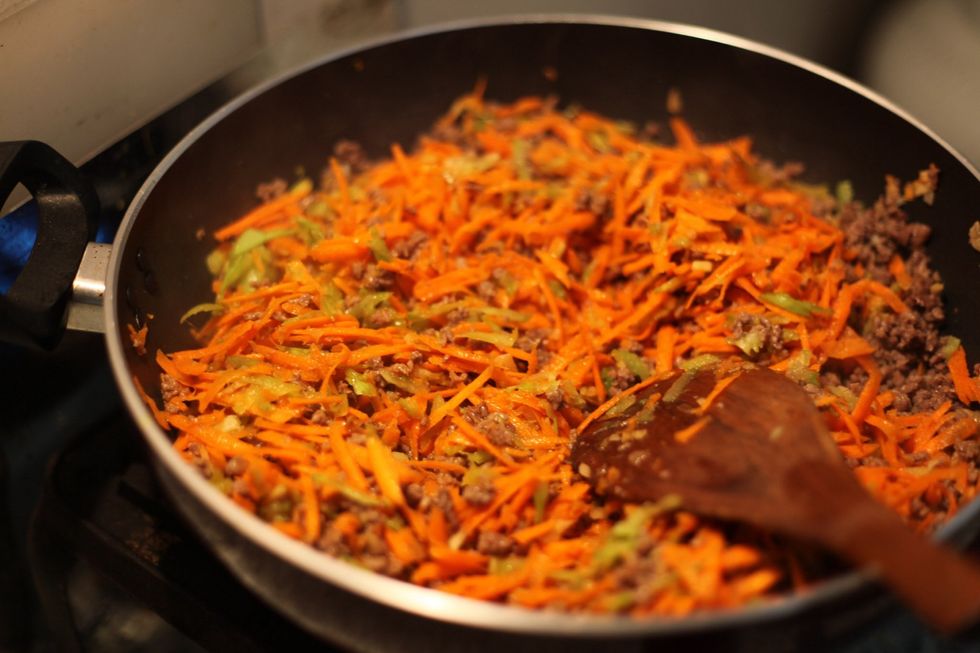 Add the carrot and celery and mix again.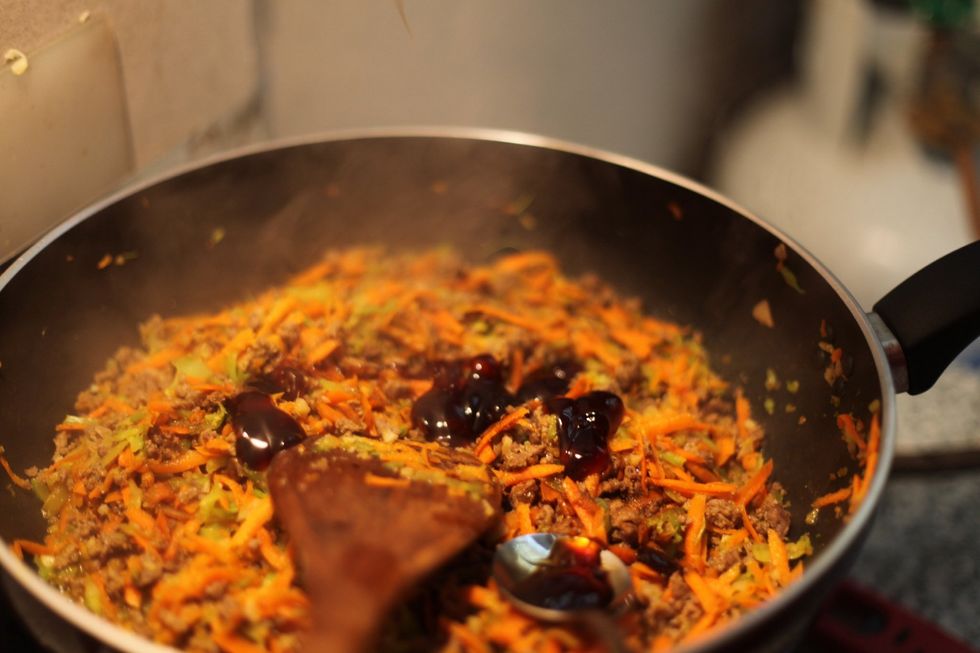 Add all the sauces. 2 tbsp of oyster, 2 tbsp honey & soy and 3 tbsp light soy sauce. Did you know that light soy sauce is named for the colour not the "diet" factor. Shocking I know! Had me fooled.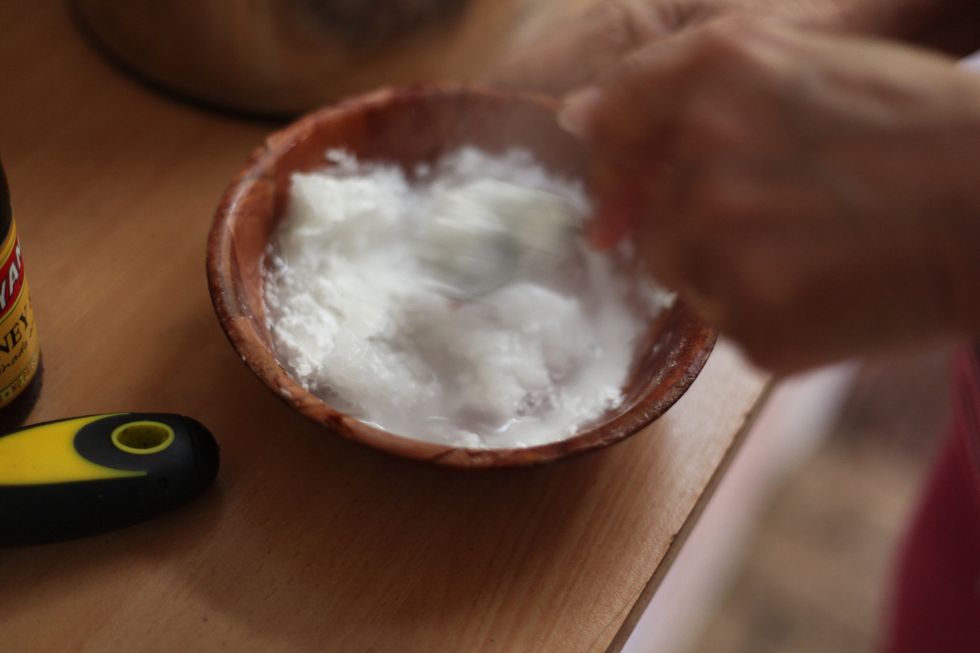 Amateur's Tip: This is what happens when I tried to be clever and dissolve cornflour with hot water. Instant clumps on the spoon. Terrible to get off. Don't use boiling hot water on corn flour.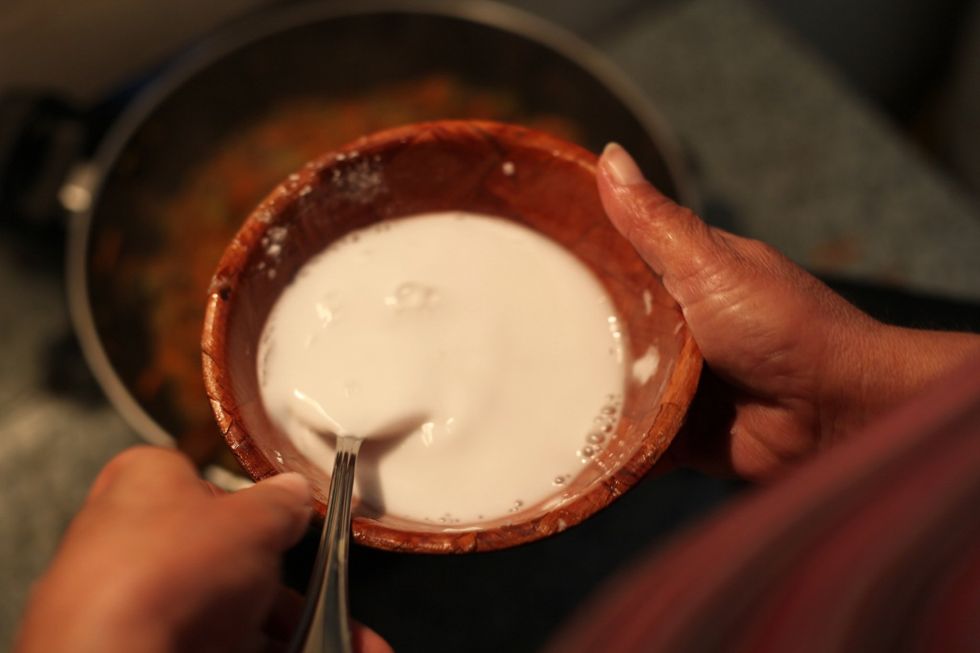 Bring in the expert and try again. 3/4 cup of cold water and 2 heaped tbsp of corn flour.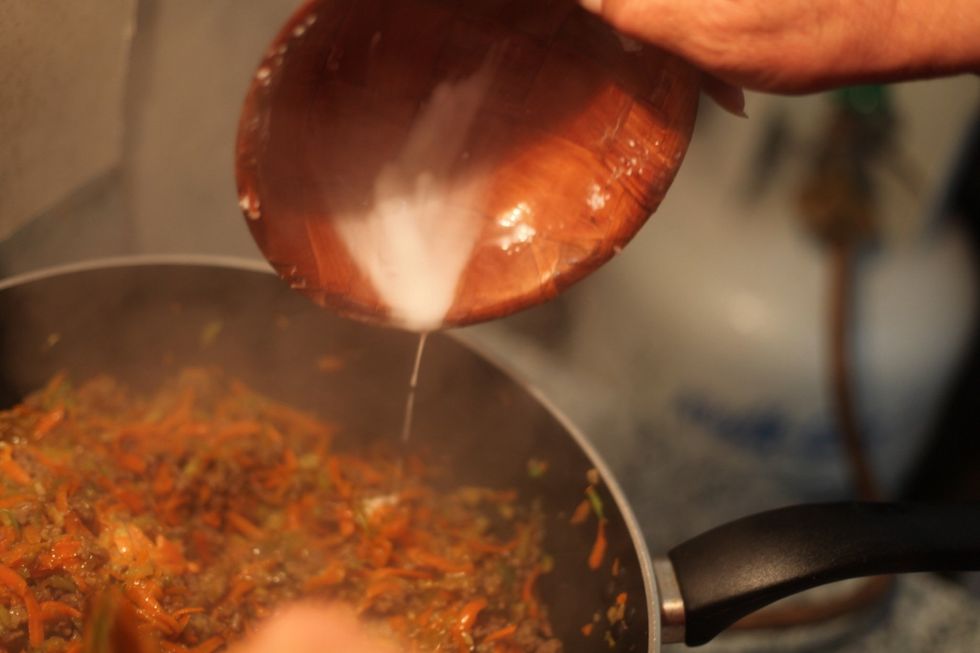 This will help hold your filling together.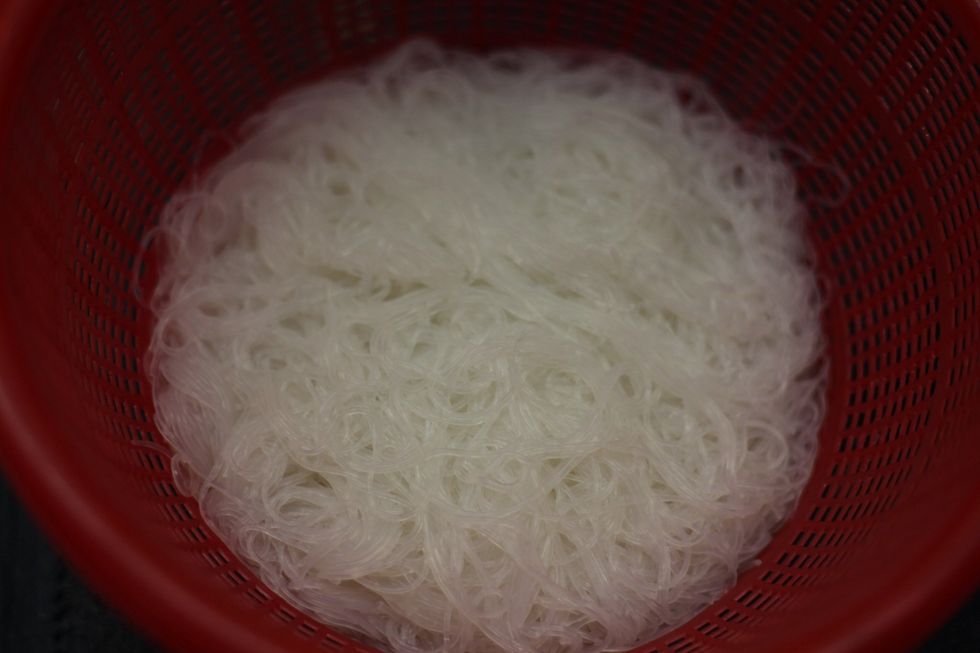 Now drain the noodle and rinse under cold water. Let the water fully drain out of the colander.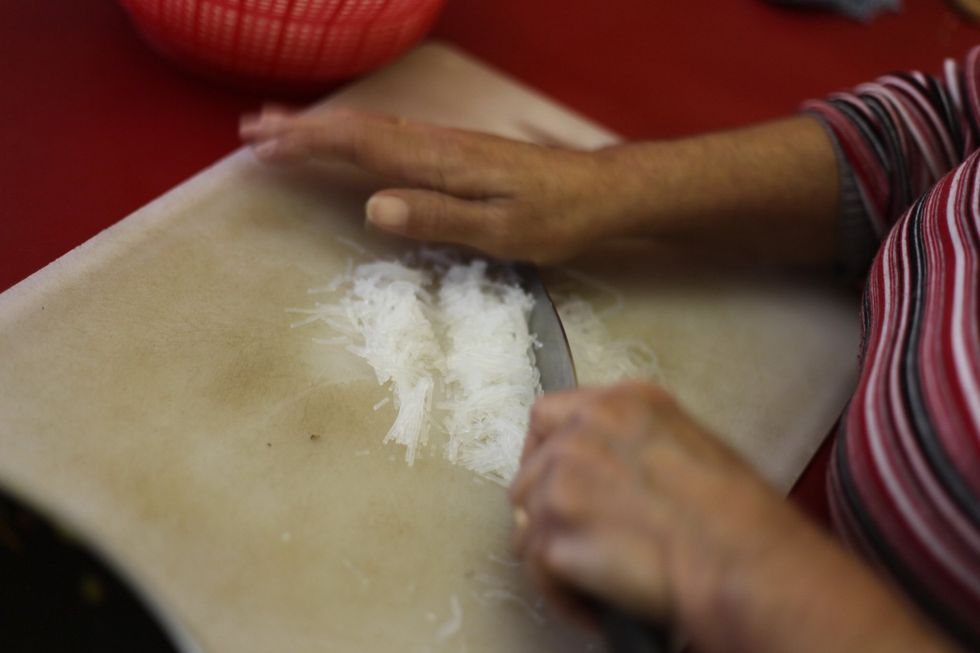 Chop it up finely.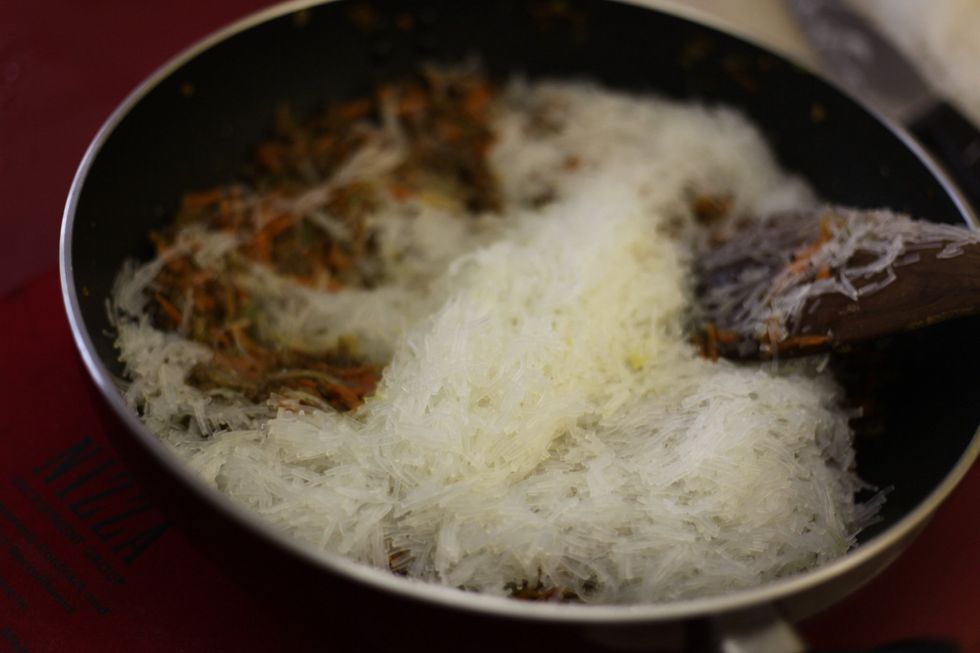 Add half only to your frying pan.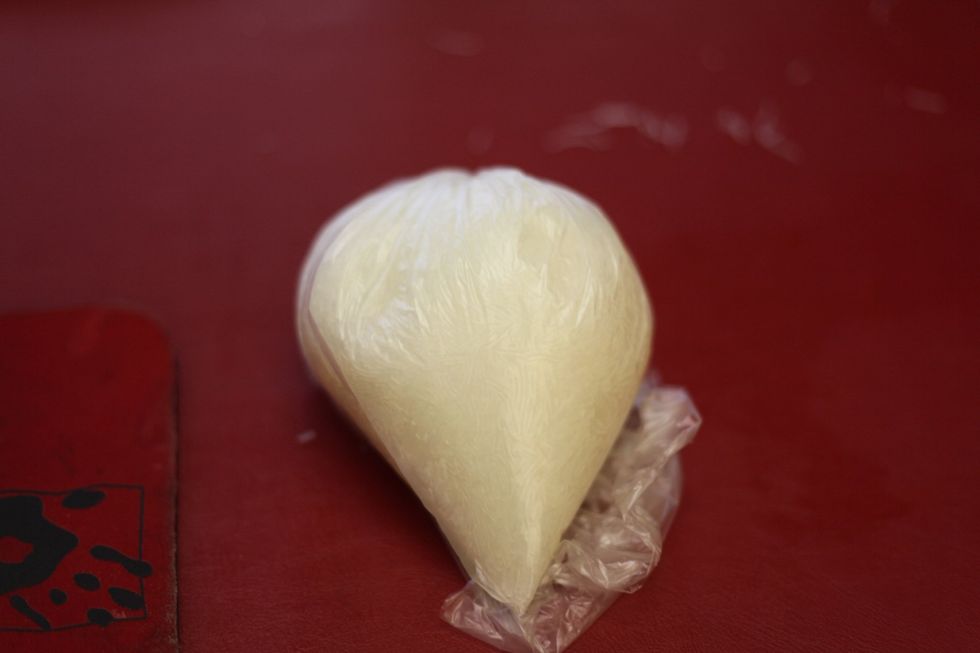 This is the other half of the noodle. Put it in a plastic bag and it can go in the freezer for another recipe we'll show you next time. We don't waste anything!!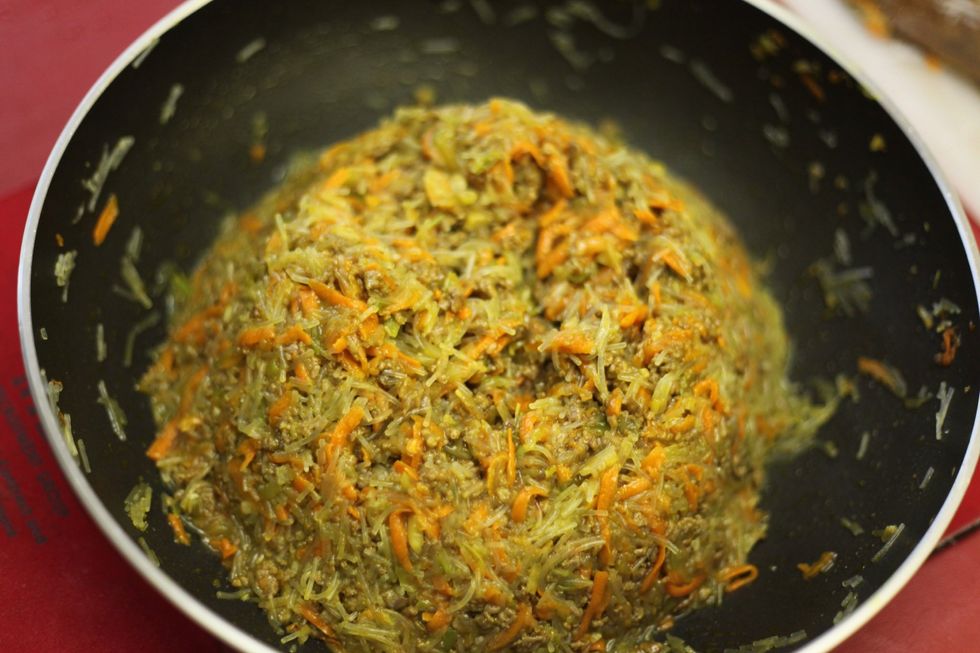 If you can mould a volcano without your mix falling apart then it's going to be an easy job ahead. If it falls apart, add more cornflour and water and stir. Let the mix cool down before rolling.
Prepare Just a tablespoon of flour and 1/2 cup of water for gluing the dough together.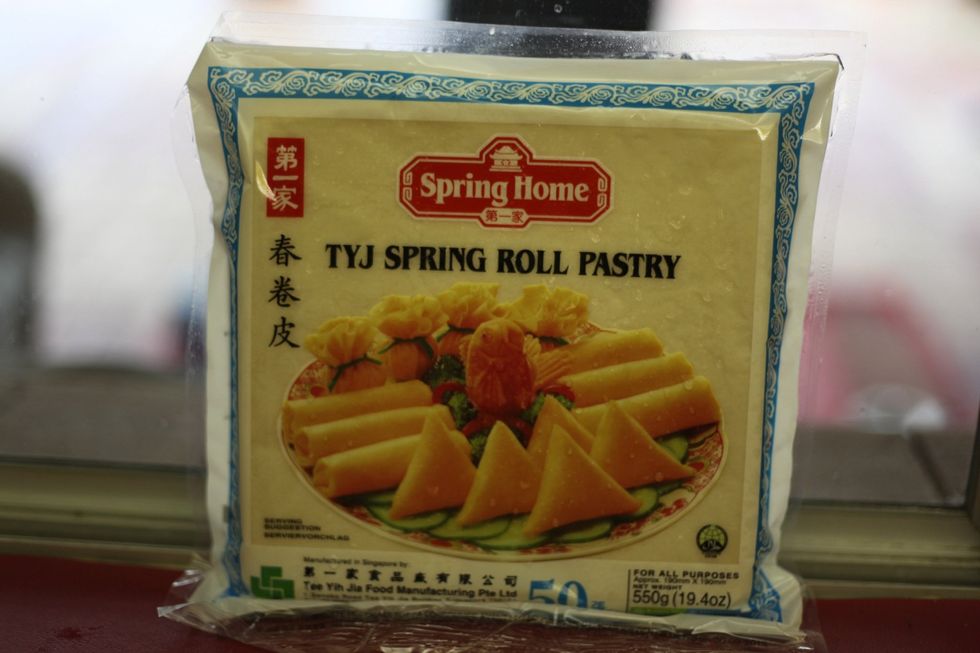 Get your NOT homemade spring roll pastry. Did you wash your hands? Time to play again... Did we wash our hands?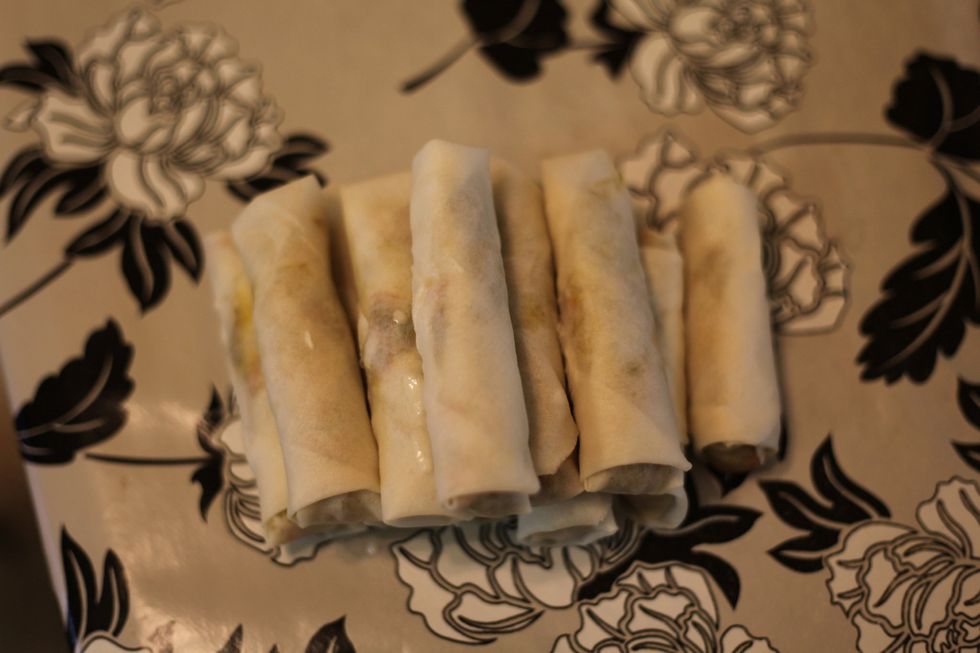 This is what we're aiming for. They're not fried yet so I can't tell you if they're nice or not. Lol. But I can tell you the filling is yummmmyyyyy! ;)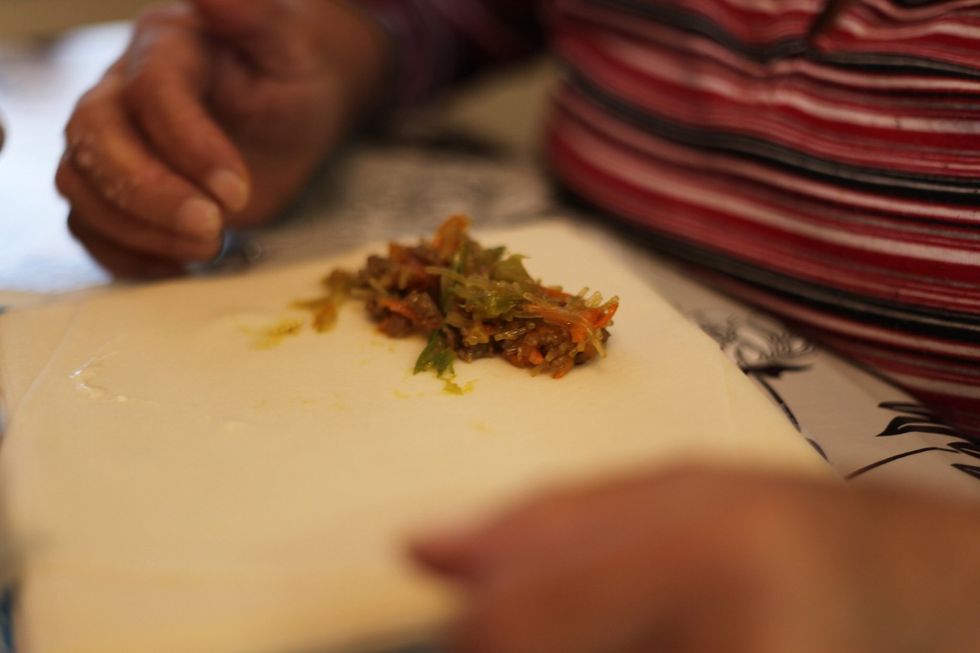 In one corner of the pastry place about a large tablespoon of you mix and start rolling. Like so..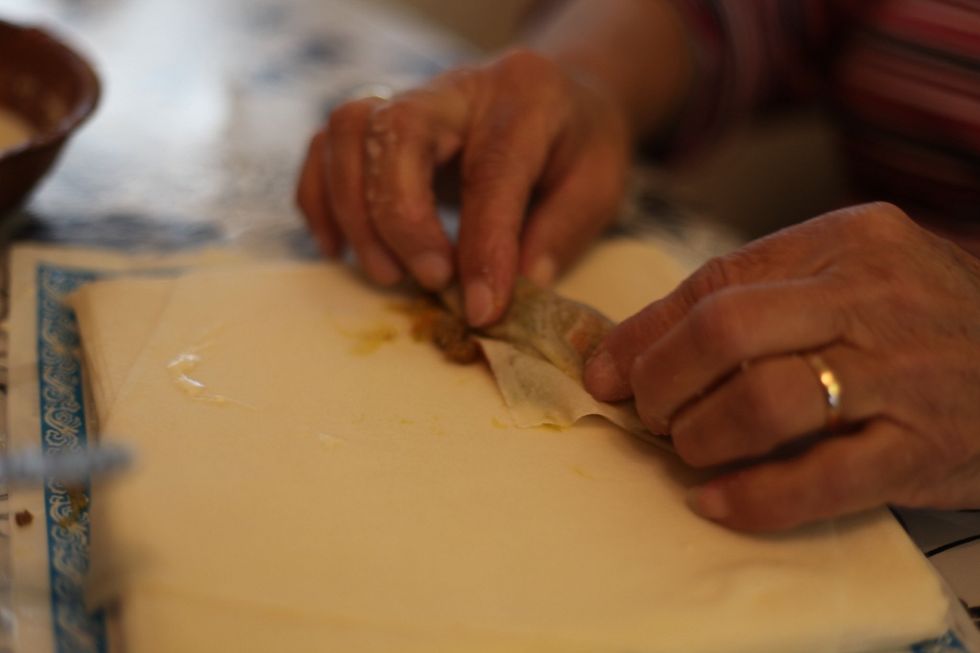 Wrap around the meat mix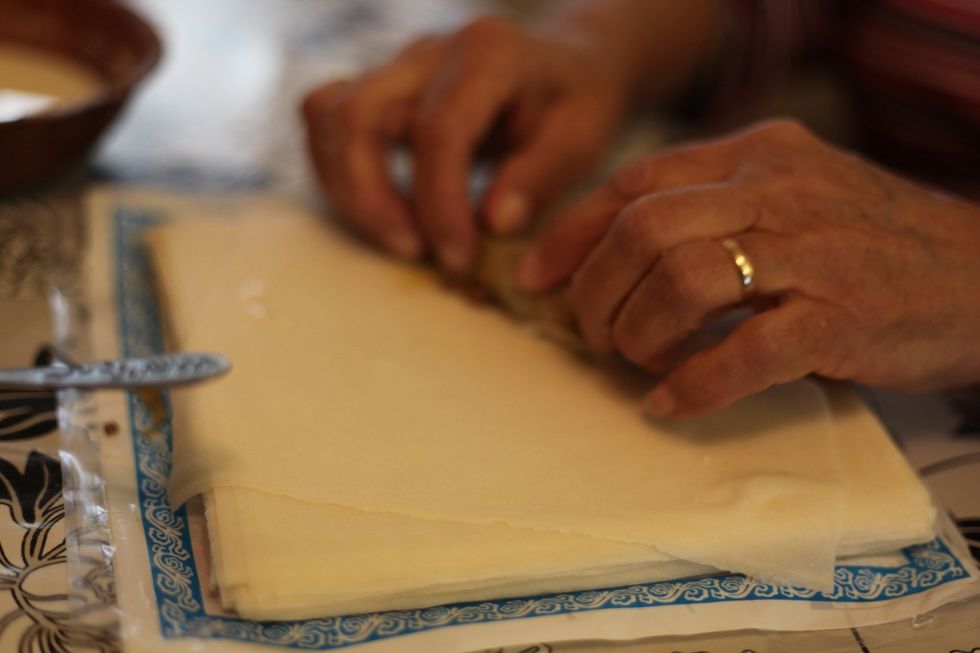 Go just before half way.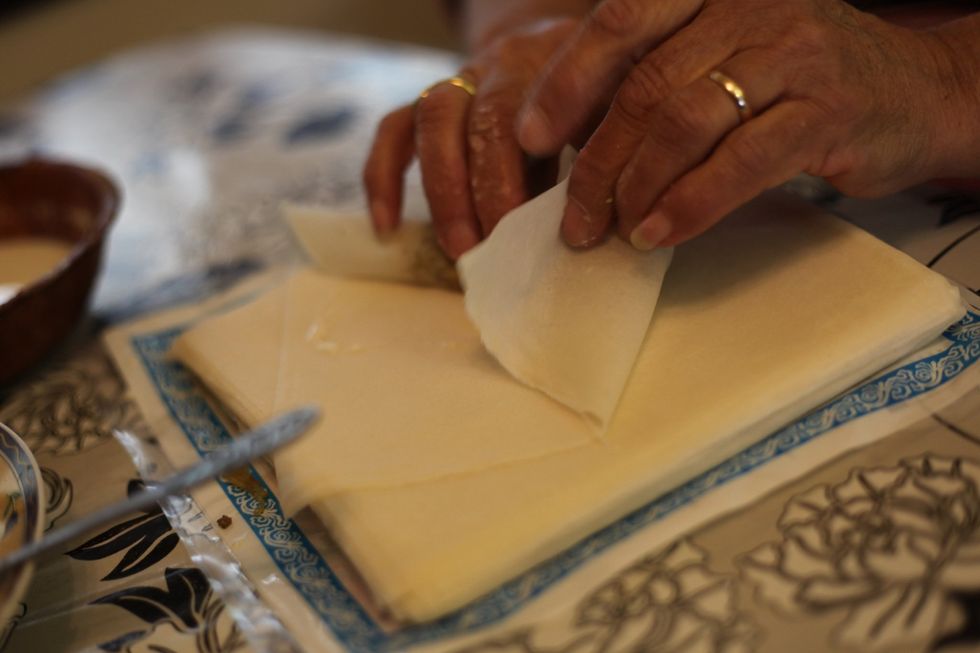 Fold the sides inwards.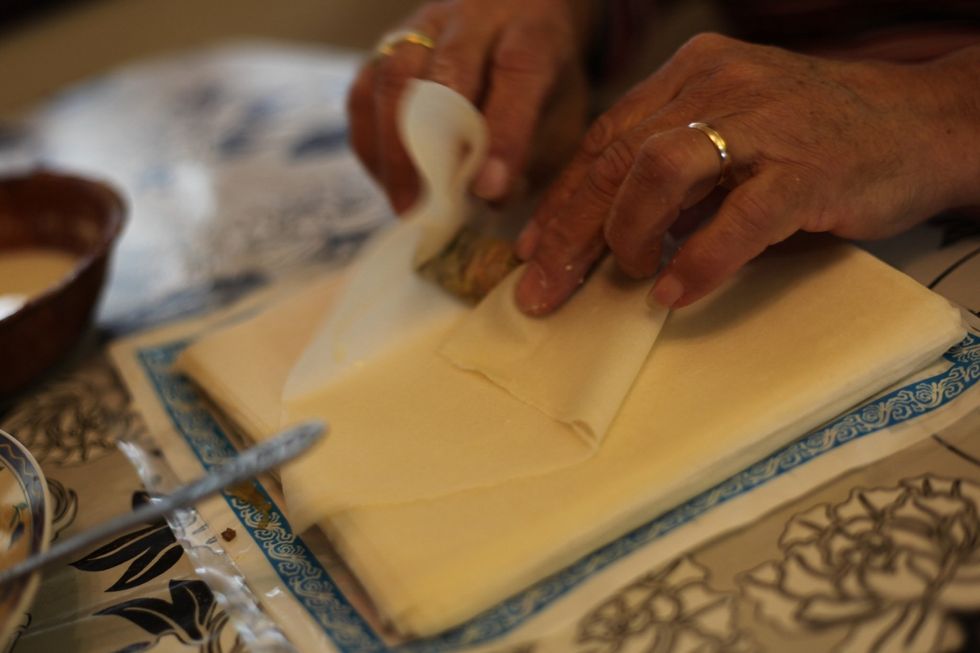 And the other side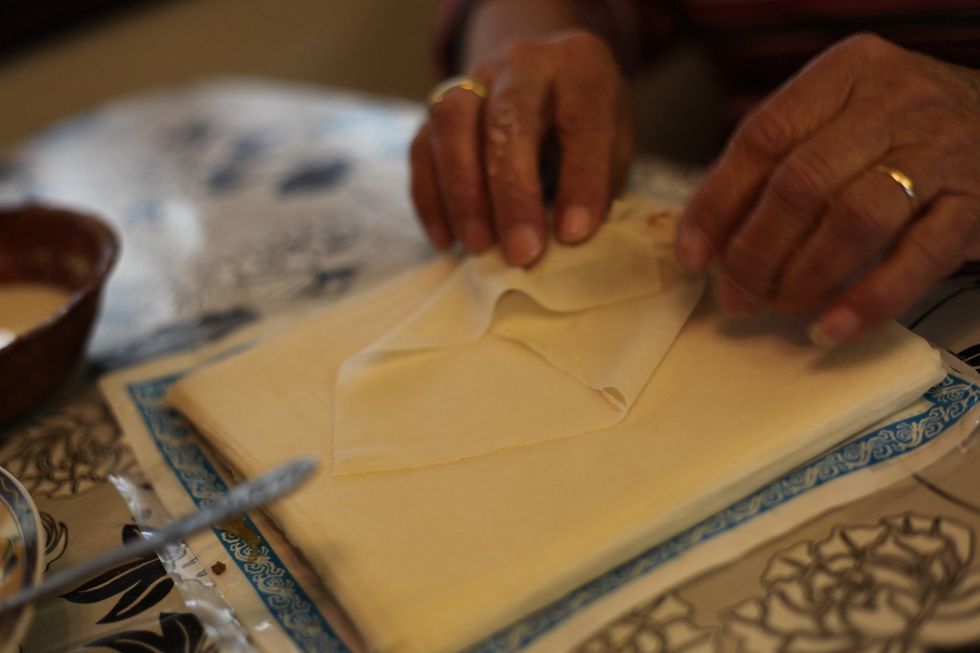 Roll roll roll your dough gently... Anyway moving right along.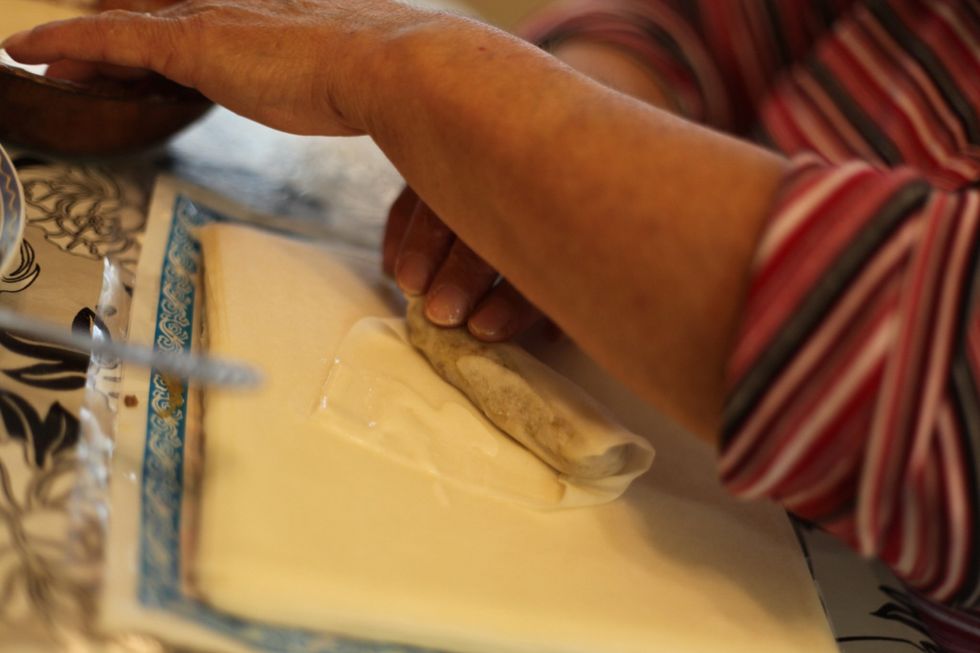 When you get to the end corner .. Dip your finger into the flour and water and just dab it on the end. Roll it all the way so the "glue" holds the dough. Well Done!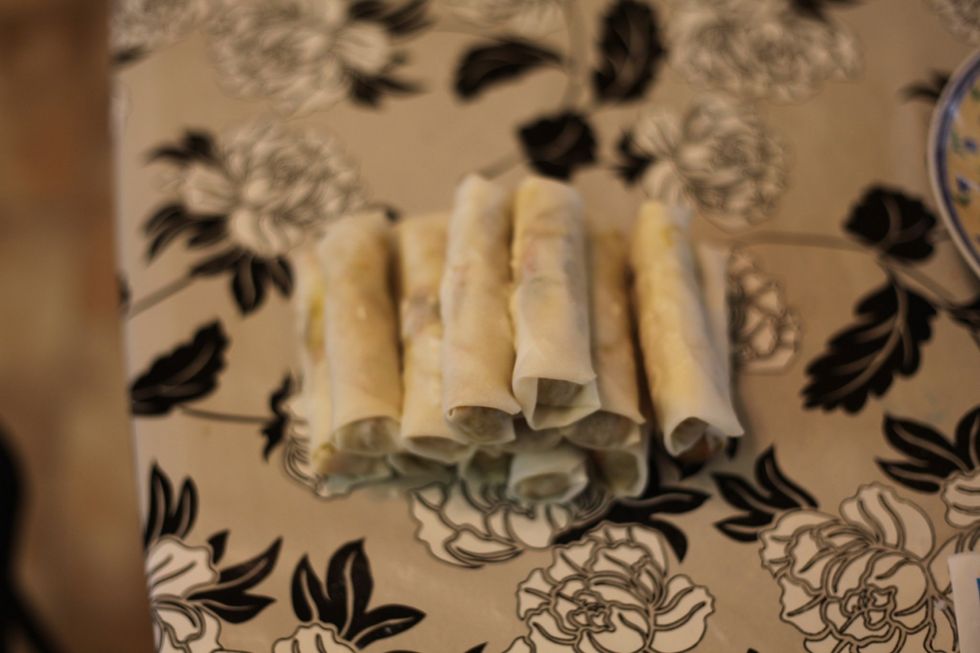 Mum made 15 in 6 minutes. and as I'm rolling my first one, I'm just having a few taste tests of the filling. So it was after 15 minutes I rolled 1. You do the math lol. Yay Me!!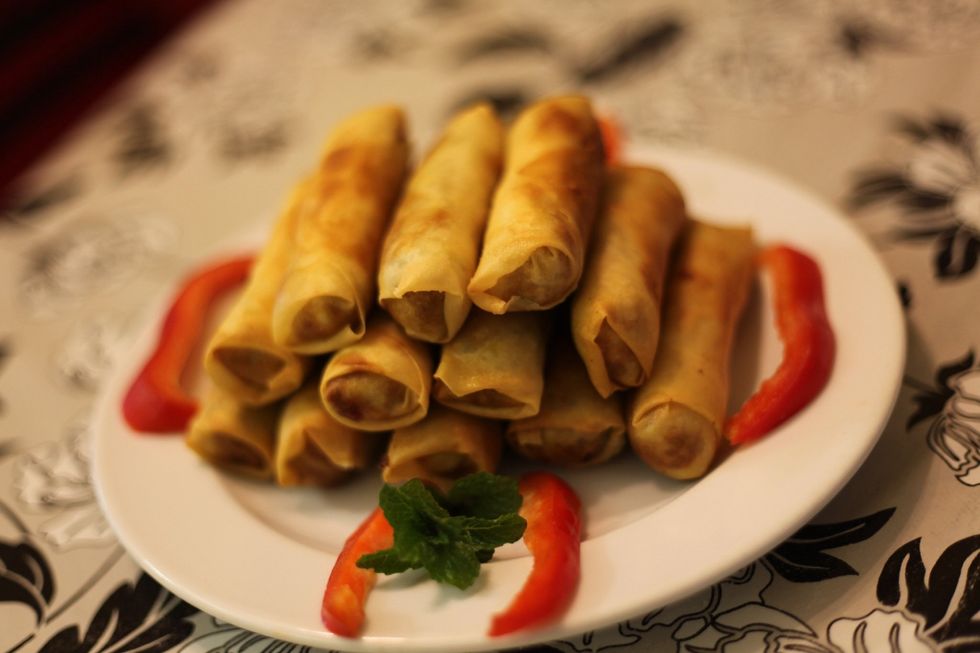 Deep Fry until golden colour and there you have it!! Delicious Spring rolls that are so flavorsome, your family would probably eat all 50. Feel free to contact us for any questions or comments.
Aromatic and full of love from our amateur kitchen. Please follow us for more delicious recipes as we make them. Micho :)
6.0 Garlic cloves
1.0 Stick of Ginger
6.0 Carrots
8.0 Celery sticks
2.0Tbsp Oyster Sauce
2.0Tbsp Sweet Soy Sauce (honey soy)
3.0Tbsp Salt reduced light soy sauce
300.0g Beef mince
250.0g Lamb Mince
2.0 Teaspoons of sugar
2.0tsp Cornflour
150.0g Vermicelli noodles
1.0tsp Beef stock powder
1.0l Boiling water
1.0Tbsp Flour
3/4 cup of water
Michel Daher
Micho here. Amateur experimental chef and lover of food. Thanks for all your support. Join my Food Journey www.naturallygoodfood.com