If your grill isn't powerful enough to properly char a steak, or you have no grill at all, but you crave red meat as much as Fred Flinstone and Barney Rubble, then you and I have a lot in common.
Properly cooking a steak to ones likeness is not easy. Patience, practice and willingness to set off all your smoke detectors should also be on the supplies list. I'm still working on the first two.
Season all sides of your steak with salt and black pepper. Let the steak rest at room temperature.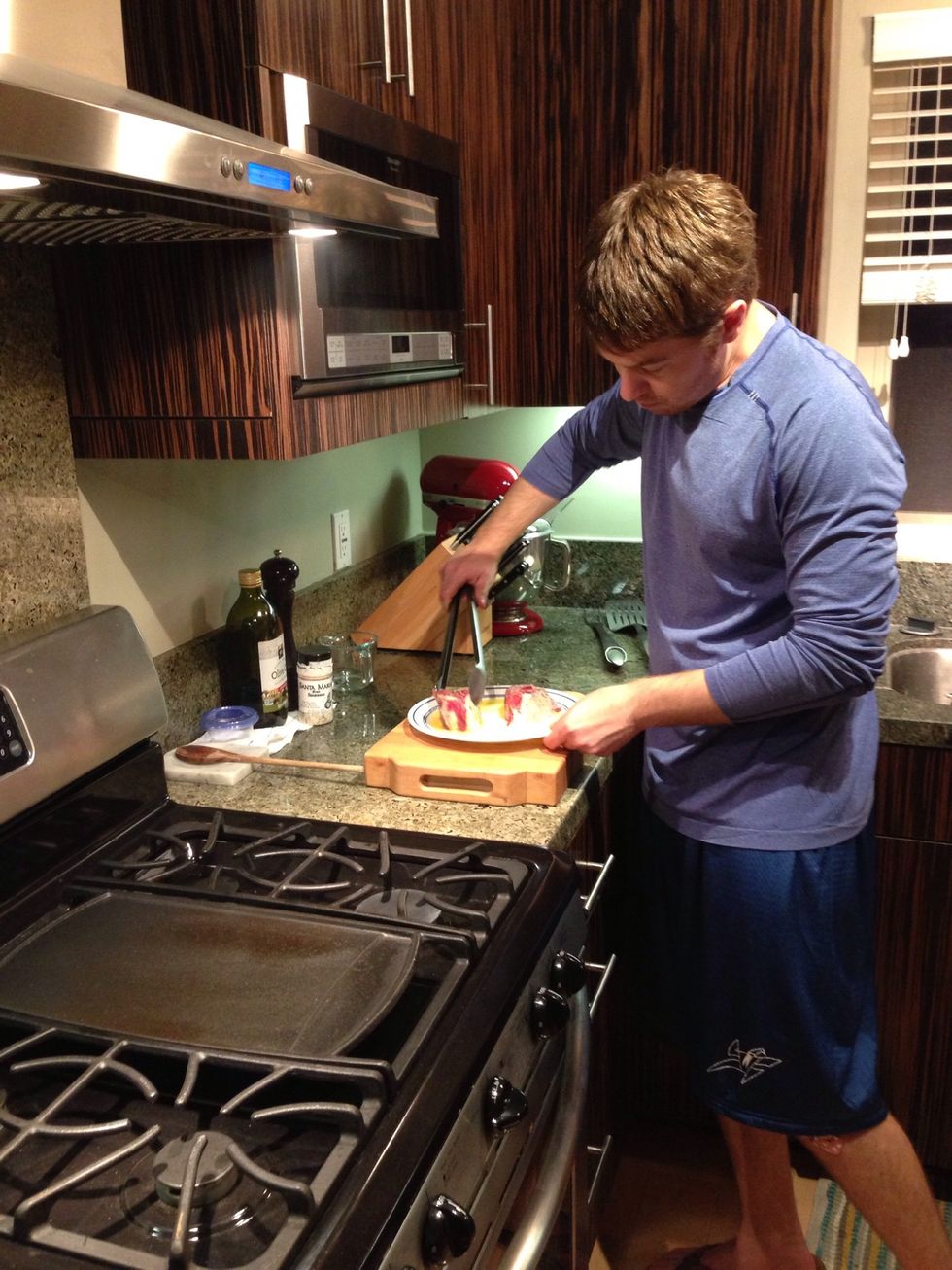 Allow the softened butter to melt on a flat plate. Take the necessary steps to improve air circulation and to deal with your smoke detectors when they go off.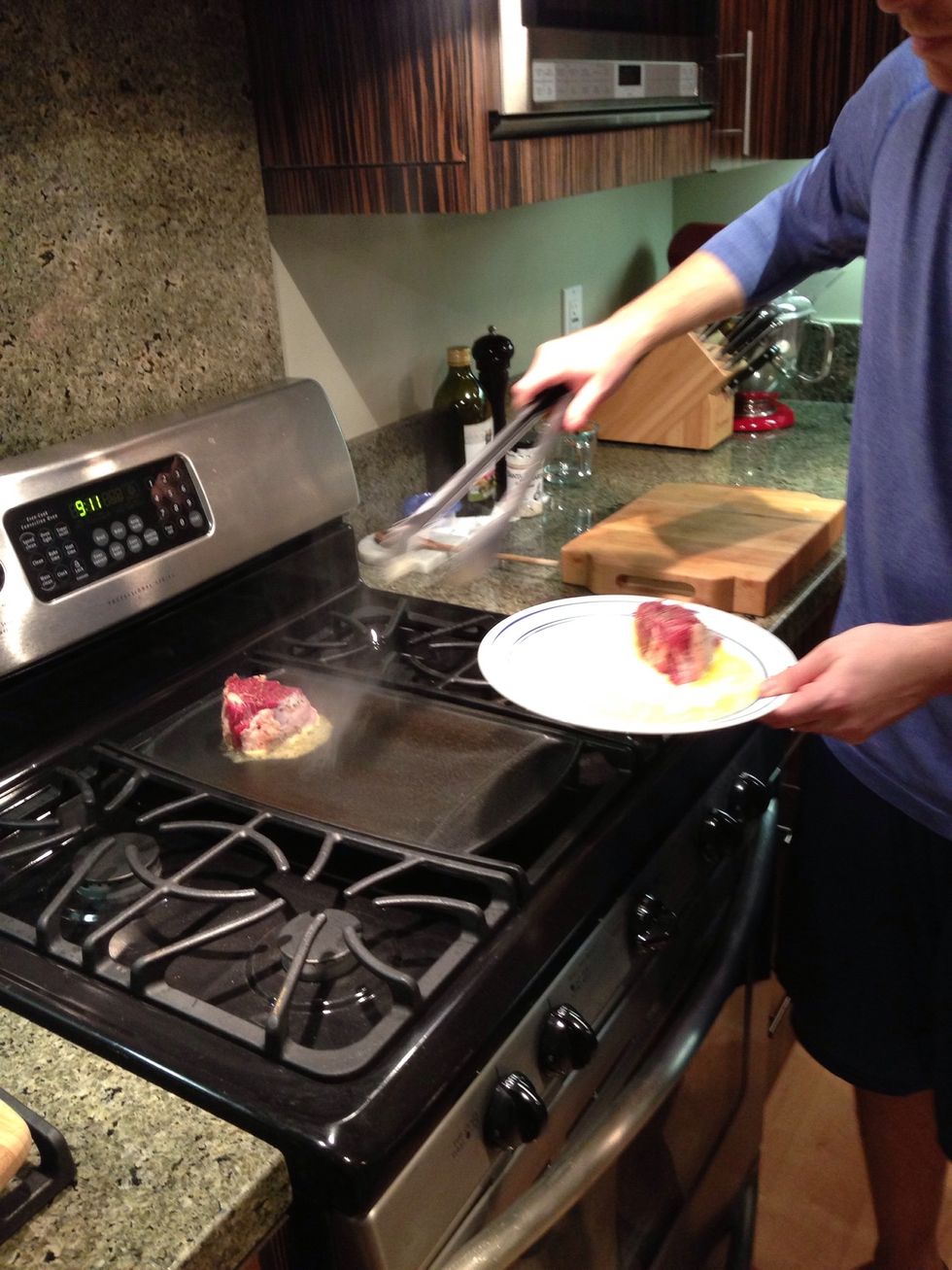 Preheat your cast iron on high until smoking. My range has a center flat top, but I've found the cast iron skillet still gets hotter and has better heat transfer, and cleans easier.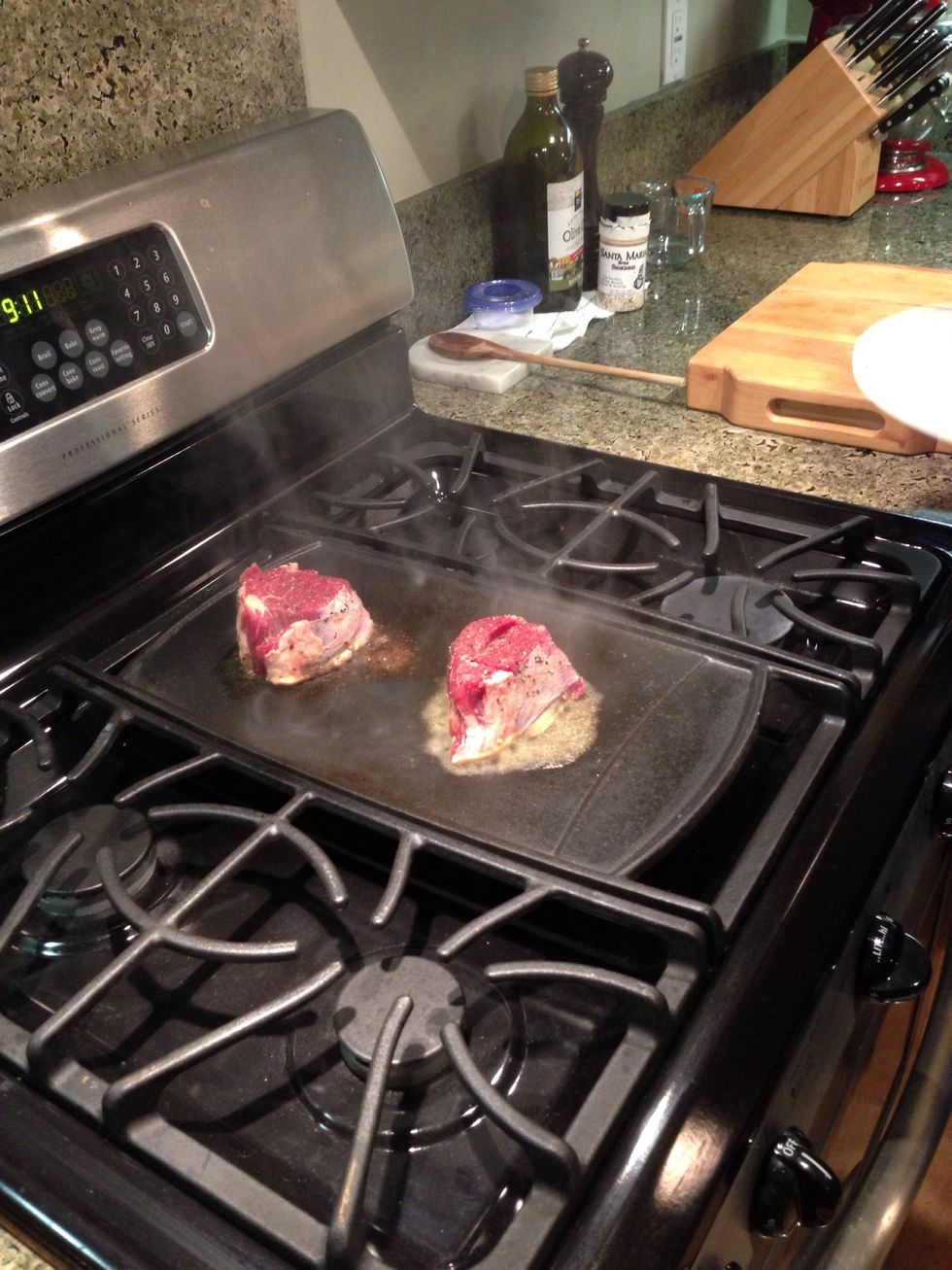 Place steak in plate of butter briefly, one side only and then place on cooking surface, butter side down. Cook over very high heat for 2-4 minutes depending on thickness. Do not move the steak.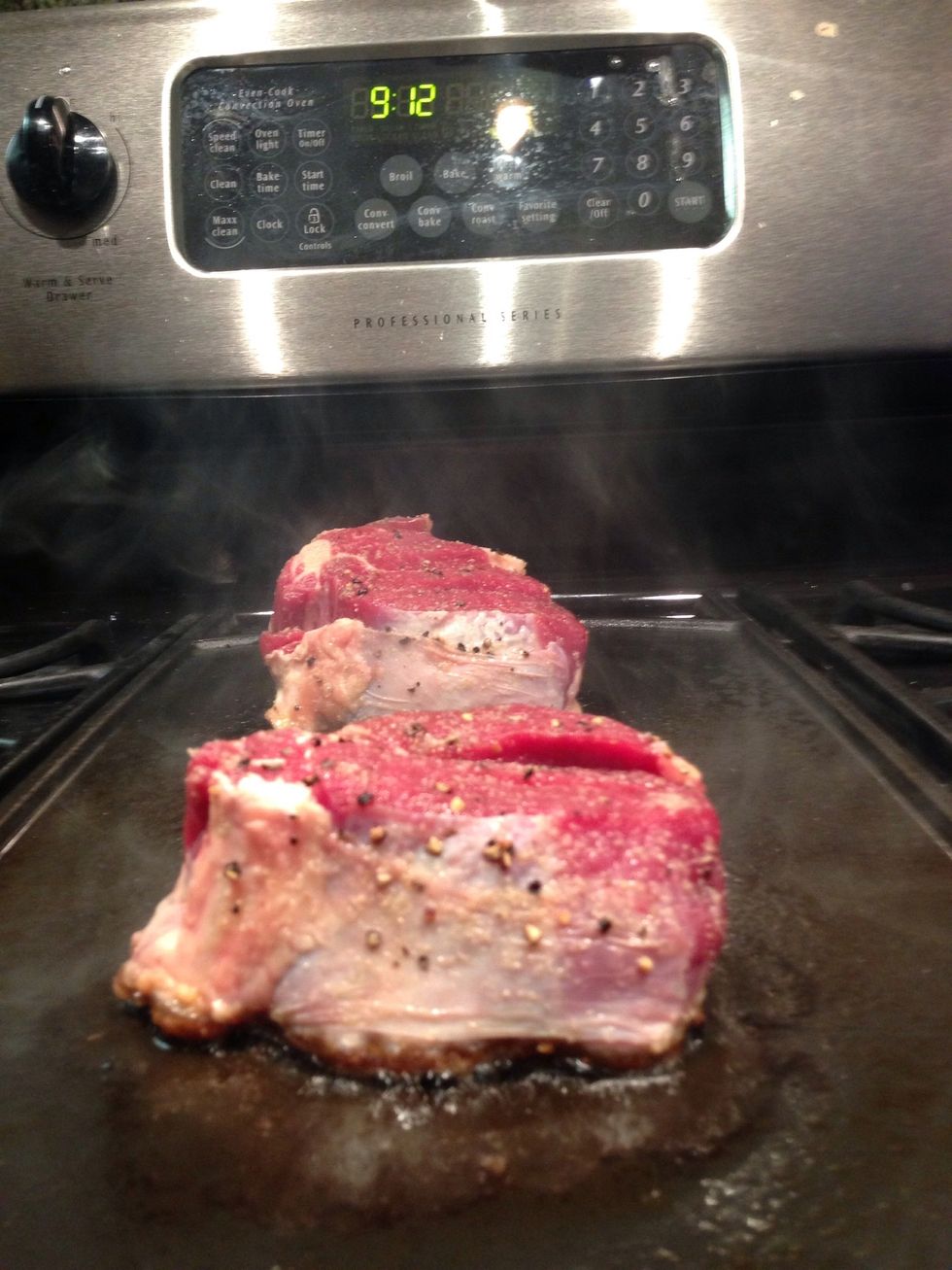 Proper seasoning, room temperature meat, extremely high heat and not moving the steak are crucial to getting the proper sear and outer crust. Judging doneness from poking the steak takes practice.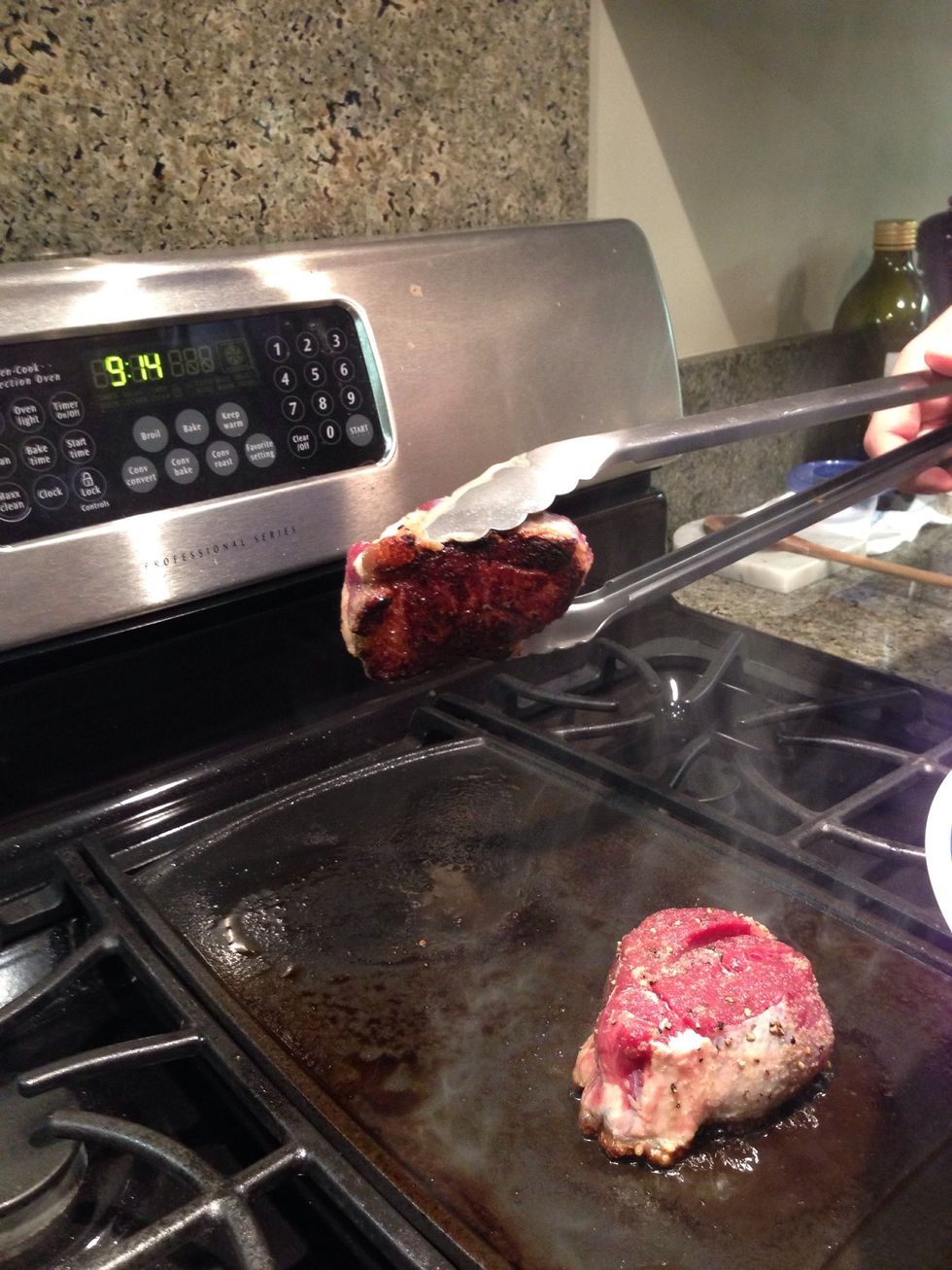 Once you feel the first side can't take any more heat, give it another 30 seconds, trust me. You can get your tongs now.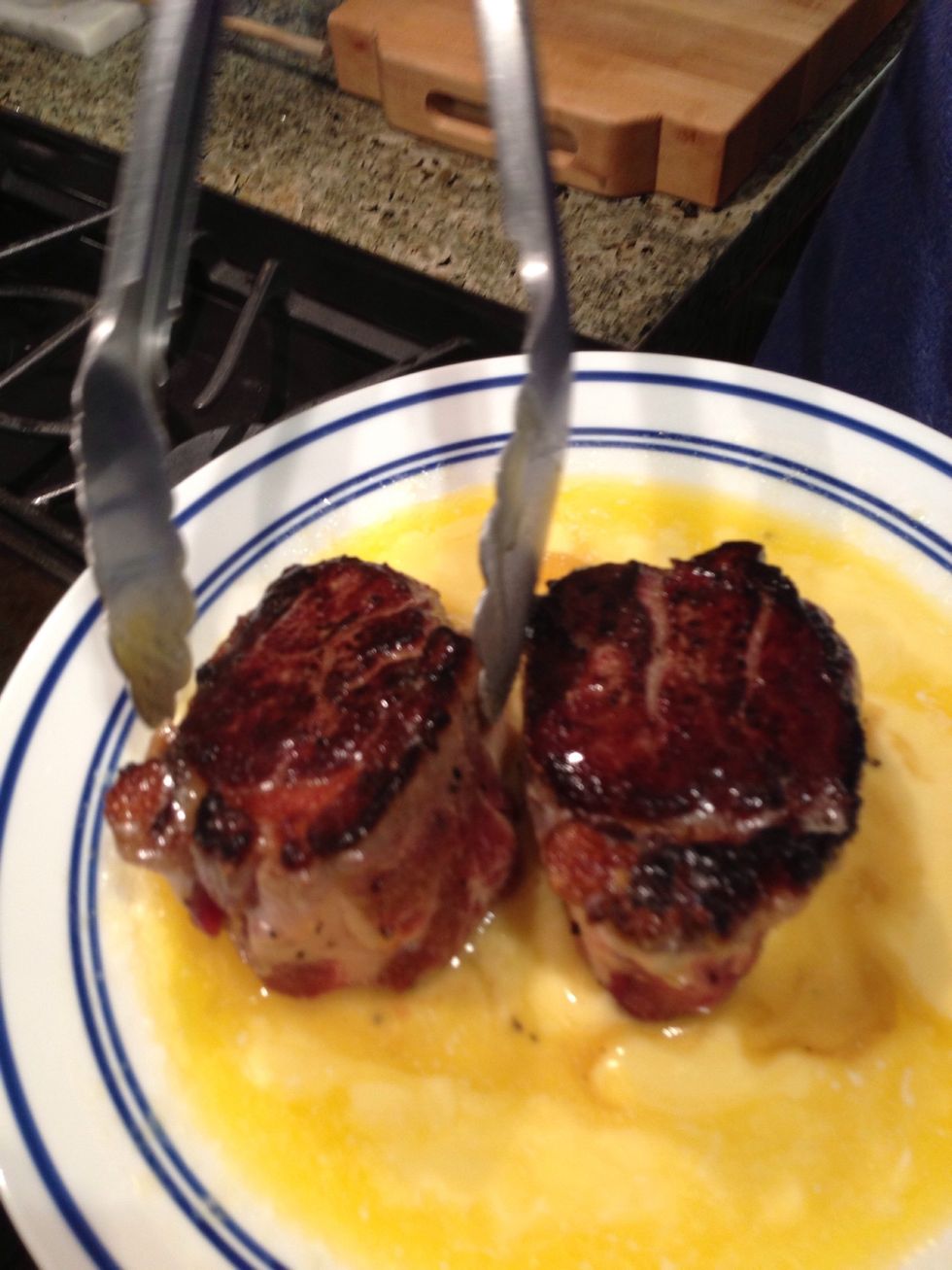 Place steak back in plate of butter, cooked side down. Flip uncooked side down, then place back on cooking surface. If skillet is hot enough, the butter may ignite, which is optimal for searing.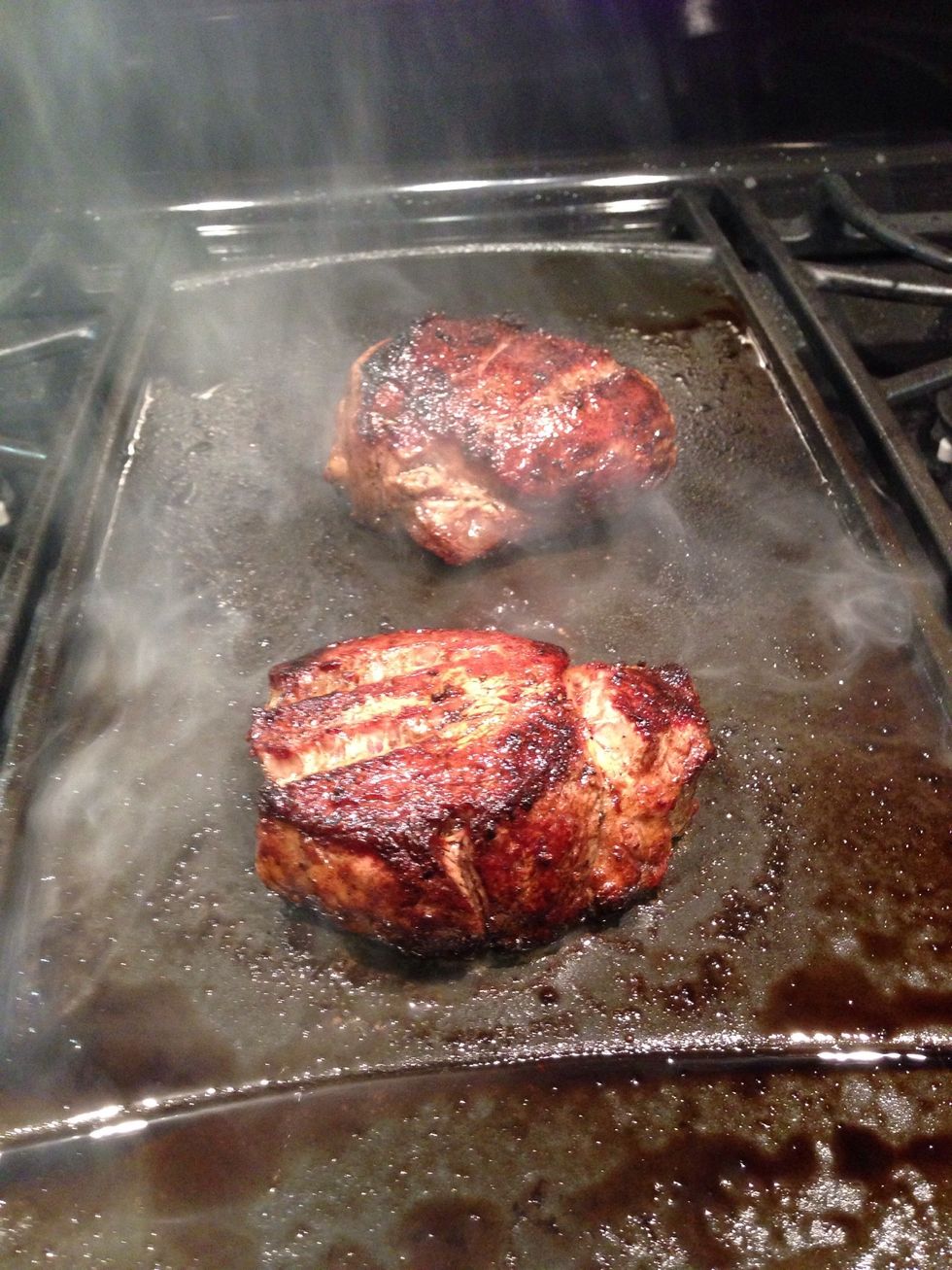 They will look ready early on, if they are thick like these pictured, they are far from it. Go put out the smoke detector.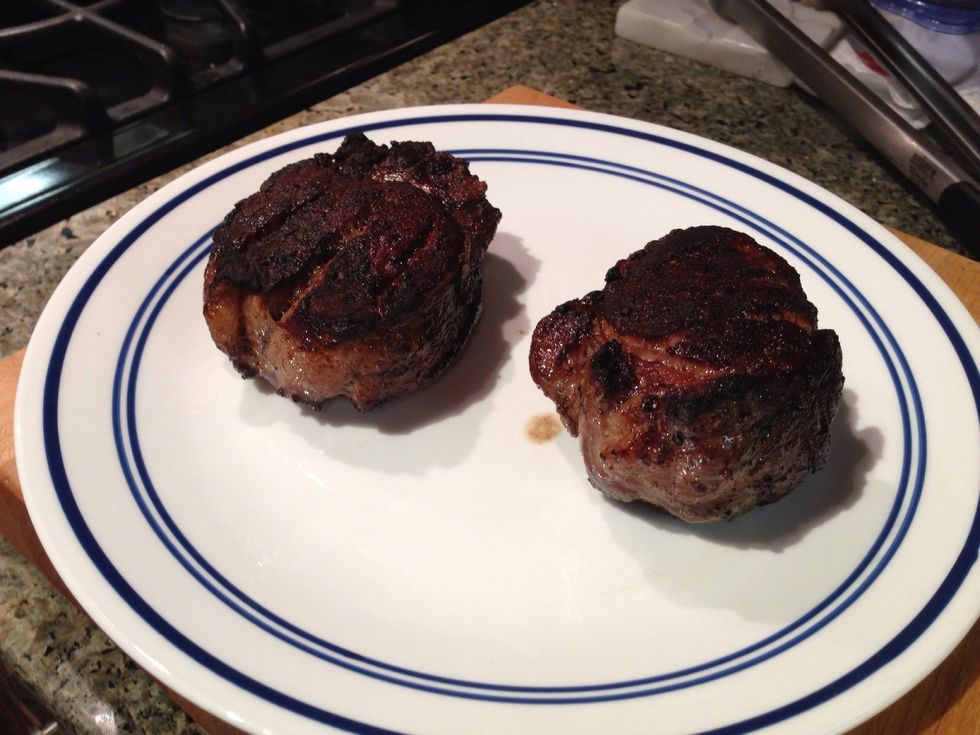 Once both sides had all the char they could take, I turned them on their side a little too. Remove from heat and let rest 10 minutes.
If you think they aren't cooked to your likeness, tent the steak in aluminum foil when resting or finish cooking in the oven. Don't cut steak to check doneness, just poke it with your finger or tongs.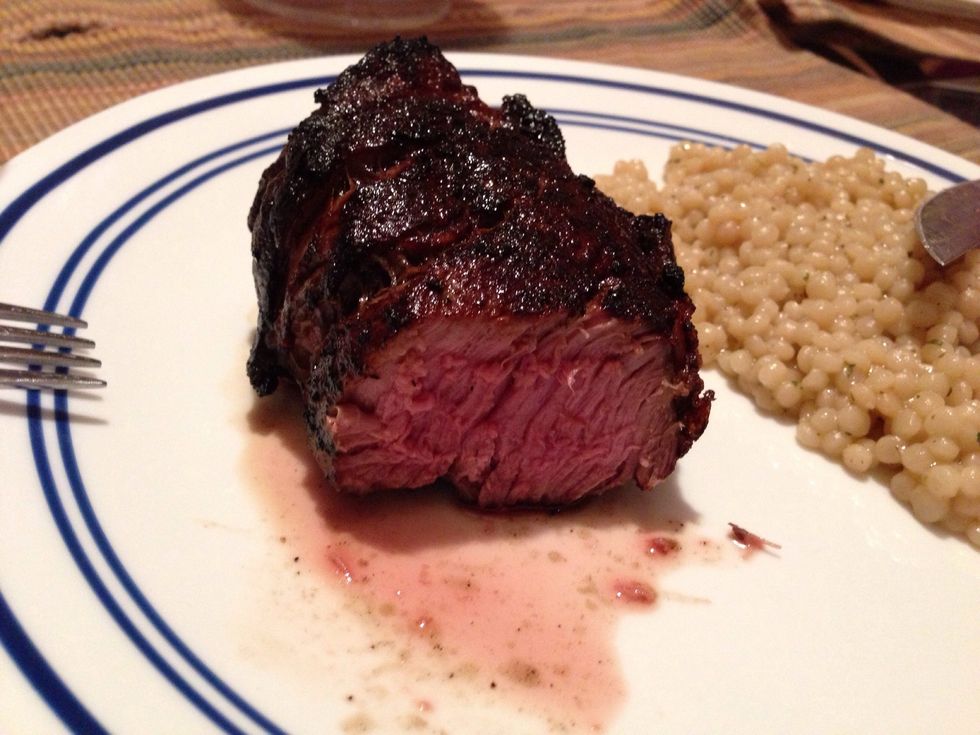 I like mine medium rare, though I'm often over and under shooting that. Proper sear on a quality dry-aged cut tastes delicious regardless.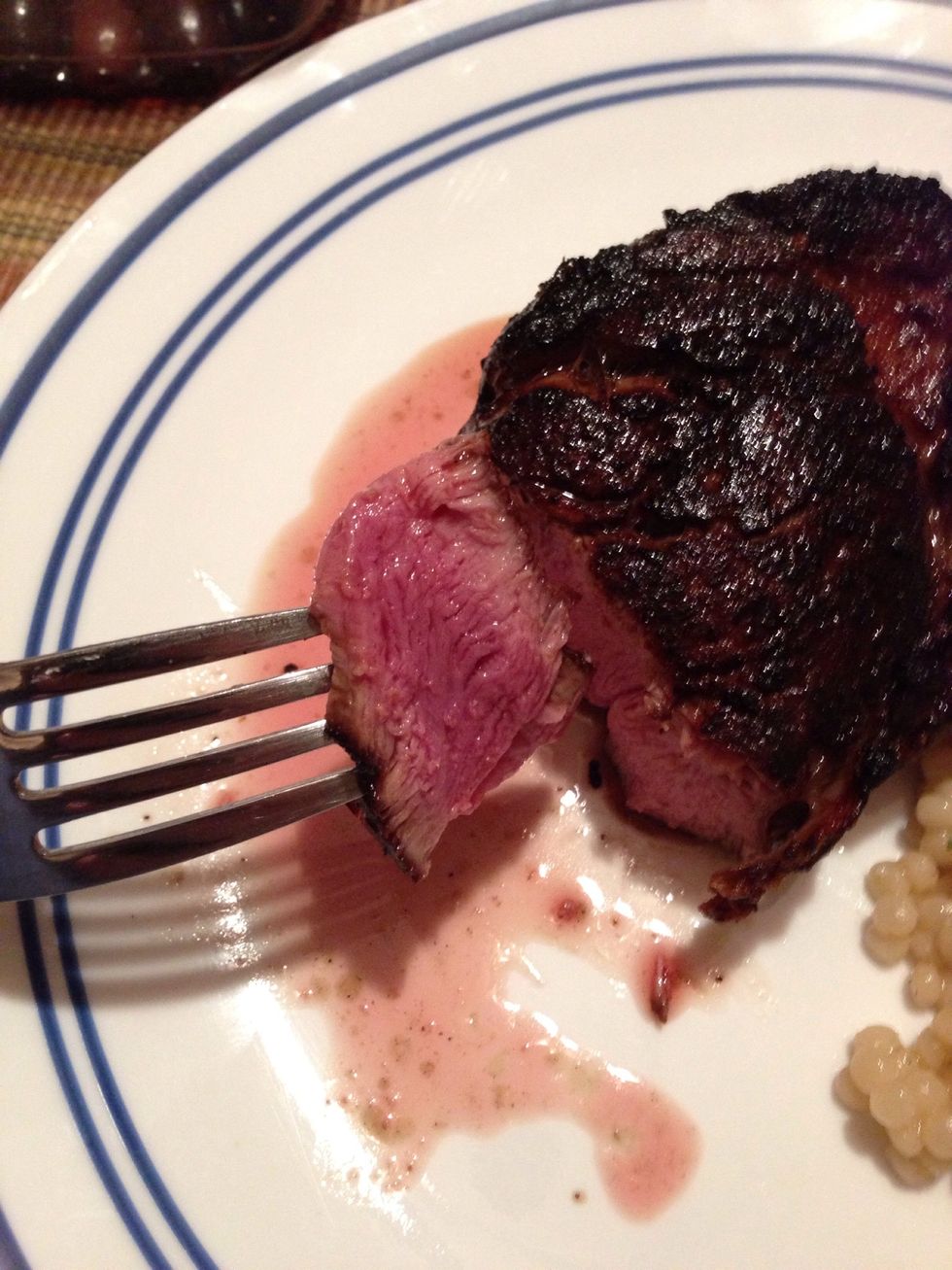 The crust was decent with the flat top, but I was on the rare side with this one.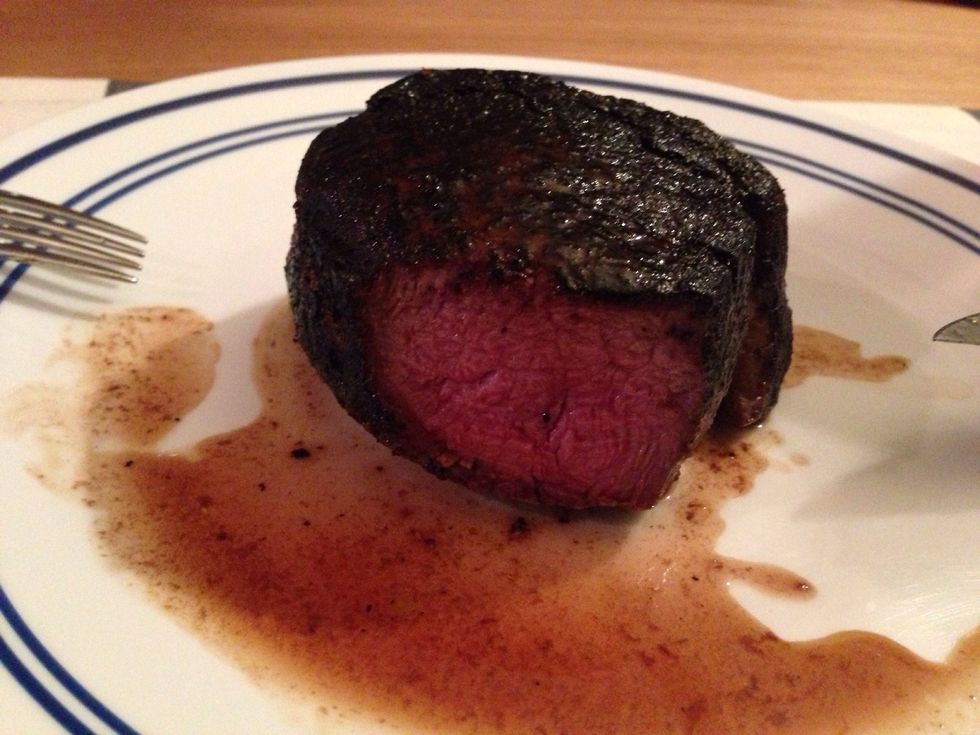 Here's another one I made with the cast iron. Practice practice practice. Ask friends over and tell them BYOS so you can practice your craft on their dime.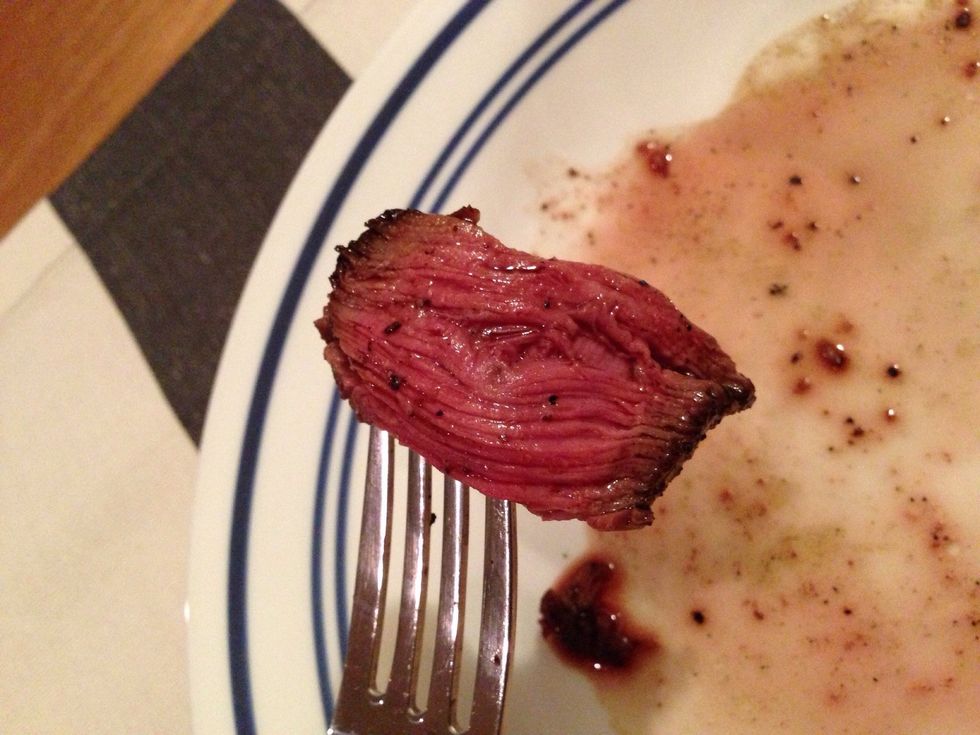 The perfect bite.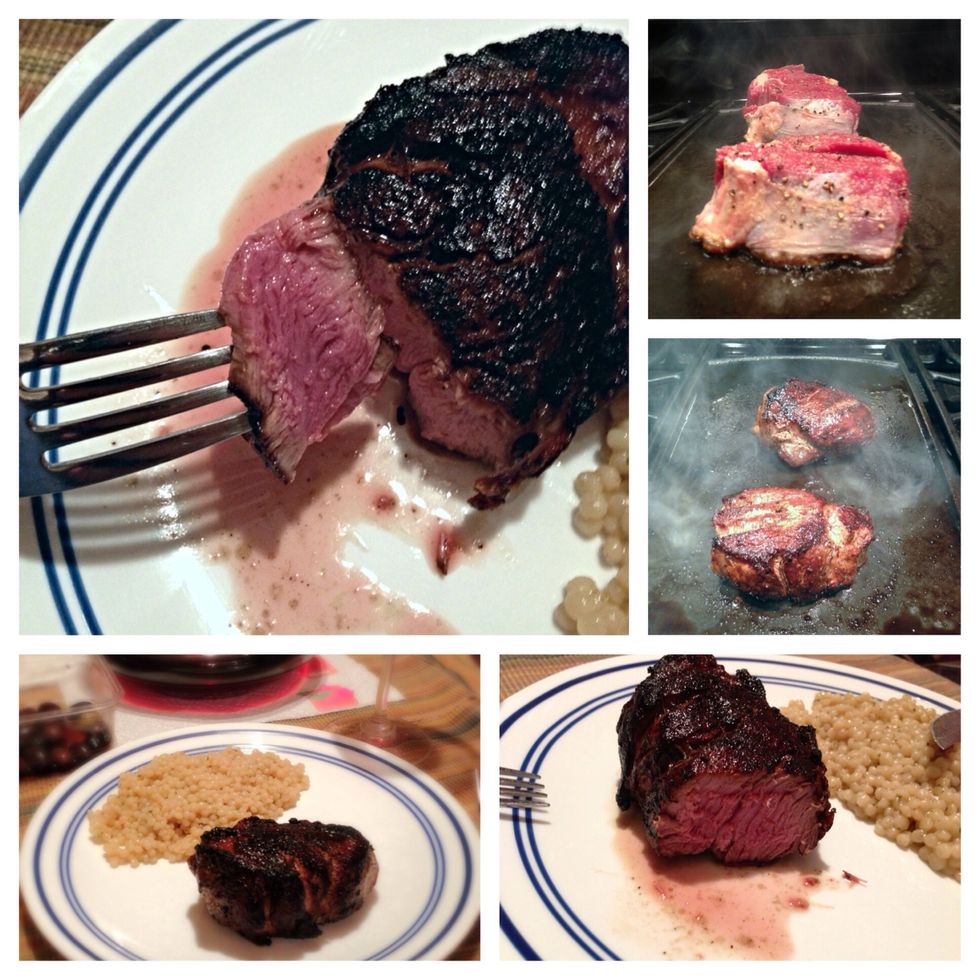 Steak galore. Enjoy and thanks for viewing this guide.
8.0oz Filet, or steak of your choosing
Unsalted butter, softened
Kosher salt
Freshly ground black pepper
Cast iron skillet