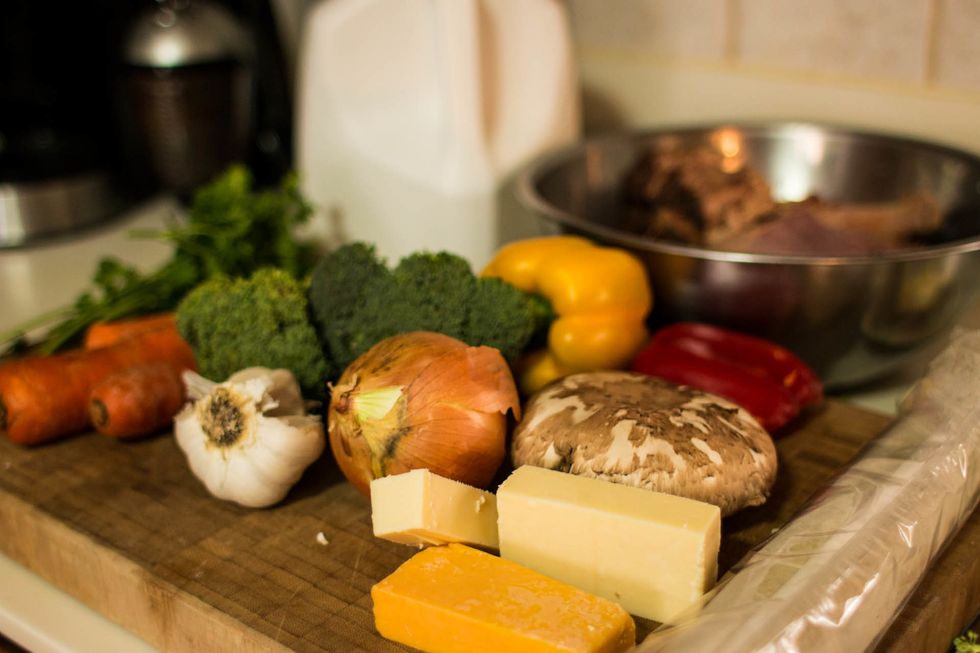 Gather up your ingredients and lay them all out on your cutting board, only to move them off of it again after you take a picture of them.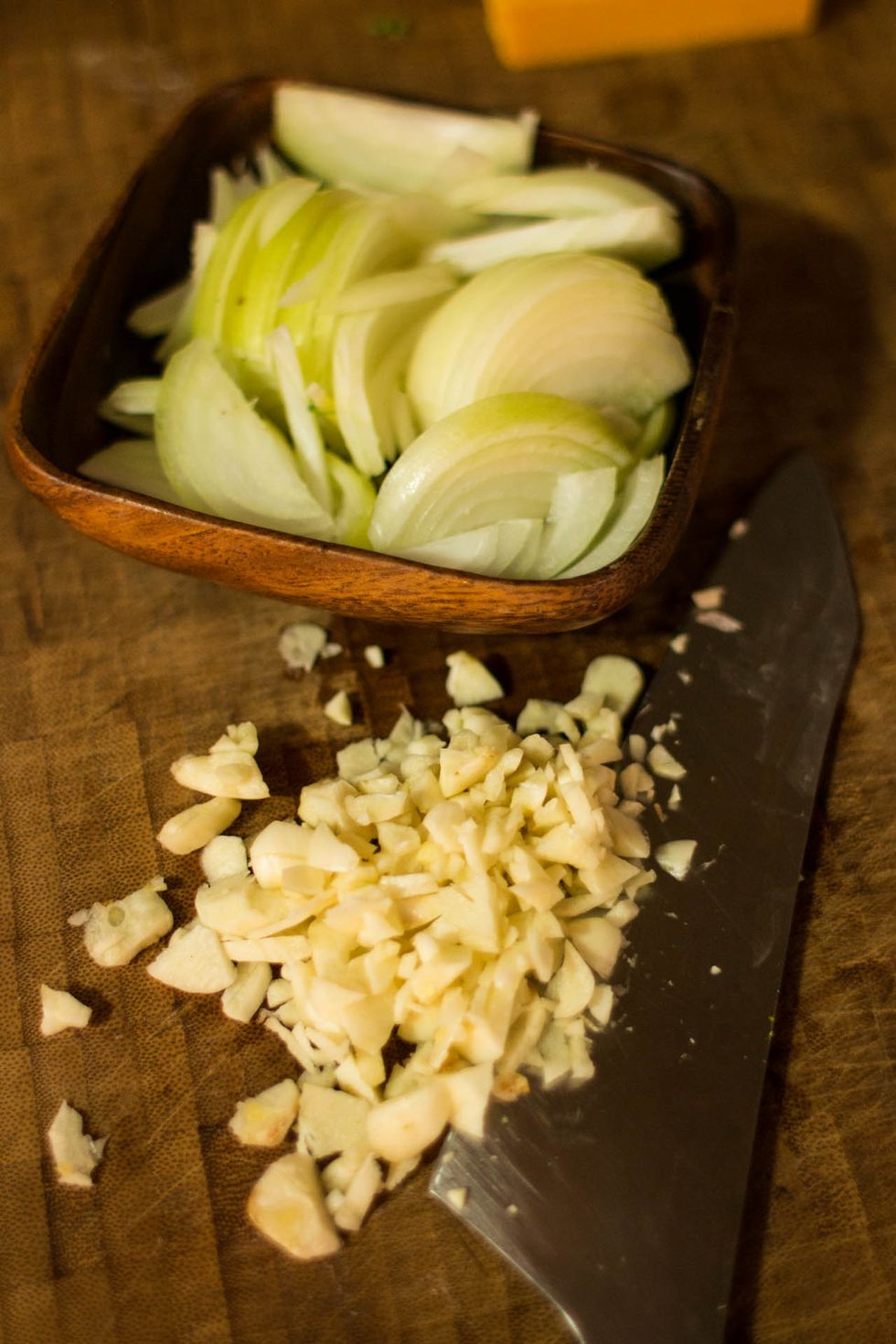 Slice your onions, chop your garlic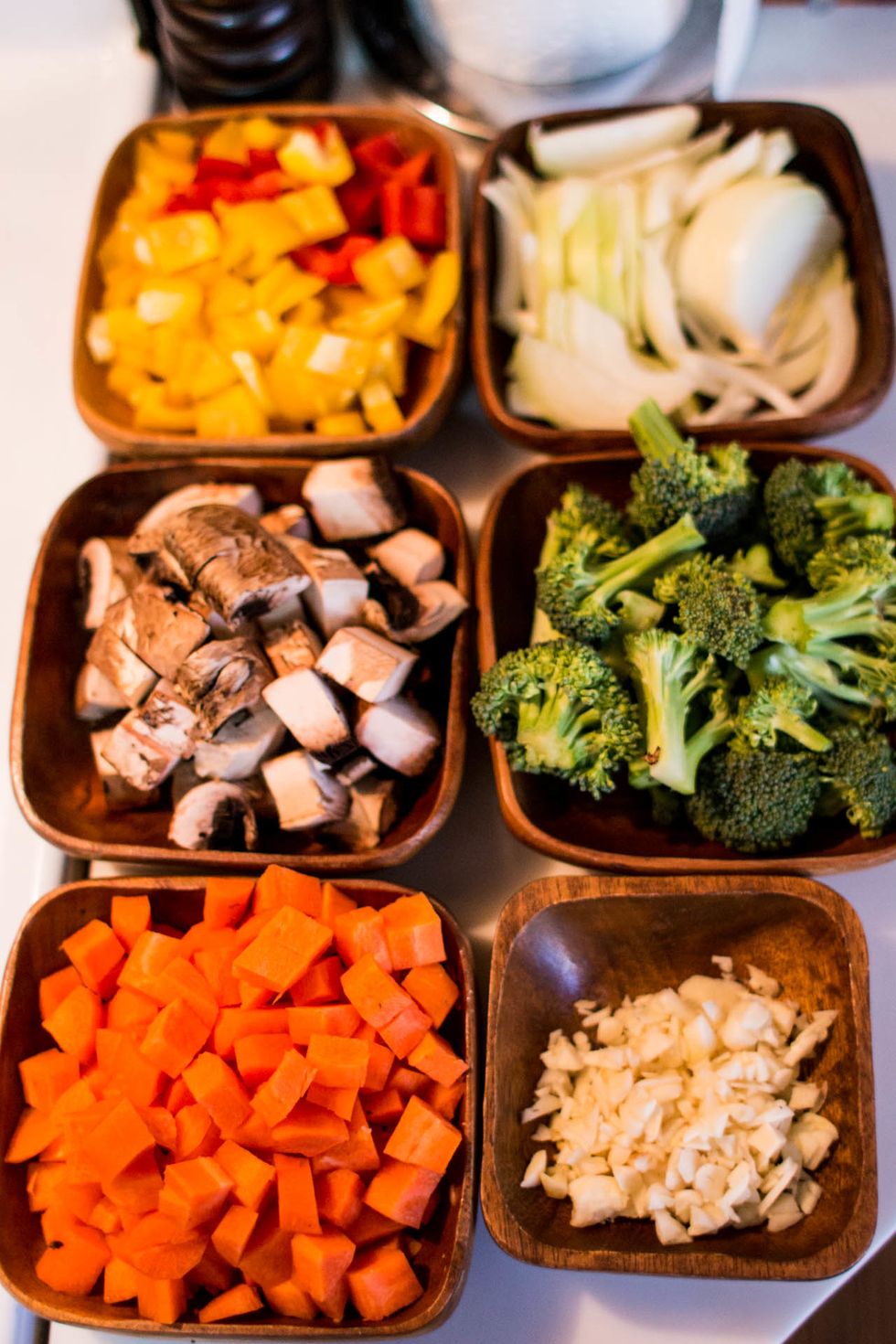 I don't need to show you how to chop each vegetable so here is a picture of them all chopped. Dice the peppers, carrots and mushrooms. Cut the broccoli into florets
Saute the onions and garlic
Add the butter.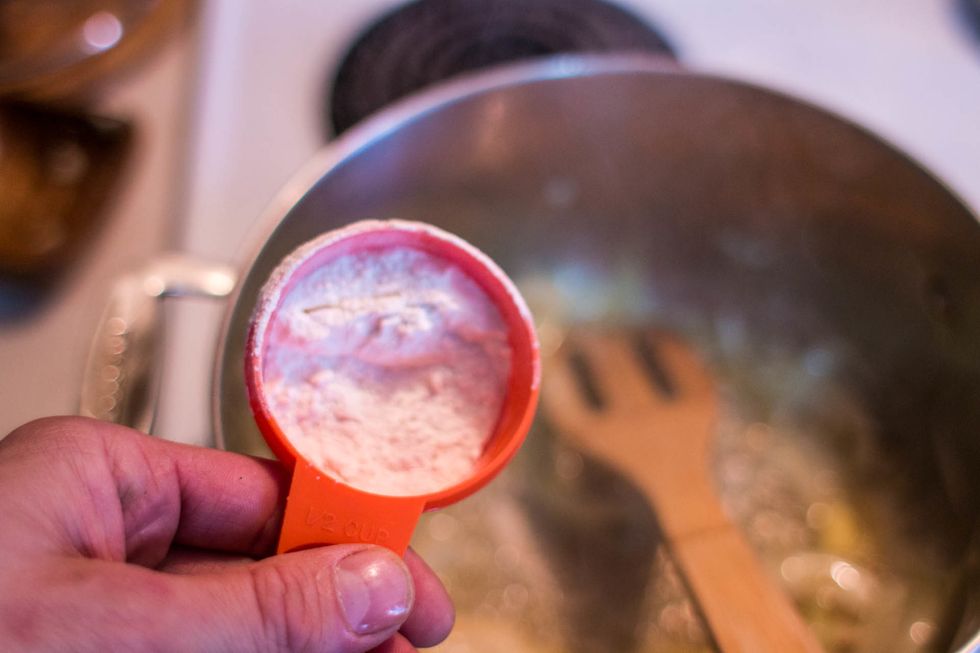 Once the butter is melted, add the flour.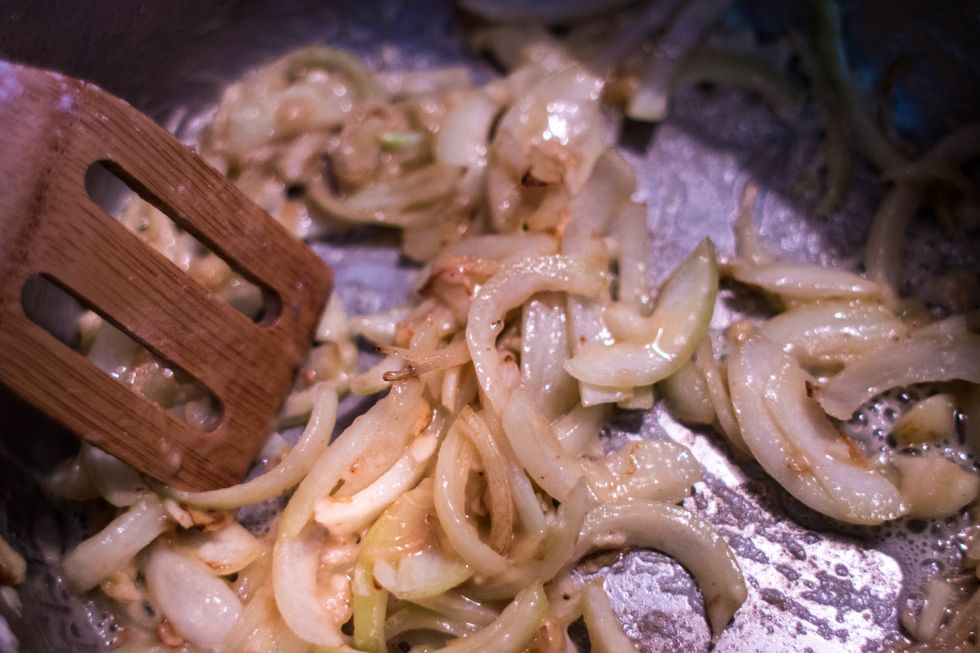 Work pretty quick at this stage so the flour doesn't burn. Make sure it doesn't stick to the pot. You want the flour to cook out just a bit but not brown.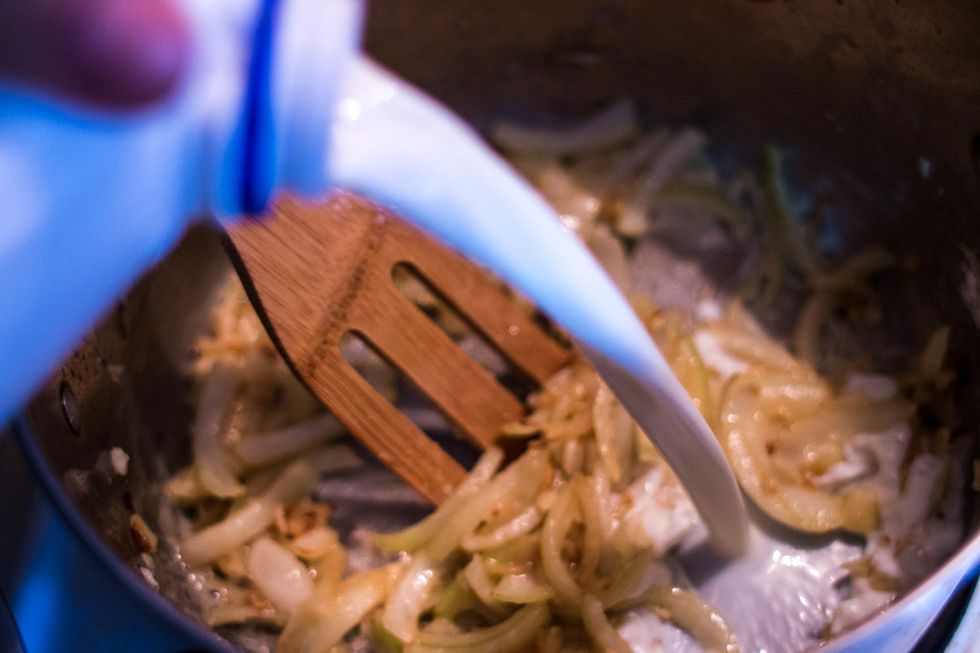 add the milk a 1/2 cup at a time.
After each addition, allow the milk to be fully incorporated into the flour and onion mixture.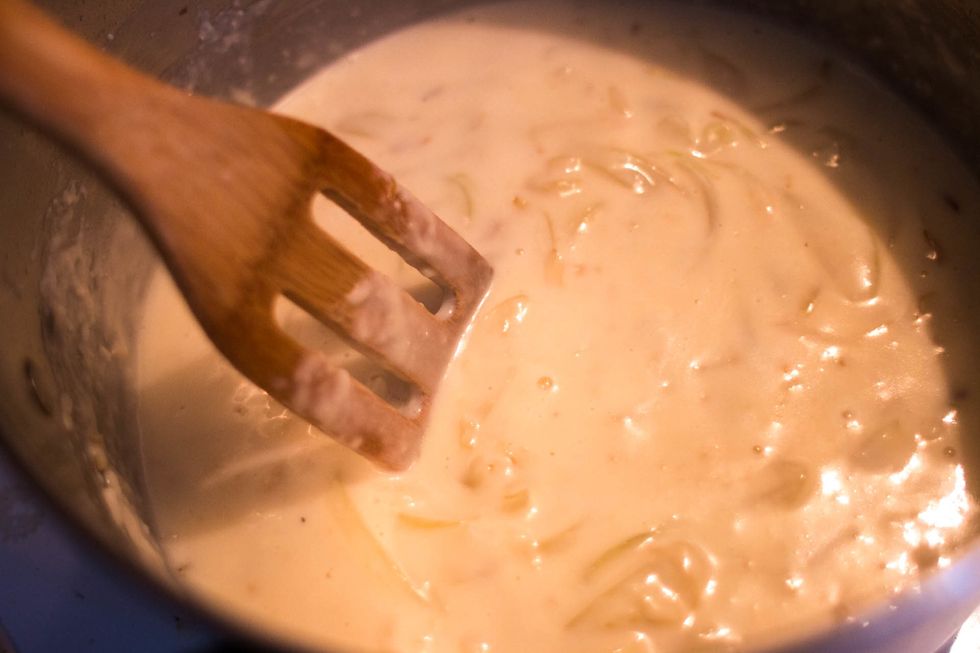 Bring to a boil after each addition. It's imperative that you don't add the milk to quick. If you do, you will most likely get clumps of flour that won't smooth out.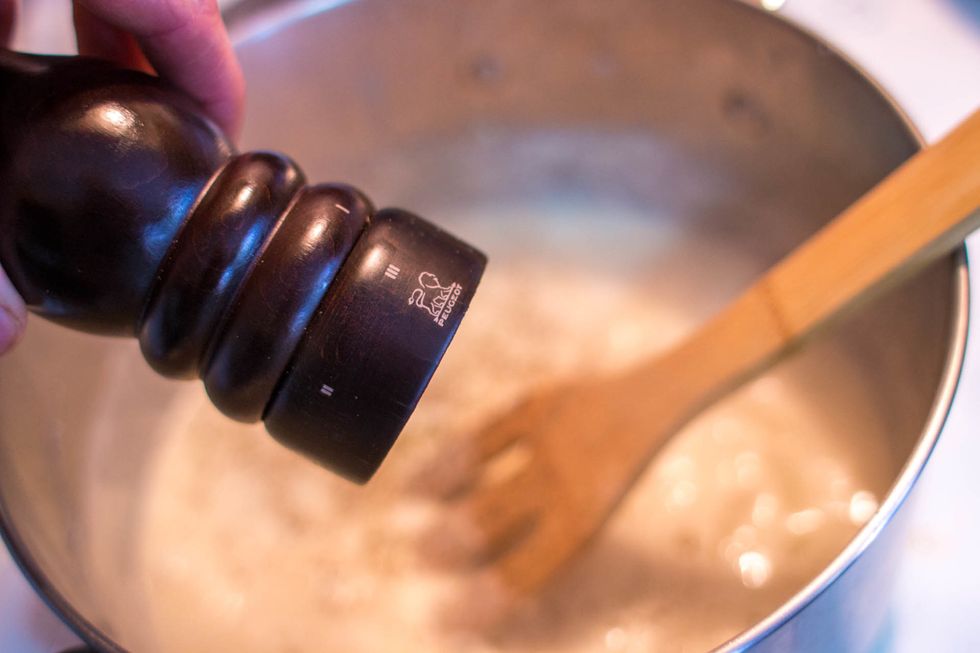 season with salt and pepper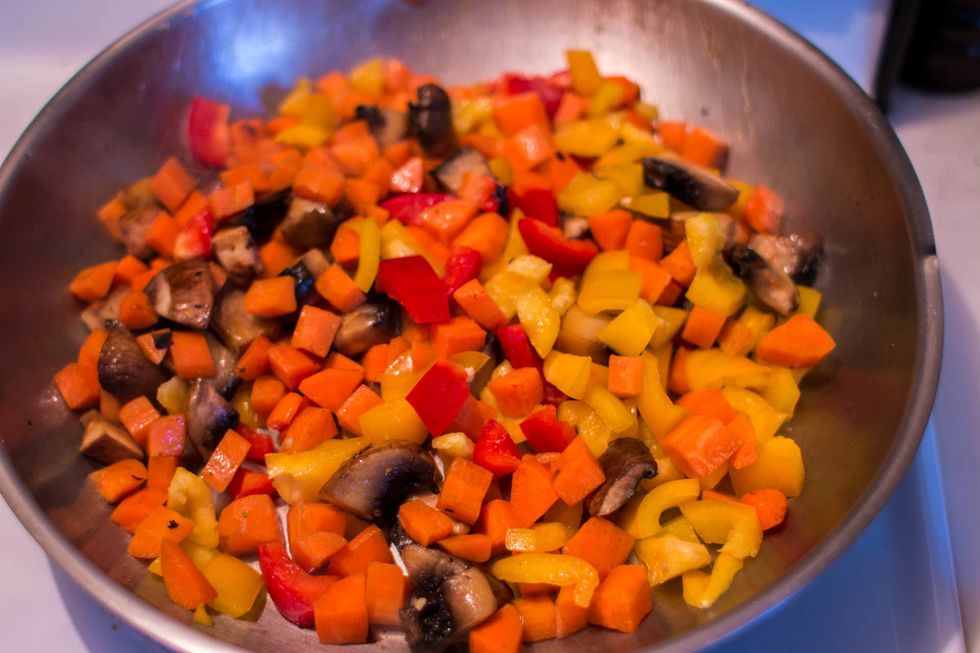 Dirty another pan and sautee the peppers, mushrooms and carrots. If someone else is cleaning, dirty more pans just for the hell of it.
Now add your diced ham to the milk mixture ( béchamel sauce )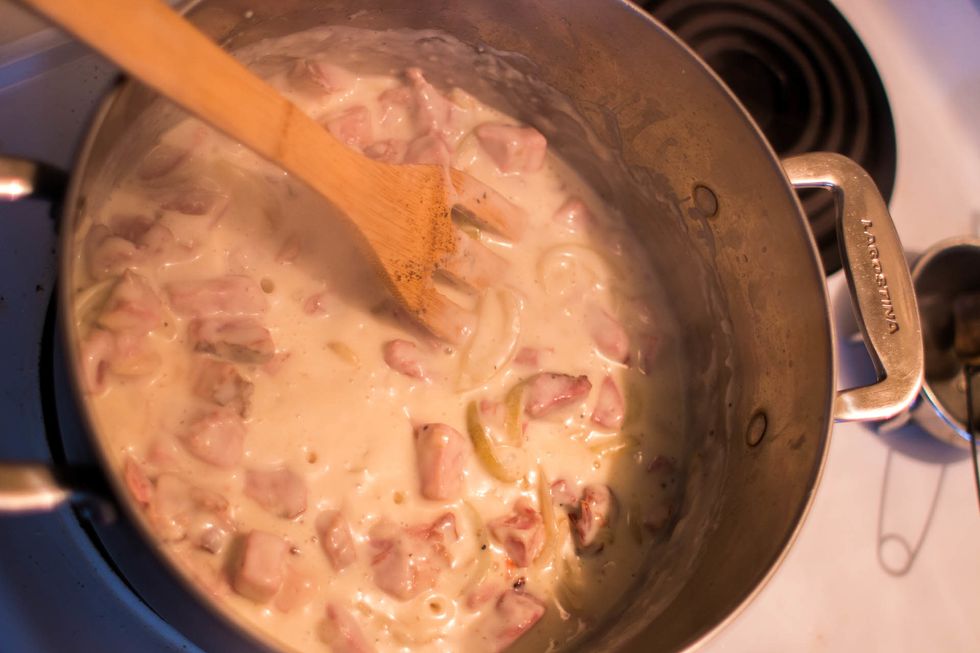 Allow the ham to simmer in the sauce for about 2-5 minutes.
Add the rest of the vegetables.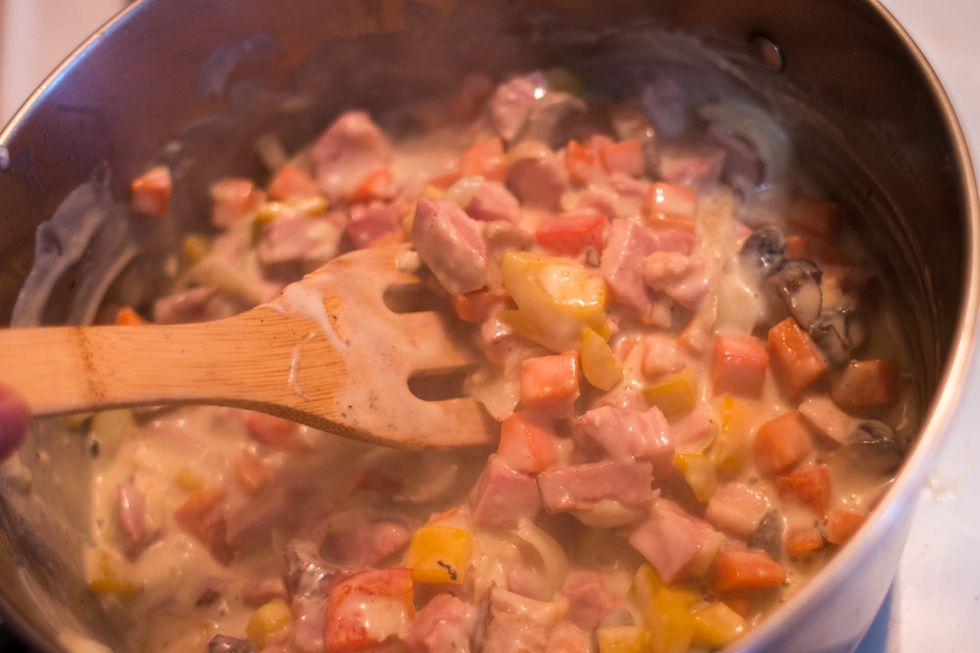 Looking good. Remember to keep tasting. Taste and taste again. mmmm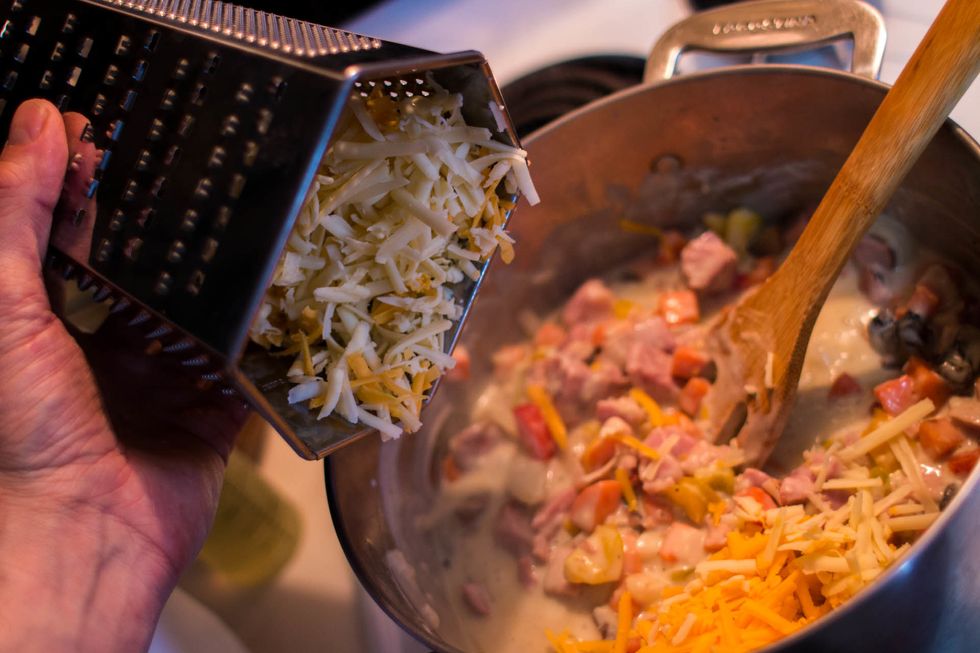 Add your grated cheese.
Once she's all mixed up, add the broccoli.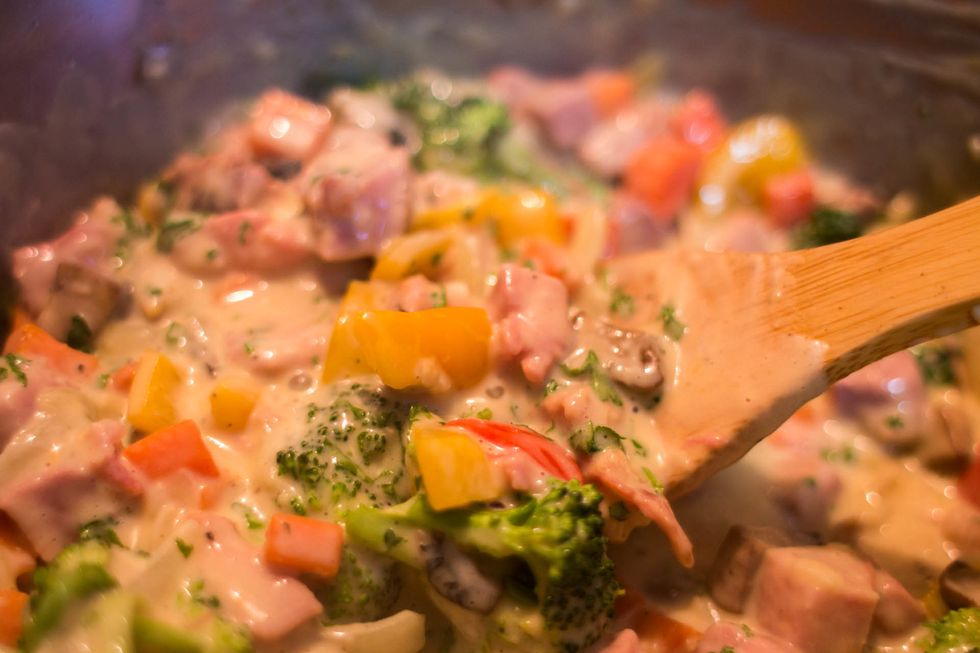 There ya have it. The filling is done. Double check your seasoning and take it off the heat. If your not cooking the pot pies right away, lay this mixture out on a tray and allow it to cool.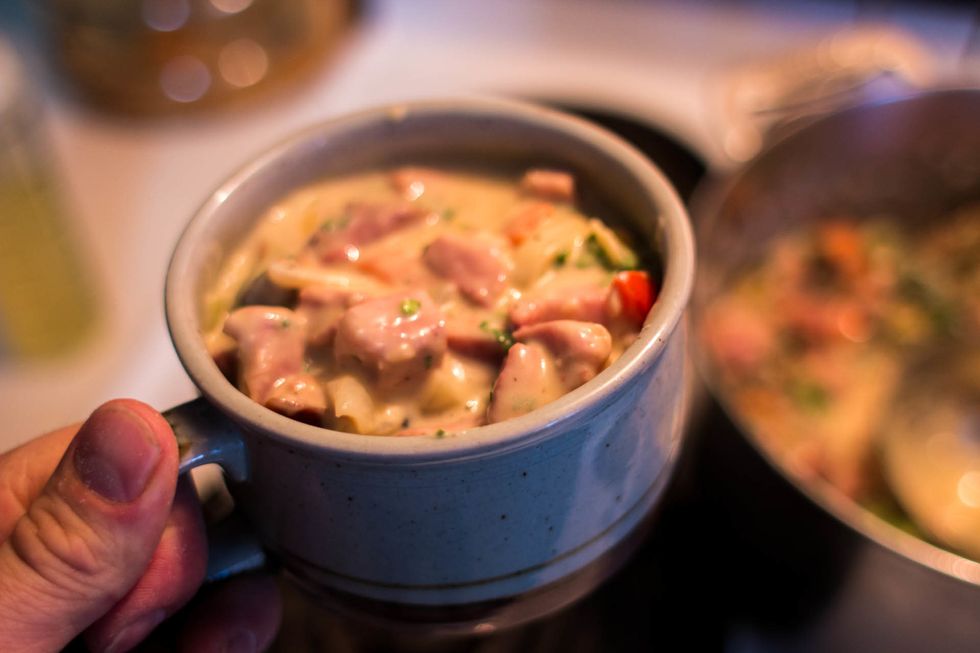 I'm cooking right away so i've placed the mixture directly into these soup cups.
Cut out circles of puff pastry just larger than the rim of the bowl .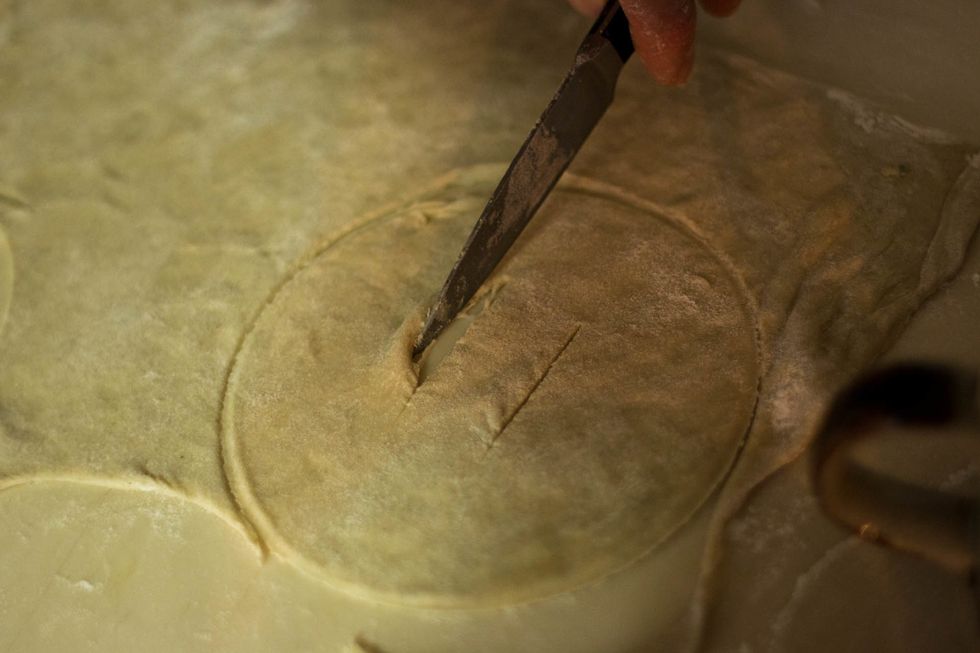 Add a couple slits to vent the pie while cooking .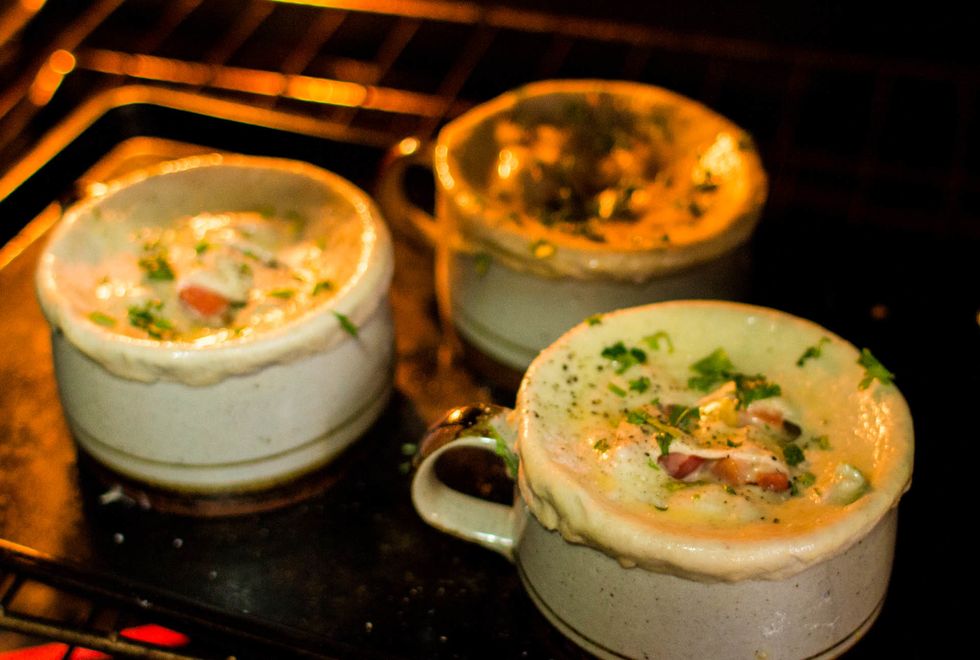 I put a little egg wash around the rim of the cup to stick the pastry good along the sides. Then topped each one with chopped parsley, fresh pepper and sea salt.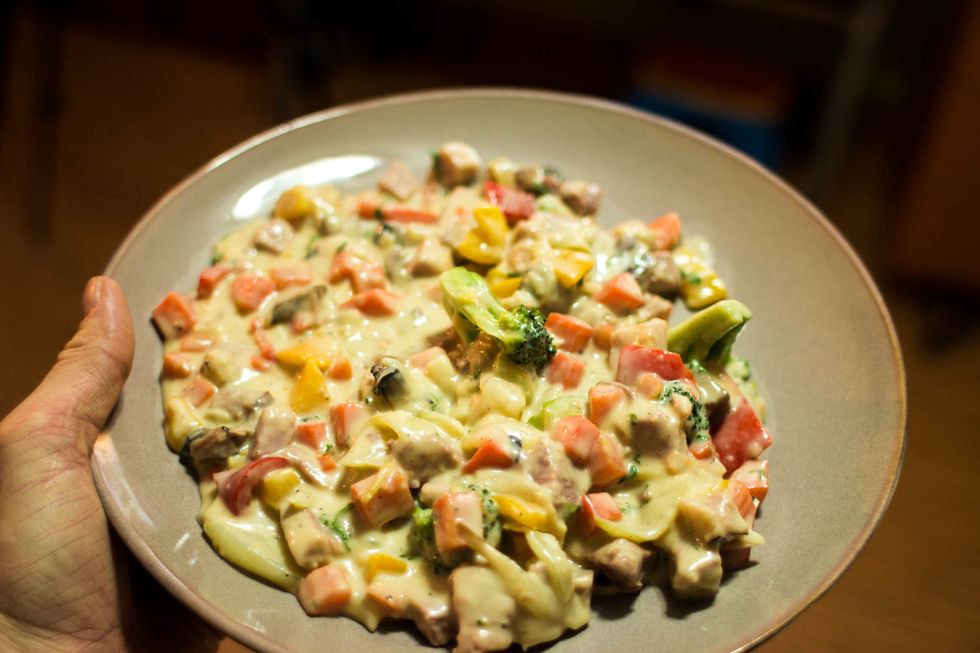 This recipe makes quite a bit so this plate full went into the fridge to cool down for another larger pie. Although, you could just use all the filling for individual Pot pies.
30-40 minutes later -- These bad boys were bubbling away with a nice and crispy top on em. Make sure to cool them about 5 - 10 minutes before eating them. Otherwise you may burn your tongue.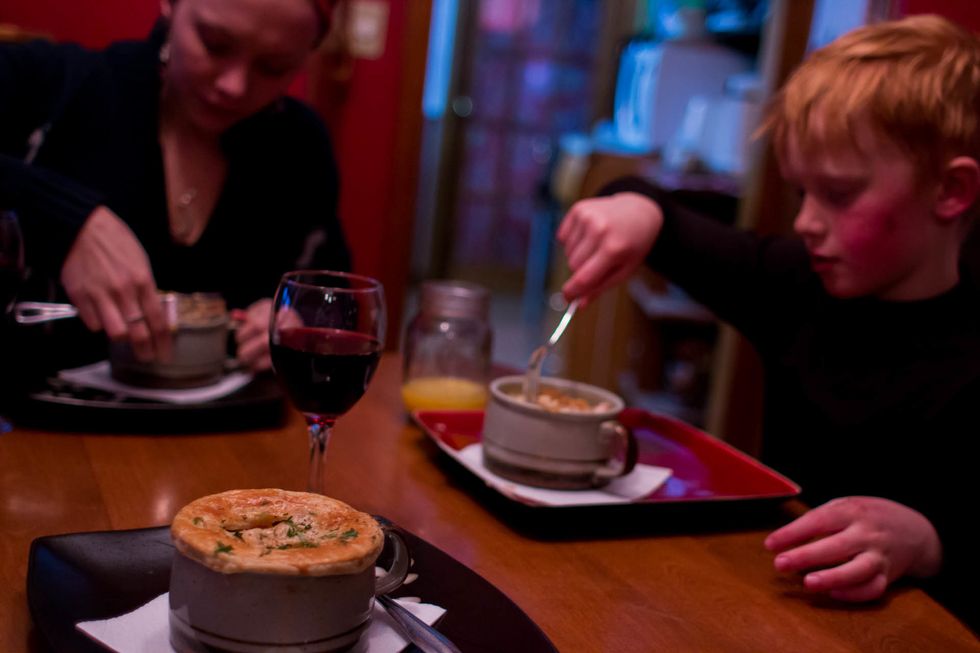 Pour yourself some wine or OJ or whatever the heck you like to drink and sit down to your leftover masterpiece.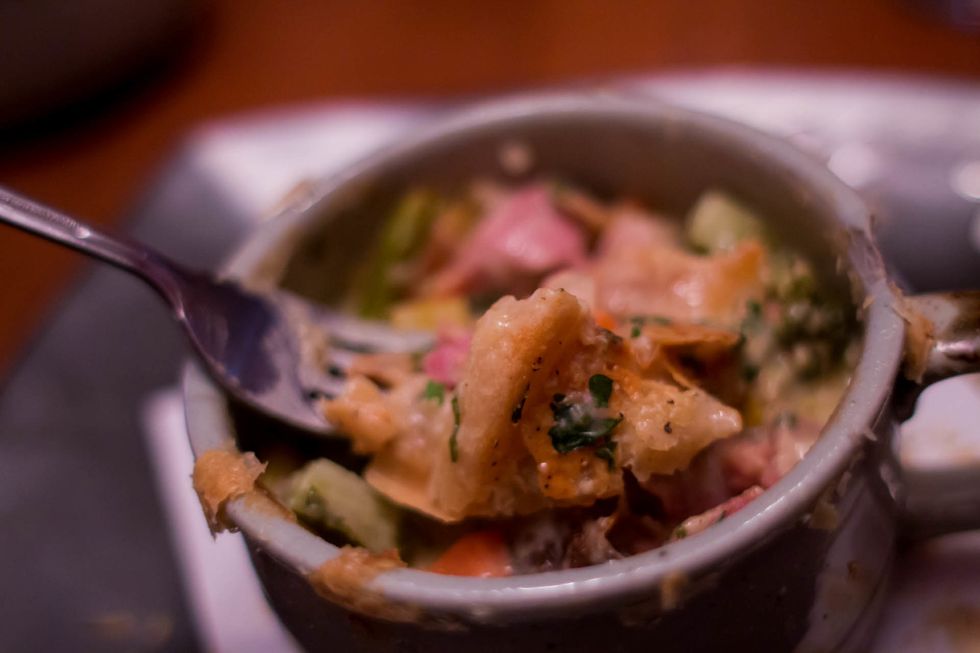 mmmm every fork full is loaded with flavour. Enjoy!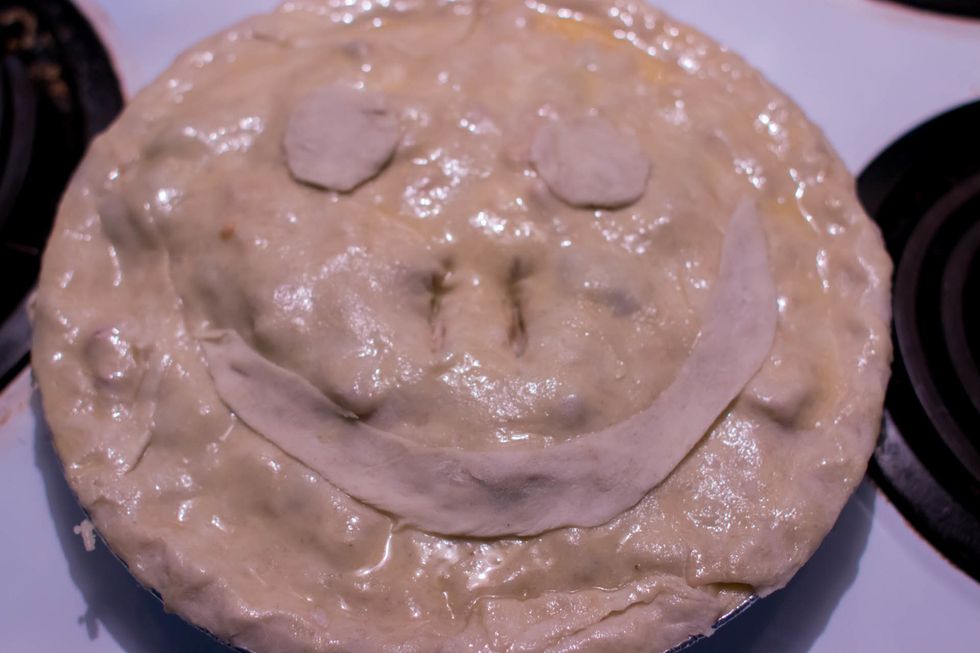 Oh yea.. I put the rest of the filling into a frozen pie shell and topped it with puff pastry. My son decided it needed a happy face because it was so tasty.
Thanks for taking the time to check out my recipes. Don't forget to boost my ego with a "❤️" or a "follow". Lots more recipes to come.. Ps check out some of my mixes at www.soundcloud.com/urban-scout
3.0c Left over ham
6.0c Garlic cloves
1.0 Puff pastry (sheet)
1/2 Onion
2.0Tbsp Butter
1/4c Flour
3.0c Milk
2.0 Carrots
1.0 Red or yellow pepper
2.0 Portobello (or any mushroom)
1.0c Cheese (I used cheddar)
1.0c Broccoli florets
Salt and pepper
1.0Tbsp Parsley (chopped)
Jody Wagstaff
Chef turned cable guy, feeding his lust for cooking by sharing tips and tricks on the interweb. The rest of my time is spent djing, ultimate and fatherhood