How to complete a cardio and toning kettlebell workout
This workout has one set that takes five unites and can be done as many times as you want. Just get ready, three if these and you will feel it for sure!!
164
Do each exercise for 1-minute (or 30-seconds per side), then move straight to the next. Take a 30-second break between sets. Alternate between squats for the odd sets and Russian twists for the even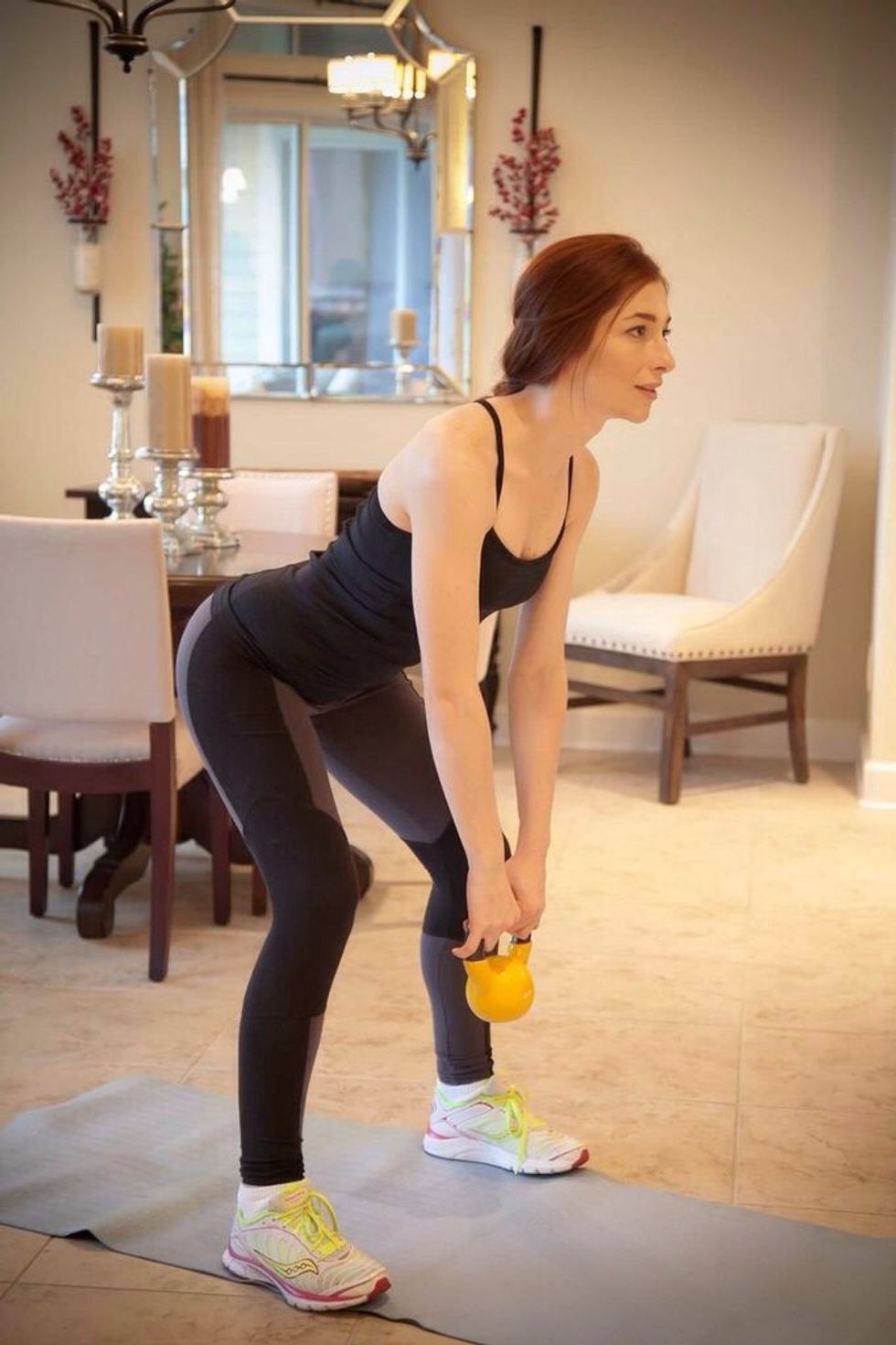 Kettlebell Swing Part I: Stand with feet shoulder width apart. The key is to keep the back straight and hinge at the hips with knees slightly bent and the kettlebell held between the legs.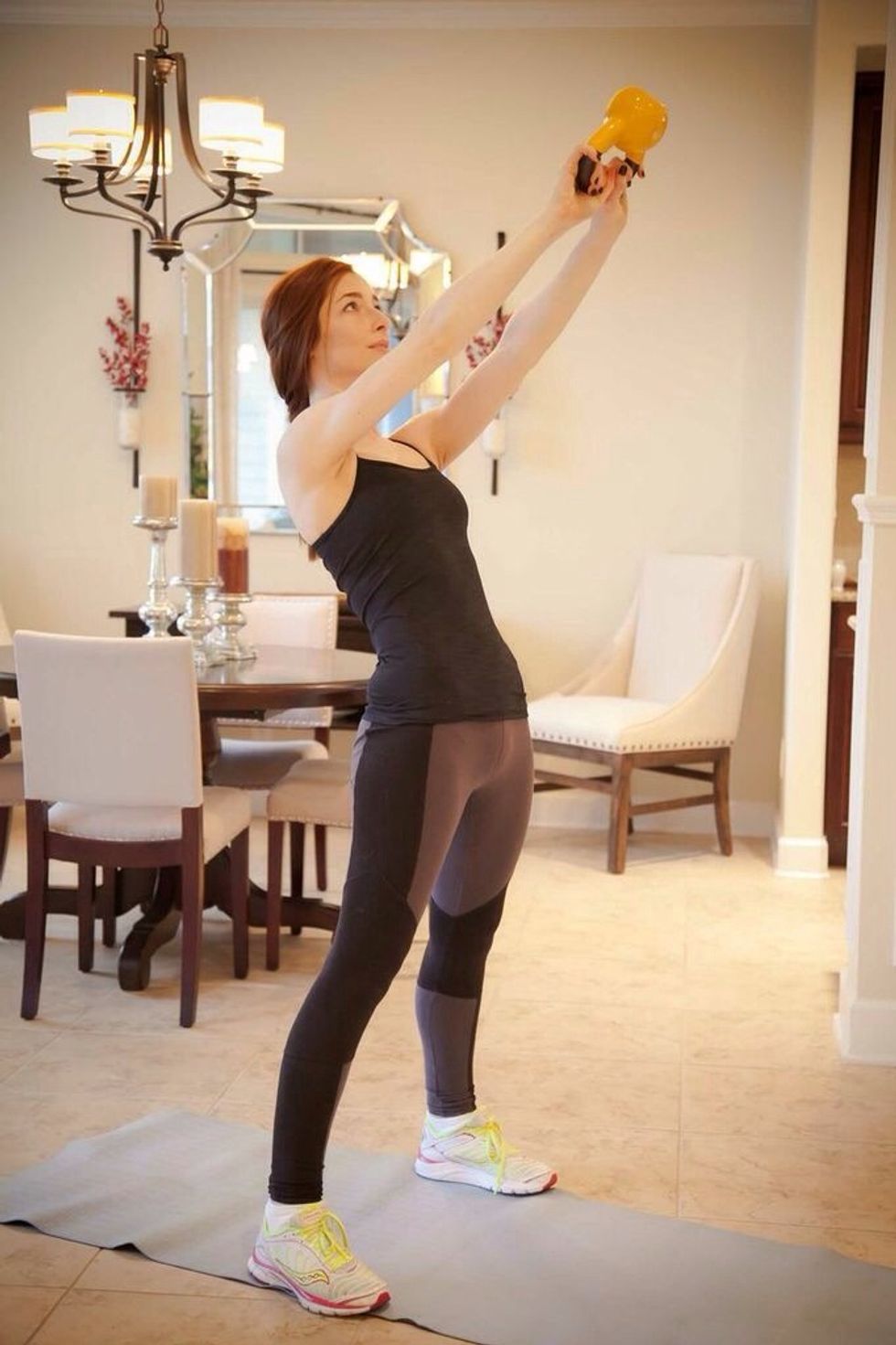 Kettlebell Swing Part II: Swing the kettlebell upwards with arms straight and simultaneously lift the torso and straighten the legs. Its important the glutes and core are doing all the work here.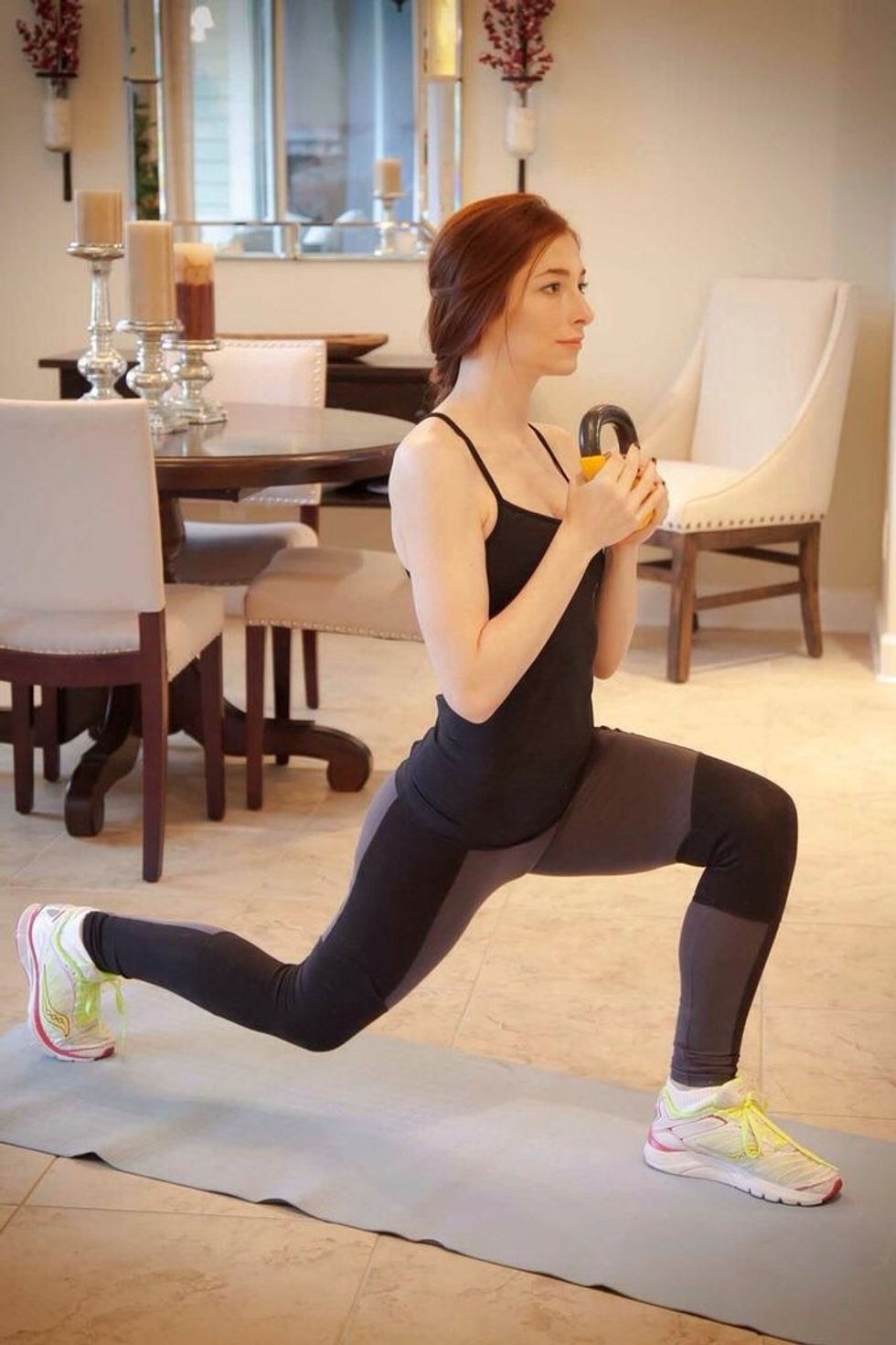 Lunges: Stand with feet hip width apart and the kettlebell held at chest level. Alternate lunges with the right, then the left foot while keeping the kettlebell stationary and torso straight.
Windmills Part I: Start with legs shoulder width apart with feet facing forward. Lift the kettlebell overhead with the right arm, making sure the arm stays straight up the entire time.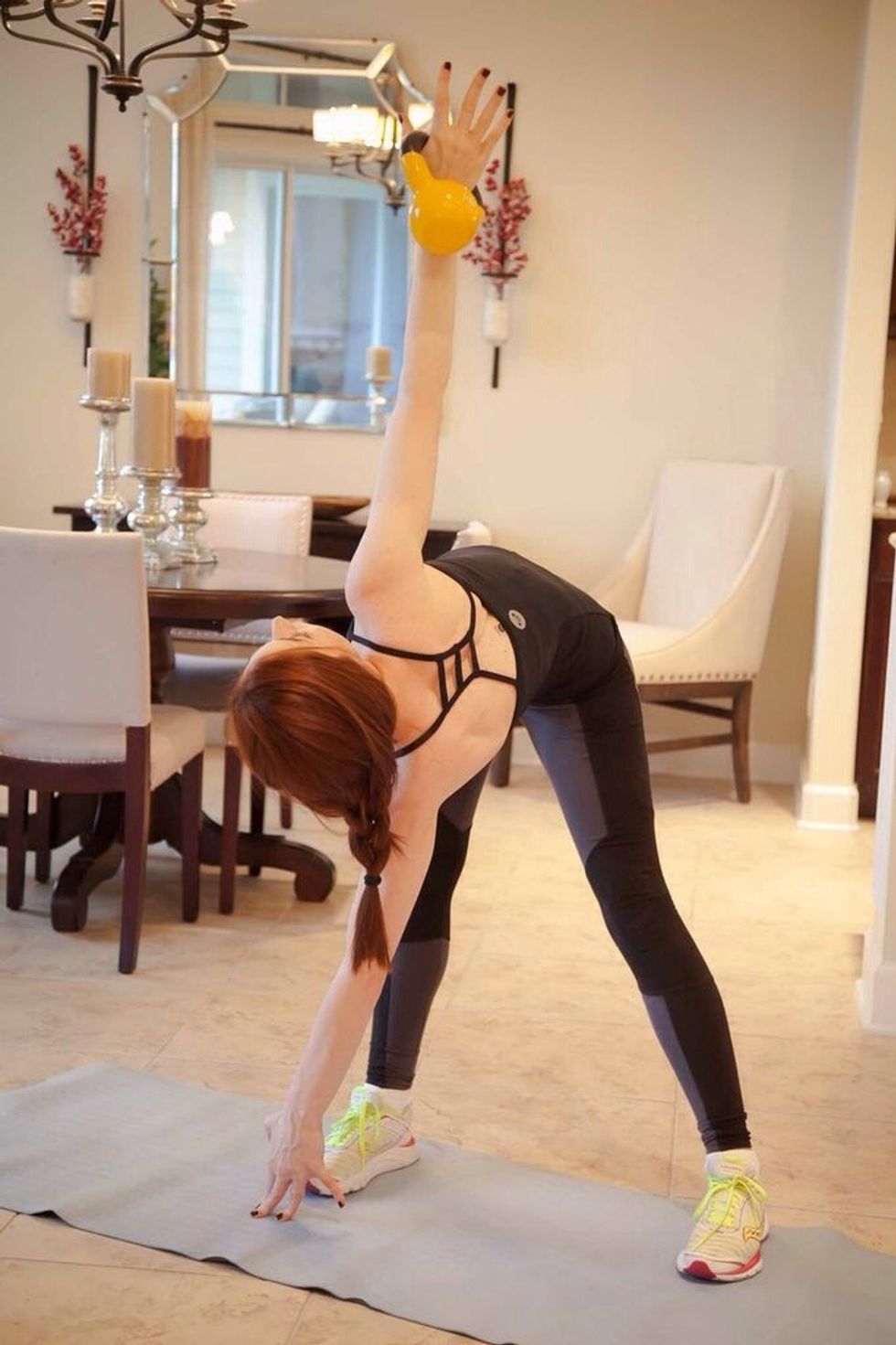 Windmills Part II: Slowly hinge at the waist while the legs and right arm stay straight. Touch your right toes with the left arm, return to starting. Continue for 30-seconds, then alternate sides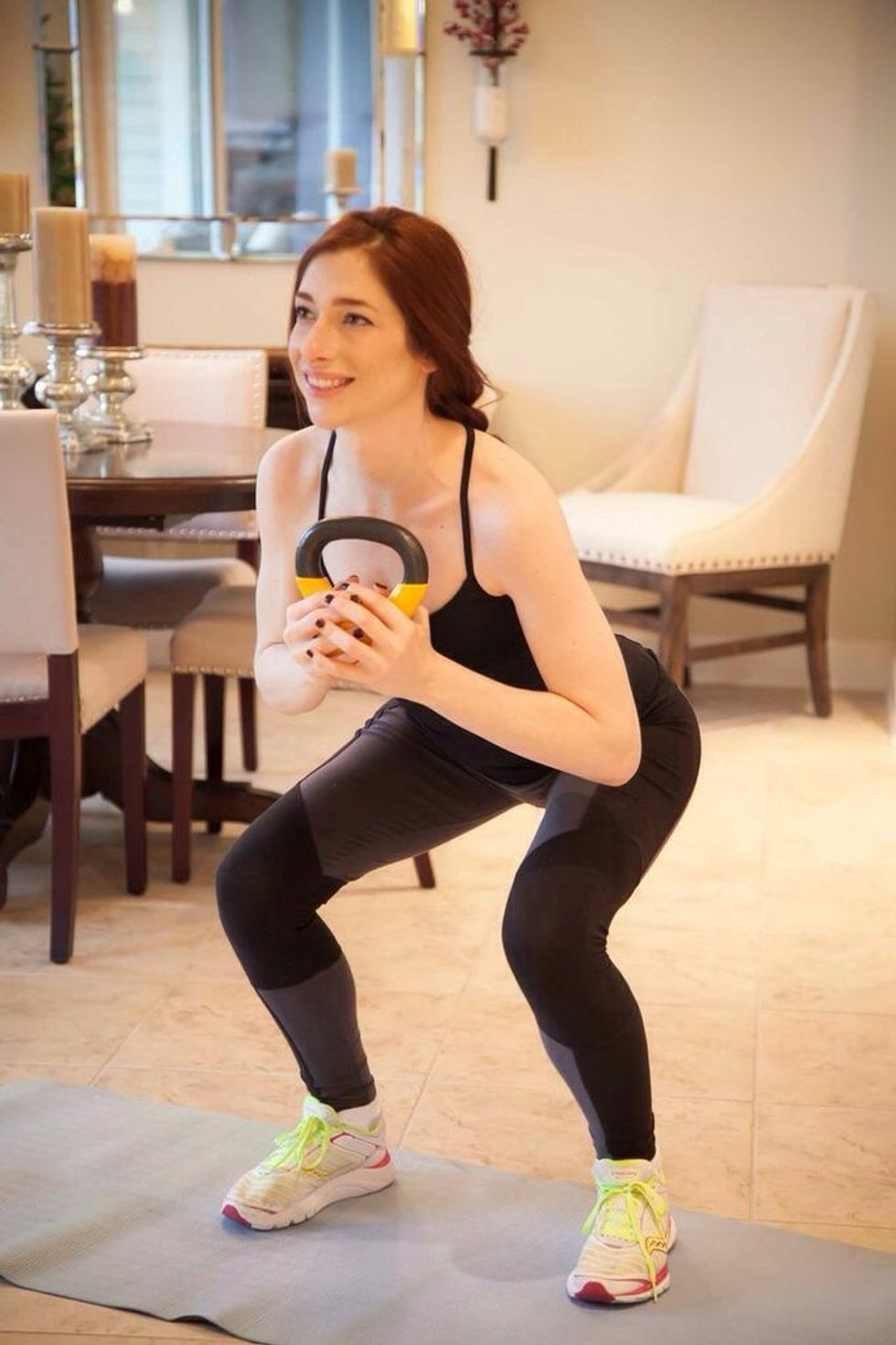 Squats: Do these for the odd numbered sets. Hold the kettlebell at chest level and slowly bend down. Be sure to keep the back straight and push the bum out. Do as many squats as possible in 1-minute
Russian Twists: Do these for the even numbered sets. Begin sitting on the ground with legs lifted and knees bent so lower legs are parallel to the floor. Back should be straight and at 45 degrees
Russian Twists Continued: Hold the kettlebell at your belly button and begin twisting to the right, then the left so the kettlebell touches the ground on each side.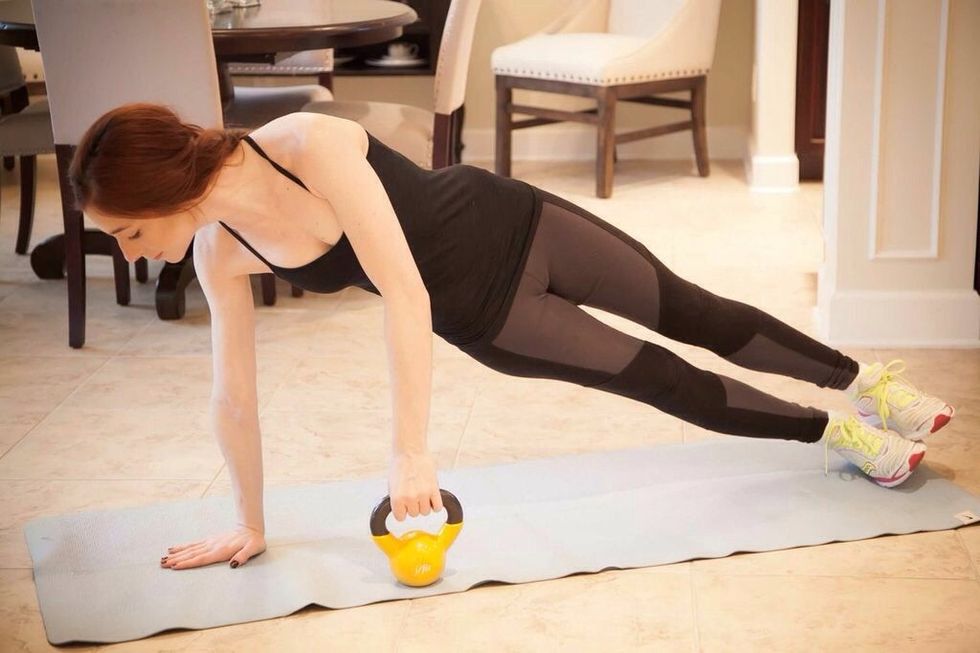 Side Plank Leg Lift Row Part I: Get into side plank position with the right hand on the ground directly under the shoulder. Stack the feet on top of one another with the kettlebell at chest level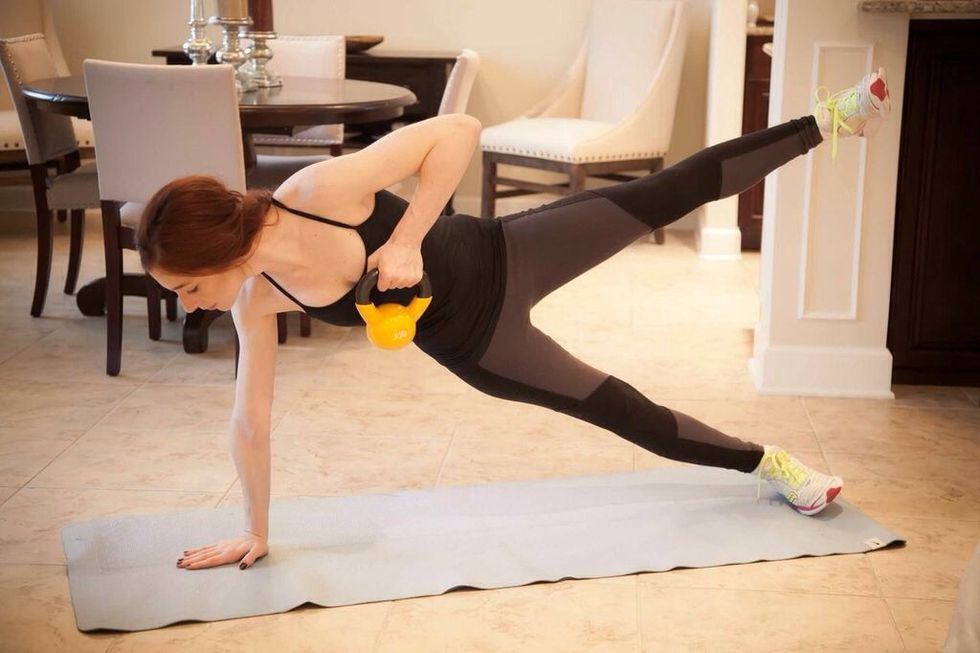 Side Plank Leg Lift Row Part II: Slowly bend the right arm, lifting the kettlebell in the same line of the chest and lift the right leg off the ground as high as possible. Alternate after 30-seconds.
You did it! Now rest for 30-seconds and do it again as many times as your heart desires. For mor health and fitness tips, check out penandkeyboard.com
P+K _
Yoga enthusiast and writer on fitness and food. Penandkeyboard.com focuses in simple ways to maintain a healthy lifestyle.