How to color lace using stains and sprays.
Color Lace Using Stains and Sprays.
55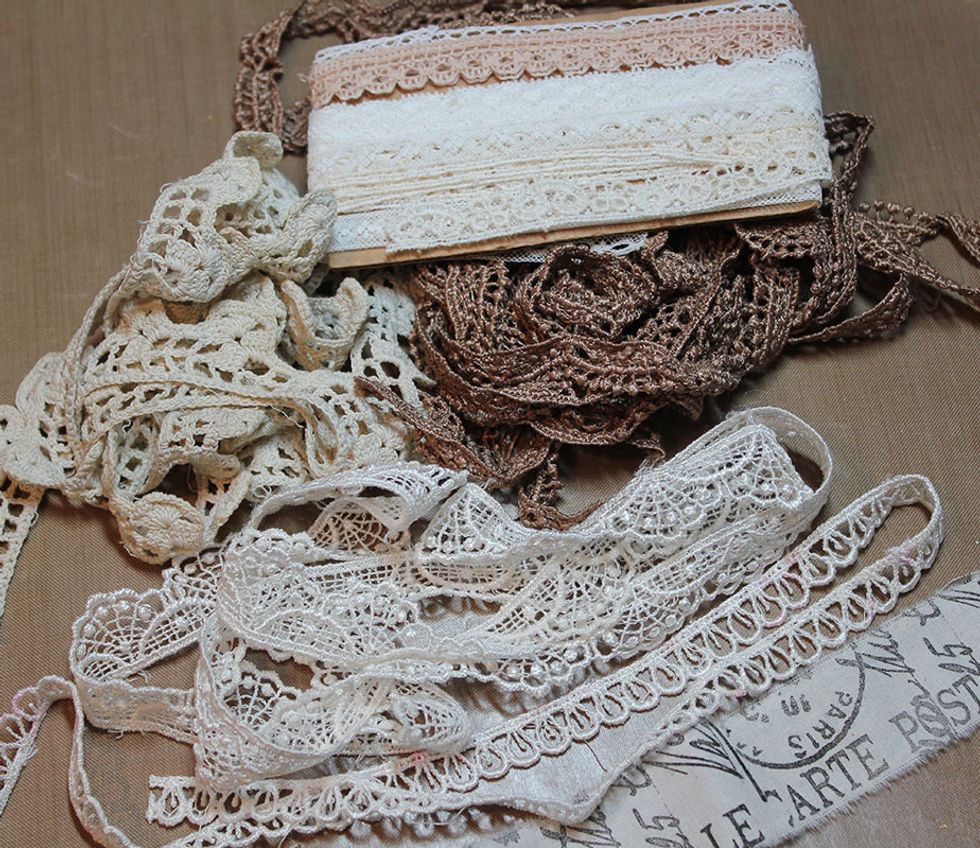 Start with a variety of laces. I also stamped up some cotton strips to make my own fabric ribbons and did a little staining on them.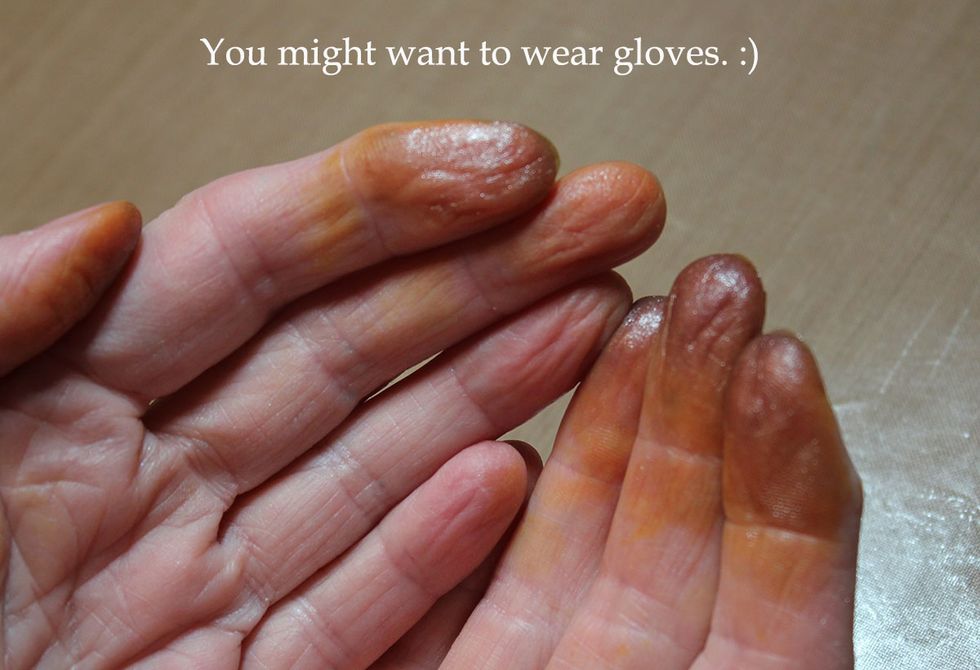 Tip - you may want surgical gloves to keep your hands stain free. Personally, I love wearing the colors of my art. I like to "see" I've been busy. :)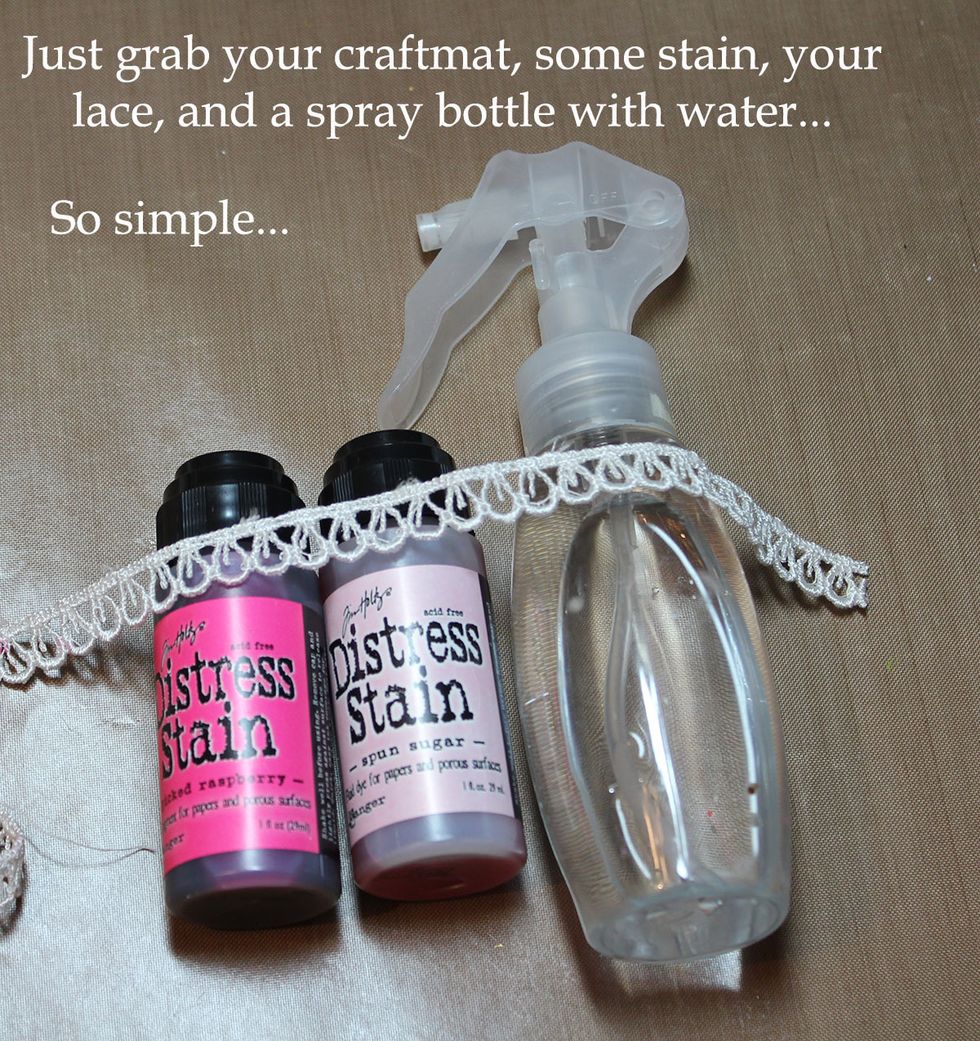 I started with some Spun Sugar (for a pale pink) and Picked Raspberry Distress stains. Some Looped Ivory lace, my craft mat, and a spray bottle of water.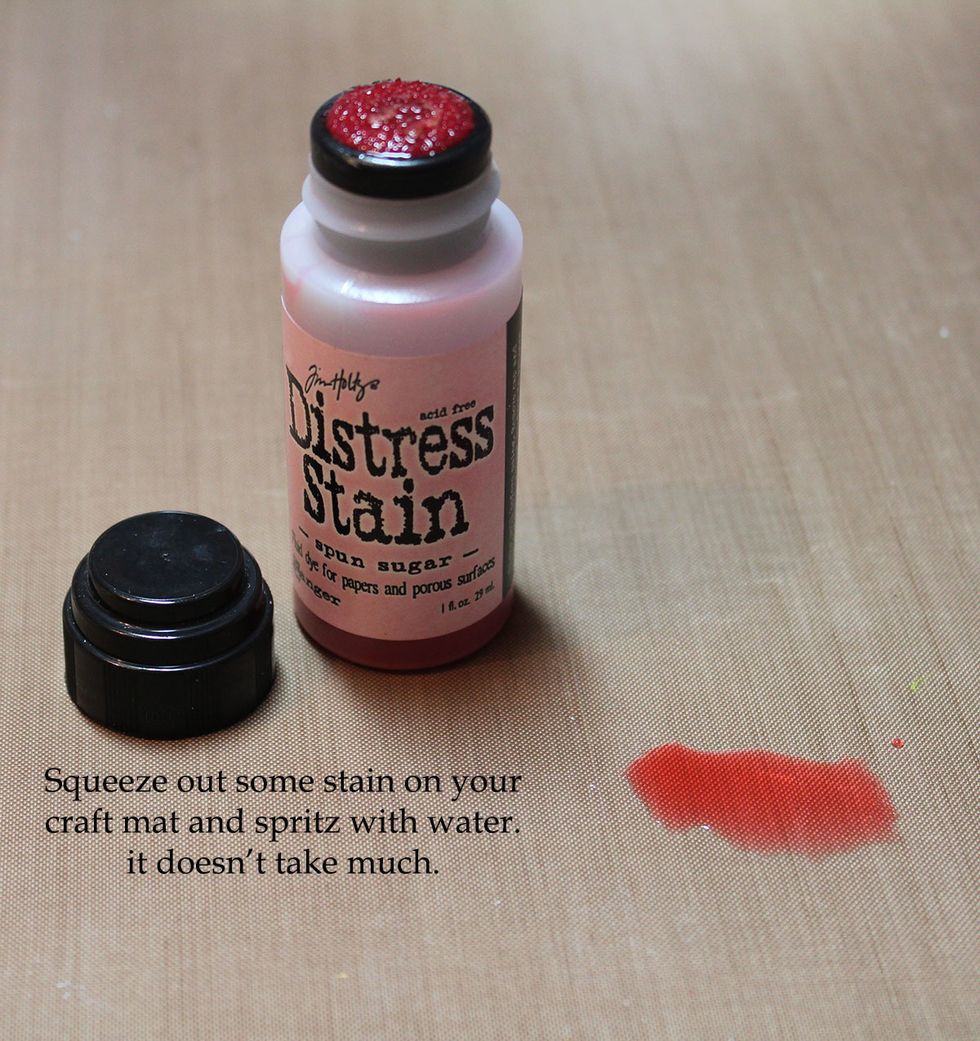 Squeeze out some stain on your craft mat and spritz with water. You can also use it full strength if you like...and it it's too much, then spray the lace with water to lighten it up a bit.
Pretty simple, run your lace through the spritzed stain. It will dry lighter too, so keep that in mind.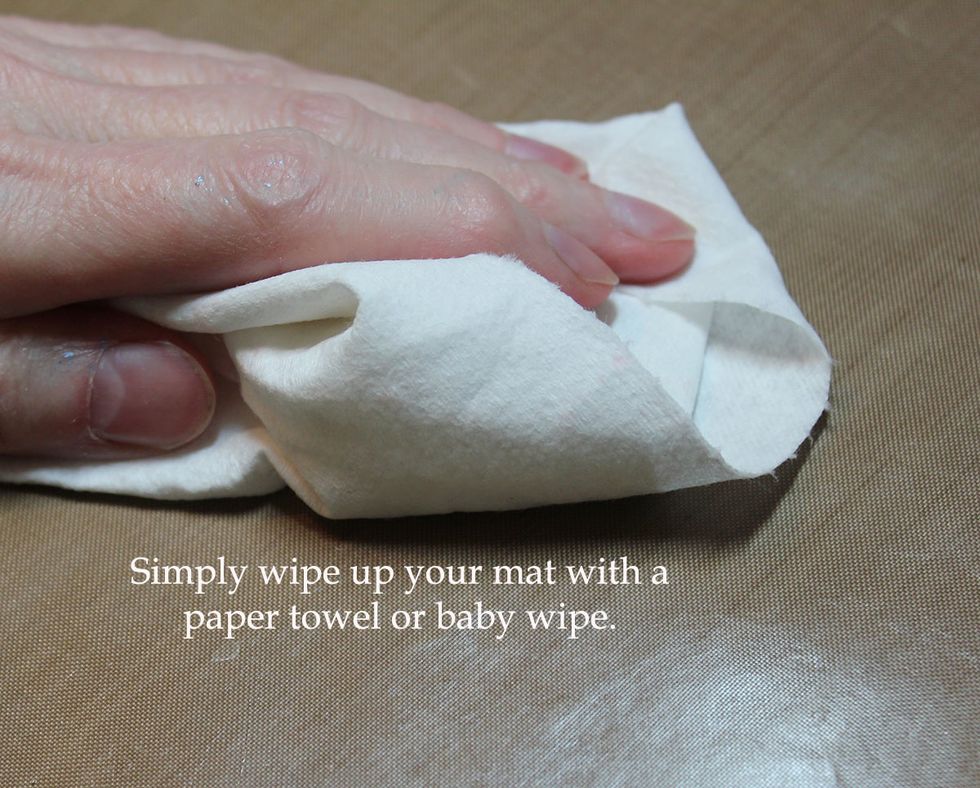 Your craft mat will clean up so easily...ready for your next color or project.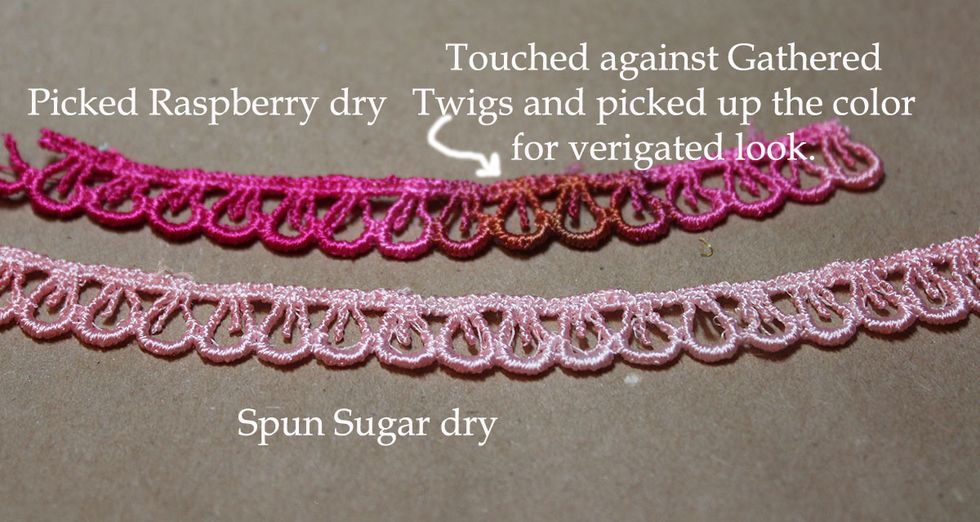 Here is the Picked Raspberry and Spun Sugar dry. I accidentally got too close to another color and it absorbed the color...happy accident...you can get lots of affects playing around with the stains.
Gathered twigs - a bit more earthy brown.
Vintage photo - showing a less diluted piece beside the non-spritzed stain application. Note the color of my fingers. :)
Here's a comparison between Gathered Twigs and the Vintage Photo browns.
Peeled paint over white - wet.
Ecru lace before running through Peeled Paint Stain.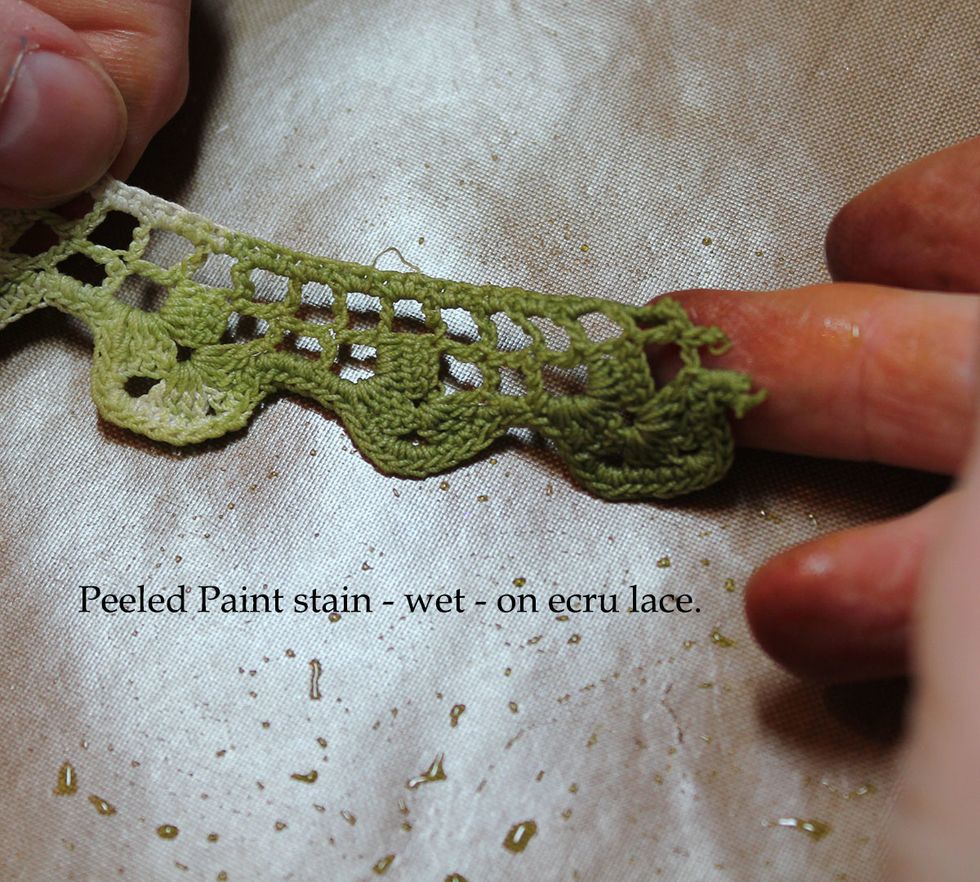 And after - still wet here.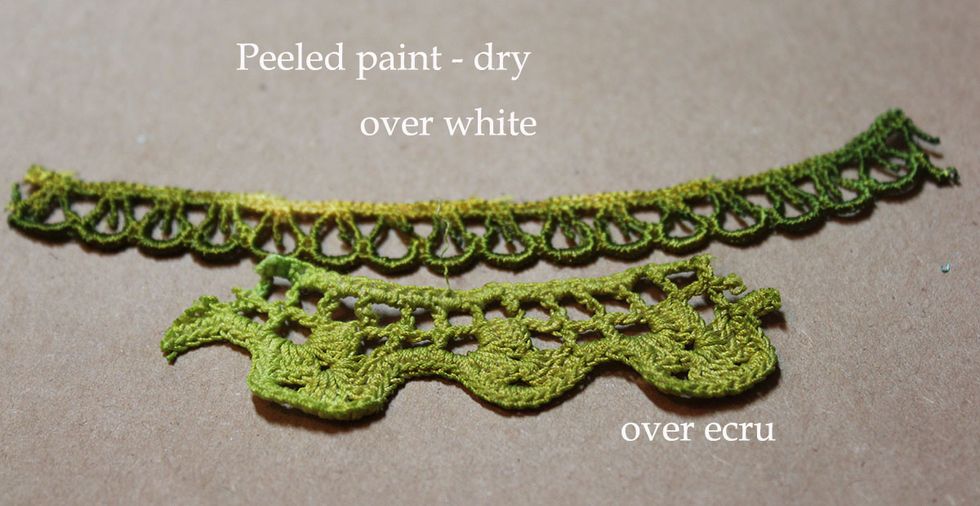 And here is the result of the Peeled paint over white, and over ecru. A bit softer shade with the ecru.
How about some Rusty Hinge? This is the Fancy Fan Ivory lace and makes up so pretty.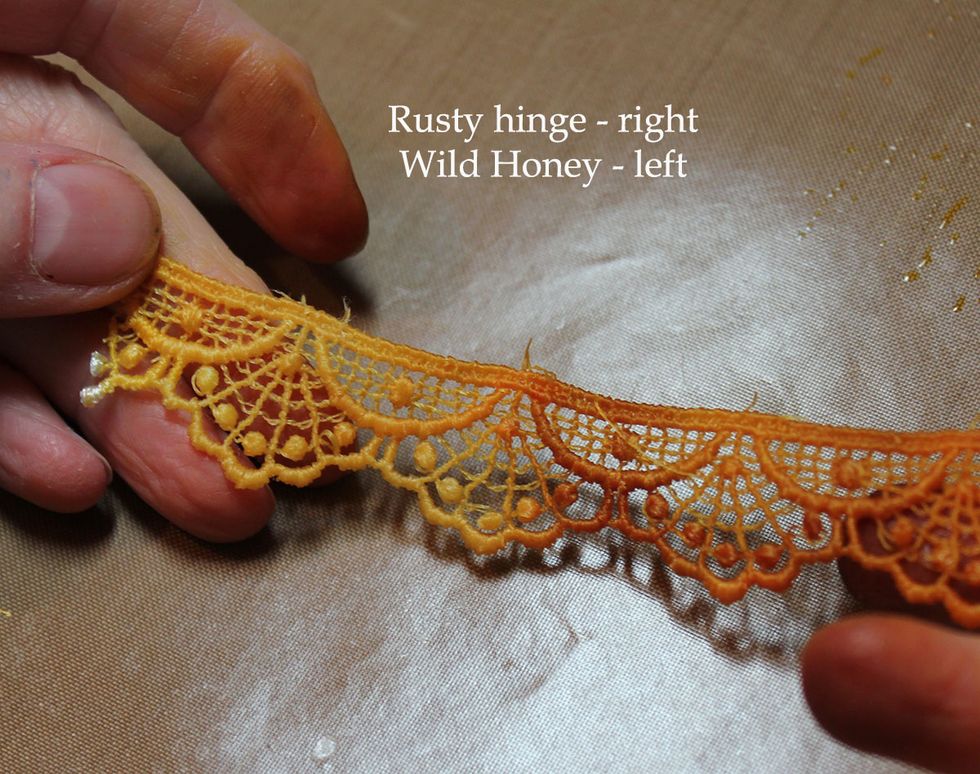 Here I ran one side through Rusty Hinge and the other through Wild Honey. Both so yummy.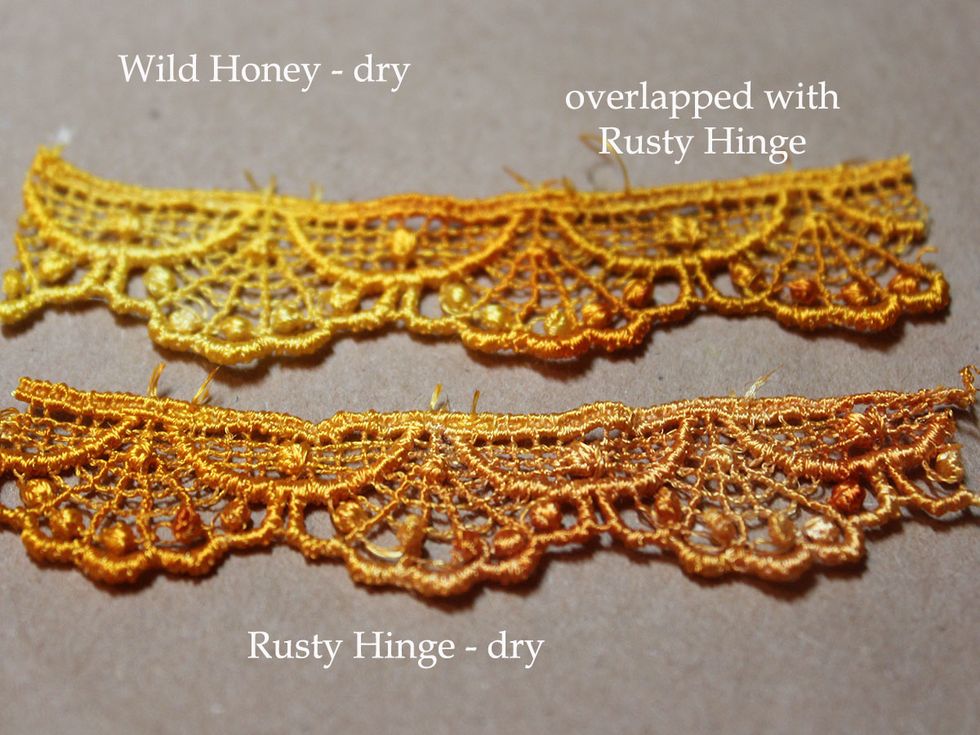 And dry. I got a little bit of variegation between The Wild Honey and Rusty Hinge where they overlapped.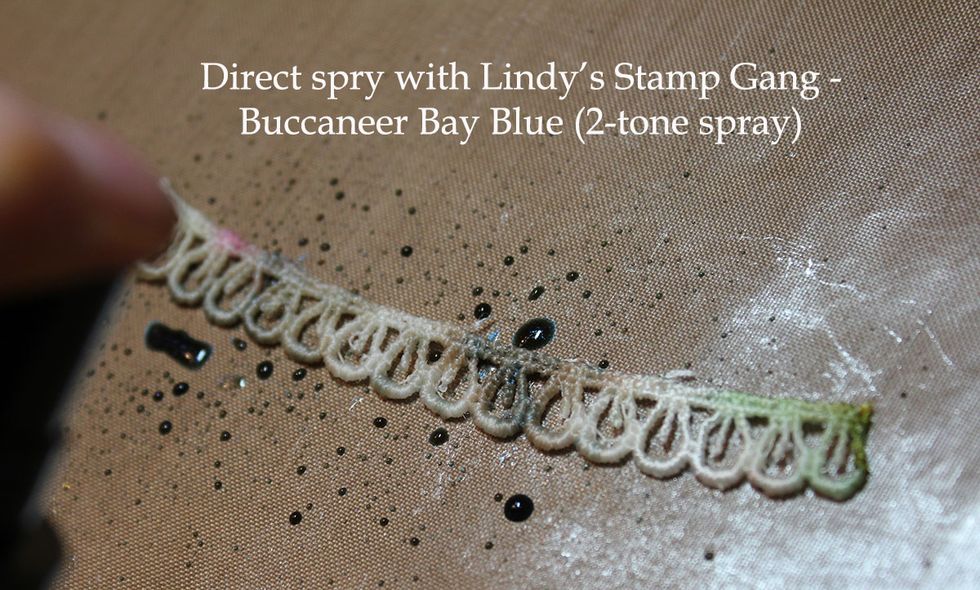 Here I did a direct spray of a two-toned Lindy's Stamp Gang spray, Buccaneer Bay Blue.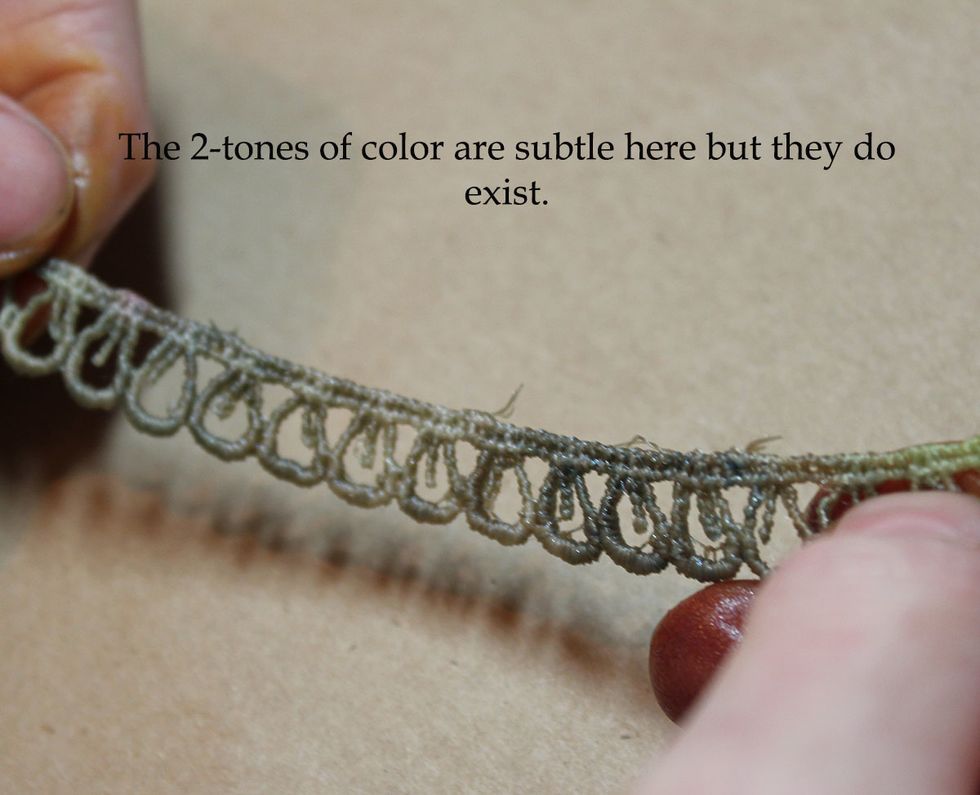 Here it is still wet. The color variations are subtle, especially when wet.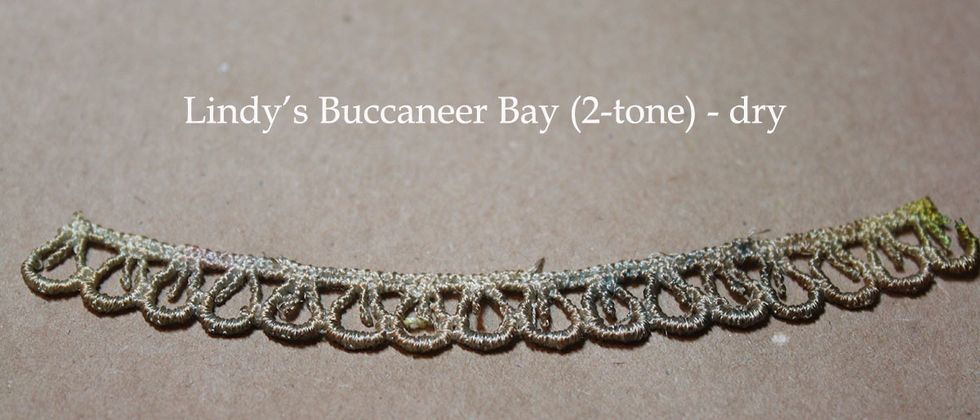 And here it is dry. The camera doesn't pick up the color variation, and it is subtle, but still very pretty.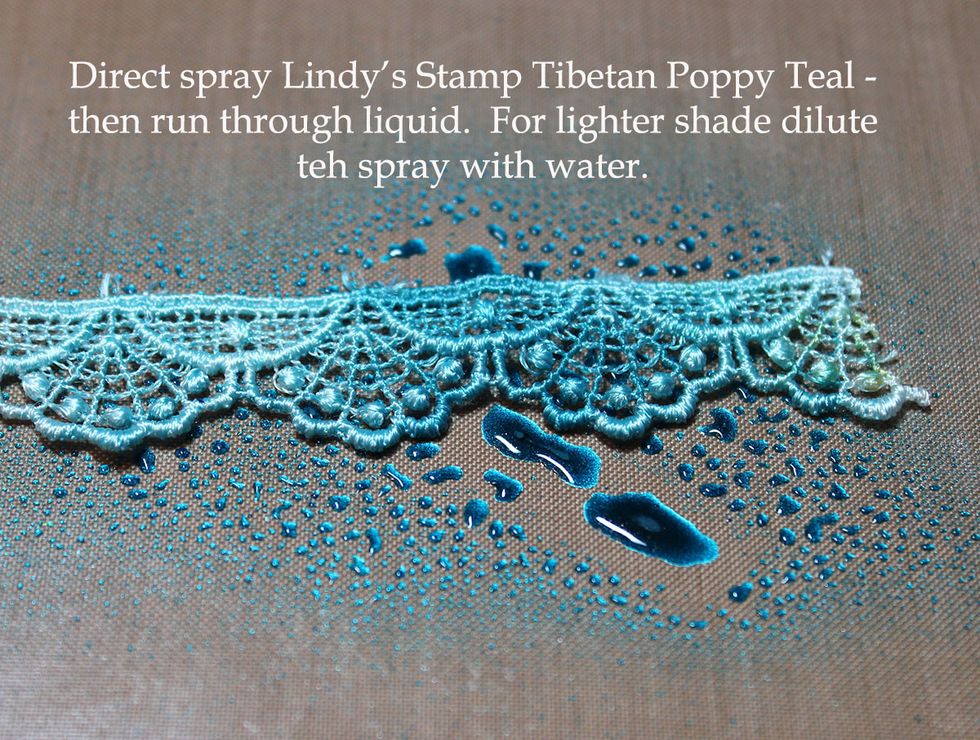 How about some juicy Teal? Again a direct spray. For even more intense color let your lace dry, then spray it again. Want it lighter? Spritz water into the spray before you run your lace through.
Here are lighter and darker versions...but I could have gone even lighter to make the difference greater between the two. Hmmm...a light lace layered over the dark one could make an awesome trim.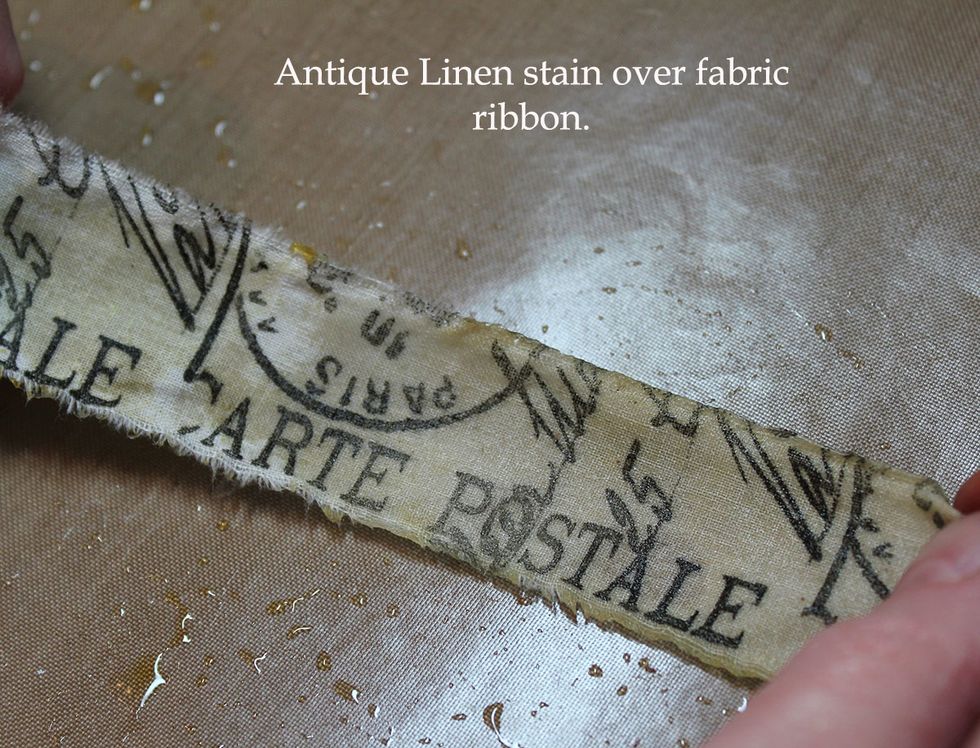 Now let's play with some fabric ribbon. I stamped some cotton strips with archival ink and this cool stamp from the I See Paris set. Using Antique Linen I ran my ribbon through the spritzed stain.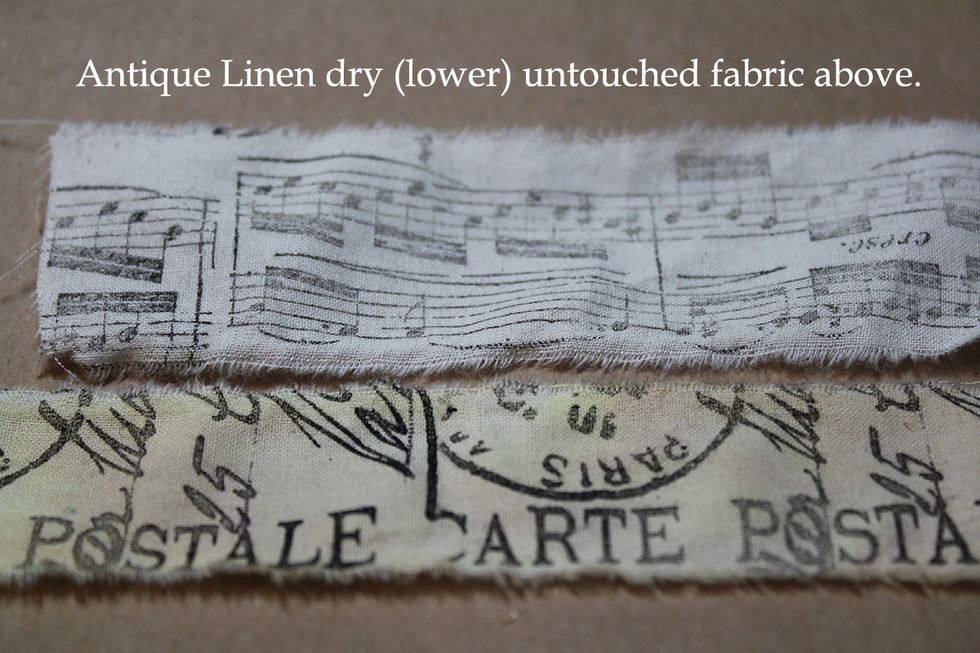 Here is the comparison between a non stained (white) fabric ribbon and how it looks after adding Antique Linen. Quite soft and subtle...
I decided to add a touch of Vintage Photo to the edges to give it a more aged look.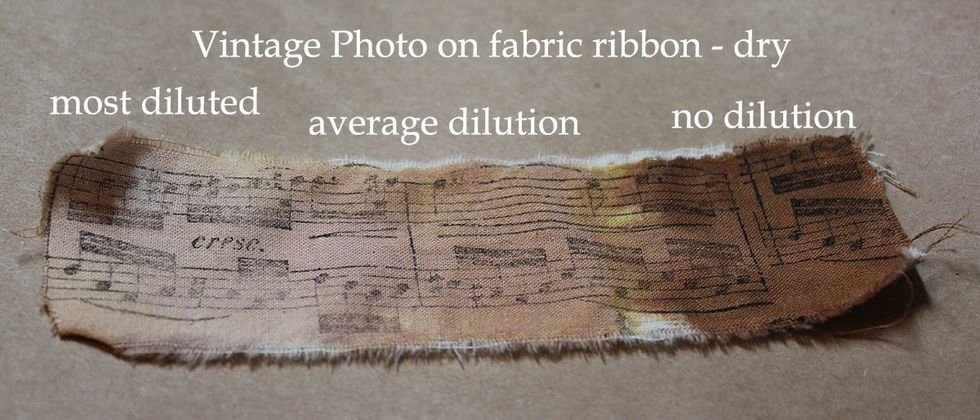 A little comparison showing the shades you can achieve depending upon the strength of stain and water used.
And again, here are the results you can achieve for that special color needed for a fun project.
Picked Raspberry Distress Stain
Spun Sugar Distress Stain
Gathered Twigs Distress Spray
Peeled Paint Distress Spray
Vintage Photo Distress Spray
Antique Linen Distress Spray
Rusty Hinge Distress Stain
Wild Honey Distress Stain
Lindy's Buccaneer Blue Moonshadow Mist
Lindy's Tahetian Poppy Teal Starburst Spray
Lindy's Glitz Spritz
Ranger Non-stick Craft Sheet
I See Paris stamp set
Looped Ivory Lace
Fancy Fan Ivory Lace
Cotton strips 1" and 1.5"
Water spritzer
Archival Ink (for stamping)