Bucket List Canvas Art Anthology by Monica Downing
5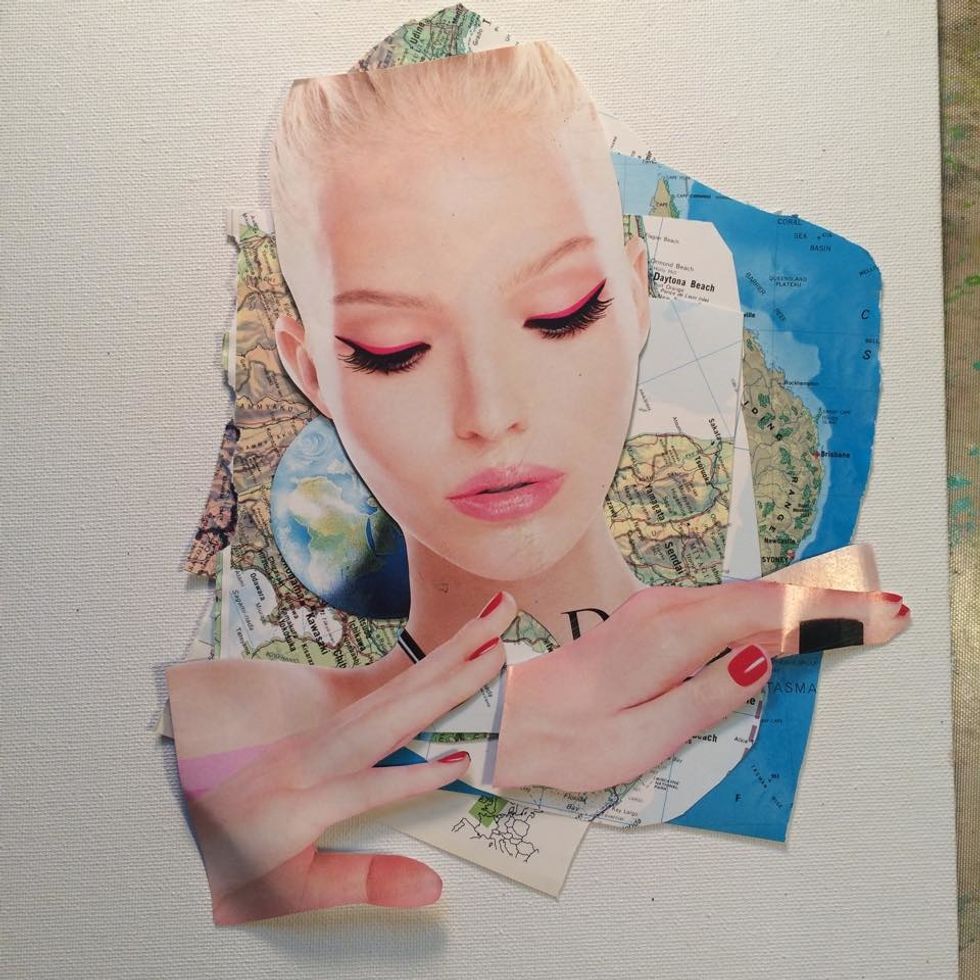 Choose images you wish to use on your canvas and cut them in detail. Spray with Fixatiff spray to prevent any color in the print from smudging.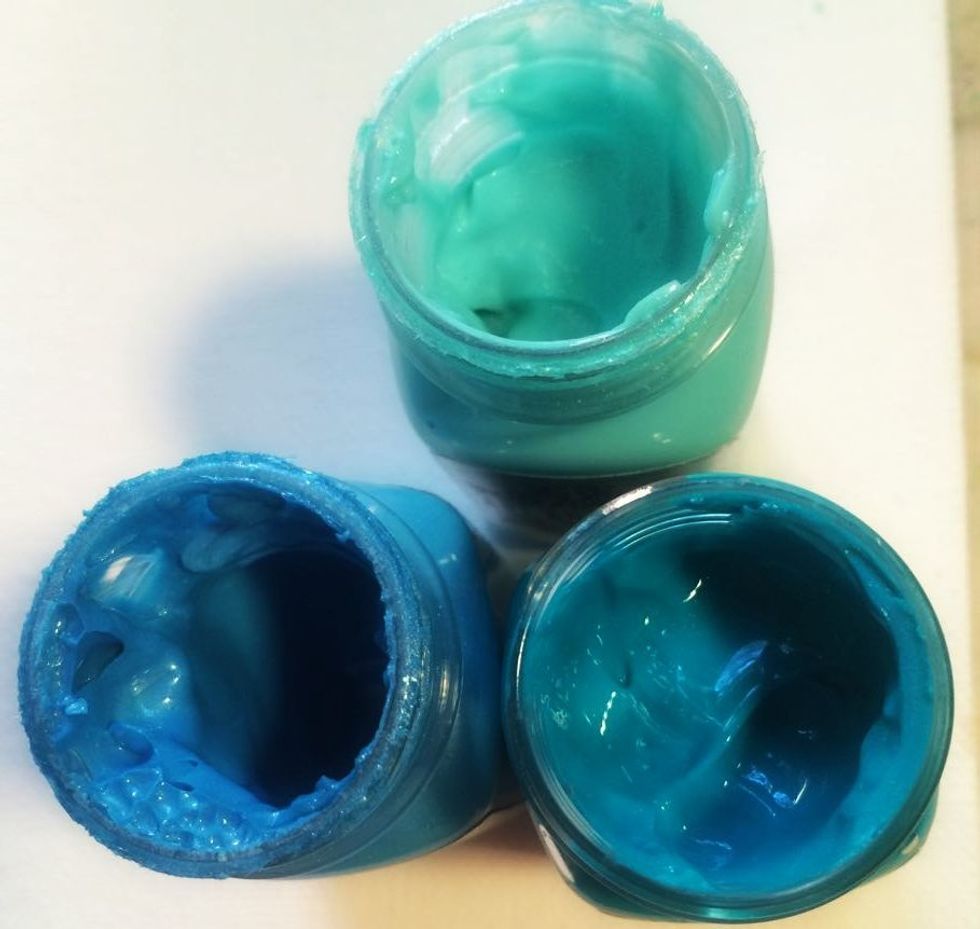 Grab your Art Anthology paints in Fiji, Tink, and Baby Blue eyes...you will need a brush for the next step so we can get started on the background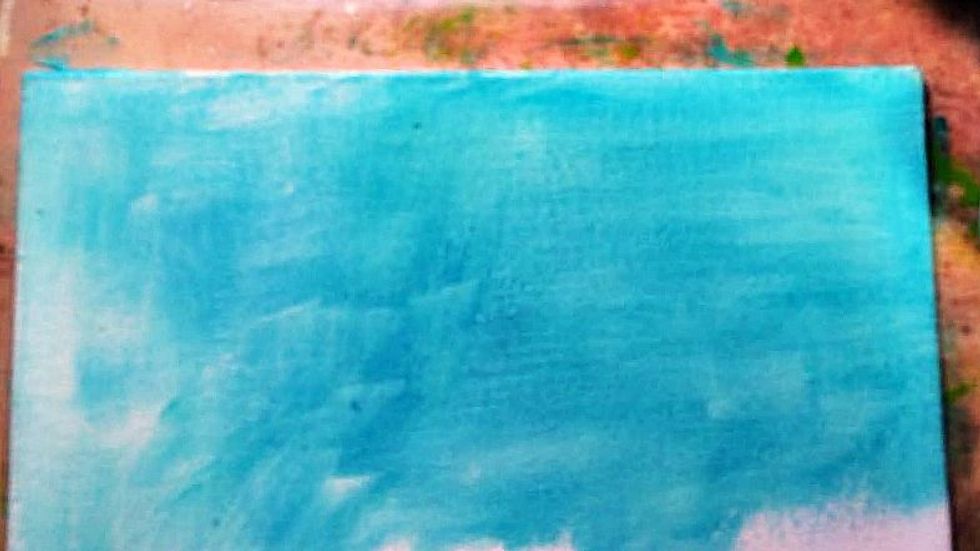 Starting with Fiji, randomly brush on the canvas. Next add some Baby Blue Eyes, then Tink.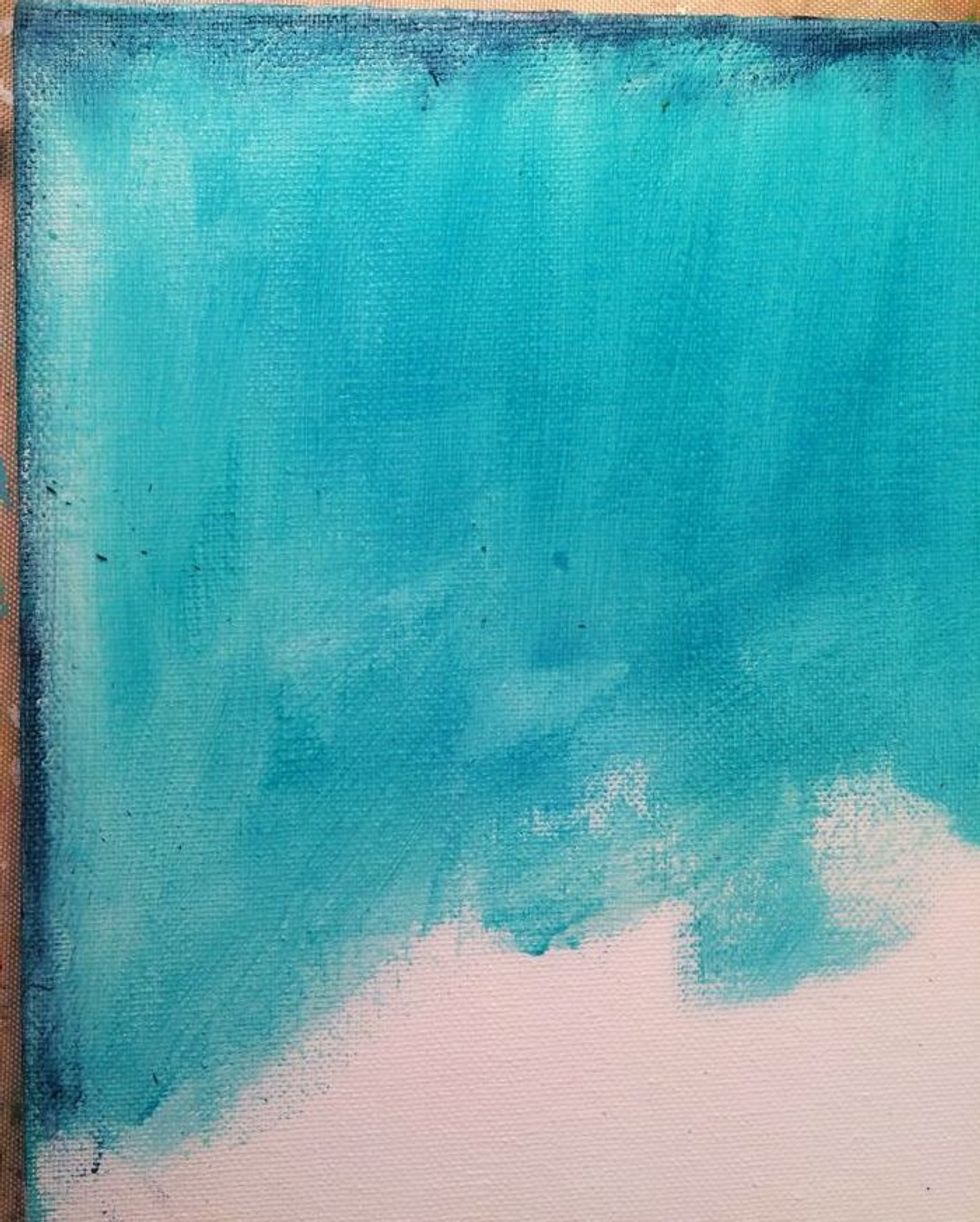 Work your way down the canvas until you have covered it. You can go back over and add some of the Fiji in spots for some darker areas.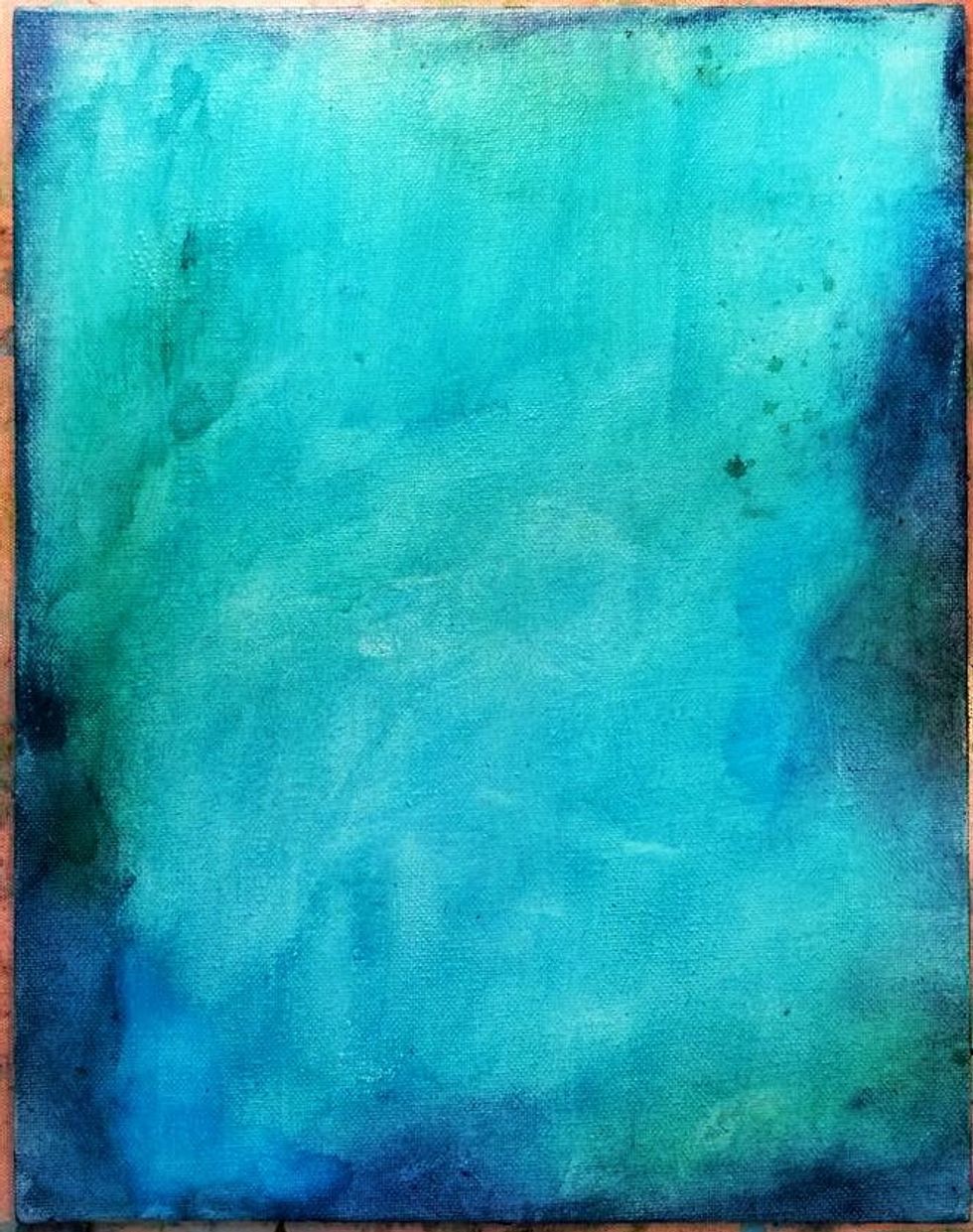 Now grab your bottle of Gemstone in Blue Topaz. Using your finger rub it around the edges, going a bit heavier in the corners to create some depth . Now mist with Studio Blue and Waimea Bay and dry.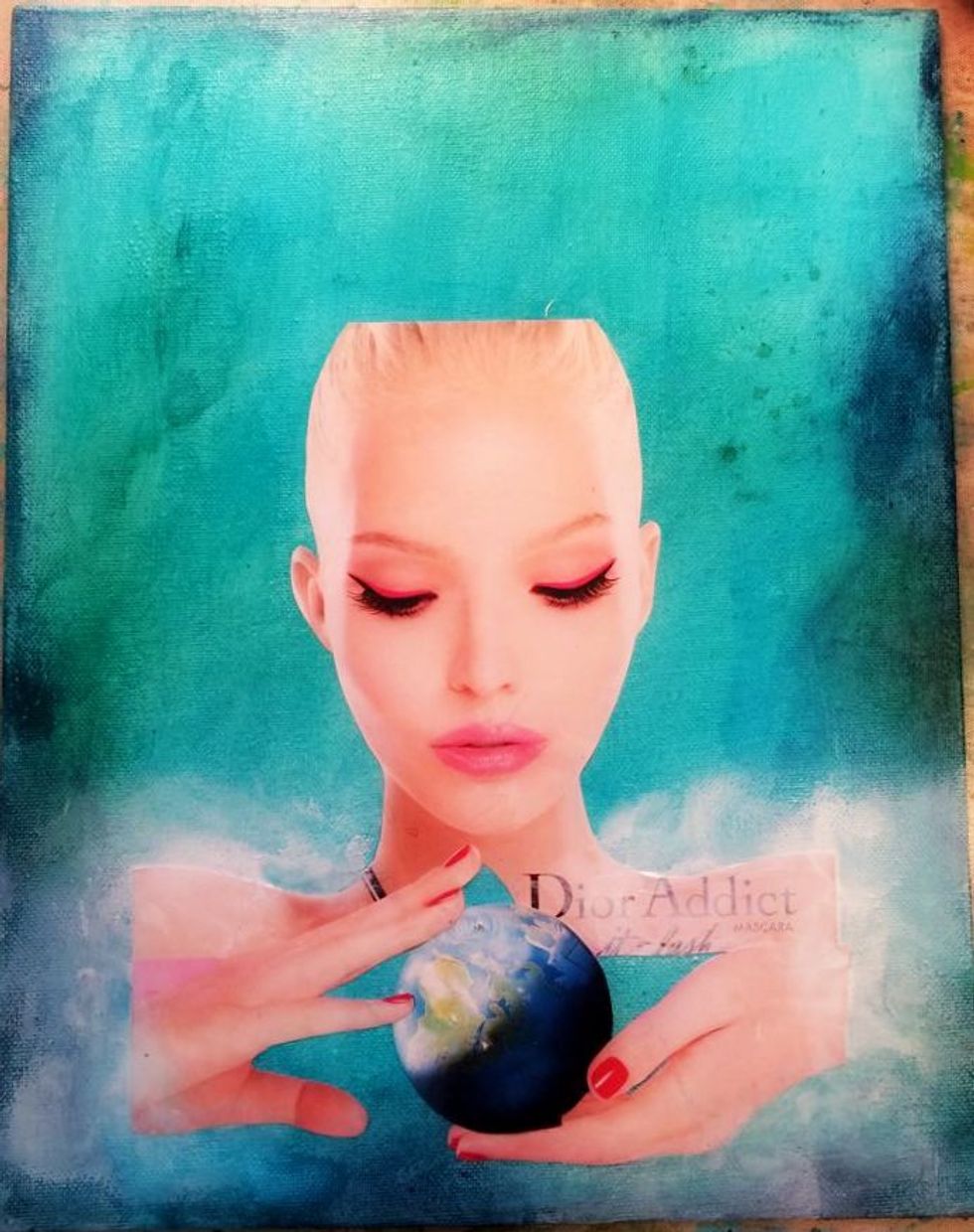 Using a gel medium apply your collage items. I put the gel medium directly on the painted board. Carefully lay down your image and use a credit card to get out any bubbles or wrinkles.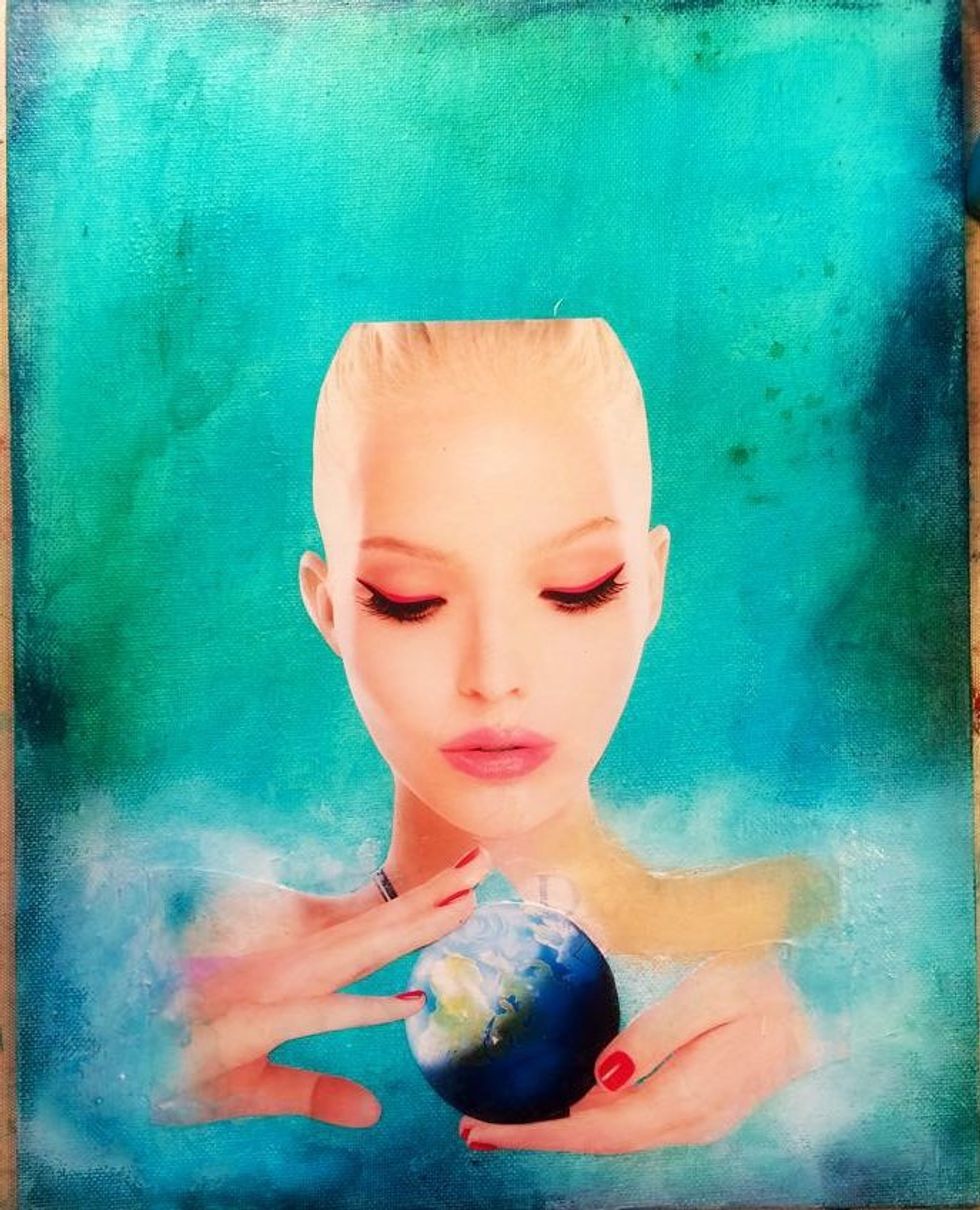 Now, using gesso and your fingers I softened the edges of her shoulders and hands. I used layers of gesso and Baby Blue Eyes. Just keep layering until you get a nice soft edge.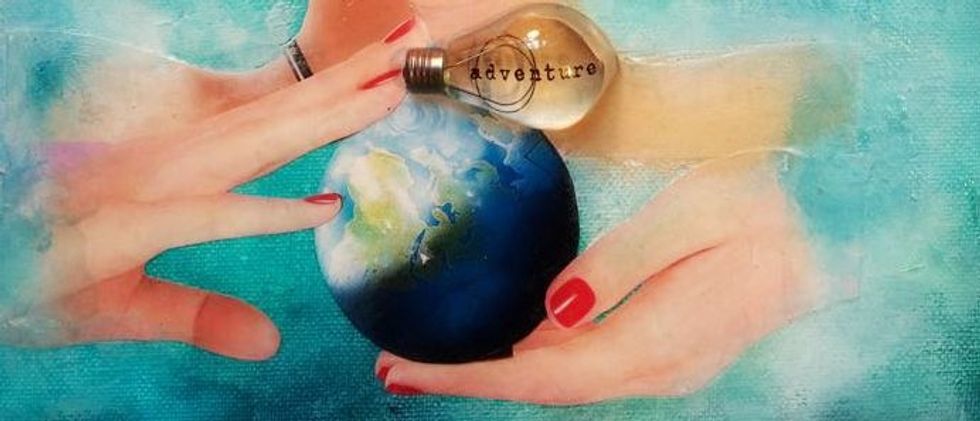 I used the Gesso on her shoulder over the writing as well and added in a bit of Just Peachy to keep the flesh tone. I then glued on the adventure bulb by Prima to cover up the other lettering.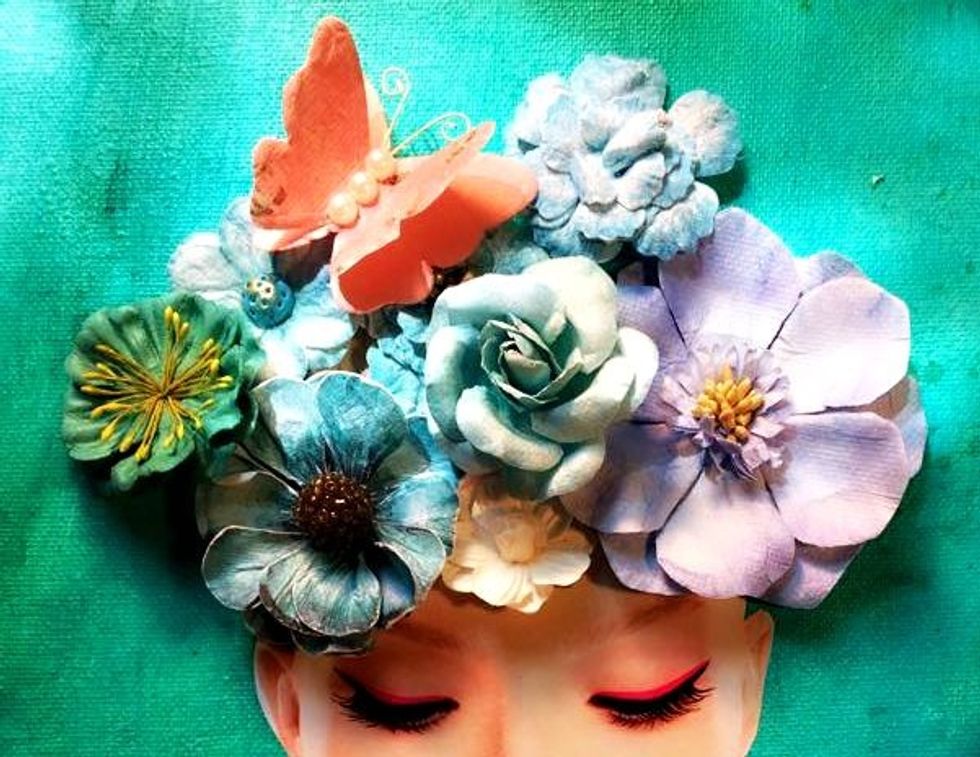 Flower time. Before I colored my flowers, I played around with placement. I love these colors here but wanted them more intense and Art Anthology-licious. It helps if you take a pic of placement.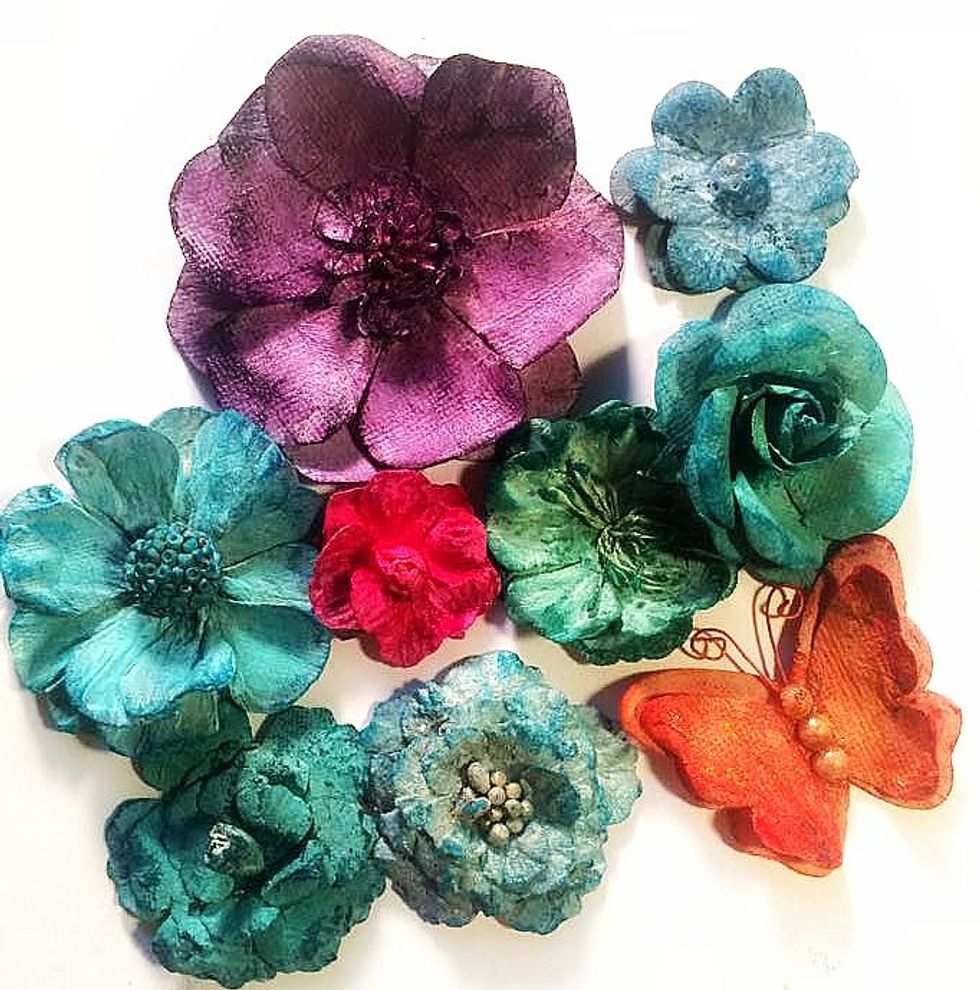 I gesso'd the flowers first. I used Mists and paints in Waimea Bay, Studio Blue, Ink Spot, Rhodolite and Flourite. Keep layering. The more layers the more intense the color. Ink the edges.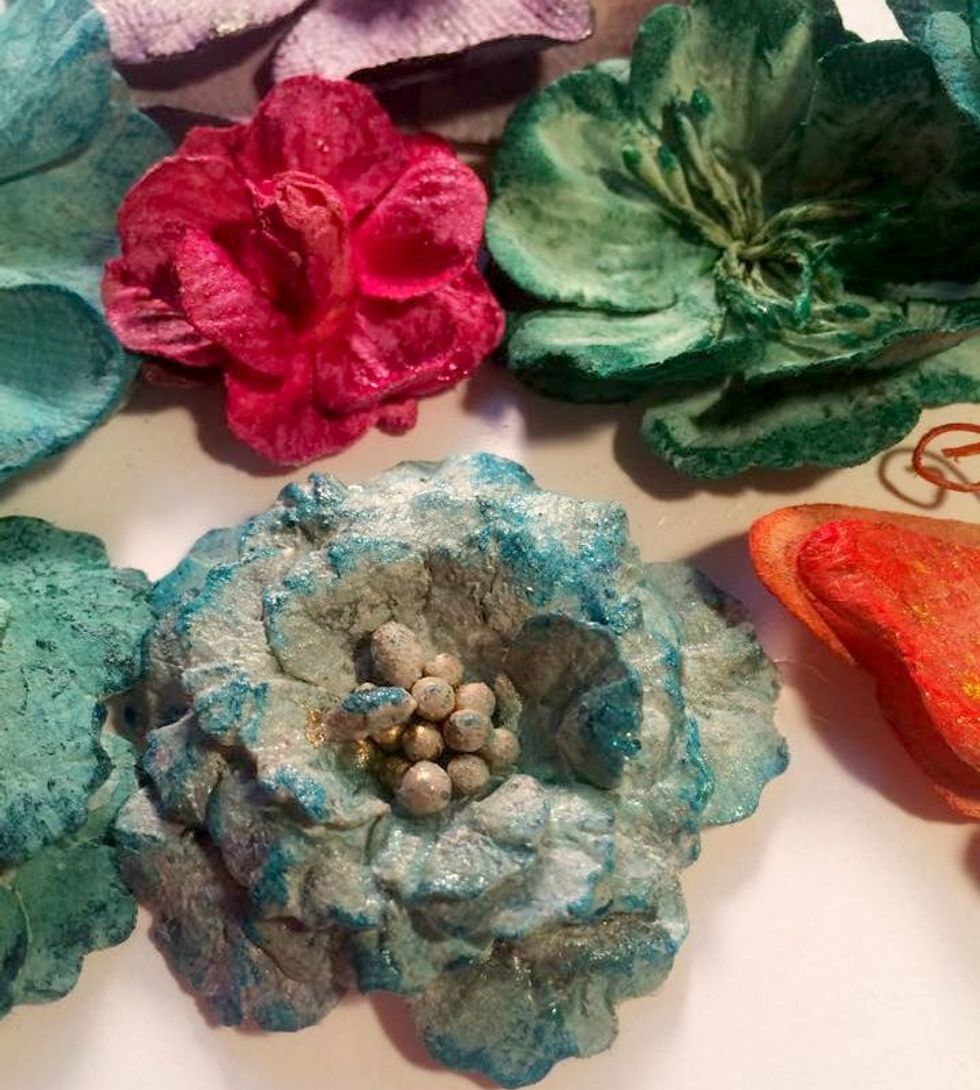 I brushed the blue flowers with Tink to give them a shimmer. They look so beautiful under the light. Just the right amount of sparkle. Just play with it until you find the colors you like together
Next I used a stencil to create a mapped look on the background. I then covered her face, and using the white ink I splattered it on the entire canvas flowers and all. I added metal embelishments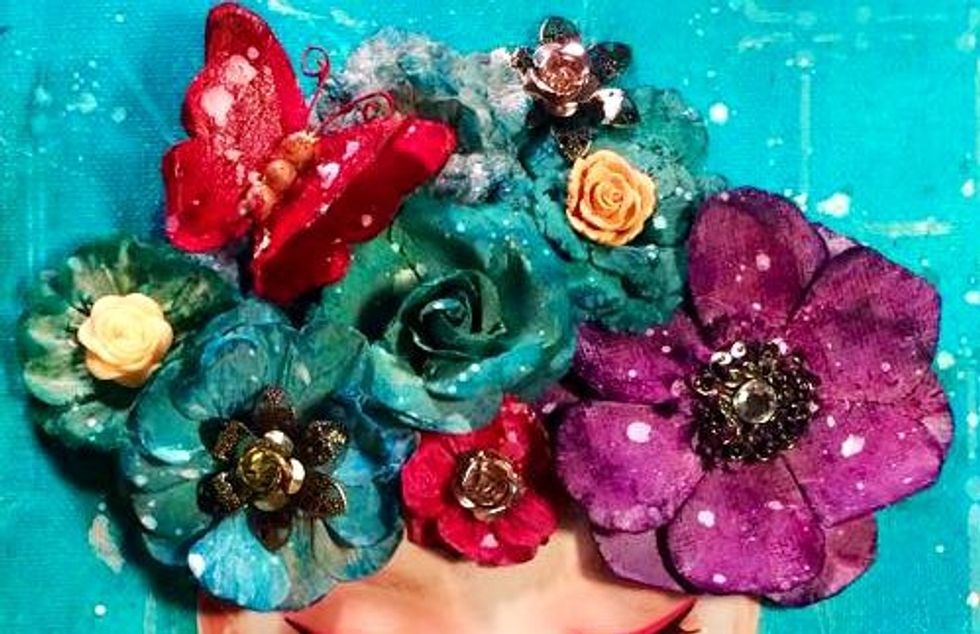 Here is a close up of the gorgeous colored flowers and embelishments. I love the colors and the depth and dimension created by using the Art Anthology paints and mists.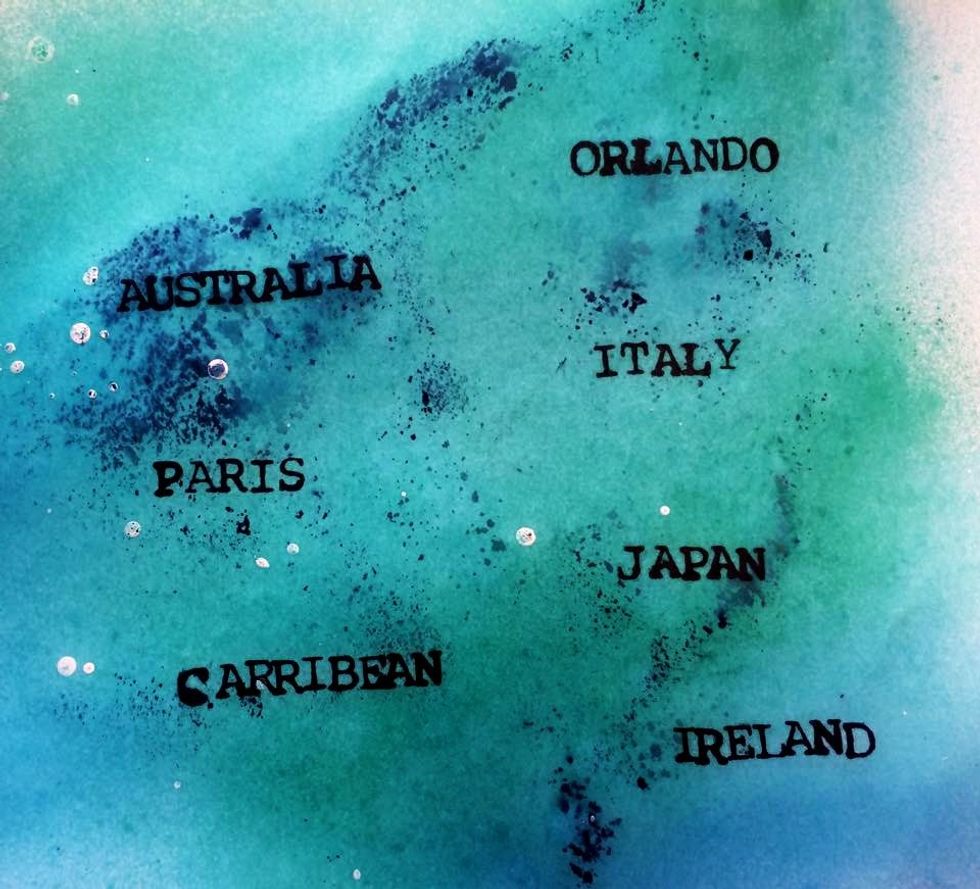 Next I misted some white cardstock with Waimea Bay and Studio Blue. That darker blue came up off of my matt from the paints. I stamped my bucket list destinations and cut them out and glued them on.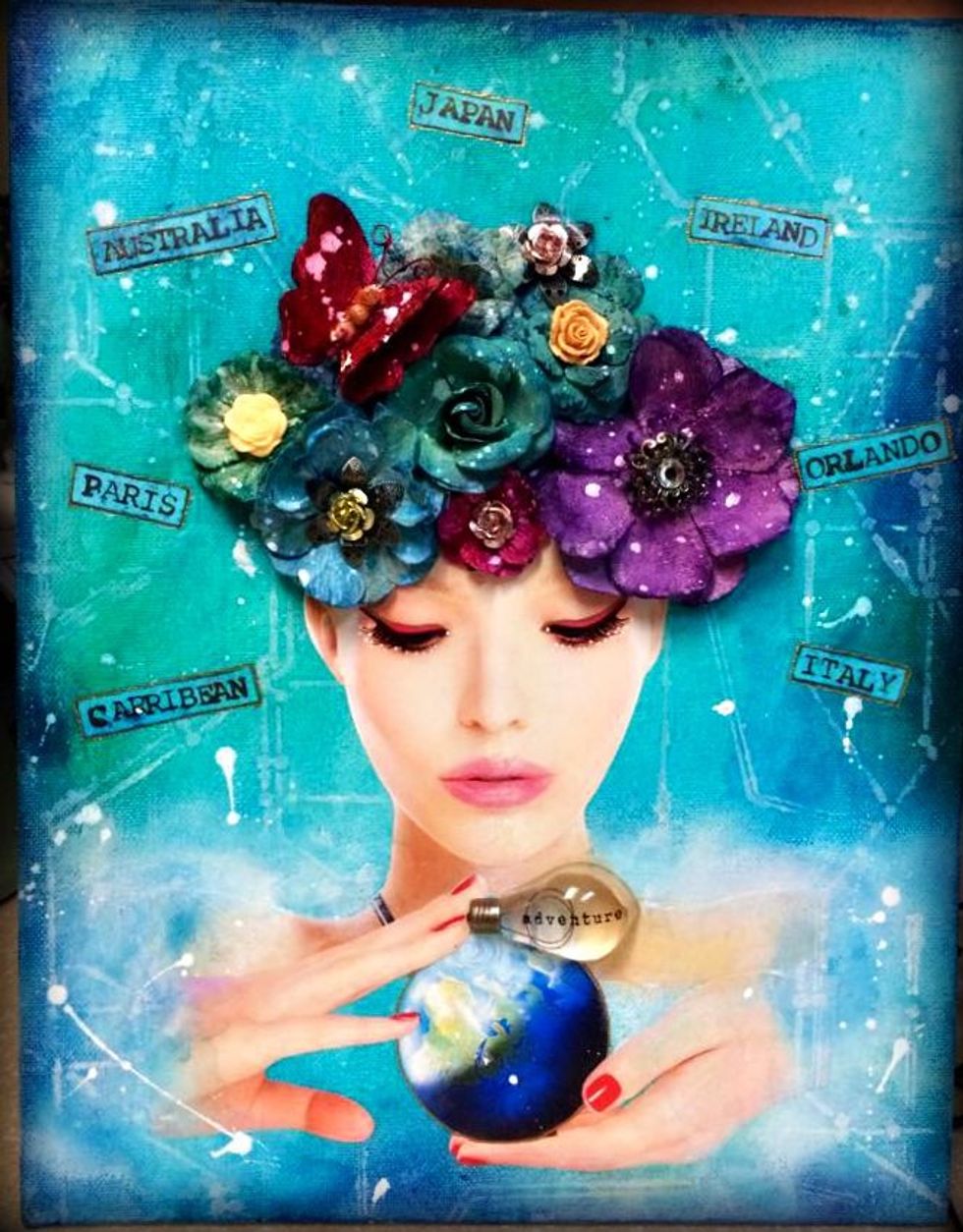 So this is the final piece. A dream of adventure, travel, new places to see around the world. I hope you are inspired to make your own unique bucket list art. Thanks for checking out my project.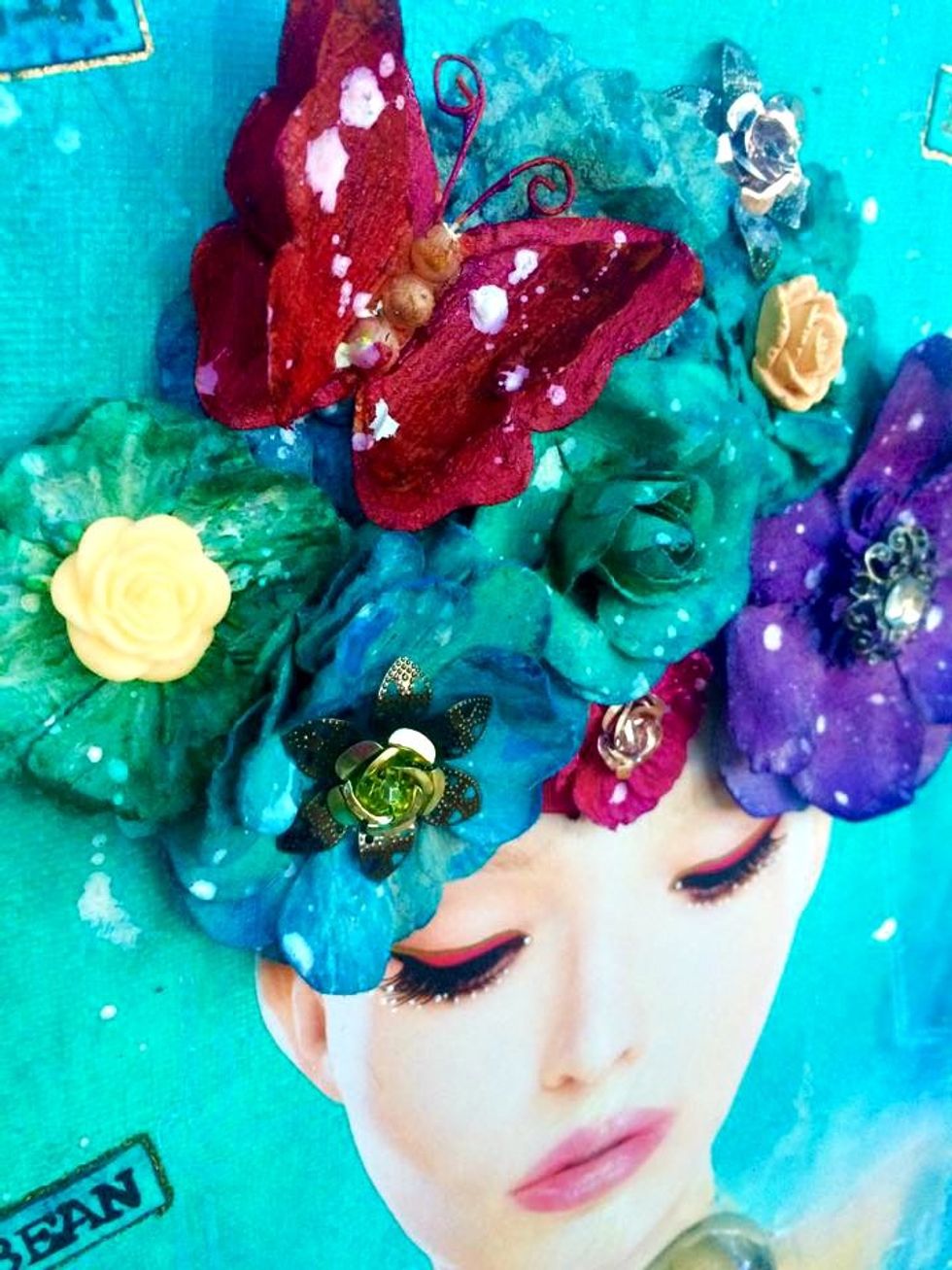 A shot of the dimension and color. Some doodling I did on her eye lashes. I did this simply with a white signo pen. I also outlined the words with a gold pen and her eyeliner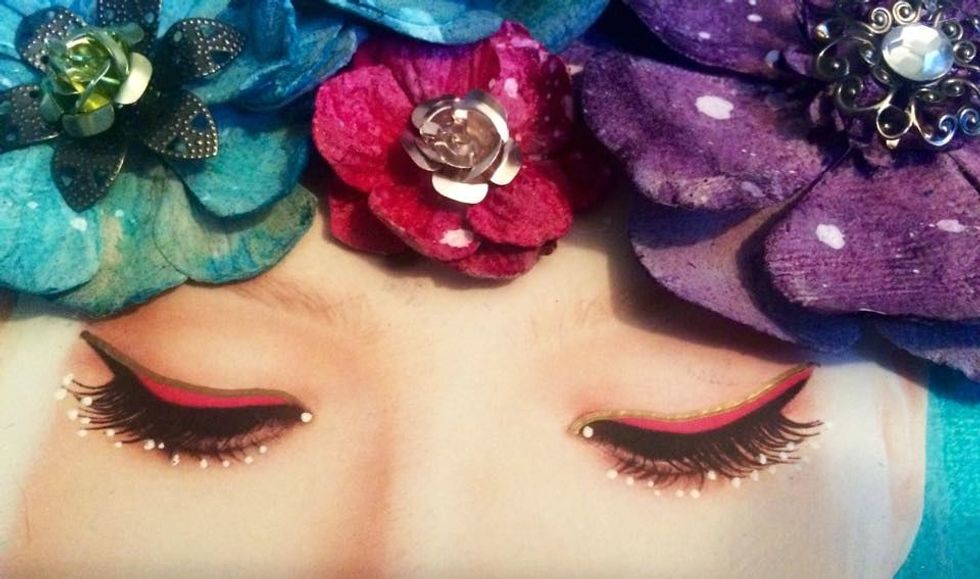 Here is a close up of the pen work I did on her dreaming eyes...Thanks again for checking out my project. Be sure and come back soon for more guides. Have a beautiful Everything. X0X Monica Downing
11x14 Canvas Panel
Gesso
Art Anthology Sorbet Baby Blue Eyes
Art Anthology Sorbet Pixie
Art Anthology Velvet Fiji
Art Anthology Gemstone Rhodolite
Art Anthology Gemstone Blue Topaz
Art Anthology Colorations Spray Waimea Bay
Art Anthology Colorations Spray Grape Soda
Art Anthology Colorations Spray Studio Blue
Art Anthology Colorations Spray Ink Spot
Art Anthology Fairy Dust Gilded Gold
Miscellaneous flowers
Metal Embelishments for flowers
White Ink
Gold Pen
Magazine Model clipping for collage
Art Anthology
Art Anthology is a manufacturer of dimensional mediums.\n\nCome chat with us in our Facebook Group: Art Anthology Adventures in Art