How to braise lamb shanks
The lamb shank is an awesome cut of meat and will satisfy your craving for lamb - while not killing your grocery budget.
11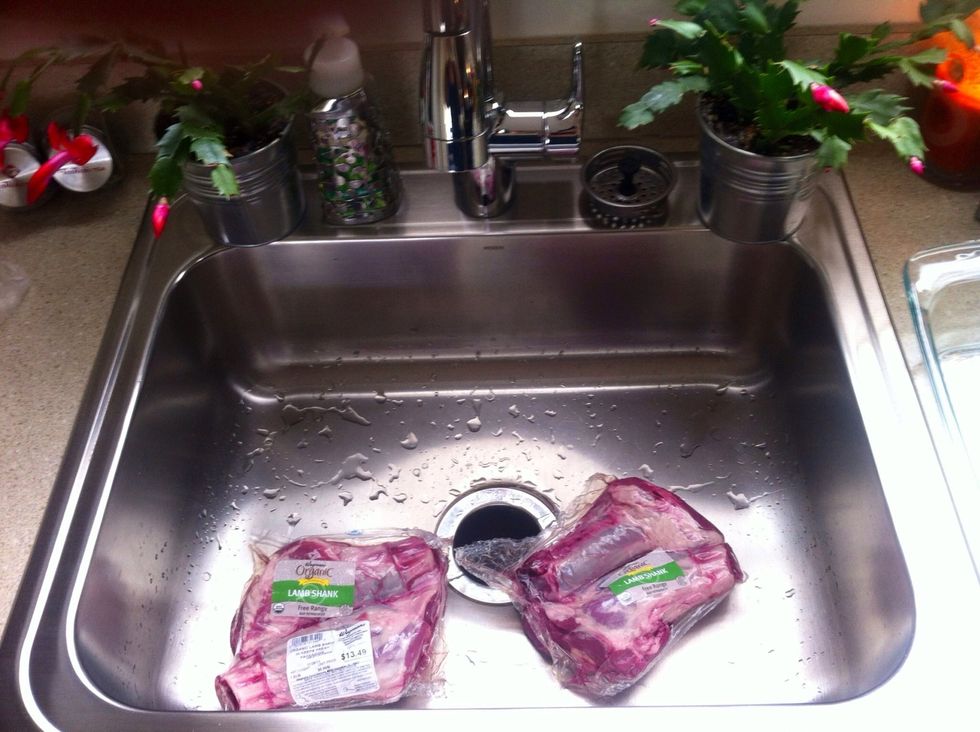 When you have a taste for lamb, but you're on a budget - shanks are the way to go. I bought these organic lamb shanks from my local supermarket (Wegman's).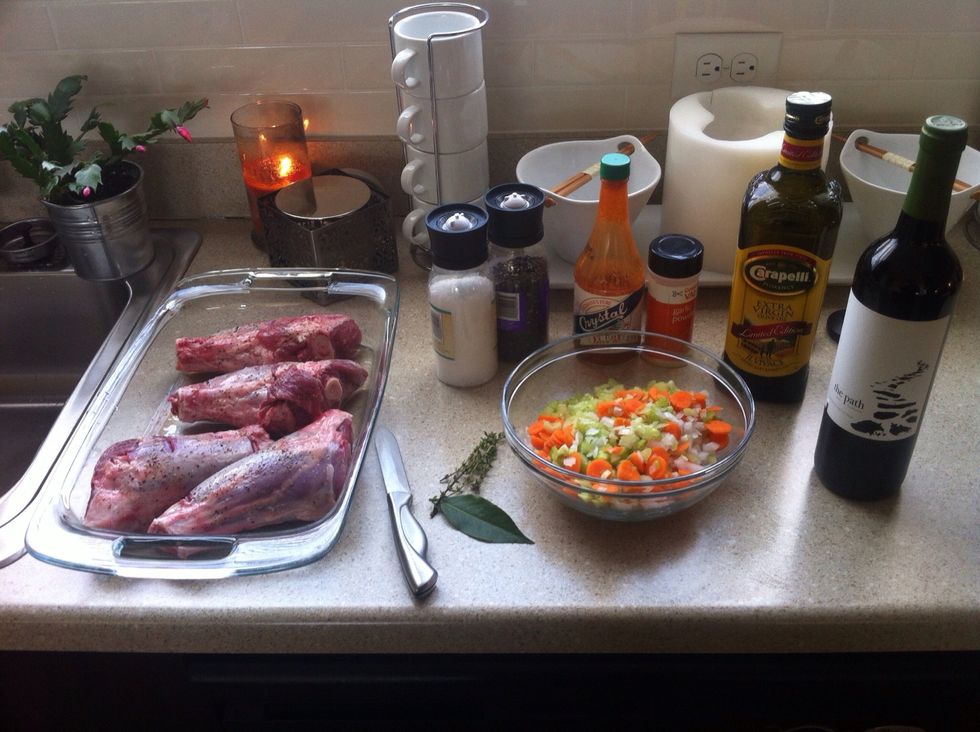 Season your shanks with salt, pepper, garlic powder and finely chop your veggies and onions.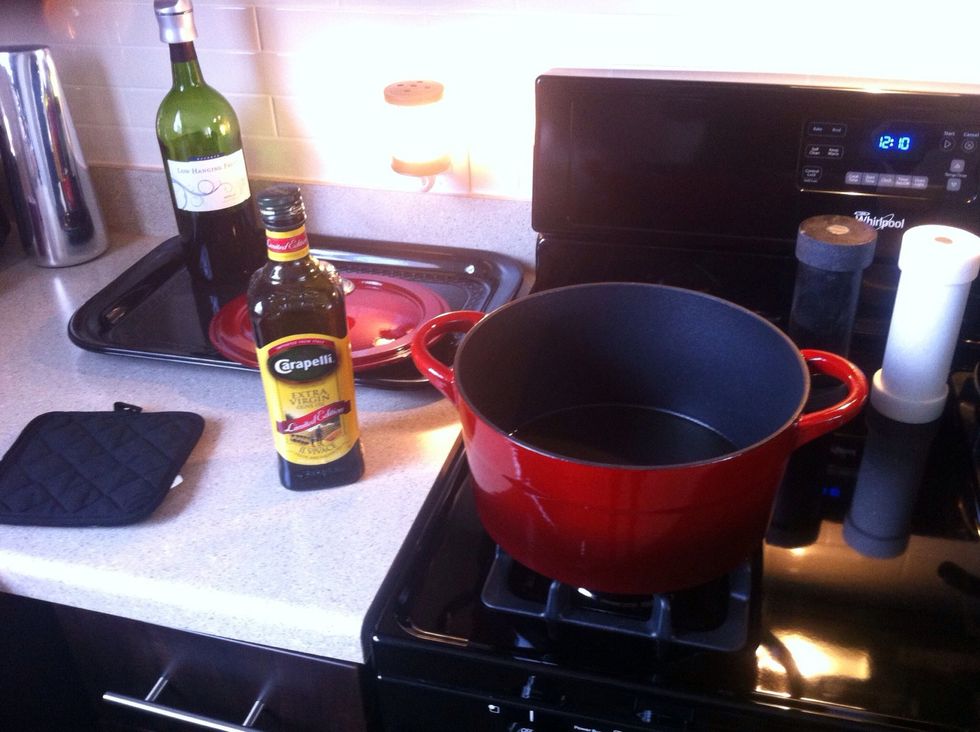 Say hello to my lil friend - Dutch Oven! One of my fav cooking companions. Add olive oil and let it get hot.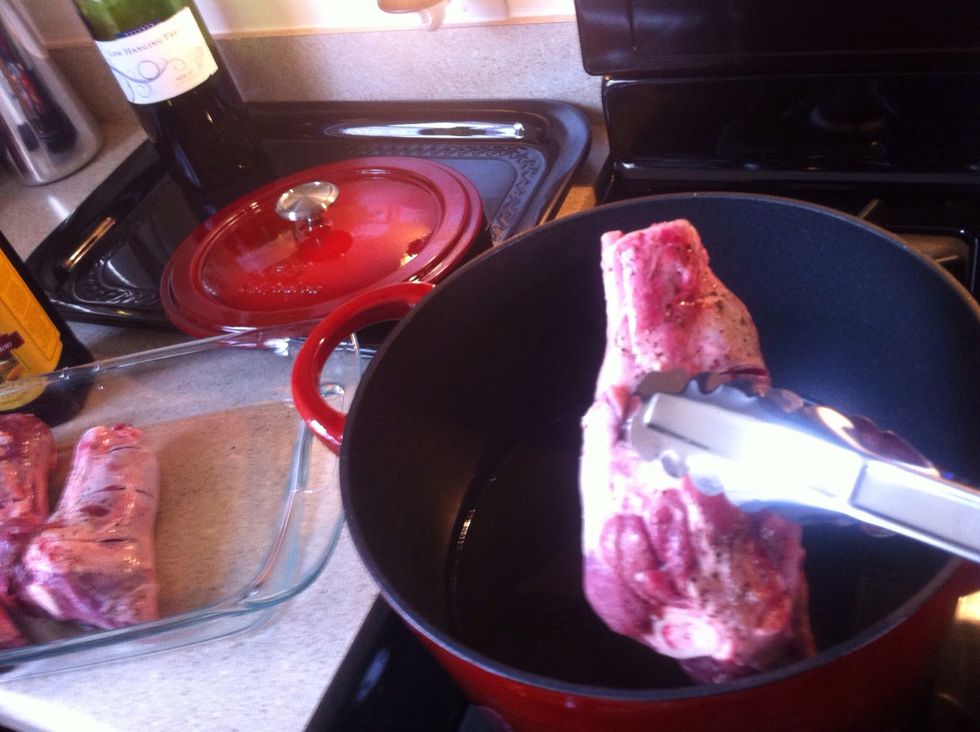 Sprinkle seasoned shanks with flour and hot sauce, then place them in the pan. Sear them on both sides.
Searing happens very quickly - adding the flour helps promote a nice outer crust.
Remove seared shanks and place them to the side while you prep the cooking base.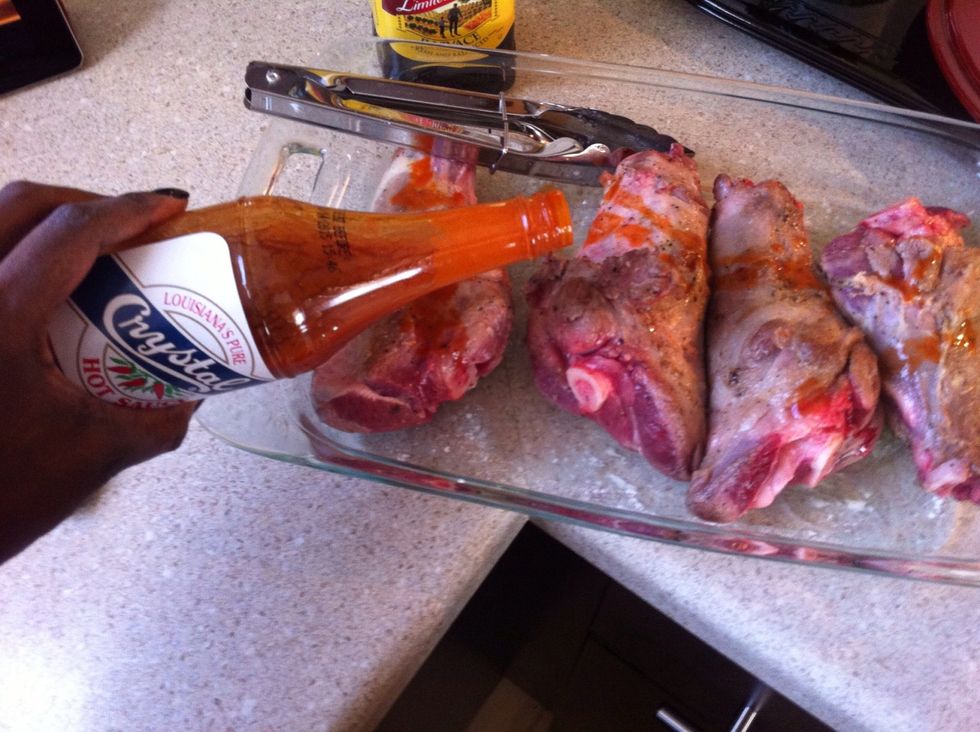 I add a little more hot sauce to the seared shanks for flavor.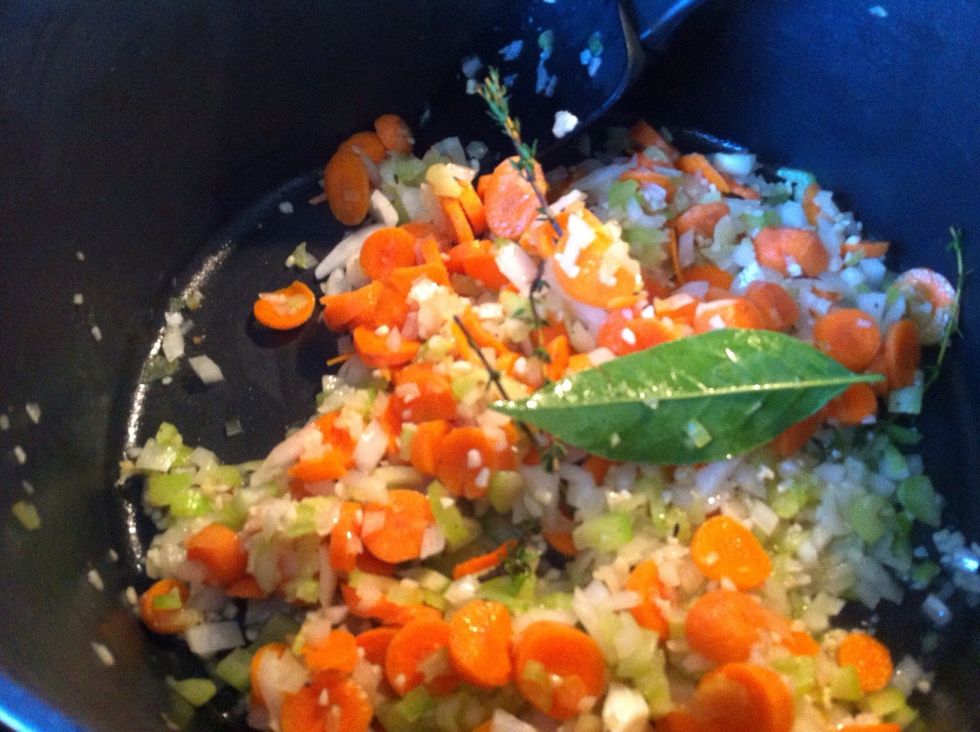 Add chopped veggies, onions and herbs directly to the pan. Do not drain the oil/juices from your searing.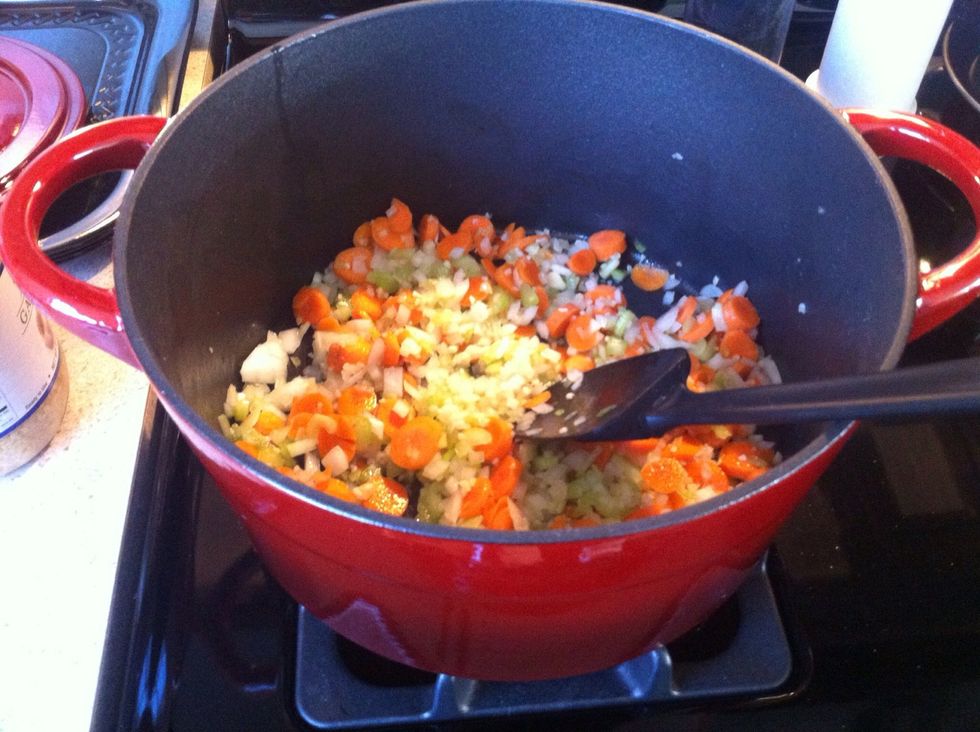 I like finely chopped, but you can chop to you're taste.
I add hot sauce (on shank) and crushed red pepper (to the veggies) for a slight kick. These aren't necessary ingredients - just my taste.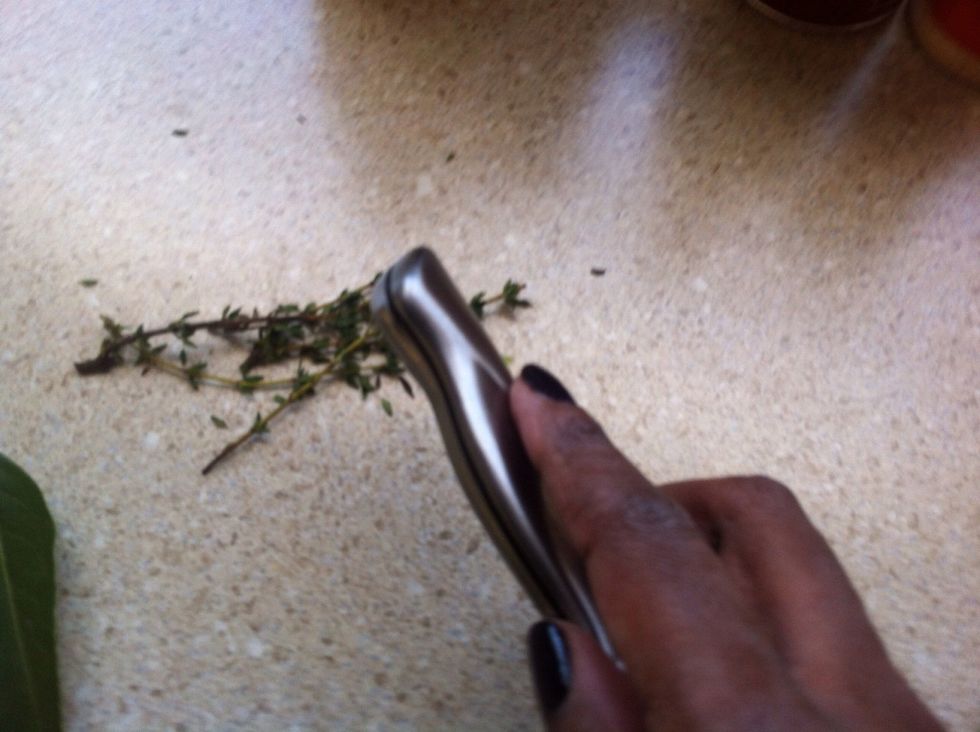 For the fresh herbs, be sure to press them to awaken the flavor. I used the back of my knife, but a mallet is probably the best tool for the job.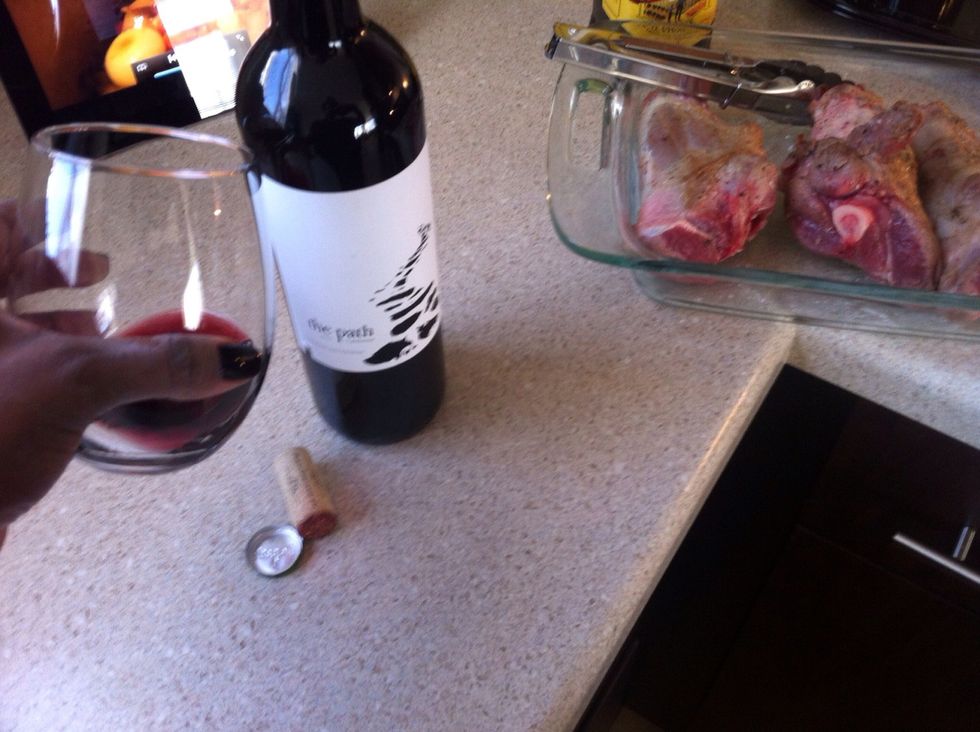 Now for the wine! This should be a wine you enjoy drinking, but doesn't have to be expensive. I got this bottle of Cab for $6 at Wegman's. Take a nip for yourself because you're almost done.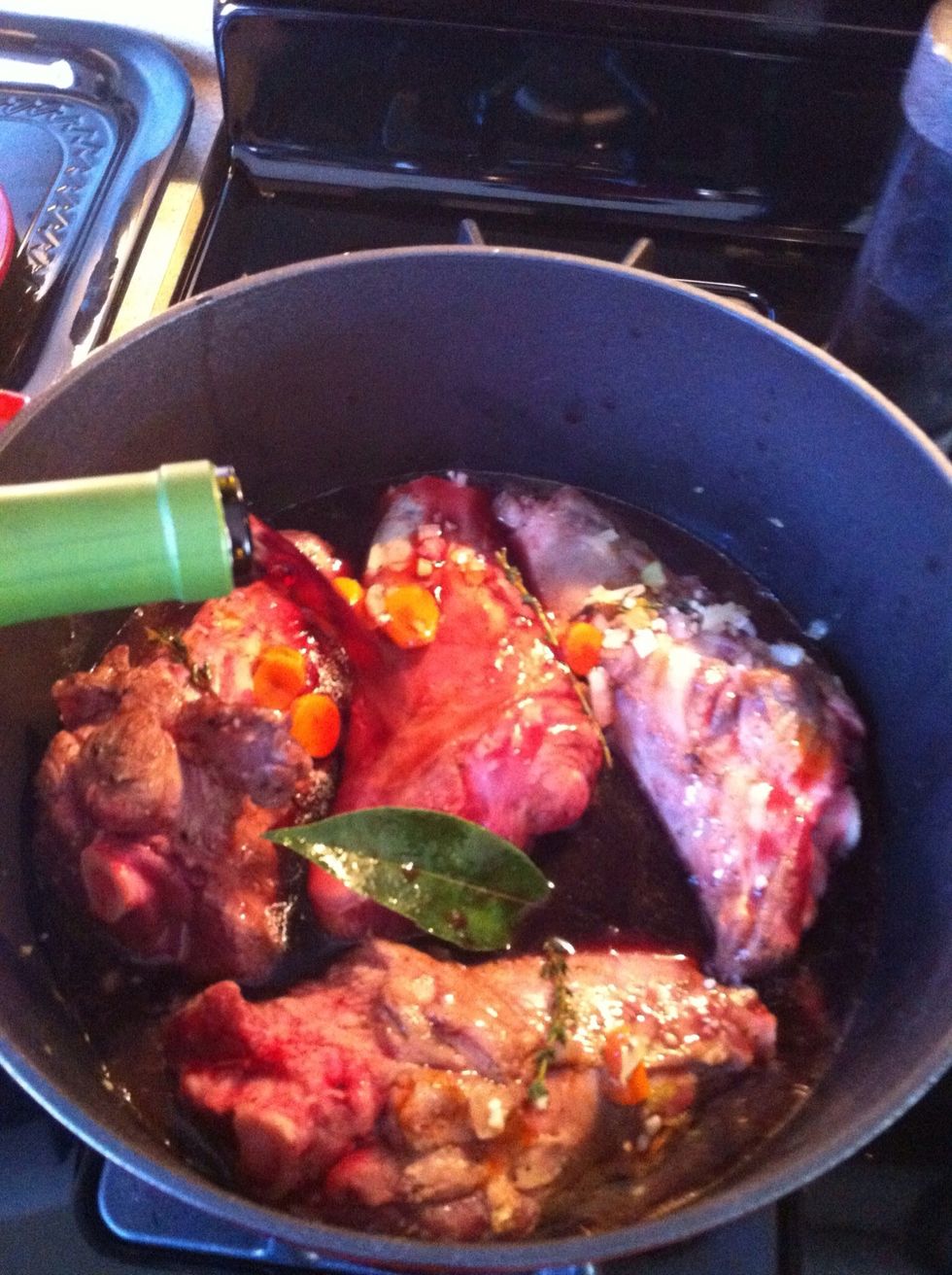 Now the veggies should be cooked down. Add the shanks back in the Dutch oven and pour the wine on top.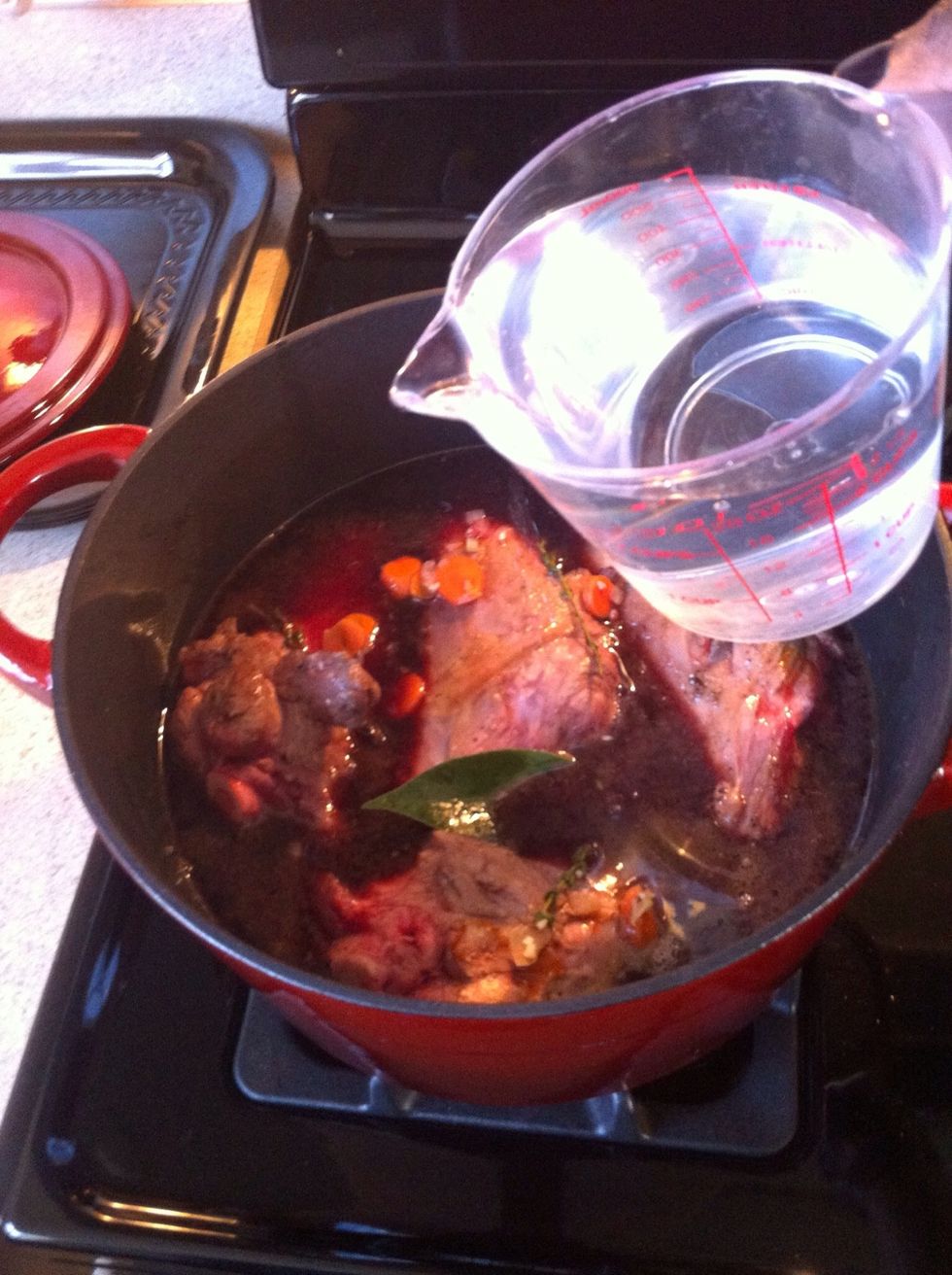 Add water as your last ingredient. I added 1 cup, but add more to make sure your meat is completely covered.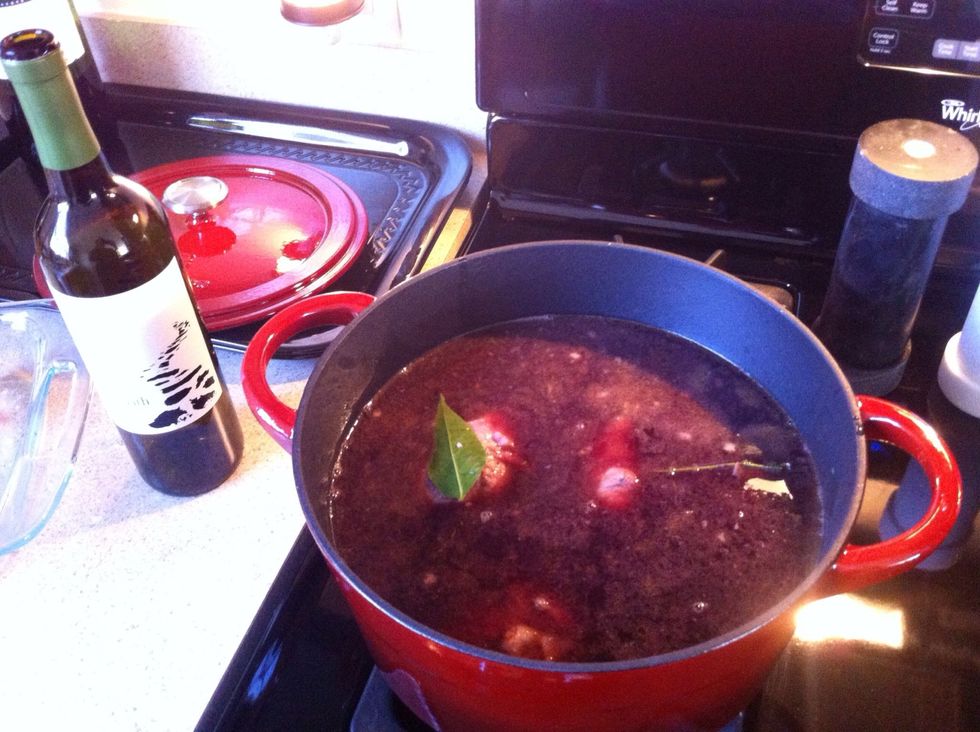 Doesn't look pretty at this stage...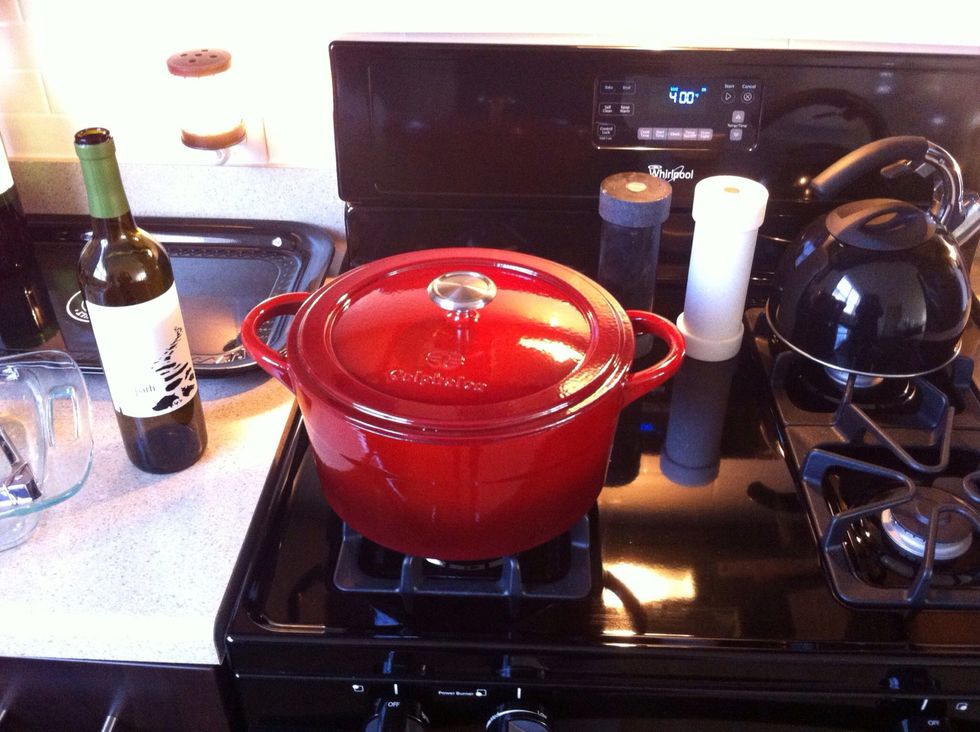 Your oven should be preheated to 400 degrees. Pop the top on the Dutch oven before placing in the oven.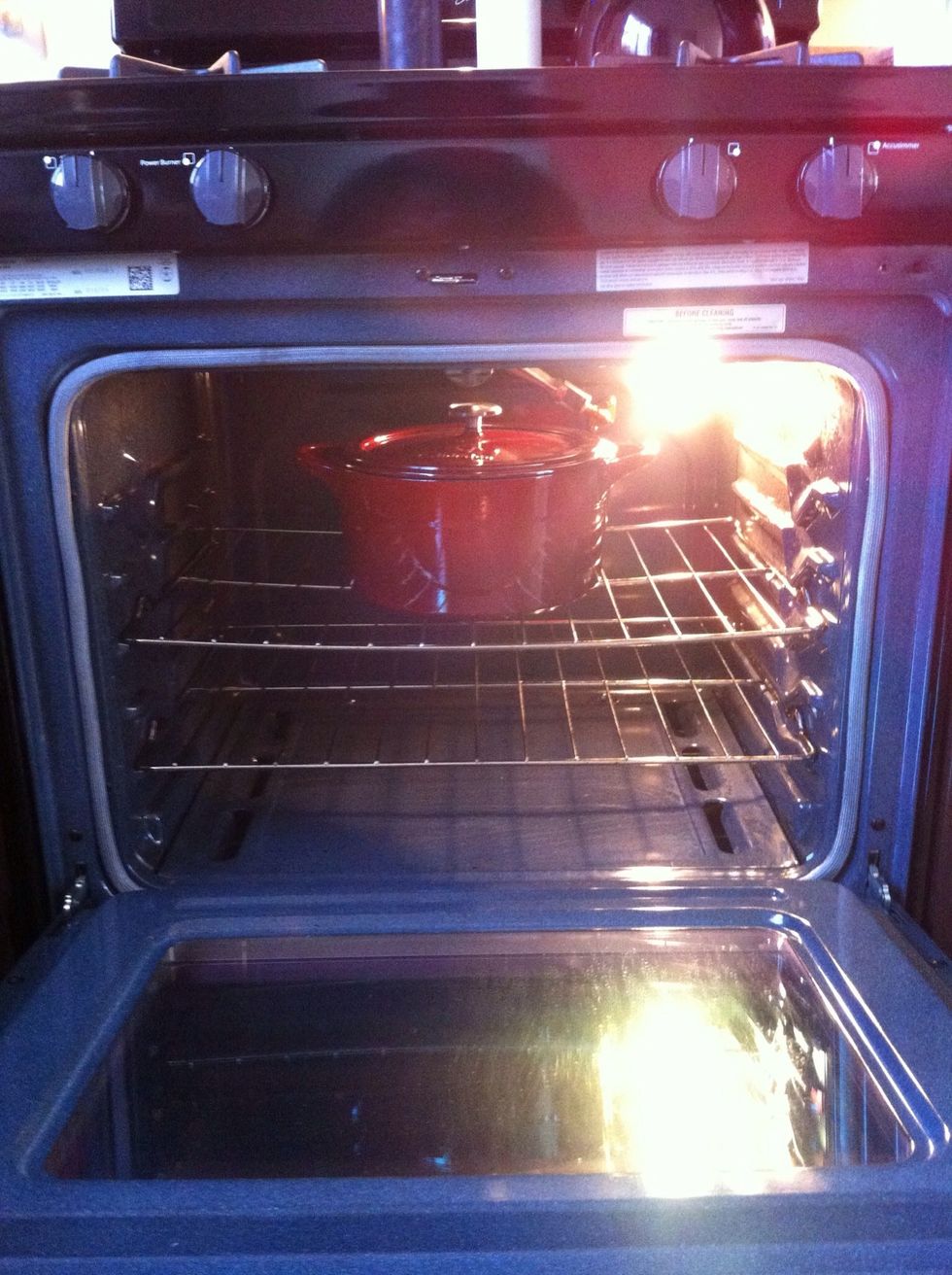 This will cook for 4 - 5 hours at 400 degrees. Check after 2 hours and then once every hour after that to monitor progress. You'll know it's done when most of the liquid has evaporated/cooked off.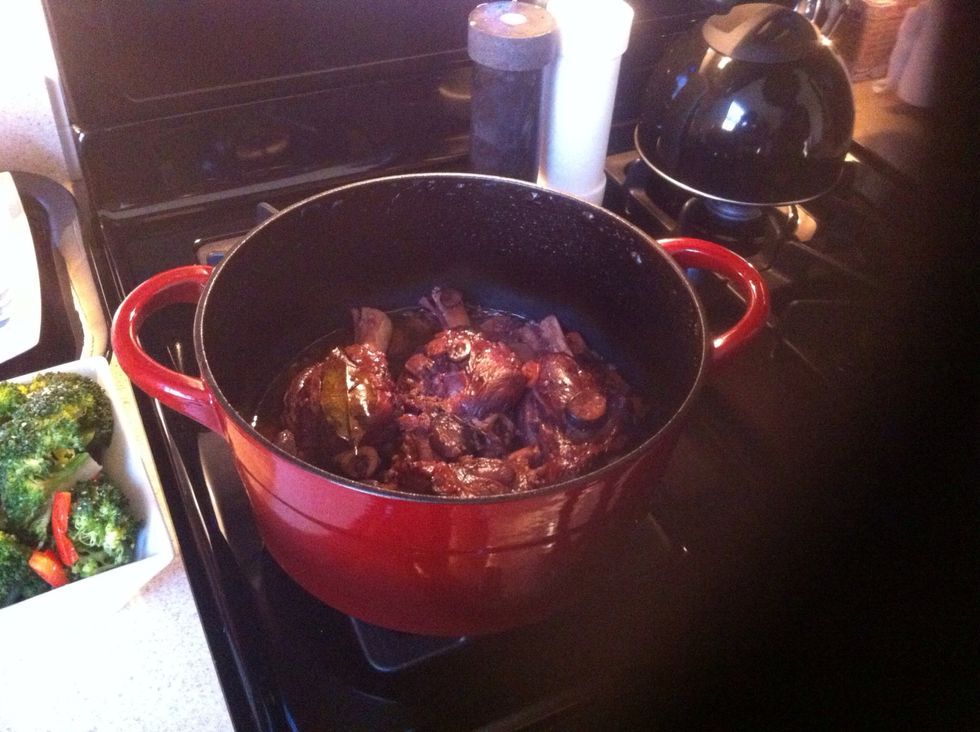 Ready for the plate. While the slow cooking takes up to 4 hours, the prep work on this meat is only 15 - 20 minutes. This is a super easy main course and a great Sunday dinner idea!
Serving suggestion: I made whipped sweet potatoes, butternut squash and steamed broccoli for sides.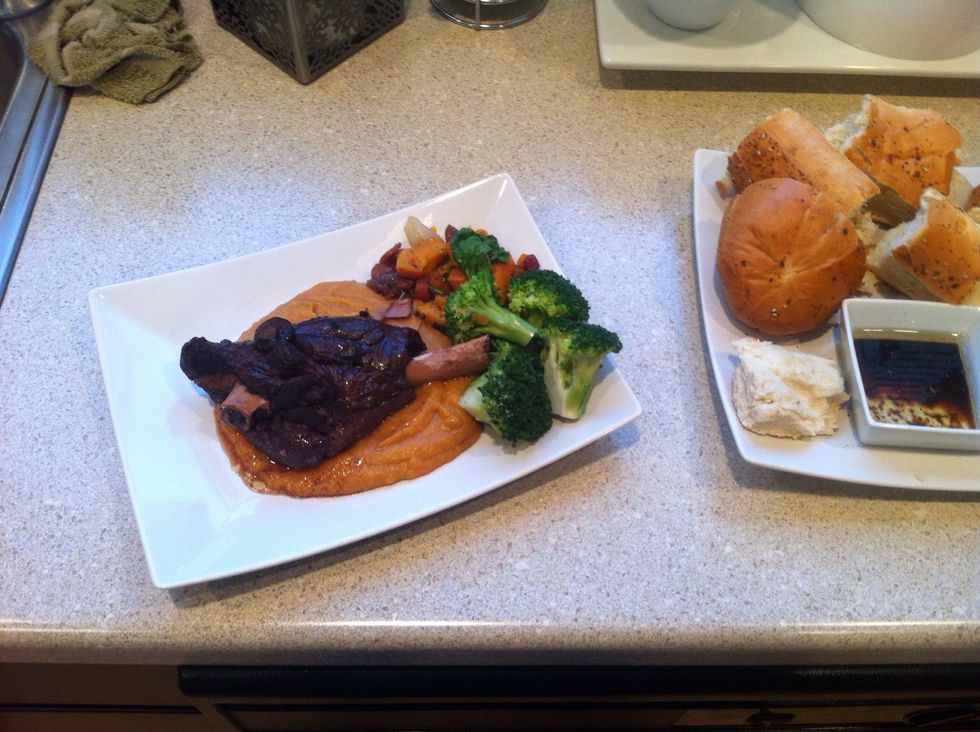 I like to serve the lamb shank on top of the sweet potatoes so that you can mix the flavors with every bite.
No knife needed... Meat falls right of the bone. Enjoy!
4.0 Lamb Shanks
2.0Tbsp Flour
4.0Tbsp Olive Oil
2.0Tbsp Hot Sauce (optional)
1.0 Onion
4.0 Stalks of Celery
3.0 Carrots (whole)
2.0c Mushrooms (optional)
4.0Tbsp Garlic (minced)
2.0 Sprigs of RoseMary
2.0 Basil Leaves
2.0Tbsp Salt & Pepper
1.0 Cabernet Sauvignon (whole bottle)
1.0c Water
Renienne B
I was that kid in grade school that drew pictures on everyone's notebooks - I'm just all grown up now ?
Philadelphia, Pennsylvania