Set the oven to preheat at 375 degrees. Cut off ~14 inches of parchment paper and spread it on a baking sheet.
Cut your veggies: green beans and asparagus in 2-3 inch pieces, onion sliced in ~2 inch pieces, and grape/cherry tomatoes cut in halves. ~1/2 cup of each (or however much of each you want!)
Cut 4 slices (wheels) of lemon and set them aside.
On one side of the parchment paper, add a tablespoon of olive oil and spread it around, but not all the way to the edges--just where you're going to make your bed of ingredients.
I had some leftover already cooked quinoa, but you can use cooked rice or another grain. Lay however much (I used about half a cup) of your grain that you want on the area with the olive oil.
Over the grain bed, pile on raw veggies: green beans, asparagus, grape tomatoes, and white onion--again, all cut up into roughly 2 inch pieces.
Drizzle some more olive oil over the veggie and grain bed. Sprinkle salt, pepper, basil, paprika, and red cayenne pepper to taste.
Lay the salmon filet over the bed of veggies and grains. Sprinkle more spices over the fish filet as you'd like.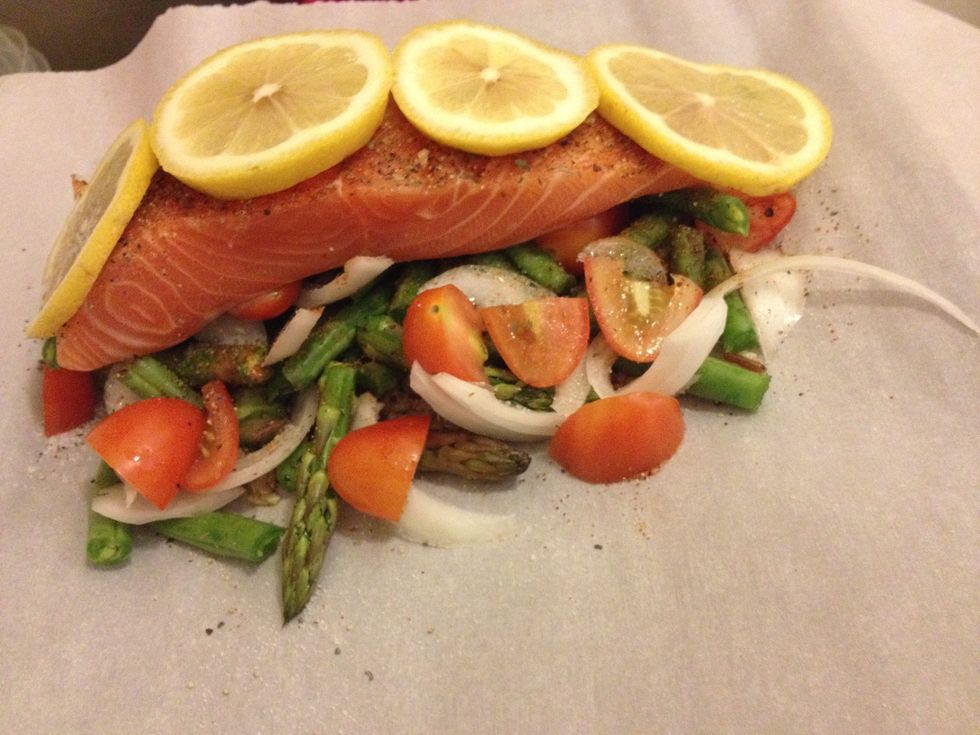 Lay the lemon slices over the fish filet. You may end up using a couple more or less lemon wheels, depending on the length and width of your filet.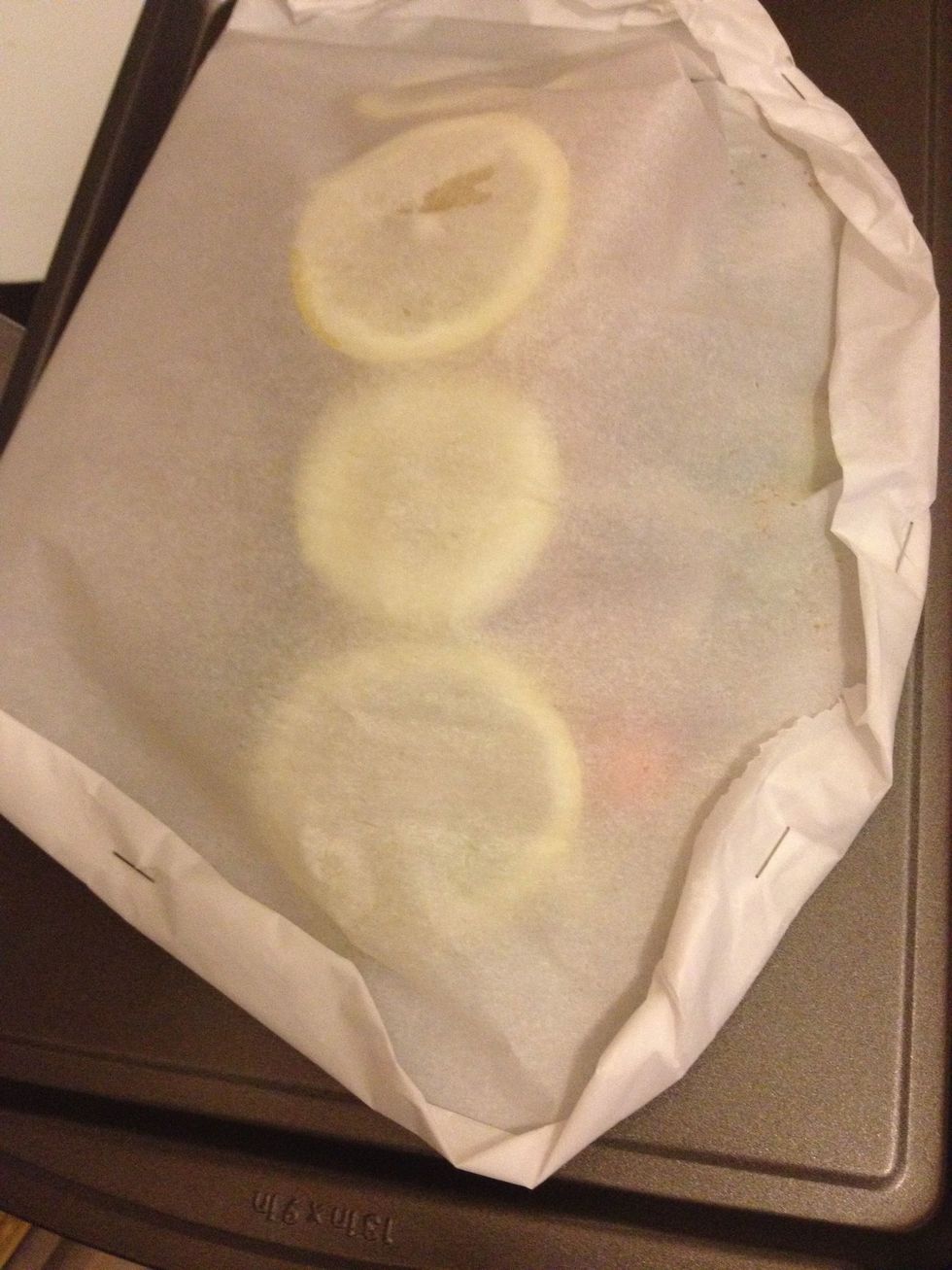 Fold over the parchment paper and fold up the edges all the way around to create a packet. I stapled around the edges to ensure it would stay closed.
Bake for 12-20 minutes, depending on how cooked through you would like the fish. ~12 minutes=medium rare, ~15 minutes=medium, ~20 minutes=medium-well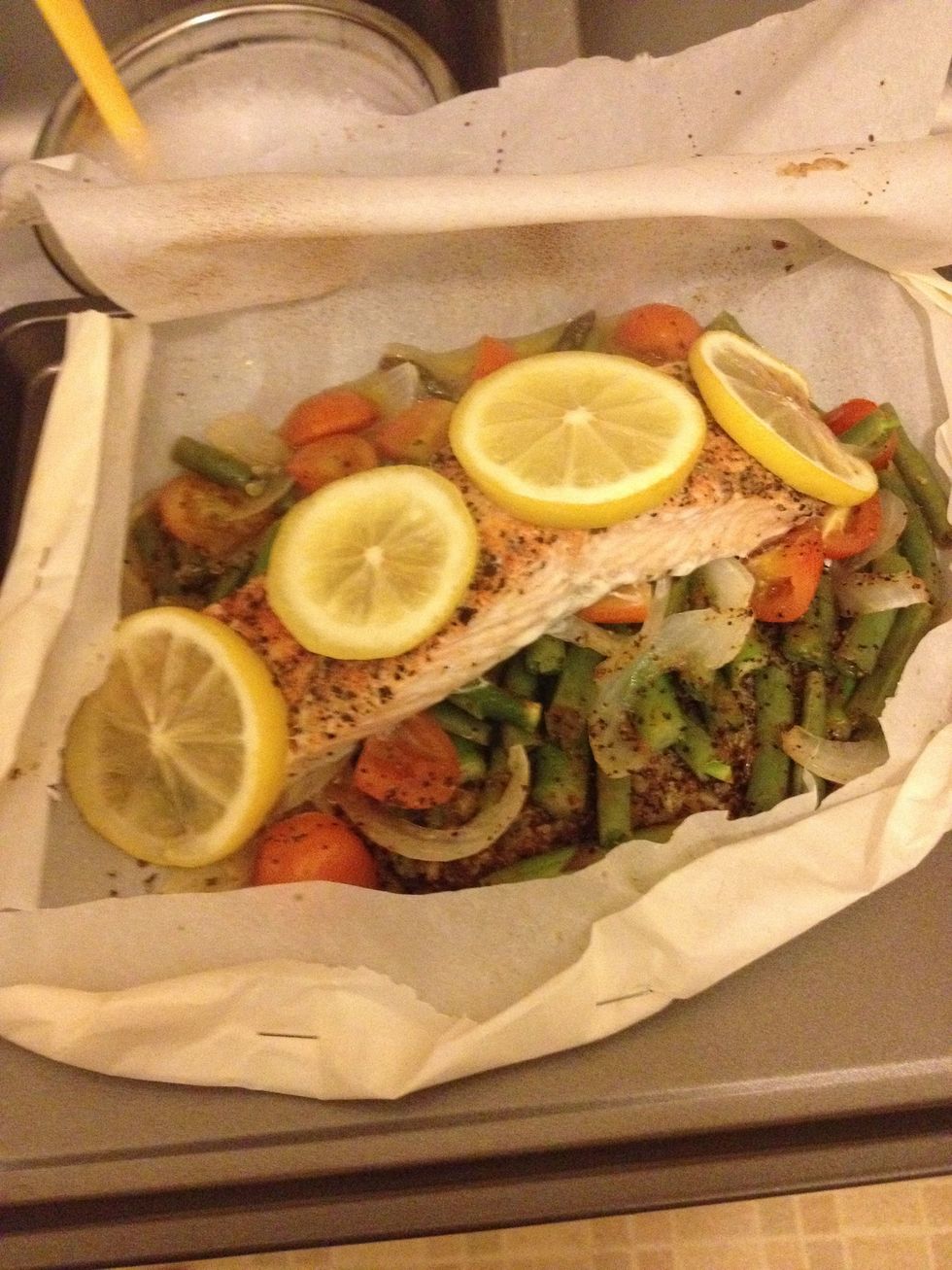 Remove from the oven and cut open the parchment paper. Carefully transfer the entire packet to a plate and serve as is. Sprinkle on some goat cheese and/or more lemon as you like!
6.0oz Salmon filet
1/2c Green beans
1/2c Asparagus
1/4c White onion
1/2c Grape or cherry tomatoes
1.0 Lemon
2.0pch Salt
2.0pch Black pepper
2.0pch Basil leaves (chopped)
2.0pch Paprika
2.0pch Red Cayenne Pepper
2.0Tbsp Olive oil
1/2c Quinoa or rice (already cooked)
1/8c Goat cheese crumbles
14.0in Parchment paper
1.0 Knife
1.0 Baking sheet
1.0c Cutting board