How to bake pumpkin rolls
Cream cheese filling surrounded by pumpkin goodness! What could be better for your Thanksgiving celebrations? (This is the recipe located on the back of the Libby pumpkin mix label!)
11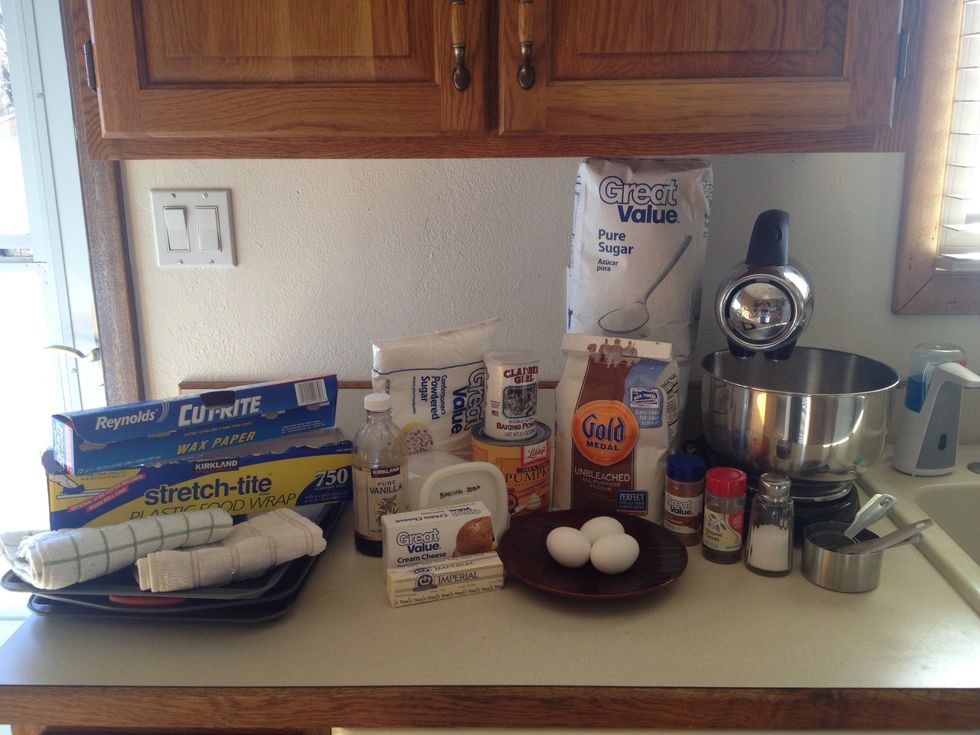 All the stuff you'll need!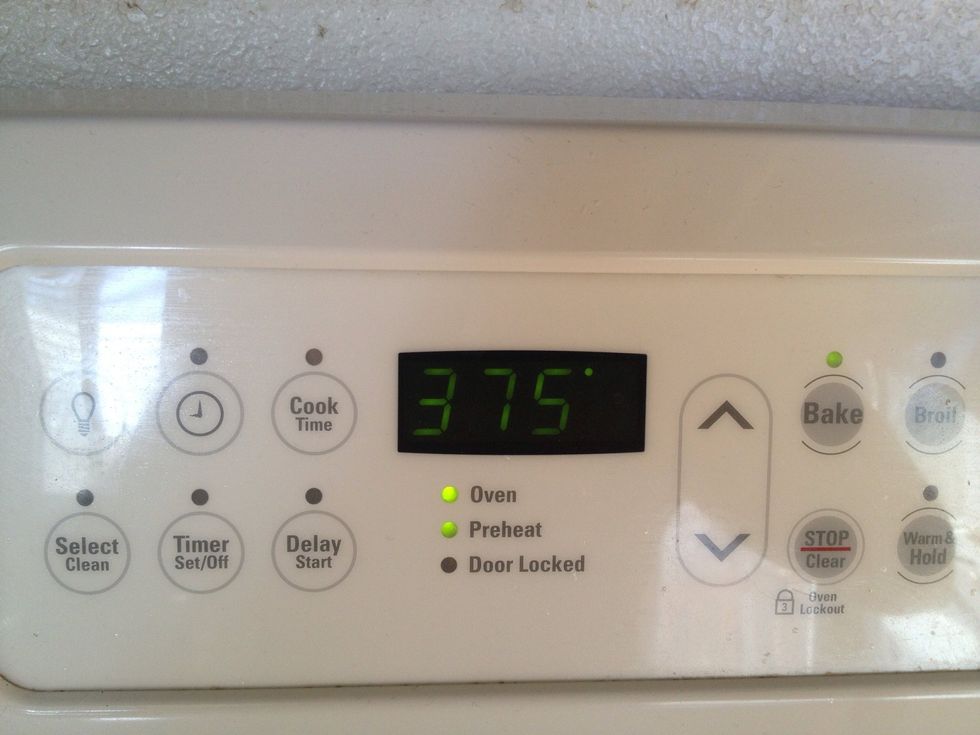 Preheat your oven! 375 degrees Fahrenheit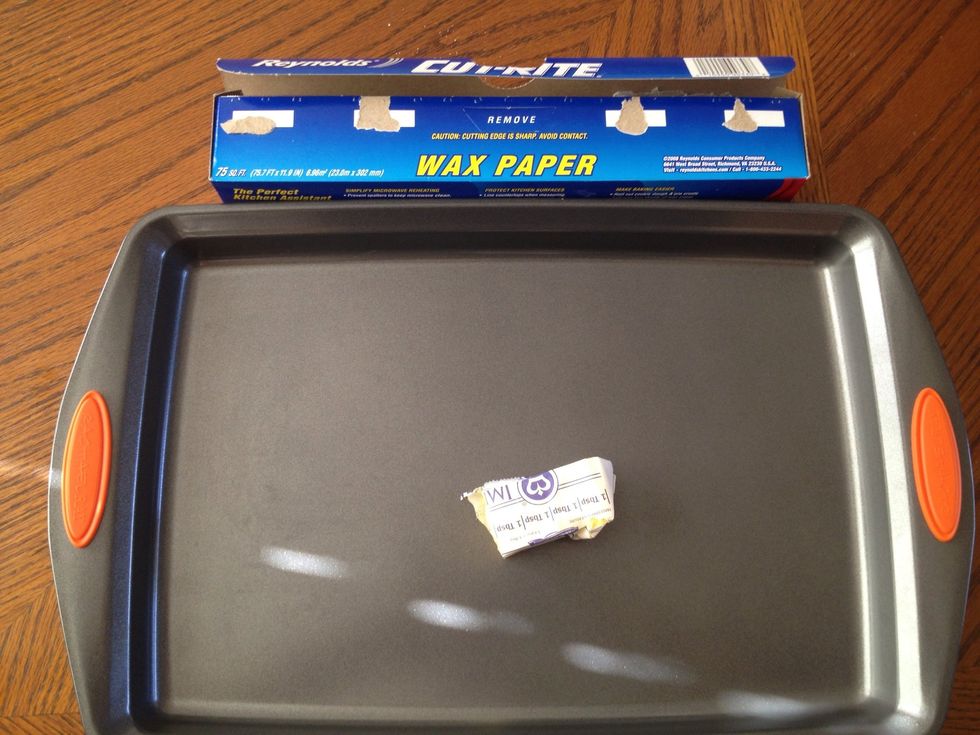 Use a jelly-roll pan. Grease the pan just enough to place wax paper on.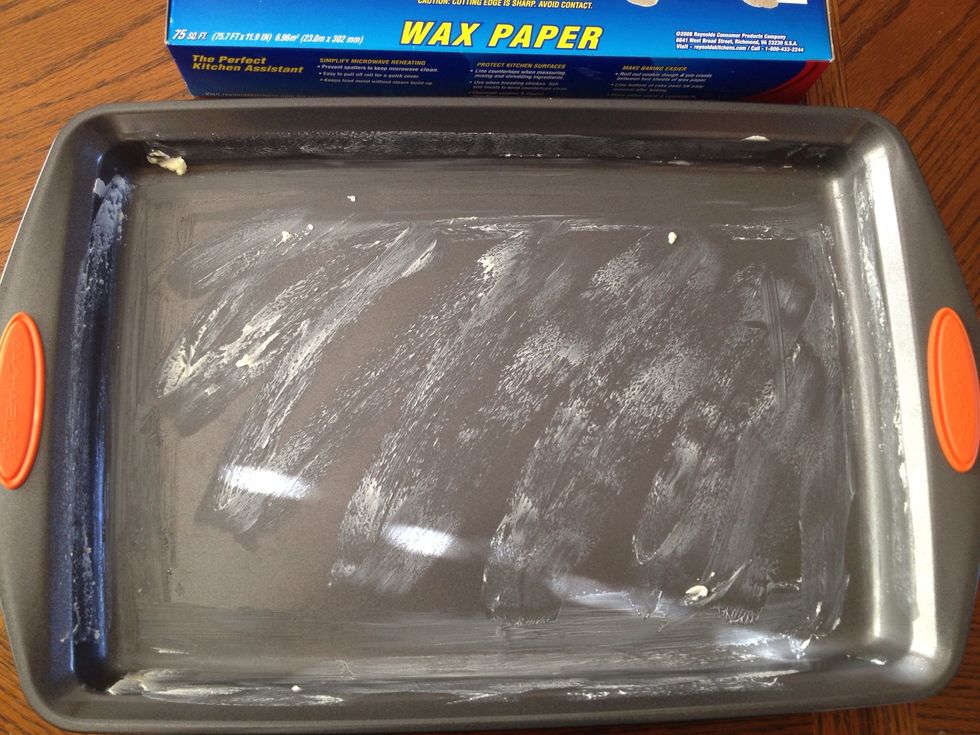 Like so!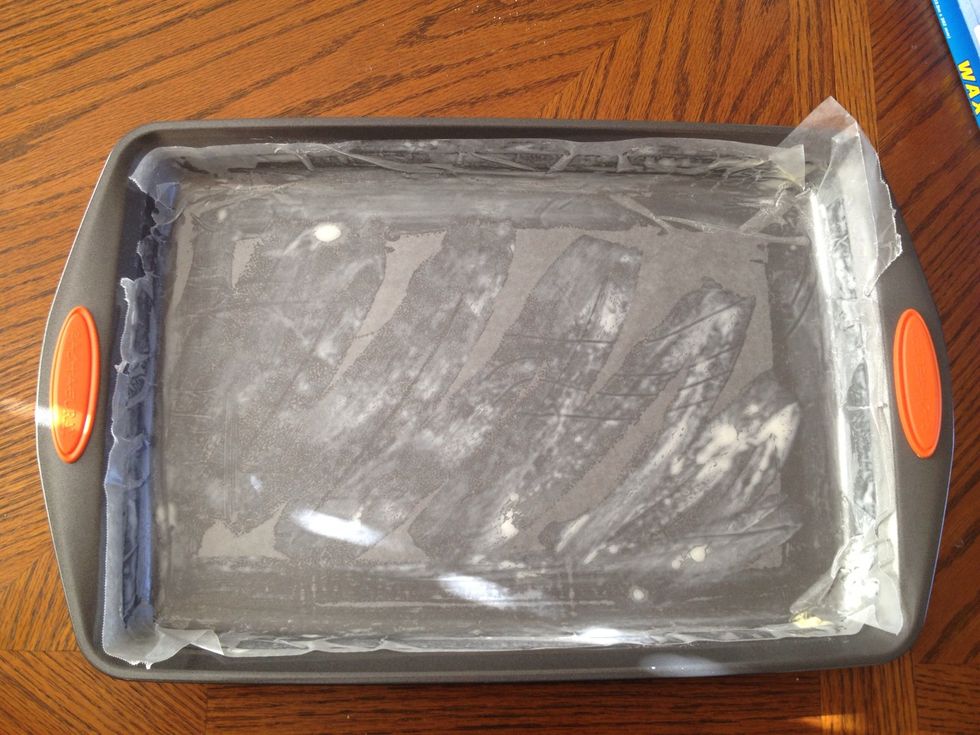 Place wax paper down. Make sure the edges are sticking to the pan.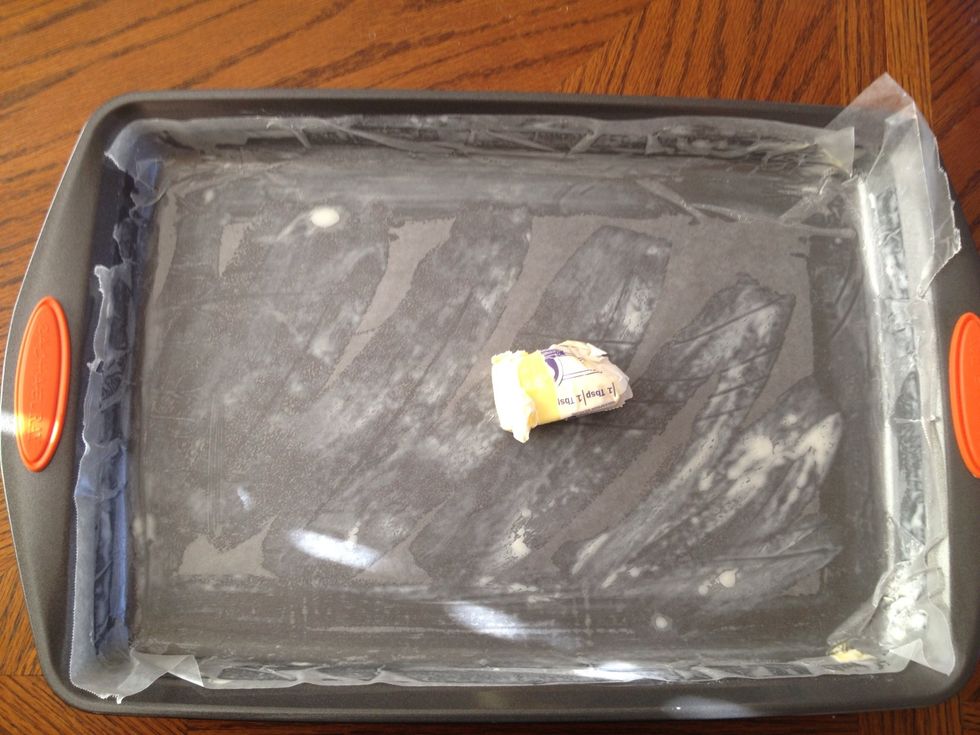 Grease the wax paper. Get the edges and corners really well to keep from tearing the cake later!
Like this! Using your hands and getting messy makes sure you get all the missed corners!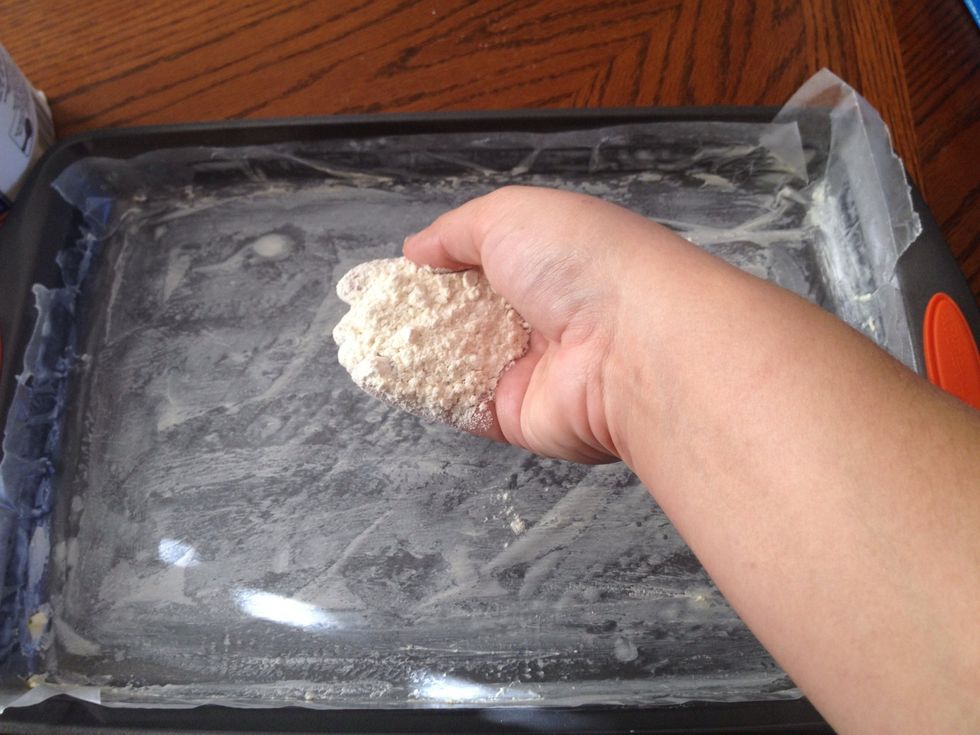 Sprinkle flour on top of the butter.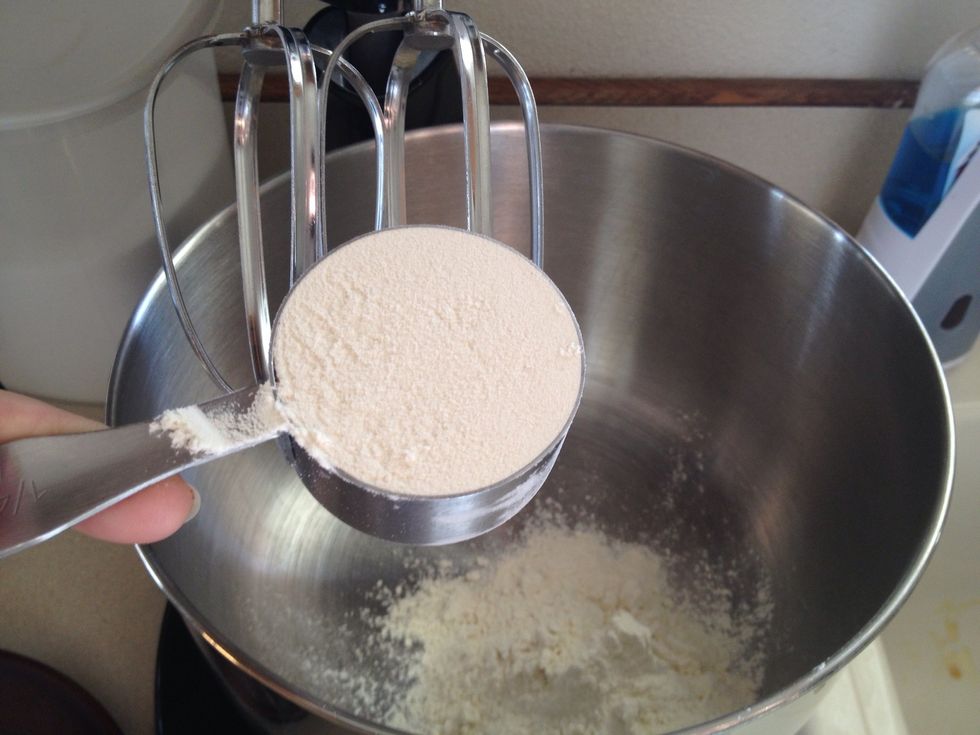 Measure out 3/4 cup flour and put in a small bowl. Not the mixing bowl. I messed up lol.
Measure 1/2 teaspoon of baking powder and add to flour mixture.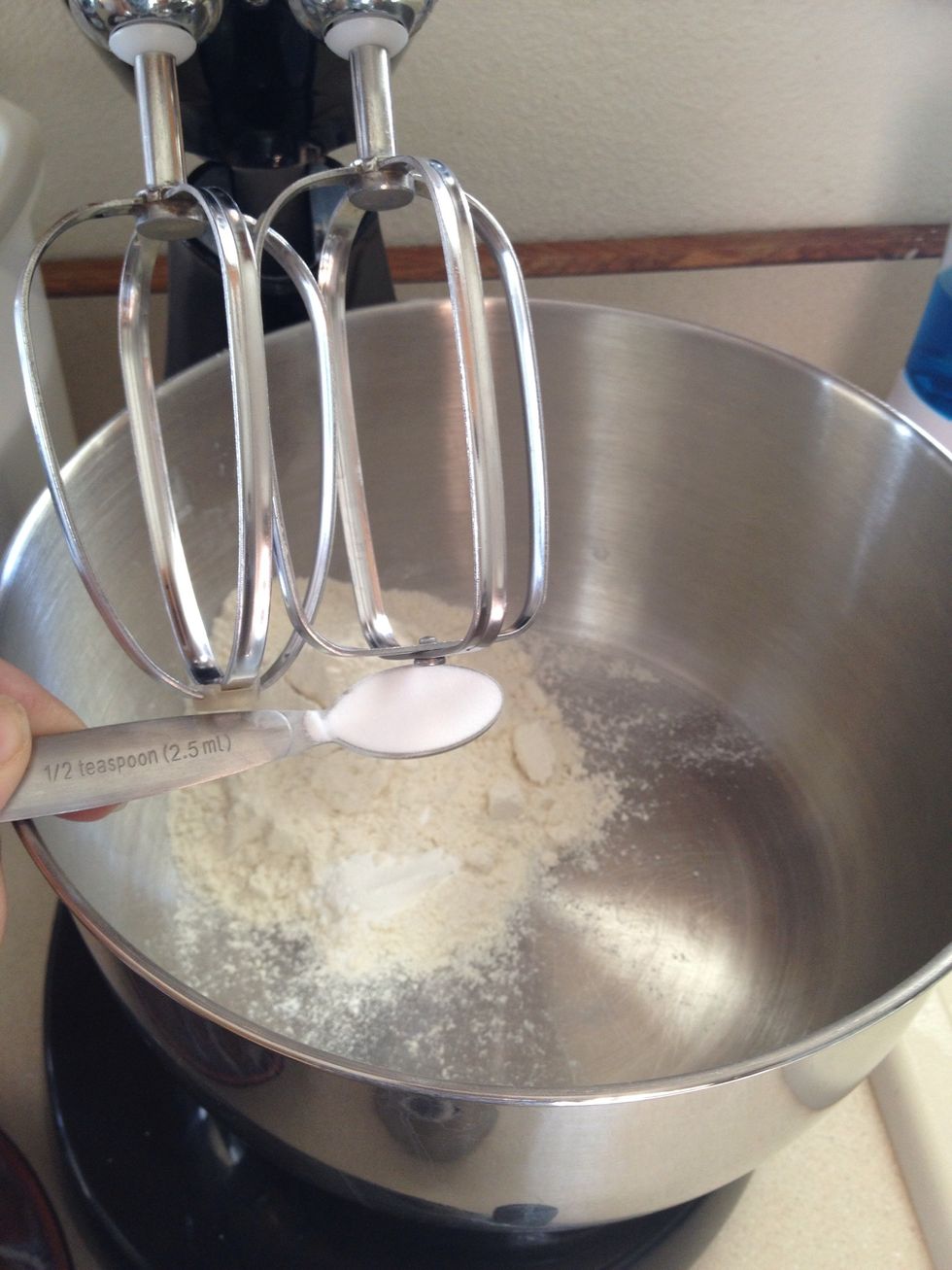 Measure out 1/2 teaspoon baking soda and add to flour mixture.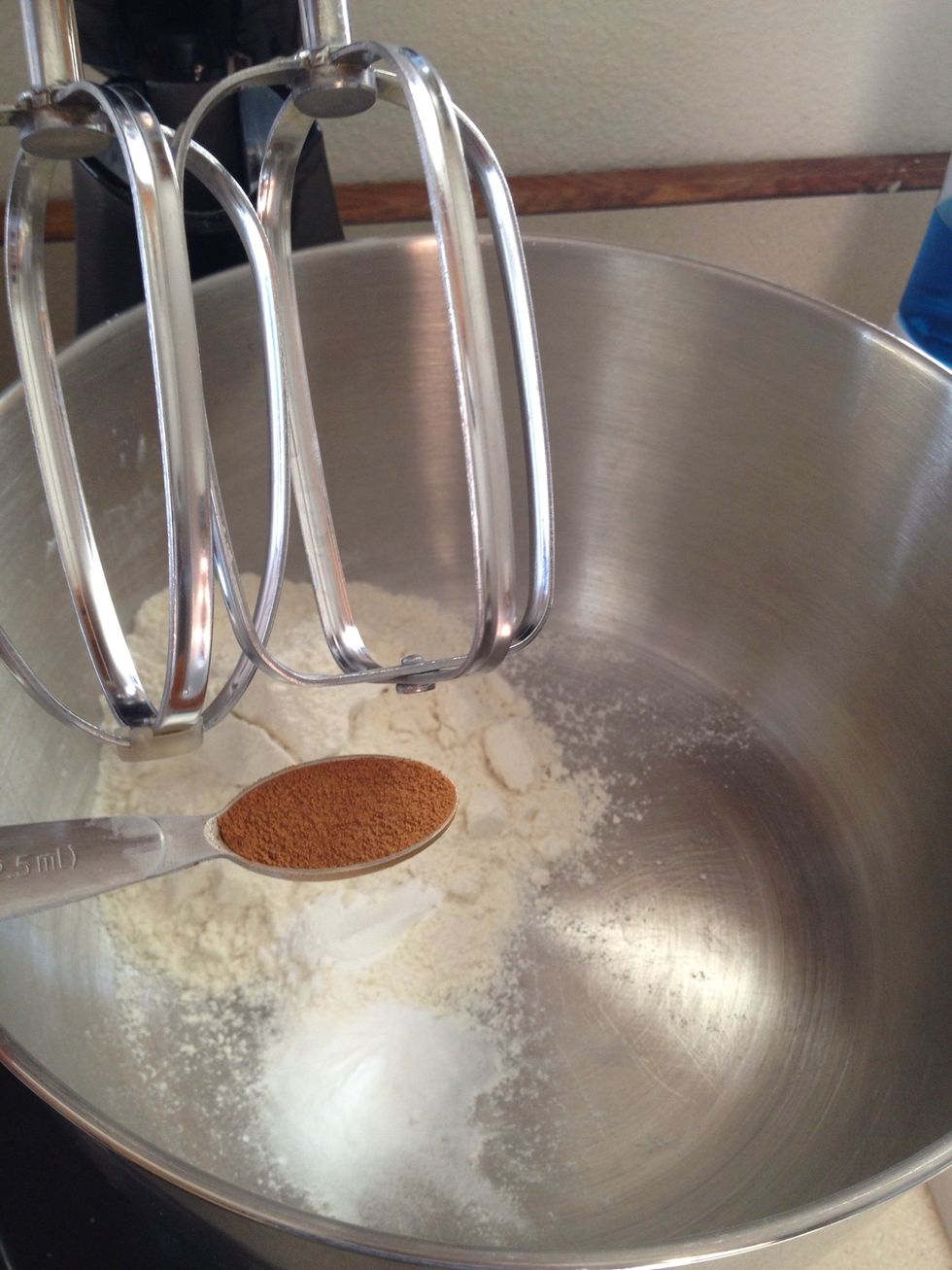 Measure out 1/2 teaspoon ground cinnamon and add to flour mixture.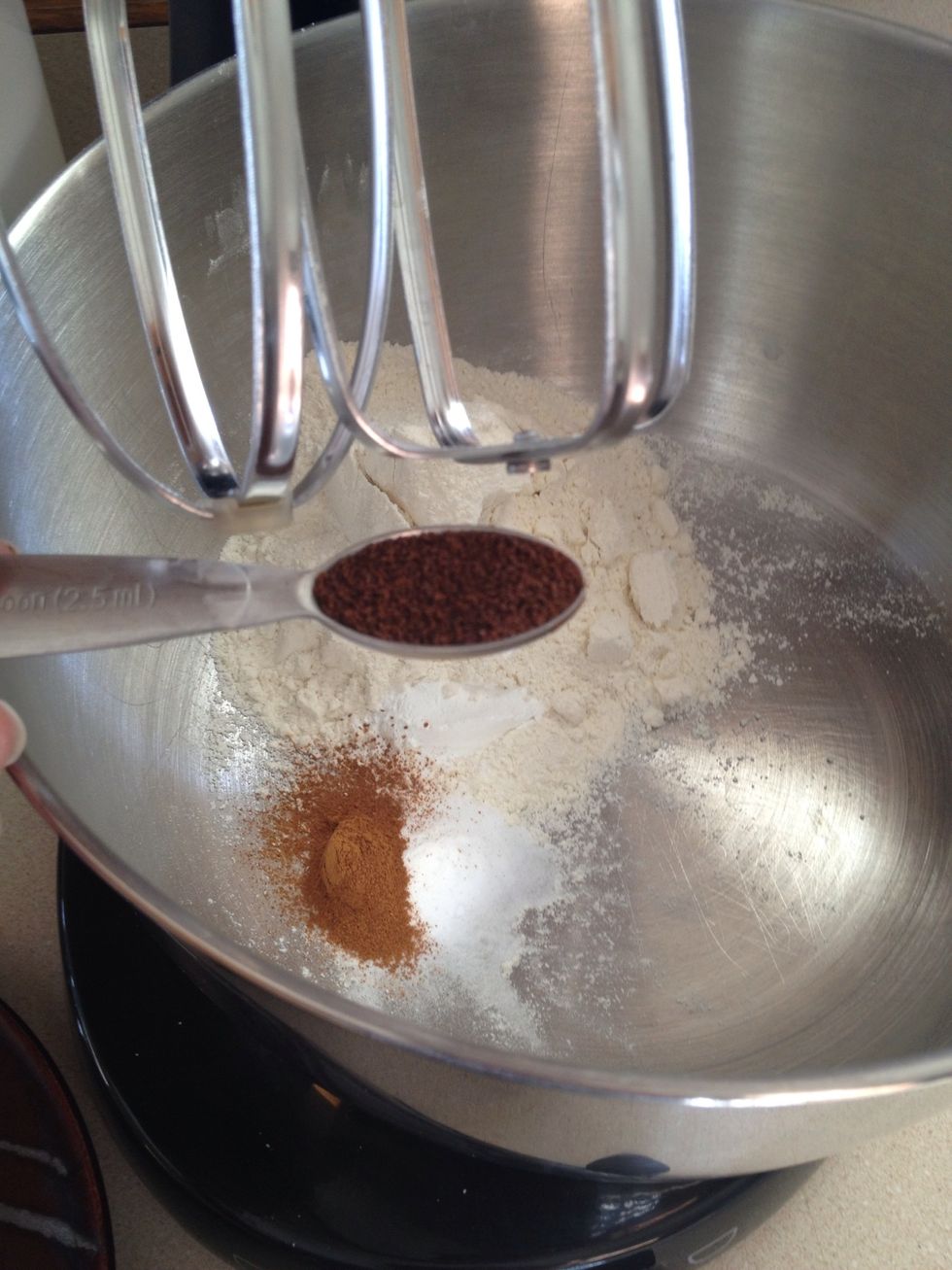 Measure out 1/2 teaspoon ground cloves and add to flour mixture.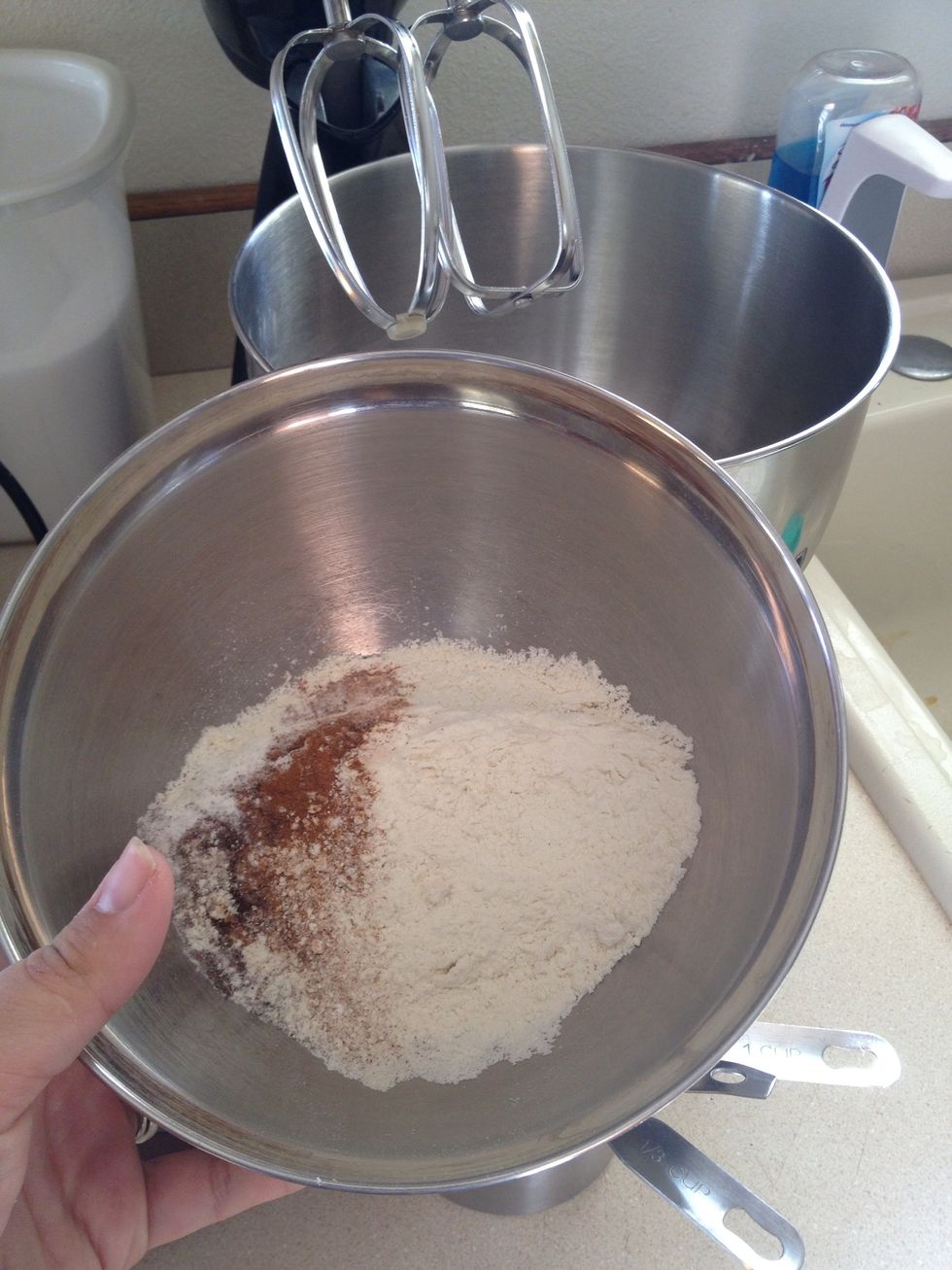 If you messed up like I did then dump the flour mixture into a small bowl.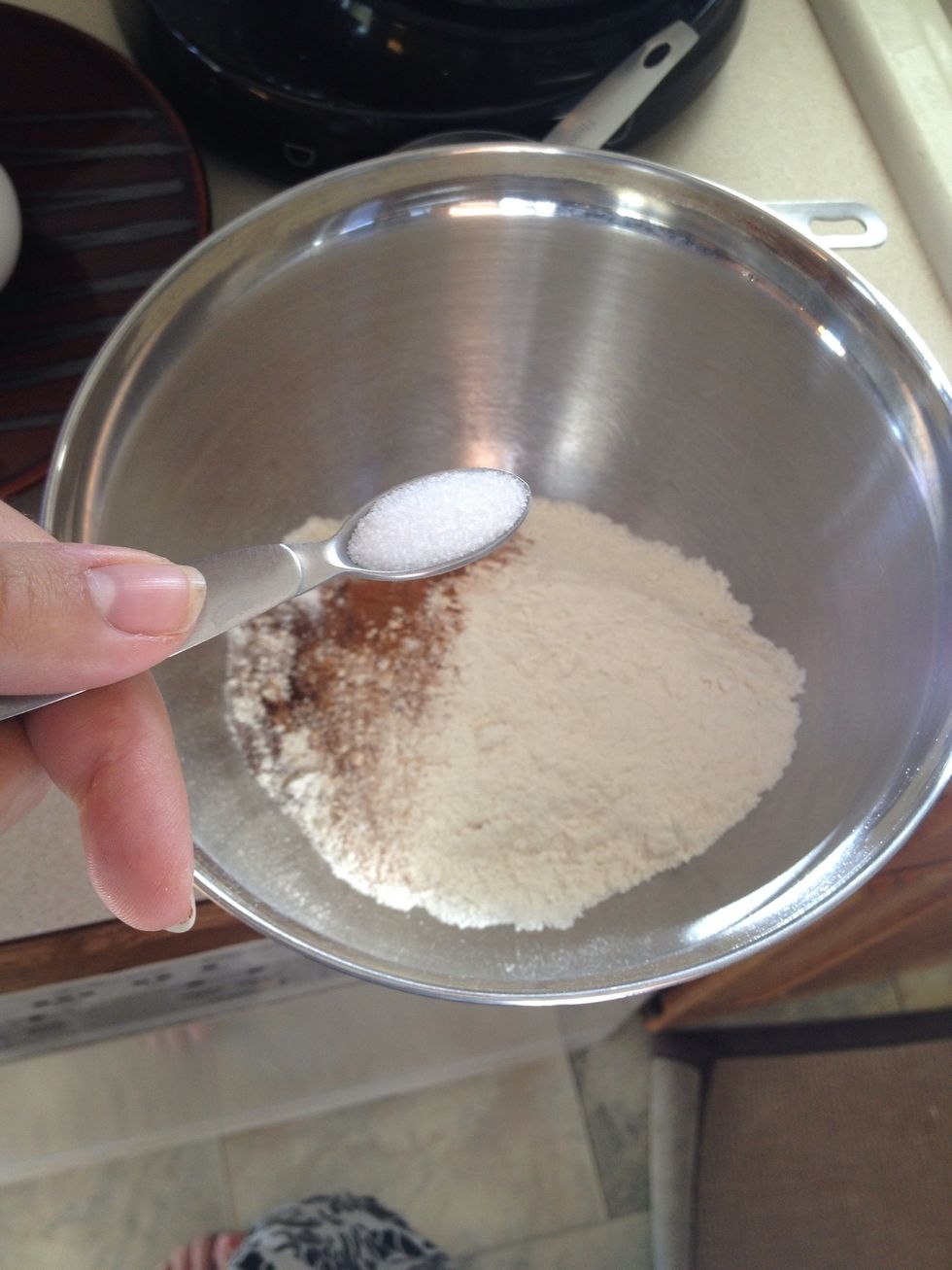 Add 1/4 teaspoon salt to flour mixture and mix up and set aside.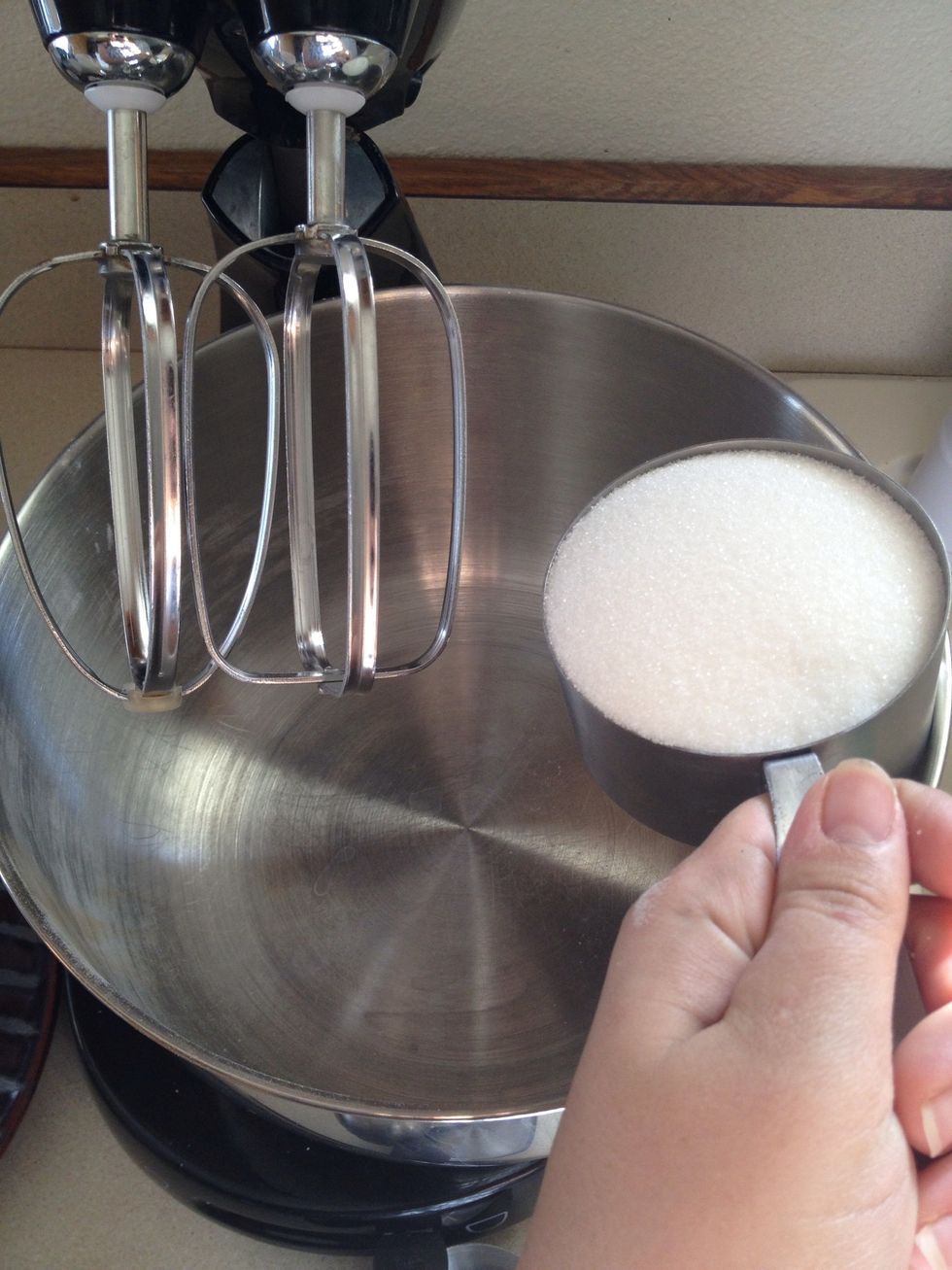 Measure out 1 cup of sugar and put in the mixing bowl.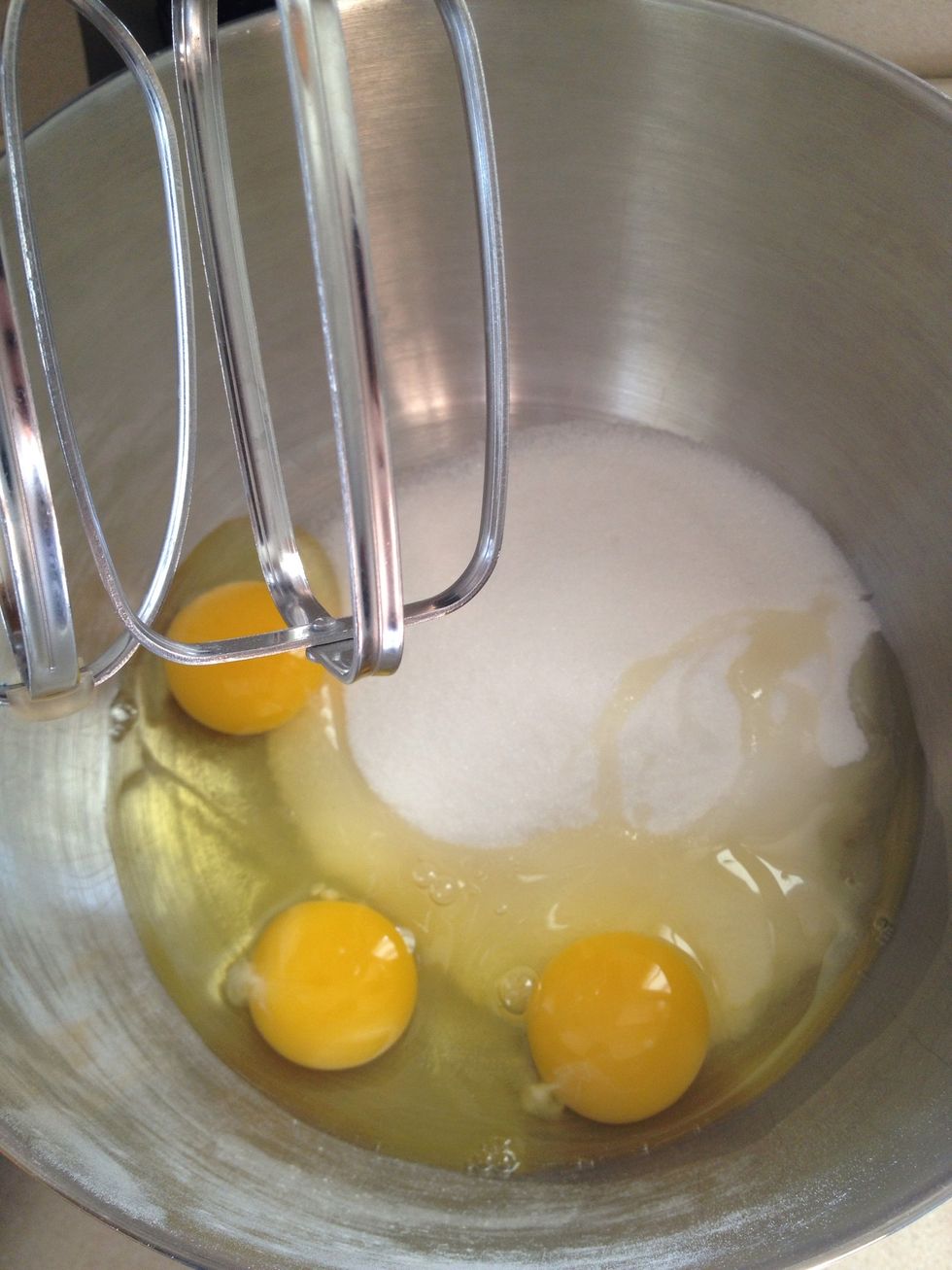 3 large eggs.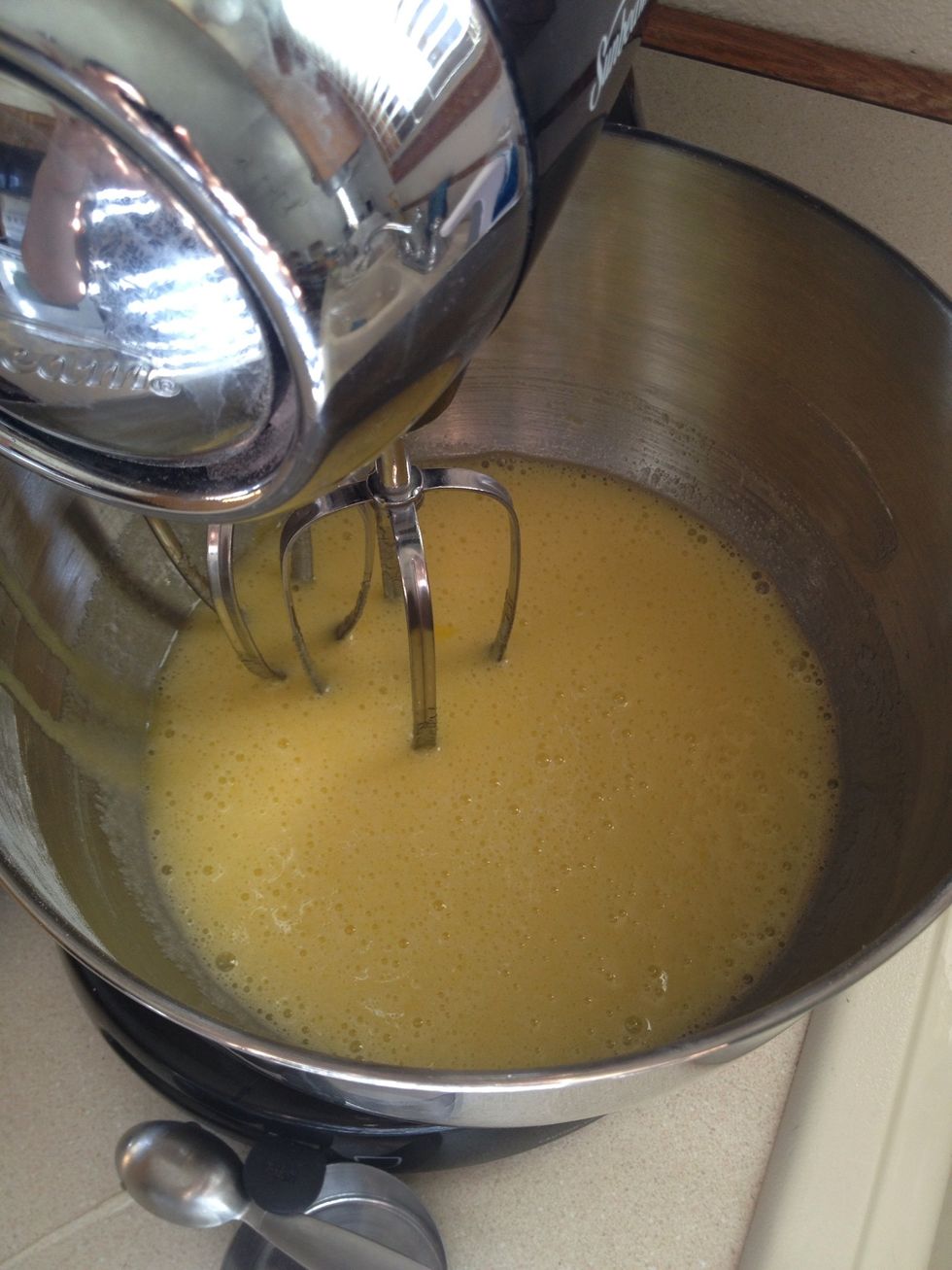 Might have small bubbles. That's okay.
Measure out 2/3 cups of your pumpkin mix.
Beat well.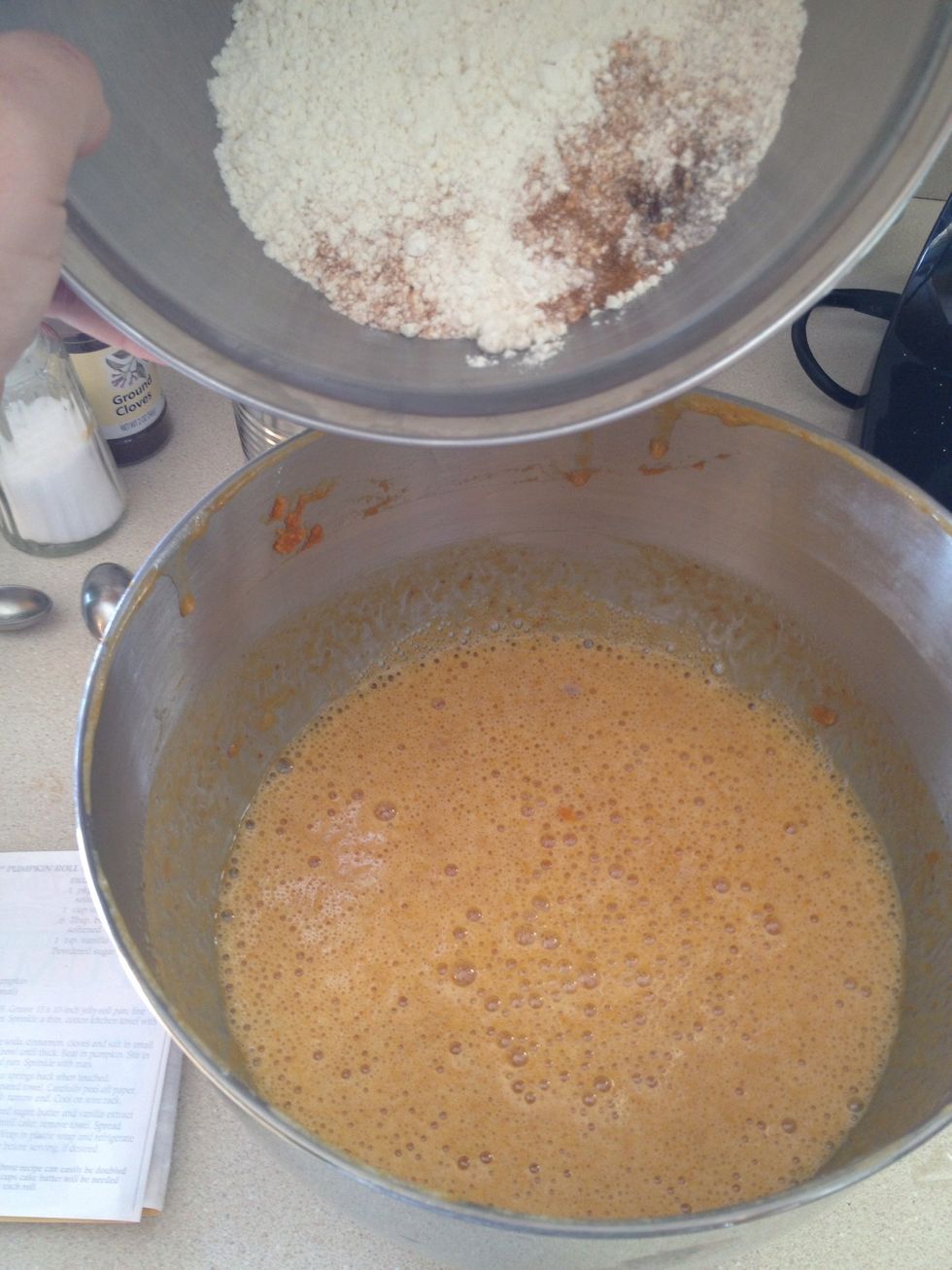 Dump the flour mixture into the pumpkin mixture.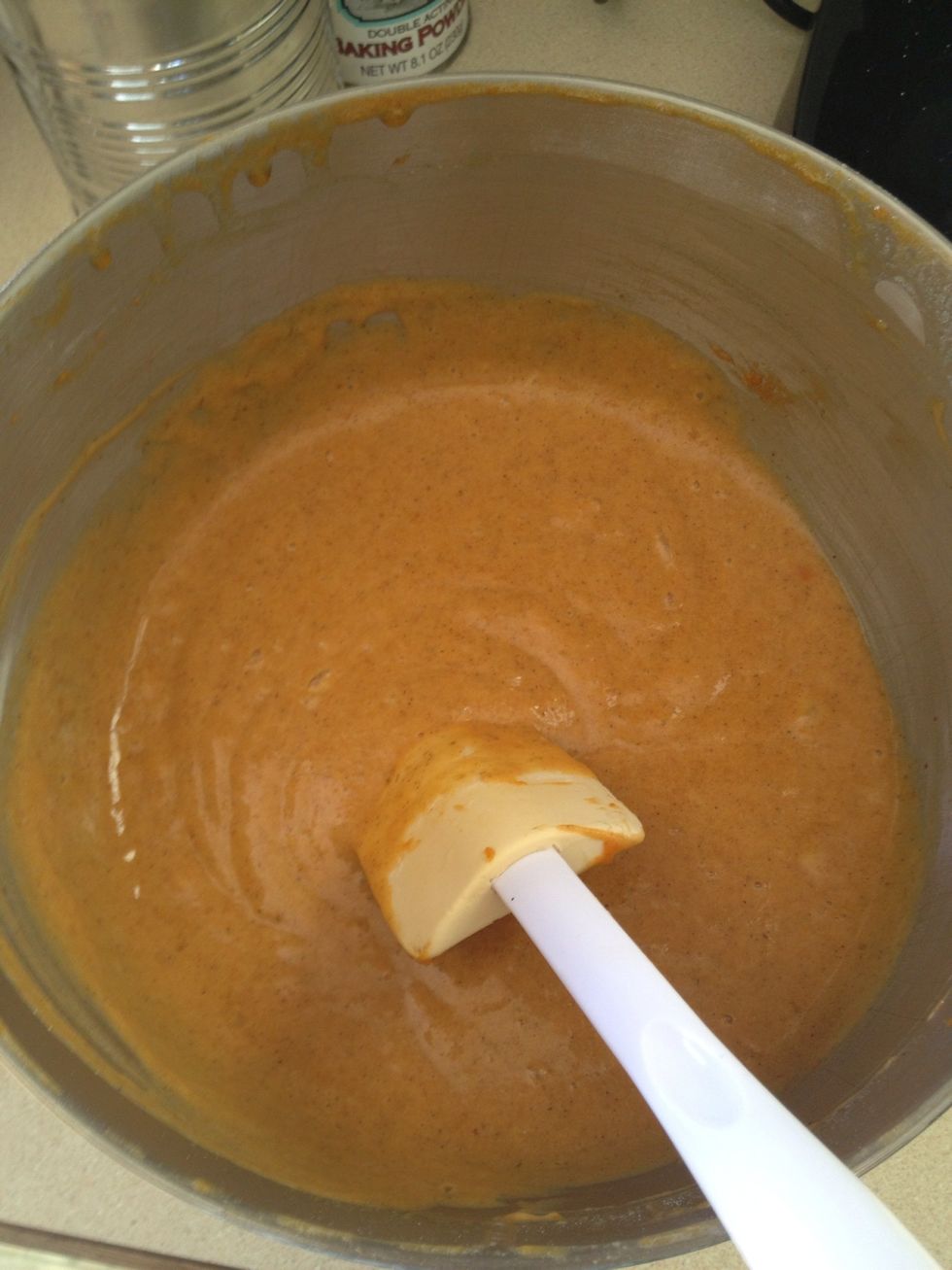 Stir well.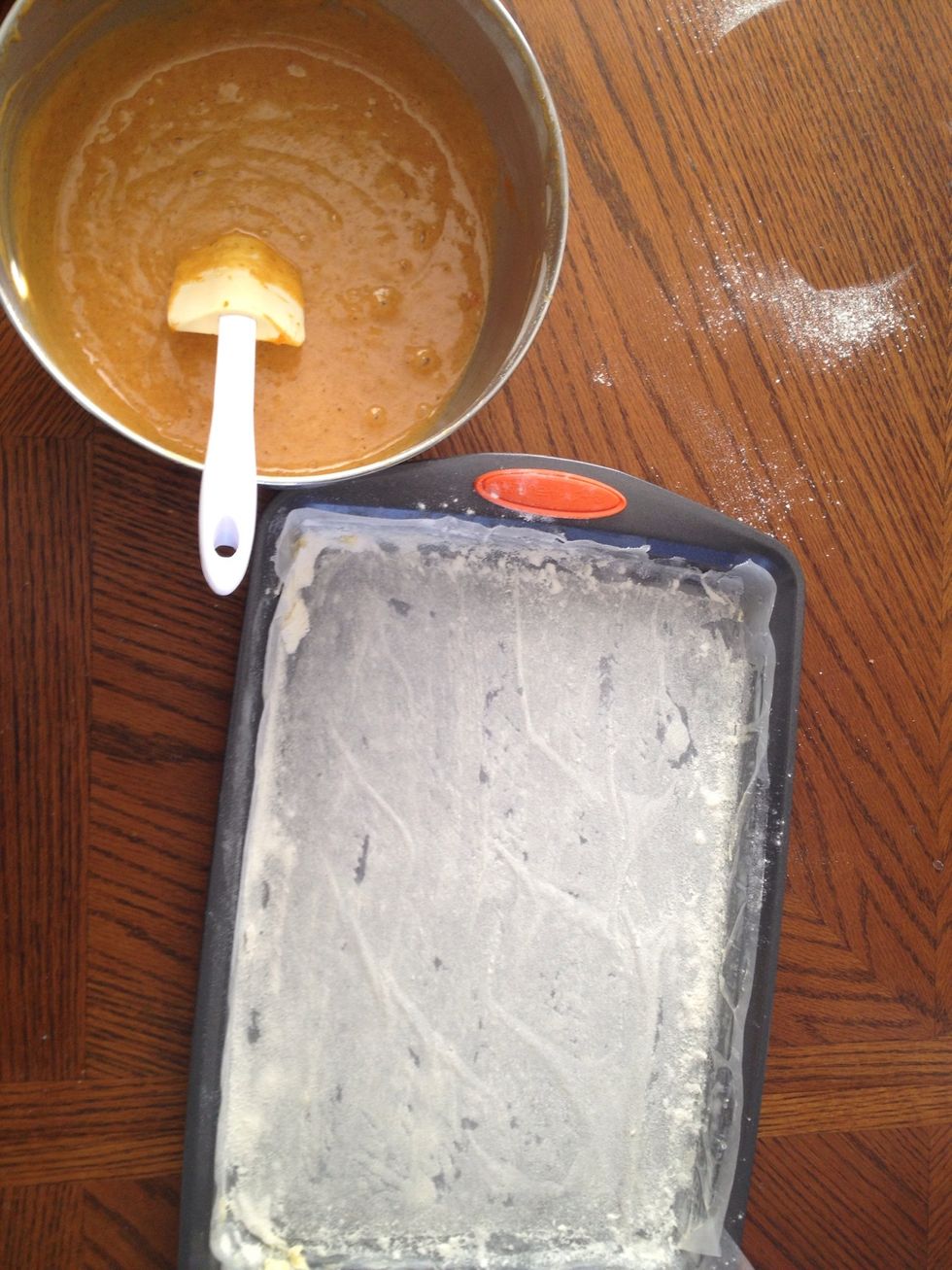 Now we will dump this into that pan we greased and floured earlier.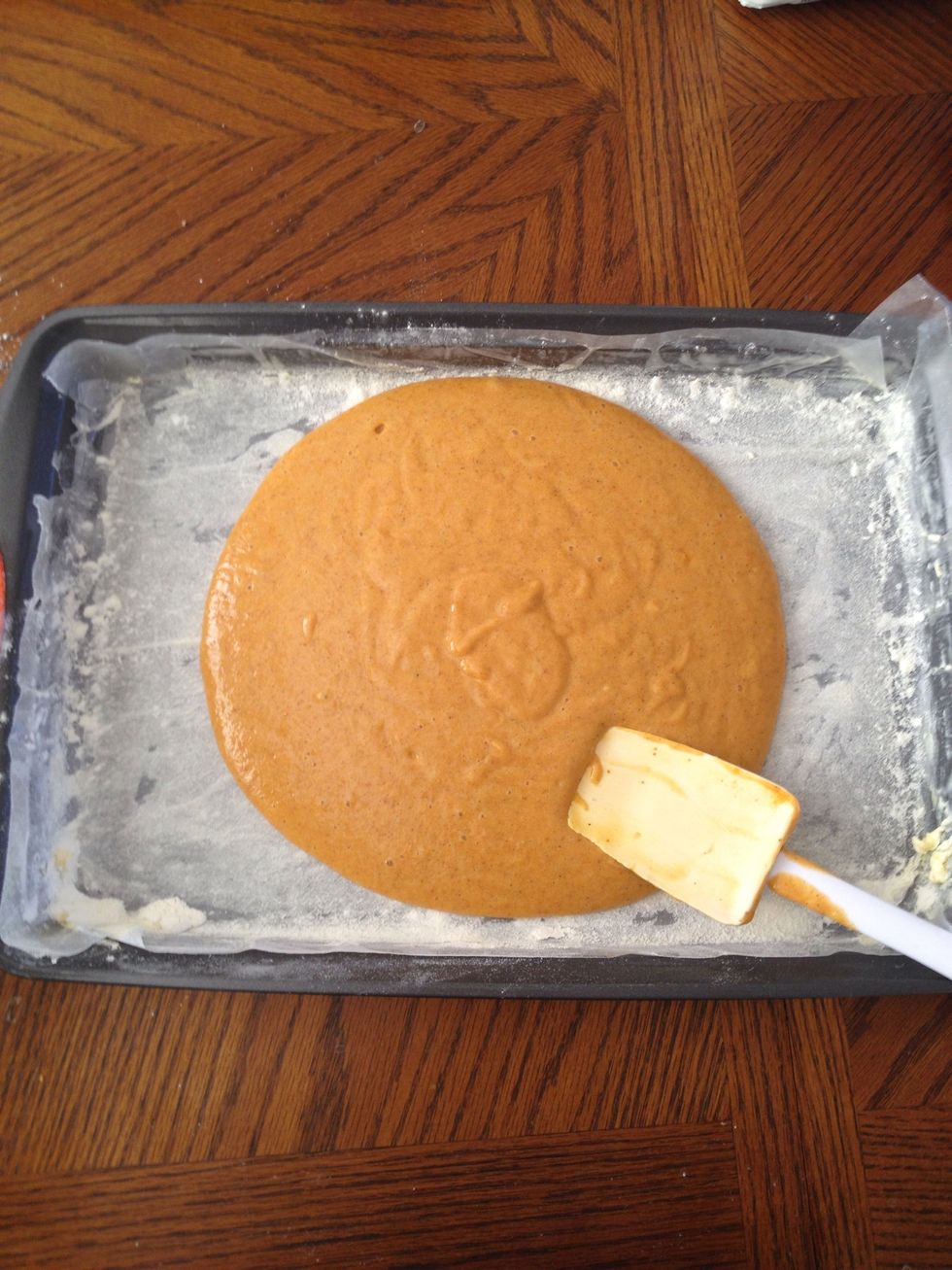 Spread the mixture evenly covering the pan.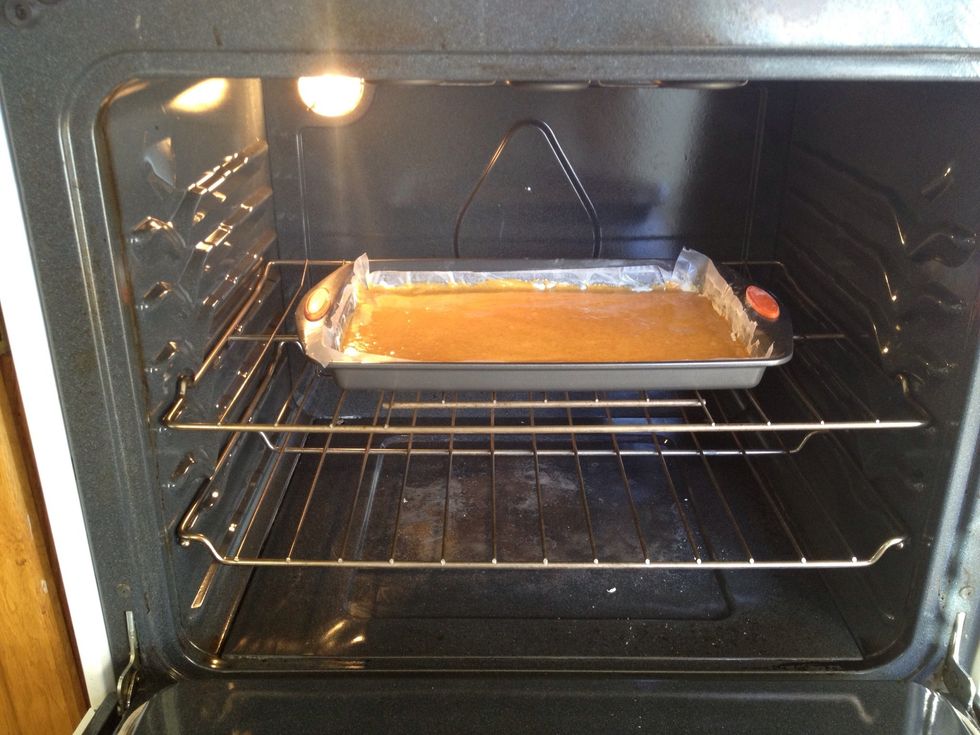 Place in the oven.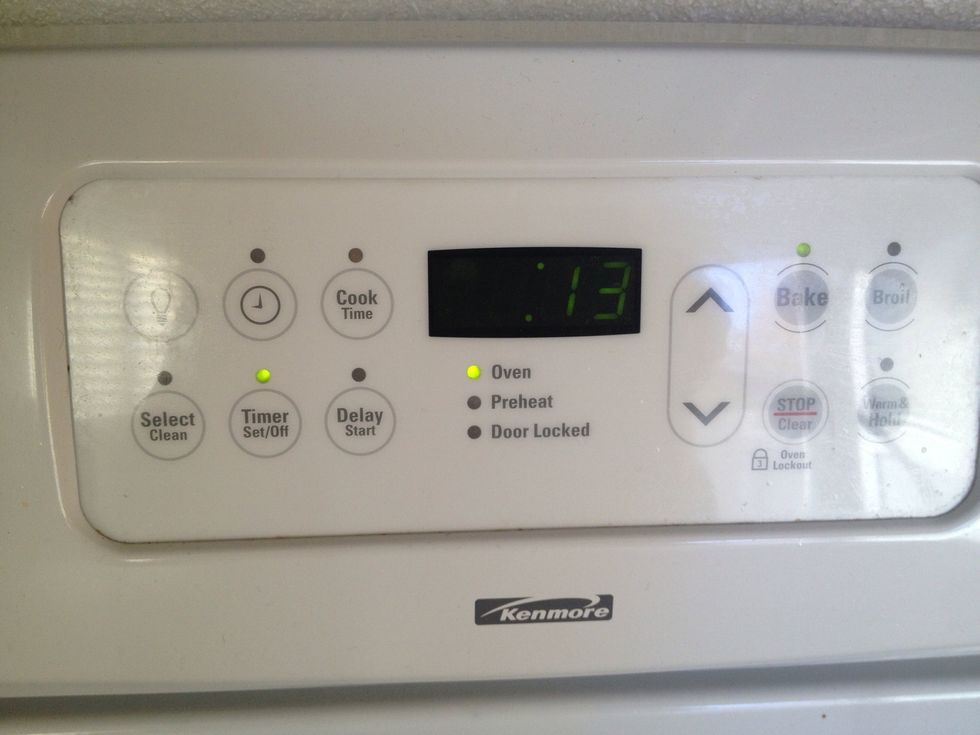 Set your timer for 13-15 minutes depending on your oven. 12 Minutes was perfect for me.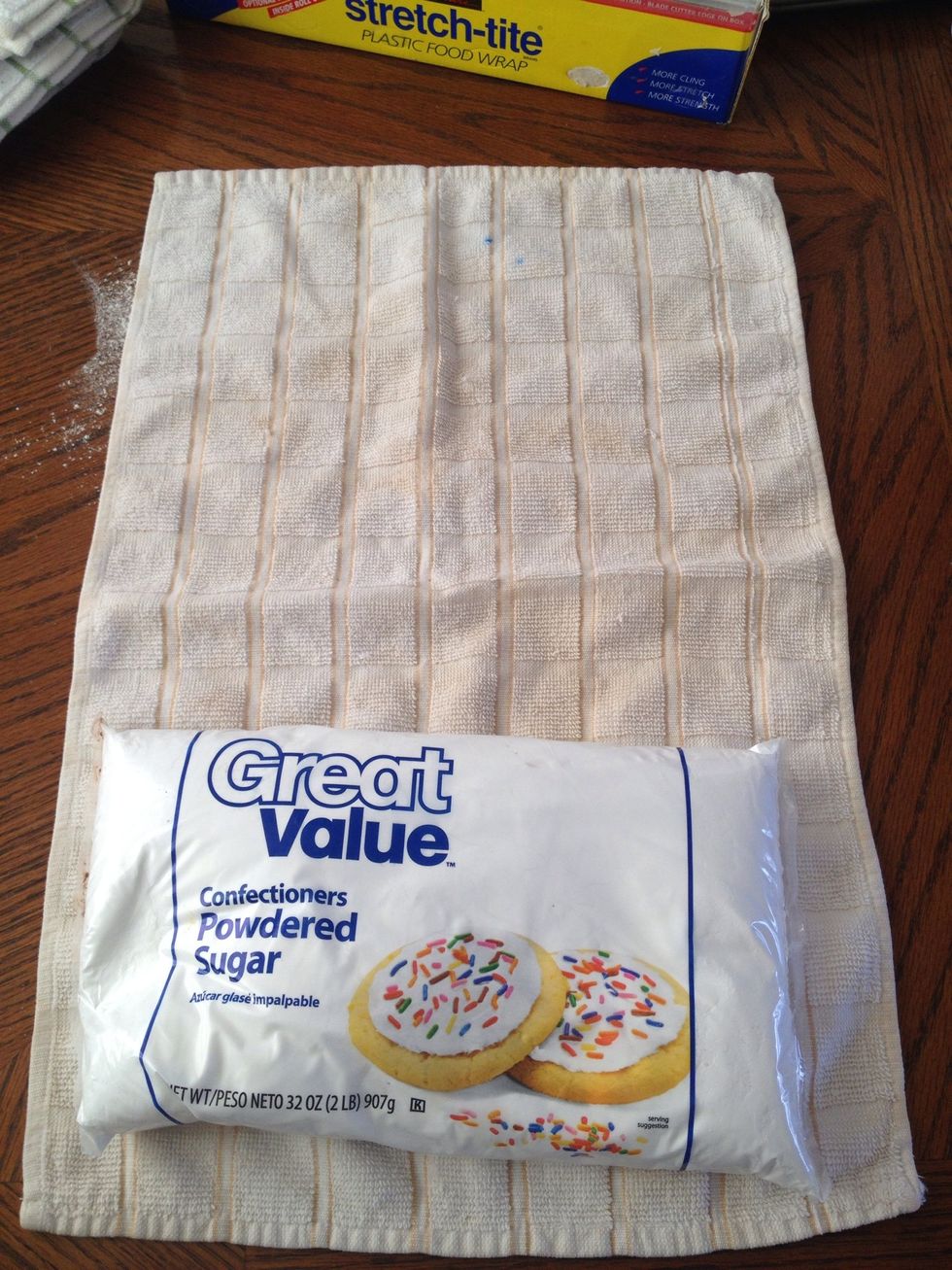 While your cake is baking we will prep the thin cotton towel to roll the cake with.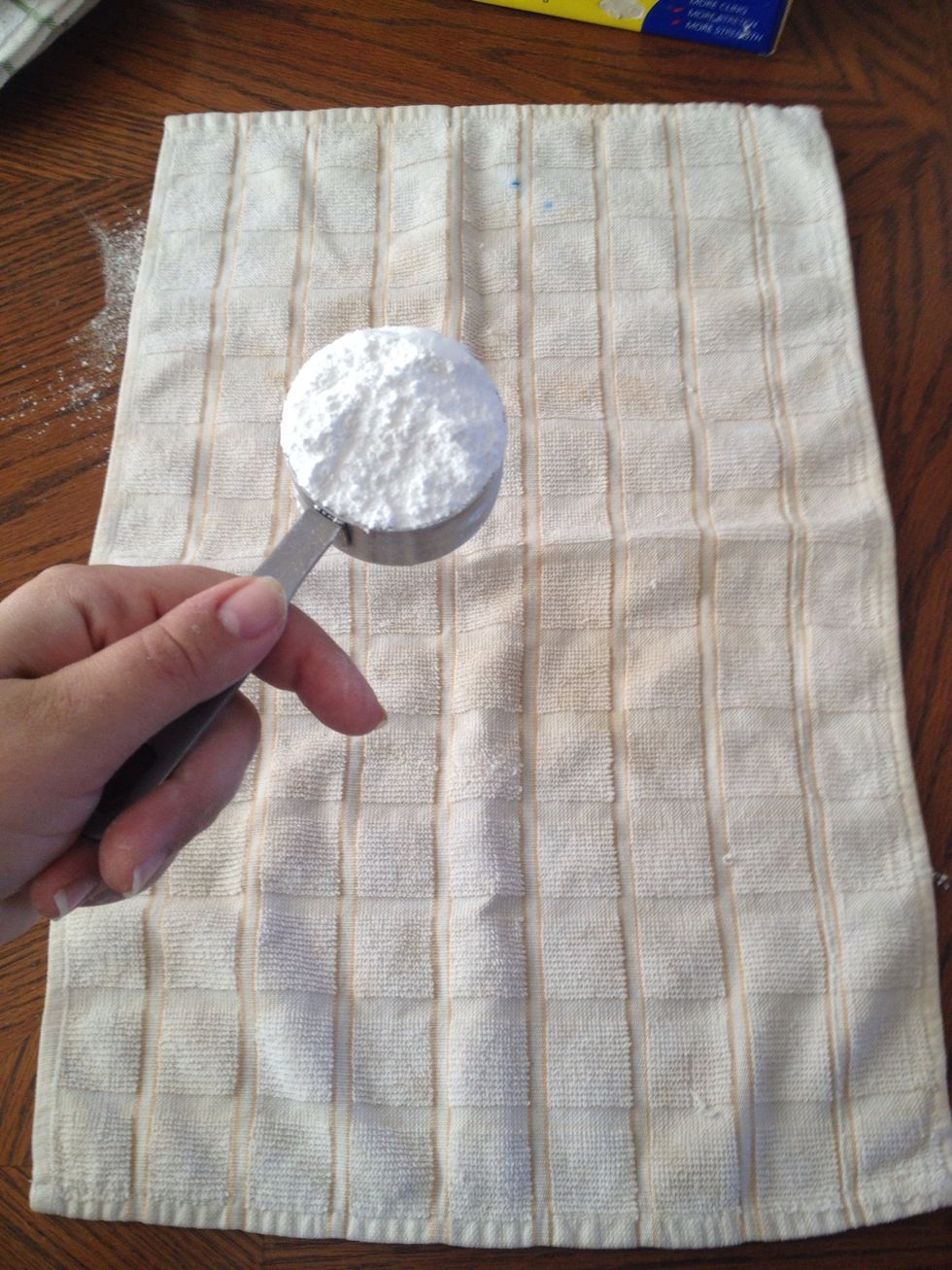 I use 1/4 cup powdered sugar. You can use more and coat the towel. Make it well so the cake doesn't stick and tear on the towel.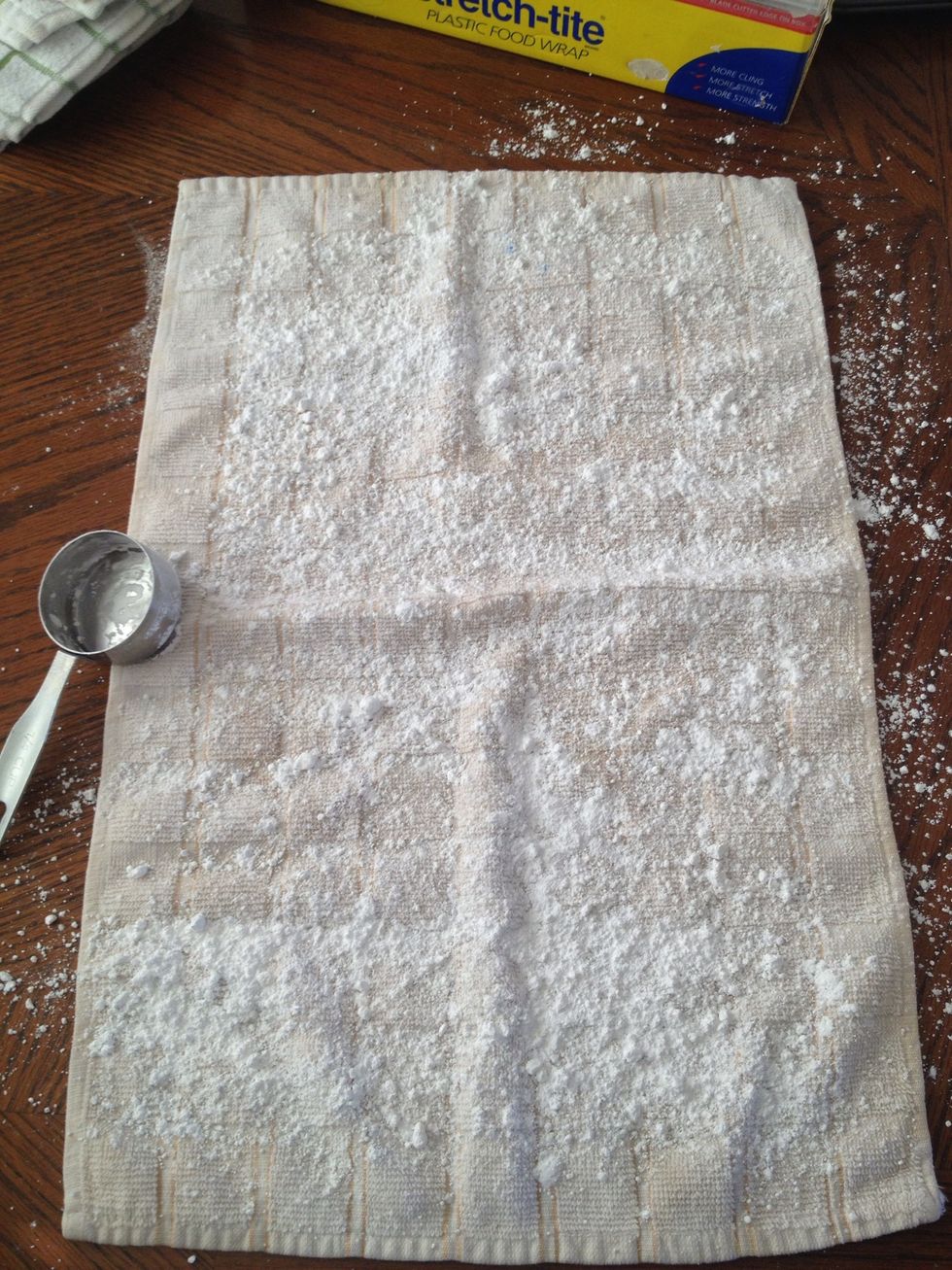 I added even more.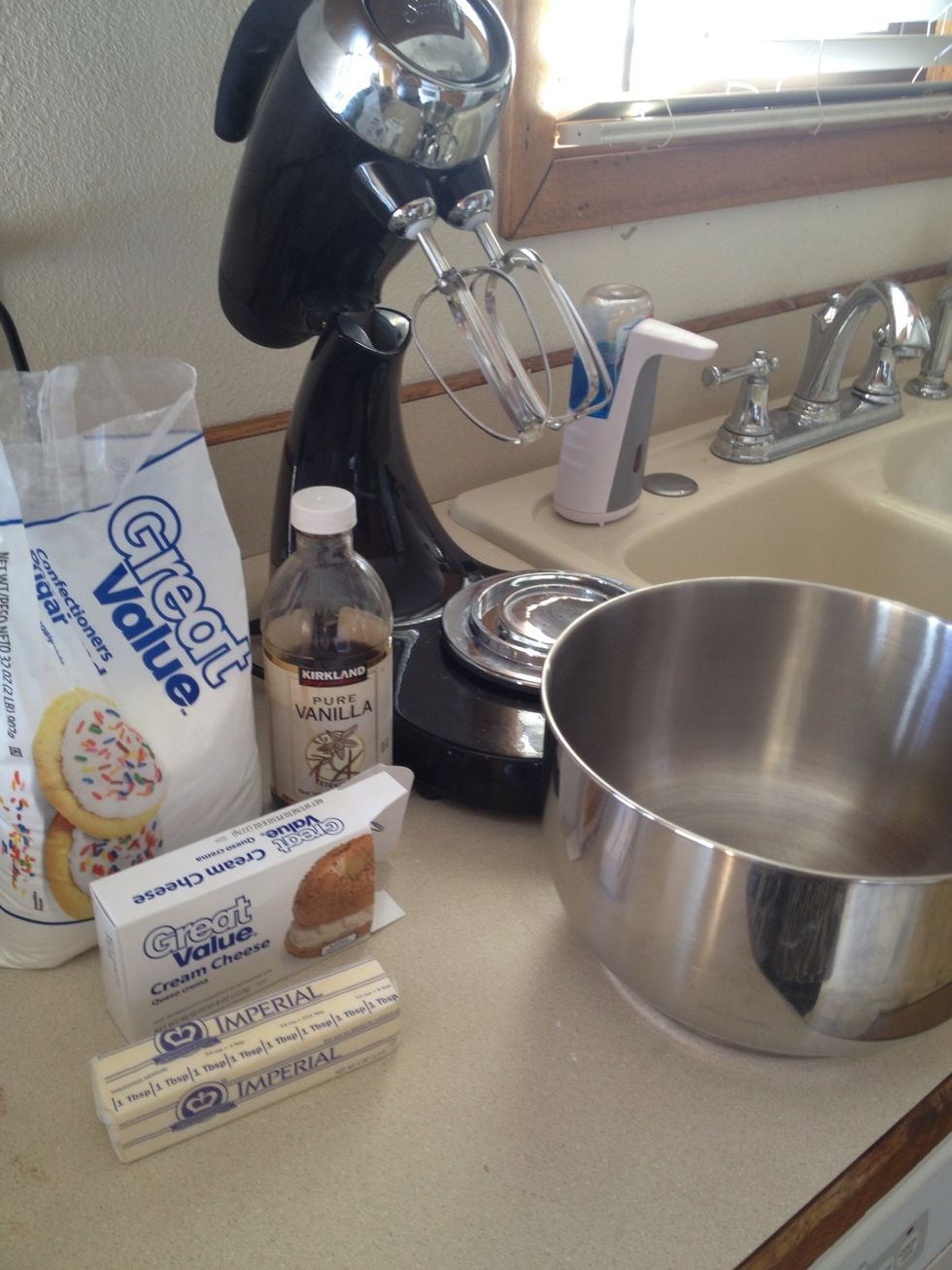 IT'S FILLING TIME!!!!! If you haven't done so wash your beaters and mixing bowl!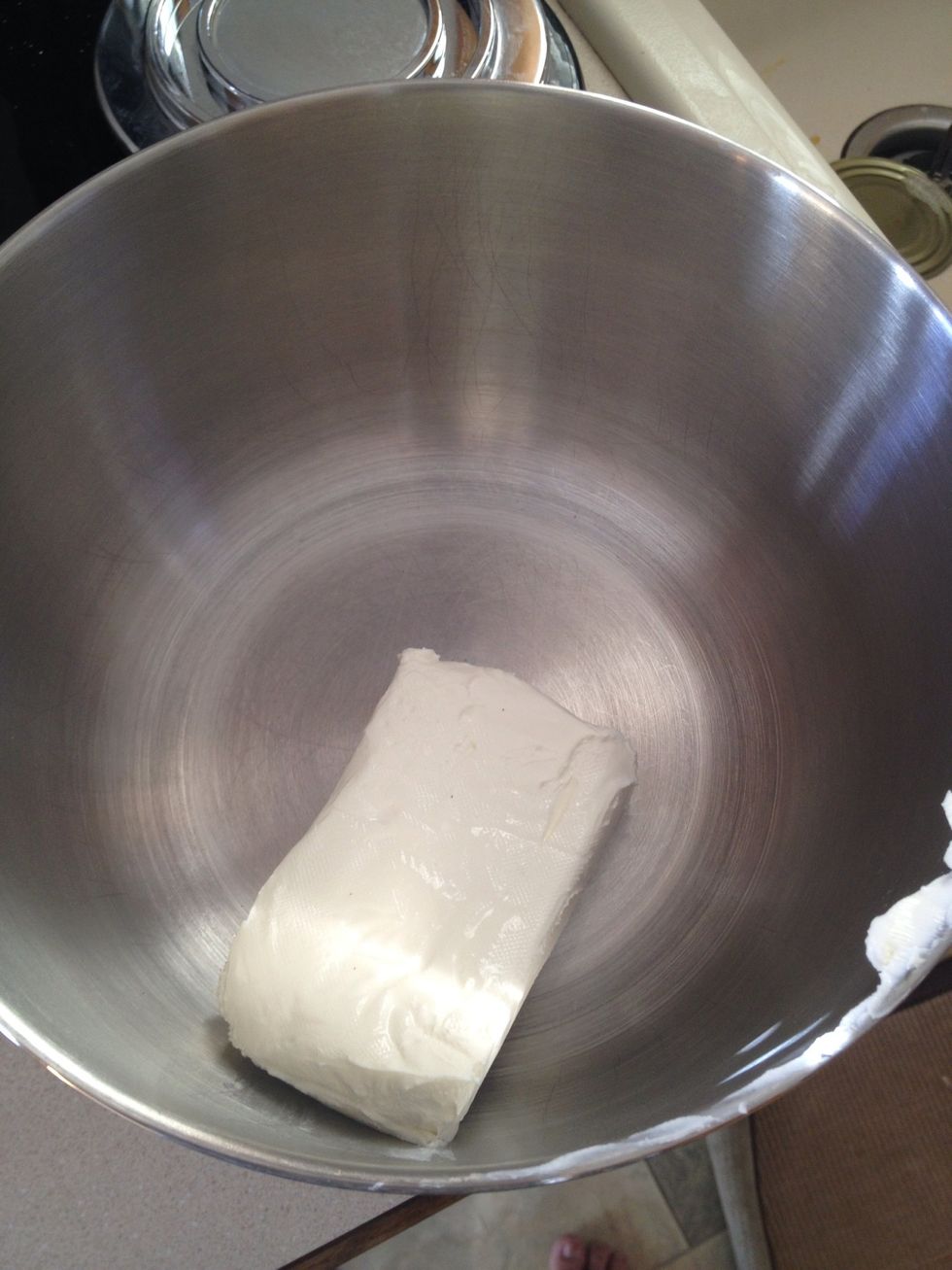 Place one 8 oz package of cream cheese in the mixing bowl. (The great value tastes just as good as Philly for half the price)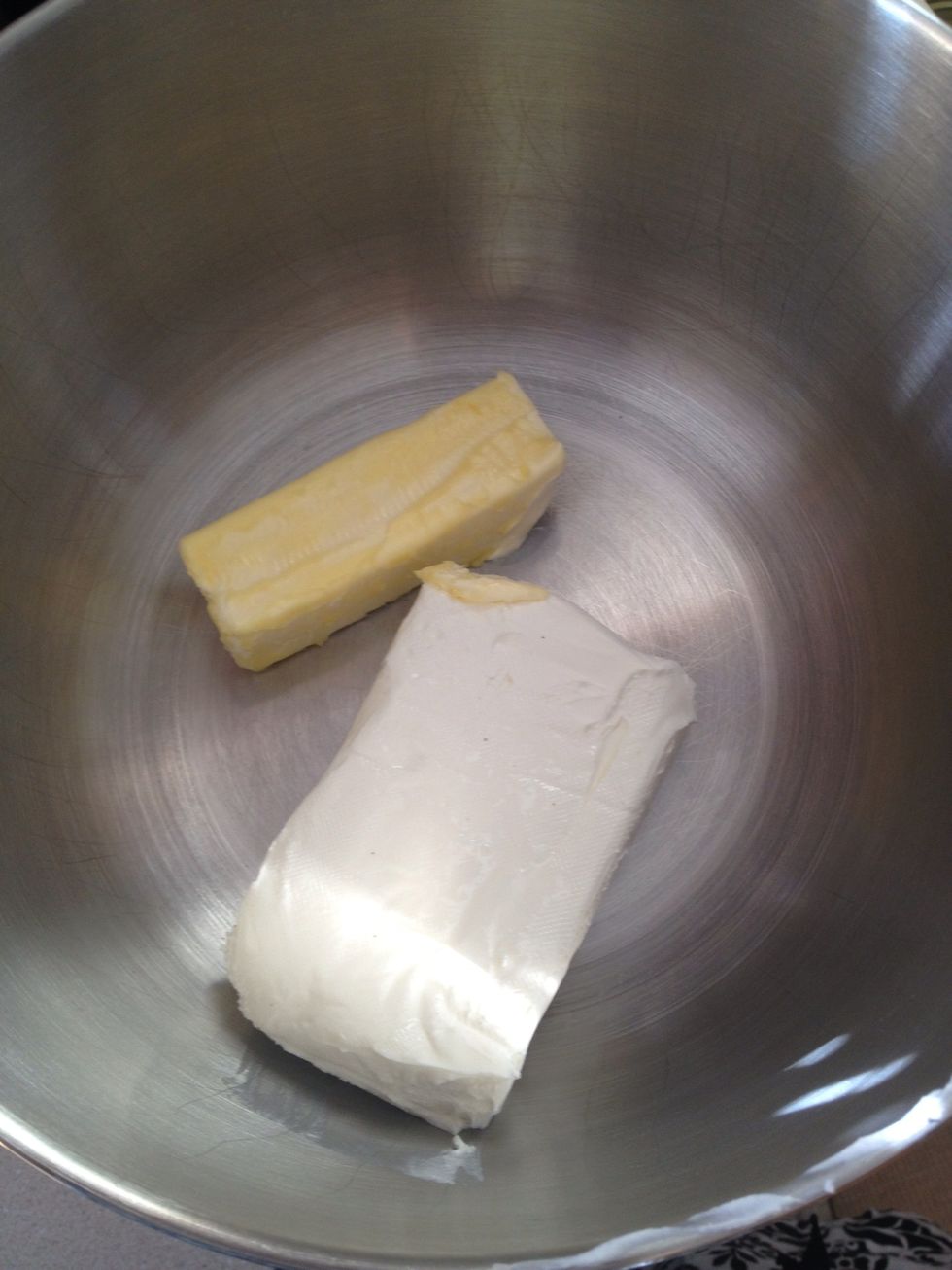 Add 6 tablespoons of butter.
Measure 1 cup powdered sugar and add to the bowl.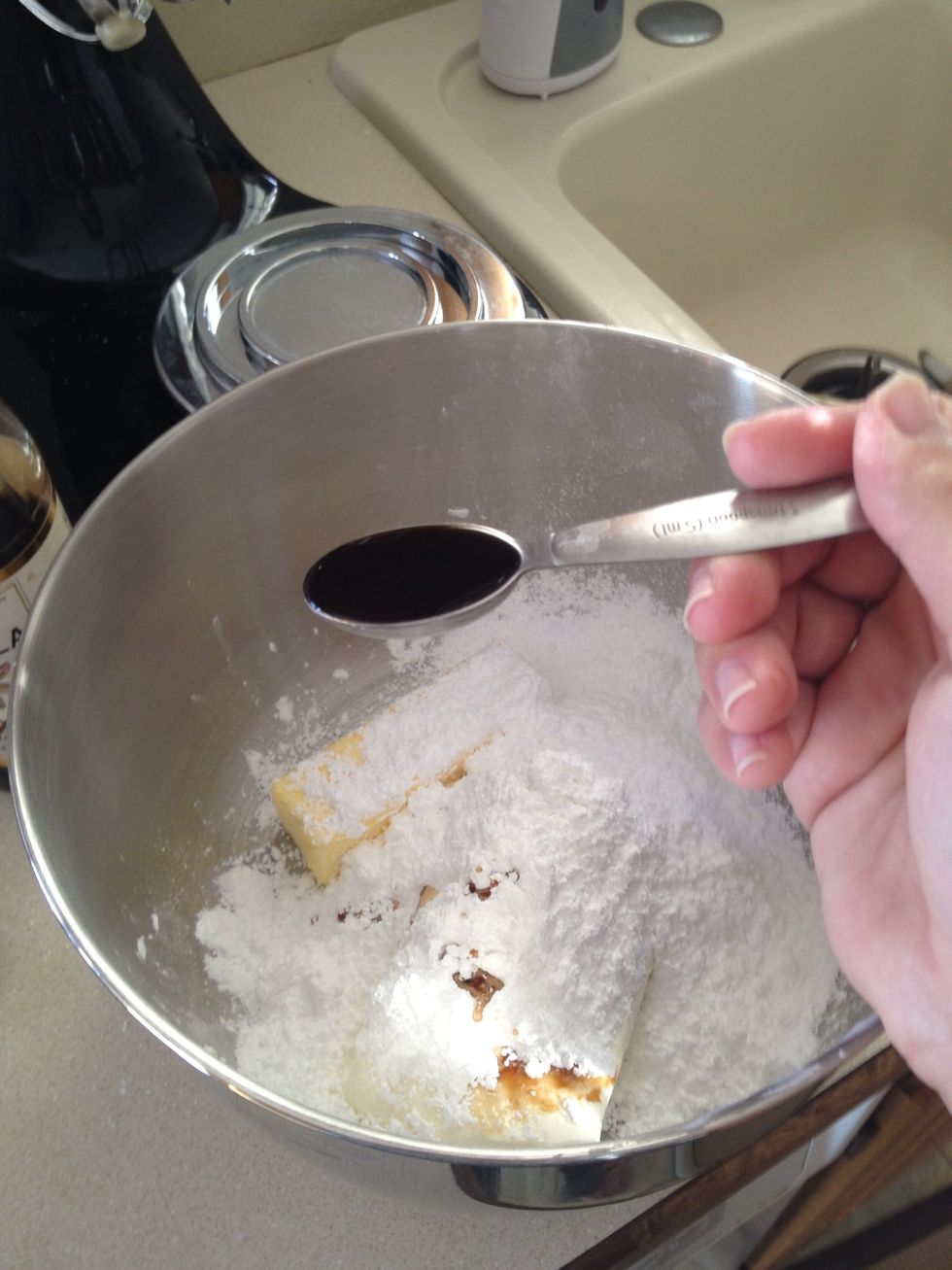 Add 1 teaspoon of vanilla.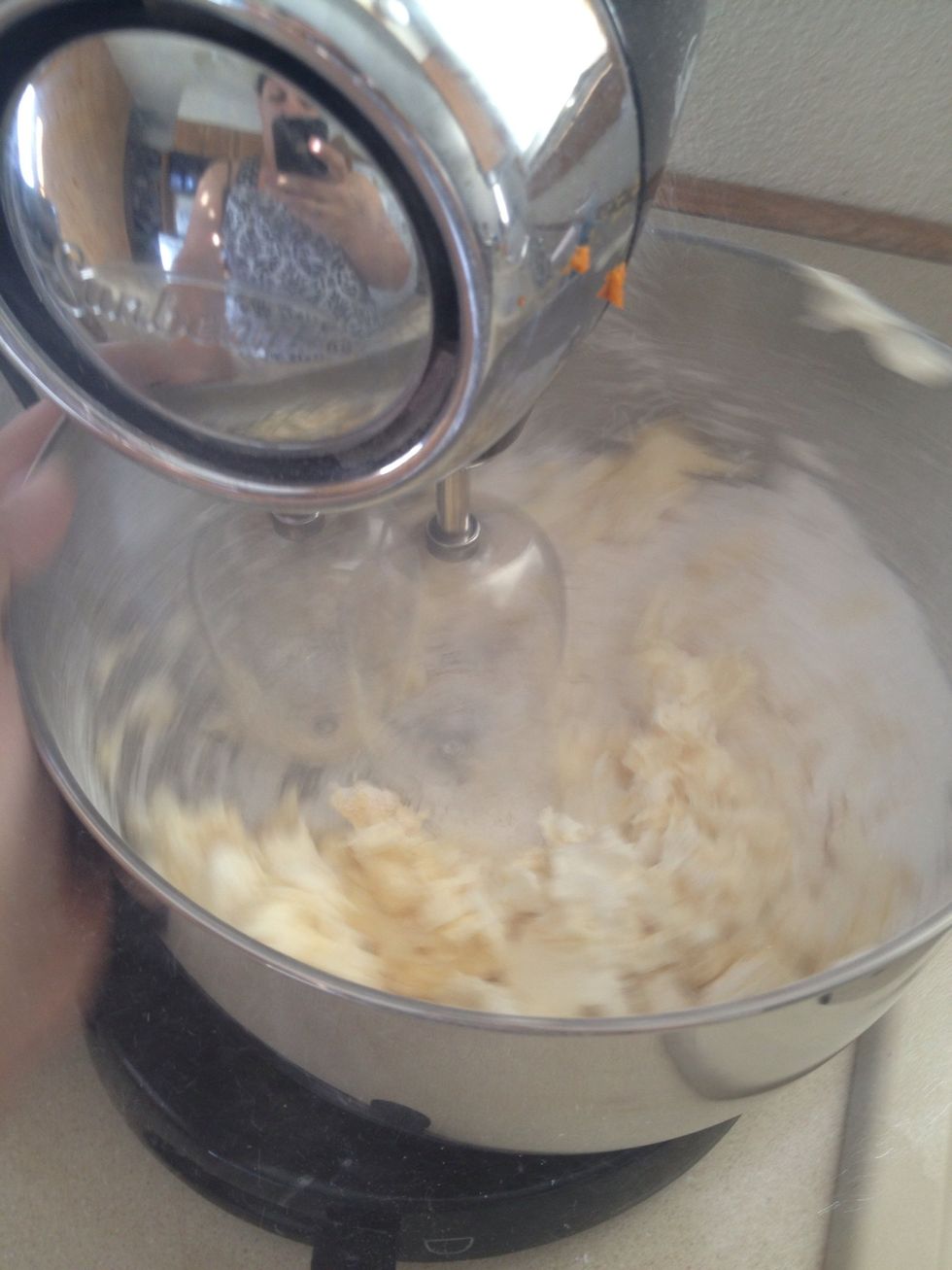 Beat until smooth!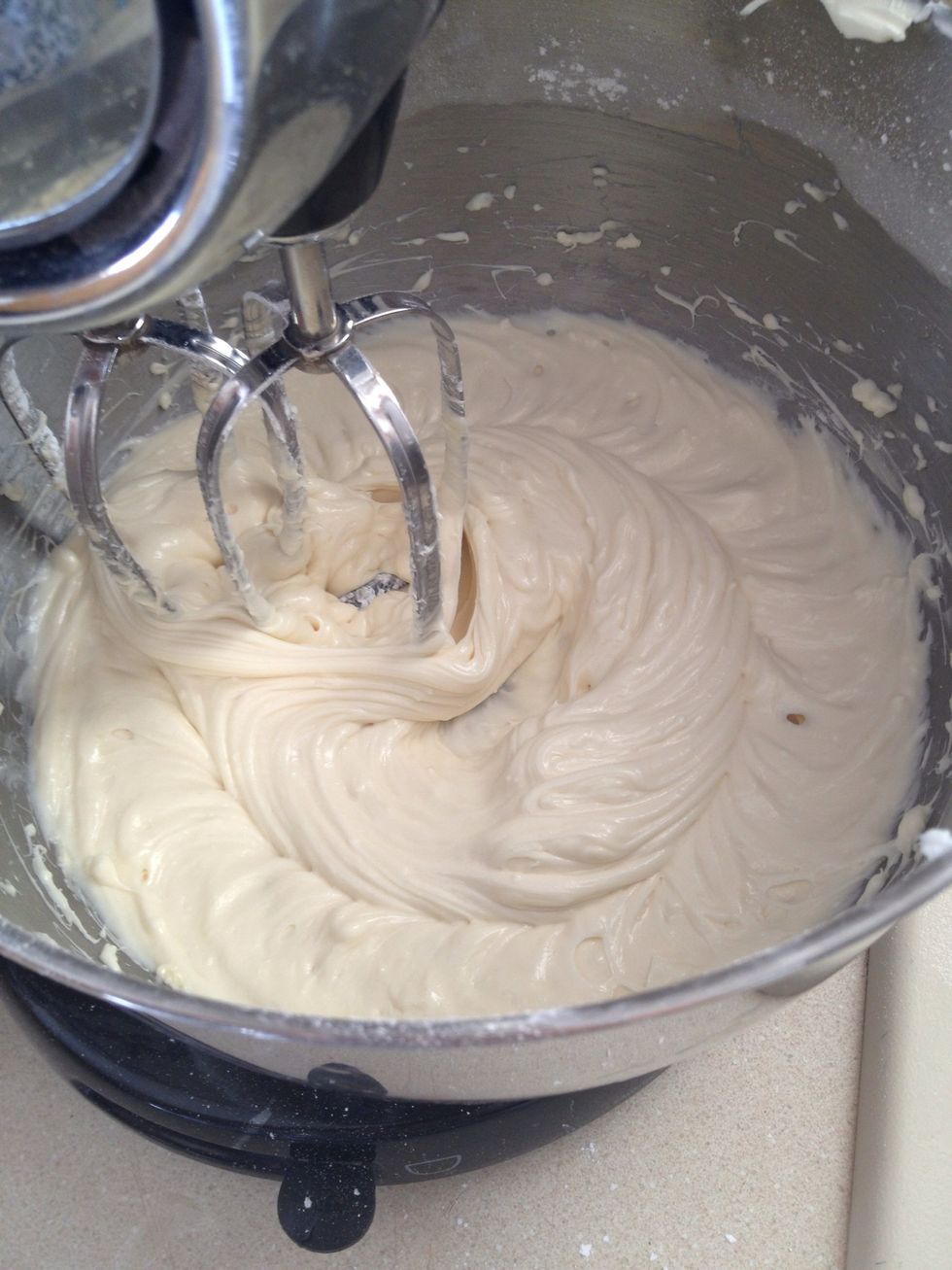 Ta da!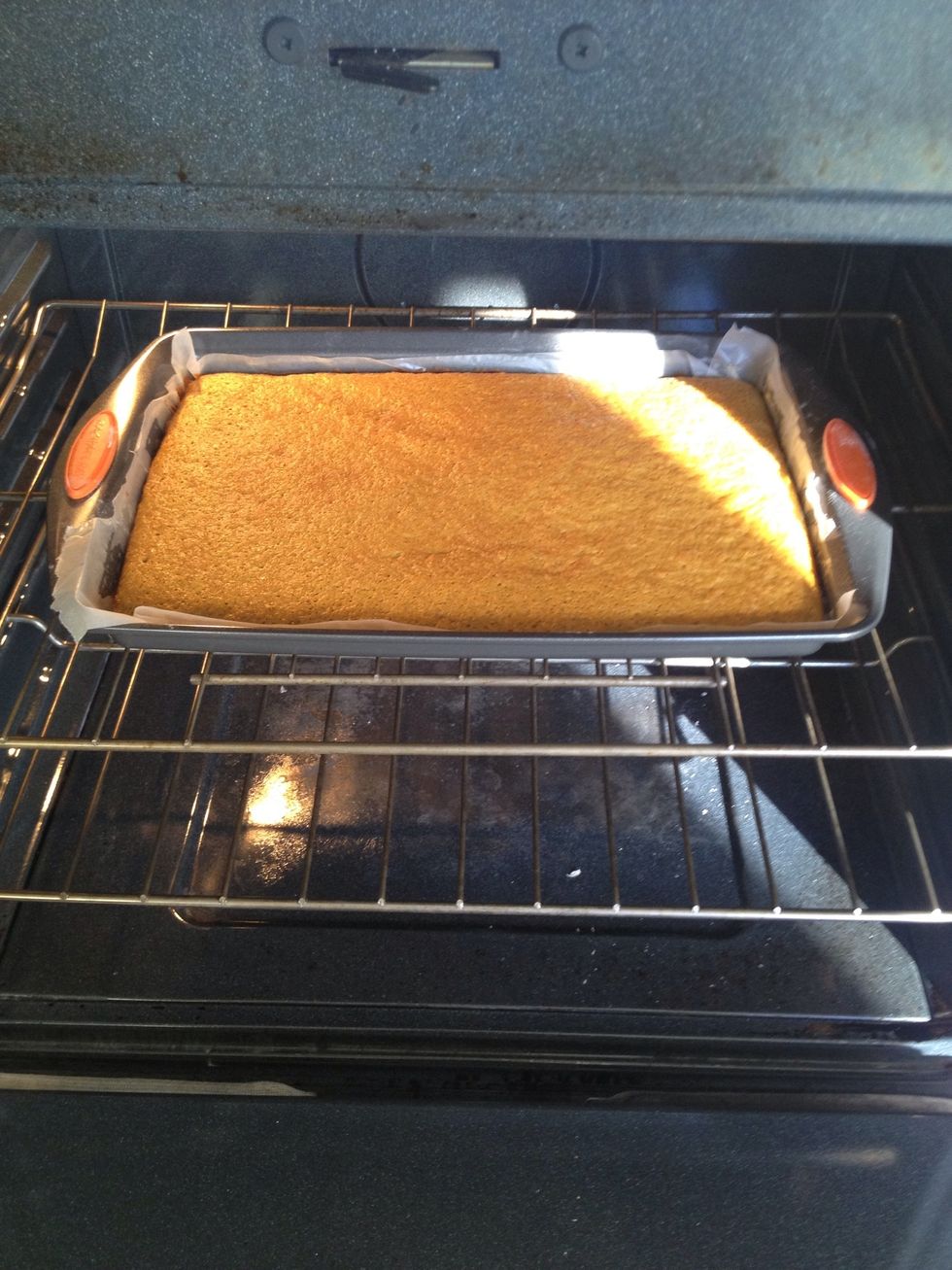 Beep beep time to take the cake out! If cake doesn't spring back when touched then bake it some more. These next 5 steps should be done one after another.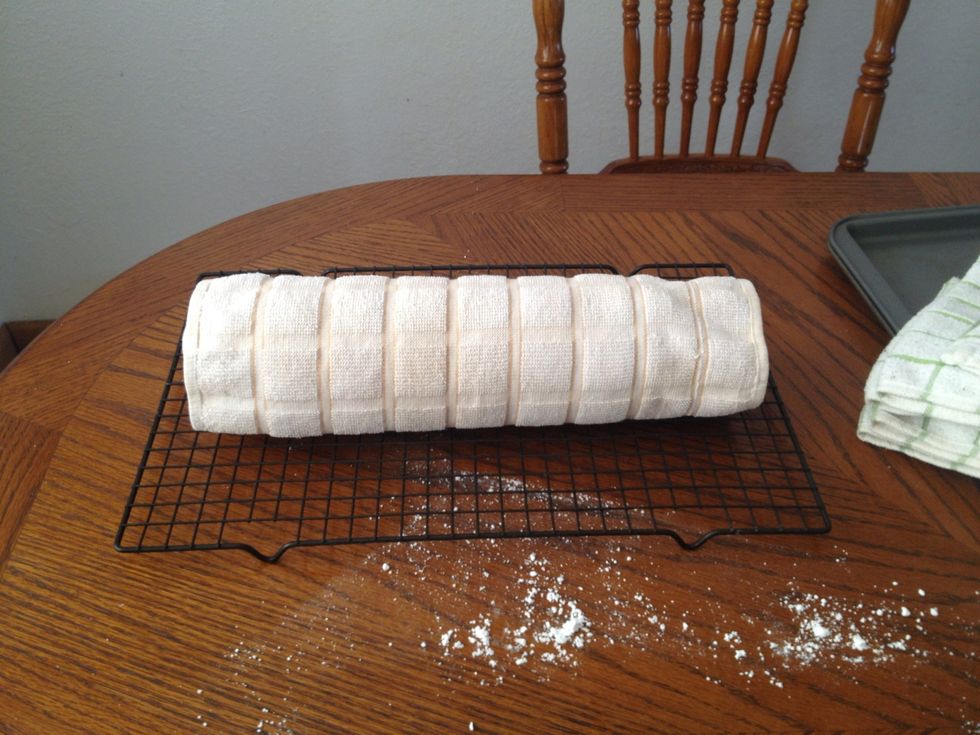 Place on a cooling rack.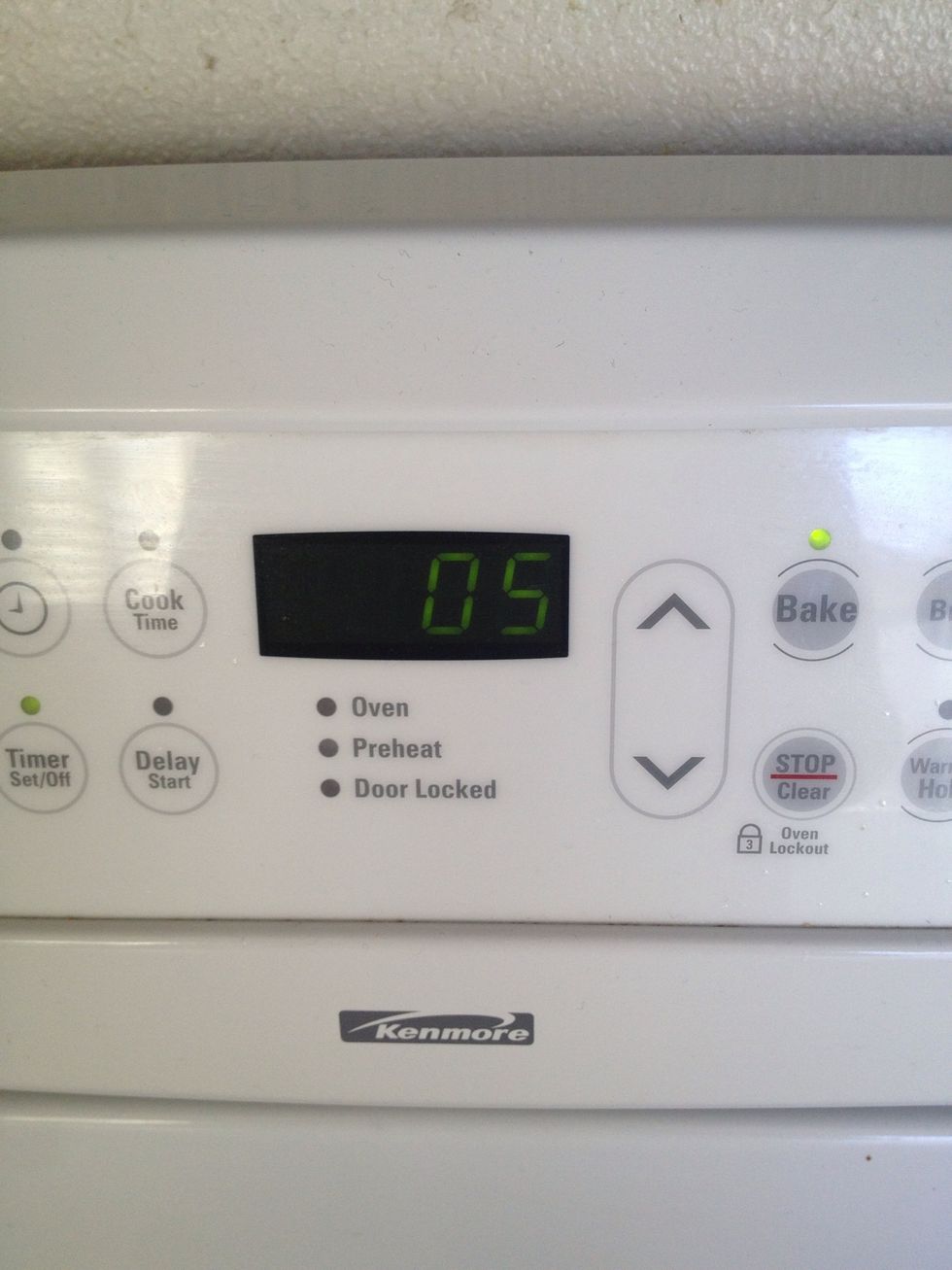 Set timer for 5 minutes for the cake to cool slightly.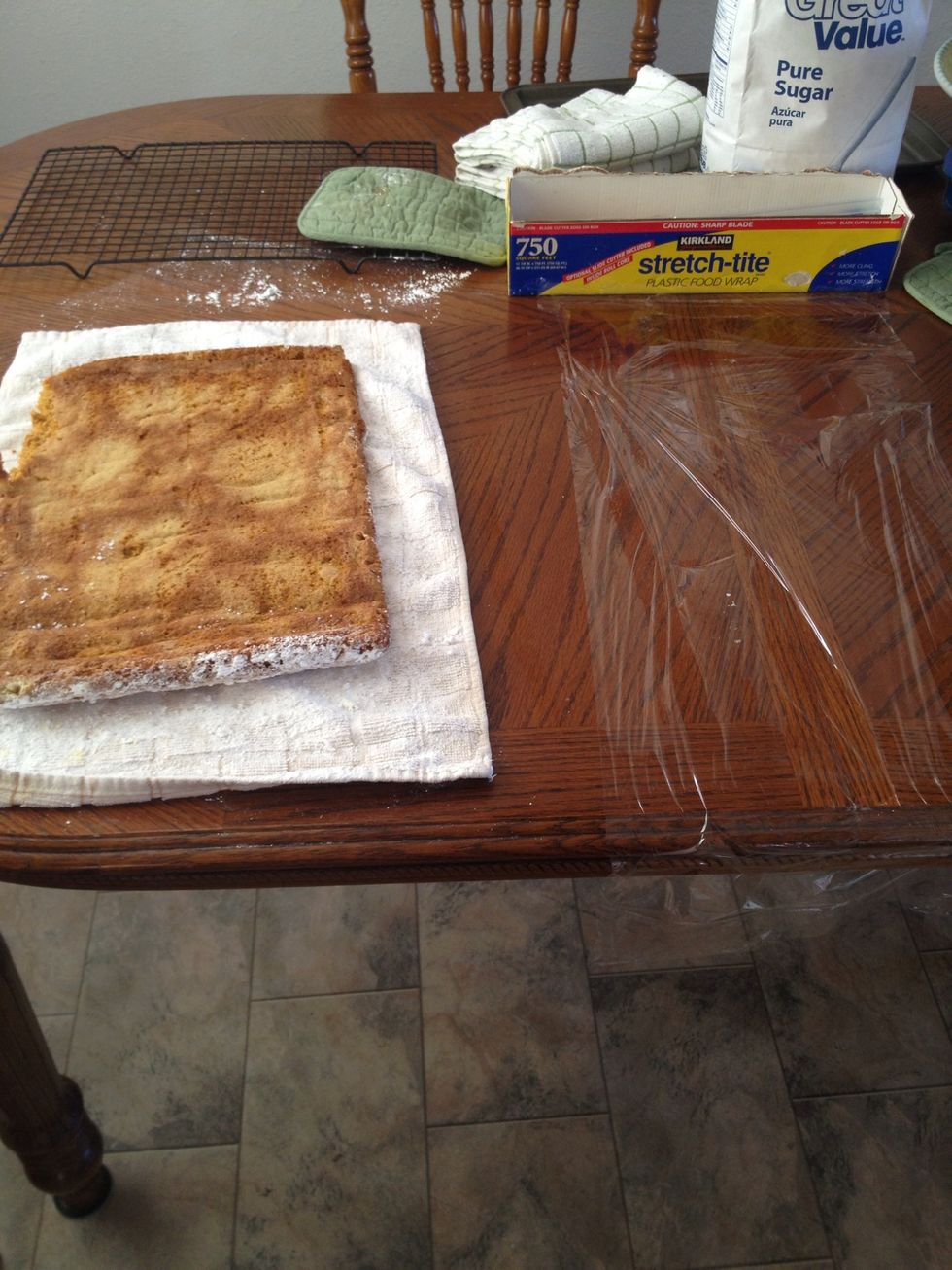 Beep beep. Time to unroll the pumpkin cake. You can let it cool a bit longer so the filling won't melt. Take your plastic wrap out and get ready to transfer the roll in it.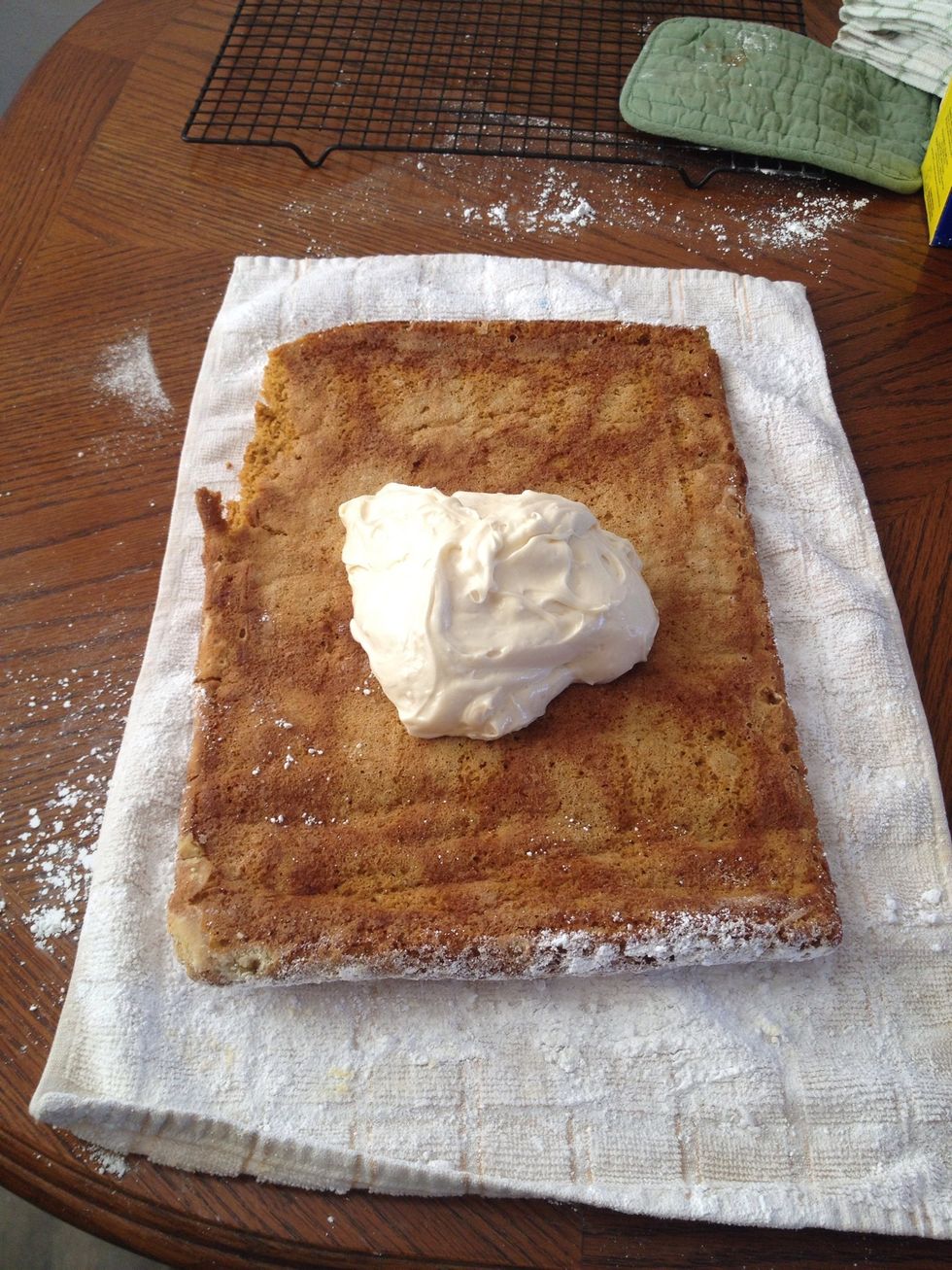 When cake is cooled enough for you add in your cream cheese filling.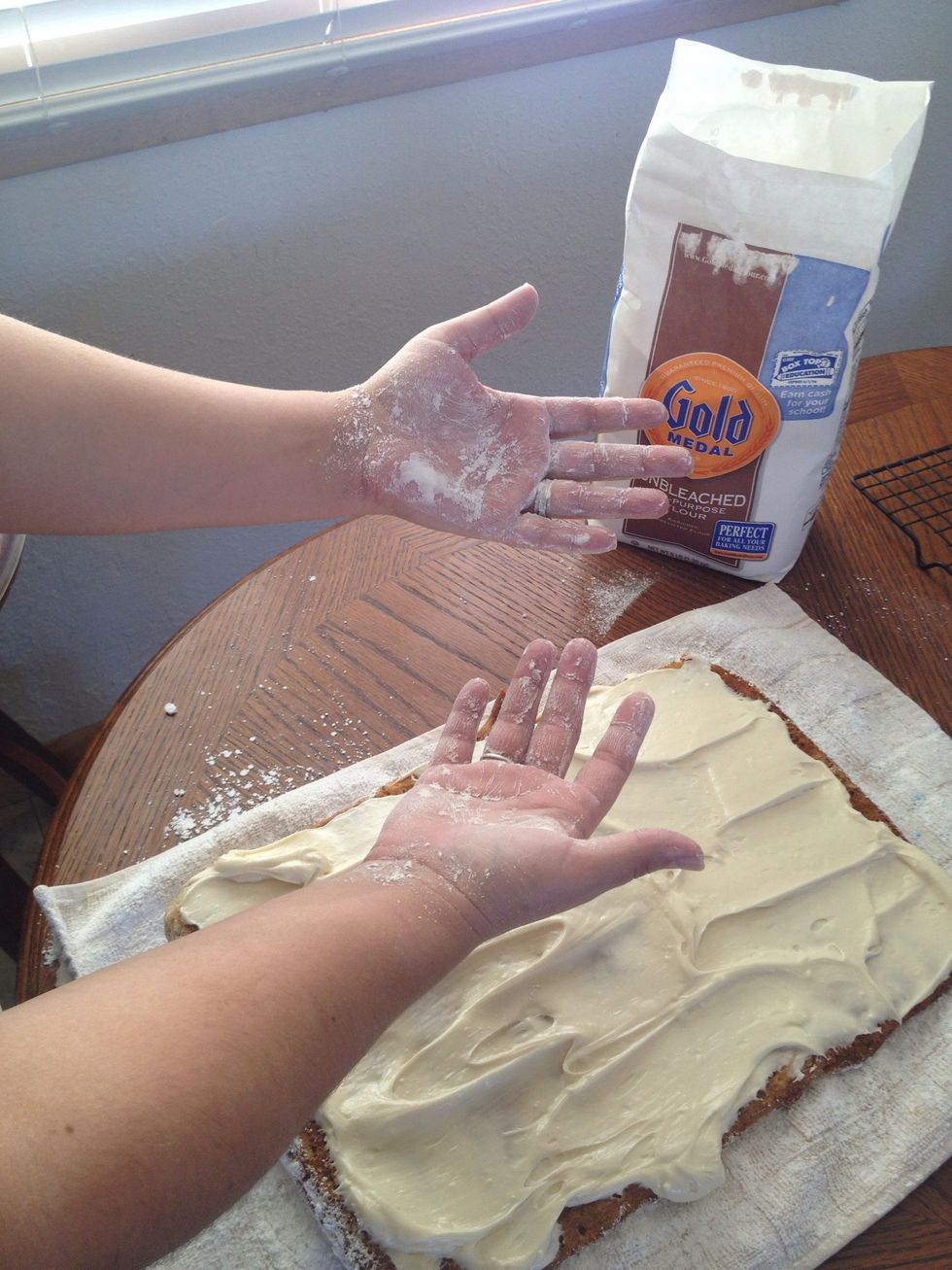 I like to add some flour to my hands to keep the cake from sticking to them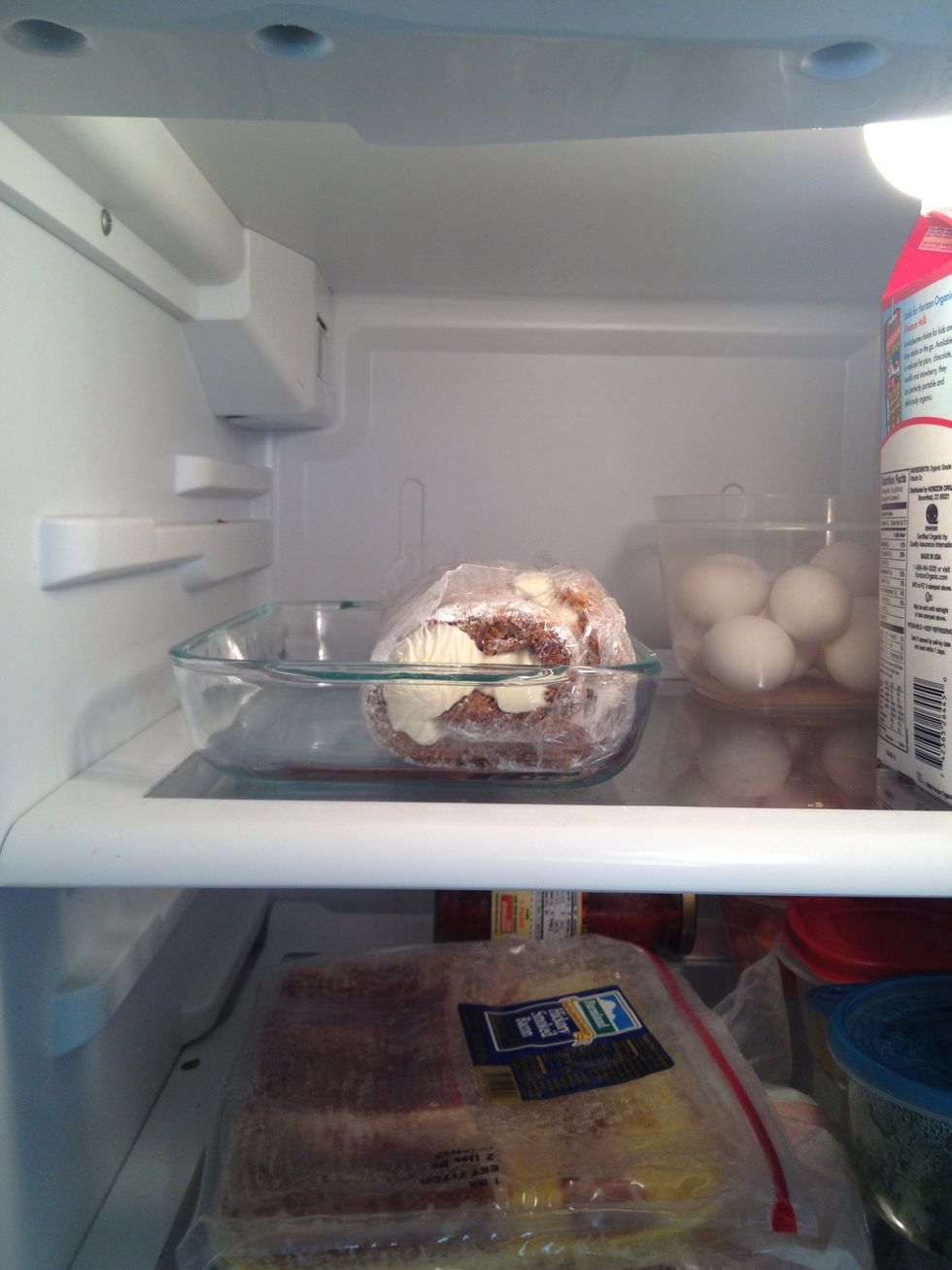 Place in the refrigerator for at least 1 hour before serving. If you freeze it still place in the fridge to make it cold. This will stop freezer burn.
If you make these ahead of time you can wrap aluminum foil around the roll in plastic wrap and place in freezer. Pull out 45 mins+ before serving.
Cutting the slices when the roll is still frozen will be easier then not frozen. You can make the slices more even and eye-appealing.
Time to eat!!!! Sprinkle a touch with powdered sugar if you desire. Good for presentation.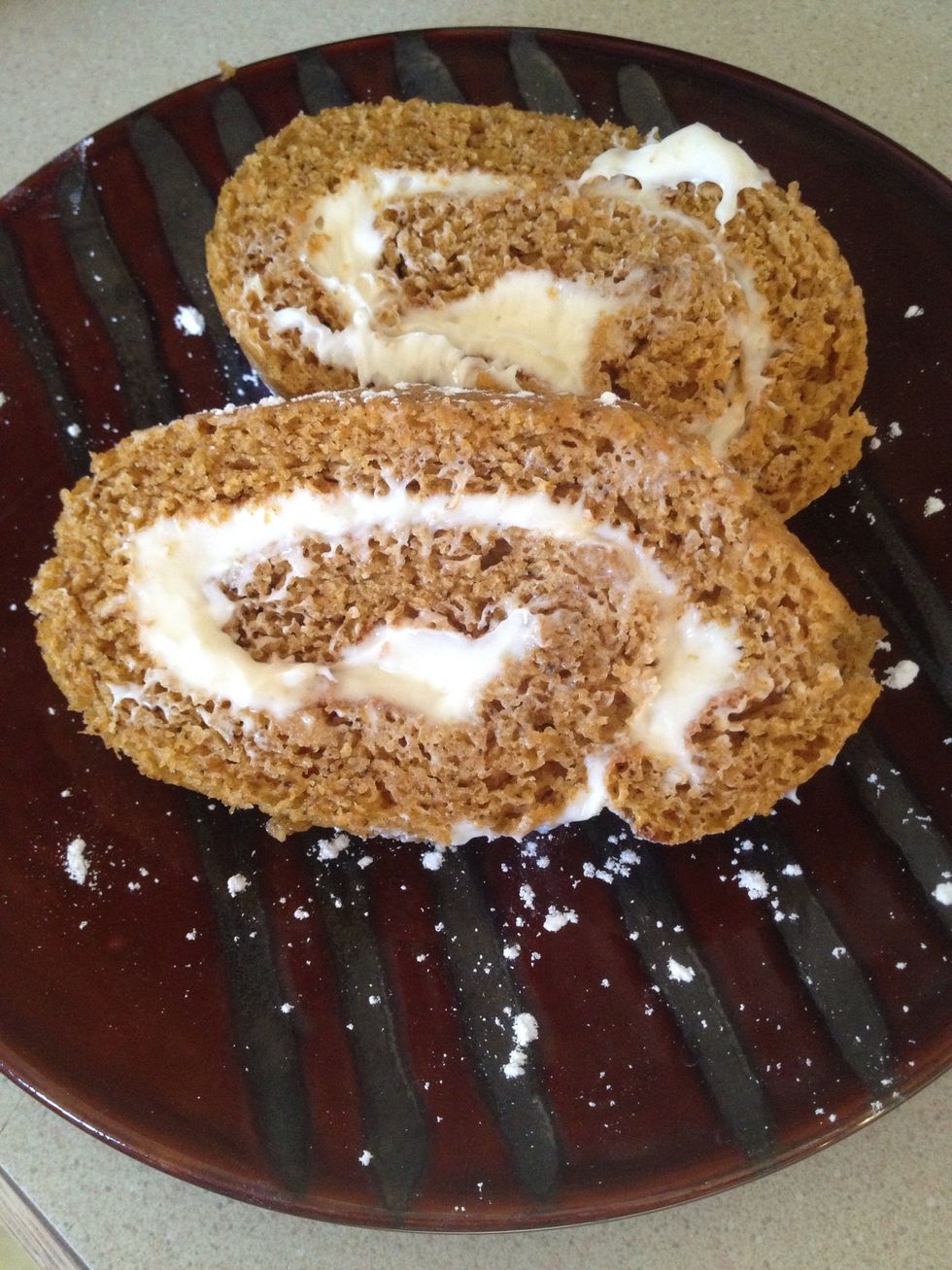 Happy Thanksgiving. Be safe and enjoy time with your family!
Powdered sugar to sprinkle
3/4c All-purpose flour (unbleached is all i use)
1/2tsp Baking powder
1/2tsp Baking soda
1/2tsp Ground Cinnamon
1/2tsp Ground cloves
1/4tsp Salt
3.0 Large eggs
1.0c Granulated sugar
2/3c Libby's 100% pure pumpkin
1.0 8oz cream cheese, softened
1.0 Sifted powdered sugar
6.0Tbsp Butter or margarine, softened
Wax paper
Plastic wrap
Thin cotton towels
Jelly roll pan
Jamie Wakem
I love baking and cooking! I will continue adding recipes on here. Let me know your requests and I can see what I can do!