I came up with this after being inspired by Linda O's guide for baked chicken with spinach and feta. Takes about 10-15 min prep and 50 mins cooking time.
20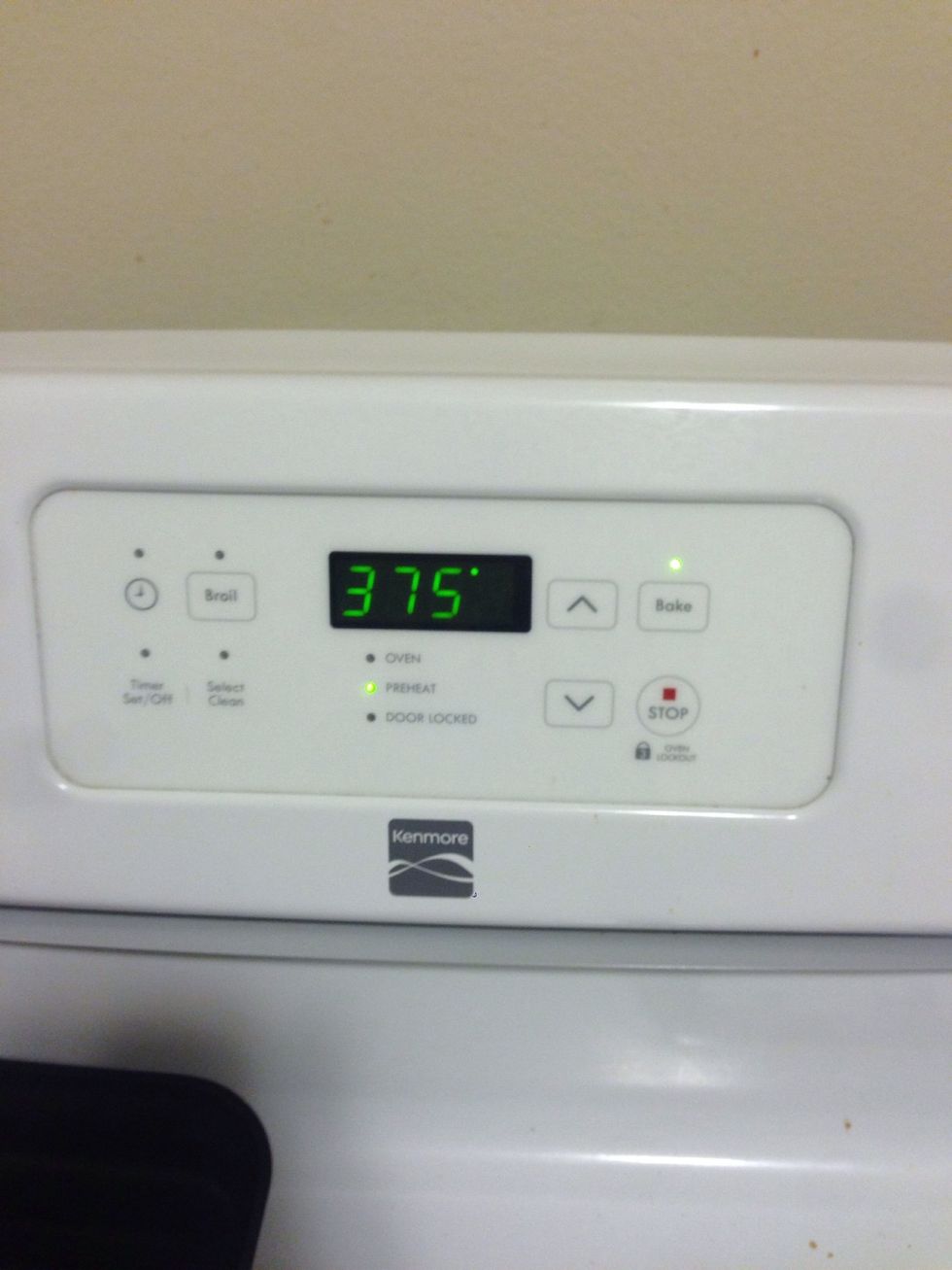 Turn the oven on to 375 Fahrenheit.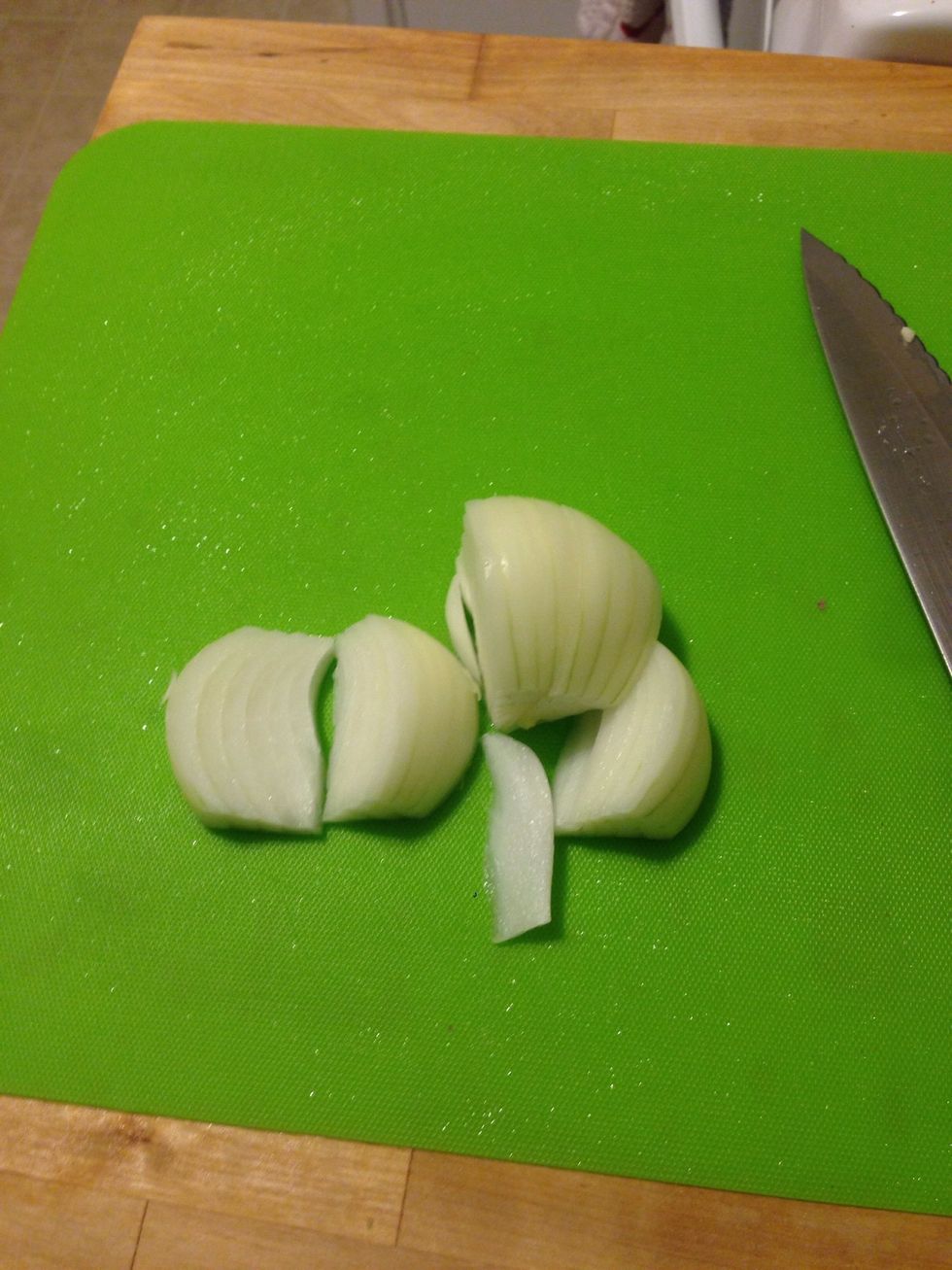 Slice 1/2 of an onion. I made it larger slices.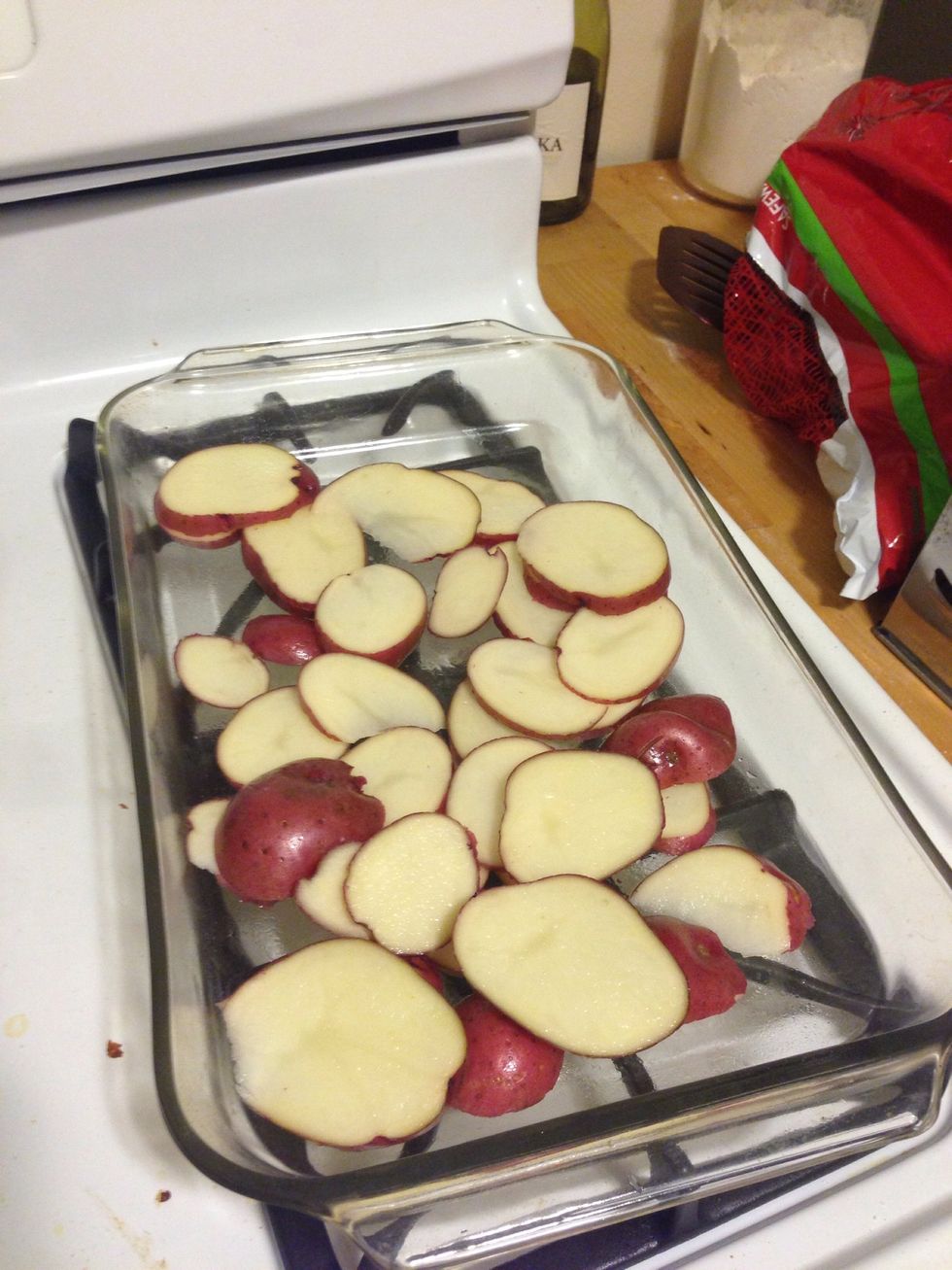 Slice 4 medium red potatoes and add them to a pan (with nonstick spray). Make sure they are even so they cook at the same rate.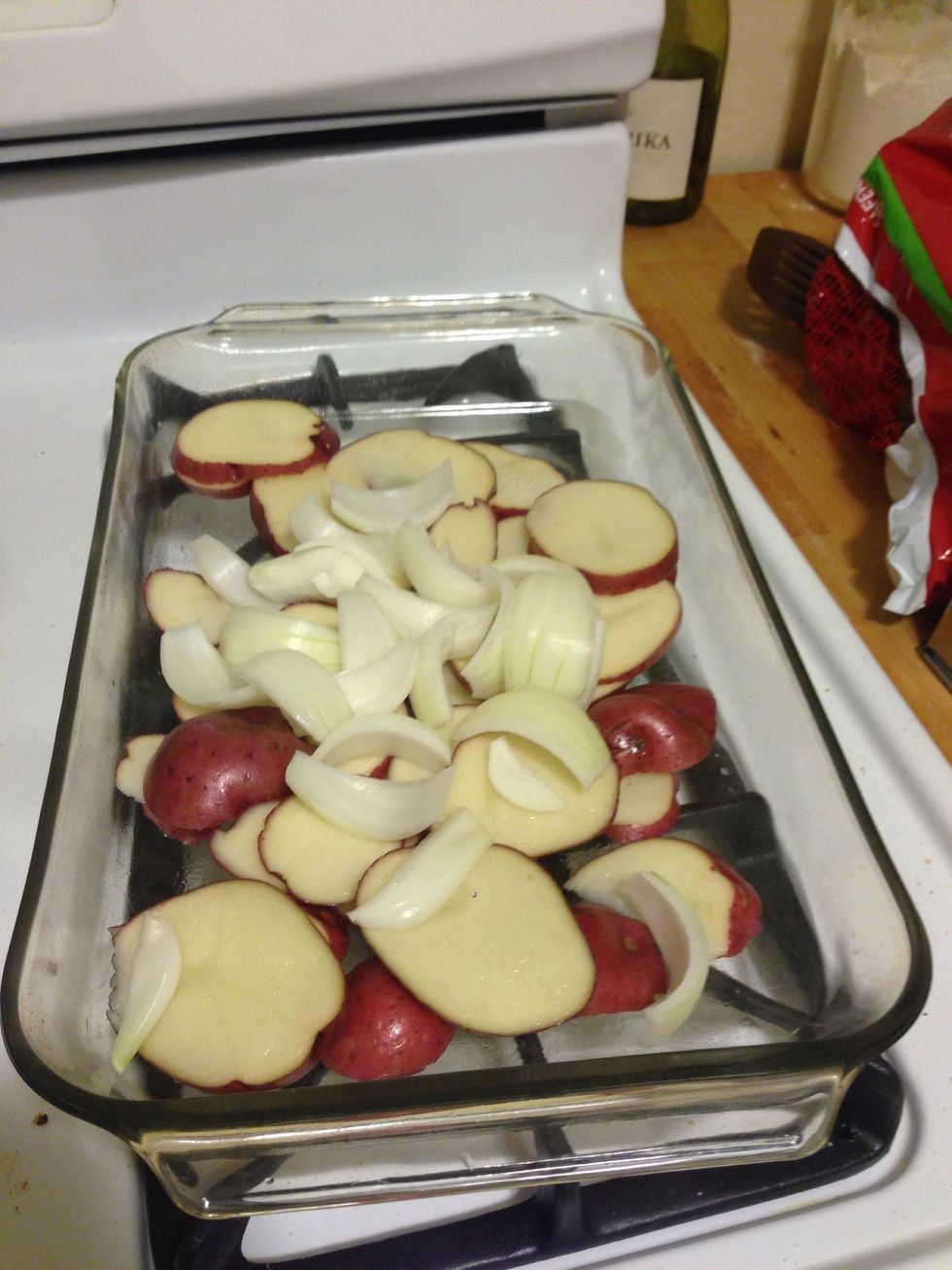 Add the sliced onions.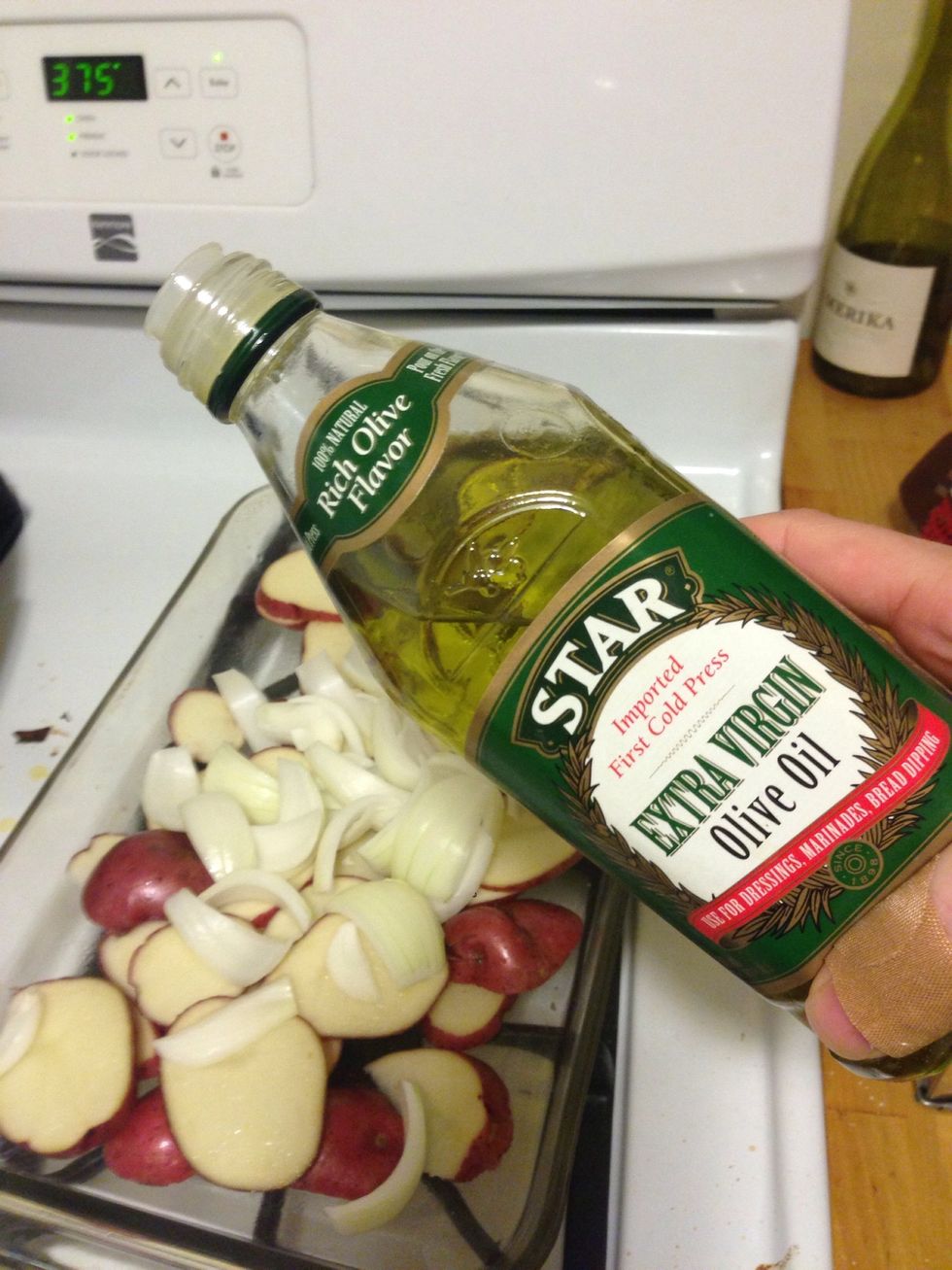 Add the 1/8 c olive oil. I used slightly less, but you want to make sure the potatoes and onions will have a nice coating of olive oil.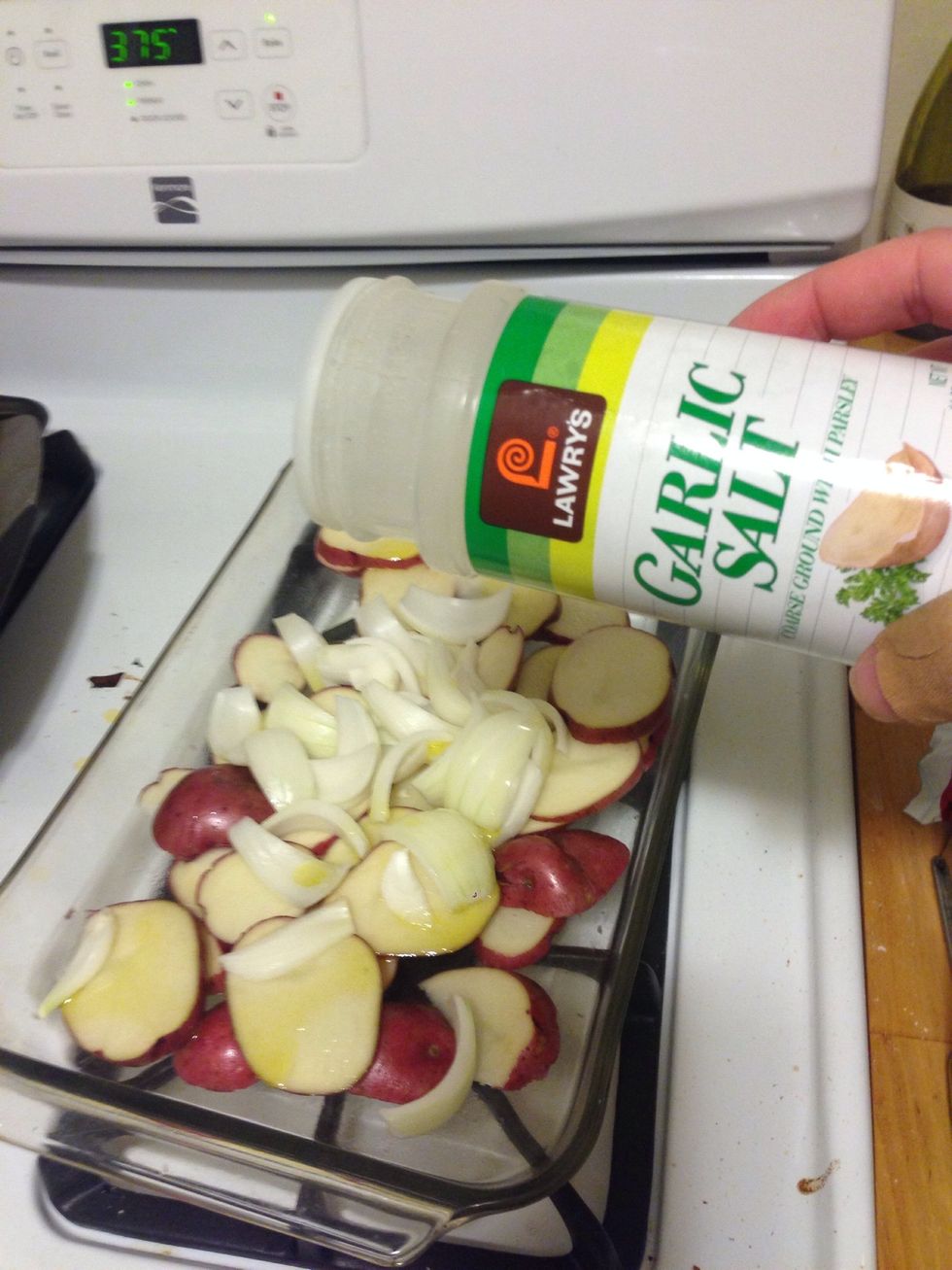 Sprinkle 1 tsp of olive oil over the potatoes.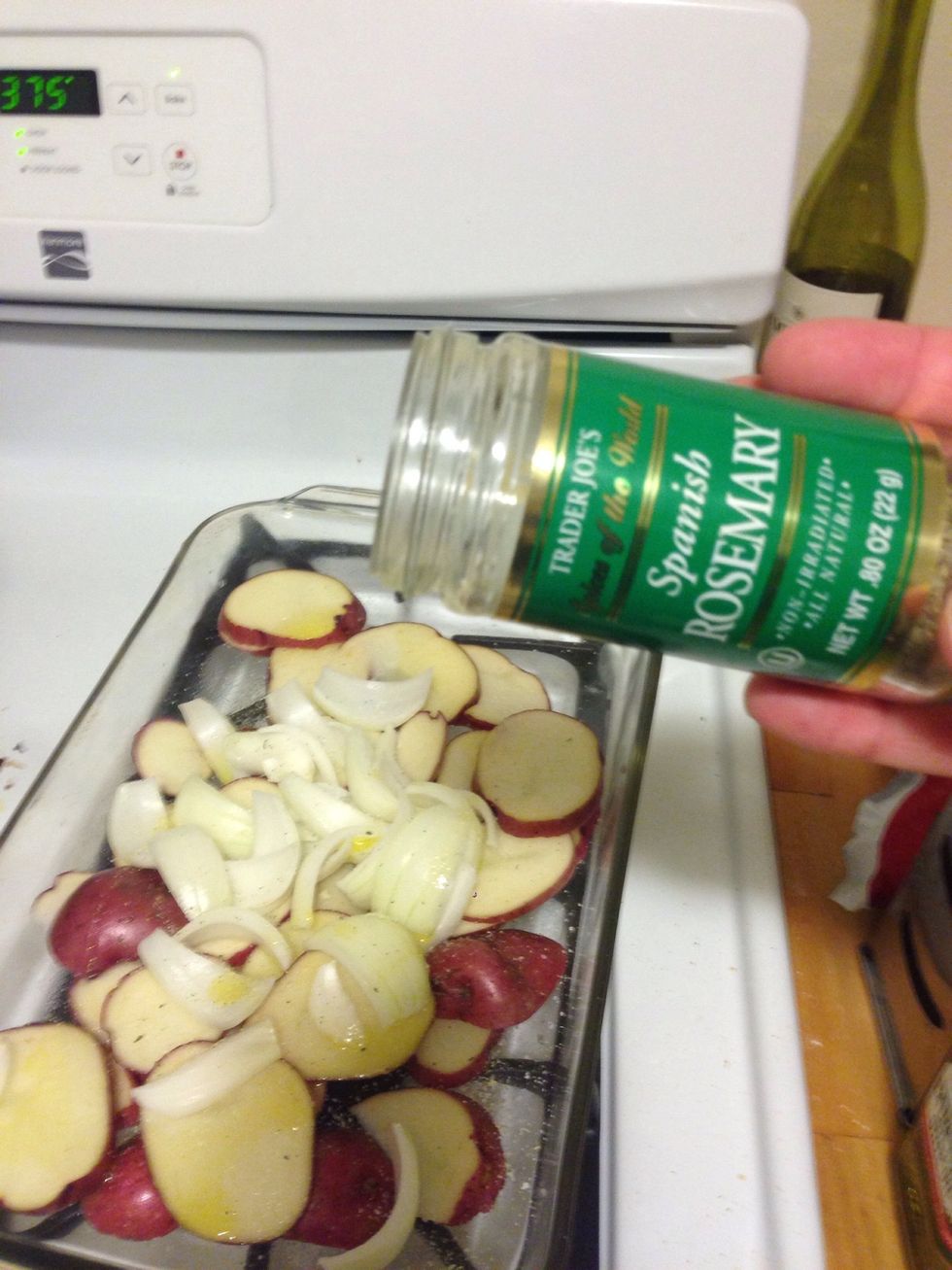 Sprinkle 1 tbsp of rosemary on the potatoes. You can use more if you like. ;)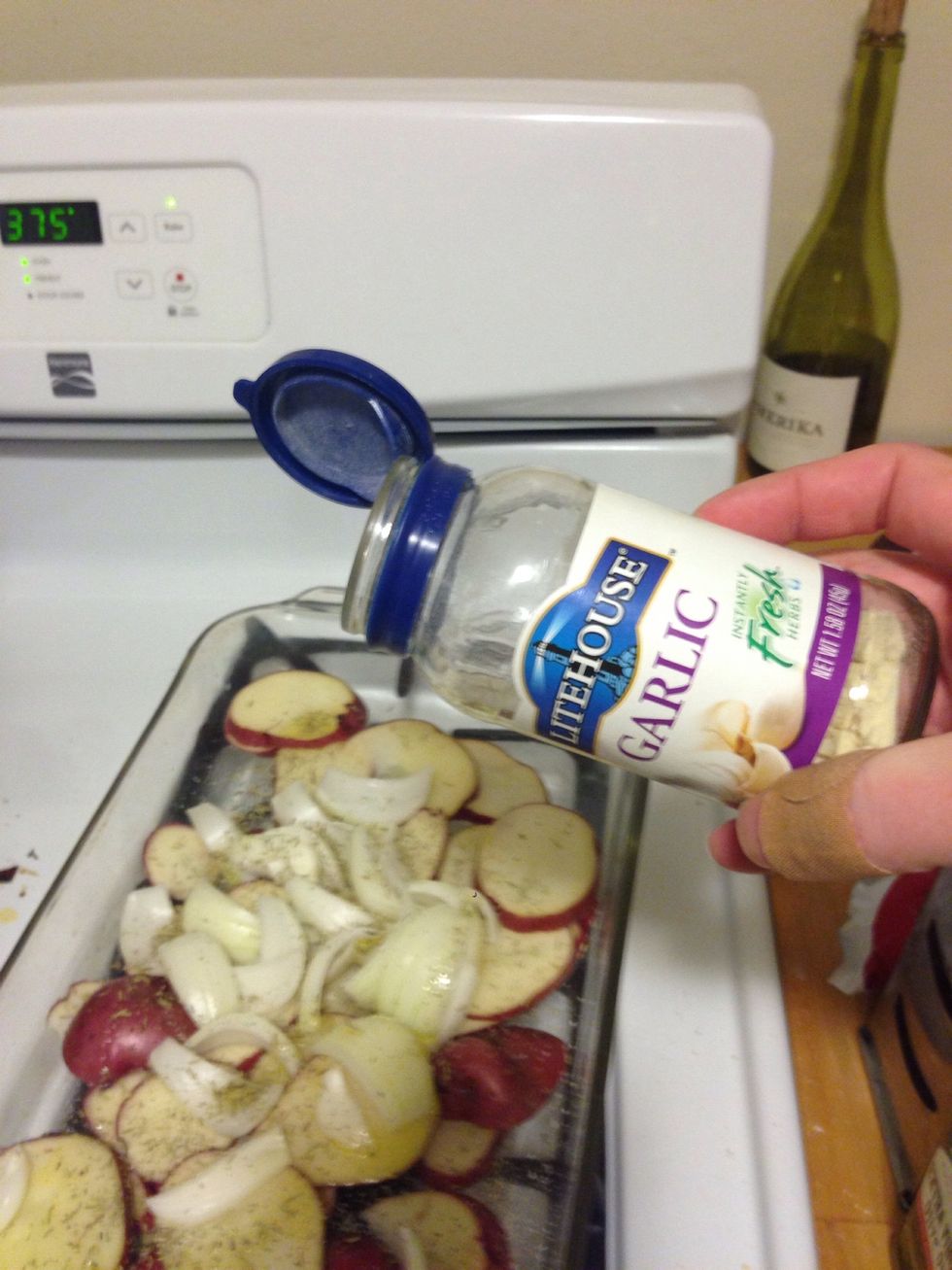 Add 1 tsp of minced garlic to the potato mixture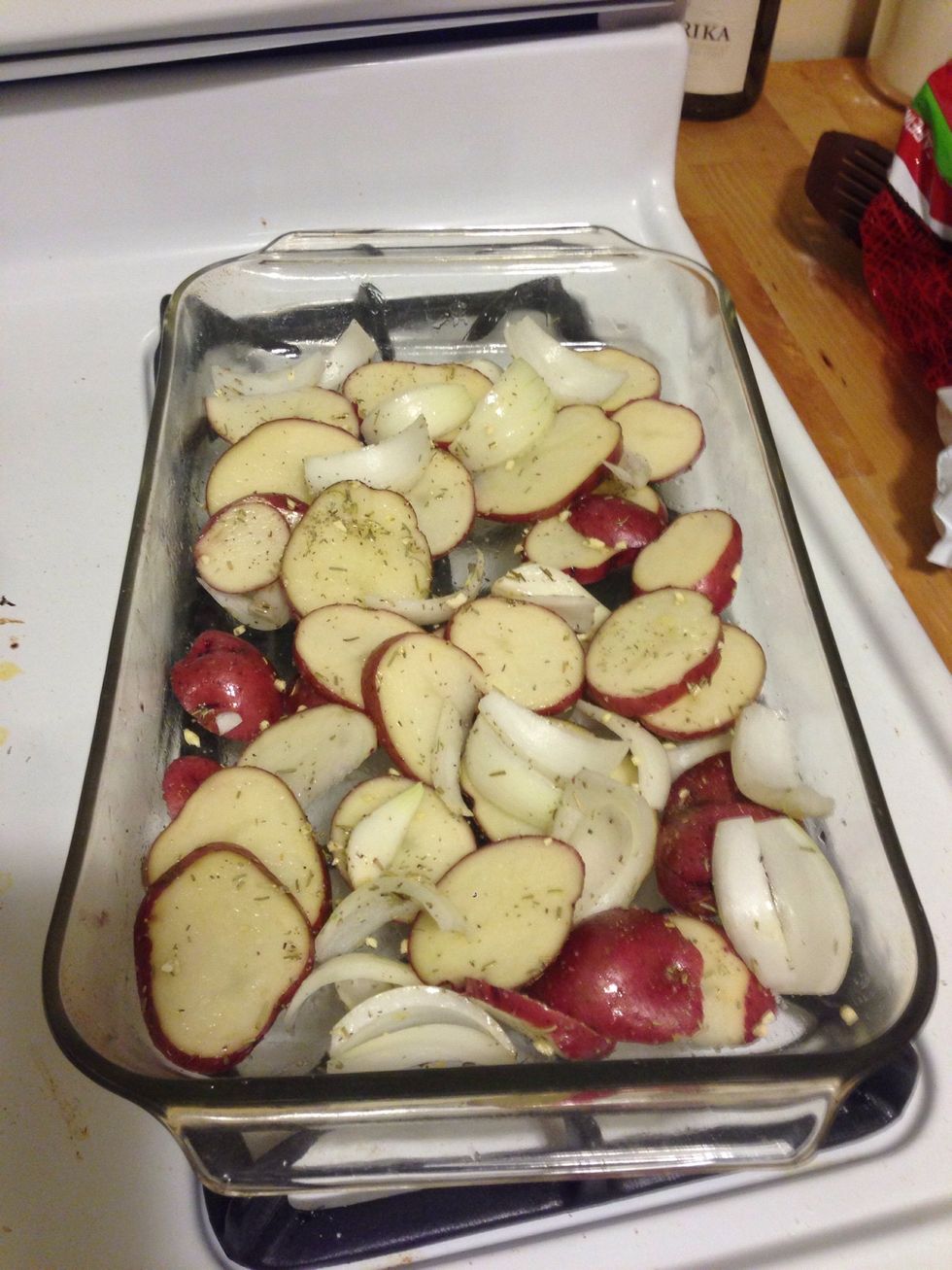 Stir all ingredients and put in the oven for 10 mins.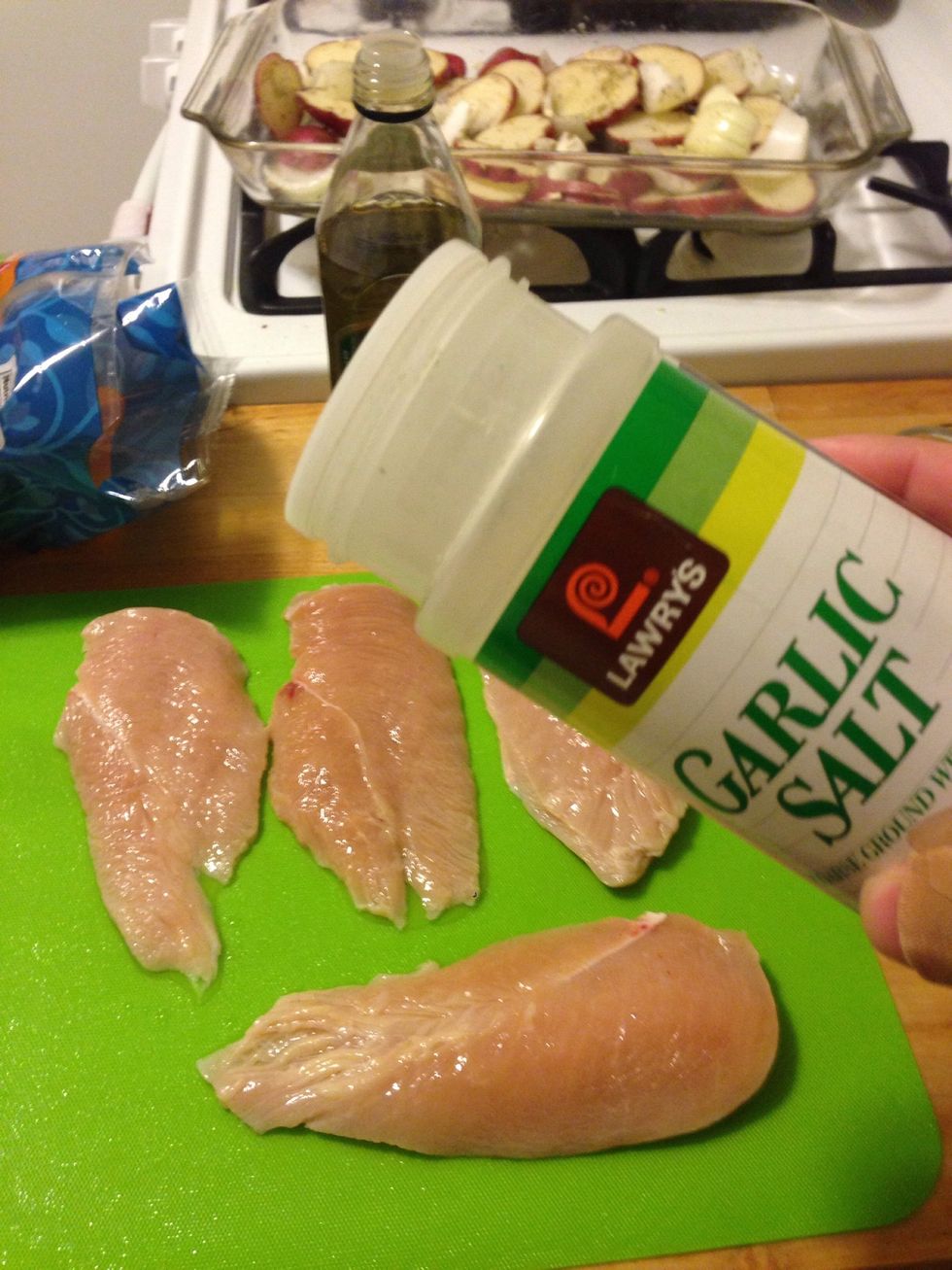 While the potatoes are cooking, slice the chicken breasts down the middle and lightly sprinkle garlic salt on the chicken halves. I used about 1/2-1 tsp for all 3.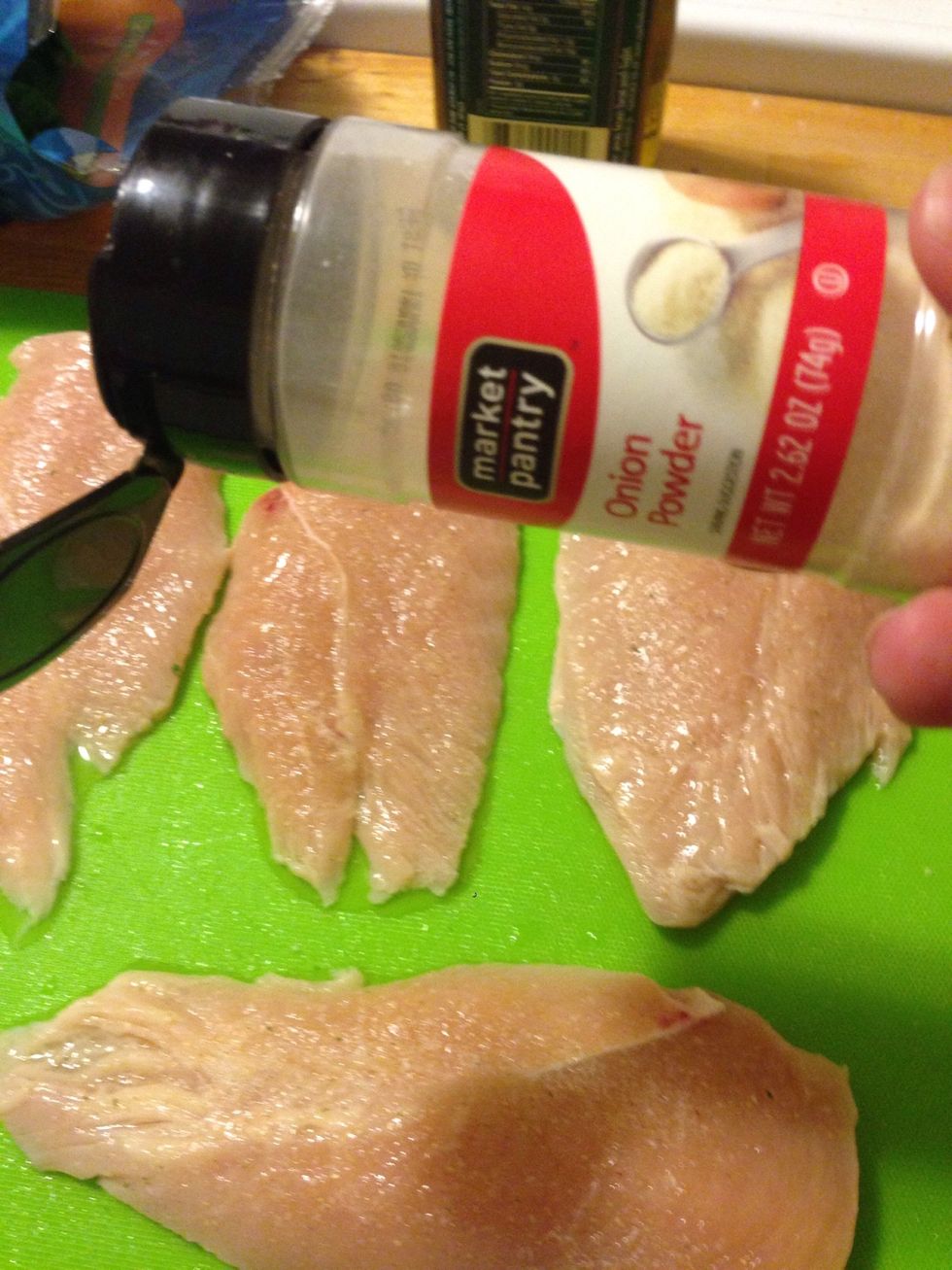 Lightly sprinkle onion powder on the chicken. I used about 1/2-1 tsp of onion powder.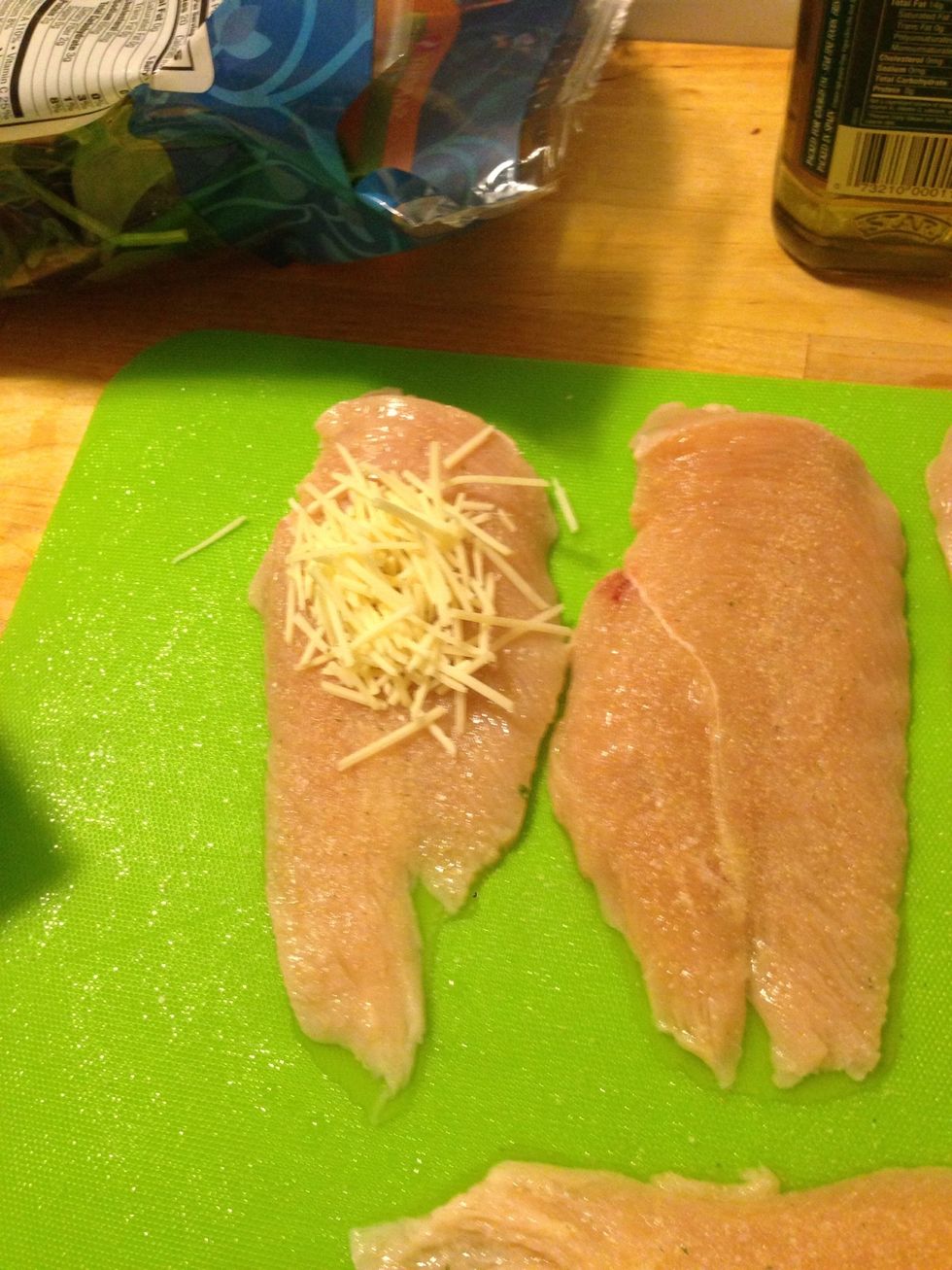 Add 1-2 tsp of Romano cheese to the chicken. The store only had a Parmesan/Romano mixture but it ended up being tasty v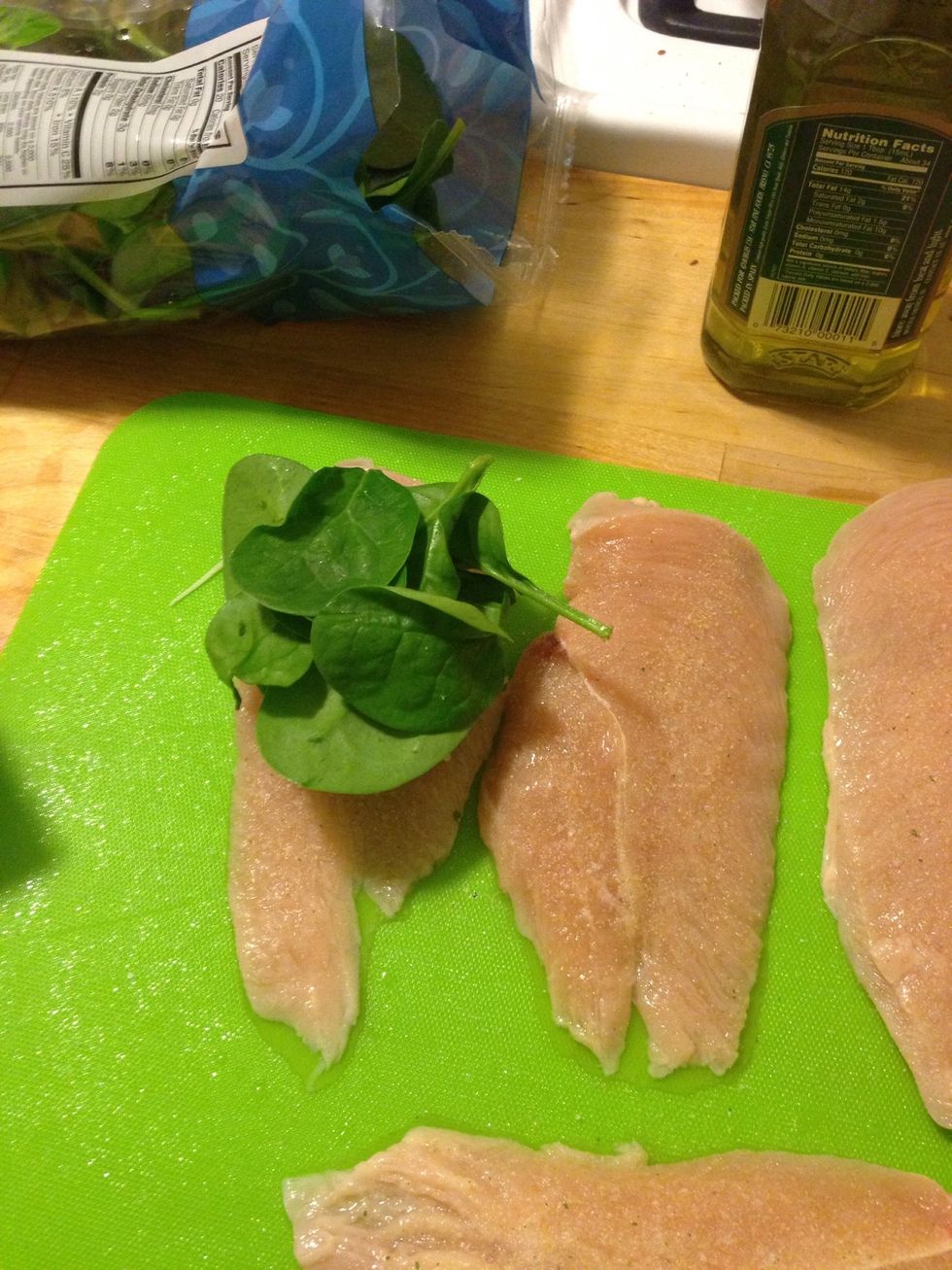 Add about 5-8 spinach leaves per chicken breast. I heated the spinach in the microwave for 15 seconds to make t easier to fold later.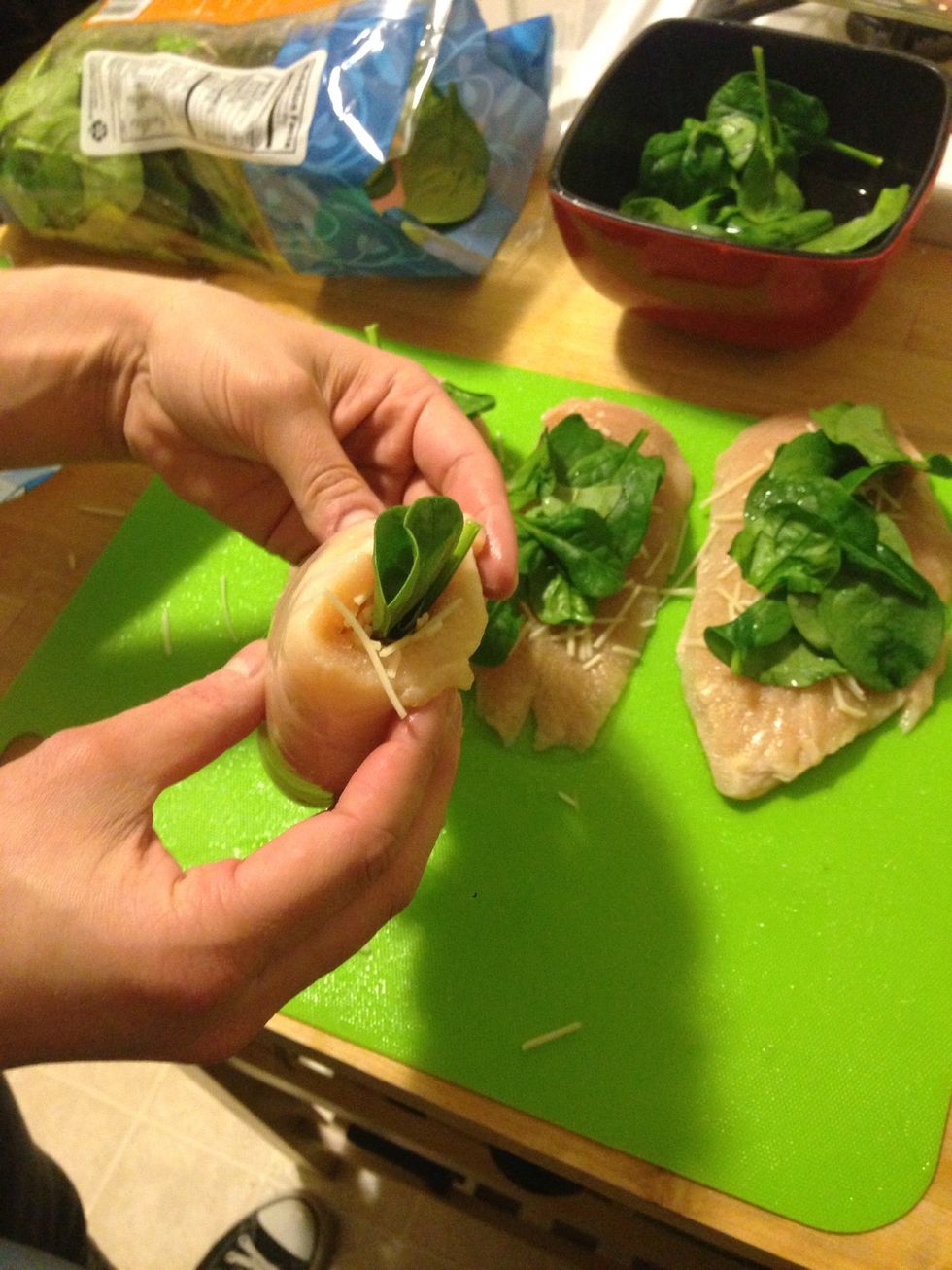 Fold the chicken breast in half and do that for all chicken breasts.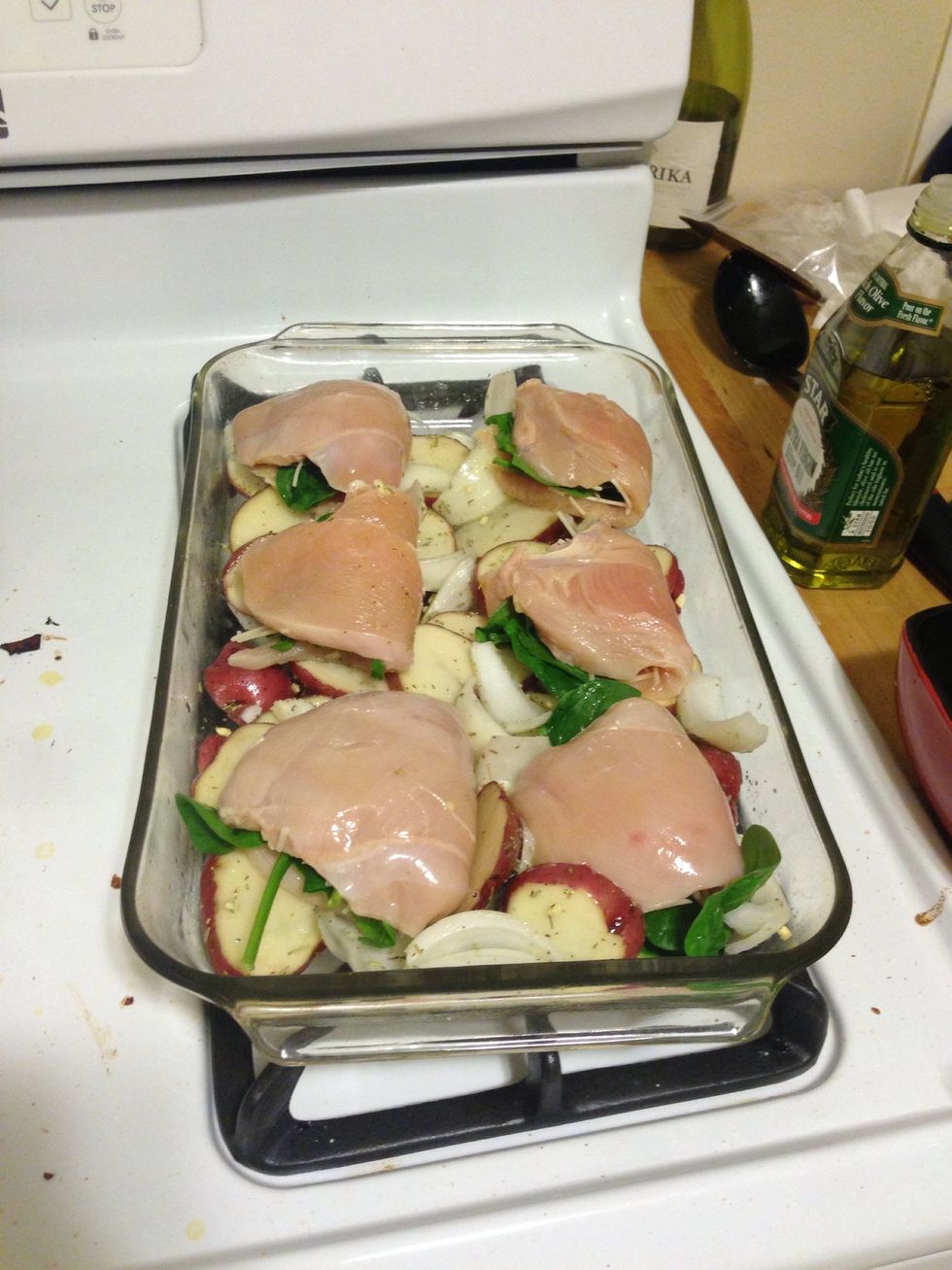 After the 10 minutes for the potatoes are finished, put the chicken breast on top of the potatoes.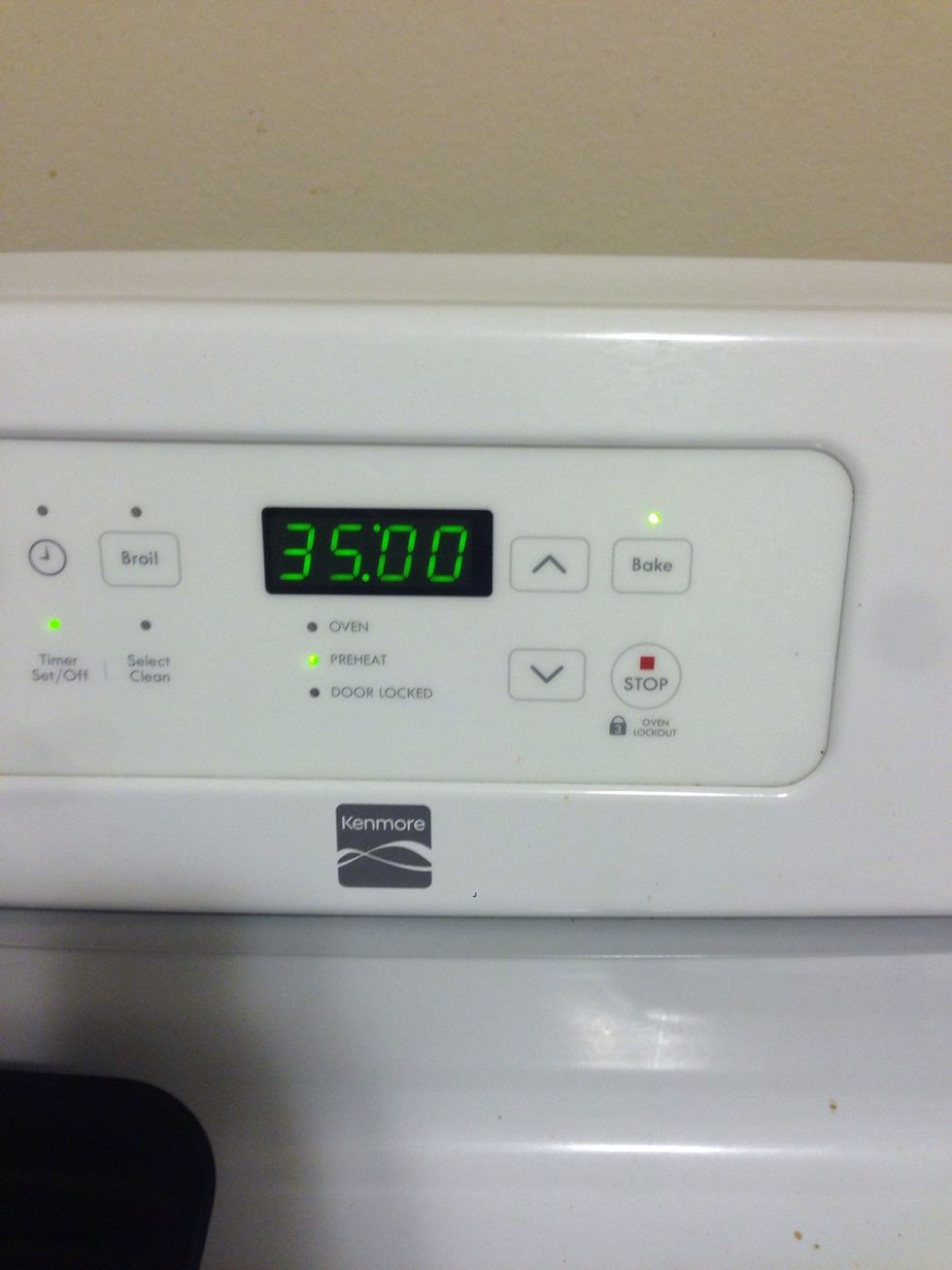 Set the timer for 35 minutes.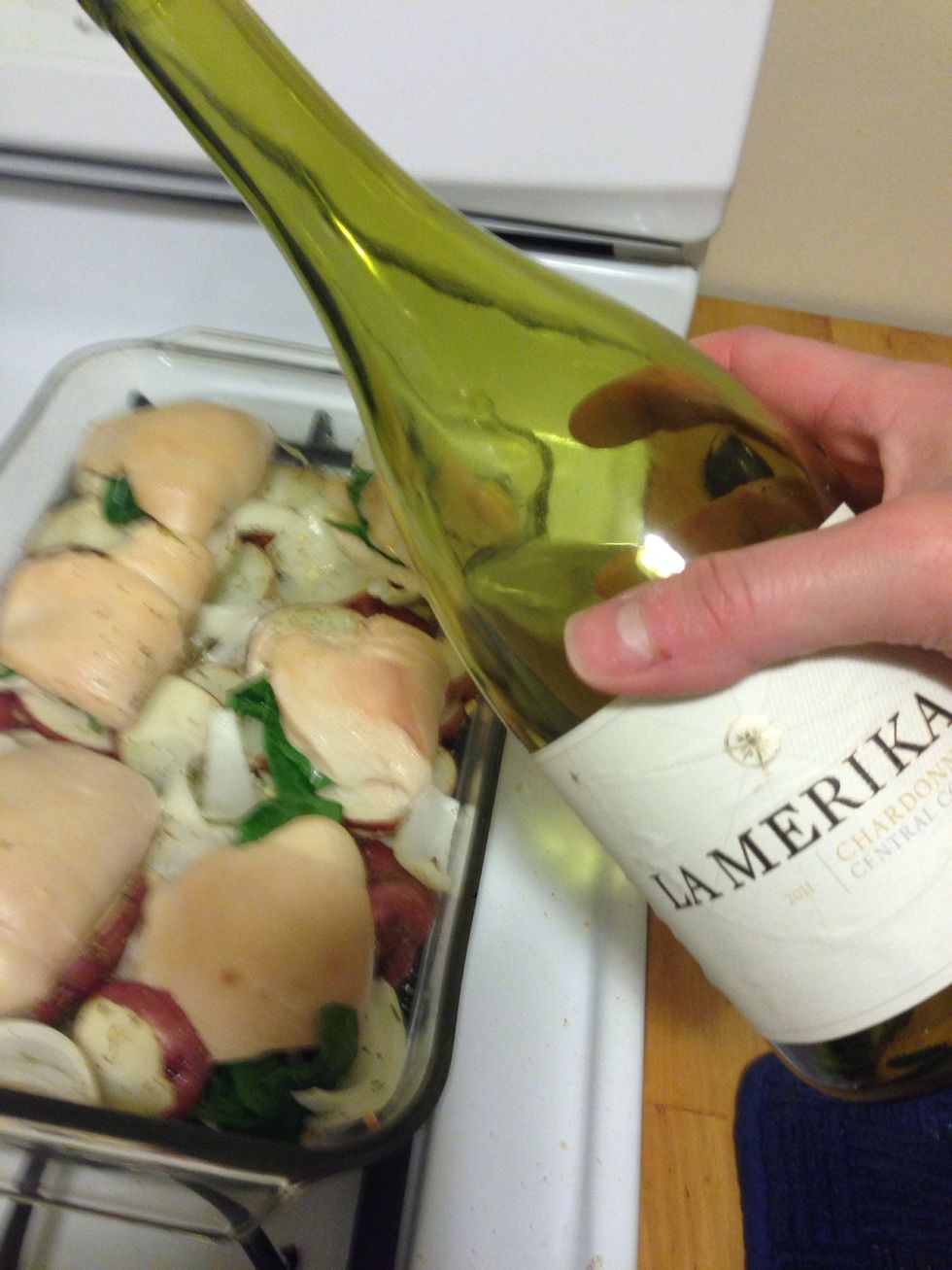 Halfway through the 35 minutes, flip the breasts over and add 1/4 c of white wine.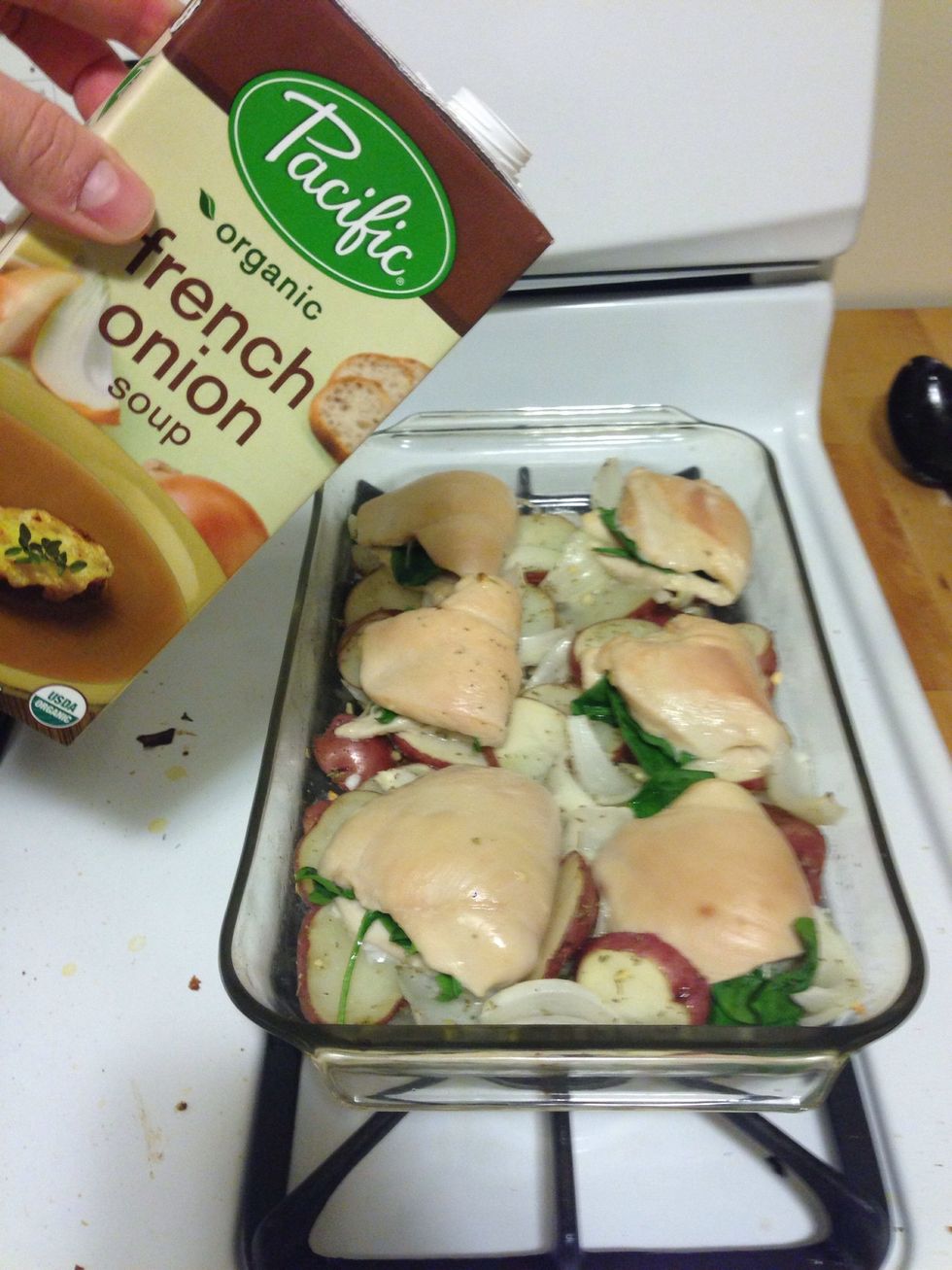 Add 1/4c of french onion soup or chicken broth and put back in the oven for the remaining time.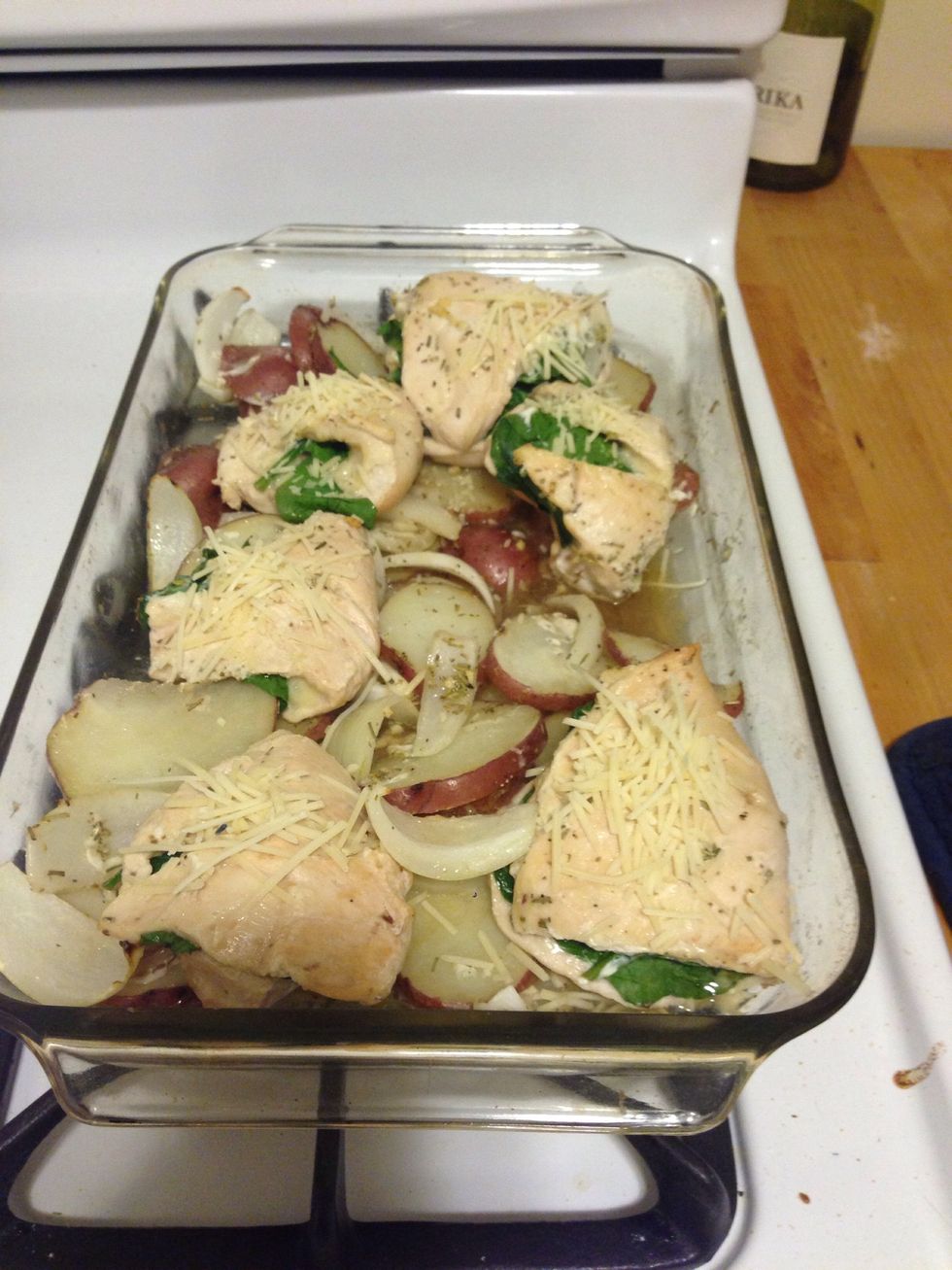 After 35 mins are up, take the pan out of the oven and top with more Romano cheese. About 1 tsp per breast.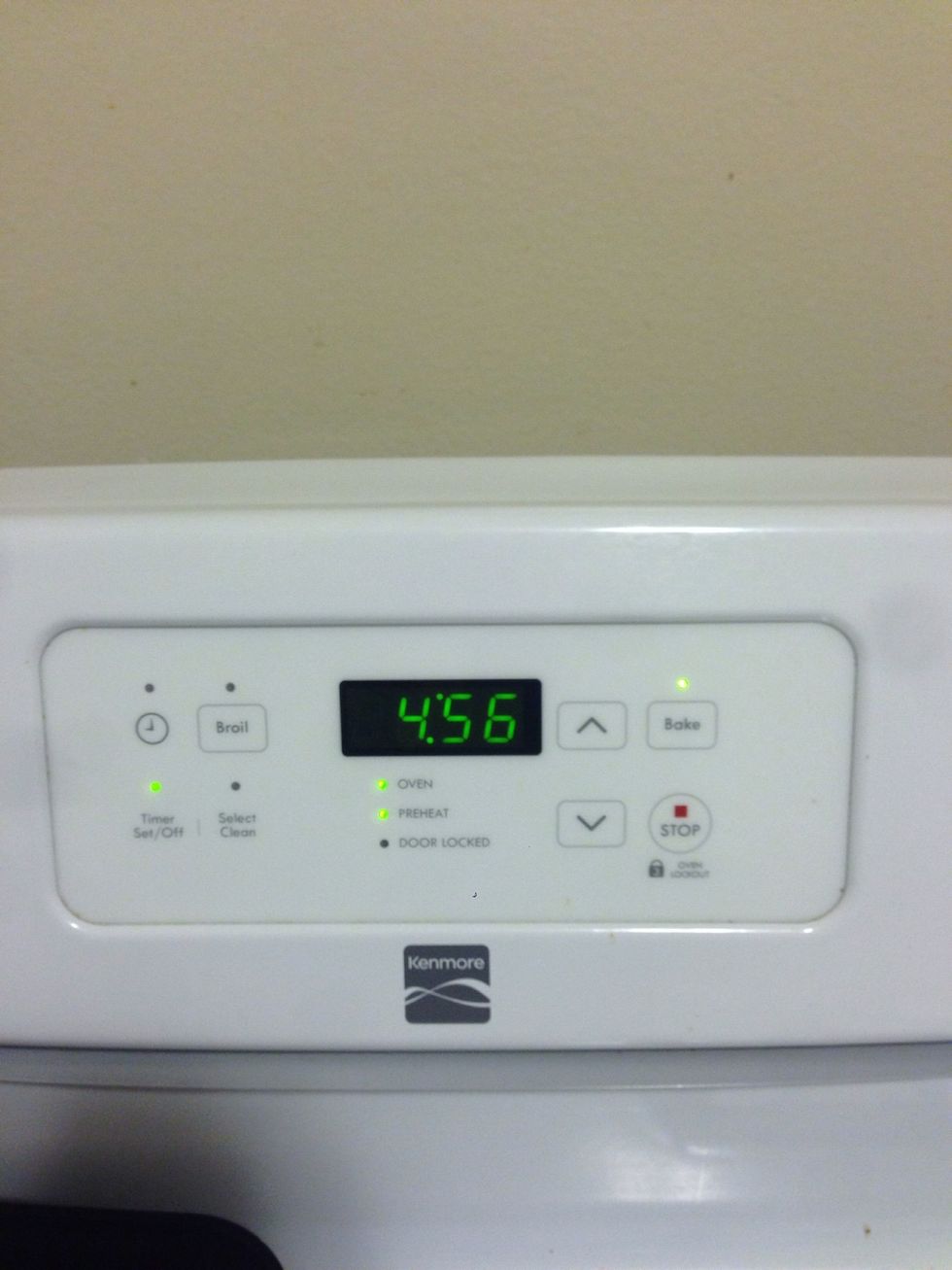 Put back in the oven for 5 more minutes.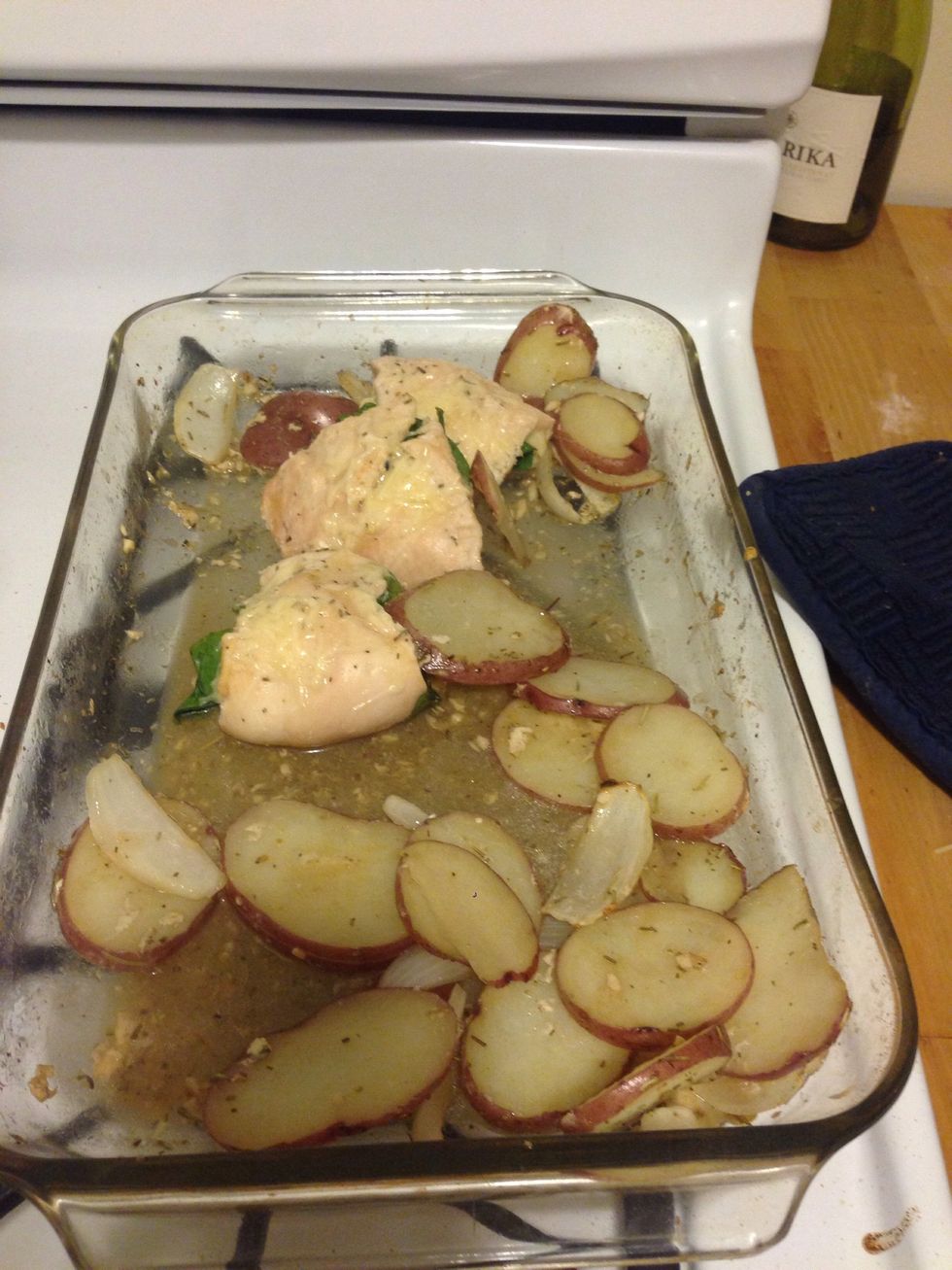 Take out of the oven and serve. (Sorry this photo wasn't taken with all the food. We were hungry. :/ )
Serve with the potatoes and feel free to add another side if you like. It was super tasty with asparagus. Enjoy!
Potato mix:
1/2 Onion, sliced
4.0 Red potatoes, sliced
1/8c Olive oil
1.0tsp Garlic salt
1.0tsp Garlic, minced
2.0Tbsp Rosemary
Chicken stuffing:
3.0 Chicken breast, sliced
1/2tsp Garlic salt
1/2tsp Onion powder
1.0c Spinach
12.0tsp Romano cheese
1/4c White wine (optional)
1/4c French onion soup or chicken broth
Geeky Kalamity
A nerdy lady that likes to cook. I usually throw ingredients together and it turns out great. :) Ive made it a personal goal to cook everything on the grill.