To begin, find yourself a gluten free crust recipe that is easiest for you. I use Pamela's Pancake and Baking mix for nearly all my gluten-free baking needs but you can use whatever you have on hand.
For the apples, I like to use a variety of kinds but you can use whatever you like. I used Granny Smith, Fuji, and pink lady apples. A few of my favorites that mix the tart and sweet.
First, preheat your oven to 400. For the crust, combine your flour mix and 2 tsp of sugar. Add the oil and then cut in your butter with a knife or pastry cutter into small chunks.
Once you've got your butter cut into small pieces, add your ice water slowly until the mixture comes together to form a non sticky dough. You might not need all of your water.
Once you've formed your dough ball, place it in the fridge to chill and start on your apple filling.
Peel and slice your apples into thin pieces. Once they're prepared, mix in a bowl with your 1/2 c of sugar, cinnamon, 1/4 tsp of nutmeg, and salt.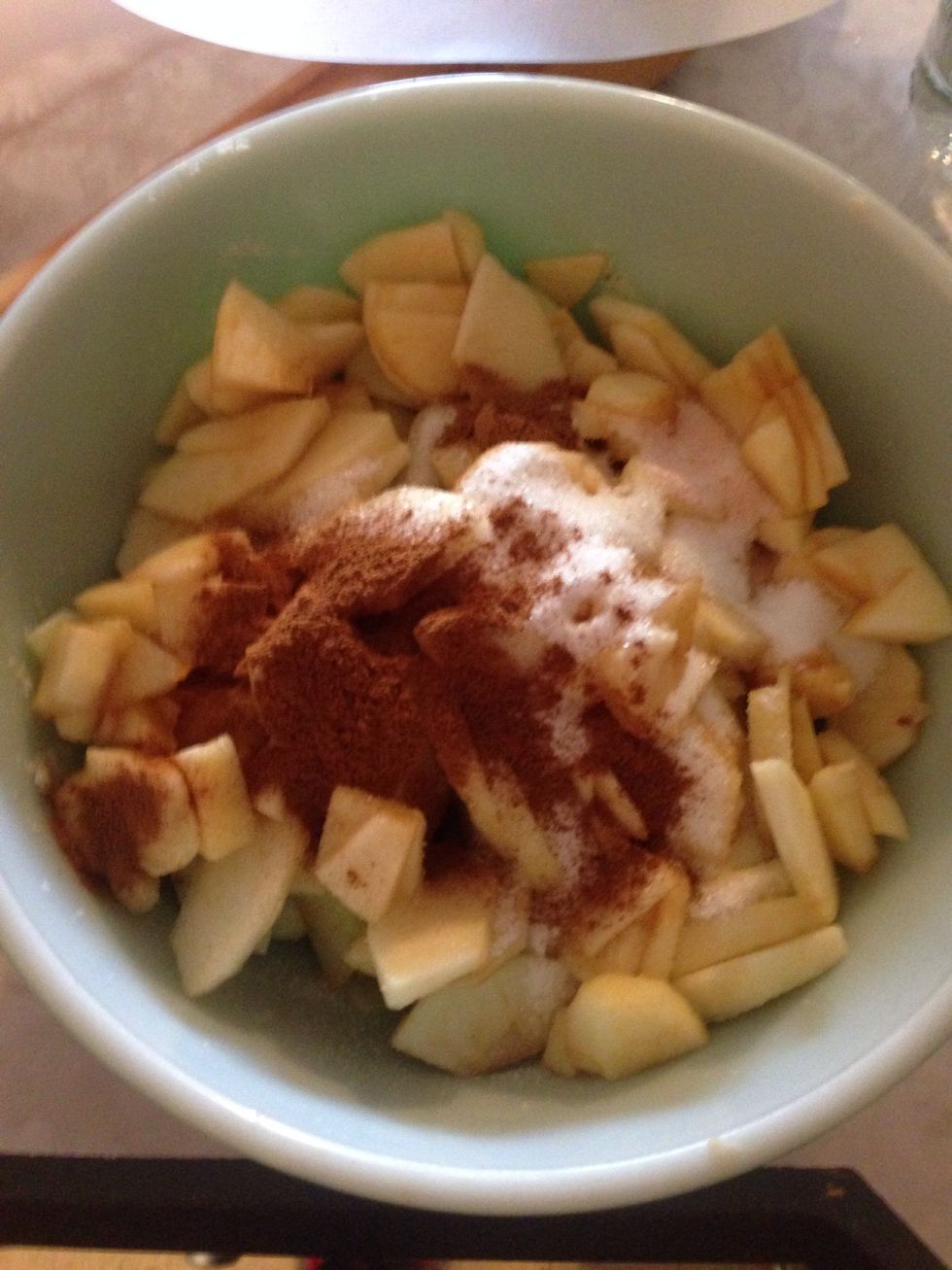 After you've made your filling, set it aside and let those good flavors and juices form while you finish your crust and make your crumble topping.
Grab your pie crust dough ball from the fridge and place it in a sheet of parchment or wax paper. Place another sheet on top and use a rolling pin to flatten it out to about 1/8 inch thickness.
Once you've flattened it out, remove the top paper and flip the crust into your pie dish. Remove the paper and press the dough into your pan. Grab excess dough from the edges and save that for later.
Now that your crust is ready, dump your pie filling into the dish and make sure you get all of those good juices in there. It's time for the crumble topping.
Combine the last of your ingredients, brown sugar, 3/4 c of baking mix, 1/2 tsp of nutmeg, and 1/3 c of butter in a small bowl. Cut the butter into small pieces again like we did with the pie crust.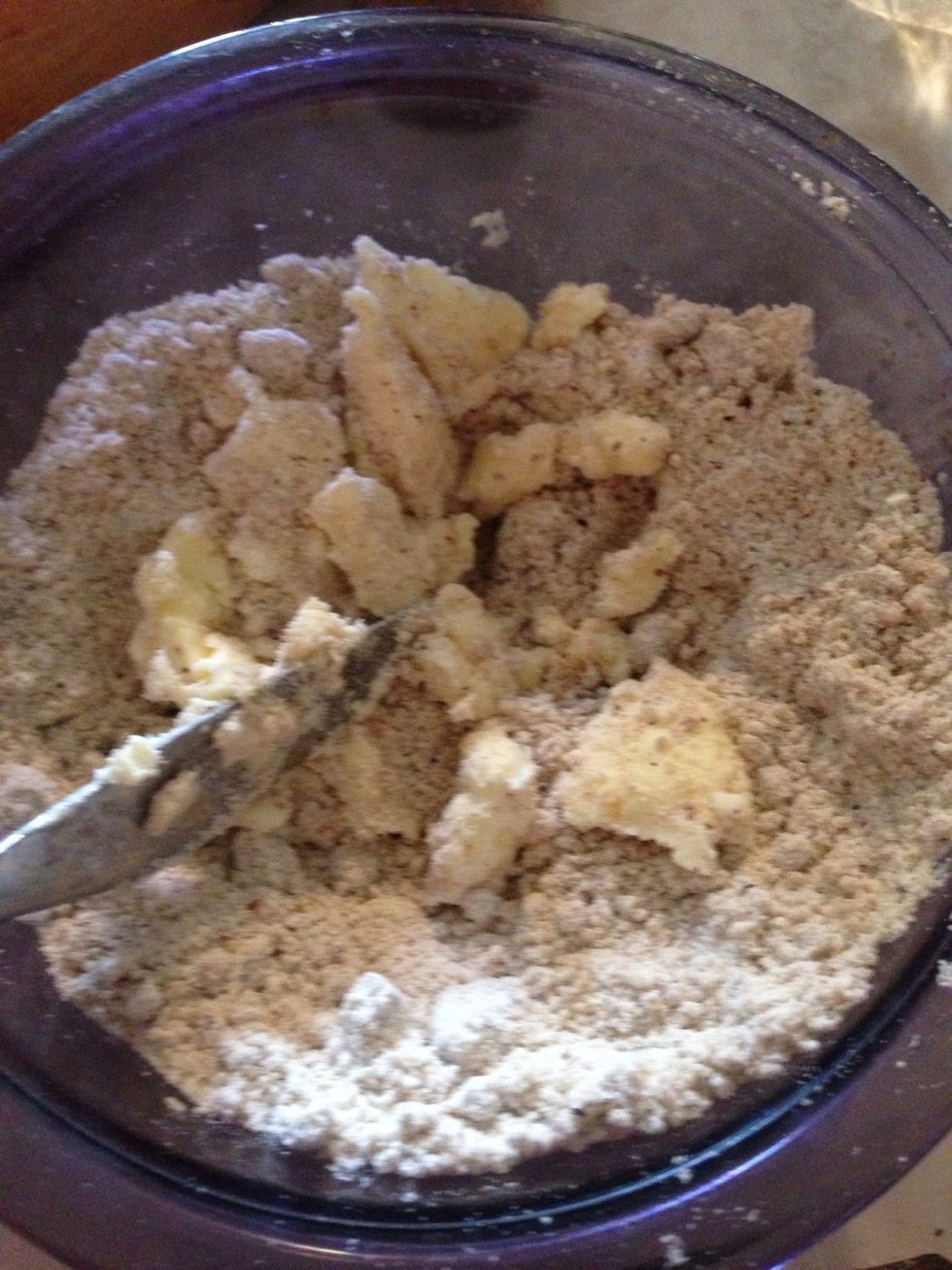 Pour your crumble mix over your pie filling. Now grab your extra pie dough and your favorite cookie cutter to add some extra pizzaz to your pie. I chose stars.
Alright, your pie is finally ready to bake. Pop it in your preheated oven and let it bake for 30-35 minutes or until the crust is a lovely shade of light brown. Grab it out and let it cool for an hour
So, my pie came out a little crispy. It was still good. But don't worry, I adjusted your cooking time and you can watch yours more carefully than I did. Hope you like it. Enjoy and thanks for reading!
1/2c Pamela's Baking and Pancake Mix
2.0tsp Sugar
4.0Tbsp Unsalted butter, chilled
2.0Tbsp Oil
1/4c Ice water
7.0 Apples
1/2c Sugar
1.0tsp Cinnamon
1/4tsp Nutmeg
1/4tsp Salt
3/4c Brown sugar
3/4c Pamela's Pancake and Baking mix
1/2tsp Nutmeg
1/3c Butter, chilled