How to authentique nightfall halloween gift card holders
Authentique Nightfall Halloween Gift Card Holders
18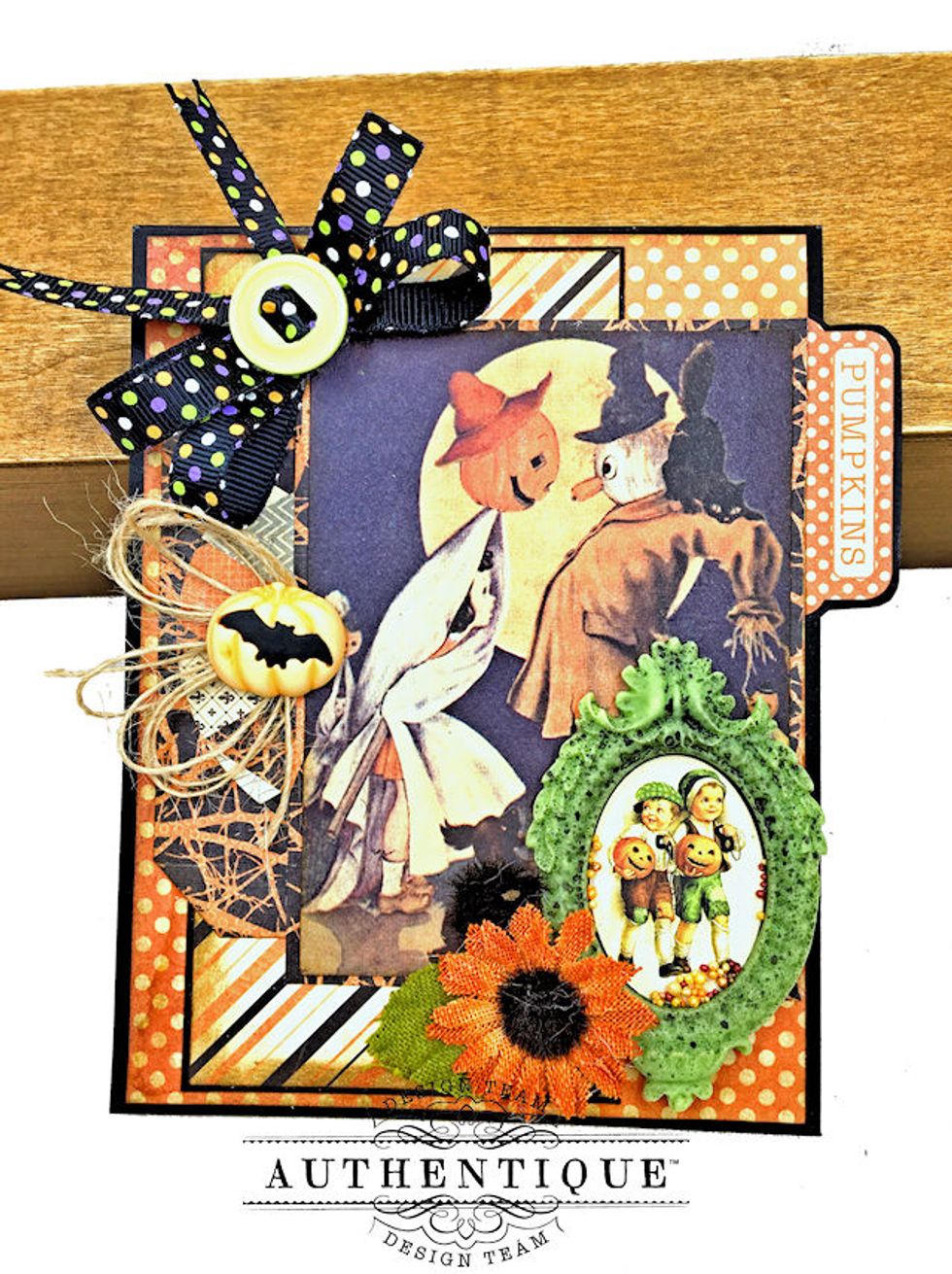 Begin by preparing (2) 4.25" x 5.5" top fold black card bases & (2) 5.5" x 4.25" side fold black card bases. Two cards will be vertical, and two horizontal. This is a great way to use up scraps!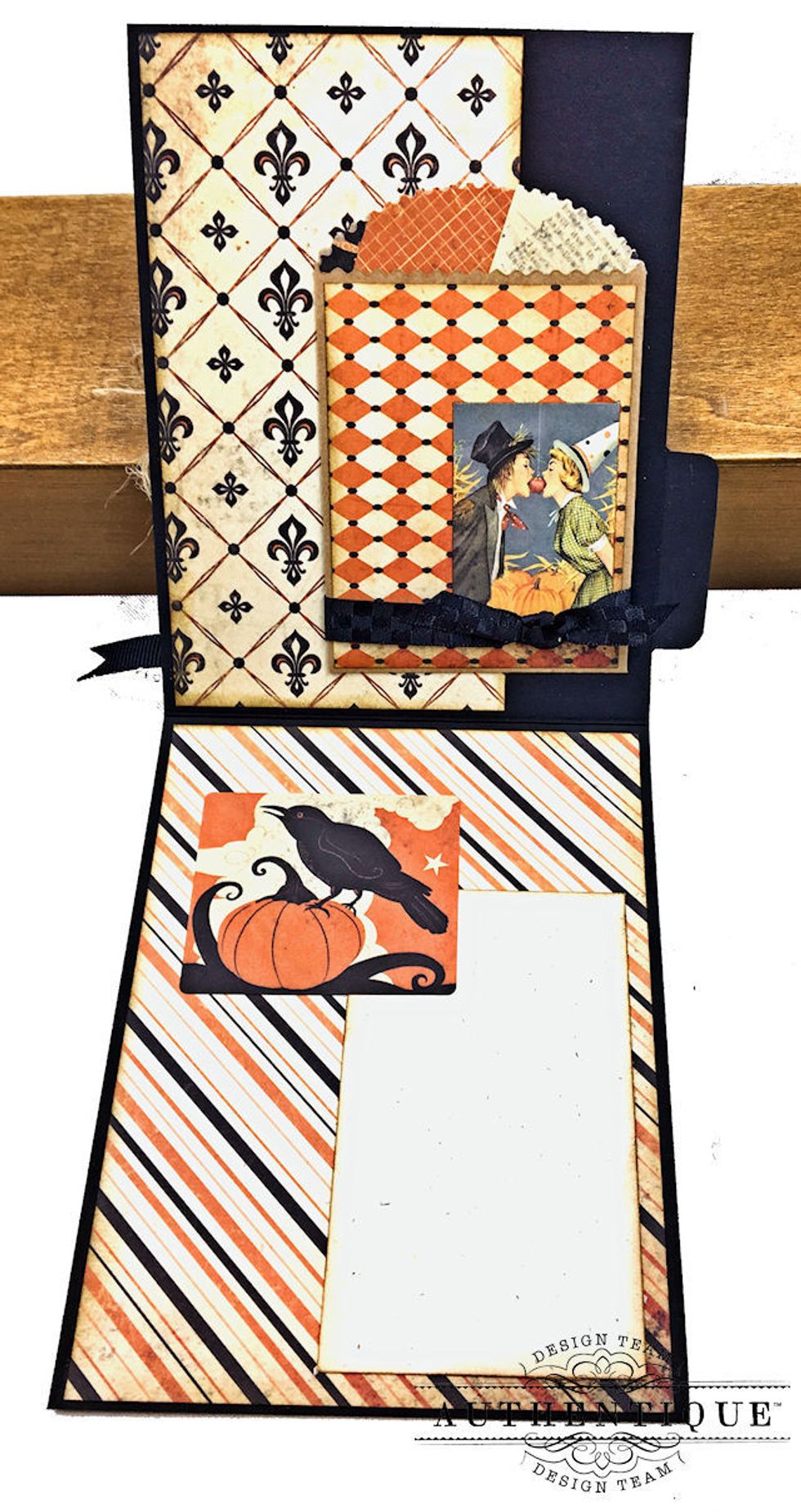 Cards are the same on the inside. Use a 2 3/8" x 4" kraft paper bag for gift card holder. Cover with 2.5" x 3 1/8" scrap. Insert the corner of a scrap in the bag, trace & cut to make the liner.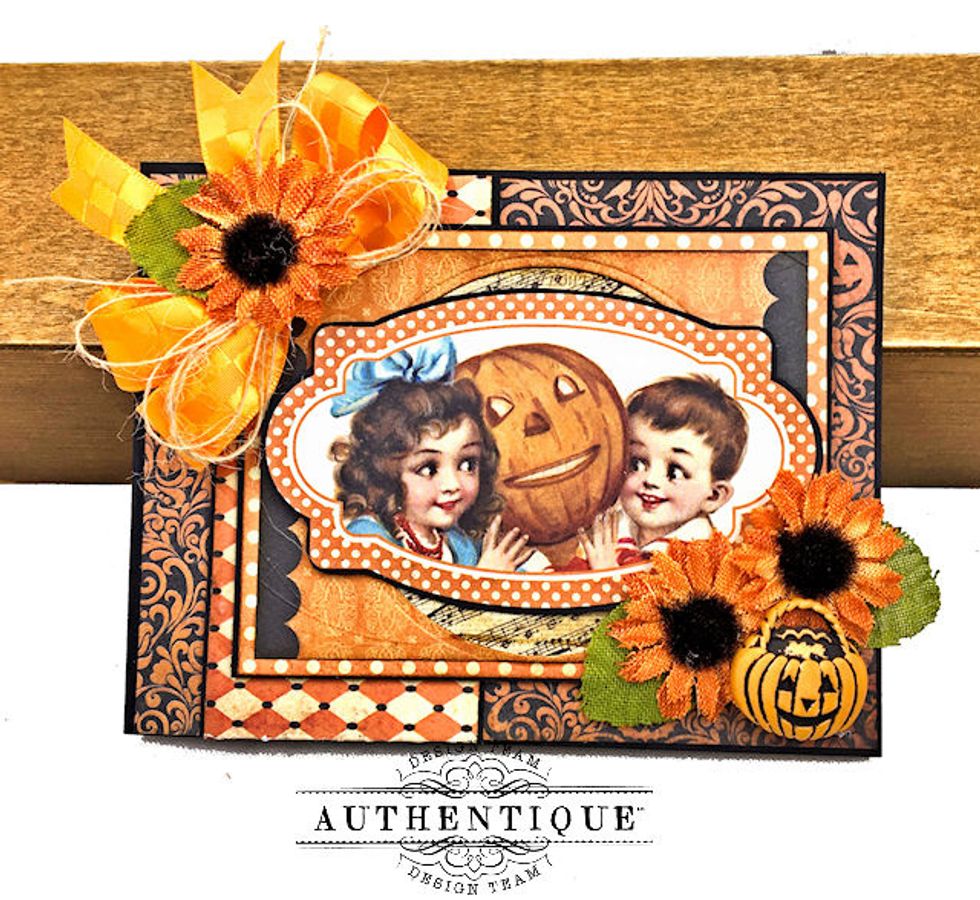 I have inked all my cut edges with Gathered Twigs Distress Ink. The first card is a side fold card. Let's get started!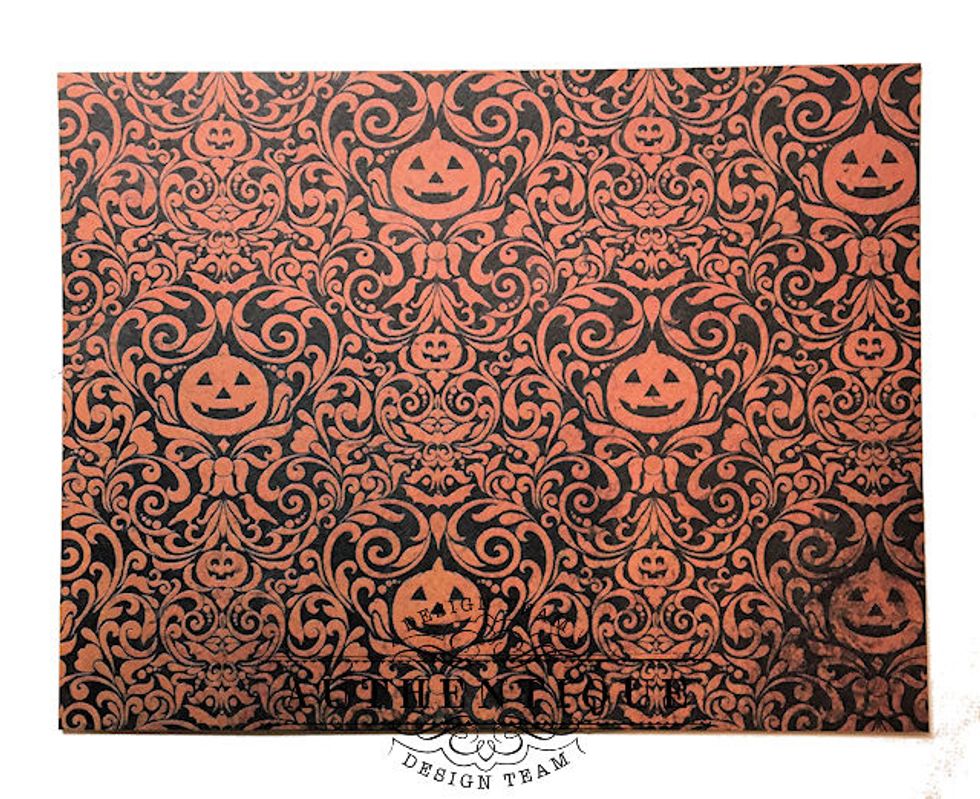 Cut 8.5" x 11" cardstock in half on the short side. Score on long side at 5.5" to make (4) 4.25" x 5.5" card bases. Cut a 5 3/8" x 4 1/8" panel of Nightfall 4.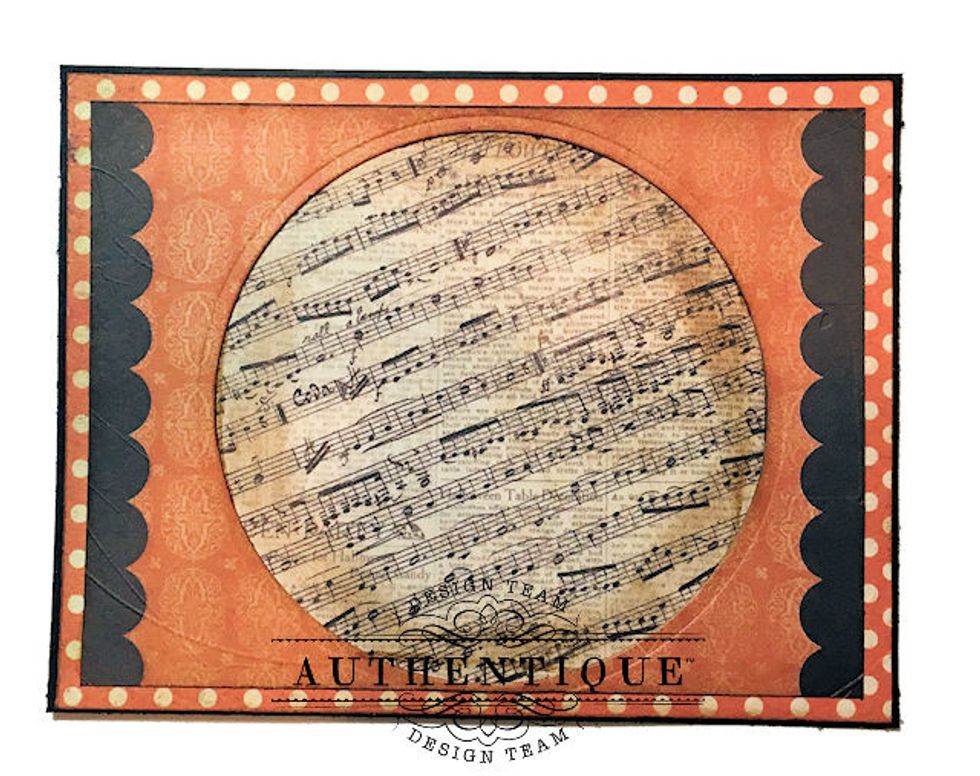 Cut the Great Pumpkin sentiment from a 3" x 4" card on Nightfall 8 using a circle die. Back with paper from Nightfall 4 (music notes). Mat on a 4.25" x 3.25" scrap of Nightfall 3. mat on black card.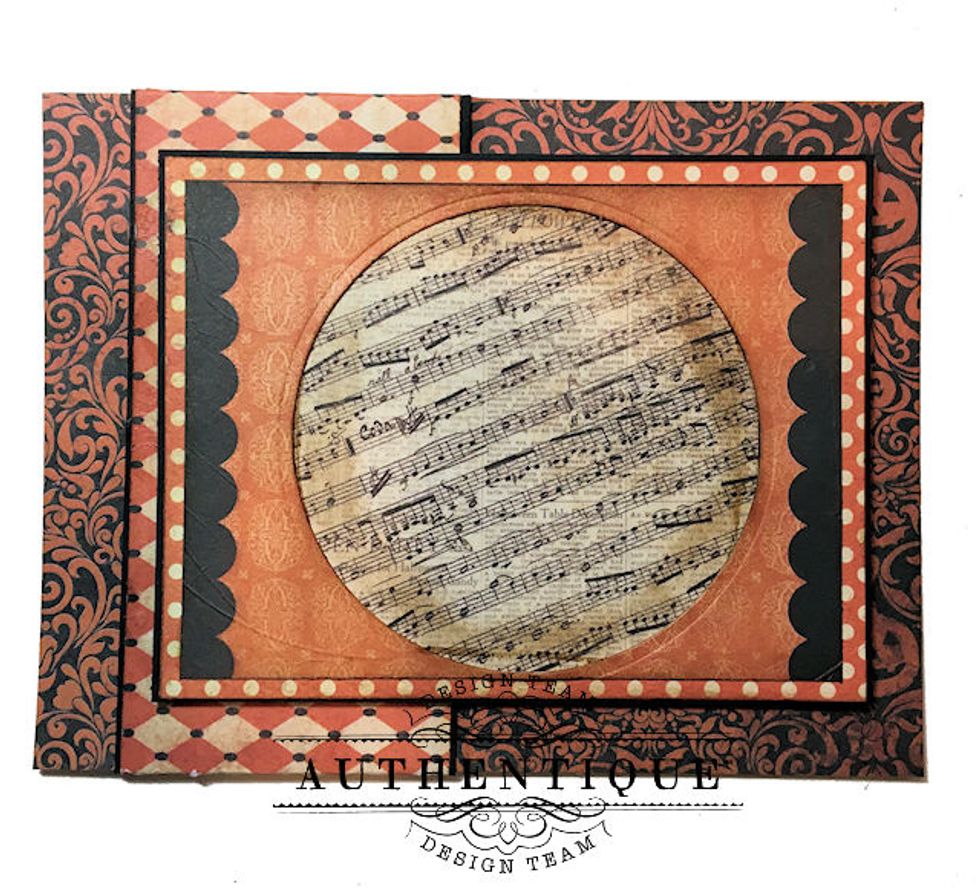 Cut and mat a 2" x 4.25" scrap of Nightfall 6. Adhere 1/2" from the edge of the Nightfall 4. Panel. Top with the circle frame as seen in the photo.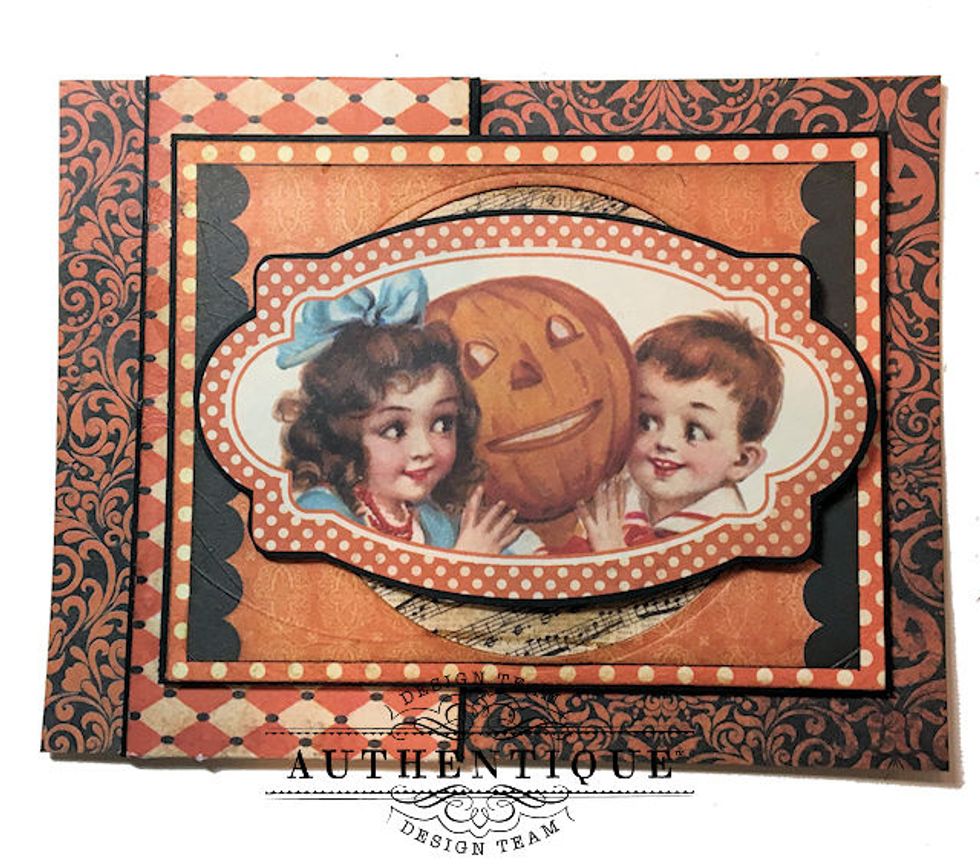 Mat the sticker on black cardstock and trim. Back with dimensionals. Center and adhere over the die cut circle.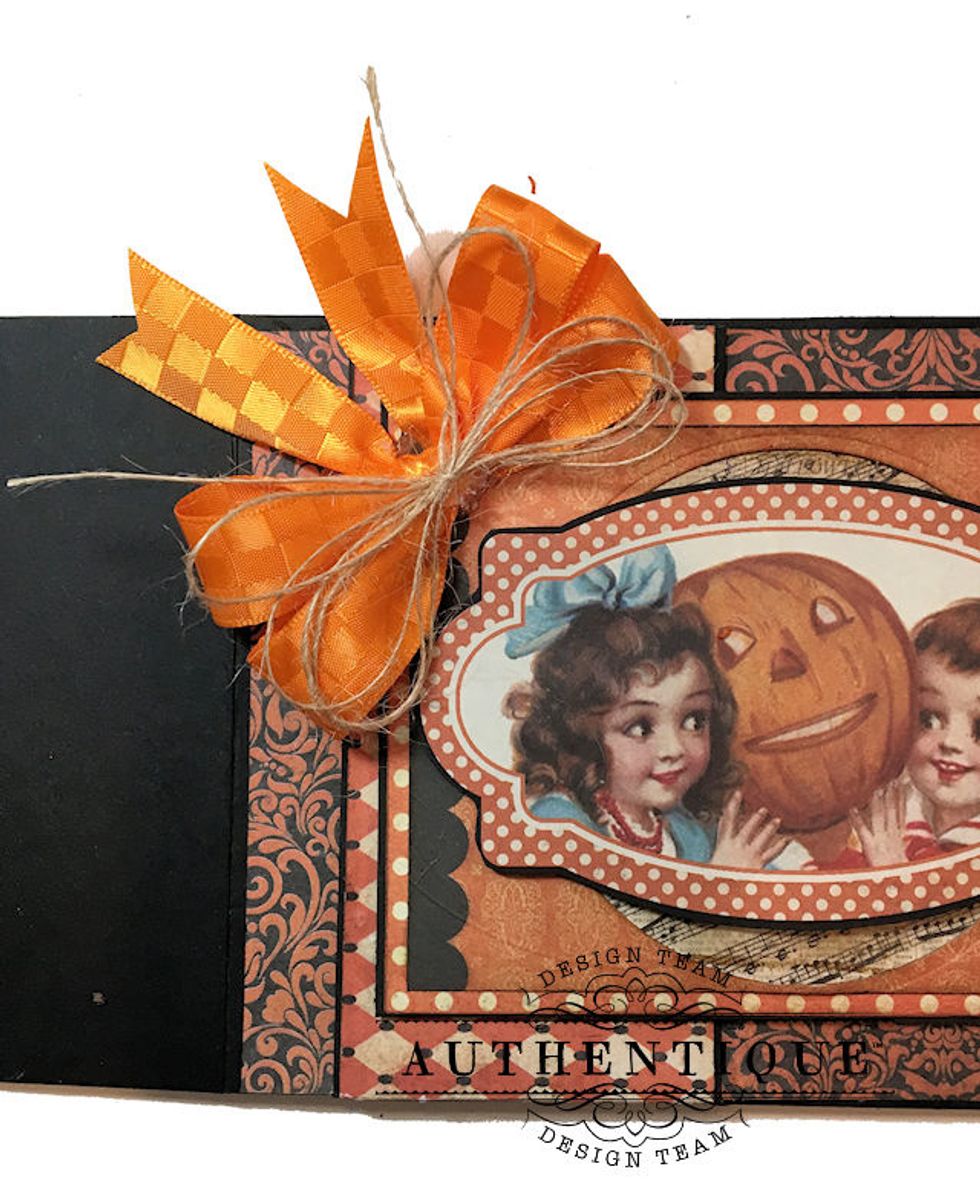 Adhere card cover to card base. Tie a double loop bow with Tangerine Checkerboard Satin Ribbon. Attach in the corner using hot glue. Tie a 4 loop natural burlap string bow. Attach with hot glue.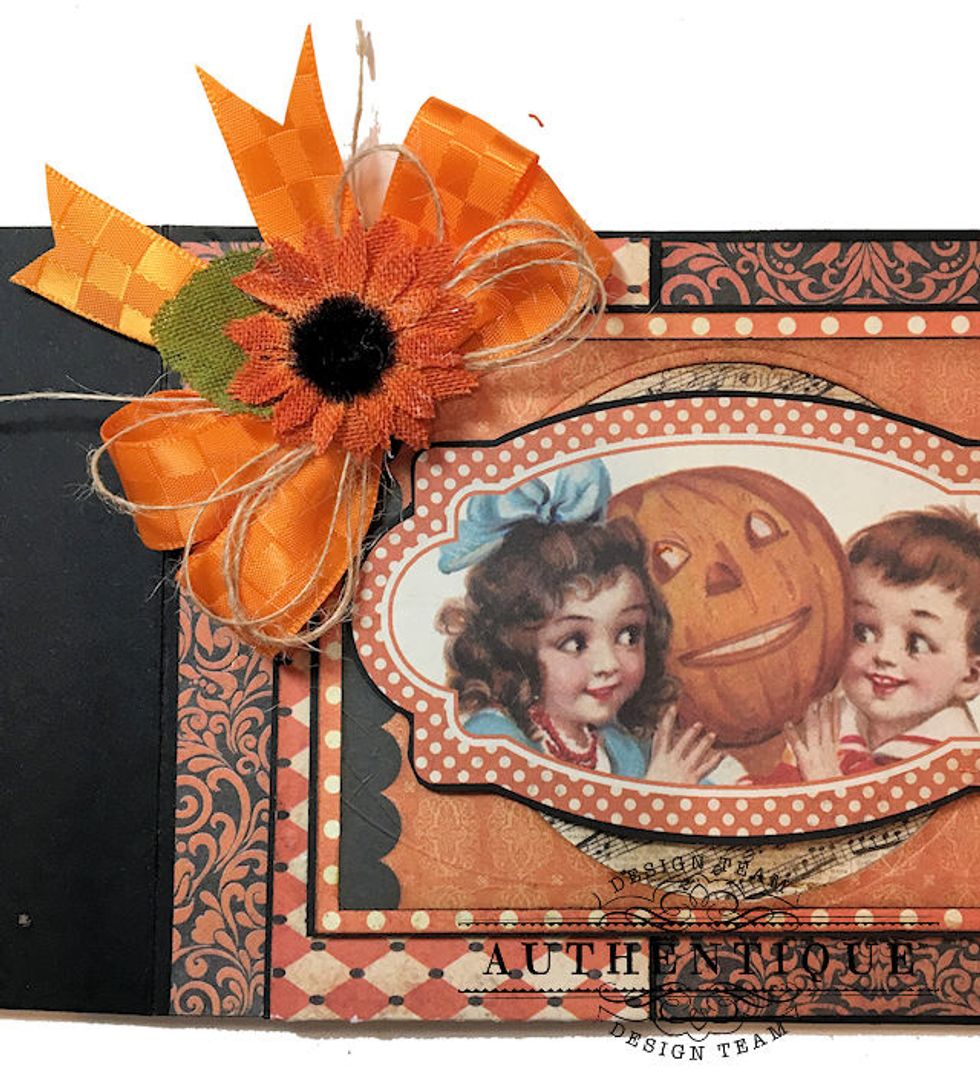 Adhere a fall flower on top of the bow cluster. This is a retired Petaloo burlap sunflower. Use whatever flower you have on hand.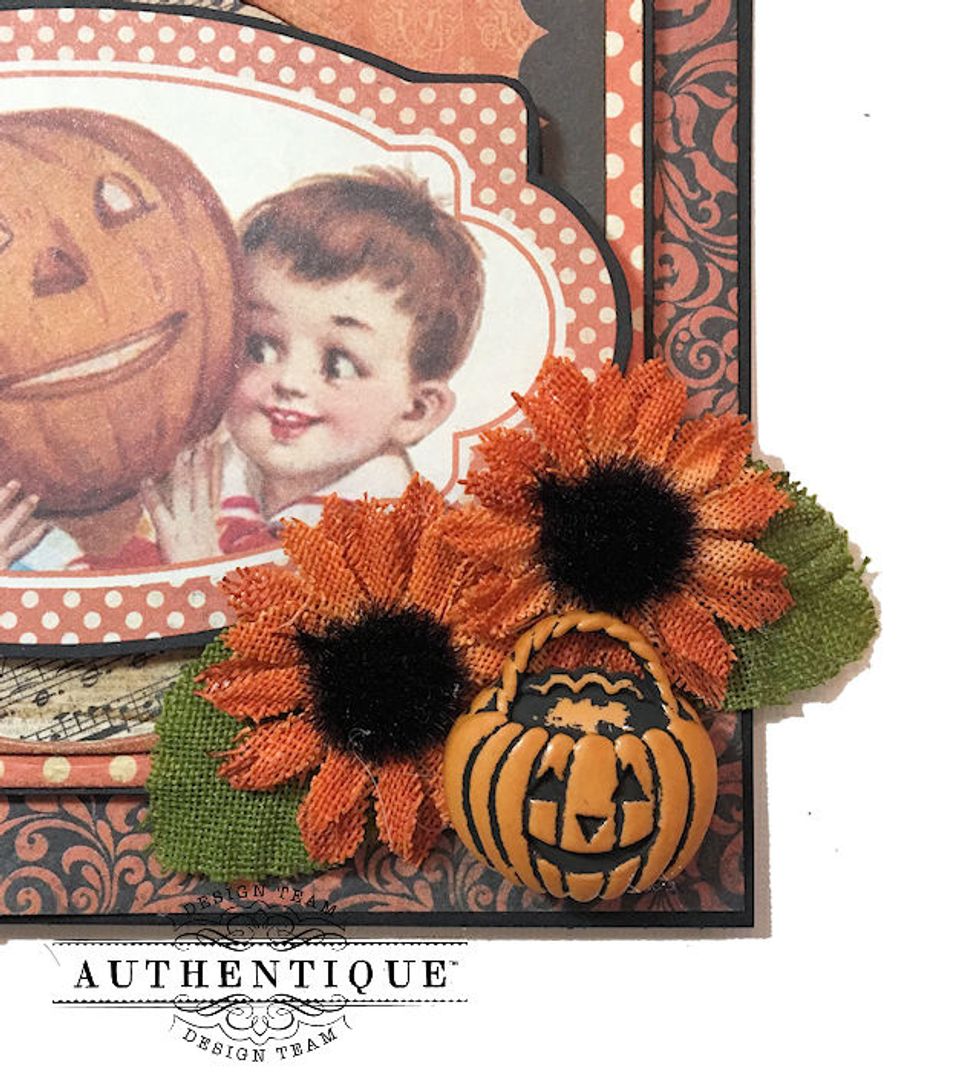 Hot glue 2 more flowers in the lower right hand corner. Hot glue the Jack-o-Lantern button as seen here. Now we will work on the inside of the card. Use scraps.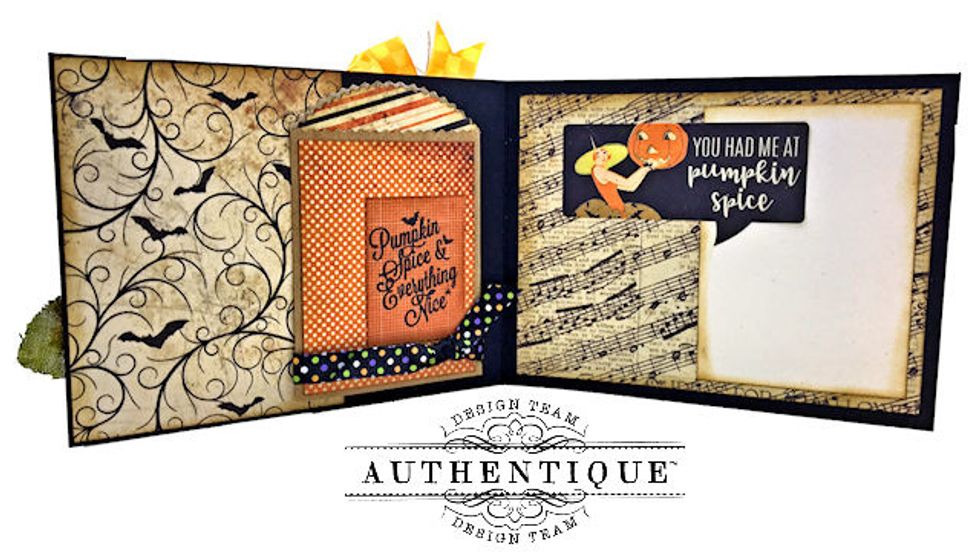 Create a sentiment panel with scraps of cream cardstock. Add a sticker to dress up the page. A 3" x 4 3/8" wide scrap lines the left hand side of the card. Top with the gift card holder.
The second card is a vertical, top fold card.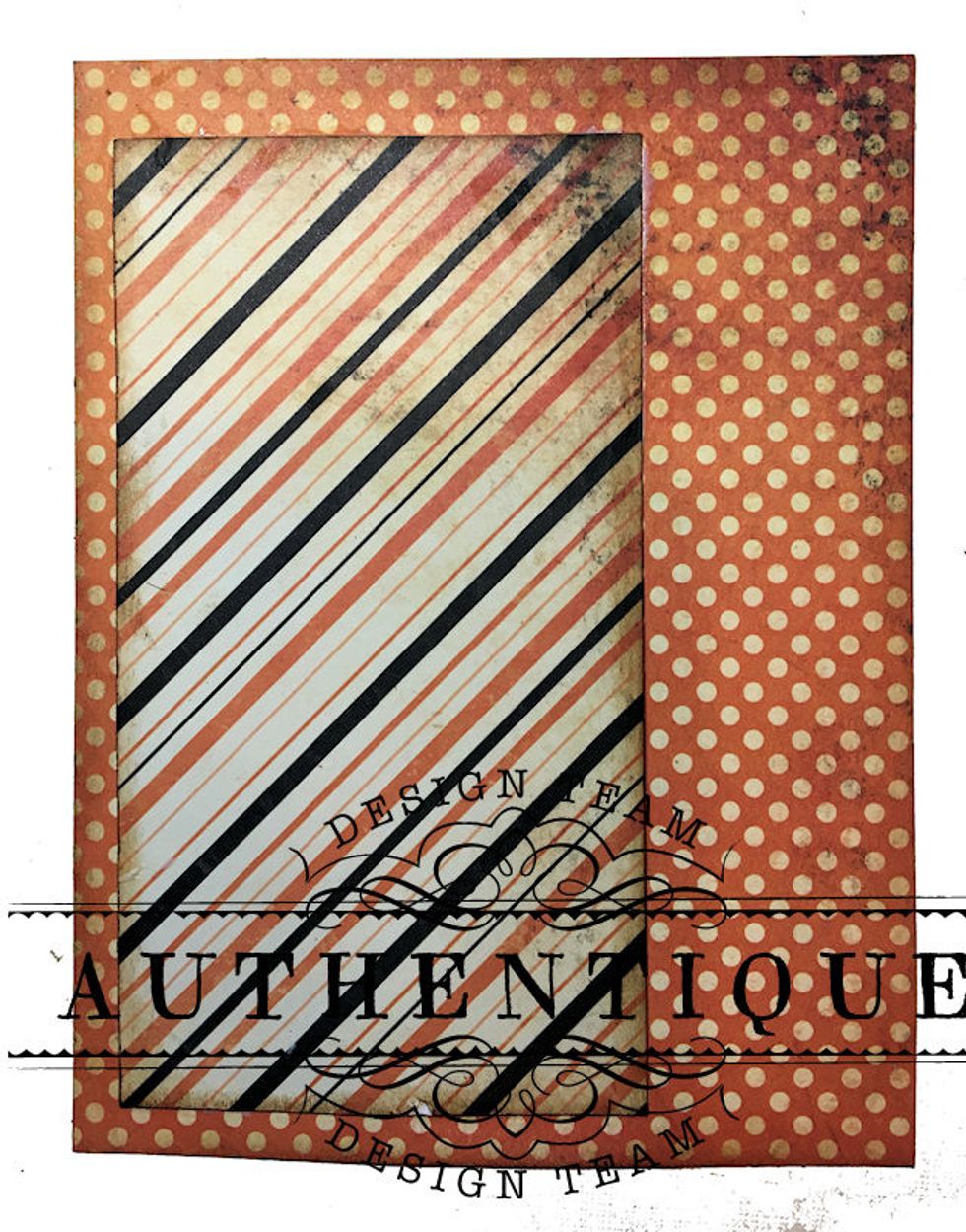 Cut a 4 1/8" x 5 3/8" panel of Nightfall Three. Top with a 2.5" x 4 3/4" panel of Nightfall Three diagonal stripe. Leave about 1/4" border on the left and about 1 1/4" border on the right.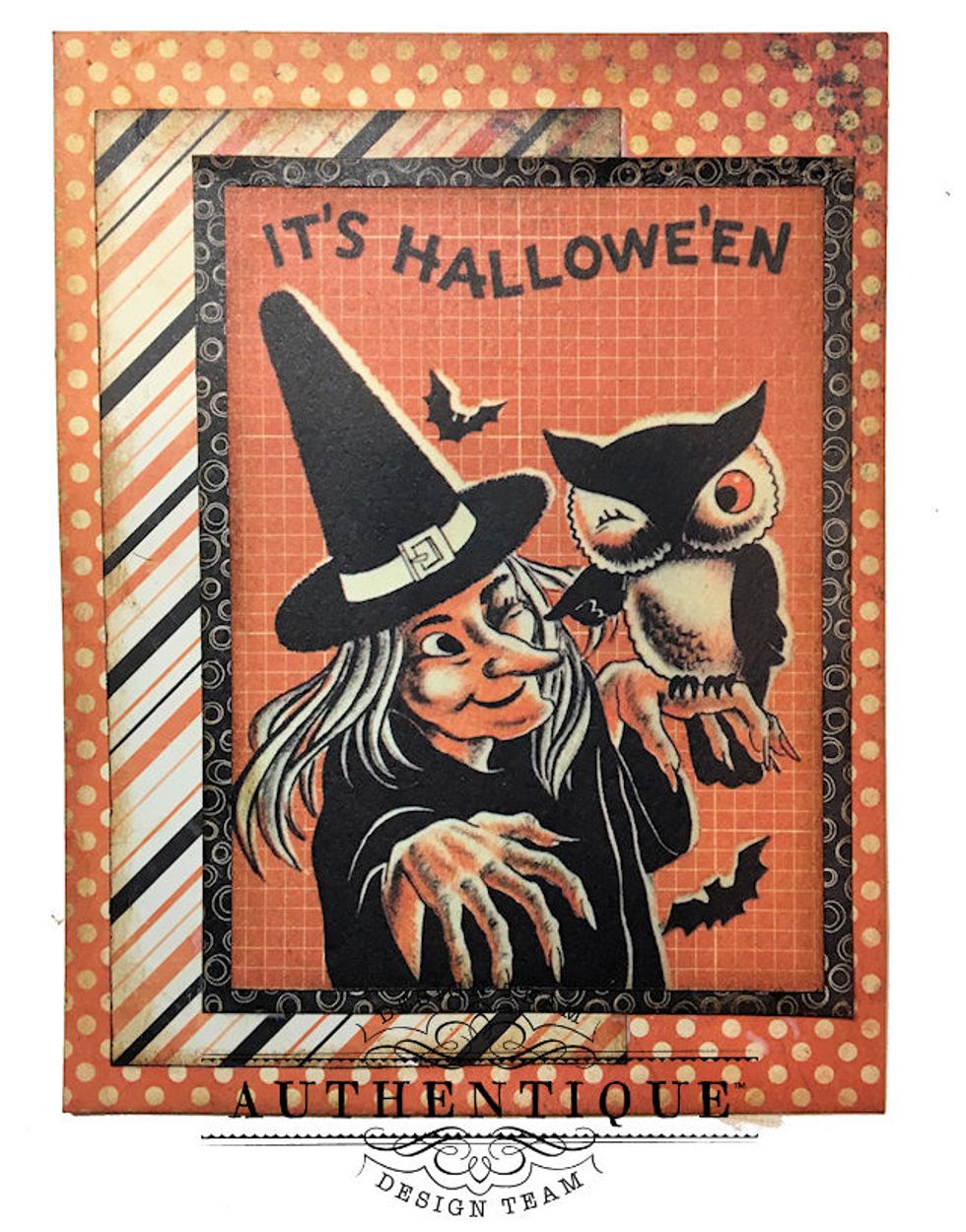 Mat the image on a 3 1/4" x 4 1/4" scrap of Nightfall Nightfall Five. Adhere over the diagonal stripe, leaving a 1/2" border on the left.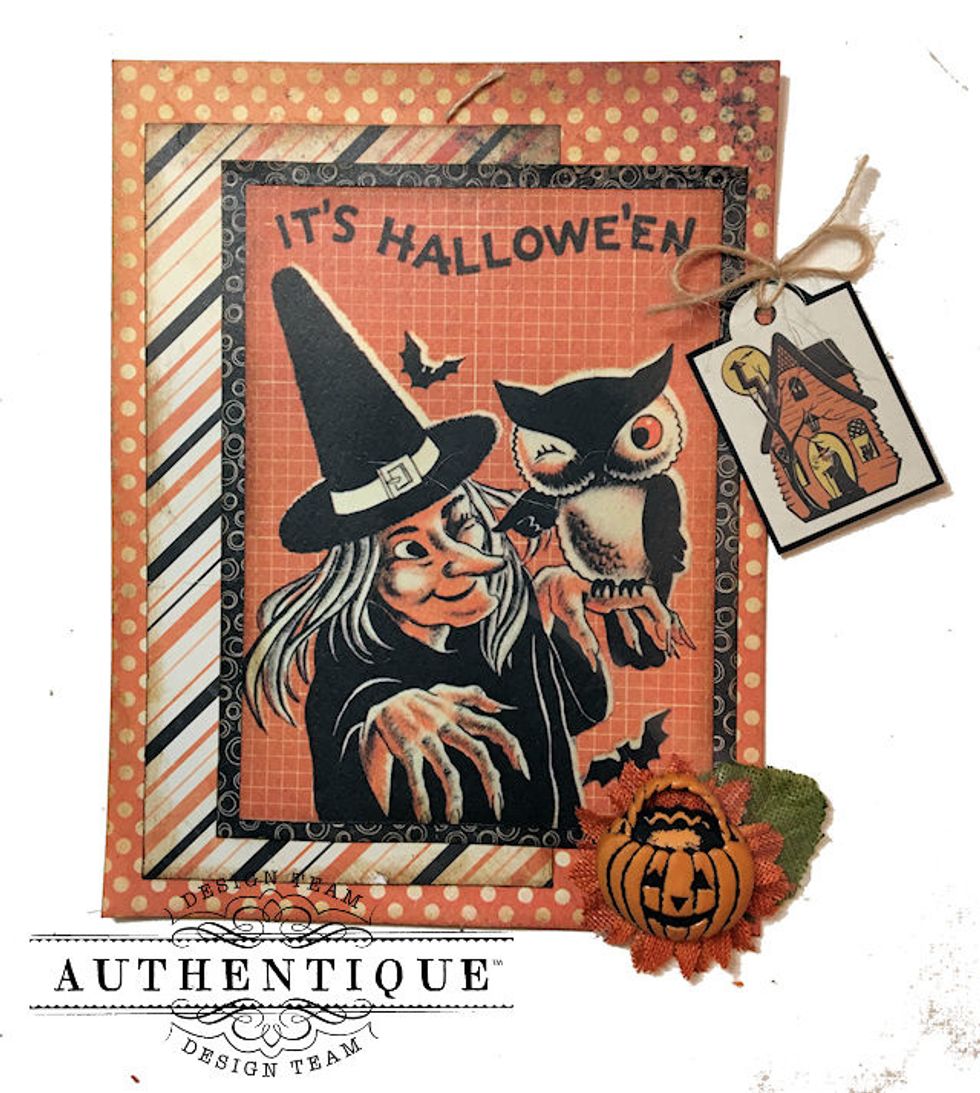 Click photo for full picture. Mat the witch house sticker on black cardstock. Place on card, punch a hole, thread with burlap string and tie a bow. Add flower in lower left corner. Top with button.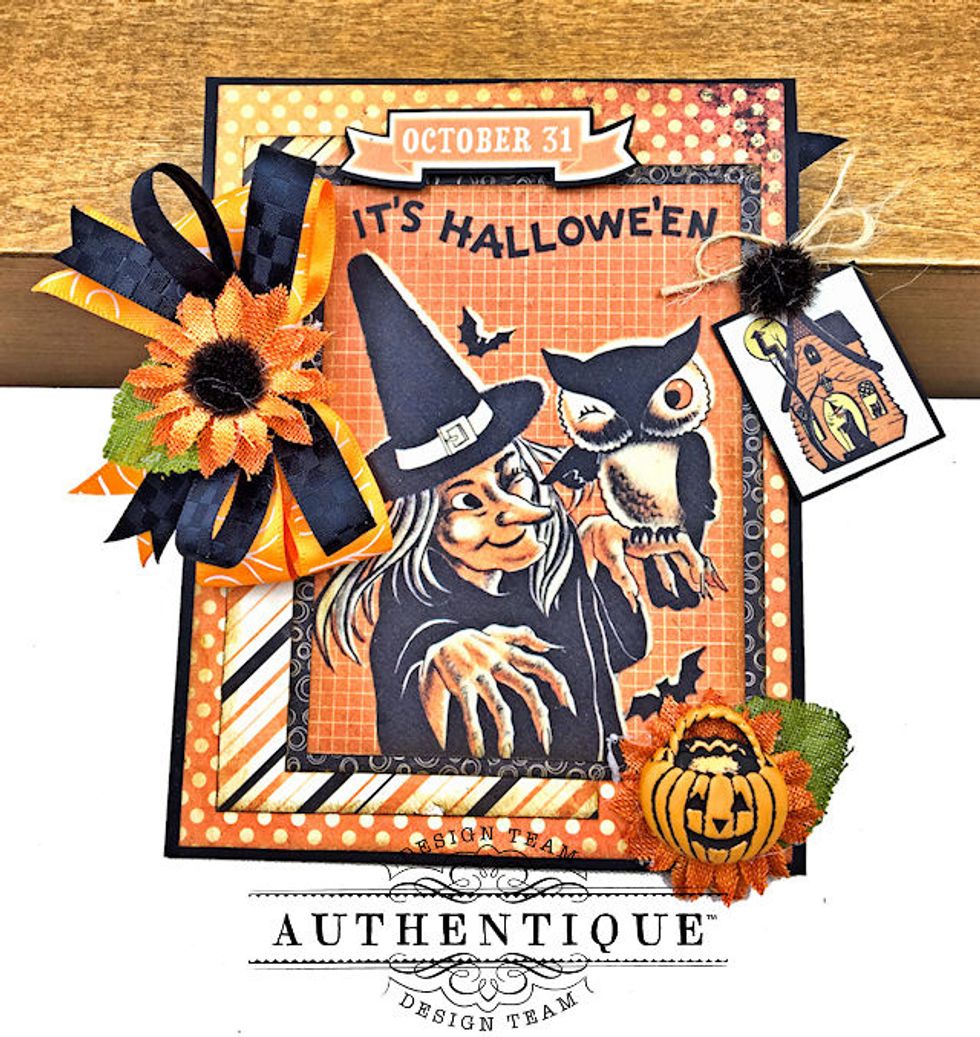 Mat sticker on black cardstock. Add foam dots. Adhere above image. Tie bows with Orange Satin Swirl Ribbon & Black Diamond Satin Ribbon. top with flower.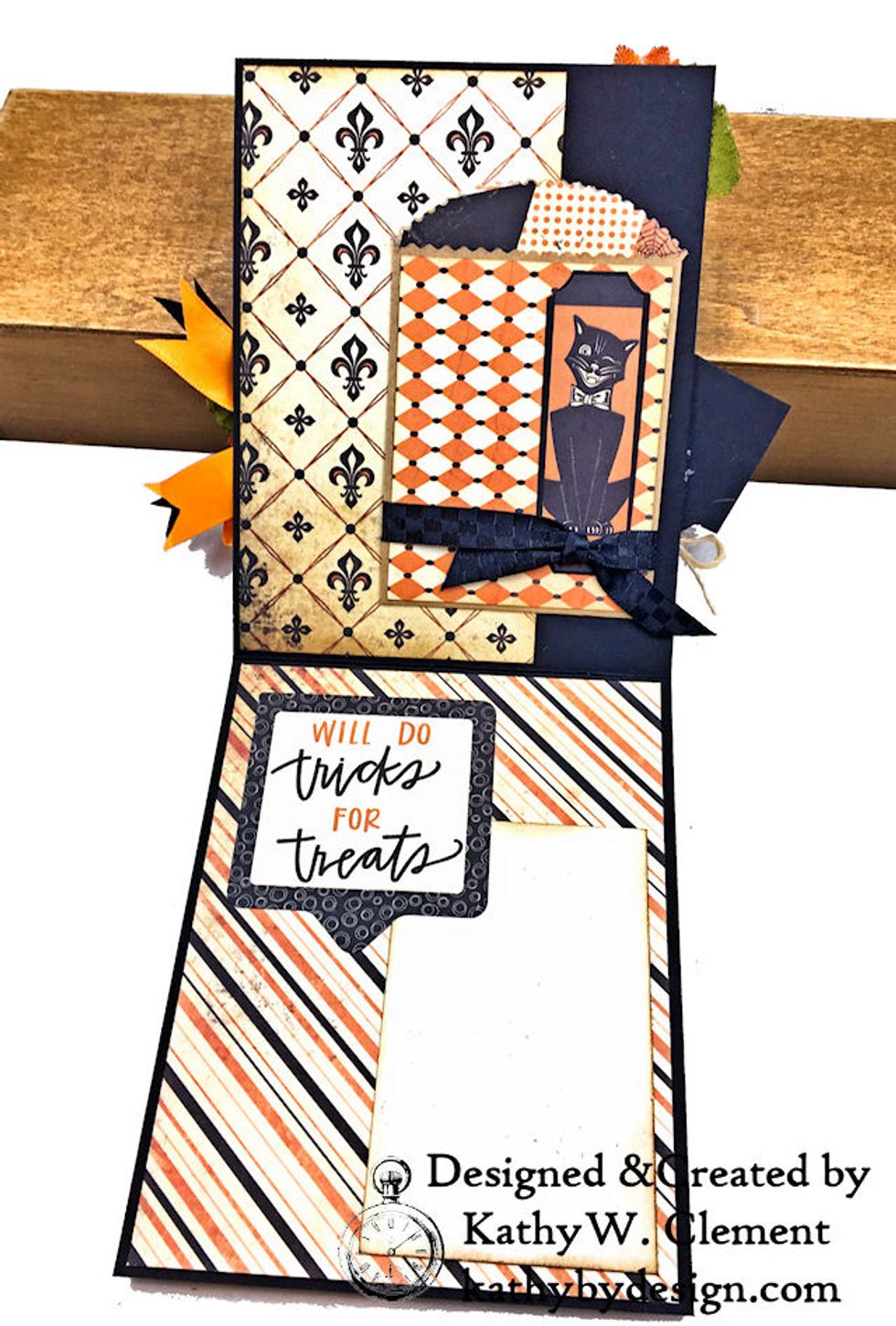 Decorate the inside of the card as before.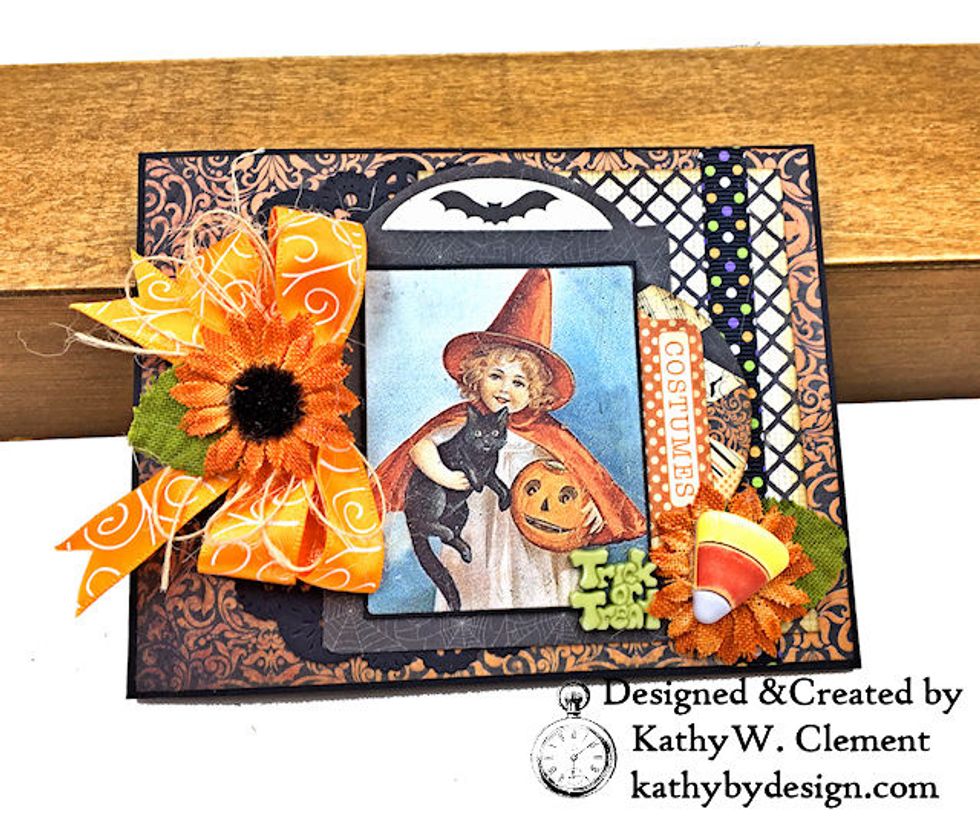 The third card is a horizontal side fold card. You will need to die cut a black doily or use a black doily from your stash.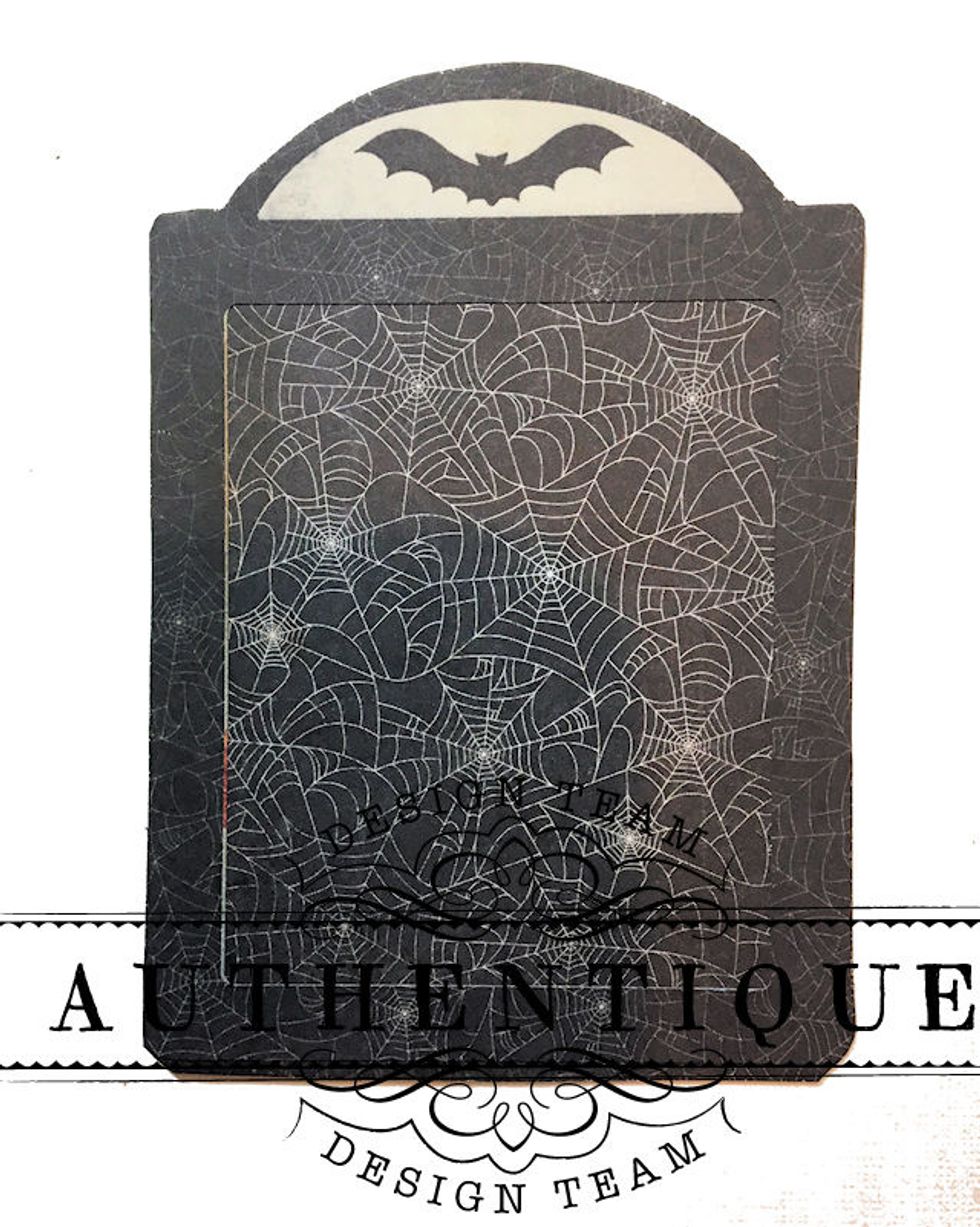 Remove the bat frame sticker from the sticker sheet and mat on a scrap of Nightfall Two. trim around the sticker frame. Set aside.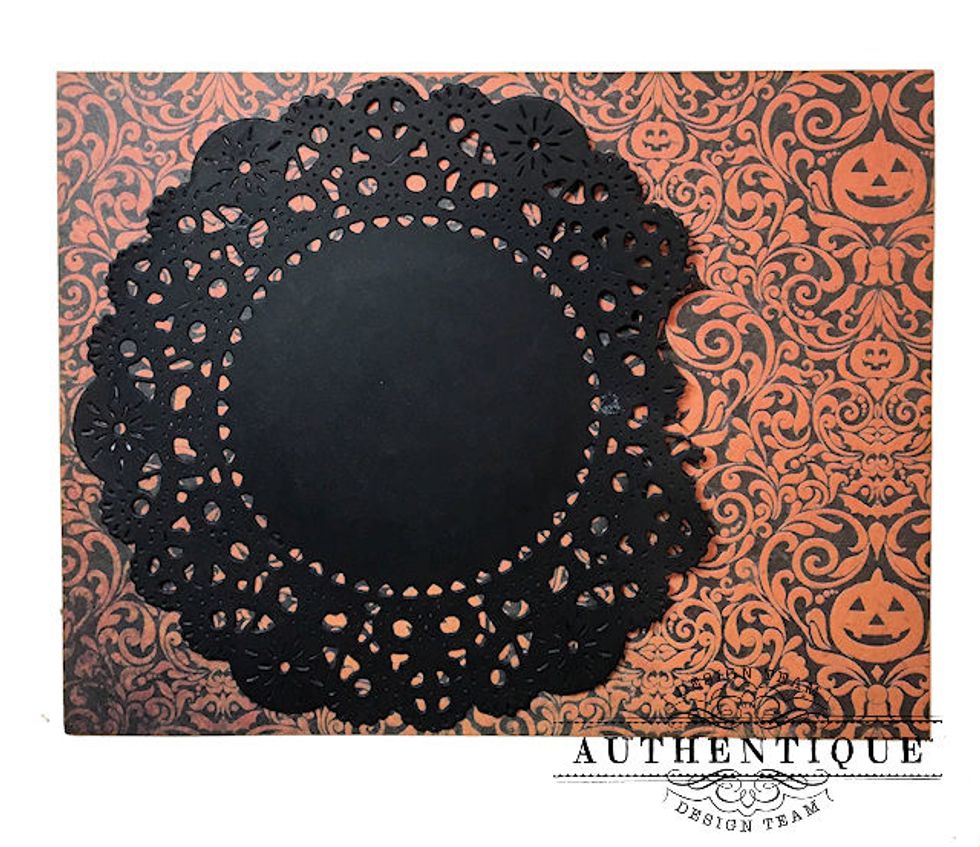 Cut a 5 3/8" x 4 1/8" panel of Nightfall Four. Adhere the black doily. Notice that my doily is not perfect. No one will ever know. Even imperfect die cuts can be put to good use!
Adhere a 3" x 3 1/2" panel of Nightfall Two as seen here.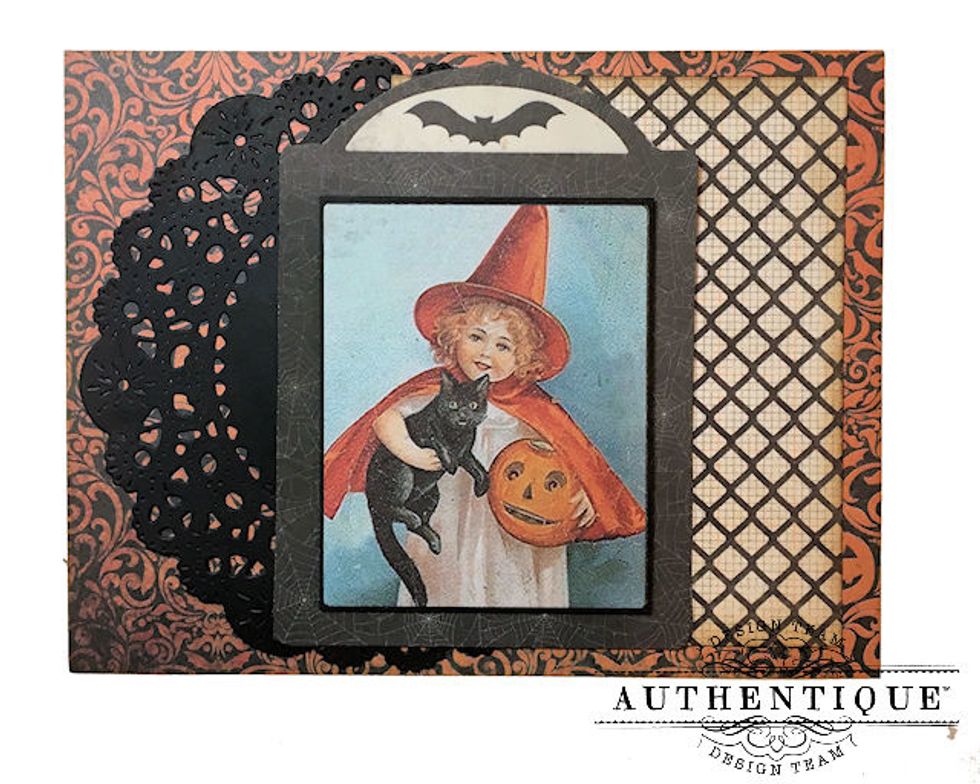 Mat the witch sticker on a slightly larger scrap of black cardstock. Trim evenly. Back with foam tabs. Adhere in the center of the bat frame. Adhere the frame to the card base as seen here.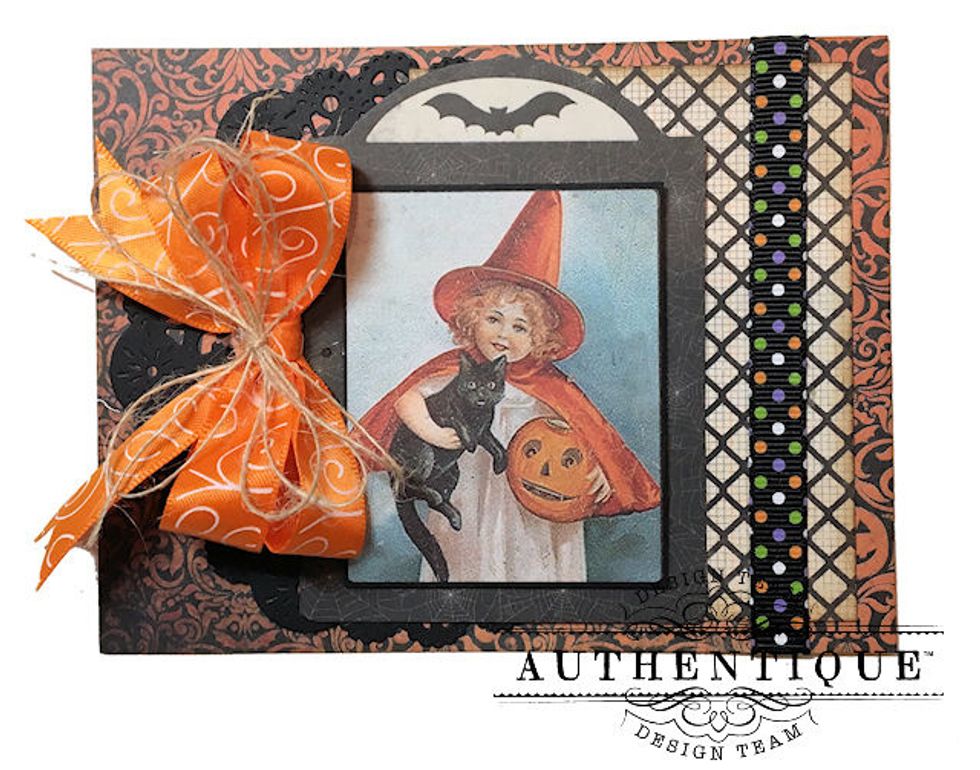 Add ribbon border on the right. Then tie a double loop bow with Orange Satin Swirl Ribbon. Adhere. Top with a burlap string bow and a flower.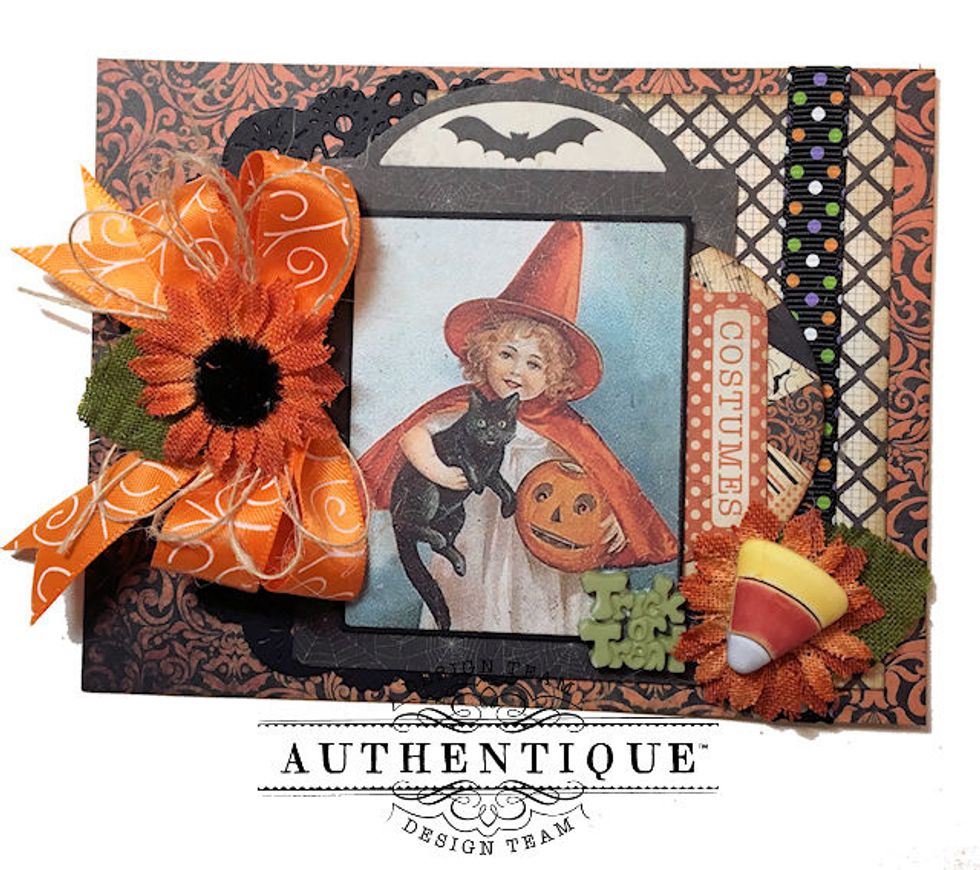 Die cut partial circle from a scrap of NIghtfall 1. Adhere to right of focal image. Add the Costumes sticker tab. Remove flower center and hot glue candy corn in place. Add Trick or Treat button.
Decorate the interior of the card. You can click on the photo to see it full sized.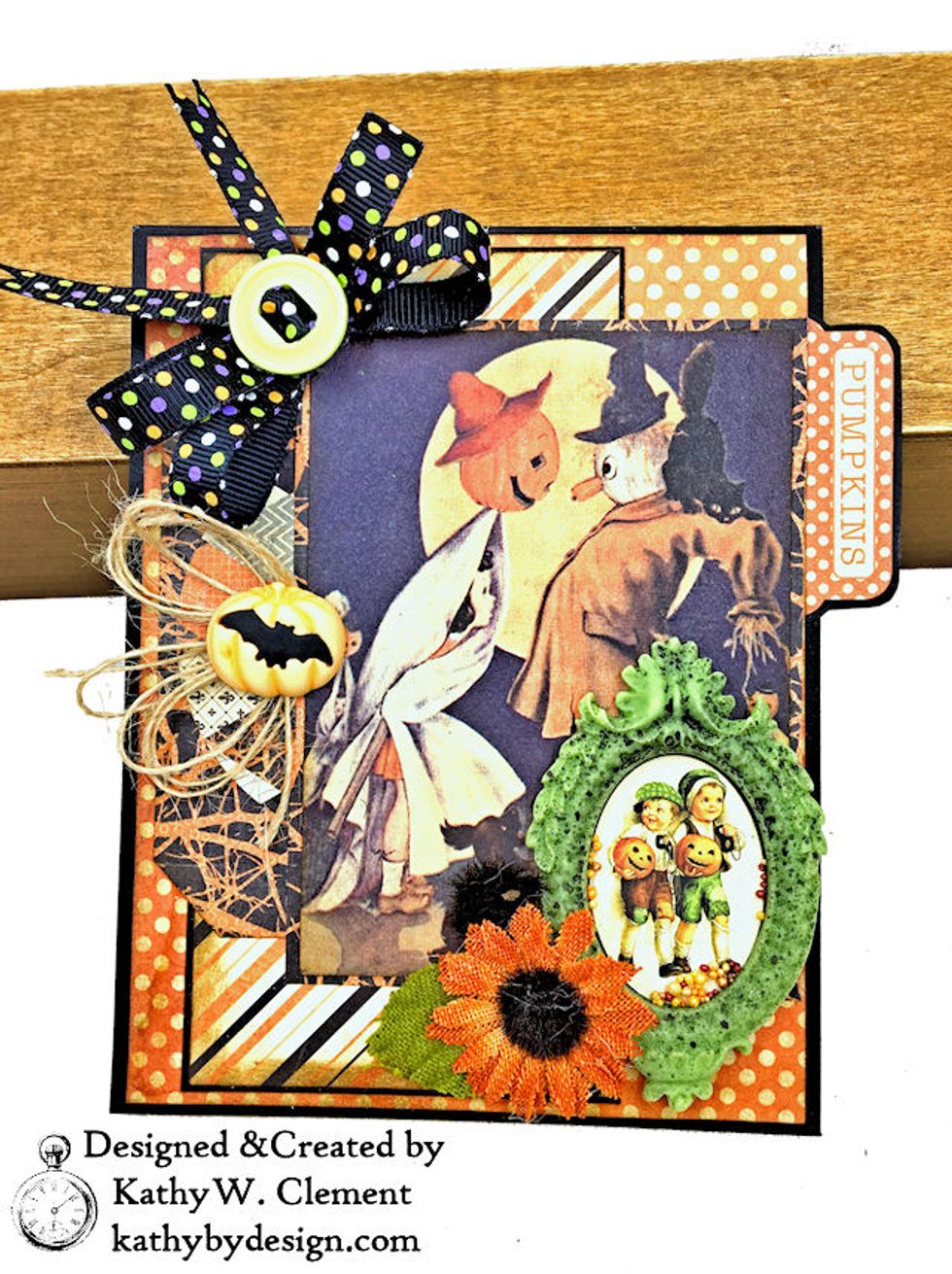 I forgot to take step out photos of the final card, but by now you should have a good idea of how to put things together. The frame is 1 3/4" x 2 3/4" and it's one I've had in my stash forever.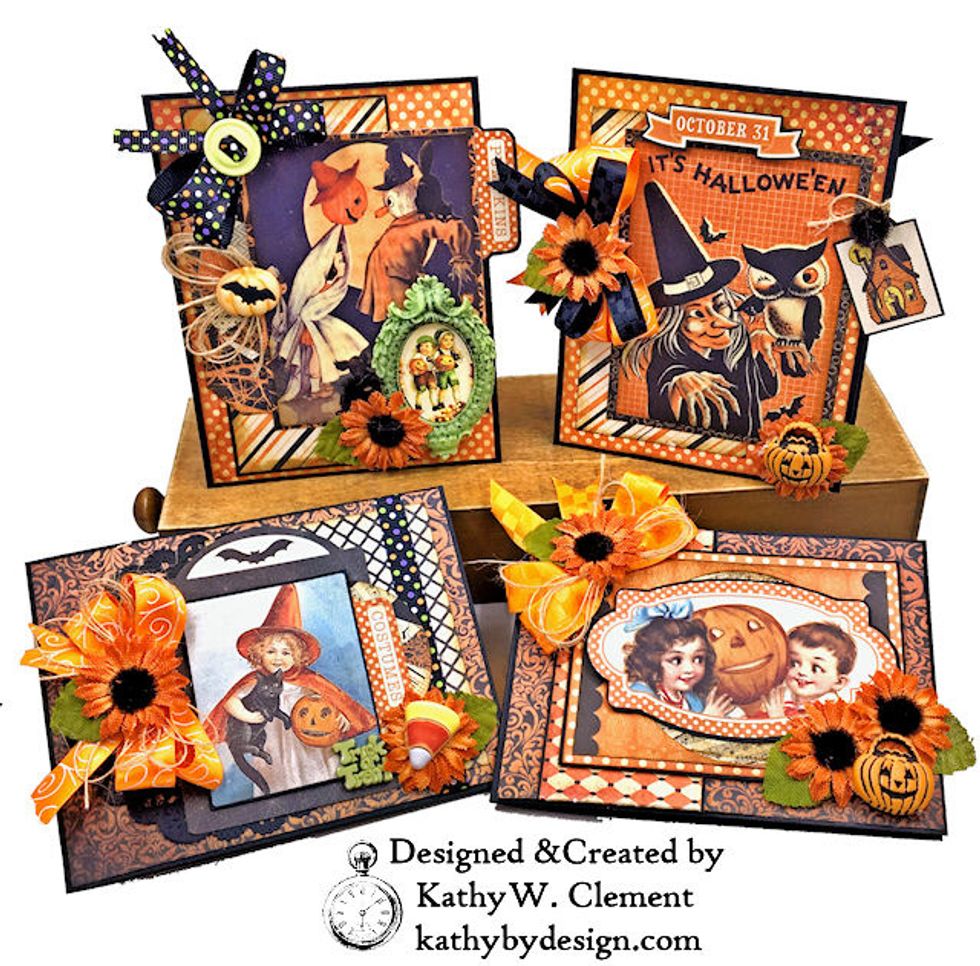 Have fun making your Halloween Gift Card Holders. I'd love to hear your thoughts in the comment section. Also, you can visit/subscribe to my blog, Kathy by Design at http://www.kathybydesign.com
Authentique Nightfall 12x12 Collection Kit
Nightfall 6x6 Paper Bundle
3.0 8.5" x 11" sheets of black cardstock
Halloween Novelty Buttons from Buttons Galore
Really Reasonable Ribbon September Club Assortment
Natural Burlap String
hot glue gun
ruler, adhesive, scoring tool, paper trimmer
fall flowers
3" circle die
4.0 2 5/8" x 4 kraft paper bags
Black Doily
Small frame from your stash
Kathy Clement
I'm a wife, a mom and a Nana who loves to play with paper. Married for 40 years, I am a full time designer, life long learner, and pretty darn good cook.