6 People You Should Add to Your Holiday Gift List
5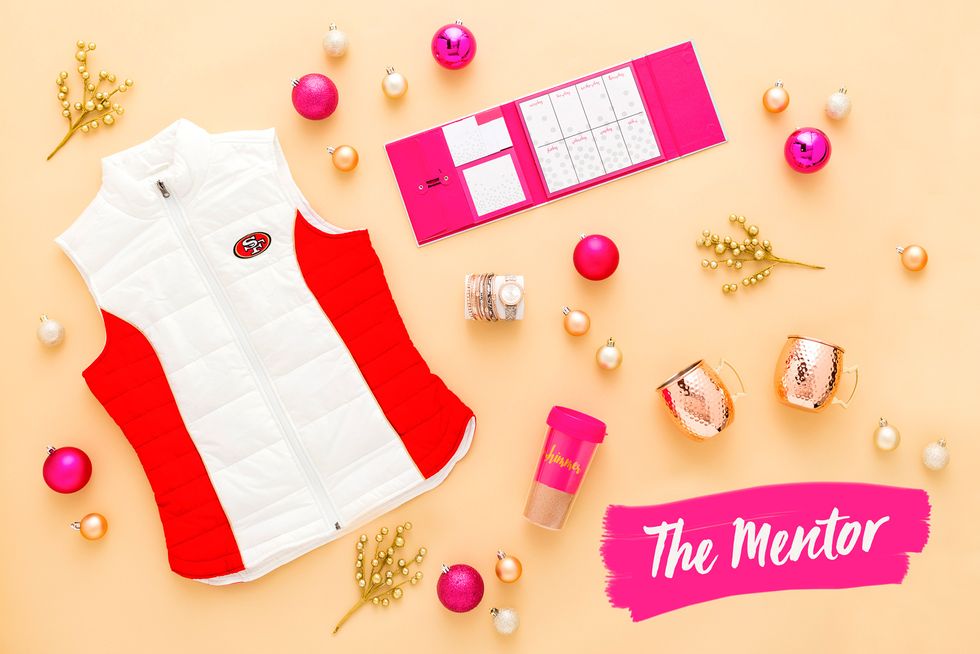 1. The #GirlBossMentor: She's an old grade school teacher whose lessons constantly serve as mantras in our day-to-day life, or a workplace motivator who knows the value of working hard to play hard.
Mixit Get Organized Planner: With all the amazing endeavors she's constantly undertaking, she'll need ways to stay organized so give the gift of organization with this planner. http://jcp.is/2h7WFN5
#Shimmer Mixit Travel Mug and Notepad Set: Because she's running between meetings and her desk and sometimes she needs a nice reminder to #shimmer and stay hydrated. http://jcp.is/2h7WFN5
Women's San Francisco 49ers Puffer Vest: Help her stay warm while repping her favorite team with something from JCPenney's Sports Fan Shop. http://jcp.is/2h7RFZ3
Womens Watch + Bracelet Set: The jet setting boss babe is always looking for easy ways to look put together so give her the gift of sparkles AND time with a watch + bracelet set. http://jcp.is/2gGkSJF
Towle® Set of 2 Hammered Copper-Plated Moscow Mule Mugs: Sometimes, she'll need to wind down with a cup of bubbly or a tasty moscow mule. Why not with this pretty copper mug set? http://jcp.is/2h7Z0Yq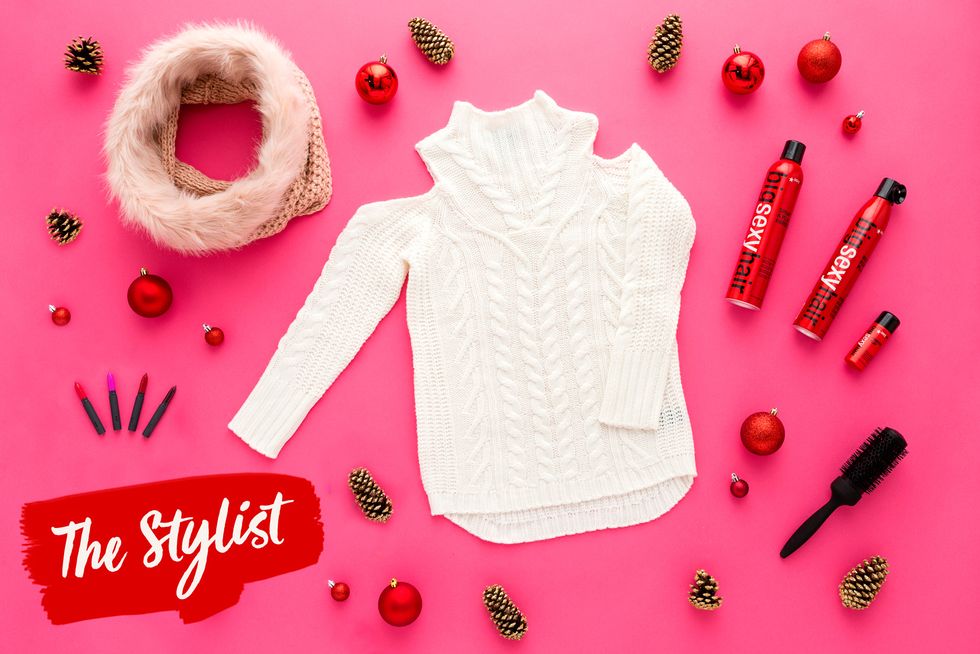 2. Be it your go-to hairdresser or transformational tailor, they all deserve some love this season. We've picked out a few gifts to help them stay stylishly warm + glammed up for the holidays.
Nicole By Nicole Miller Cold Shoulder Cowl Neck Sweater: Because she's always in need of trendy, versatile pieces to help her go from a cute work look to a flirty night out. http://jcp.is/2h1jkNy
Mixit Cold Weather Scarf: Keep her looking chic and warm with this fur lined circle scarf. It's bound to be a go-to for her cold-weather wardrobe. http://jcp.is/2ggFaNT
Big Sexy Hair Holiday Gift Set: She's constantly thinking about how to make her clients stand out. Why not help *her* stand out with this extra volumizing and texturizing trio? http://jcp.is/2hkE2su
The Wet Brush Pro Select Blowout Brush: Designed to fight the wear and tear of high heat and common salon chemicals on hair, this brush is a great addition to any hair care set. http://jcp.is/2hae8XY
Bite Beauty Best Bite Redux: From vampy to classic, this bold lip crayon set has a rich assortment of shades to keep her winter lip game strong. http://jcp.is/2hbfuPR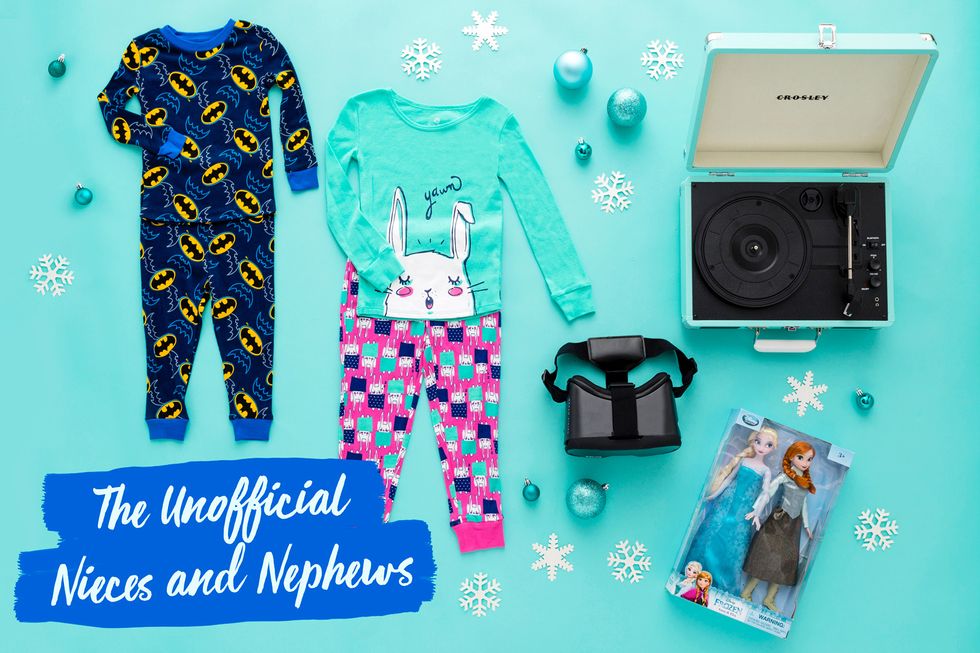 3. Chances are you know a few kids who aren't exactly your nieces + nephews, but you see them often enough that they might as well be. We've drummed up some holiday gifts for the kiddos in your life.
4-Piece Batman Pajama Set: For the little one who believes he'll be the next Batman, help him make his dreams come true with this four-piece pajama set. http://jcp.is/2ggIGaT
Okie Dokie® Yawn 2-Piece Sleep Pants Set: Give the gift of cute comfort to the preschooler who is curious about all things around her + finds it hard to sleep before 10pm. http://jcp.is/2hbaYBa
Crosley Cruiser Deluxe Portable Turntable: For the teenager who loves music, share the beauty and art of record players with this charming suitcase-style turntable. http://jcp.is/2h86eM4
Tzumi Dream Vision Virtual Reality Headset: He's into video games + fantasy novels. This VR headset will be his escape, transporting him to a world of action-packed adventure. http://jcp.is/2h17W4b
Disney Collection Anna and Elsa Dolls: Get ready to sing and dance the night away with your favorite little ones and these ice skating Anna and Elsa dolls. http://jcp.is/2h7WFN5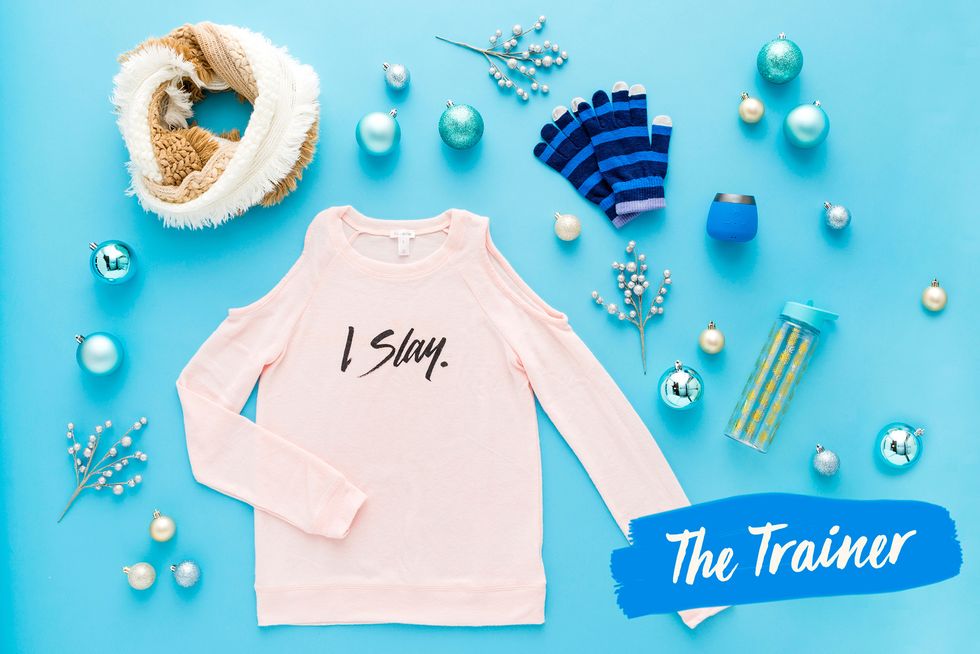 4. The Go-Getter Trainer: We've all got that favorite fitness teacher who helps us destress during an overwhelming week. Time to show them appreciation with a few winter essentials!
Mixit™ Zig Zag Stitch Ombre Fringe Scarf: Be it an outdoor workout or a Sunday brunch, this fringe scarf is a perfect addition to any wardrobe. It's fashionable *and* functional. http://jcp.is/2h85QNy
Flirtitude Cozy Fleece Sweatshirt: No trainer's wardrobe would be complete without a sassy sweatshirt. Make her smile with this "I Slay" top. http://jcp.is/2hbcGCA
Mixit® Essentials Touch Tech Gloves: These gloves are perfect for outdoor runs + workouts. Help her keep her hands warm when she's navigating her route or changing the playlist. http://jcp.is/2gGtU9A
HMDX Jam Replay Wireless Speaker: With its compact size, this durable speaker helps keep the energy levels high no matter where the party or work out is. http://jcp.is/2gGCxB1
Mixit Pineapple Water Bottle: She's bound to need a little reminder to stay hydrated. Carrying this cute pineapple water bottle will make sure she does so. http://jcp.is/2h7WFN5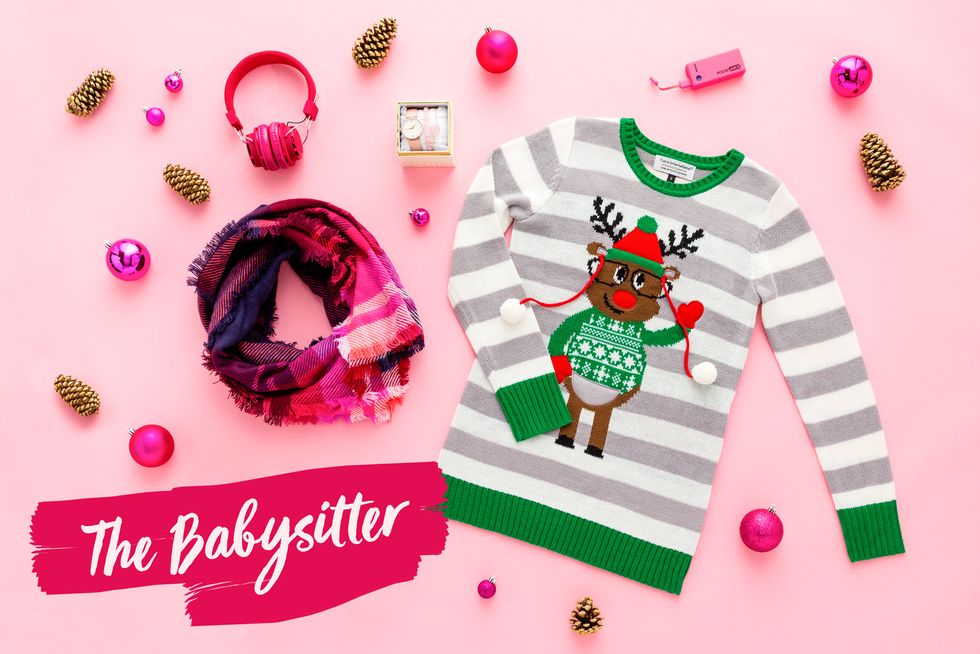 5. The Go-To Babysitter: She's there for when you need a day with your special someone. Watching over your little rascals is surely not an easy task, so think fun tech and winter apparel for this one.
Tzumi™ Bluetooth Wireless Headphones with Built-In Microphone: After listening to the little ones ramble all night, it's nice to have some solace with a headphones session. http://jcp.is/2hpEJNp
Womens Rose Goldtone Watch Boxed Set: Between acing her classes + her babysitting duties, she is always on the go. Help her stay stylishly on time with this watch boxed set. http://jcp.is/2h88W4k
V. Fraas Ombré Check Oversized Scarf: Babysitting in the winter could mean brutally cold commutes. Make sure she stays bundled up this holiday season. http://jcp.is/2hkJDPN
Tiara Reindeer Crew Neck Sweater: One can never have enough tacky Christmas sweaters for the holiday season. Add a fun twist to her wardrobe with this cute reindeer sweater. http://jcp.is/2hasnMv
Tzumi Pocket Juice 4000 mAh Portable Power Bank Charger: That's right — help keep her phone charged. You never know when you'll need to contact her as an emergency babysitter ;) http://jcp.is/2haivCH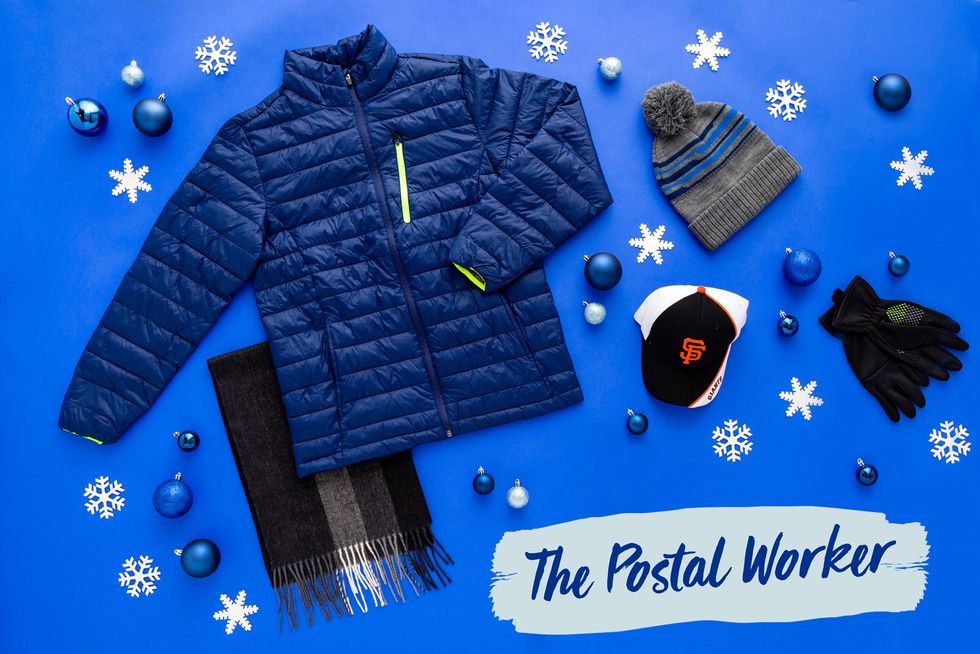 6. The Jolly Postal Worker: With all the holiday deliveries coming up, he's sure to be a little more overwhelmed than usual. Take the time to say thanks and reduce the stress with these choice picks.
Xersion Packable Puffer Jacket: Delivering mail can be especially tough in the bitter cold. This puffer jacket is perfect for these chillier months! http://jcp.is/2hkHaEZ
Xersion® Puff Cap: One could never go wrong with a nice puff cap for the winter months. These cool colored stripes are stylish and versatile for almost any wardrobe. http://jcp.is/2h7WFN5
Stafford® Herringbone Reversible Scarf: Albeit another winter accessory to adorn, this scarf proves its worth as reversible and water resistant… utility FTW! http://jcp.is/2h7WFN5
Men's San Francisco Giants Adjustable Hat: Are you always talking to him about sports? Help him celebrate his team loyalty with a solid sports cap. http://jcp.is/2halsmp
Xersion® Textured-Mesh Multi-Grip Gloves: These gloves are designed to work with any touchscreen device as well as provide added warmth for the winter deliveries. http://jcp.is/2ggUmui
And that's a wrap! Imagine the smiles on their faces when they receive your gifts. You're sure to be the crowd favorite this year.
The creator of this guide has not included tools
B+C
We are the team behind B+C Guides. Feel free to message us if you have any questions or see something that could be improved!